The right weight bench will help you achieve your fitness and training goals. Here is a breakdown of the best flat exercise benches for working out at home.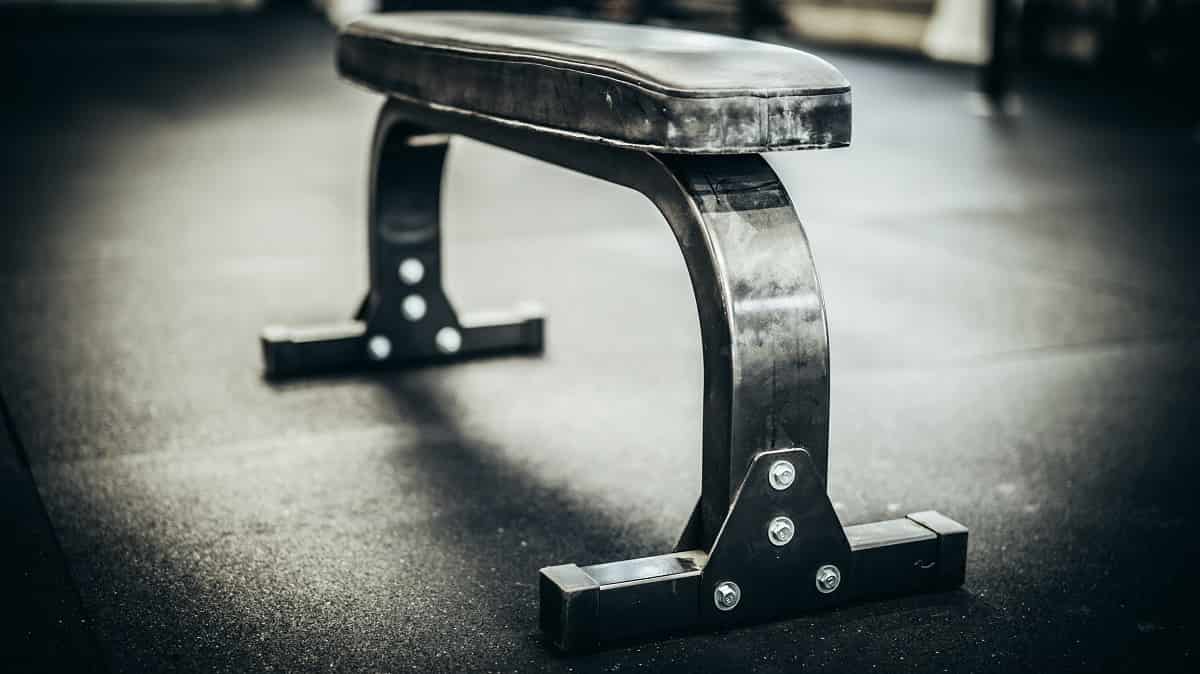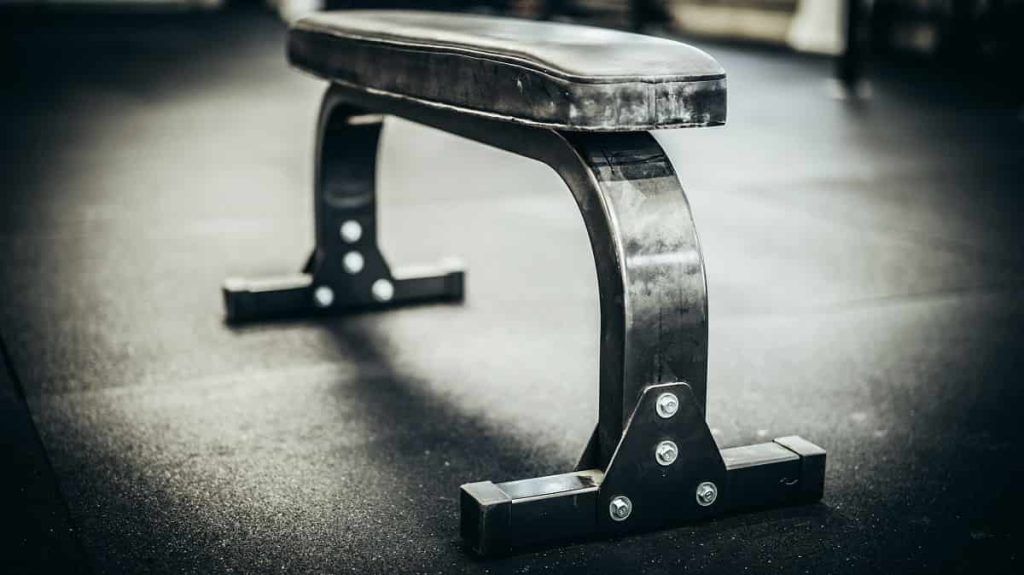 Building the home gym of your dreams has never made more sense. And it has never been more affordable.
One of the centerpieces of the home or garage gym is the weight bench.
The ways that a workout bench will level up your workouts are almost endless. Most lifters will use one for basic lifts such as bench press, flys, and shoulder press. The bench can be used for bodyweight training (dips, for example), step-ups, and so on.
When choosing the right flat workout bench for your home gym, there are some key things to consider:
Weight capacity. How much weight can the bench take? Cheaper benches tend to be rated for less weight.
Space. How big is the footprint of the bench? Some benches can be wheeled away when not in use, while some can be folded up and tucked away between workouts.
Cost. How much are you planning on investing in your weight bench?
Below are the best picks for heavy-duty lifters, those looking for a weight bench under $200, and more.
Read on and get to lifting and dominating your workout goals in the comfort of your home gym.
Rogue Fitness Flat Utility Bench 2.0
⭐⭐⭐ Best overall weight bench
Simply put: Rogue Fitness builds excellent gear for working out at home.
My wife and I are fans of their hex dumbbells and they also make my favorite adjustable weight bench for home gyms because Rogue simple does the basics exceptionally well.
And this bench performs at a high level with a reasonable price point.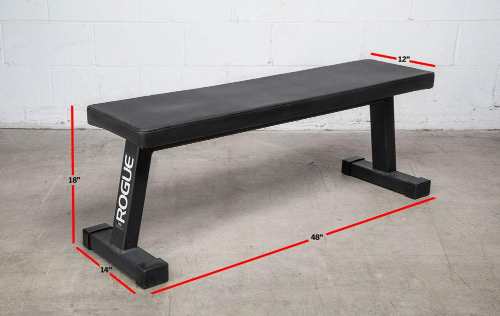 The Rogue Flat Utility Weight Bench is a 48" long bench that can be used for heavy lifting, cross-training, for rows, and so on. The feet of the bench, tipped with rubber to provide stability, are 14" wide.
Rogue benches come with a variety of addons, and the bench hanger, which costs just over $30, means you can hang the bench against a wall between workouts.
The Rogue Flat Utility Bench retails for just under $200 (check Rogue's website for up-to-date pricing and shipping options), giving you a killer option for a simple, heavy-duty weight bench that will take everything you can throw at it.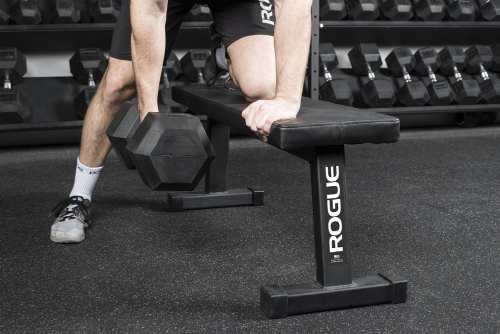 Amazon Basics Flat Utility Weight Bench
⭐ Best value pick for best weight bench
In terms of price, the Amazon Basics Flat Weight Bench is hard to beat. Made with sturdy steel and PVC, the bench is light (just under 25-pounds) and easy to move around before, during, and after your home workout.
The bench has rubber-tipped feet to maintain stability. A durable vinyl cover to cover the back pad. Reviewers consistently note the long-lasting performance of the bench.
That said, with the cheaper price tag there is a lower weight limit, with the user manual listing the bench as able to support 385-pounds total.
The Amazon Basics Flat Bench is a great value pick for beginner and intermediate home-gym enthusiasts.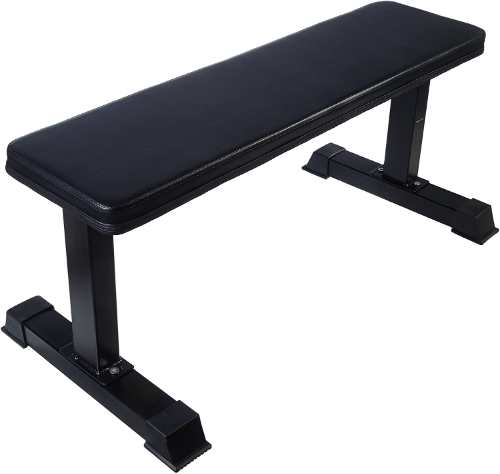 CAP Barbell Flat Weight Bench
Light, sturdy, and rated for 300-pounds of total weight, the CAP Barbell Flat Weight Bench is another excellent value pick for lifters who aren't planning on pushing massive amounts of weight.
CAP Fitness makes high-quality gear (I got to take their half squat rack for a test drive and really liked it), and this lightweight bench (it weighs just 18 pounds) is comfortable and tough.
The pad is firm and soft enough, covered in vinyl leatherette. Rubber-tipped feet keep the bench from sliding when in use, and the lightness of the bench makes it a breeze to move.
Note: Although the Amazon product description lists the bench is being rated for 500-pounds, the user manual explicitly rates the bench at 300-pounds.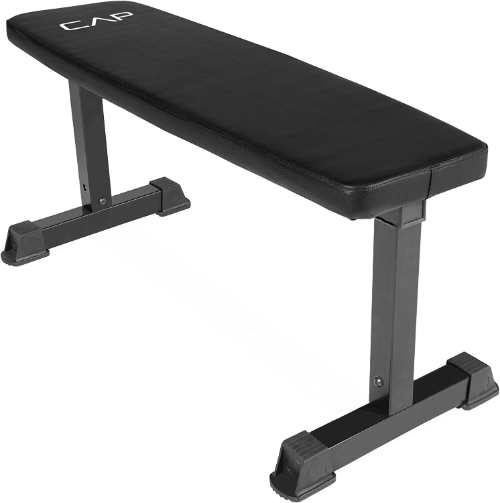 Marcy Deluxe Flat Workout Utility Bench
Rated for up to 600-pounds, the Marcy Deluxe Workout Bench is a fantastic addition for your home gym.
Made of high-grade steel, and powder-coated to prevent rust and corrosion, the bench can be quickly assembled and fastened with thick screws and bolts (assembly took me just under 20 minutes).
I really like the look of this flat bench. It's a little heavier than the previous two flat benches, but I am okay with a heavier bench as it gives me an added sense of stability.
The pad is extra thick and comfortable. The Marcy Deluxe Flat Bench is a smart and secure addition to your home gym.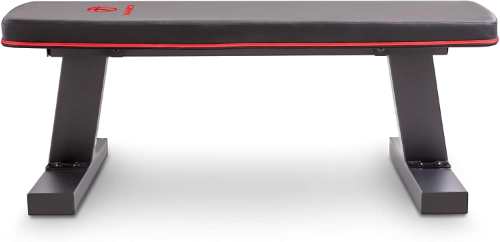 Rogue Monster Utility Flat Bench
⭐ Best heavy-duty flat bench for serious lifters
Another Rogue flat bench I had to include is the Monster, a bench designed for heavy-duty, bordering on industrial use.
Instead of having the usual T-shaped foot at the front of the bench, a thick steel column keeps the bench stable. The column is great as it frees up more floor space for your feet.
Built like a tank, the back foot of the bench is extra thick and wide and features two small wheels that can be used to make the bench mobile. The bench is easy to assemble, with clear and comprehensive instructions and necessary hardware included.
The heavy-duty steel construction results in a heavier bench, weighing nearly 70-pounds (almost three times the Amazon Basics bench).
Lastly, the Rogue Monster Utility Flat Bench is fully customizable, making it, in my mind, the best flat bench for heavy-duty home use. Bench height, pad types, and a knurled steel handle can be added or changed during the ordering process.
Price-wise, it's competitive here as well, coming in at about $300, which in my mind is pretty decent for a bench that is basically built to survive a nuclear bomb (check Rogue's website here for current pricing and availability).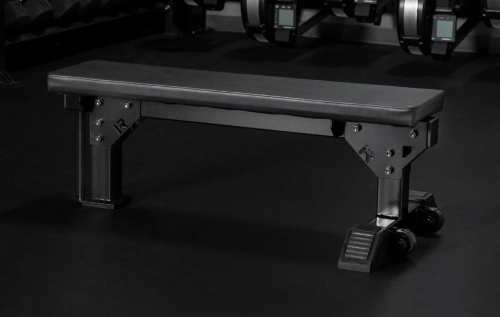 Practcgoods Flat Weight Bench
Pratcgoods is a lesser-known manufacturer of home and gym equipment. (They make a lot of home décor stuff.) But this bench stands out on every level and ranks among the best I've tested.
The soft leather pad is filled with foam padding that keeps your back comfortable while lifting. At just 25-pounds in weight, it's light enough to move easily. And with a weight maximum of 600-pounds, it's one of the sturdiest on the market (for this price point).
The best part of this bench has to be the price. At just over $40, you can't really argue with the Practcogoods Flat Weight Bench.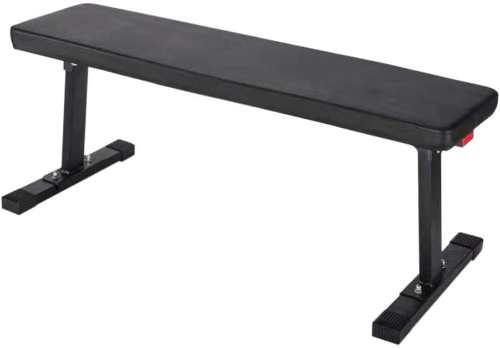 Adidas Essentials Flat Workout Bench
Adidas is traditionally associated with fitness gear and sneakers. The brand has creeped out into a wide range of fitness niches, including competitive swimsuits and yup, even weight benches.
The Adidas Essential Flat Workout Bench is a no-frills addition to your strength workouts and home gym.
Built to take a pounding (the bench can handle 395-pounds), with a clean and simple design, and easy to move (the bench weighs just 18-lbs).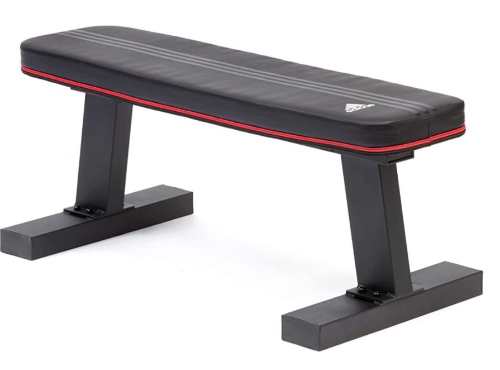 OESFL Dumbbell Bench Adjustable Weight Bench
The OESFL bench is ready for battle. There are two things that knocked my socks off with this bench.
For starters, it has a maximum load capacity of up to 660-pounds, which puts it at the higher range of weight limits with the non-commercial grade gyms.
Secondly, it balances a higher weight load with a clever folding design that allows you to "collapse" the bench when not in use.
The combination of weight load and being able to break it down makes it my favorite weight bench for people with smaller home gyms and limited floor space.
Smash your workout, fold it and put it away.