Read on for a breakdown of the best Olympic and non-Olympic E-Z Curl Bars—and explain what to look for in each. Unleash the gains!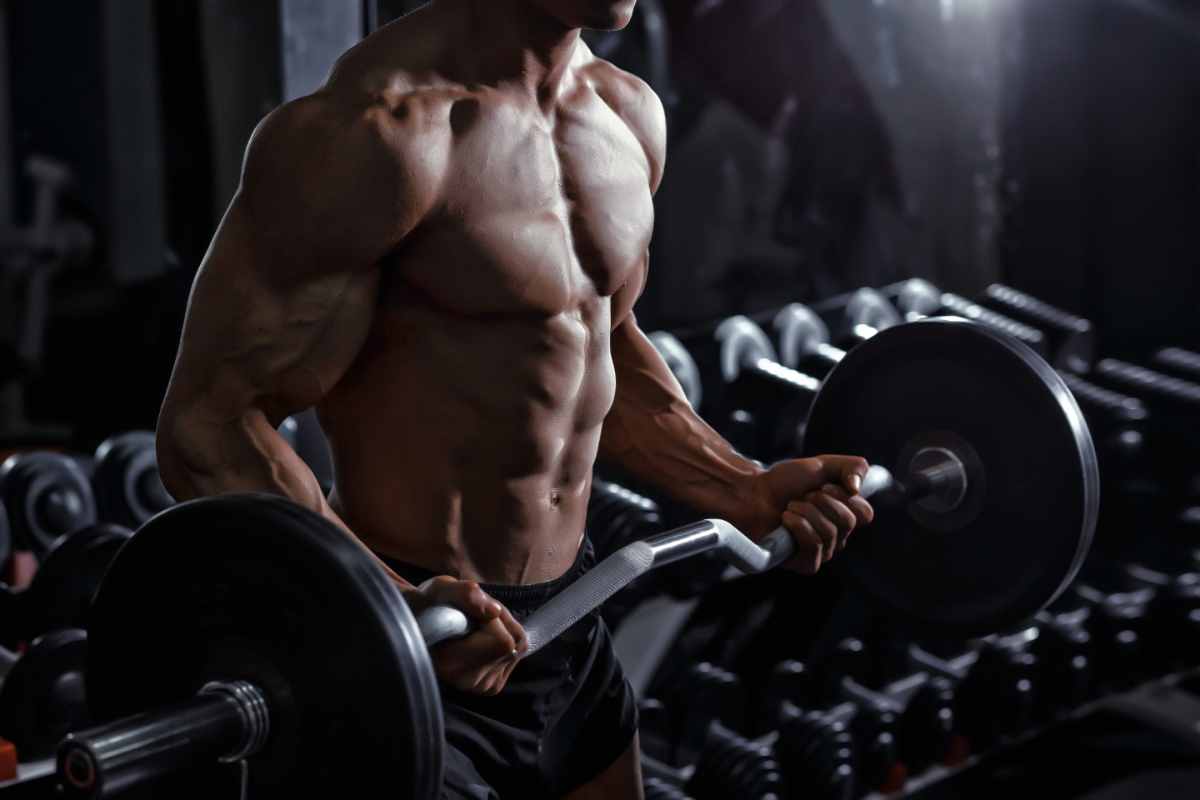 The E-Z curl bar is one of the staples of your local gym.
And now, thanks to the explosion in competition with home gym equipment, there's never been a more affordable time to add an EZ curl bar to your garage or home gym.
The benefits of training with an E-Z curl bar include a more natural grip on the bar, greater activation in the biceps (compared to straight bars and dumbbells), and a more balanced lift.
Below I have organized reviews of the best EZ curl bars by non-Olympic and Olympic.
The difference between the two is mainly the size of the hole in the weight plates. (Olympic bars also are built to load more weight.)
We will start off with bars designed to be loaded with weight plates with a 1" hole before moving onto the best Olympic EZ bars, designed, you guessed it, for weight plates (cast-iron or otherwise) with a 2" diameter.
Read on, and let's get those gainz.
CAP Fitness EZ Curl Bar
CAP Fitness makes fitness gear that is high-quality and reasonably priced. I've had a chance to give their trap bar, flat weight bench, and competition-grade kettlebells a solid rip.
The CAP Fitness EZ Curl Bar is made of steel and is designed for 1" weight plates (so, not Olympic plates). With a silver and black powder-coated finish, and diamond-pattern knurl for extra grip, the bars come in at around $100 and are rated for a maximum weight of 200-pounds.
Length: 47"
Bar weight: 11lbs
Max weight rating: 200lbs
1" weight plate holes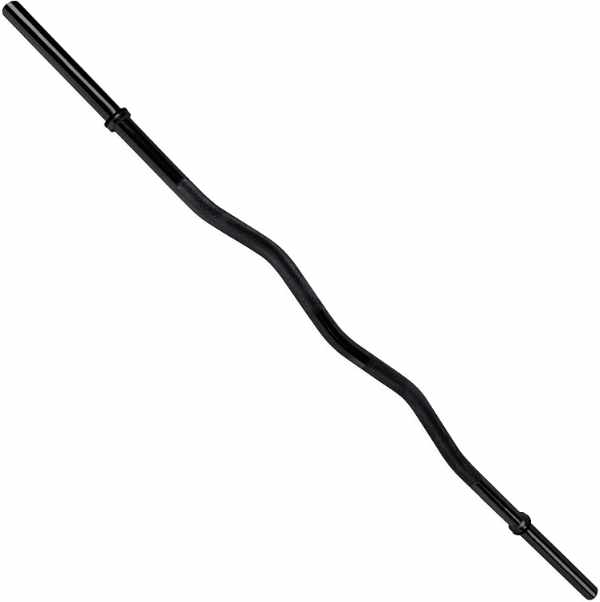 CAP Barbell Super EZ Curl Bar
Another EZ curl comes our way by the folks at CAP. This one has a few different features, including a black oxide finish and rubber grips to keep your hands firmly planted on the bar.
The curl in this EZ bar is noticeably super, giving you an extra angled grip on narrow grip curls. The angled on the most narrow part of the bar is almost fully neutral it is so angled.
The Super Curl bar has threaded sleeves (which includes collars) and is designed to be used with weight plates that have 1" holes.
Length: 48"
Bar weight: 12.5lbs
Max weight rating: 200lbs
1" weight plate holes


Marcy 2-Piece Standard Super Curl EZ Bar
The Marcy Standard Super Curl Bar has the same function and design at CAP's, but instead of rubber grips and a black oxide finish you get that traditional chrome-plated finish and knurled grips that provide a comfortable and secure grip while you dominate your workouts.
Threaded sleeves (with included barbell collars) keep the weight plates firmly locked in so that you can spend more time focused on building muscular and explosive arms versus wondering if a plate is going to slide off the end of the bar.
The Marcy Bar is very light (12lbs), is designed for 1" weight plate holes, and the manufacturer states that weight limit is 150lbs.
Length: 47"
Bar weight: 12lbs
Max weight rating: 150lbs
1" weight plate holes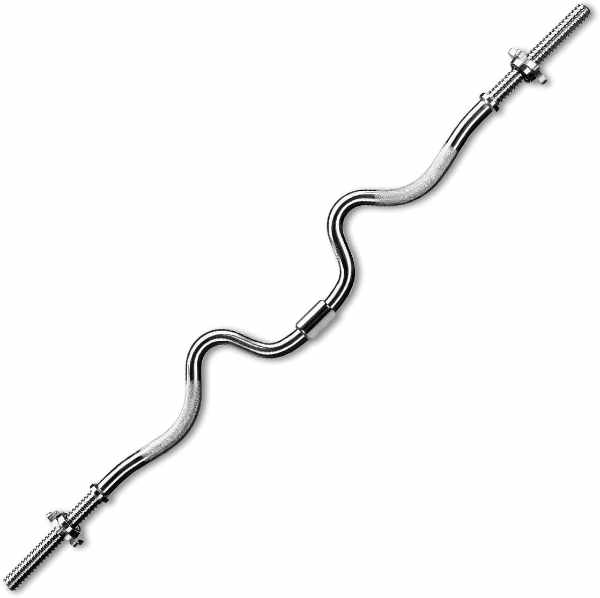 Champion Barbell E-Z Curl Bar
The Champion Barbell E-Z Curl Bar is a no-frills bar that is ideal for home gyms and intermediate lifters. Designed for plates with 1" holes, Reviewers note that it was able to easily handle 100+ pounds on the bar.
With over a thousand five-star reviews, users rave about this product, making it a budget-friendly way to introduce an EZ-curl bar to your home or garage gym.
Length: 48"
Bar weight" 10.7lbs
Max weight rating: 100lbs+ (according to reviewers)
1" weight plate holes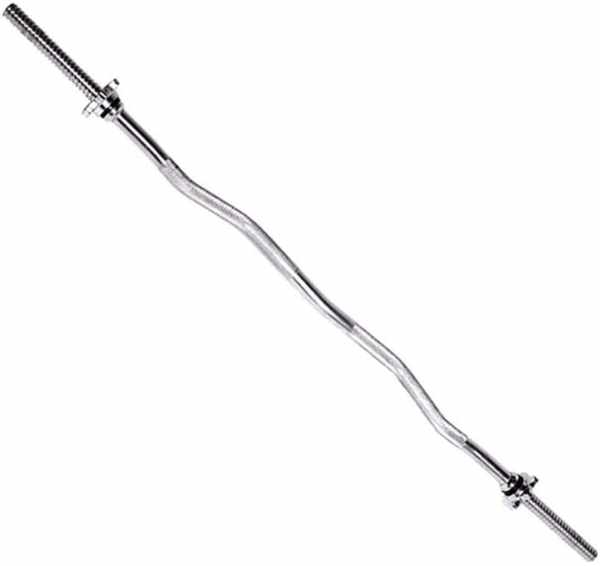 CAP Olympic EZ Curl Bar
Okay, now we are talking! Onto the Olympic bars.
One of the benefits of a curl bar is that they are shorter. The shortened width brings the weights closer to you natural center of gravity.
The CAP Olympic Curl Bar, at "just" 32" does just this. You can rack the weights, and they will just be outside your body, making the curling motion an exercise of straight up and down instead of trying to balance weights that are spread out and away from the body.
The CAP Olympic EZ Curl Bar is for the more serious lifter who wants to rock out heavy weight at home.
Made of alloy steel, the 7.5"-long sleeves are designed for 2" Olympic plates. Barbell collars (they slide on easily and are tightened with a T-screw) are included to keep plates locked and loaded.
The handle is fully knurled and the sleeves rotate to keep the pressure off your wrists and activation focused on your arm muscles.
Length: 32"
Bar weight: 15lbs
Max weight rating: 200lbs
Designed for 2" Olympic plates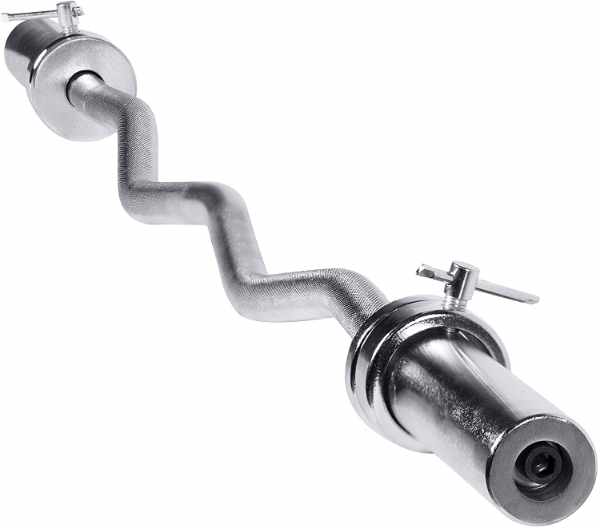 Synergee EZ Curl Olympic Bar
Okay, let's just come out and say it—this thing looks absolutely gangster. Out of the box it looks like it is ready to do work. Fortunately, the Synergee EZ Curl Olympic Bar doesn't just look tough, it delivers.
(I'm a huge fan of Synergee. I am currently using their Olympic barbell in my garage power rack.)
With a commercial-gym grade maximum load of 450lbs, a choice of two good-looking finishes (chrome and black phosphate—but come on, hands down black phosphate for the win), and plenty of room on the bar for weights (2" Oly plates), the Synergee EZ Curl Olympic Bar is simply awesome.
Length: 47"
Bar weight: 19lbs
Max weight rating: 450lbs
Designed for 2" Olympic plates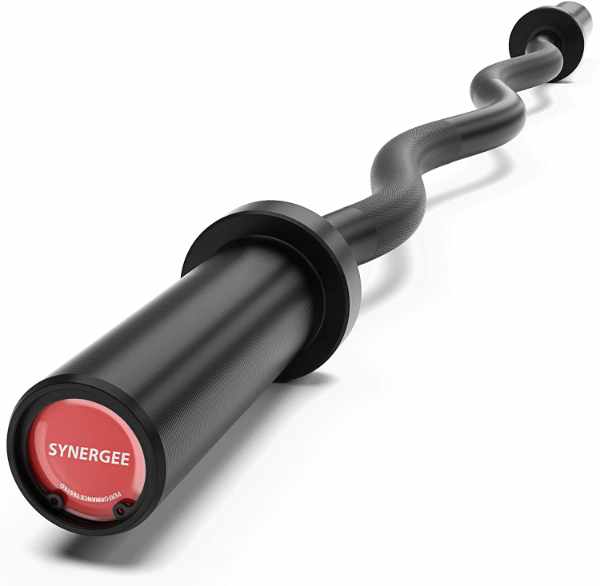 Rogue Curl Bar
⭐Best Olympic E-Z curl bar for serious lifters
If you have friends who do CrossFit, you've heard of their workouts, WODs, and almost certainly, Rogue Fitness. While there seems to be a hate-them or love-them attitude with CrossFit, there is no denying that Rogue makes absolutely killer kit for home and commercial gyms.
Rogue's adjustable weight bench is one of the best investments I've made to my home gym. Rogue's line of barbells are no joke either, designed for performance, and the Rogue Curl Bar delivers with the quality and craftsmanship I've come to expect from Rogue. (Hence the five-year warranty.)
The sleeves on the Rogue Curl Bar are longer than the rest, at 10.5" long, which is great news for you home gym aficionados who have bumper plates, which can quickly take up a lot of space on sleeves.
The Rogue Curl Bar is simply the best. Unlike many of the cheaper curl bars you will find on the market, it's not hollow, it's made in the USA, and the shaft coating means it will never corrode.
For the lifter who trains a lot, and wants something durable that will stand the test of time (and the test of endless curls and skull-crushers!) the Rogue Curl Bar is a no-brainer.
Bar length: 54"
Bar weight: 30lbs
Max weight rating: Sky's the limit
Designed for 2" Olympic plates