Dumbbell racks protect your weights, free up valuable floor space, and help keep your workout area tidy. Here's a breakdown of the best dumbbell racks for every kind of home gym.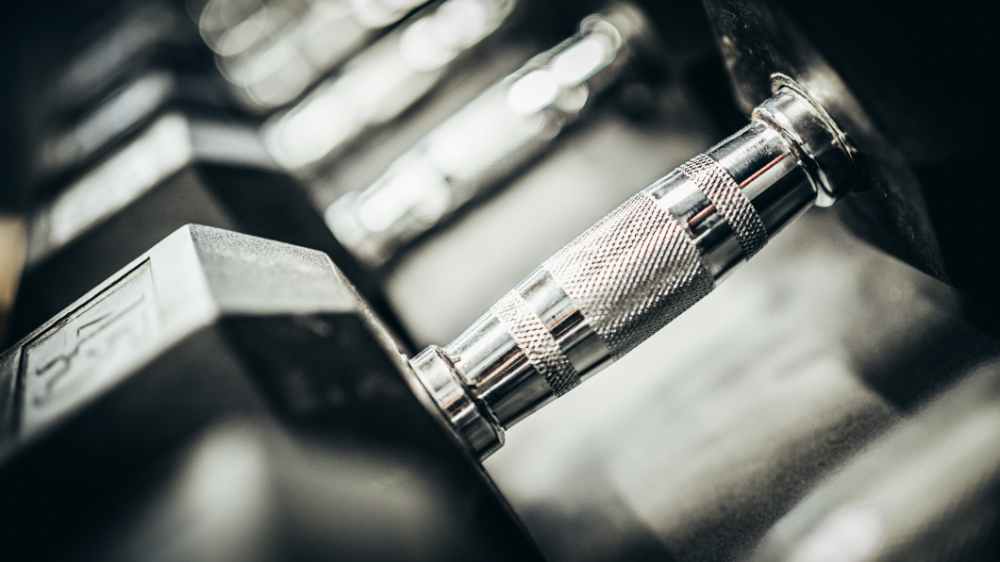 Dumbbells are one of the best investments you can make for your health and for your home gym.
They are endlessly versatile, no matter what kind of workouts you are into.
HIIT, strength training, cardio, powerlifting—whatever your fancy, there are dumbbells routines and exercises to help you get there.
And when it comes to storing your dumbbells between workouts, you want a storage solution that doesn't take up a ton of space and keeps your dumbbells from becoming a tripping hazard.
That's where the right dumbbell rack steps in.
By choosing the best dumbbell rack for your home gym, you:
? Cut down on clutter. A tidy gym makes for happier workouts. Putting dumbbells away between sets and workouts keeps your workout area clutter-free.
? Make your workout area safer. Dumbbells can present as tripping hazards. Dumbbell racks keep them off the floor and in the case of dumbbells with round heads, keeps them from rolling around the floor.
? Protect your dumbbells. Your dumbbells aren't cheap. They are costly, and using a rack to store them keeps them from getting damaged and even helps cut down on excess moisture and dust from getting on them.
Fortunately, dumbbell racks are not very expensive and they are easy to set up.
There is quite a bit of variety in price, size, shape, and function, and in this guide to the best dumbbell racks, we are going to look at the key features of the top racks on the market.
Read on, find the right dumbbell rack for your home or garage gym, and spend more time focusing on getting those gainz and less time worrying about tripping over your dumbbells.
Rogue 3-Tier Dumbbell Rack
⭐ Best heavy-duty rack for serious lifters
Rogue makes a lot of my favorite pieces of fitness equipment, whether we are talking about Rogue's line of squat racks, rubber hex dumbbells, or Rogue's deep roster of industry-leading barbells.
Rogue's 3-Tier Dumbbell Rack is a heavy-duty solution for lifters who have a whole bunch of dumbbells—the rack can store up to 15 pairs of DBs—and want something sturdy to store them with.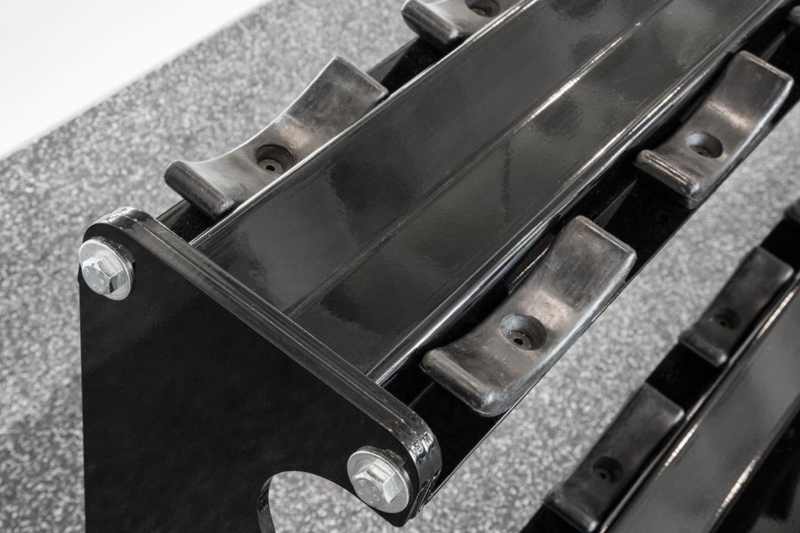 Compatible with both pro-style and rubber hex dumbbells (with certain brands of hex dumbbells you may find yourself having to remove the saddle on the rack to accommodate them), the Rogue 3-Tier Dumbbell Rack is perfect for dumbbells ranging in weight from 5 pounds all the way up to 125 pounds.
Rogue is a premium brand that makes their stuff domestically with American steel (one of the rare fitness companies that can claim to do so), and this rack doesn't disappoint, weighing a hefty 269 pounds of heavy-duty, ready-to-kick-butt awesomeness.
33 inches high, 93 inches long, and retailing for around $855 through Rogue's website (check Rogue's site for current pricing and shipping options), this thing is an absolute beast and is as close as you can get to having a commercial-grade dumbbell rack at home without shattering your bank account.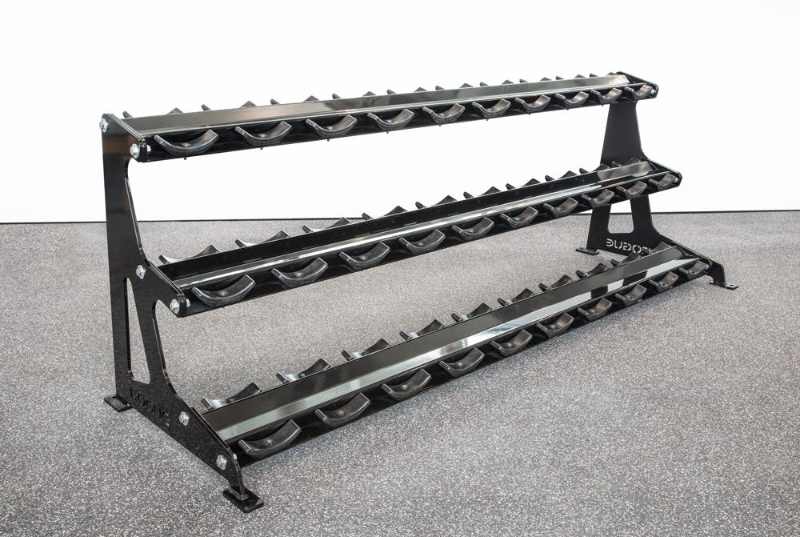 Rogue Universal Storage System 2.0
⭐ Best customizable dumbbell rack
Looking for something heavy-duty that can handle not only your dumbbells but also your favorite medicine balls and/or kettlebells?
Rogue's Universal Storage System 2.0 gives you all of the flexibility and space for your weight training equipment. You can choose between a two or three tier rack and also what kind of shelf you want.
Have lots of medicine balls or a full line-up of competition kettlebells? Select a flat top tray. Want to store strictly dumbbells? Go with three tiers of angled shelves.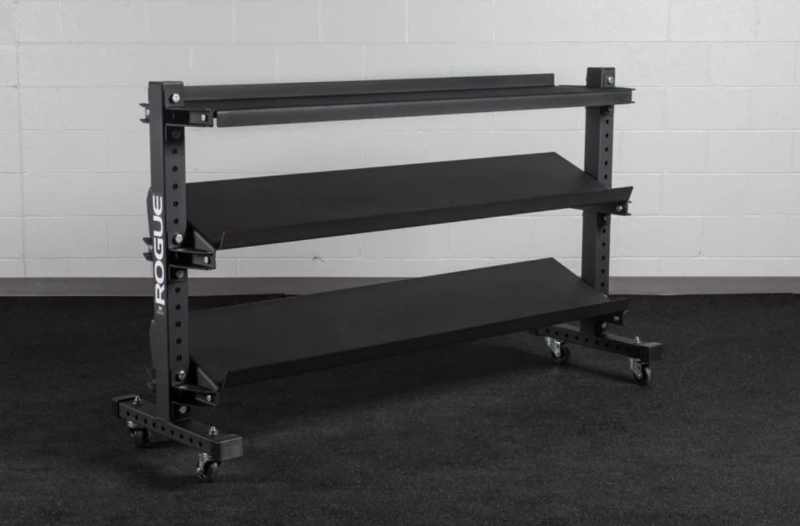 The rack is not only customizable to your unique needs and equipment, but it's also huge, with 70" of shelf length.
Price for the rack is all over the place depending on what options you go with. For a strictly dumbbells-only rack, the two-tier rack is $510, with the three-tier option $665.
The feature I like most about this rack is the wheels on the bottom that make moving the rack a breeze, perfect for those days when you want to wheel the weights closer to your workout benches or you simply want to get behind the rack to sweep gym dust.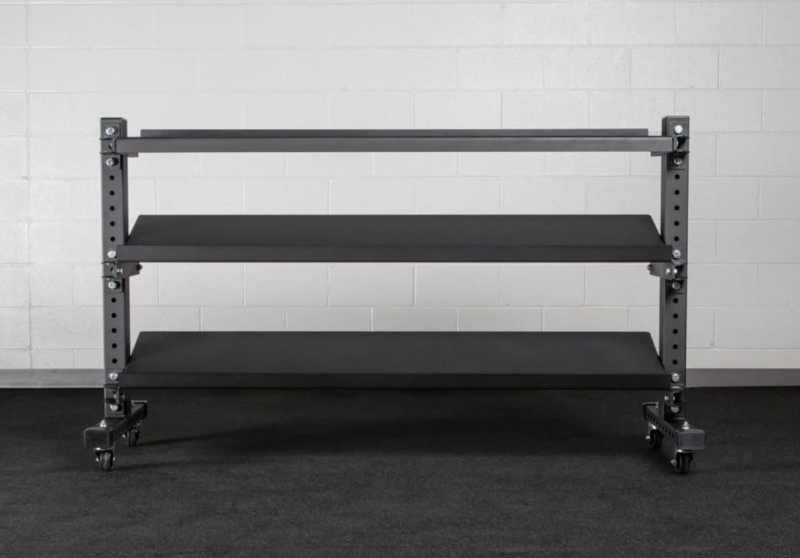 AKYEN A-Frame Dumbbell Rack Stand
⭐ Best vertical dumbbell rack
Having a home gym is great, but one of the challenges we all face is a shortage of floor space. A vertical or A-frame dumbbell rack is a great solution to this problem. By stacking the dumbbells vertically we free up valuable space for more workout gear ?
While there are a few different A-frame racks on the market, the one by AKYEN is my favorite.
The rack has a wide base with rubber-tipped feet for extra stability. Stainless steel bolts that keep the stand together and maximize durability. And one of my favorite features—rubber inserts that protect the handles on your dumbbells when loading and unloading them from the rack.
The AKYEN A-Frame Dumbbell Rack can store ten dumbbells and handle up to 570lbs of weight and has a heaping ton of five-star reviews on Amazon (over 1,800—check here to give them a read at Amazon). It's also priced super competitively, at around $65.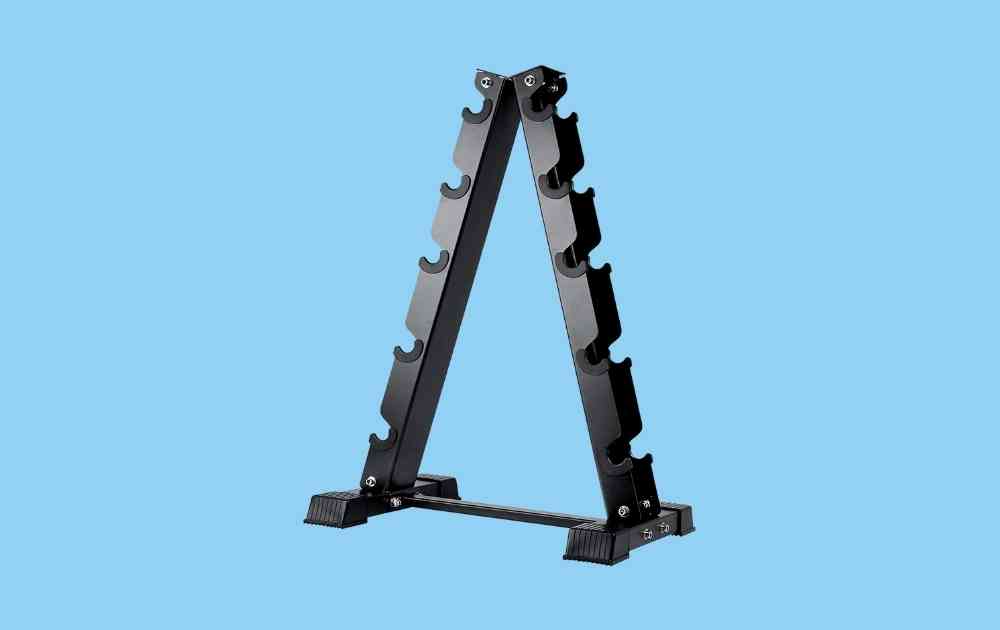 CAP Barbell 3-Tier Dumbbell Rack
⭐ Best dumbbell rack for most home gyms
CAP Barbell is a popular maker of home fitness equipment that could just as easily be at home in a commercial gym. They make excellent budget Olympic barbells, lat pulldown bars, and weight plate storage racks.
So it's no surprise that their dumbbell rack kicks all of the butts.
With a 1,000lb weight capacity, this thing can store a ton of dumbbells, with 150 inches of total storage space. The lower two tiers are slightly angled to make it easier to unload your dumbbells, and the shelves can handle a variety of different shaped dumbbells.
The only downside?
It's hard to get your hands on one, with Amazon frequently being sold out of them (check Amazon for current availability and price).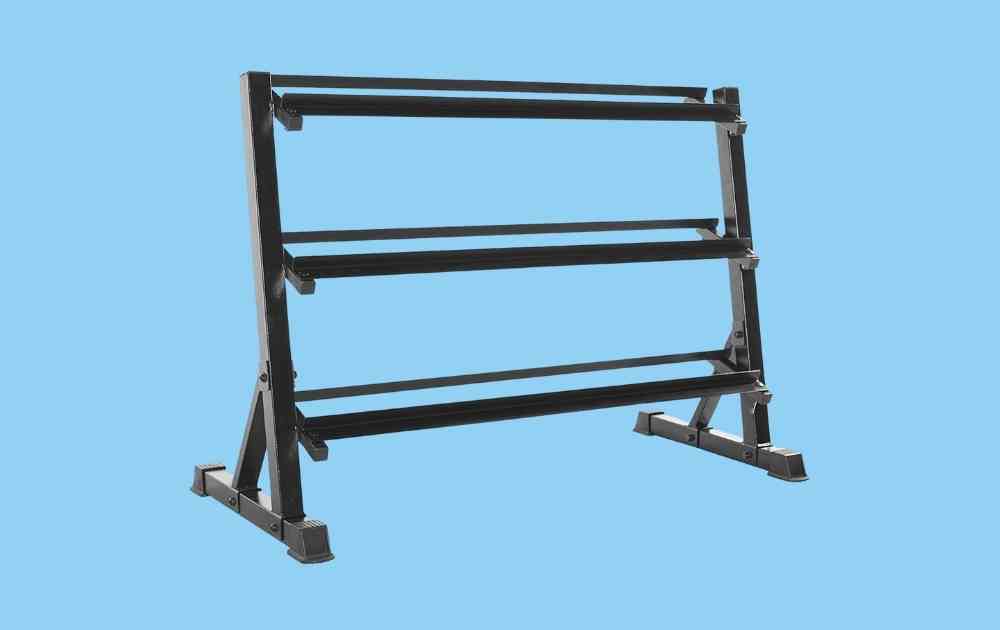 Marcy Compact Free Weight Stand
Dumbbell handles come in a variety of lengths. Neoprene dumbbells, for example, have a shorter handle than your standard cast-iron dumbbell. This is why it's great to have a dumbbell rack that can handle all sorts of handle lengths.
And here is where the Marcy Compact Free Weight Stand comes in.
Made of high-grade steel and powder-coated to prevent corrosion and rusting, the dumbbell rack can handle all of your dumbbells vertically and horizontally. The slim footprint doesn't take up much floor space, and the rack is rated for up to 400lbs of weight.
The only thing that would make this rack better is if the vertical rack holders had plastic insert to protect the dumbbell handles, but honestly, the powder-coat finish is most likely sufficient.
Available through Amazon for around $120 (check Amazon for current pricing and availability), the Marcy Compact Free Weight Stand is an excellent dumbbell rack for home gym enthusiasts who have an assortment of dumbbell types and want to store them in one floor-saving space.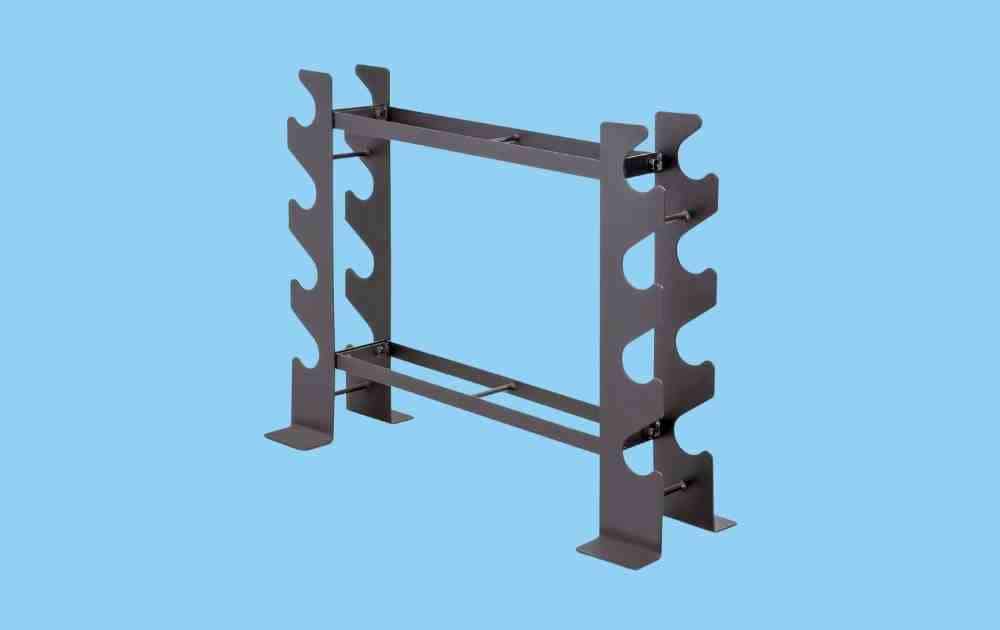 Recommended Reading
6 Best Dumbbell Sets for Every Kind of Home Workout. Looking for an awesome set of dumbbells for your home gym? Read on for a detailed review of the best dumbbell sets for working out at home.
6 Best Adjustable Dumbbells for Your Home Gym. Looking for the best adjustable dumbbells for taking your home workouts to the next level? Read on, because you've come to the right place.
6 Best Olympic Barbell Holders for Protecting and Storing Your Bars. Barbell holders protect your bar, open up more space in your home gym, and extend the life of your lifting gear. Here's a breakdown of the best Olympic bar holders.