Rubber hex dumbbells are the best DBs for your home or garage gym. Here is a full breakdown of the top DBs for working out at home.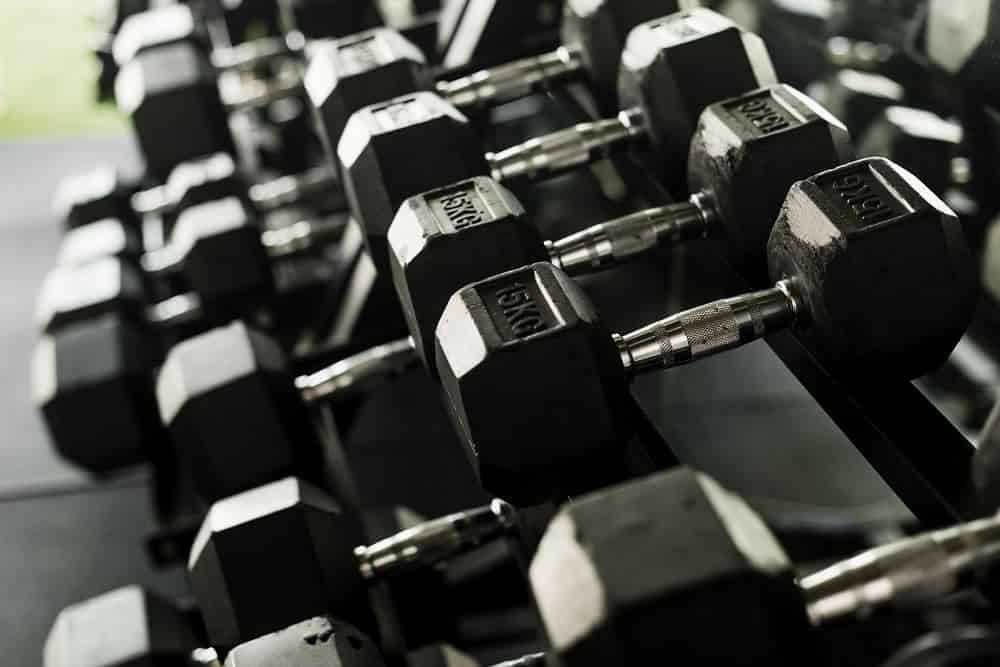 We (obsessively) research and use workout gear. When you buy stuff through our links, we may earn a commission at no cost to you.
Once you have the essentials of a home gym—power rack, gym flooring, an adjustable weight bench—it's time to start stocking up on dumbbells.
And the best kind of dumbbells for your home or garage gym?
Rubber hex dumbbells.
? Want to skip straight to the best rubber hex dumbbells? It wasn't even close. Rogue's DBs are my hands-down winner for durability and pricing. Click here to check current pricing and stock at Rogue's website.
Why Rubber Hex Dumbbells Kick All of the Butts
There are a few reasons why they should be your go-to dumbbell:
? They won't roll away from you. The hex shape of the dumbbells means they won't roll away when you put them on the floor. Even though this seems like a small annoyance, if your gym floor is uneven, rounded dumbbells will roll away from you, turning a small annoyance into a possible safety hazard.
? Protect your floor. While I don't recommend wholesale dropping dumbbells from shoulder-height to prove this point, rubber-encased dumbbells are less likely to damage your floor during accidental drops.
? Thicker, contoured handles. I'm not wild about thin, flat bars. I have long, E.T.ish fingers, so a thicker handle is something I will always jump on. Most regular dumbbells and adjustable dumbbells have thin chrome or steel handles. Rubber hex dumbbells are typically built with thicker, contoured handles that fit naturally (and more securely) in my palms.
? Less clanging and banging. Old school cast iron dumbbells are great and it can be satisfying to clang and bang them back into the rack after a big set. But the clang and bang isn't always appreciated, especially at home. The rubber coating on hex dumbbells softens the impact and reduces a lot of noise. Get those gains without waking up the rest of the house.
Okay, okay, I will stop, otherwise I will go on and on about why I love these kinds of dumbbells.
Let's get into the good stuff…
The reason you came here…
A full breakdown of the best rubber hex dumbbells for home gyms.
Read on, and let's get to ballin' out with our dumbbells out.
Rogue Hex Dumbbells
⭐⭐⭐ Best overall rubber hex dumbbell
Rogue makes stellar gear for both commercial and home gyms. Even though I have never done a CrossFit WOD, and Rogue tends to be linked with the sport, you don't need to be a CF athlete to love their stuff. I swear by their stuff, from their bumper plates to flat weight benches to Roman chairs.
When it comes to the best rubber hex dumbbells, Rogue wins across every metric.
It's not even close.
Best quality (made in the USA with North American steel) and best priced (something you don't always hear when it comes to Rogue equipment).
Rogue's Rubber Hex Dumbbells are a no-frills set of DBs. Rubber-encased for quieter lifting and softer landing, they have a contoured and knurled handle that increases with size. Smaller weights (10lbs and less) have a handle of 25mm while everything heavier has a thicker, 35mm handle, giving you grip security as you progress in weight.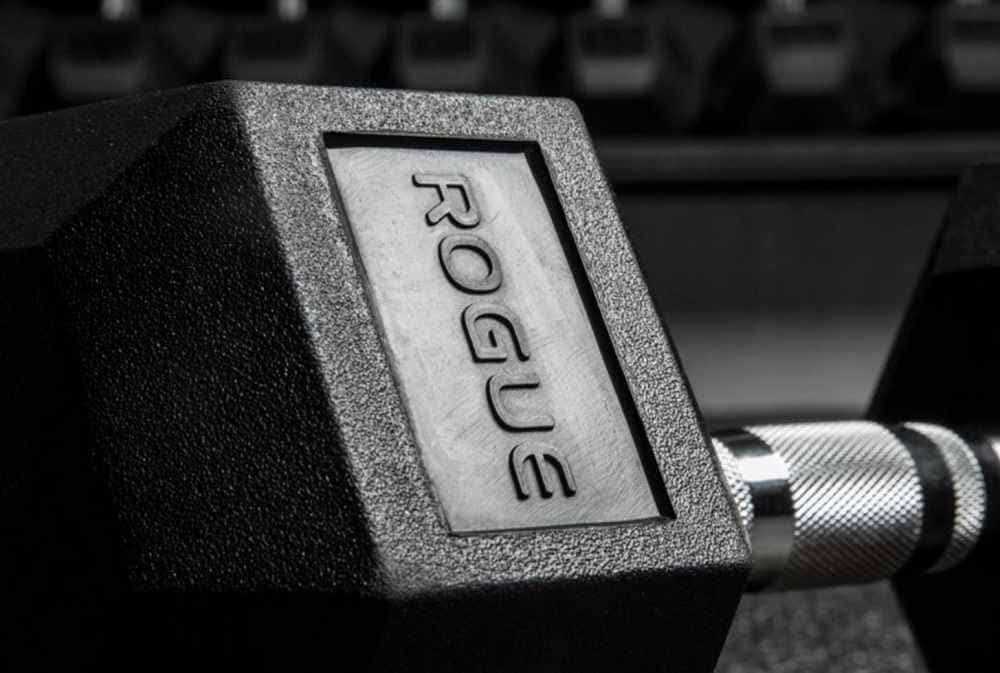 Rogue sells a range of different kinds of dumbbells, some branded (like the ones we are talking about right now) and some unbranded. They are generally the same, with similar weight variances of 3%.
The branded DBs are slightly cheaper and are sold in pairs as well as in complete sets. A 10lb pair costs around $28 and a pair of 125lb dumbbells run costs $340, which is extremely cost-effective compared to other DB makers.
Related: Rogue Dumbbell Reviews: Choosing the Right Rogue DBs for Your Home Gym
For example, a pair of 50lb Rogue dumbbells costs $142, while single 50lb dumbbells of "low-cost" brands average $150.
In sum, it's hard not to gush over the thick handles, heavy-duty construction, and wildly reasonable price point of the Rogue Rubber Hex Dumbbells.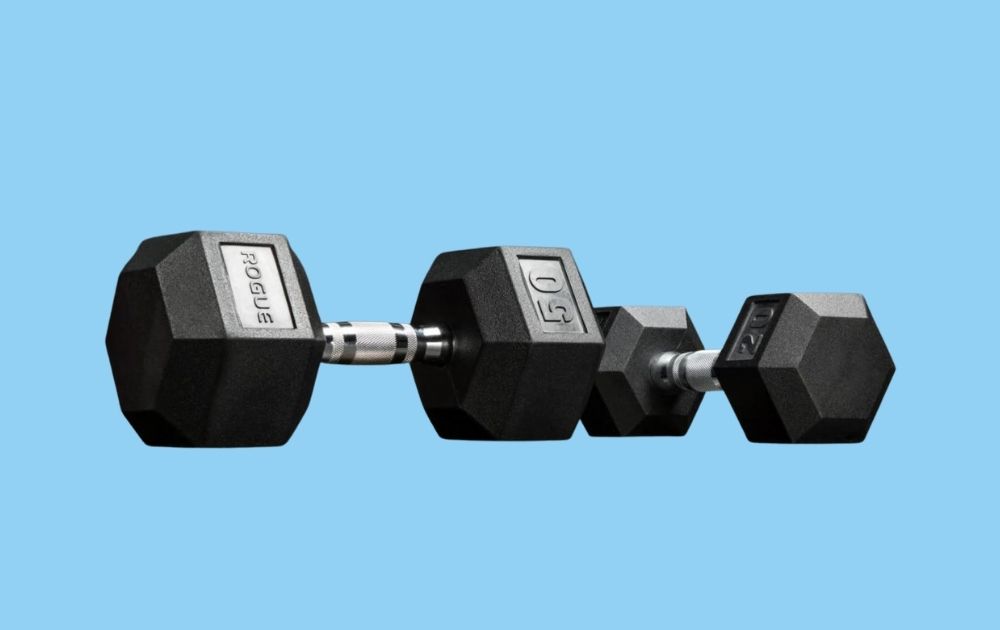 CAP Barbell Rubber Hex Dumbbells
CAP Barbell makes a lot of excellent gear for home gyms (and commercial gyms, too).
I do recommend a lot of their gear, from their basic lat pulldown bar to muscle clamps for barbells.
If you have an antipathy towards Rogue, these dumbbells are a good alternative.
Available in 5lb increments from 10lbs all the way up to 120lbs, the Cap Barbell Rubber Hex Dumbbells are a killer addition to the home gym.
A contoured chrome-plated handle makes handling the dumbbells comfortable and secure. That smelly rubber-encasing (that is typical of all rubber DBs) will guard your floor from accidental drops and damage. And the weights are spread apart far enough on the handle that you can train unimpeded.
They are priced significantly higher than Rogue's dumbbells and on par with the other DBs that are sold via Amazon, with a single 50lb dumbbell costing about $125 (pricing fluctuates—check here for current pricing and availability at Amazon). They are sold individually, in pairs, and CAP Barbell also sells them as dumbbell sets.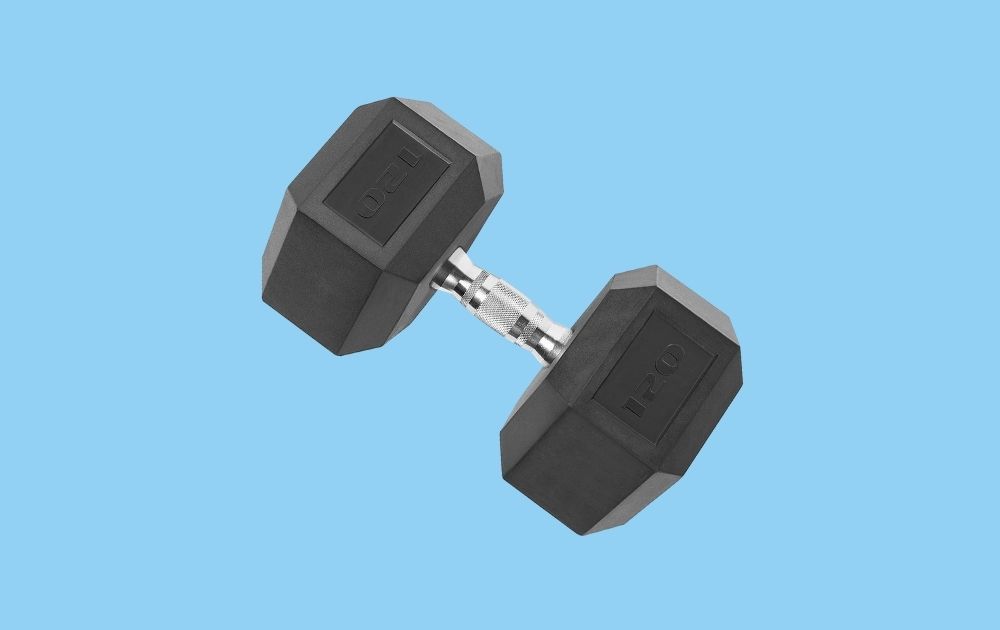 Amazon Basics Rubber Hex Hand Weights
Amazon has infiltrated the personal fitness equipment over the past couple of years, and I am sure they have benefited greatly with the explosion of people working out at home since the beginning of 2020.
Available in a range of weight, from 10-50lbs, they feature the typical chrome-covered and contoured handle that makes holding the dumbbells a more secure experience. The "weight" portion is encased with a thin rubber coating. No rolling when you set the DBs down on the ground or back on the rack.
They are comparatively priced to the CAP Barbell Dumbbells, but the only limitation, for heavy lifters at least, is that they tap out at 50lbs.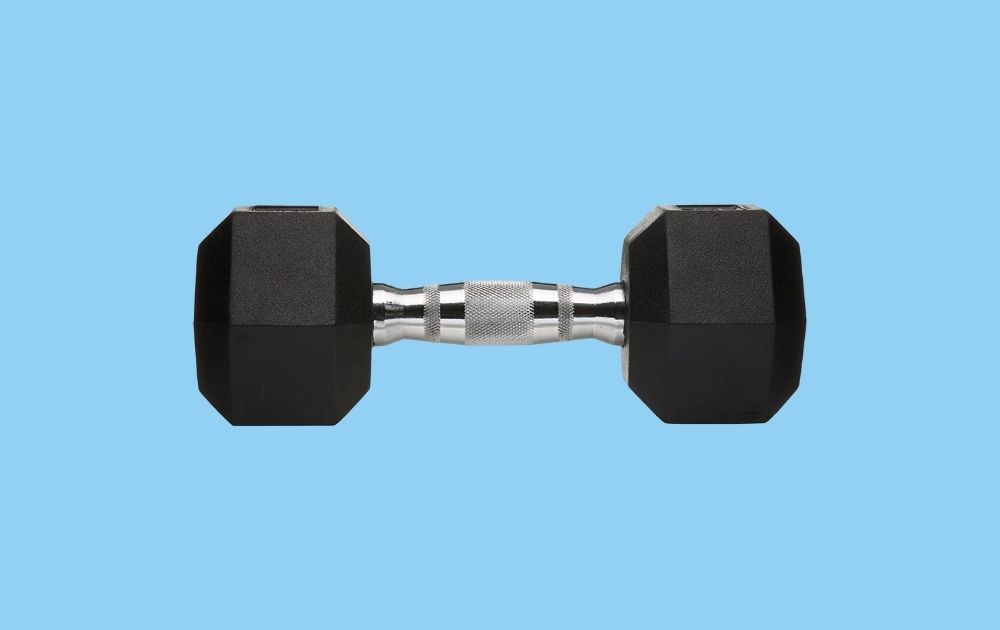 Sporzon! Rubber Hex Dumbbells
One of my favorite parts about dumbbells is the sheer versatility. Whether you are looking to blast your upper or lower body, do twists, weighted curls, or even hang them off a weighted dip belt, dumbbells are a killer addition to your training regimen.
Sporzon! rubber encased hex dumbbells check most of the boxes when it comes to a killer DB. Knurled handle, hex shaped for easy storage and no rolling, and rubber encased for soft landings and floor protection.
Two complaints.
First, the DBs only go up to 50lbs and are sold generally in singles (which they specify unlike other sneaky-sneaky manufacturers).
Second, compared to the other low-cost DBs they weren't actually that low-cost. Price-checked against the Amazon Basics and the CAP Barbell DBs, they were significantly more expensive ($40 more for a single 50lb dumbbell).
That said, pricing can fluctuate (check here for latest pricing and availability on Amazon).
Sporzon's DBs have a lot of raving fans, with nearly 2500 five-star reviews, making them a solid choice for dominating your DB workouts at home.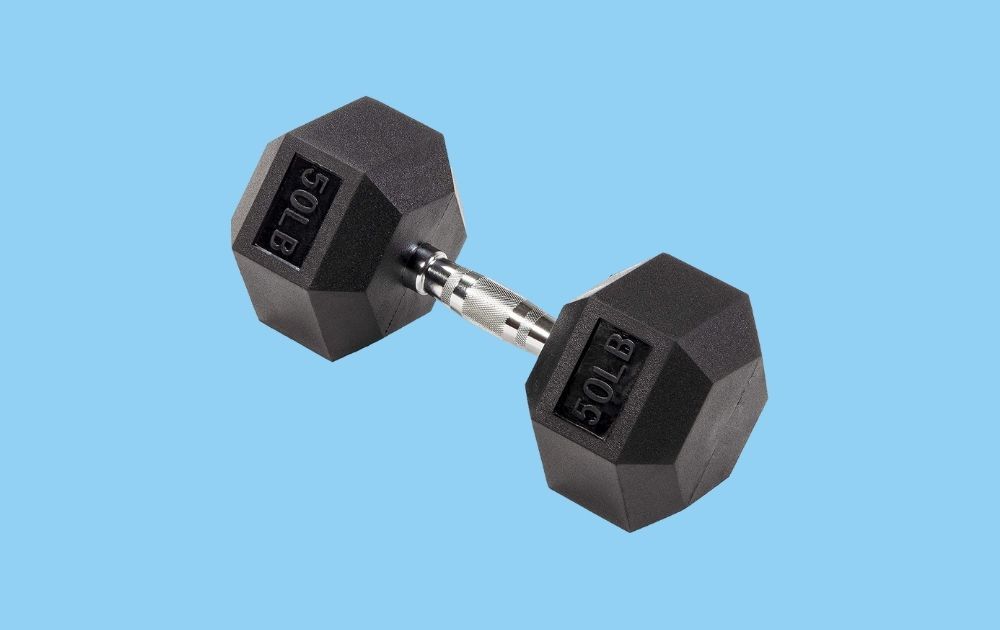 JFIT Rubber Hex Dumbbells
Lastly, we have JFIT's rubber hexagon DBs.
By now, you know the deal: they feature the chrome-plated handle that is countered for an excellent grip.
A diamond-knurl on the handle increases your grip, and the rubber-encased ends are perfect for those working out in spaces with shared walls (i.e. apartments).
Pricing is a bit all over the place, but I was able to get a single dumbbell for under $100, which is cheaper than the other Amazon-listed dumbbells but significantly more expensive than the Rogue DBs.
Available in a range of weight, from 5 to 50lbs, and well-reviewed, with 70% of customers giving them a five-star thumbs-up (check here for more reviews and current pricing on Amazon).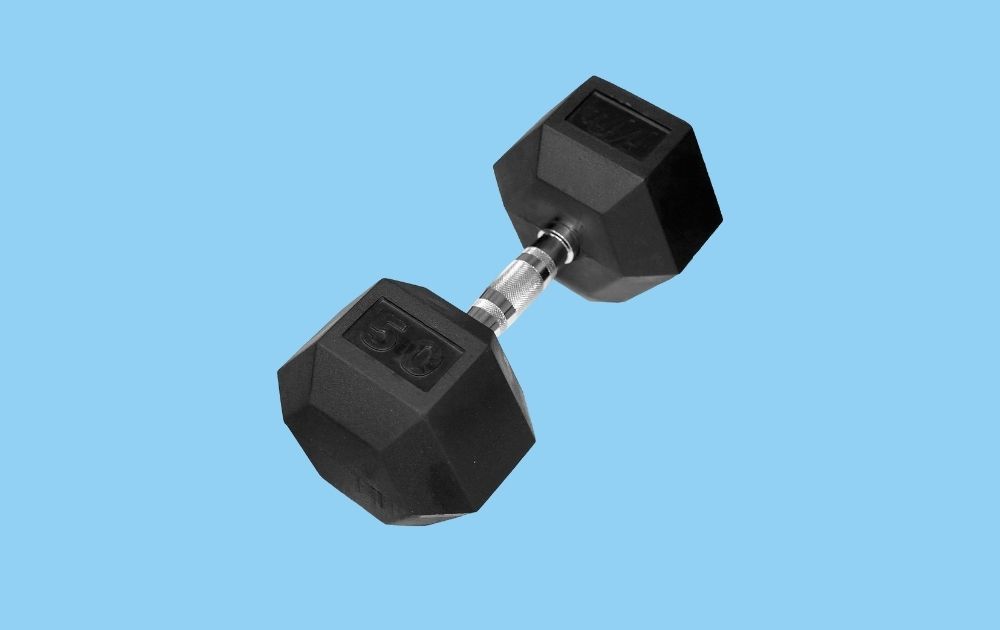 CAP Barbell 150-pound Rubber Hex Dumbbell Set
⭐ Best rubber hex dumbbell set for intermediate lifters
For people looking for a set of rubber hex dumbbells, CAP Barbell makes one of the best ones on the market. Each set comes with five pairs of dumbbells, including 5, 10, 15, 20, and 25-pounds.
The handles on the CAP Barbell dumbbells are a combination of contoured, for a more ergonomic grip, along with some light knurling to help keep your hands from slipping when chasing gains in the gym. The handle is made of rolled solid steel and is joined to iron heads that don't clunk and break down over time.
Ordering your rubber hex dumbbells in a set drastically cuts down on the shipping charges of purchasing weights. The cost of shipping heavier items like dumbbells climbs quickly, especially if you are purchasing them a pair at a time.
CAP Barbell offers their dumbbell hex sets with a variety of different racks.
You have the choice between a two-tier dumbbell shelving rack, or for people who want to maximize floor space in their home gym (like just about all of us), with an A-frame.
The A-frame racks also come in a variety of different colors, from black to bright green, giving you plenty of options for finding the perfect rubber hex set and rack that matches the style of your home gym.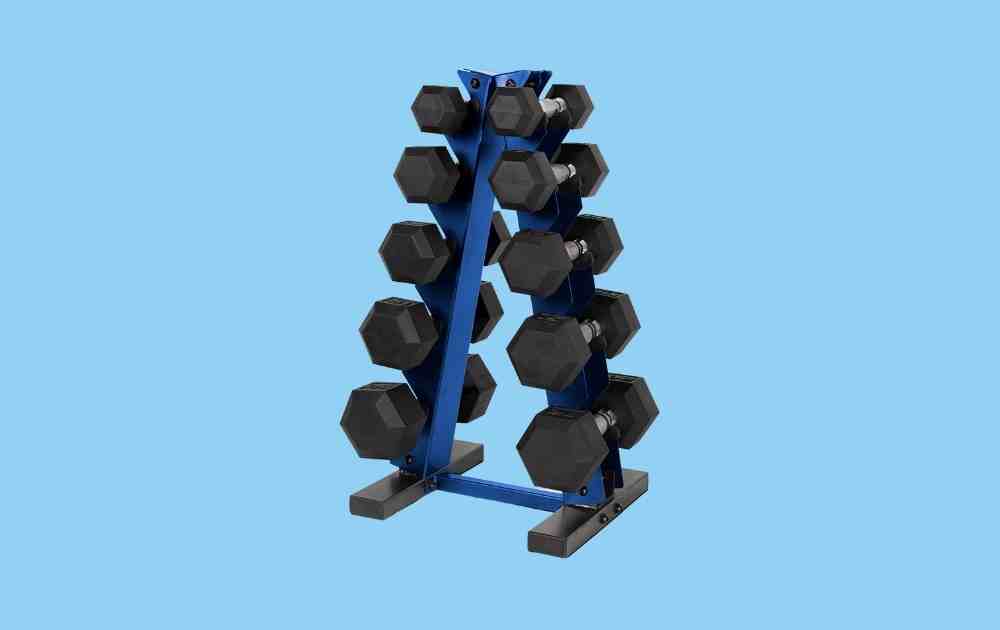 Choosing the Right Rubber Hex Dumbbells
Rubber hex dumbbells are among the most cost-friendly dumbbells for home gym enthusiasts.
While most commercial and big box gyms go with the round head urethane dumbbells for their durability and more frequent use, they are also significantly more expensive.
For people who workout at home, rubber hex DBs are more than sufficient.
When choosing a pair or set for yourself, here are some of the key things to keep your eyes peeled for.
✔️ Handle style.
Most rubber hex dumbbells have a lightly contoured handle. Some lifting purists don't like this feature, but I love it for the more customized grip that they give. Some gym brands—REP Fitness, for example—build their handles straight from head to head.
✔️ Handle knurling.
While we are on the topic of handles, let's take a peek at the knurling, which is the "tread" of the handle. Knurling helps give you more of a grip on the handle of the dumbbell.
Aggressive knurling, like the kind of you will find on powerlifting barbells, is ideal for short sets (1-2 attempts at 1RM) as it will shred up your hands with repeated use.
Most rubber hex dumbbells have a medium grade of knurling that is suited for longer sets and multiple repetitions.
The one downside of some DBs is that they have only strips of knurling with exposed chrome making up the rest of the handle. Lifters who sweat a lot know how frustrating it can be trying to grip a chrome handle without knurling.
✔️ Fixed heads on the dumbbells
For most lifters, this won't be much of an issue, but for people who are looking to stock up a commercial gym, they will want to spring a few extra bucks for rubber hex dumbbells that don't have heads that rattle and come loose.
A couple of my favorite brands, including Rogue, Titan Fitness, and Rep Fitness, make rubber hex dumbbells that have fixed heads (or nearly fixed heads, in the case of Rogue).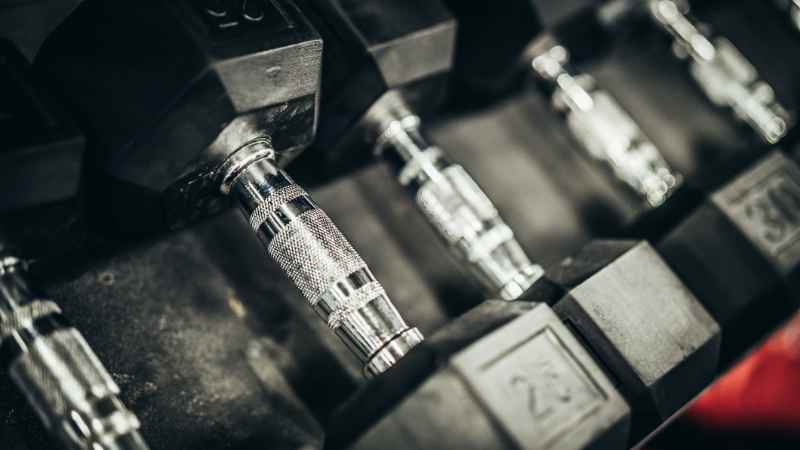 Most cheapo brands on Amazon sell hex dumbbells that aren't as securely attached at the handle and the head. It's just cheaper to manufacture this way.
Ultimately, unless groups of people are going to be aggressively using them on a daily basis, you won't notice. And most brands don't list how they attach the heads in their product descriptions—you will have to manually reach out and ask.
That said, I wanted to include this point in this rundown because it helps to explain the price difference between the low-cost brands and some of the bigger fitness brands.
✔️ Cost
Lastly, there is cost!
How much you are willing to invest in hex dumbbells comes down to how much you are planning on using them, how many DBs you want (singles, pairs, or sets), and what your budget is.
Fortunately, hex dumbbells are among the most affordable on the market, with even the more premium brand names like Rogue producing very cost-friendly options for both the casual home gym enthusiast and lifters who want a commercial-grade experience at home.
The Final Rep
Dumbbells are one of the best investments you can make for your home gym.
They are endlessly versatile in terms of the exercises that you can perform with them, and while there are tons of different kinds of dumbbells out there, rubber hex dumbbells are probably the best for how they balance function and affordability.
To recap:
? The Rogue Hex Dumbbells rank again as my best overall rubber hex dumbbell. Thick, ergonomic handle, smallest weight variance on the market, and super well priced, you can't go wrong with them.
? Best budget option are the Amazon Basics Rubber Hex Hand Weights, available in a decent range of weight options (10-50 pounds), and ideal for lifters on a budget who don't need to go too heavy.
? And the best rubber hex dumbbell set is the one from CAP Barbell. With lots of color and style choice for the rack, and CAP Barbell's name behind the dumbbells, you've got a full set of dumbbells ready to help you chase those new personal bests in the gym.
Find the right hex dumbbells that match your goals and your budget and get to lifting!