Looking for help on picking the right Rogue dumbbells for your workouts? Here's everything you need to know.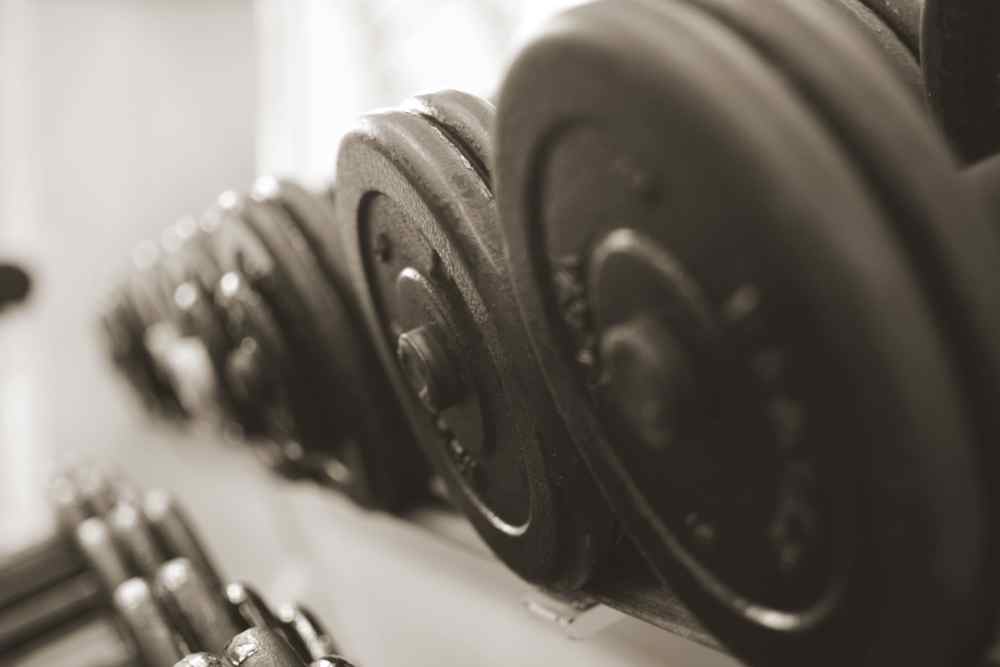 Rogue Fitness is one of the most popular fitness brands on the planet.
They make high-quality gear that is battle-tested over and over again in countless CrossFit boxes, university athletic centers, and home and garage gyms.
Although Rogue is one of the "premium" brands when it comes to the home-based athlete and gym nerd, most of their stuff is actually quite affordable, and this includes their line of dumbbells.
Whatever kind of dumbbell you are in the market for, whether it's a rubber hex dumbbell, loadable dumbbells, adjustable dumbbells, or the more commercial gym variety in the urethane dumbbells, there is a pair or set of dumbbells for you and your budget.
Read on, find the best Rogue dumbbells for you, and get after those gains in the gym.
Let's dive right in.
Rogue Rubber Hex Dumbbells
⭐ Best no-frills Rogue dumbbells
Rubber hex dumbbells are my favorite type of dumbbell. There are a few different reasons for this, but there are two that stick out the most for those of us building out a home gym.
The first is that they are easily stackable. Unlike rounded dumbbell heads, rubber hex have flat sides that make stacking them a piece of cake. The flat edges have more upside—they won't roll away from you when you put them on the floor, making them a little safer, too.
Second, the contoured handles are the most comfortable type of handle (in my experience). I have longer fingers, so I need a slightly thicker grip and rubber hex dumbbells bring this feature.
Rogue's rubber hex dumbbells are actually unbranded, are available in weight up to 125lb, have that comfortable knurled handle, and weight variance is +/- 3%, which is industry-leading, especially compared to some of the cheaper dumbbell sets you will find on Amazon and elsewhere.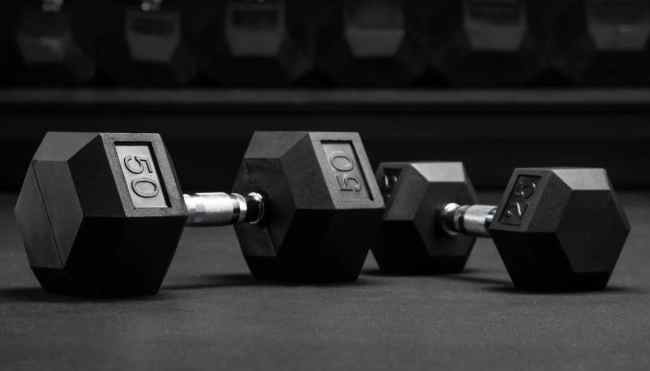 Rogue Poly Hexagonal Dumbbells
These dumbbells are very close to the same as the rubber hex edition, and the last time I looked was the same price-per-pound.
There are just a couple of key differences with the poly hex dumbbells. The rubber shell is a little harder with these ones, with a PVC/vinyl and rubber composite that feels a little stiffer than rubber hex DBs.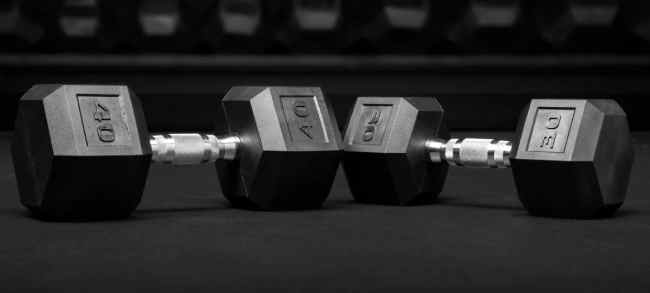 Most lifters may not notice the difference, and frankly, doesn't really matter that much, especially as you still get the sound-deadening effects along with the flattened weight heads for easily stackability and non-rolling.
The handles are the same as well, with a lightly knurled chrome-plated finish that sits comfortable in your hands while you hammer away at your PRs.
Weight selection is limited with the Poly Hex's, however, with Rogue selling these within a range of just 5-50lb in five pound increments.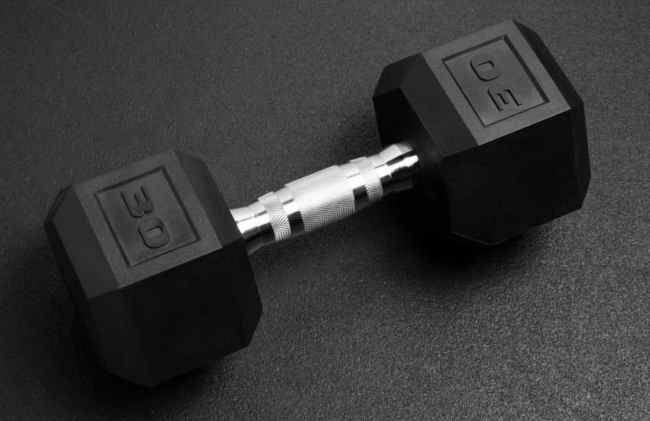 Rogue Urethane Dumbbells
⭐ Best heavy-duty Rogue dumbbells
These dumbbells are the type that you are more likely to see at a commercial gym. And they are also my top pick for best overall dumbbells (check out my full breakdown of the best dumbbells for home gyms here).
Emblazoned with the familiar Rogue logo on the heads of the weights, these things last forever, look great, and are exceptionally comfortable to use with their wide, flat weight heads.
The dumbbells are welded in one piece, which gives them a very accurate weight distribution and makes them basically indestructible. The urethane shell deadens sound when dropping the weights, protects the dumbbells, and is easy to wipe down when you're done water-fall-sweating all over them. The handle is chrome-plated, 6" long with a medium knurling (it's also straight unlike the hex and poly DBs).
Rogue sells these in pairs at a price that is significantly higher than the hex and poly dumbbells, but if you're building out a serious home gym (or commercial gym, for that matter) and want the best, these are it.
The urethane dumbbells start at 5lb and top out at 150lb, making them Rogue's heaviest dumbbell.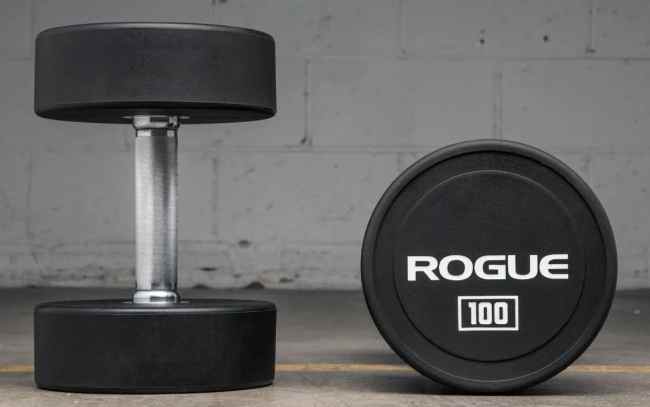 Rogue Loadable Dumbbells
Adjustable and loadable dumbbells have exploded in popularity since the onset of Covid in the spring of Covid.
It's not hard to see why—for those of us who were left without a gym, the only option was to build out a home gym with the limited space we had in our garage or basement. Adjustable and loadable dumbbells provided a very alluring option for lifters and athletes short on space.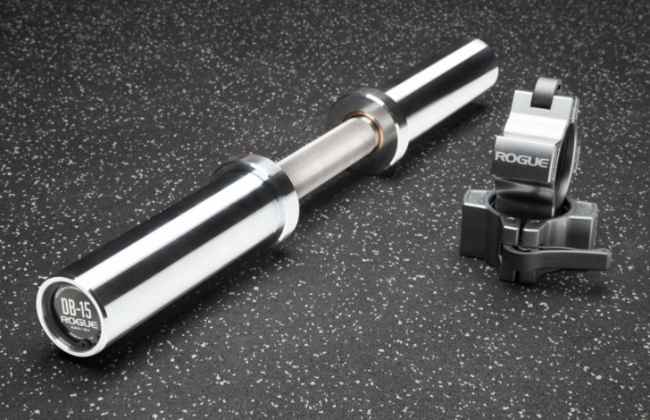 Rogue's Loadable Dumbbells are basically mini Ohio barbells that you can quickly load and unload with weight. Like competition and powerlifting barbells, these have bushings that allow the bar to "spin" in your hands, making them ideal for explosive and power movements like cleans and jerks.
There are some size options to play with when it comes to these. The "stubby" version, the DB-10, has a 3.6" sleeve while the DB-15 gives you almost double the sleeve length at 6.75".
The loadable dumbbells aren't very cheap, with a DB-15, with collars, costing $175. That might not look too bad on the surface, but then you need to start adding plates and the costs of these dumbbells can escalate quickly.
(Rogue also sells Rogue Dumbbell Bumpers which are made specifically for these DBs.)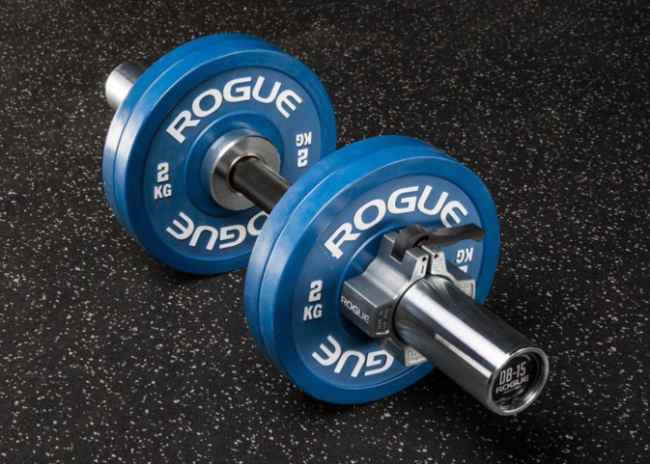 Powerblock Pro Dumbbells
Okay, these aren't technically Rogue dumbbells, but Rogue does sell them through their website, and frankly, I like them too much not to include in this list.
When it comes to adjustable dumbbells, there is a staggering variety of types, construction, and performance. While the Iron Master Adjustable Dumbbells will always hold a firm #1 in my heart, the PowerBlock Pros are a close number two and are actually probably better suited for most lifters and athletes.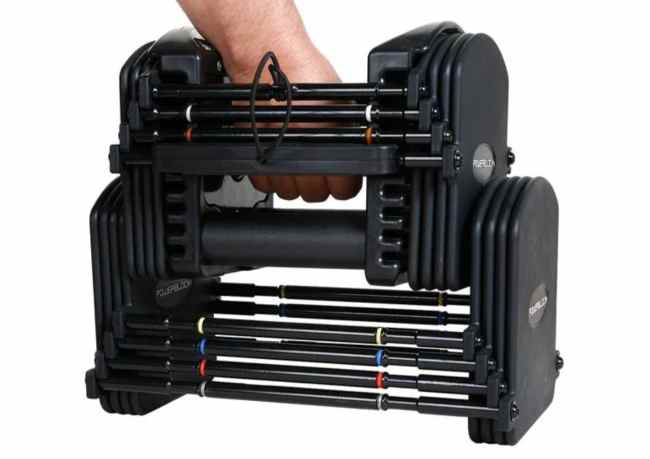 See also: Best Rogue Kettlebells for Cranking Up Your Workouts (Full Review)
Key features include a quick pop-and-lock system that makes changing weight on the fly easy. Perfect for circuit training, drop sets, and bouncing between different exercises. Although it looks bulky, it's ergonomic enough that you won't be bumping yourself with it when doing presses and curls.
The PowerBlock Pro Adjustable Dumbbells feature 20 levels of resistance (!!!!), from 2.5lb all the way up to 50lb per hand. If you want a pair of DBs that are easy to change, highly durable and give you all of the versatility and weight options of twenty pairs of dumbbells, the PowerBlock Pros are a no-brainer.
The upfront cost ($459) might be a lot to swallow, but when you consider that one pair of the Rogue Urethane Dumbbells costs $313, you can start to see how in the long run you are actually saving a ton of money.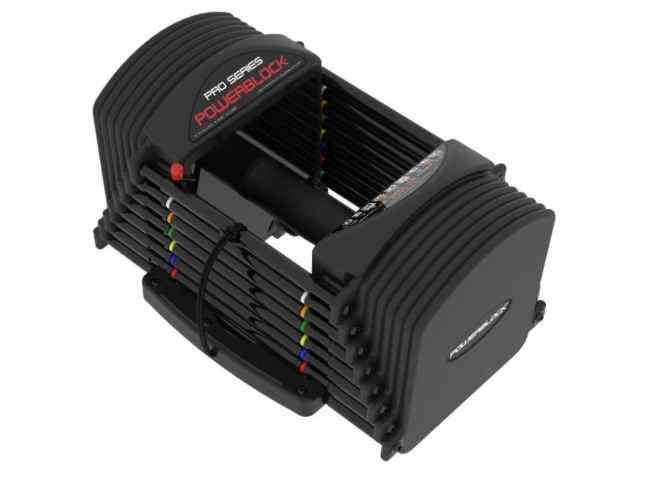 Recommended Reading
5 Best Rogue Barbells for Every Kind of Lifter. Here's a look at Rogue's deep line of barbells, including the top ones for every kind of home gym and athlete.