Looking for an awesome set of dumbbells for your home gym? Read on for a detailed review of the best dumbbell sets for working out at home.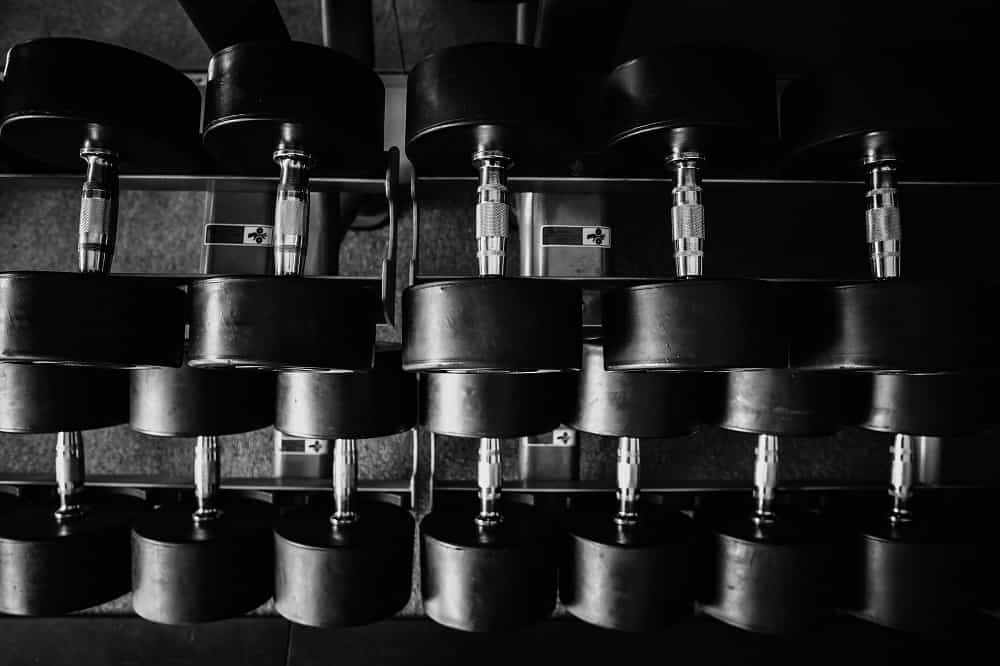 Dumbbells are one of the essentials of an awesome home gym.
With dumbbells you can train just about every major muscle group, and the exercises you can perform and muscles you can target are limited only by your imagination.
Dumbbells, like most forms of fitness equipment, are not cheap. Although competition has made pricing a little more realistic for home gym enthusiasts in recent years, building a set of dumbbells can quickly get expensive.
One way to bulk up on your dumbbells is to purchase them in a set. When sold in sets, dumbbells on average get cheaper, but where you can really save the wallet-thrashing is in shipping costs. Purchased collectively, you can save quite a bit of cash buying a set versus buying them one by one and paying shipping over and over.
There are plenty of dumbbell sets for home gyms to choose from. Powerlifters and bodybuilders will want to take a look at Rogue's dumbbell sets, while those who want dumbbells for aerobics or cardio classes (i.e. spin) should gravitate towards neoprene dumbbells like the ones made by Fitness Republic.
Below is a breakdown of the best dumbbell sets for every kind of home workout.
Read on, choose the dumbbell set that is right for you, and take your home workouts to the next level.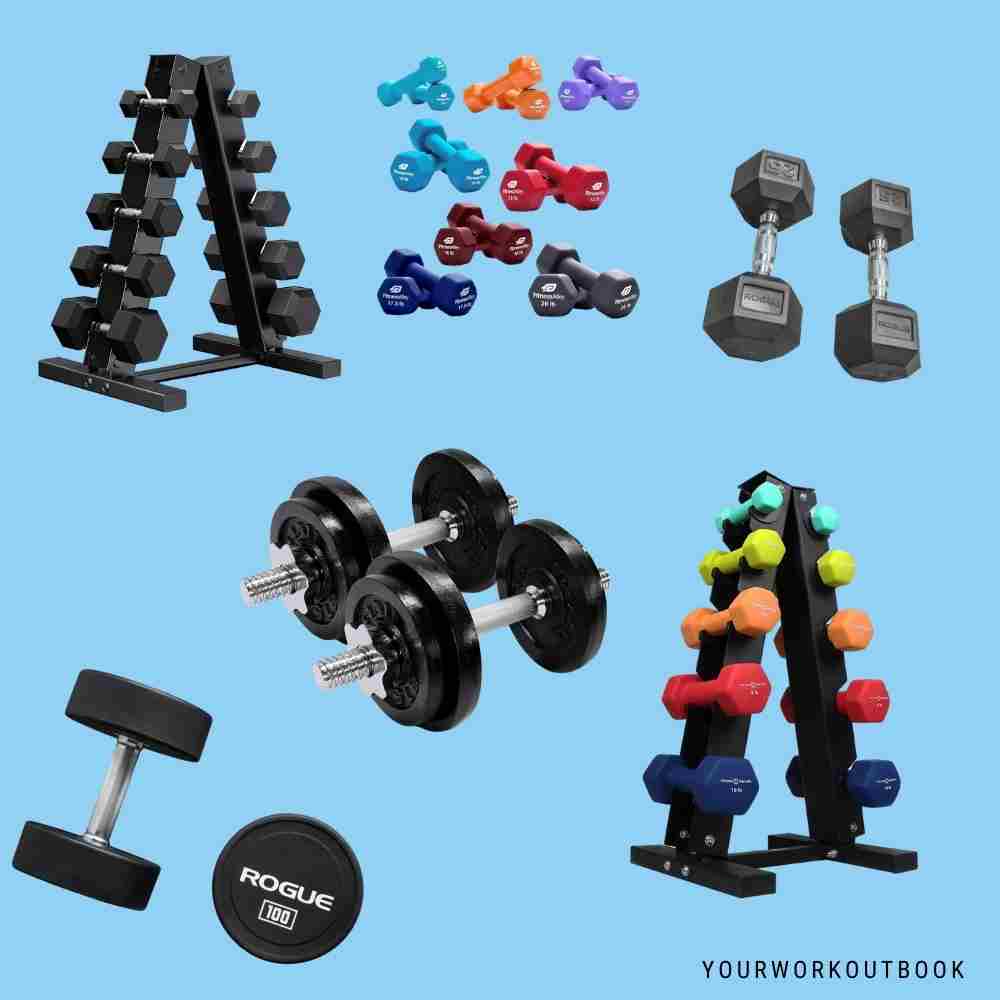 Epic Fitness 150-pound Dumbbell Set with Rac
⭐ Best rubber hex dumbbell set (from Amazon)
Rubber hex dumbbells are my favorite form of dumbbell for home gyms. There are a few reasons for this, mainly that they are easily stackable and don't roll around when you put them on the floor, but the rubber encased weights will also protect your floor (and the dumbbells).
Epic Fitness's 150-pound dumbbell set features five pair of rubber hex dumbbells (5-25lb pairs). Epic Fitness includes a powder coated and solid steel rack to keep your dumbbells organized and out of the way. The dumbbells have the typical design consistent with quality rubber hex dumbbells, including a knurled and contoured handle and premium rubber.
The dumbbell set retails for around $400, is shipped in several packages (which might not all arrive at the same time, FYI), and once set-up is ready to take your home workouts to another level.

Rogue Urethane Dumbbells
⭐ Best premium urethane dumbbell set
Rogue makes some of the best workout equipment on the planet. Hit up any major athletic facility and you are likely to see one of their power racks, glute ham developers, bumper plates, or Rogue barbells.
Rogue's Urethane Dumbbells are another example of superior build quality and are one of the best dumbbells on the market. The handles feature a medium-grade knurling for a steady and slip-free grip.
The weights are wrapped in urethane that reduces vibration and shock when the dumbbells are dropped. Urethane is longer-lasting than rubber and maintains its color for longer, even when exposed to sunshine.
See also: Rogue Dumbbells – Choosing the Right Rogue Dumbbells for Your Home Gym
This dumbbell set is more of a premium option for lifters and home gym enthusiasts looking to build a serious, commercial-grade workout area. Also available individually, Rogue sells these Urethane Dumbbells in a number of sets, including 5-50lb and 5-100lb.
Prices vary (the 5-50lb set is $1,660, for example—check Rogue's website for up-to-date pricing), but Rogue takes care of shipping when you order dumbbell sets, which can save you a ton of money compared to ordering them individually and getting dinged each time for shipping.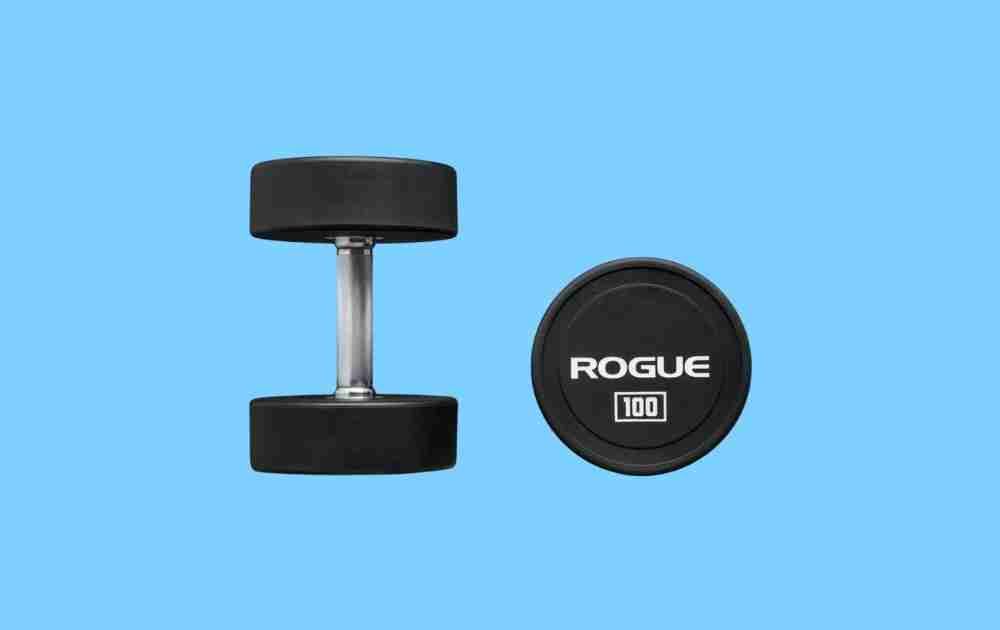 Rogue Hex Dumbbell Sets
⭐ Best rubber hex dumbbell set
Rogue's Rubber Hex Dumbbell Sets, easily the best rubber hex dumbbell available, are durable, comfortable, and ready to help you crank up the gains in the gym.
The sets come in a variety of weight options, including a 1,150lb set (105-125lb, in five-pound increments), and a 550lb set (5-50lb, in five-pound increments).
Although a little pricier than the sets you will find on Amazon, you get Rogue's legendary commitment to manufacturing excellence and the Rogue name on the dumbbells.
Rogue's 5-50lb dumbbell set retails for just over $800 (check Rogue's website for current pricing and availability) and is sold exclusively through their online store.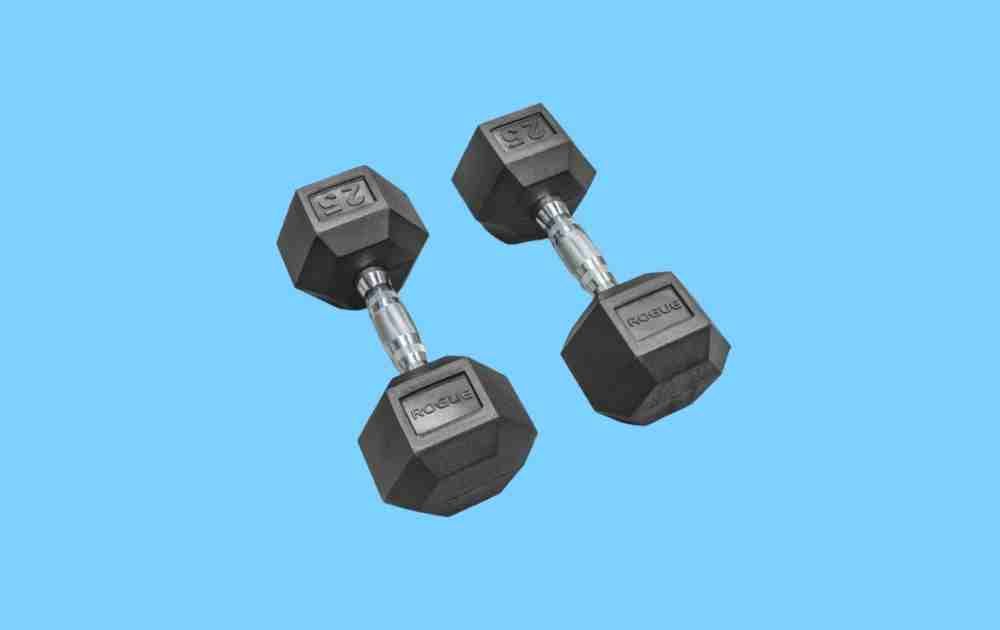 Fitness Republic Dumbbell Set with Steel Rack
⭐Best neoprene dumbbell set with rack
Fitness Republic specializes in-home workout gear. Whether you are looking for sculpting bars, Pilates balls, or wrapped dumbbells, they do it and they do it really well. Especially these neoprene dumbbells.
Neoprene dumbbells are great as they can be used outdoors without worry of corrosion, are easier to grip than chrome/steel handles (especially when you get sweaty), and are better suited to cardio and aerobics workouts.
Fitness Republic sells a variety of neoprene dumbbell sets, but I love this five pair dumbbell set that is perfect for working out at home.
The dumbbells, which range in weight from 2-10lb, come with a solid steel rack that is specifically designed to save space. The bottom of the rack is also wrapped to protect your floors and Fitness Republic backs the rack and dumbbells with a 12-month manufacturer's warranty.
Price-wise, the dumbbells and rack cost around $350 (check Amazon for up-to-date shipping and availability), making it a quality set with an affordable price tag.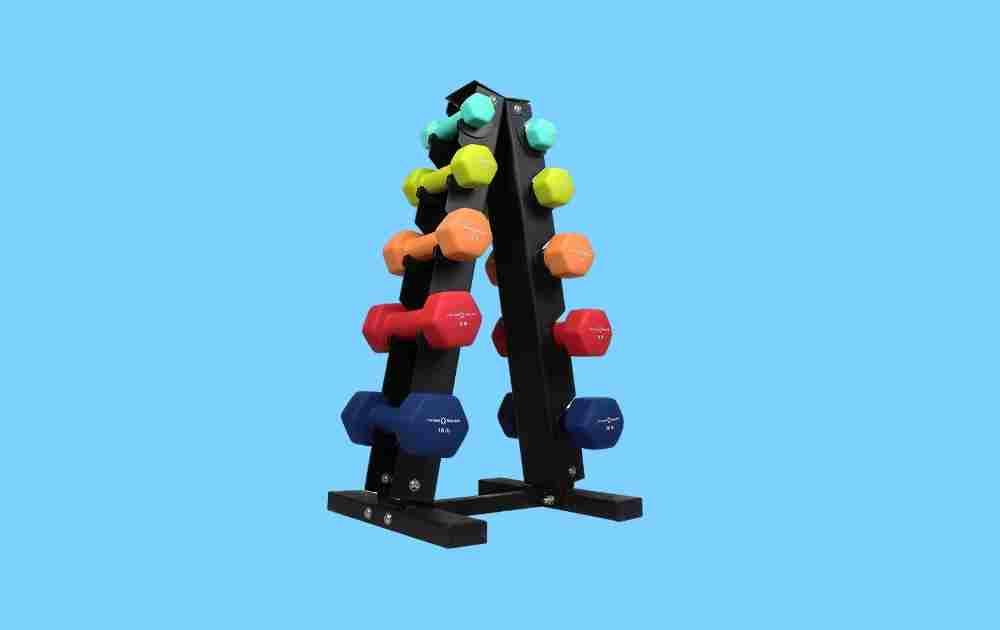 Fitness Alley Neoprene Dumbbell Set
Another neoprene covered dumbbell set comes our way via Fitness Alley, who wrap their cast iron dumbbells with a matte finish and moisture-wicking neoprene.
These kinds of dumbbells are great as they have a hexagonal shape to the ends, which means they won't roll away between sets. The neoprene gives them an excellent grip, and the thicker handle means you don't have to worry about the dumbbells slipping through your fingers.
Fitness Alley offers these brightly colored dumbbells in a variety of sets and packages, with their largest set being an eight-pair set (doesn't include a rack, however), the lightest weighing 3lb and the heaviest 20lb.
The price fluctuates a little depending on availability, but you can expect to invest around $500 for the full set of eight dumbbells (check Amazon for current pricing and availability).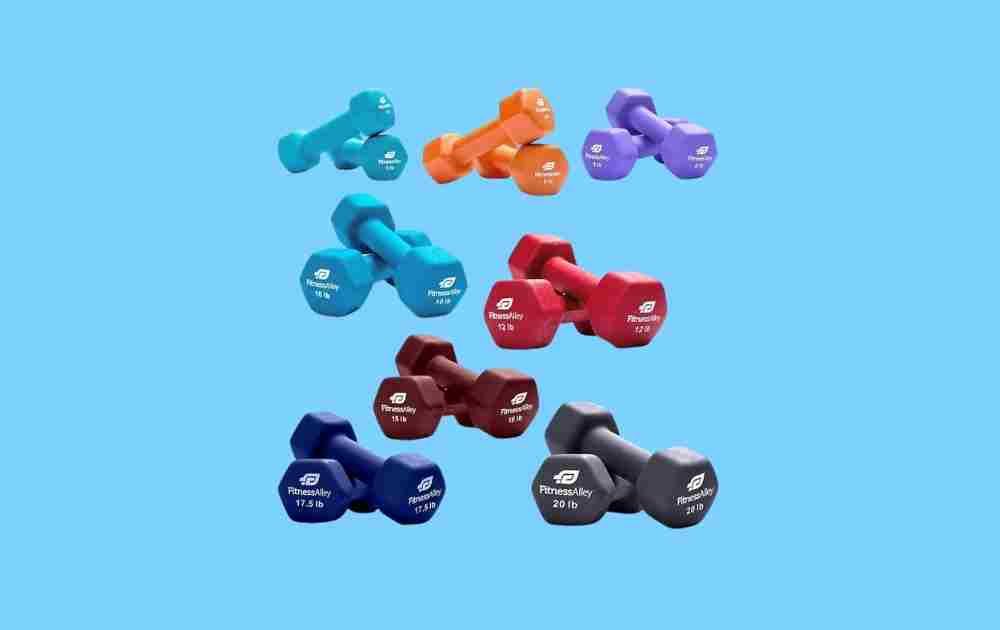 Yes4All Adjustable Dumbbell Set
⭐ Best cast iron dumbbell set
Adjustable dumbbells have become a very hot commodity in the past couple of years. The benefits of them are pretty obvious—you can have all of the weight options of a dumbbell set combined with a minimal amount of space required to store them.
While there are quite a few different types of adjustable dumbbells on the market (I've written up a detailed review of the best adjustable dumbbells here), the Yes4All adjustable dumbbell set does the trick for most home and garage gym users.
Available in a wide assortment of weight options (from 40lbs per pair all the way up to 200lb per pair), these cast iron dumbbells are perfect for people who like the old-school look. Collars keep the weight plates on the threaded bar, a chrome and knurled handle is tough and comfortable, and the dumbbells can be easily tucked away between workouts and sets.
Although the Yes4All dumbbell sets don't include a rack, they are very budget-friendly, with a pair of 30lb dumbbells costing around $80 (check Amazon for current pricing and availability).