The right medicine ball will level up your workouts and training. Here's a full breakdown of the best medicine balls to help you crush your workout goals.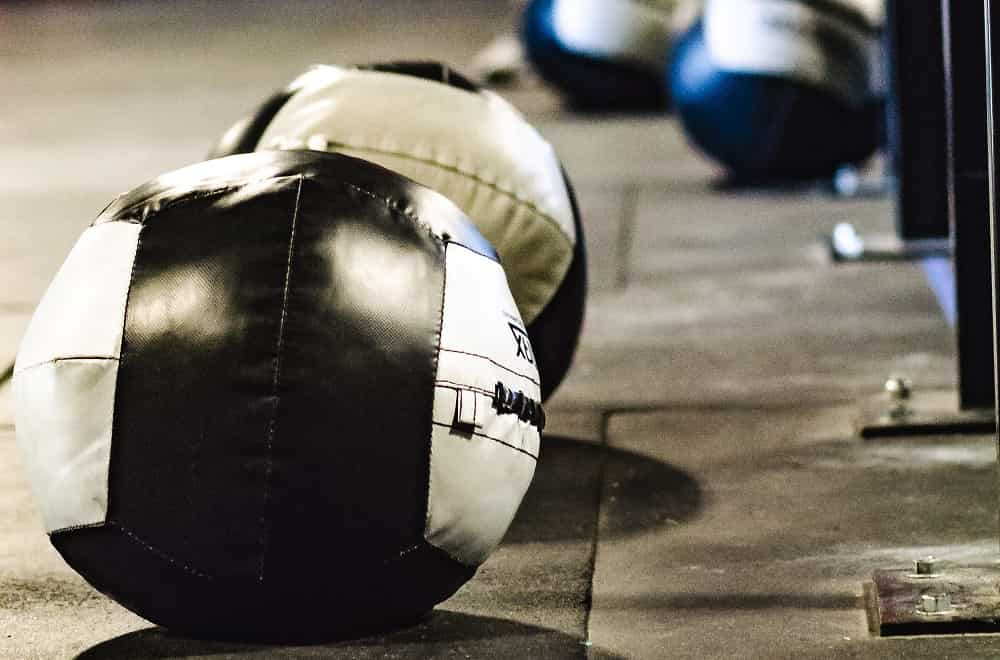 Medicine balls are a classic piece of workout equipment that can be used at home, no matter your current fitness levels or workout goals.
Med balls are used by high-performance athletes, weekend warriors, and beginners.
Using medicine balls as part of your workout routines builds better motor patterns, improves explosiveness, and provides resistance for strength and power development.
The ways that medicine balls can improve your workouts are only limited by your imagination.
This versatility is what makes them one of my home gym essentials, and just as they are versatile, there are plenty of different kinds of medicine balls. Some are made for slamming, some for throwing, some made for bouncing.
If you have a fever for better workouts, the prescription is more medicine balls. (Harhar.)
I've used countless medicine balls over the years both in my competitive swimming career (med balls were an integral part of daily dryland workouts) and more recently as part of my garage gym.
Below is a breakdown of the best medicine balls for every type of workout and training.
Best general training medicine balls
The best medicine balls are the ones that serve your workout goals and provide maximum functionality.
While slam balls are great for slams, and wall balls are great for—you guessed it—performing walls balls, for the more generalized workouts, a simple rubberized ball is best suited for general use.
The Valeo Pound Medicine Ball checks all the boxes for most fitness enthusiasts. The exterior shell is made of heavy-duty rubber and is covered in dimples for extra grip. (Handy for those of us who sweat buckets when working out!)
Whether you use your medicine ball for goblet squats, core training, chest passes with your training mate, or plyometrics, the Valeo Pound will take everything you can throw at it.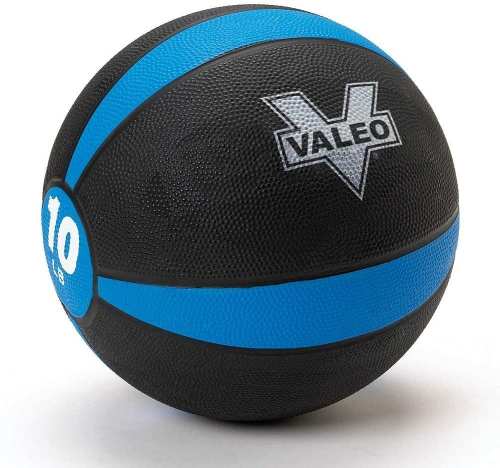 Wall Balls
Wall balls—a compound movement that consists of a squat, hip drive, and throwing a med ball up against a wall—is a killer exercise that belongs in your workouts.
The triple-extension nature of the compound exercise helps develop speed and power, whether for daily life or your sport. It's a great conditioning exercise, too.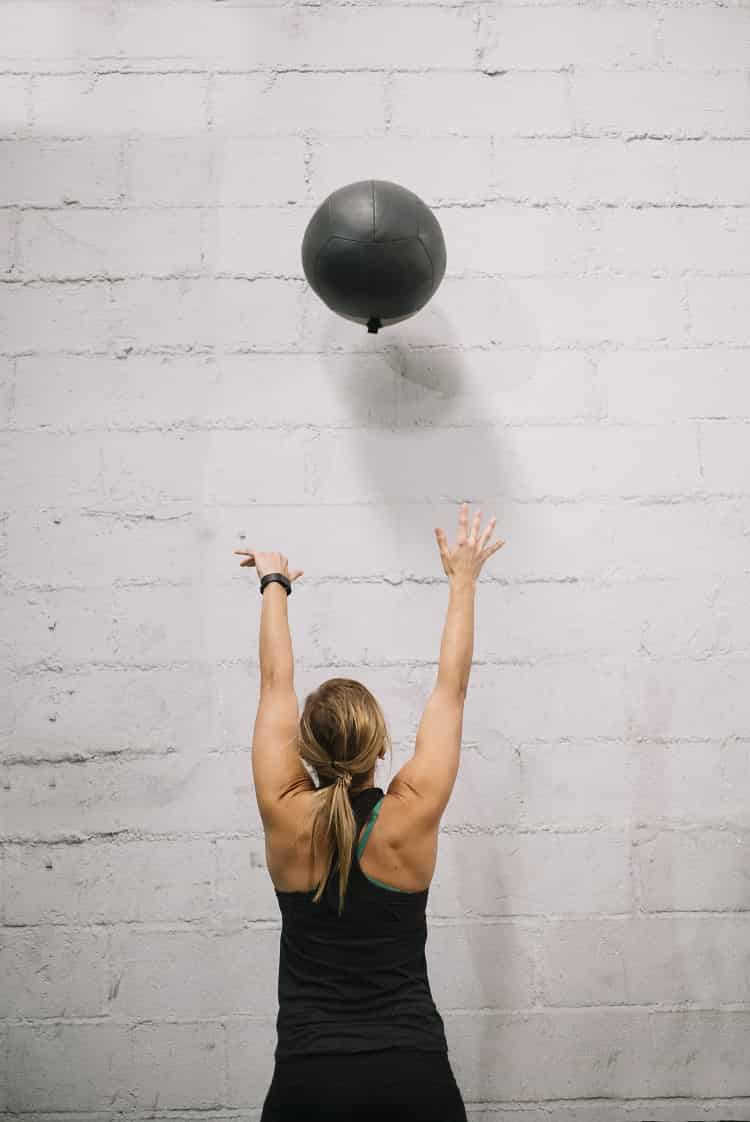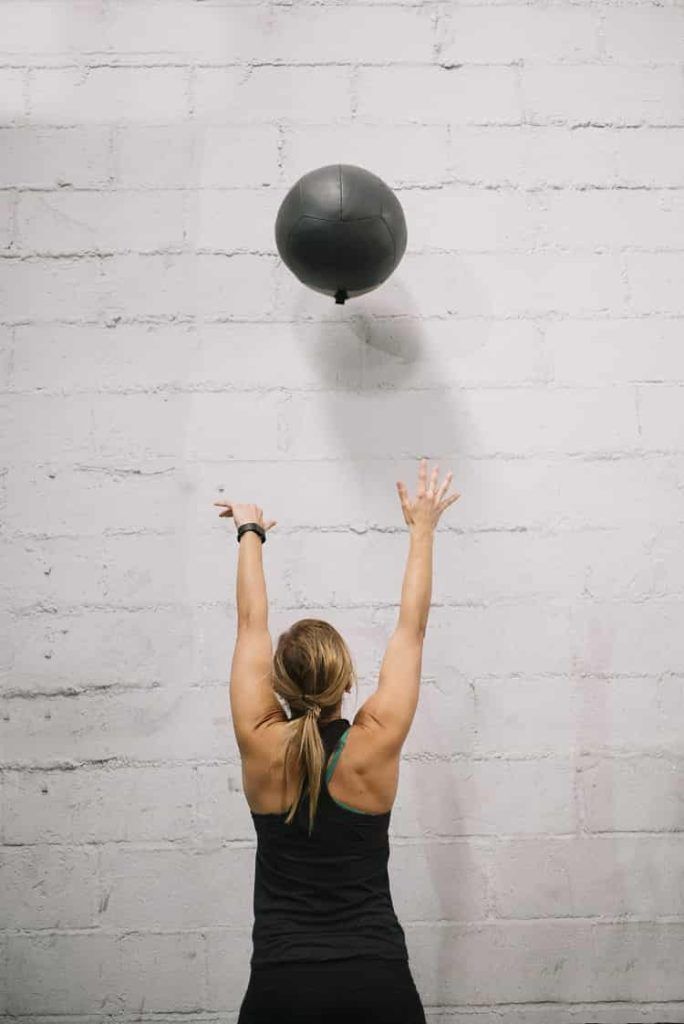 You can use any medicine ball at your disposal for this exercise, but the best medicine ball to use are the larger, vinyl-covered balls, appropriately called wall balls (check here for a more detailed breakdown of the best wall balls).
Wall balls have a padded outer layer and larger dimensions, both of which make the ball easier to throw and catch.
The JFIT Wall Medicine Ball is one of my favorite wall balls for this form of training.
Available in a range of sizes, from 4 pounds all the way up a 30 pound model, the JFIT Wall Medicine Ball has a soft shell and built wide (14-inches in diameter) for easy catching and throwing.
Note: Do not slam wall balls—they will split open.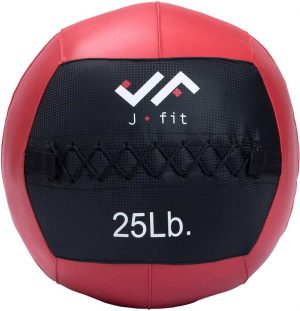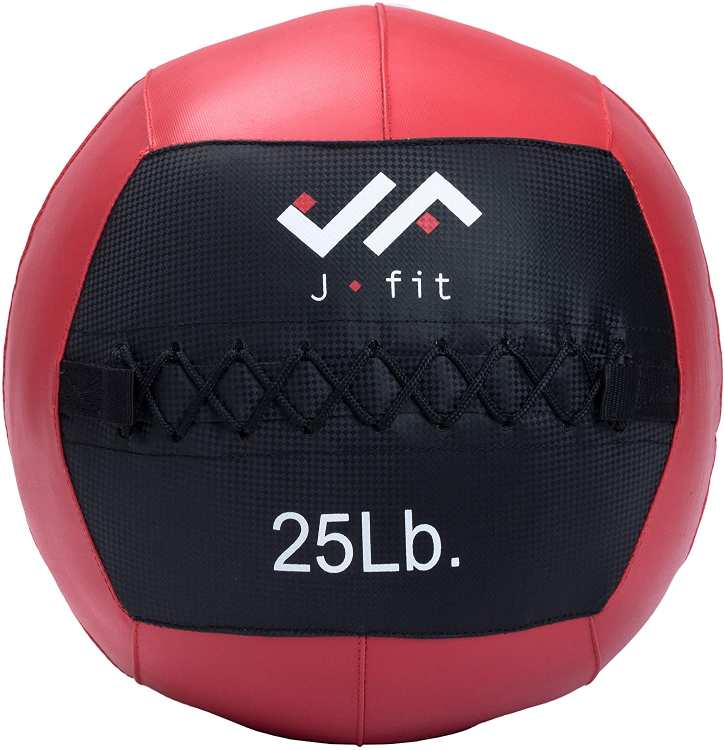 Slam Balls
Best med ball for throwing, slamming and building explosive speed.
Slam balls are one of my favorite tools for building explosiveness. Designed to be thrown and to be thrown fast, slam balls crank up the speed and power.
(I've reviewed a whole bunch of slam balls in this comprehensive guide.)
Made of super durable rubber, slam balls hit the ground and don't move. With no bounce, you don't have to worry about splitting them open. Use these balls when doing "throw downs" and other assorted high-velocity throws and slams.
My favorite, and my current slam ball of choice, is the TRX Slam Ball. Available in a few different weights (6 to 50-lbs), the TRX Slam Ball is made for punishment.
The treaded rubber exterior means your grip remains solid no matter how sweaty your hands get or how wet you get the ball.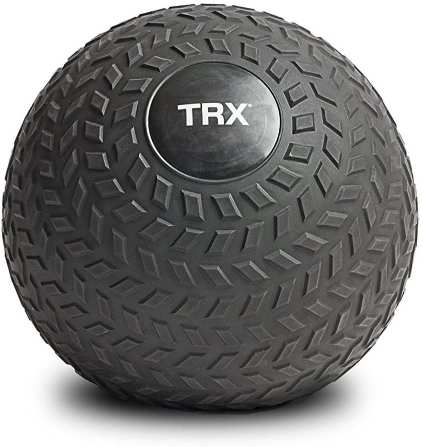 Dual Grip Medicine Ball
Best medicine ball for doing rotational core exercises and swings.
Medicine balls with handles provide a different twist on med ball training.
With the handles, you can easily hold onto the ball for rotational and core exercises, making dual-grip medicine balls awesome for Russian twists.
The handles help you keep a tighter grip on the ball. You can substitute the medicine ball for a kettlebell and even use it to work two-handed sport movements like tennis and gold swings.
Although the design looks a little unorthodox, dual-grip medicine balls are excellent for beginners and pros alike.
The SPRI Xerball Dual-Grip Medicine Ball is made of durable synthetic rubber PVC and is an excellent tool for exercises that require a firm grip.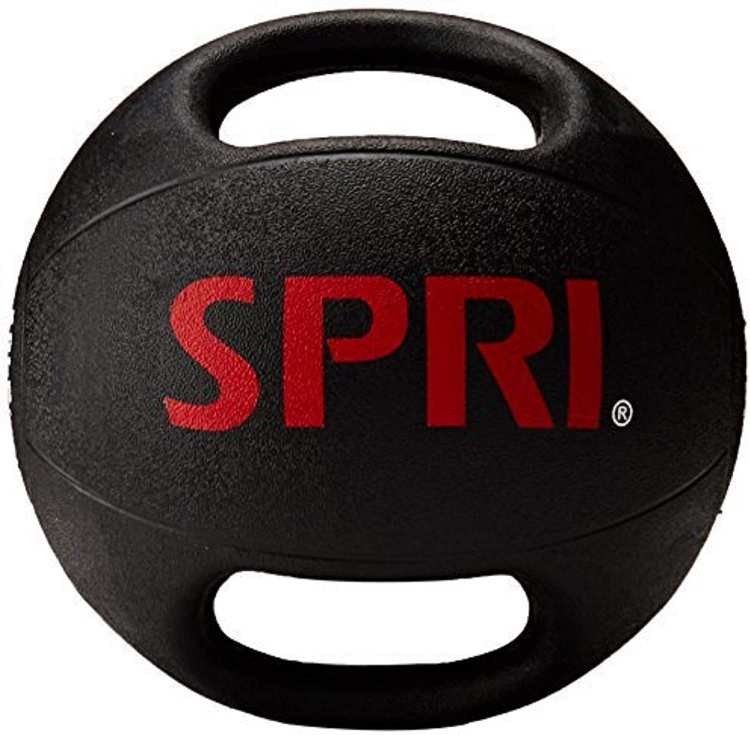 Single-Handle Medicine Balls
Best medicine ball for single arm lifts and simulating dumbbells
Similar to the dual grip med balls, a single handle ball is a versatile tool that can compliment the training you are doing at the gym.
For lifters who are intrigued by kettlebells but are feeling a little gun-shy about using them, single handle medicine balls represent a safer and friendlier option. Single-arm lifts and rotational core exercises are a breeze, and these medicine balls can be used in lieu of dumbbells.
The Single Handle Xerball is made with a tough PVC plastic shell. Sand fills the ball to provide resistance and weight.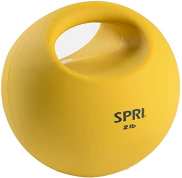 Soft Toning Medicine Balls
Looking for a medicine ball that is a little softer? Soft weighted medicine balls are great for general functional fitness.
Generally made with a soft shell, filled partly with sand, and are easy to hold.
Tone Fitness makes an excellent series of soft weighted medicine balls that are endlessly versatile. Work on your balance, use them for seated exercises like core twists, and use them for added resistance within your workout routine.
Available in three different colors and sizes, from 6-pounds up to 10-pounds, the Tone Fitness Soft Weighted Toning Medicine Ball is a functional and durable ball for your fitness goals.