The PowerBlock Pro EXP Dumbbells are highly versatile, durable, and ready to help you take your workouts to the next level. Here's a detailed review of one of the best sets of adjustable dumbbells on the market.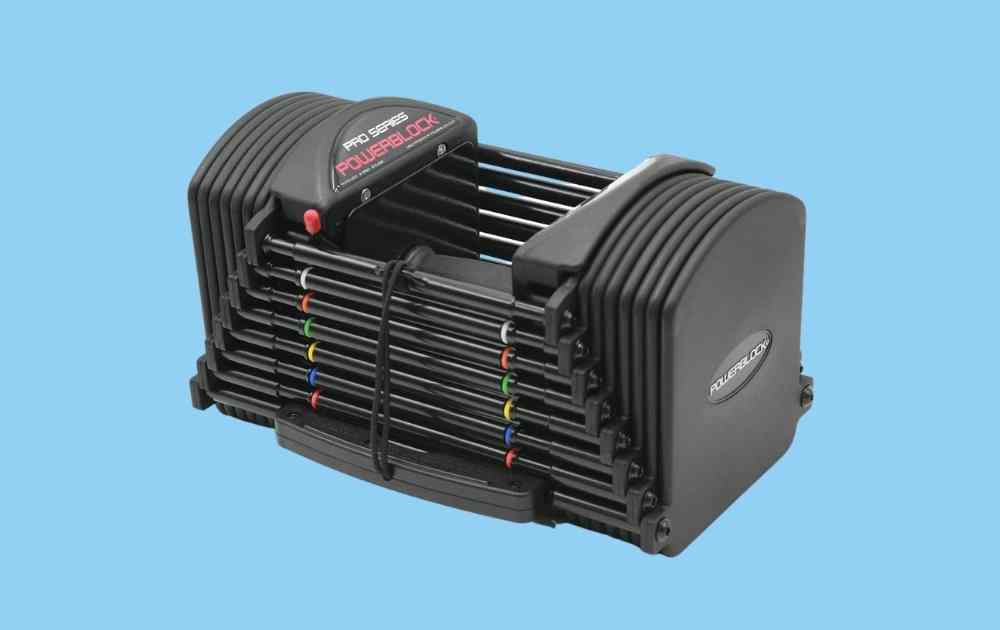 There is a lot of reasons to love adjustable dumbbells.
They take up far less space than a set of dumbbells and compared to buying a range of different weighted DBs, they are also far less expensive.
Although there are lots of players on the block now when it comes to this kind of dumbbell, one of the O.G.'s is PowerBlock, who have been making their line of square-shaped dumbbells since the early 1990s.
PowerBlocks might look a little awkward, but they are wildly durable, easy to adjust, and can be used for just about every exercise you can throw at it.
In fact, I like them so much that they again topped my list of the best adjustable dumbbells.
Here's a more detailed look at PowerBlock Elite EXP Adjustable Dumbbells, including key features, price point, and whether they are right for you and your workouts.
Let's dive right in.
PowerBlock Pro EXP Adjustable Dumbbells – The Details
While there are other PowerBlocks out there on the market, I wanted to focus this review on the Pro EXP, which I believe to be the most functional and most durable set of adjustable dumbbells for a majority of lifters and athletes.
Here are some of the things that I love about these dumbbells, as well as what I didn't like about them.
✔️ Easy to adjust the weight.
This is one of the biggest considerations when picking out a set of dumbbells for your home gym. You want something that you can jump through weight easily and quickly.
PowerBlock's patented clip and pin weight system is as simple as it gets.
To change the weight of the dumbbell, pull the U-shaped pin handle out and slide it back in for the desired weight. A magnet on the pin locks it into place so that you can lift it with confidence.
The process literally takes about three seconds.
Unlike Olympic dumbbell handles or adjustable cast-iron dumbbells, where you have to remove barbell locks or collars and add or remove weight plates, this system takes almost no time at all. Perfect for changing weight rapidly during drop sets or when you are doing circuit training.
✔️ 2.5-5lb increments for lots of resistance options.
The PowerBlock Pro EXP Adjustable Dumbbells come with a wide range of options for weight resistance, starting at 22.5lb (this is just the weight of the adder) up to 50lbs.
Weight options include: 2.5, 5, 7.5, 10, 15, 17.5, 20, 25, 27.5, 30, 35, 37.5, 40, 45, 47.5, and 50lb.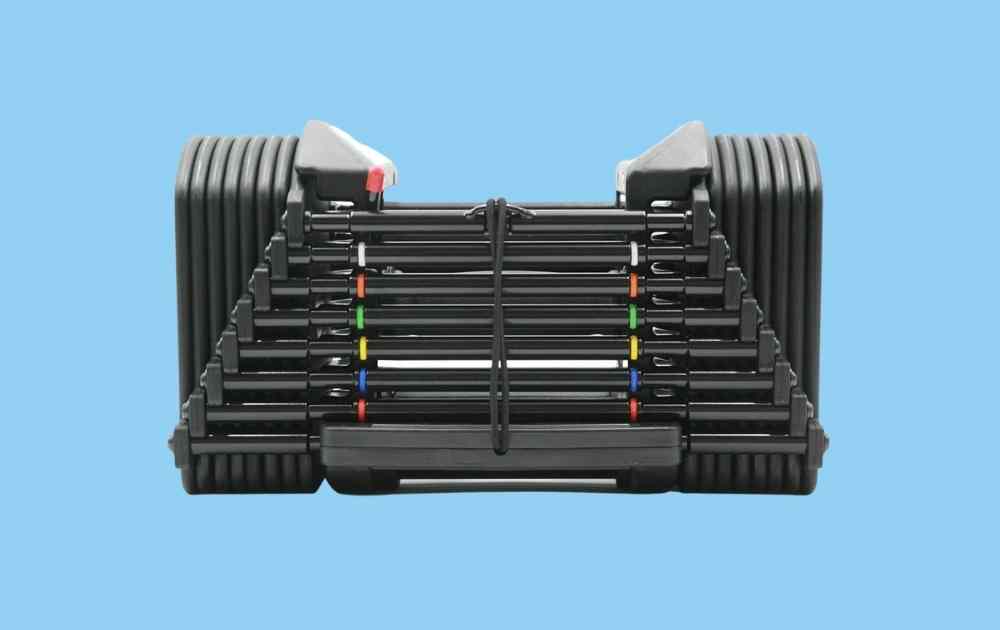 In total, with the base model of the Pro EXP you get 16 different weight options. Lots of choices for resistance.
And if that weren't enough, there are twelve additional weight options are available with the expansion kits that are sold separately.
Speaking of which…
✔️ EXP = expandable (up to 70 or 90lbs per dumbbell).
More experienced lifters will appreciate that with the PowerBlock Pro EXP's you don't have to tap out at 50lbs per dumbbell.
The PowerBlocks Pro EXP Series offers a pair of expansion kits that can boost the weight of each dumbbell as high as 90lbs.
Additionally, if you want to go even higher in weight, the PowerBlocks Commercial Pro Series can be plated to up to 175LB per dumbbell.
✔️ Minimal footprint for maximal weight options.
Of course, the reason that most of us invest in adjustable dumbbells is that we want to reduce the footprint of our gym equipment.
While some people have endless amounts of room to build their dream home or garage gym, most of us don't, with real estate being a premium. The PowerBlocks offer the highest return on weight vs space.
As an example, let's consider a PowerBlocks Pro EXP Series dumbbell with a weight capacity of up to 90lbs per dumbbell.
To invest in a similar range of dumbbells in 2.5-5lb increments (so, 28 total dumbbells) would easily cost 4-5x as much as your initial investment for the PowerBlocks (plus shipping for all of those dumbbells, which would be astronomical) and take up nearly ten times as much space in your home gym.
When you view it this way, PowerBlocks end up being a hell of a bargain and an excellent way to clear up a ton of space in your home gym.
✔️ Surprisingly durable.
The first time I gave a set of PowerBlocks a go (the old school Elite Series are the first ones I got my hands on), I felt unsure.
There were a lot of moving parts, I wasn't sold on how durable the dumbbells would be if I dropped them, and to be honest, I think part of me just wanted to not trust them because they weren't old-school iron and steel.
I was wrong.
They are surprisingly tough. And given the fact that PowerBlocks has been selling these for over 30 years, that says something that the design has barely changed since the early days.
The structure and manufacturing of the PowerBlocks dumbbells is remarkably sound.
Besides a few scratches, my set has stood the test of time over the years. They've been dropped from a decent height (I'm 6'5" and dropped them a couple of times from overhead when my shoulder nearly gave out) and while they clanked and clunked when they hit the ground, they didn't break.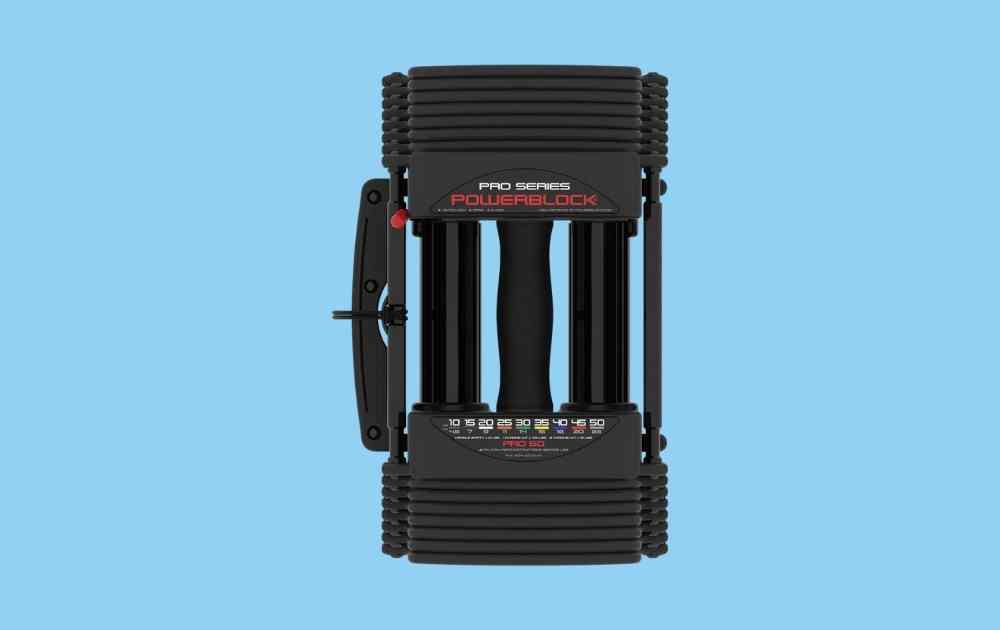 While I don't recommend dropping them from height, you can set them down on the ground or drop them into your rack without worrying about bending the frame or bending the weights, which are coated in urethane to deaden sound and protect the steel plates.
✔️ Made in the USA.
You don't hear those words very often anymore, especially when it comes to steel and cast-iron strength training equipment, with nearly all of major lifting equipment being manufactured in China.
There are a few exceptions to this, including Rogue Fitness (who makes their line of squat racks, kettlebells, and even their dumbbells domestically) and PowerBlocks, who is one of the very few makers of adjustable dumbbells manufacturing them in the USA.
❌ Not great for heavy, heavy weight.
The PowerBlocks have a lot of redeeming features. This is true. And this is why I love them and recommend them as the best adjustable dumbbells for most people.
However, that said, heavy lifters (by heavy I mean, 100lbs and up per dumbbell) will want something less clunky. The weight stacks on the PowerBlocks start to get in the way and begin to crowd your range of motion the heavier they get.
Lifters who want to go heavy-heavy might find themselves better suited to the IronMaster dumbbells, which take a more traditional design that feels more like traditional steel and iron dumbbells. IronMaster's adjustable dumbbells also go up to 165lbs, which is high enough for most experienced lifters.
PowerBlock Pro EXP Adjustable Dumbbells – Where to buy
The PowerBlock Pro EXP Dumbbells are an investment. There is no getting around that.
To purchase the 50lb pair, you are looking at around $480 (check Amazon for current pricing and shipping options), with the expansion packs costing around $150 each.
But…
If you want to cut down the amount of space your gym equipment is taking up, and you want dumbbells that are going to last, and you want dumbbells that are easy to adjust while training…
It's pretty much impossible to beat these bad boys.