Looking for a foldable elliptical that is max on features but minimal on footprint? We've tested 70+ ellipticals to bring you the top folding ellipticals for home gyms.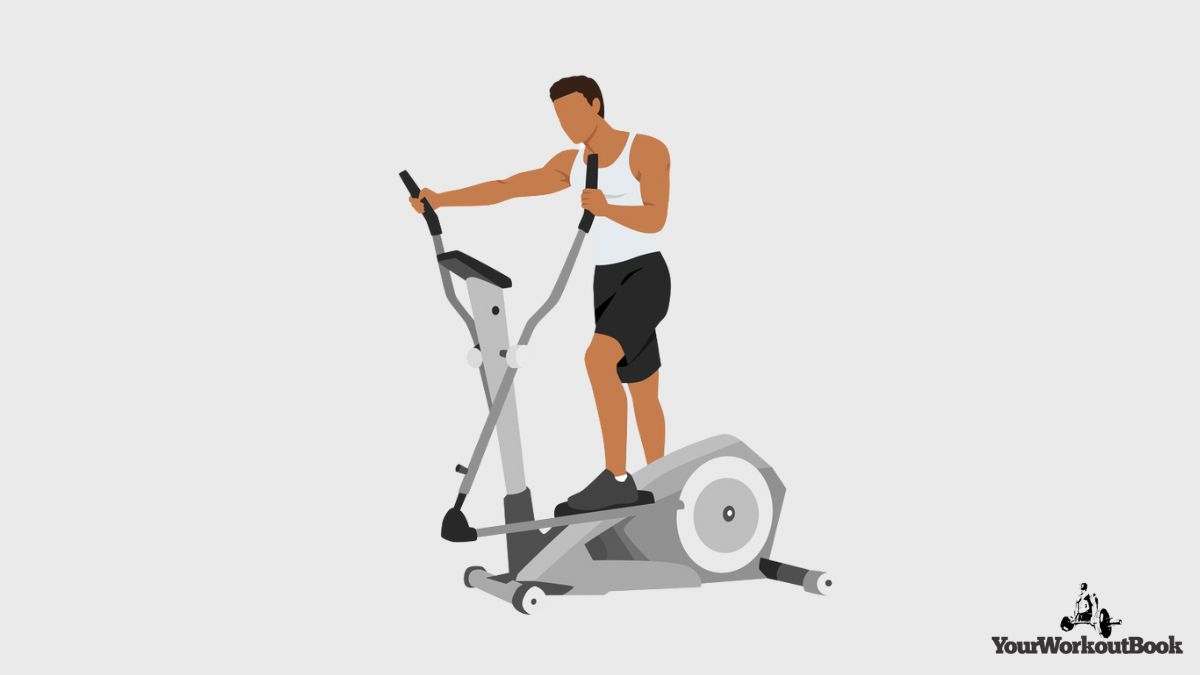 Ellipticals are a low-impact cardio machine that targets nearly every muscle group in your body, burns a ton of calories, and is almost completely impact-free.
But while the health benefits of ellipticals are easy to see, how we can incorporate an elliptical machine into our home isn't always so simple. Ellipticals, like most cardio machines, take up a lot of space.
Fortunately, there is a crop of excellent folding ellipticals that give you the perks of training with an elliptical without the huge footprint of the commercial-grade ellipticals you see at your neighborhood gym.
The right foldable elliptical machine is durable, portable, and compact. It also has performance features like varied resistance levels, a display to track your workouts, and a smooth and quiet operation for exercising at home.
In this guide to the best folding ellipticals, we'll cover the top options for home users on the market right now. We'll review the pros and cons of each, examine which elliptical is perfect for which type of user, and assess how to choose the right elliptical for your space, budget, and workout goals.
Let's jump in and get started.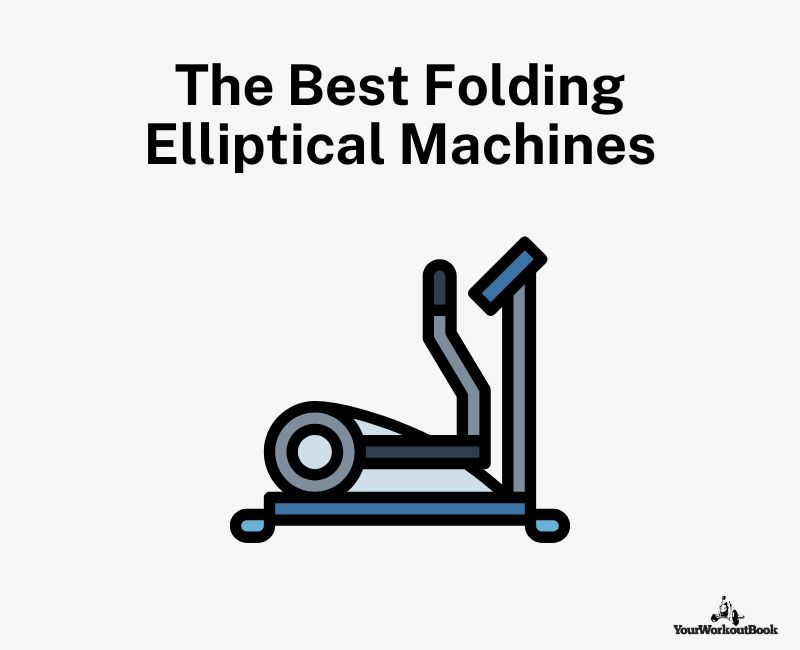 Here is an overview of the best folding elliptical machines for saving space at home:
---
Horizon Fitness Evolve 5 Folding Elliptical
⭐ Best overall folding elliptical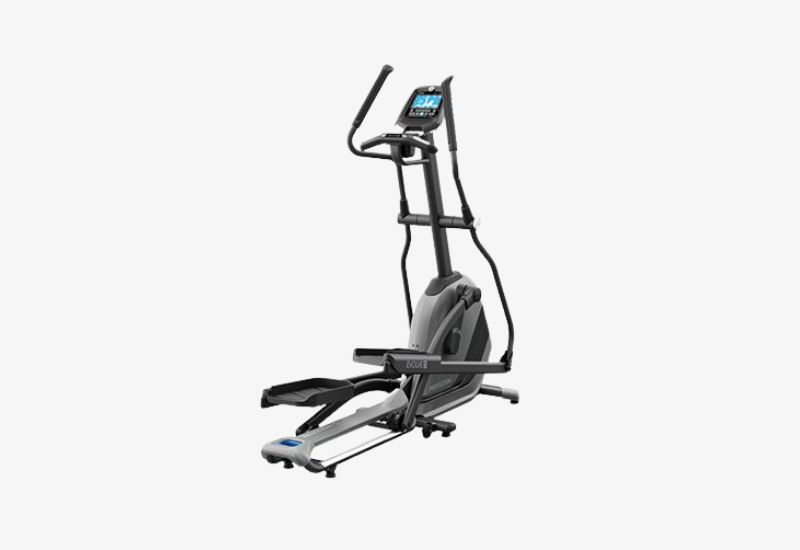 Key features:
Price: $1,599
Flywheel: 23lb
Stride length: 20"
User weight max: 300lb
Dimensions: 28" x 69" x 69"
Footprint (folded): 28" x 41" x 69"
Warranty: Frame (lifetime), brake and parts (3 years), labor (1 year)
The Horizon Fitness Evolve 5 Elliptical is the best folding elliptical on the market thanks to its small footprint when folded up and studio-grade performance features that include a 23lb flywheel, easy portability, and tons of workout functionality.
The Evolve 5 lands at the top of this list as it performs the best when it comes to stability and striding when in use thanks to a heavy-duty 23lb magnetic flywheel that is excellent for balanced and sturdy elliptical training.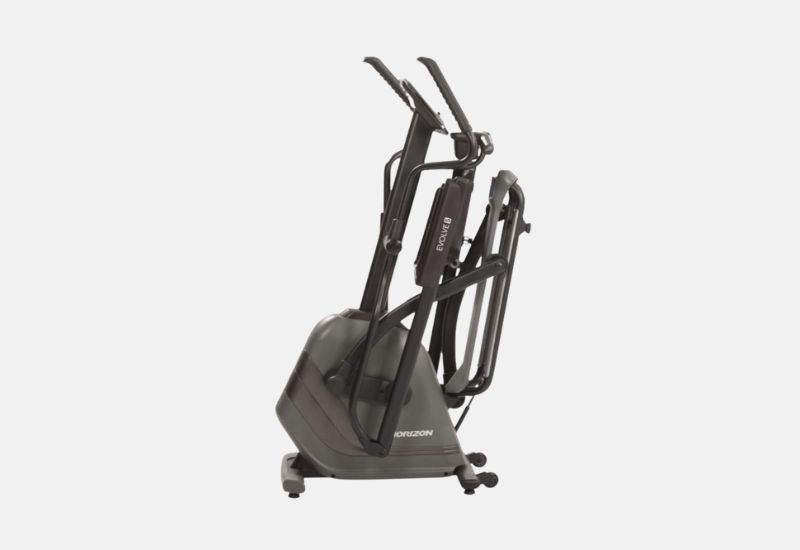 As a heavier fella, I always place a premium on a robust flywheel as it ensures a fluid motion of the pedals, applies extra resistance properly, and gives you that "natural" stride when using the elliptical.
The Evolve 5 also has a 20" stride length, which makes it a great choice for people who are a little taller. (Check out this guide for more on how to choose the right stride length on the elliptical.)
Other key features include a decent maximum user weight of 300lbs, lifetime warranty on the frame, and 6.25" LCD screen for tracking all of the metrics of your workout, whether doing an HIIT session, steady-state cardio, or training for distance, time, watts, or heart rate.
Like many folding ellipticals, however, you do sacrifice incline settings when electing for a folding and space-saving elliptical, which is my only real complaint about the Evolve 5, which is otherwise the runaway favorite for the best elliptical for home gyms that folds.
The Horizon Fitness Evolve 5 is available exclusively through Horizon's official website, which you can access below.
| | |
| --- | --- |
| ✅ PROS | ❌ CONS |
| Heaviest flywheel for folding ellipticals | No incline setting |
| 20" stride length | |
| Lifetime warranty on frame | |
| 300lb weight capacity | |
| Easy to fold and move | |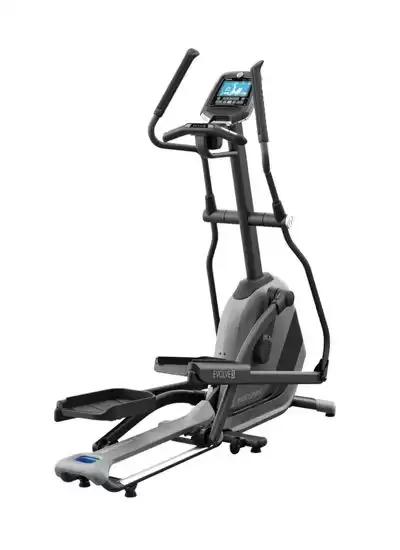 ---
YoungFit Folding Elliptical Machine
⭐ Best budget-friendly foldable elliptical for beginners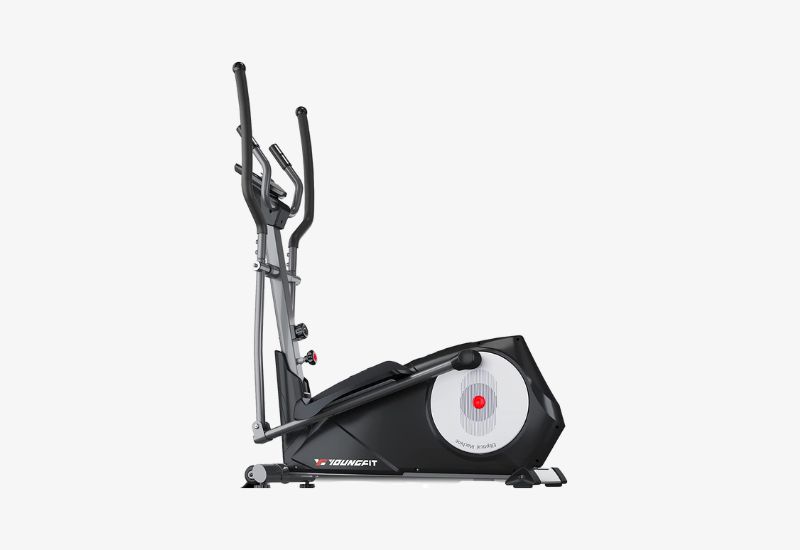 Key features:
Flywheel: 18lb
Stride length: 14.5"
User weight max: 330lb
Dimensions: 20" x 44" x 63"
Warranty: Lifetime
The YoungFit Elliptical Machine is a budget-friendly and foldable elliptical machine with a surprisingly high maximum weight capacity and a lightweight frame that makes it easy to move and tuck aside between workouts.
Let's start things off with the foldability, which is purely horizontal. That means you won't save on floor space when it is in use. The handles and console fold down on top of the main unit of the elliptical. This saves some horizontal space, but it also acts as a safety feature, preventing kids and pets from playing around on the elliptical.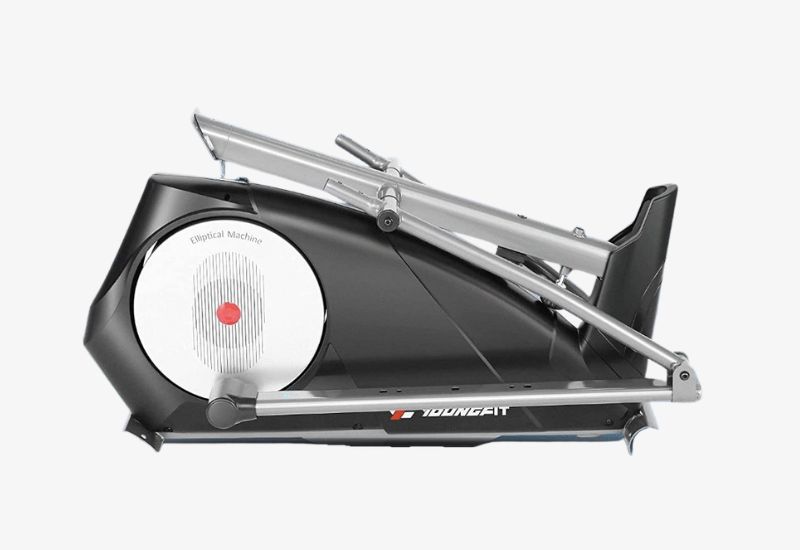 In terms of performance, the YoungFit Elliptical Machine is a surprisingly robust elliptical. It has an 18lb magnetic flywheel, which is going to be strong enough for a majority of users and training levels.
The elliptical also has 22 levels of resistance to give you plenty of options for doing interval workouts, lower intensity cardio sessions, and so on. The display is over-sized, too, making it easy to stay on top of calories burned, distance, time, and so on when exercising.
Assembly was super easy. The elliptical comes mostly assembled, so after about 20 minutes of bolting on the console, I was in business. Perhaps the thing that surprised me most about this particular elliptical is the high weight capacity (330lb), making it an excellent elliptical for a heavy person.
This is more than many premium and even studio-grade ellipticals on the market like those made by NordicTrack, ProForm, and Bowflex, which often top out at 300lbs.
The stride length on the YoungFit Elliptical is a bit short, at 14.5", making it a less ideal choice for taller users.
Rounding things up, there were a lot of things I really liked about the YoungFit Elliptical Machine. It folds easily, the footprint of the elliptical is very compact, and it is very stable for what I would consider a "cheap" elliptical.
| | |
| --- | --- |
| ✅ PROS | ❌ CONS |
| 18lb flywheel | Stride length is a bit short (14.5") |
| High max weight capacity (330lbs) | |
| Comes mostly assembled | |
| Large anti-slip foot pedals | |
| 22 resistance levels | |
| Lightweight frame—easy to move | |
---
Horizon Fitness Evolve 3
⭐ Runner-up for best overall folding elliptical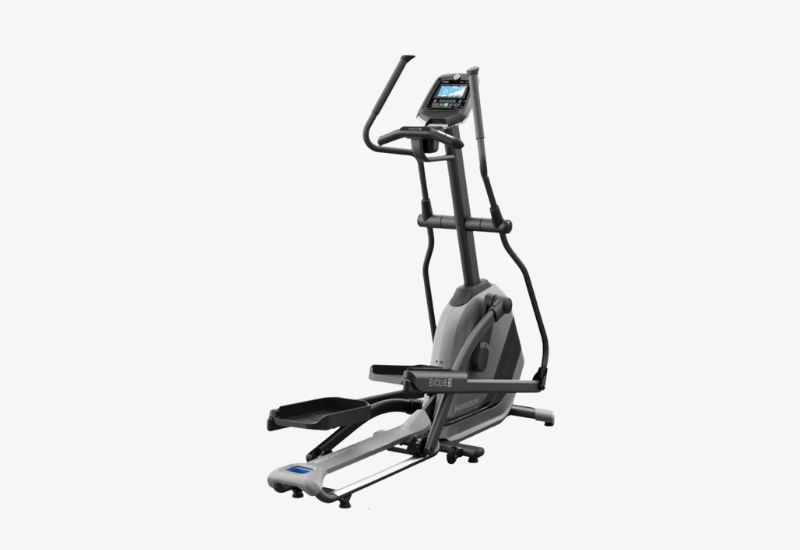 Key features:
Price: $1,399
Flywheel: 18lbs
Stride length: 20"
User weight: 300lbs
Dimensions: 28" wide x 69" long x 69" high
Dimensions (folded): 28" x 41" long x
Warranty: Lifetime (frame), brake and parts (3 years), labor (1 year)
Another elliptical by the folks at Horizon Fitness, who make some of the best ellipticals for home gyms, is the Evolve 3.
The Evolve 3 Elliptical is a slightly paired-down version of the Evolve 5, with an 18lb flywheel for smooth and quiet operation, an easy folding design for saving space, and a 20" stride length for a comfortable workout experience.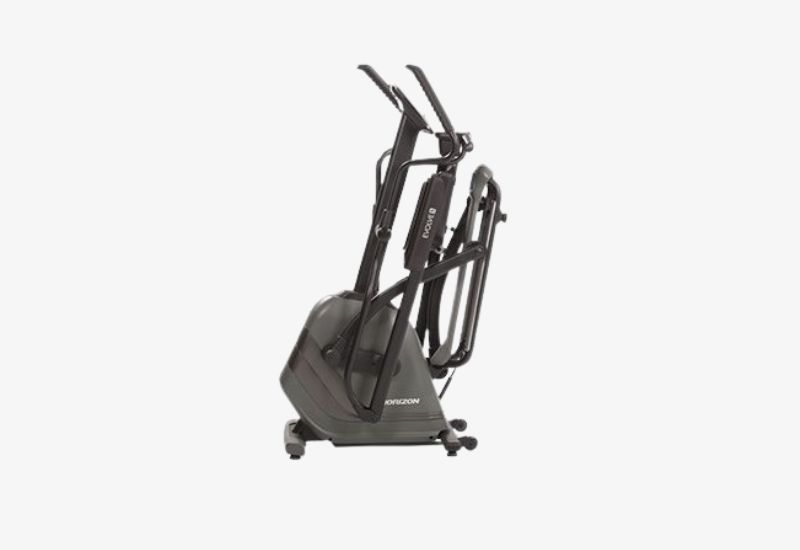 The front-drive center elliptical folds up from the rear between workouts into a compact footprint of just 28" x 41", and transportation wheels make it easy to roll the Evolve 3 into a corner or flush against a wall so that you can maximize space in your home.
Even though the Evolve 3 is a mid-tier elliptical in terms of pricing—it retails for about $1,400, making it a bit outside the range of what I'd consider a budget or cheap elliptical—you get what you pay for in terms of quiet operation, real-time workout metrics, and stability.
| | |
| --- | --- |
| ✅ PROS | ❌ CONS |
| Easy rear-folding design for saving space | For a little more $ you can get a much stronger flywheel with the Evolve 5 |
| 18lb flywheel for smooth resistance adjustments | |
| Max user weight of 300lbs | |
| Lifetime warranty on frame (3 years on brake and parts) | |
---
Sunny Health Air Walk Trainer Elliptical
⭐ Best low-resistance folding elliptical trainer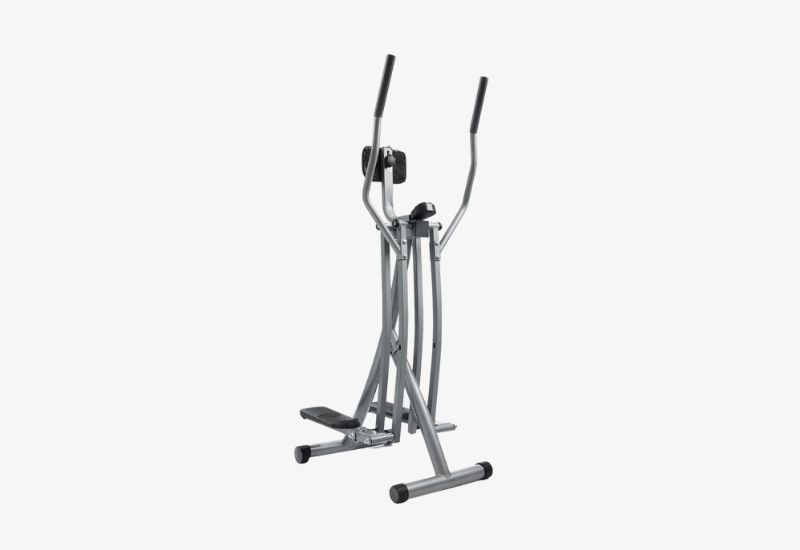 Key features:
Price: $129
Stride length: 30"
User weight max: 220lb
Dimensions: 19" wide x 25" long x 57" high
Dimensions (folded): 19" wide x 15" long x 61.5" high
Warranty: 12-months frame, 180 days for console and parts
The Sunny Health and Fitness Air Walk Trainer is a multi-trainer that is more of a glider than an elliptical, but is an excellent option for people who want a foldable elliptical and don't have a lot of storage space to work with.
The Air Walk Trainer folds up very easily, taking up less than half its operating space when not in use. Folded, the trainer has a footprint of just 15" x 19". It is also exceptionally light—it weighs just 35lbs—which means it can be stored and moved effortlessly.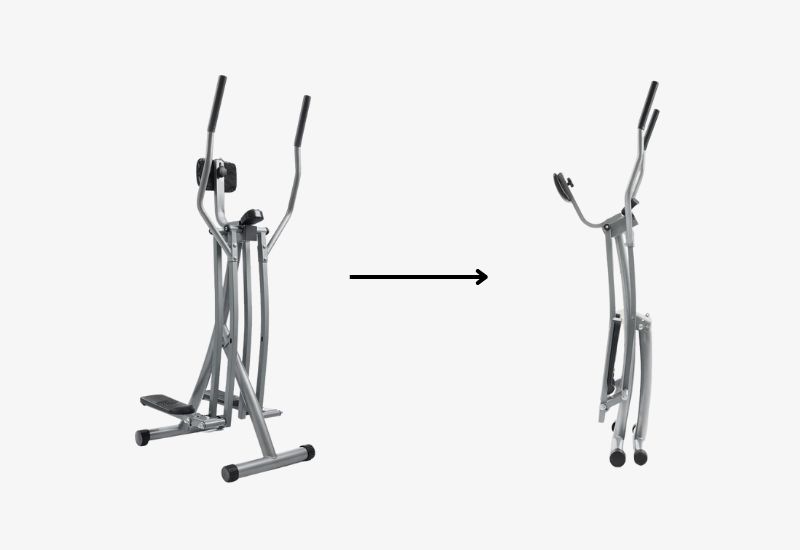 One of the things that I like most about this foldable elliptical trainer is that the stride length can be extended all the way out to 30", which is excellent news for taller users and people with longer legs. In our tests, this added stride length was awesome for getting that perfect stride length when exercising.
In addition to its portability and compactness, the Air Walk Trainer is very easy to put together (took up about 15 minutes) and is also very inexpensive, at just $129, making it an easy budget-friendly option for casual users.
Which leads us perfectly into the durability of the trainer. While designed intelligently, it's only rated for a max user weight of 220lbs. There are also no resistance levels on the trainer—it's one size-fits-all for tension., which might make it hard to get an effective cardiovascular workout for more experienced users.
And while I love the simplicity of the small LCD display, trainees who like getting more data and metrics from their workouts will be a little underwhelmed.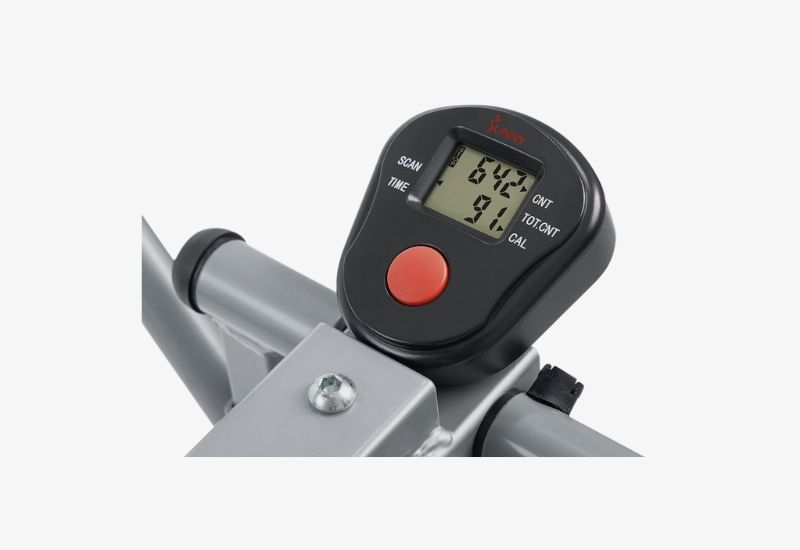 All in all, the Sunny Health Air Walk Trainer is an excellent option for beginners who want a foldable trainer that can be stored in the closet between workouts and don't need all the bells and whistles of more expensive ellipticals.
| | |
| --- | --- |
| ✅ PROS | ❌ CONS |
| Super lightweight and foldable | Very basic performance and durability |
| Budget-friendly pricing | Low weight capacity |
| Tiny footprint when not in use | |
| Easy assembly | |
| Slip-free foot pedals | |
---
Other Folding Ellipticals We Tested
The NordicTrack SpaceSaver 9ei was our former number one choice for the top foldable elliptical machine for home use. It had a big, beautiful screen for doing iFit classes, a uniquely two-stage folding design that could be folded vertically or horizontally, and a power incline feature. Alas, it appears that NordicTrack has discontinued making them.
How do I choose the best folding elliptical?
Here are the key decision-making factors to be aware of when choosing the perfect folding elliptical for you and your workout goals:
Foldability. Obviously, the most important thing to look for is whether it folds or not! Folding ellipticals either collapse from the front of the machine (the console and arms are folded backwards), hinged from the rear (as is the case with the Evolve 3 and 5), or folded in half like a lawn chair (as with the Sunny Health Air Walker).
Stability. Folding ellipticals tend to be a little less stable compared to regular elliptical machines. Look for an elliptical that a) has an appropriate weight capacity and b) has a heavy flywheel for smooth elliptical training and seamless speed and resistance changes.
Resistance levels. Check out the variety of resistance levels when shopping around for a folding elliptical. Lots of resistance levels ensures that you can challenge yourself as you progress on the elliptical.
Stride length. Stride length is crucial for overall comfort on the elliptical. Taller users will want a longer stride length (20" or more) while shorter users will want to look for a stride length between 14" and 18". Proper stride length ensures proper technique on the elliptical and reduces the likelihood of injury.
Display. Assess the console and display to ensure that it has the workout programs, tracking capabilities, and connectivity options for your training goals. The console should also have storage for water bottles, your smartphone, and so on.
Foot pedals. The foot pedals should have an anti-slip surface and generous space for a variety of foot and shoe sizes.
Warranty. Ellipticals are generally not inexpensive, and they have a lot of moving parts which can eventually wear down over time. For maximum peace of mind, double-check warranty coverage.
How easy is it to fold and unfold an elliptical machine?
Foldable elliptical machines use a variety of mechanisms for reducing footprint and folding up. Ellipticals like the Evolve 3 and Evolve 5 use a handle that releases the elliptical from the down position and floats into a folded position, no heavy lifting required.
Does the folding feature affect durability?
The impact of the folding feature on the stability and durability of a folding elliptical machine can vary depending on the specific model and manufacturer. While some folding ellipticals may maintain a high level of stability and durability, others may experience some compromise due to the folding mechanism.
An easy way to screen folding ellipticals for durability is by looking at the maximum weight capacity of the elliptical, the weight of the flywheel, and the warranty attached to the elliptical by the manufacturer for peace of mind.
Which folding elliptical has the smallest footprint when folded?
The main benefit of a foldable elliptical is that it takes up a small amount of space when not in use. Per our testing and reviews, here is how much space each elliptical takes up when folded:
| | |
| --- | --- |
| ELLIPTICAL | Width x Length |
| Horizon Fitness Evolve 3 | 28" x 41" |
| Horizon Fitness Evolve 5 | 28" x 41" |
| Sunny Air Walk Trainer | 19" x 15" |
| YoungFit Elliptical Trainer | 20" x 44"  |
The Final Verdict
In conclusion, folding ellipticals represent an awesome opportunity for maximum convenience and fat-burning in the comfort of your home. These machines are the perfect solution of people who want all the benefits of cardiovascular exercise while prioritizing space-saving.
Through our assessment, we looked for foldability, stability, performance features, warranty, and overall comfort to make our selections.
To recap our top picks:
The Horizon Fitness Evolve 5 is our top choice thanks to the heavy-duty flywheel and featherweight rear-folding system.
For people looking for a budget-friendly option, the YOUNGFIT Folding Elliptical Machine is a high-capacity elliptical that folds down easily.
Choose the folding elliptical that is right for you, and take the next step in maximizing your health and fitness goals while minimizing space at home.