Ready to bring the gym home? Why not–working out at home has never been more affordable. Read on for a breakdown of the best home gyms for exercising in the comfort of your own home.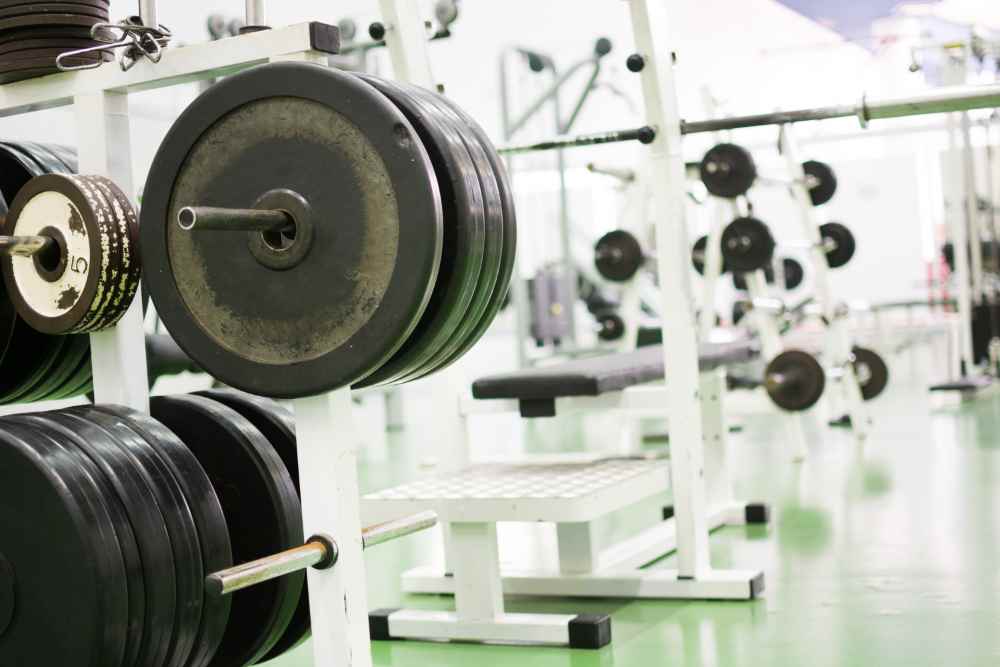 Building a home gym is one of the best things you can do for your physical and mental health.
Driving to the gym isn't practical for everyone, and once you get there, there is the battle of getting machines, limited gym hours, and the constant upsells when you breeze past the front desk.
Fortunately, there is an awesome way to skirt-skirt right by all of the nuisances of gyms (and the closures wrought by a worldwide pandemic).
Say hello to your new best pal, buddy-old-friend: the home gym.
Of course, there are a few things that hold people back from making the move to building out a home gym for themselves:
? The Up-Front Cost. Gym equipment is expensive. Let's come right out and say it. But when you take that initial cost and measure it against months (and eventually, years) of gym memberships, you end up saving a lot of money in the long run.
? Lack of variety. The gym has lots of sweaty people vying for your favorite machines, but your neighborhood gym does have variety in terms of cardio and strength equipment. Fortunately, there are home gyms that have spectacular amounts of versatility and variety when it comes to exercises.
? Space. Not everyone has an empty garage to outfit with top-of-the-line Rogue Fitness gear and even fewer have $500,000 to build a massive backyard gym like strongest man on the planet Brian Shaw did with his home gym (must be nice!). Luckily for the rest of us, many home gyms are now quite compact and are designed for small spaces.
As you will see in a moment, there is a TON of options for picking out the right home gym.
Ultimately, it will come down to your specific needs, your budget, and the space you have available.
Read on, choose the best home gym for you, and get to working out in the comfort of your own home.
Bowflex Home Gym Series
? Best "works for most people" home gym
Bowflex is one of the long-standing brands for home based fitness equipment, making everything from spin bikes, treadmills, to adjustable dumbbells.
The PR3000 is the one I like the best when it comes to value versus performance. Made with heavy duty steel, the footprint of the gym is compact, 64" by 41".
The big feature of the Bowlfex PR3000 Home Gym is versatility in terms of number of exercises, with up to 50 different kinds of exercises that can be performed on this bad boy.
The Bowlfex Home Gym comes with a long range of handles, leg rollers, and ankle straps with a maximum weight resistance of 210 pounds, with a patented quick change for adjusting resistance on the fly.
Bowflex's home gym comes in a few different editions, with the PR3000 being the middle range option.
The Bowflex Xtreme 2SE is the top of the range model (70 exercises with an upgradeable 410 pounds of resistance) at about $2,500 (check Amazon for current pricing), but for most home-based workouts, the PR3000 is more than suitable.
The PR3000 costs around $999 and is available through Amazon (check here for current pricing and availability).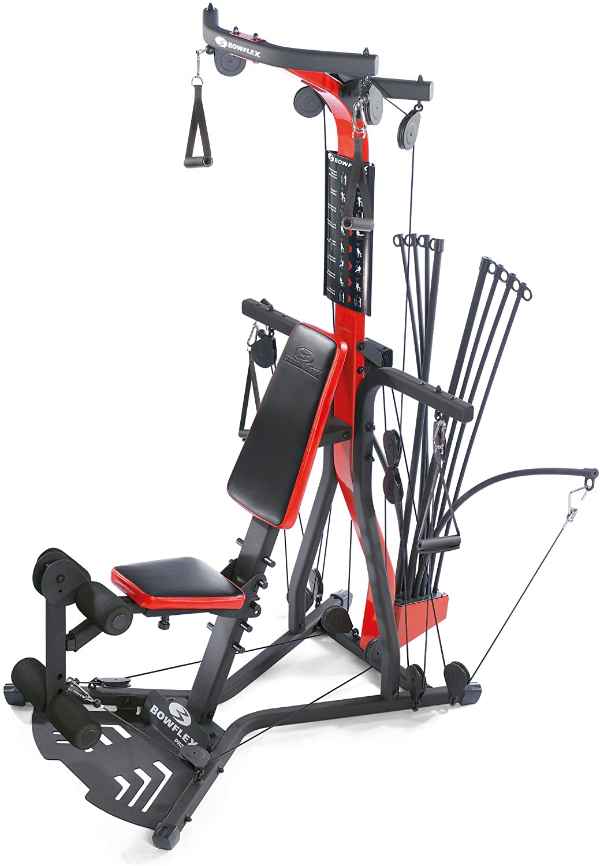 Weider Ultimate Bodyworks Home Gym
Weider is another legacy name in the fitness equipment game, and their Bodyworks Home Gym is low-cost alternative to similar-looking home gyms (aka Total Gym).
Built with an adjustable incline, the Weider Bodyworks Home Gym is a lot more versatile than a first glance would suggest. Even though it simply looks like a workout bench with a couple of handles, there are tons of exercises that you can do with this thing (hit up YouTube for ideas—literally tons of content out there for how to make the most of it).
Chest press, unilateral leg press, curls, modified chin ups, rows, pilates workouts, and much more.
Weider builds this thing like a tank, and even though you may have seen similar machines on infomercials late at night, it's built to last and isn't as gimmicky as one might think.
The Weider Ultimate Bodyworks is about half the price of similar machines (aka Total Gym) and is perfect for a home workout gym that is simple to use, doesn't take up a ton of room, and is reasonably priced (Amazon carries it for about $160—check for current pricing and availability).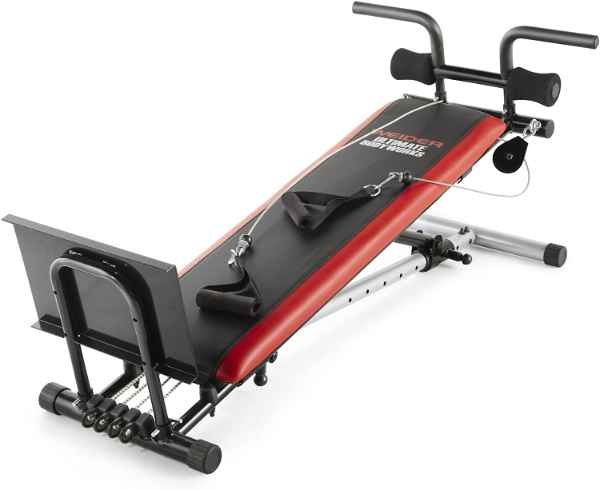 Sunny Health and Fitness Power Zone Half Rack Home Gym
? Best value pick for commercial gym at home
When Covid hit and the world (and gyms) went into lockdown, there was a huge push to buy fitness equipment. Power racks, which had at one time been priced so exorbitantly that only commercial gyms could afford them, quickly became affordable as the marketplace became super competitive.
For us, the home-based athlete, there has never been a better time to be in the market for power racks. You can get a commercial-grade power rack for your home at prices that are a fraction of what they were a couple of years ago.
I've put together buyer guides on power racks, half racks, and power towers with benches elsewhere, but for an all-in-one rack that is perfect for a home gym, the Sunny Health and Fitness checks all of the boxes.
First off, it's built to handle its business, with a 1000 pounds weight capacity on it's 2" by 2" heavy-duty steel frame. The top of the rack has a multi-grip pull up bar, as well as a lat pulldown pulley system, safety arms, low position row, and an adjustable weight bench with leg rollers.
Other key features that more advanced lifters will appreciate include pegs on the bottom of the frame for resistance bands, thick safety bars for spotting, and J-hooks for parking your barbell when not in use.
You can get a trimmed down version that includes just the half rack for about $499, but the whole kit and kaboodle—rack, bench, lat pulldown pulley system—is just $1,000 (check Amazon for up-to-date pricing), which is an unreal price for something that could easily fit into your local neighborhood gym.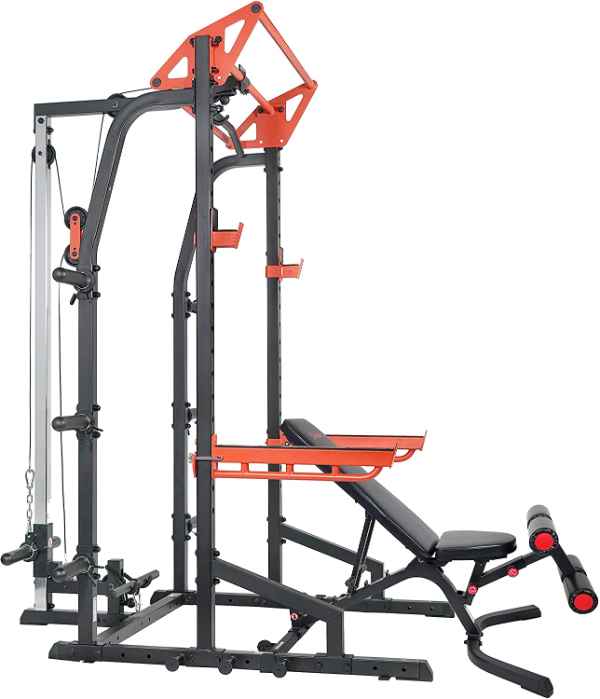 TRX Suspension Trainers
? Best home gym you can take anywhere
TRX straps have been the foundation of my workouts for years. I received a set a couple of years ago for Christmas and attaching them to my power rack has made working out at home even more enjoyable.
TRX suspension straps are another one of those pieces of home gym equipment that is sneaky-sneaky for how versatile they can actually be. Upper body and lower body workouts are a piece of cake, and TRX ships them with lots of exercises and workout routines (they also have an app you can add to your phone—haven't tried it personally but users rave about it).
The weight resistance is adjustable to a maximum of your bodyweight, and the inclines and declines of the hanging straps make them endlessly functional.
More than just a home gym, TRX straps also rank as one of my favorite pieces of portable fitness equipment, as you can latch the straps onto a doorway, tree branch, monkey bars, etc in less than a minute, making them an excellent way to get your fitness in when you are on the road.
The straps run about $170 (check Amazon for current pricing and availability) and unlike bulkier home gyms takes almost no time at all to set-up.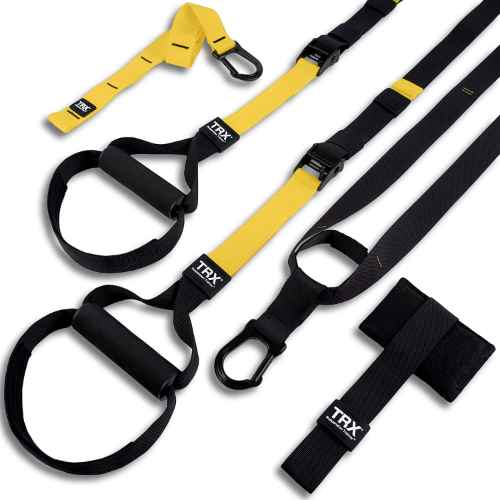 Body-Solid StrengthTech Home Gym
Body-Solid makes heavy-duty fitness gear for the home user. I've had a chance to review their lat pulldown machine, leg press machine, and preacher curl benches and consistently been impressed with the quality of their stuff (combined with reasonable price tags).
The Body-Solid Home Gym is an upper-body centric exercise machine that has the gym-quality weight stack that has up to 210 pounds of resistance. With several different pulleys and seat pads you can attack your body in a myriad of ways.
The Body-Solid isn't a complete home gym, but does provide a lot of options and would fit well with other equipment, like a squat rack (or simply some floor space if you like doing goblet squats that don't require racking). For lower body work, you can only do leg extensions or standing leg curls with this machine.
As you can imagine with equipment that has this many moving parts, assembly takes some time (and patience). One reviewer noted that labeling all of the parts with Post It notes was a total time saver, and others consistently rave about the heavy-duty and stable feel of the home gym once it's fully assembled.
The home gym is available through Amazon (check here for current pricing and stock).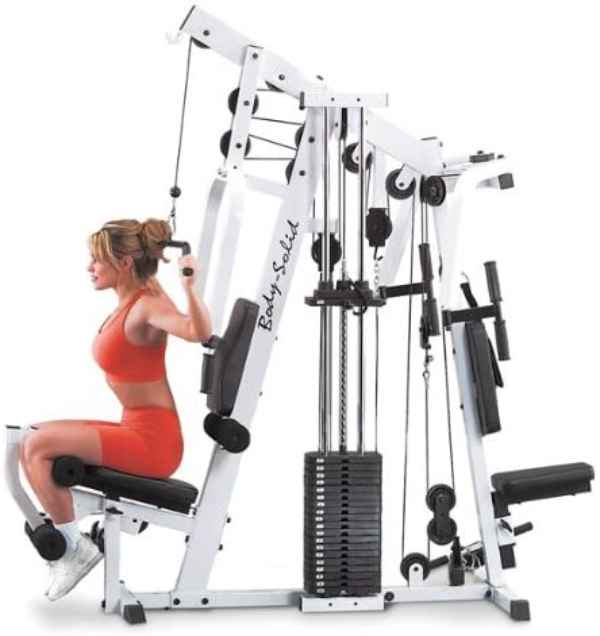 Marcy Pro Smith Cage Workout Home Gym System
? Best home gym (with Smith Machine and pec deck)
The Marcy Pro Home Gym is a total body system that covers all of the bases. This machine has a lot to offer, and I could go on for a while about how versatile it is, but I will try and keep to the things that make it stick out.
The coolest thing about this home gym, and differentiates it from the other power cage on this list, is the combo half rack and Smith machine.
On the exterior of the cage you can hang a free barbell on the J-hooks or safety bars. And on the inside of the front of the cage is a Smith machine bar, which glides the barbell and weight smoothly up and down. This kind of versatility is very rare in a power cage or home gym, which really makes this home gym stand out.
Additionally, this home gym has a pec deck, which is a feature you don't find often unless you want to purchase a specialized machine for this particular exercise.
Beyond that, you get a fully adjustable weight bench, upper pulley system for pull downs, lower pulley for rows and curls, a multi-grip pull-up bar, and four steel pegs for storing weight plates between workouts and exercises.
Made with heavy-duty steel, the machine can handle 2,000lbs of tensile strength, which puts it in the class of commercial gym equipment.
In sum, the Marcy Pro Smith Home Gym kicks a ton of butt, and priced at around $2,100 (they also have a pared down version for around $1,400), it's a surprisingly affordable way to build a home gym that will be the envy of your friends and gym-mates.