Wondering what the differences are between a squat rack and power rack? Read on for a detailed look at the pros and cons of each.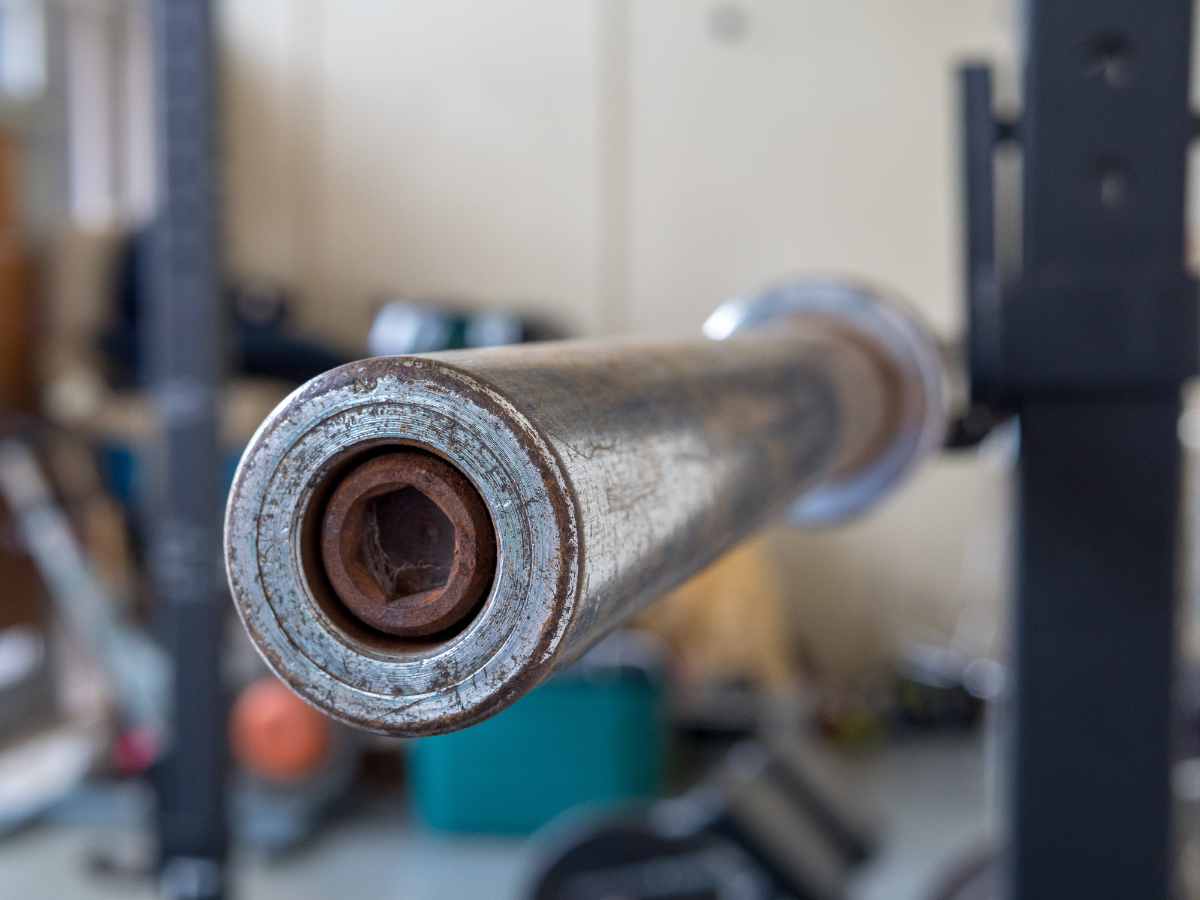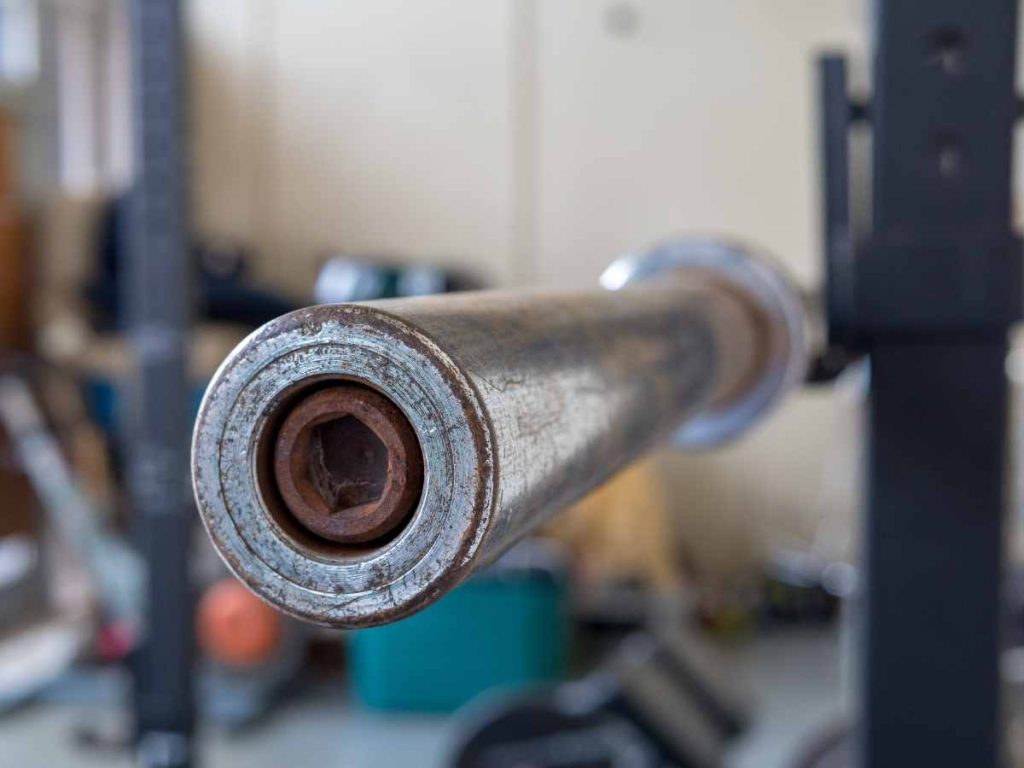 Looking at getting a rack for your home or garage gym but are feeling a little confused by your options?
Here's a detailed look at your two best options for putting a rack in your home gym, power racks and squat racks.
In this article, we are going to look at the advantages and disadvantages of both.
By the end of this guide, you will have a clear idea of the main differences between squat racks and power racks so that you can make the best-informed decision possible.
Let's jump right in.
Squat Racks – Overview
A squat rack is an umbrella term for devices that are designed to help you squat safely.
A squat rack can be something as simple as a squat stand, which is two steel uprights with J-hooks to hold a barbell.
It can also be something as complex as a six-column rack that has a lat pulldown machine, pull-up bar, and so on.
Squat racks include:
Stuck with Your Training in the Gym?
Join 12,000 lifters and athletes and sign up for FREE access to my 5-day email course on how to conquer the most common gym mistakes.
From goal setting to lifting technique, you will learn how to overcome the mistakes in the gym that are holding you back from getting bigger and stronger.
Unsubscribe anytime. No spam.
Squat stands
Wall-mounted squat racks
Power racks.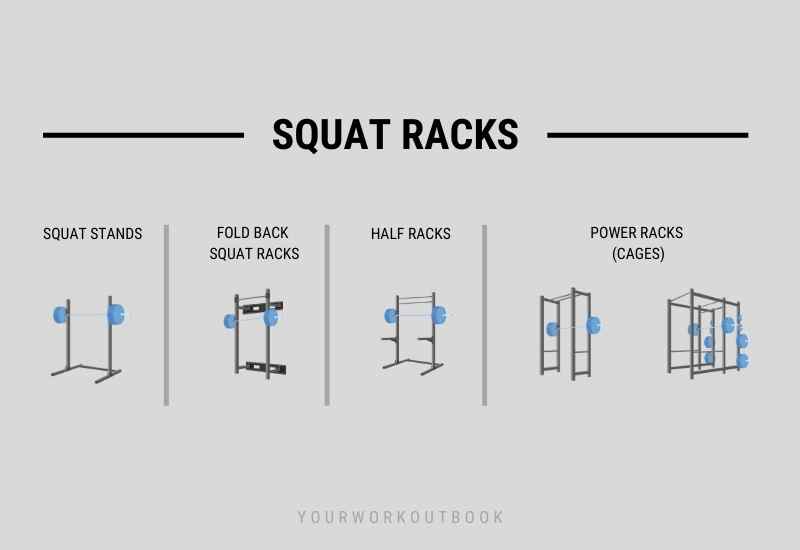 Power Racks – Overview
Power racks are a type of squat rack.
What separates them from other squat racks on the market is that you can step inside a power rack.
That's why they are often referred to as power cages.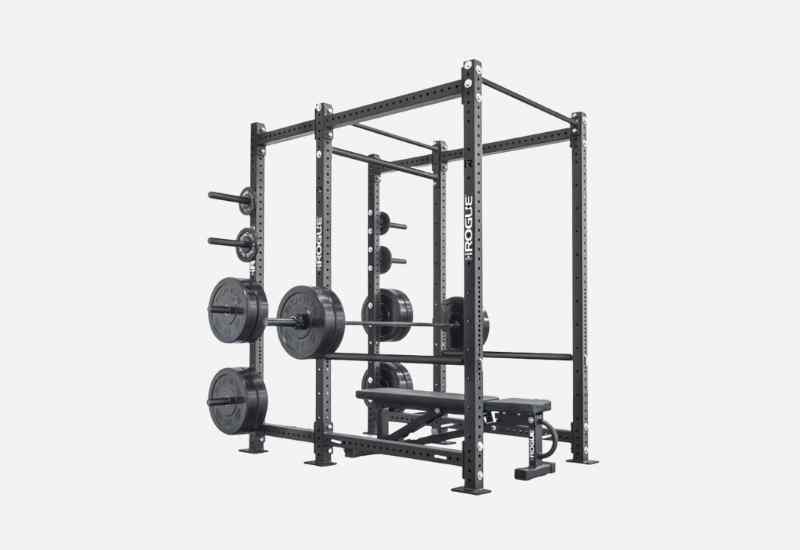 At the end of the day, the fact that you can step inside of a power rack is what makes it such.
But the story doesn't end there.
Here's a deeper look at the differences between power racks and squat racks.
The Differences Between a Power Rack vs. Squat Rack
Power racks spot you during heavy lifts
The key to what separates power racks from squat racks is whether you can step inside of it or not. Instead of lifting weight from the outside of the uprights, you can step inside and be surrounded by the columns of the rack.
This is probably the main advantage of a rack or cage for people who workout solo at home.
Power racks allow you to step inside the rack and use safety pins or spotter straps to catch the barbell should you fail a lift.
By adjusting the pins or straps inside the cage, you have a de facto spotter for when you are pushing yourself with weight.
Power racks are the safest option for people who want to lift heavy at home.
Squat racks, namely squat stands, wall-mounted racks, and most fold back squat racks, require you to unrack the barbell and step away from the rack.
This means that if you fail and have to ditch the barbell, it's going to hit the floor.
Lifting inside of a power rack gives you both a spot but also prevents you from trying to catch a falling barbell, which will more often crumple you up like a freshly finished bag of ketchup-flavored potato chips.
Power racks offer more attachments
Another benefit of a power rack or cage is that you can add a whole ton of attachments for additional exercises.
While a squat rack can be used for squats (it's in the name, after all!), it can also be utilized for presses, rack pulls, and any other exercise that requires a barbell to be held up off of the ground.
Power racks offer a nearly unlimited number of attachments that can turn the rack into an all-in-one gym.
Attachments like a lat pulldown machine, multi-grip pull-up bar, dip station, cable crossover machine, and on and on.
Power racks, and their huge number of available attachments, can take your rack and turn it into a total home gym.
Power racks offer a greater number of attachments for other exercises.
Squat racks are more limited in their range of attachments due to the double-upright set-up that doesn't provide the stability required for weight-bearing attachments.
That said, if you are only planning on using a rack for squats and basic presses, a squat stand is gonna do the job just fine.
Power racks can store more of your weights and lifting gear
Power racks, and their 4 or 6 columns, give you way more options for plate and equipment storage.
Weight storage pegs are easy to attach to the power rack and can store a large number of weight plates, whether they are bumper plates or old-school cast iron weight plates.
Squat racks are more affordable
Squat stands are the most affordable type of squat rack, and they are hands-down the most inexpensive option for high-performance squatting at home.
The only downside to this type of rack is that they don't have safety bars, so if you have to ditch the barbell halfway through a rep, it's going straight to the floor.
Squat racks have a smaller footprint
Your basic squat rack, most notably squat stands, have the smallest footprint of all the racks.
This makes them ideal for experienced lifters who have a small workout space to work with.
While there are some thinner power racks on the market (the Rogue R-3 Rack is a great example of this with a depth of just 36"), for the most part, racks take up a lot more space and width.
When measuring out space for your rack, don't forget to add "live" space around the rack to allow for exercising and loading plates and barbells.
The base is larger, and the height of the rack is always taller than any squat stand on the market.
The reality is that we don't all have an unlimited budget and basketball court-sized area for our home gym equipment.
Power racks can handle more weight
Power racks are the king of the castle when it comes to weight capacity.
The design, four or six columns with a generous base, make them perfectly suited for loading up a ton of weight, whether that means storing all of your weight plates or performing heavy lifts inside the cage.
Squat stands can handle a surprisingly high amount of weight (some of them are rated for up to 1,000lbs), which makes sense as they are primarily marketed towards experienced lifters.
Even the "cheapo" power racks that litter Amazon, and are made by dodgy third-party sellers, are rated for around 800-1,000lbs, making them more than durable for most people.
The Bottom Line
At the end of the day, there is a steaming pile of commonalities between squat racks and power racks. They are both designed to help you lift more safely and functionally.
Choosing the right power rack or finding the best squat rack for you ultimately comes down to how you plan on lifting the rack, your budget, and how much space you have for it.
If you are comfortable squatting without a spotting tool like pins or straps, and you don't have a ton of space in your home gym, a squat stand or half rack is going to work great for you.
If you want to build a comprehensive home gym, have room to spare, and want to invest in something sturdier, a power rack is the way to go.
Decide what kind of rack works for you and your training goals, find the best rack for your budget, and crank up the gains!
More Squat Rack Guides and Articles
10 Best Squat Racks for Home and Garage Gyms. A squat rack is the best purchase you can make for your workout goals. Here's a detailed buyer's guide and the best squat racks on the market right now for home gyms.
The Beginner's Guide to Squat Racks (and How to Use Them Like a Pro). Ready to add the squat rack to your training routine? Here's what you need to know about using this piece of equipment like a champ.
The Ultimate Squat Rack Buyer's Guide. Buying a squat rack is one of the best things you can do for your training goals. Here are the key things to know when looking for a new squat rack for your home or garage gym.
6 Best Power Racks for Your Home Gym. This list of the best power racks offers the best value and will take your home workouts to the next level. Let's do this.