Weight lifting hooks are an excellent way to maintain a strong grip when pulling heavy weight. Here's a detailed look at the best lifting hooks in the gym and how to use them for like a boss.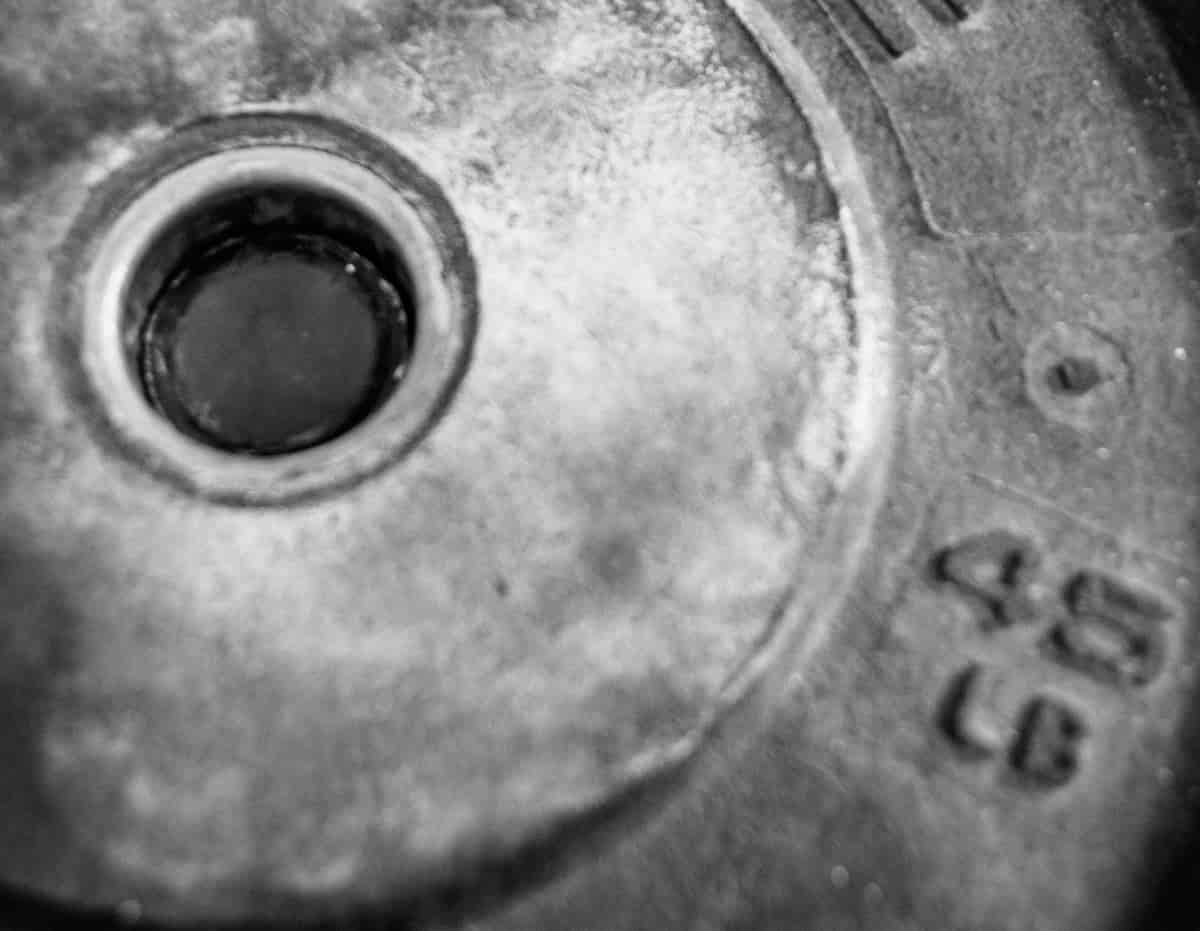 Fun fact: One of the best parts about lifting heavy stuff in the gym is lifting even heavier stuff.
Nothing beats sliding an additional plate onto the barbell and hitting a new PR.
Want to skip straight to my number one pick for best lifting hooks? The winner-winner chicken-dinner is Iron Bull's Steel Weight Lifting Hooks, which you can pick up over at Amazon for around $20 (check here for current pricing).
This progression keeps us motivated and hungry to come back to the gym for more. But as you get stronger in the gym, there is one thing you quickly notice—that your grip is one of the biggest limitations you have for getting stronger.
When it comes to instantly securing your grip on the bar, there are a few options.
You could use a pair of weightlifting gloves (particularly handy—haha–for sweaty hands) or my usual go-to, weight lifting straps (or figure 8 lifting straps).
And then there are lifting hooks, which are heavy-duty hooks that lock your hand onto the bar.
Hooks are the strongest option for a secure grip on the barbell.
In this guide, we will look at all of the best weight lifting hooks out there. Check out the key features of each. How to use them for max results in the gym. And help you pick the best ones for you.
Let's dive in.
---
The Best Lifting Hooks for Every Kind of Lifter
Iron Bull Weight Lifting Steel Hooks
⭐⭐⭐ Best overall weightlifting hooks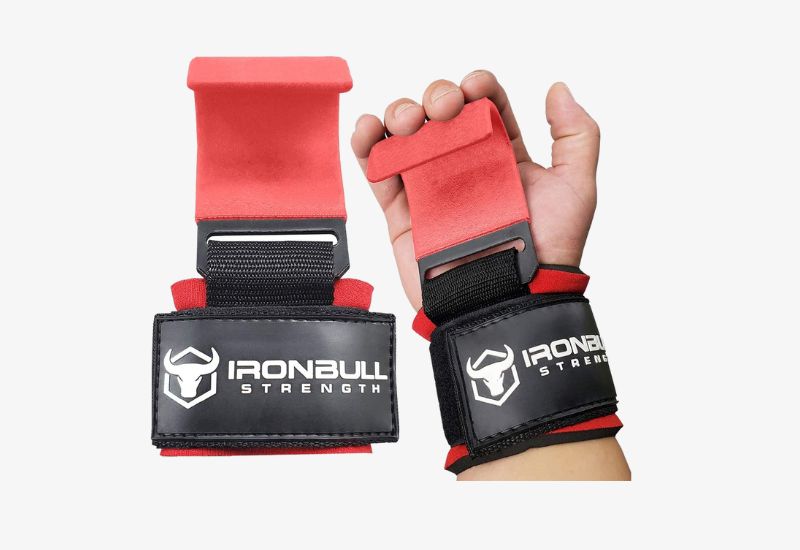 For my top pick for best weight lifting hooks, I gotta go with the set from Iron Bull.
Frequent visitors of the blog (or garage gym) know that I am pretty keen on their stuff, with their hip thrust barbell pad in my rotation as well as their bumper plates, which I picked up a set of at the beginning of the pandemic in 2020.
Iron Bull knocks it out of the park with their weight lifting hooks, padded for maximum comfort with neoprene padding and a bombproof steel hook.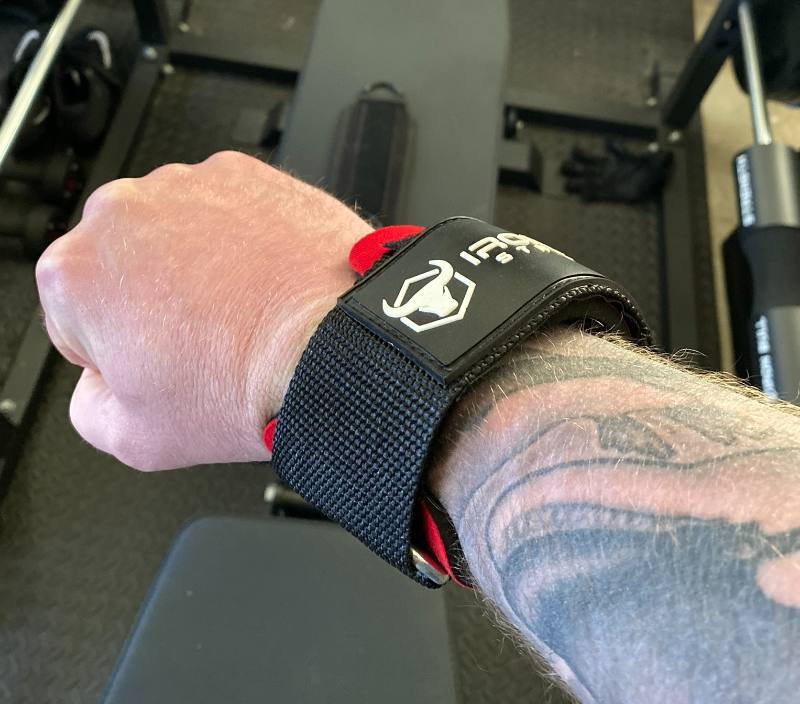 They are comfortable as hell, whether you are pulling for a new PR on deadlifts or using them simply to secure your grip while doing pull-ups.
The hooks themselves are made of metal, the Velcro straps give you a custom, proper fit, and the metal hooks are coated with a slip-free rubber so that you aren't sliding all over the place when grabbing the bar.
The Iron Bull Strength Hooks combine quality construction, comfort, and affordability (I picked up mine for less than $20 on Amazon–check here for current pricing).
---
RIMSports Heavy Duty Weight Lifting Hooks
⭐ Runner-up for best lifting hooks
Runner up for best weight lifting hooks goes to the hooks from RIMSports. The neoprene strap is thick, comfortable, and secure as hell (also customizable to your wrist size).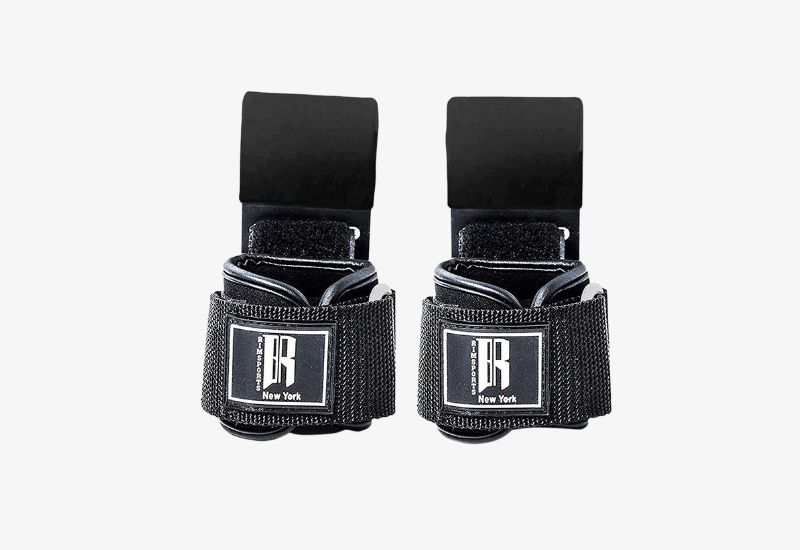 The hooks are made of metal, the pads made of 5mm neoprene, and the combination of a lightweight construction with heavy-duty materials gives you a superior fit and grip on the bar, whether you are trying to level things up on the lat pulldown bar or pull more weight off of the floor with your deadlift.
RIMSports sells these bad boys for just under $20 (click here to see what Amazon is selling them for today) and they are available in half a dozen color flavors, from your usual black on black to neon green and pink.
---
DMoose Fitness Weightlifting Hooks
⭐ Best weight lifting hooks for color options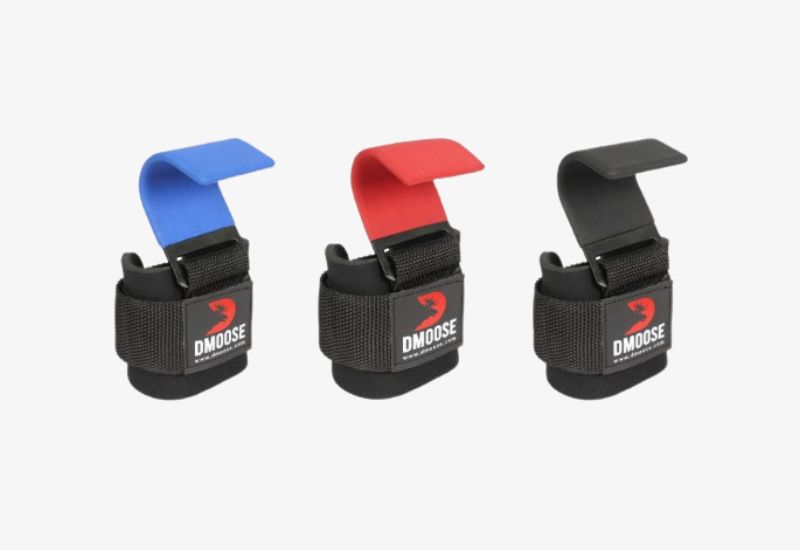 DMoose isn't one of the best known names in the gym equipment biz, which is too bad—they make quality stuff.
Whether it's ankle straps for cable machine kickbacks, wrist wraps, or knee wraps for squats, DMoose always ranks at the top of the quality-pile for gear designed to support heavy lifting. On top of that, DMoose makes quality gear in a budget-friendly manner.
DMoose's lifting hooks are no exception.
Double-stitched, with heavy-duty Velcro straps and a comfortable neoprene pad to reduce chafing, these hooks are awesome for going HAM on big lifts, whether it's shrugs, deadlifts, or picking up all of the grocery bags in one trip.
Other fun facts: They are rated for up to 600lbs, come in three different colors, and are super reasonable in terms of cost, coming in at around $19 (check Amazon for today's pricing).
---
Harbinger Lifting Hooks
⭐ Best dual hook weight lifting hooks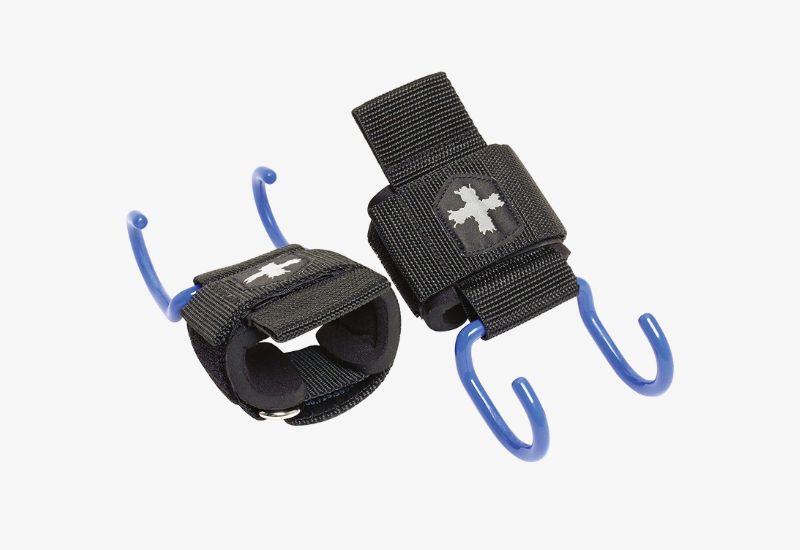 Harbinger is another one of my faves, selling top-notch tricep rope attachments and weight lifting belts. The Harbinger Lifting Hooks provide an alternative to the uni-hook, err, hooks, with this intelligently designed alternative.
While most hooks have one thick piece of plastic to secure the bar, the Harbinger hooks tackle things from a different angle, with two-prong hooks that are heavy-duty versions of a coat-hanger.
The hooks are designed to fit most bars, and the coating on the hooks helps keep them firmly in place while you are donkey-kicking PRs in the gym.
The inside of the cuffs feature that same silky smooth neoprene that we all expect from anything that we strap onto our body, reducing chafing and keeping things comfortable. The Velcro straps allow for a comfortable and secure fit.
Harbinger sells these bad boys for around $25 (check Amazon for current pricing and shipping options).
---
Lifting Lab Weight Lifting Hooks
Another set of hooks that come in the double-coat hanger format are Lifting Lab's lifting hooks.
The hooks are covered in a non-slip rubber that helps keep the bar where it's supposed to be instead of slip-and-sliding in your hands.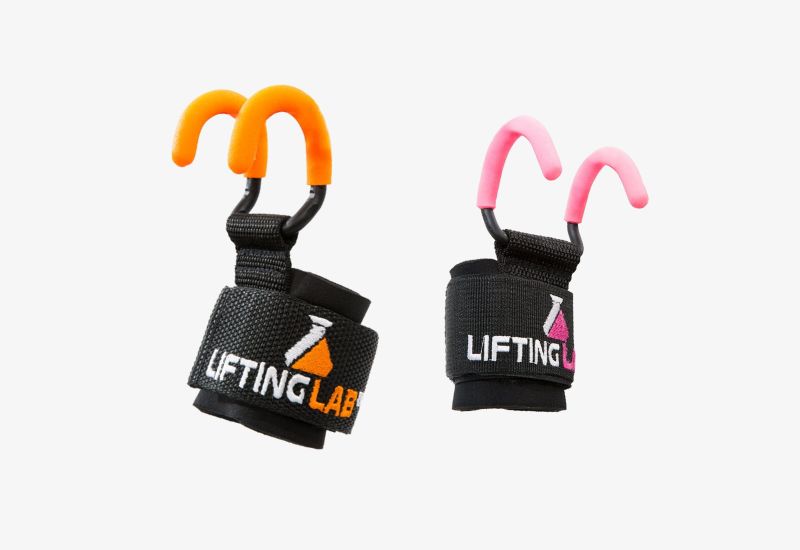 The individual hooks do snap onto the bar a little more snugly which can help you pile on more reps after the moment where your grip and forearms would typically give out.
Reviewers consistently find the wrist strap to be comfortable (it's adjustable). These retail for a bit more than the Iron Bull and DMoose hooks (picked mine up for $30—check Amazon for current pricing and availability), but if you prefer the separated hooks with your lifts, these are a great choice.
Lifting Lab also makes a pair in pink as well that are slightly more expensive but are designed for women and smaller wrists.
---
Hawk Fitness Weight Lifting Hooks
⭐ Best value pick for weight lifting hooks
At just $12 (check Amazon for current pricing and shipping options), Hawk Fitness's lifting straps are a killer pair of hooks at an epic price point.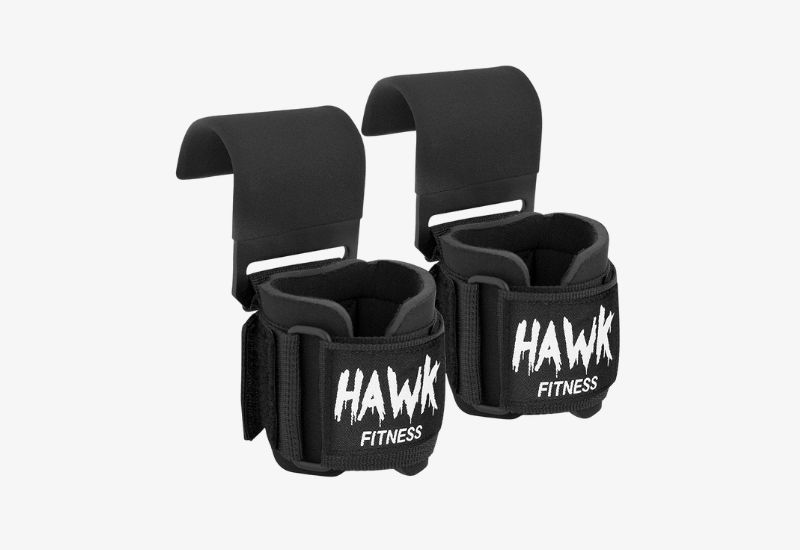 The hooks are powder-coated for durability and comfort, and 5mm neoprene pads eliminate yucky chafing and red skin. The straps come with the usual hook and lock Velcro strap for a custom fit every time you step up to the barbell.
Rated to be able to support up to 700lbs, Hawk Fitness combines affordability with awesomeability (I know—not even close to being a real word, but kinda just flowed off the keyboard).
---
The Best Weight Lifting Hooks — FAQs
Are lifting hooks better than straps?
Hooks are designed to remove the pressure of the grip when holding a barbell. This allows lifters to lift more weight.
Straps are designed to improve the grip of the bar by securely attaching the hands to the barbell.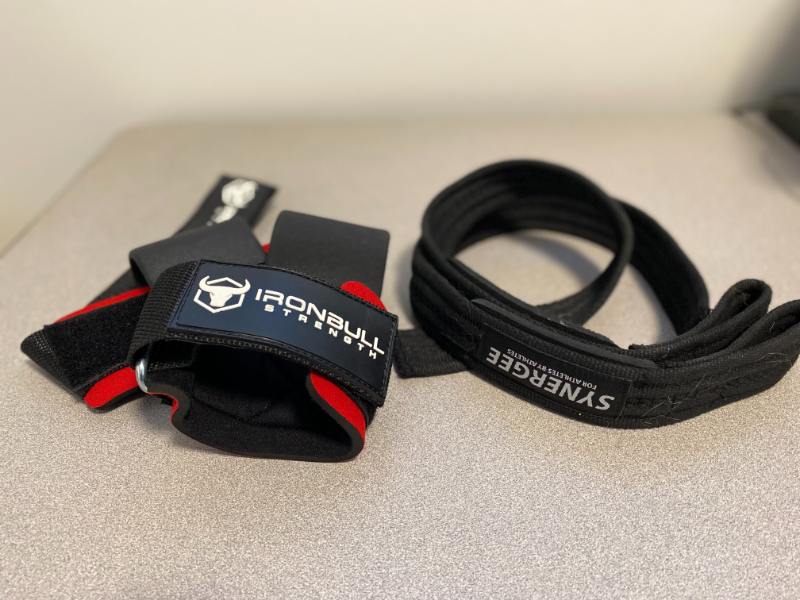 Both straps and hooks reduce the exertion of the wrist and grip, but hooks are more effective at reducing grip requirements.
Hooks are also more "stiff" compared to straps, which are more customizable in terms of grip choice.
Additionally, straps can be used for a much larger amount of exercises, including pull-ups, rows, and even as a tool to increase the bar thickness when using skinny-handled dumbbells and barbells.
How often should I use weight lifting hooks?
The key with any kind of strength training gear is to use it strategically. Weight lifting hooks are best used in a handful of situations:
Max lifts. Maxing out on the bar is a lot of fun, but max lifts drain the CNS system quickly, leaving you shattered and leading to poor lifting technique and reduced central drive. Lifting hooks are a great way to reduce the overall CNS demand when doing heavy lifts. Because the forearms and grip are outsourced to the hooks, the major muscle groups get all of the attention. As a result, you can lift more, more easily.
Burnout sets. I always like finishing my workouts with a finisher set or two. Using hooks for these sets mean the major muscle groups—shoulders, back—are getting the brunt of the attention when doing these kind of sets.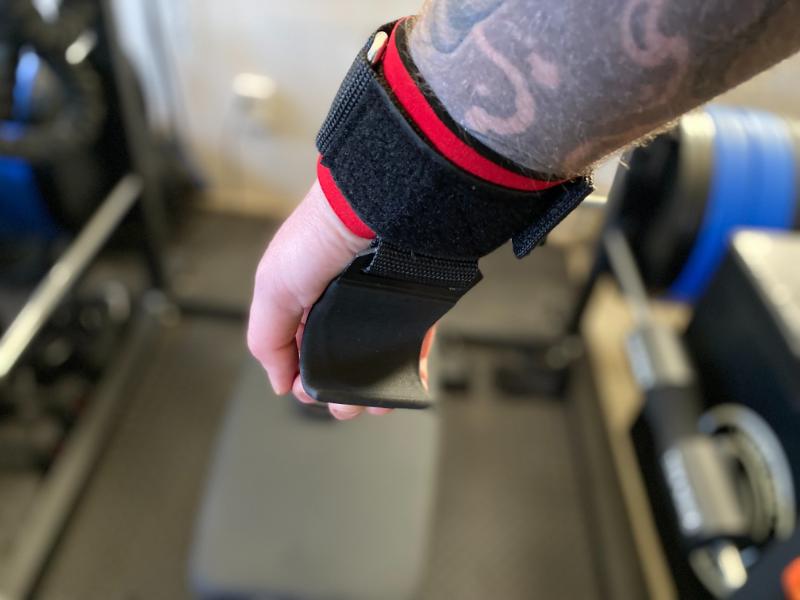 Increasing training volume. Grip can be a limiting factor with higher volume programming. By reducing fatigue and strain on the grip, weight lifting hooks can allow lifters to crank up the repetitions and sets. This is particularly helpful for hypertrophy-focused workouts.
Technique work. Lifting hooks are also a tool for improving lifting technique with beginner and intermediate lifters. It gives them the confidence to know the barbell isn't going anywhere, and they can drive their attention to mastering technique of their lifts.
Of course, hooks should be used tactically and not throughout your whole workout.
Training without hooks will give your grip a chance to improve and strengthen.
What tools can I use to improve my grip when weight lifting?
While lifting hooks are great in specific situations, lifters looking to pull and push more weight should also be striving to improve their overall grip strength.
There are plenty of ways to do this outside of properly gripping the barbell and lifting weights. There is the classic hand grip strengthener, which can be used outside of the gym (I have one in my desk, for example, that I use when writing reviews about weight lifting hooks 😉).
Putting fat grips onto the barbell during your warm-up sets is an excellent way to get some extra forearm training and also fire up your grip and wrist muscles for later lifts.
Also, there are plenty of accessory exercises you can do in the gym to improve grip strength, including dead hangs, farmer walks, wrist curls, and so on.
The Final Verdict
Ultimately, lifting hooks are an awesome tool for powerlifters, bodybuilders, and casual lifters to improve grip and lift heavier weight.
Implement smartly into your workout routine and you will start seeing some confidence-boosting results in the gym.
To recap our top choices for the best lifting hooks:
⭐ The Iron Bull Strength Lifting Hooks are my go-to lifting hooks thanks to a super reasonable price point, sturdy construction, and strong Velcro strap for a secure fit.
⭐ Lifters who want a dual hook option will love the Harbinger Lifting Hooks. The cuffs are comfortable and each strap locks firmly into place. Priced to win, also, at around $20.
So, invest in a set of weight lifting hooks, crank up the weight and reps in the gym, and see how much of a difference they make in your lifting performance and overall progress.
---
More Guides and Articles Like This
5 Best Mouth Guards for Weightlifting. The right mouthguard will help you lift more, protect your teeth, and help you breathe like a champ. Here's a breakdown of the best mouthguards for lifting weights.