Thick rubber barbell grips power up your forearms, secure the bar, and lift more than ever. Here is a breakdown of the best thick grips for dominating your workouts.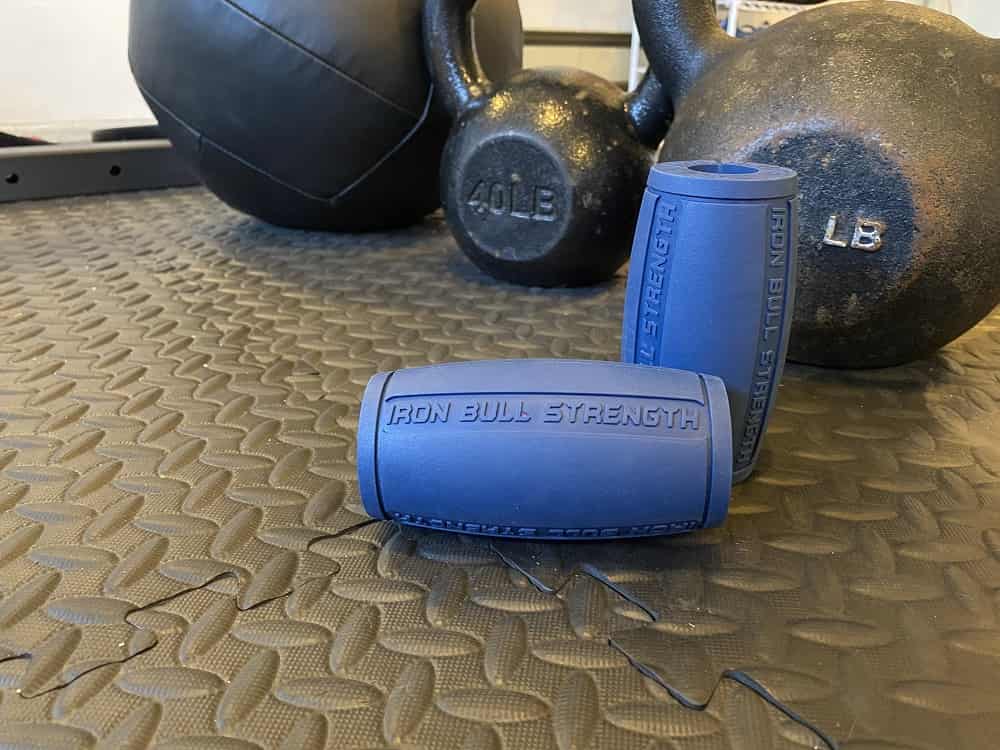 Thick grips (or commonly known as Fat Gripz) are a tool for making the barbell, kettlebell handle, pull-up bar, or whatever other bars you are using thicker.
The benefits of thickening your grip are legit:
✅ Good for lifters with injured or tender elbows. Thick grips spread out the load and muscle recruitment across your arm. If you are prone to elbow injuries, or simply want to lessen the pressure on your elbows, thick grips are a great tool to do so.
✅ Activates forearms like crazy. The "weak" link in your pulling lifts will be your grip. Thick grips are a way to fire more of your forearm muscles. Combine thick grips with your favorite hand grip strengthener and watch your pull numbers go through the roof.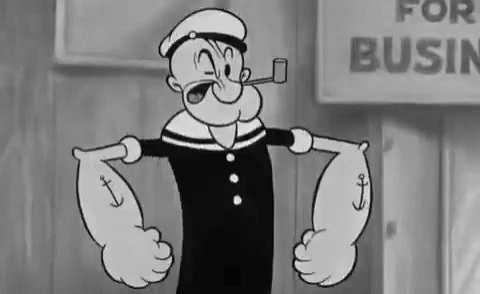 ✅ Elite hand strength. Everyone can benefit from a stronger grip. Whether it's chucking a football, playing golf, swimming up and down the pool, or lifting vast amounts of weight off a deadlifting platform, strong hands are paramount. Thick grips (and thick bars!) develop legendary hand strength.
While Fat Gripz are the most popular thick grips on the market, and have been for quite some time, there are some awesome Fat Gripz alternatives out there.
Below, read on for a breakdown of the best thick bar grips. Choose the ones that suit you and your training goals. And get to building powerful forearms and getting stronger.
Let's do this.
Fat Gripz Barbell Grips
⭐⭐⭐ Best overall thick bar grip for barbells
The original, the one who started it all. Fat Gripz are used by countless lifters, including myself, as well as professional athletes, CrossFitters, elite bodybuilders, and so on.
Use them for pull-ups, use them for farmer's walks, deadlifts—whatever your goals in the gym, these bar thickeners will help you get there.
Fat Gripz sells these in three different sizes, from 1.75" to the extreme-level 2.75" Gripz that are recommended for elite lifters with a massive set of mitts.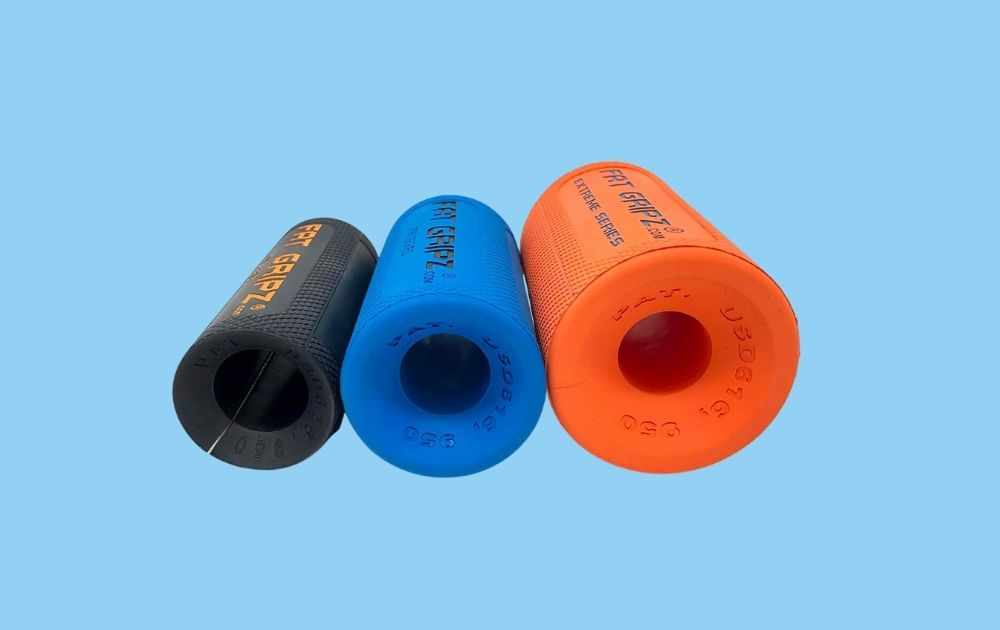 I love that these specific grips are textured in the same way as the knurling on a barbell. Fat Gripz clip on to the bar and give you lots of bar security while also not slipping and sliding, giving you a thicker, sercurer (I know, not a word, but felt good so I rolled with it) lifting experience.
The Pros, pictured below, are there most popular model and are sold for about $30 (check Amazon here for current pricing) and Fat Gripz offers access to a training video that shows you how to make the most of them in your workouts.
In sum, Fat Gripz is your all-around best choice for thick bar grips.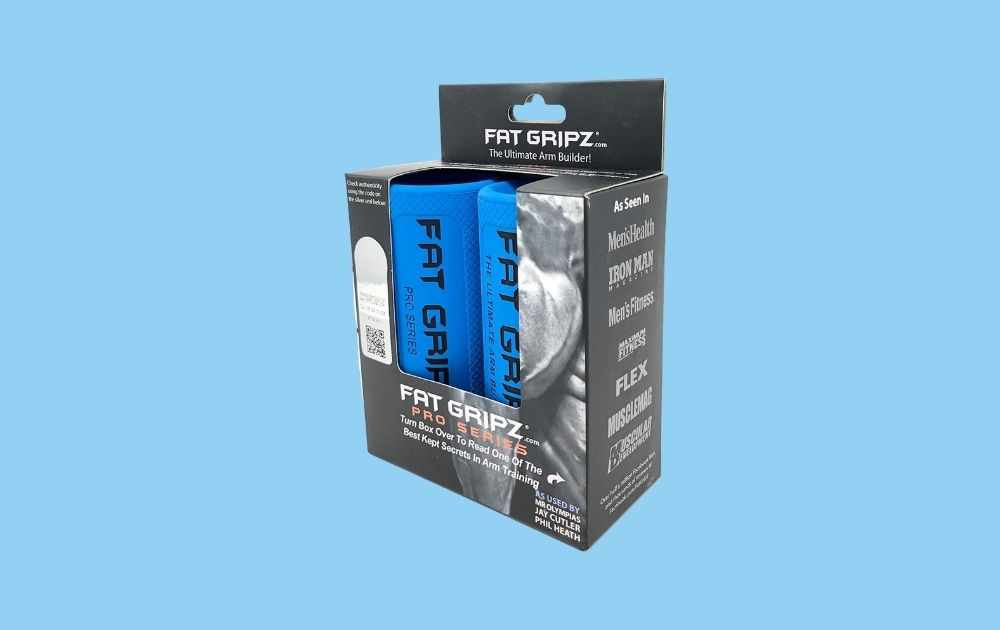 Iron Bull Strength Alpha Grips 2.5
I'm a big fan of Iron Bull Strength's stuff. I started using their hip thrust barbell pad early last year and promptly added nearly a hundred pounds to my 1RM barbell hip thrust. Their battle ropes and bumper plates kick a whole bunch of butts, too.
Iron Bull's grips are on the thicker side, at 2.5 inches, which effectively doubles the thickness of your barbell. The key feature that makes these stand out is the light treading on the surface of the grips that makes them easier to hold on to, which comes in very handy (ha!) when your hands are a little sweaty.
Available in red or blue, Iron Bull Strength's grips are sturdy, thick as hell, will have your forearms screaming for mercy (in a good way, of course ?), and are available for around $35 over at Amazon.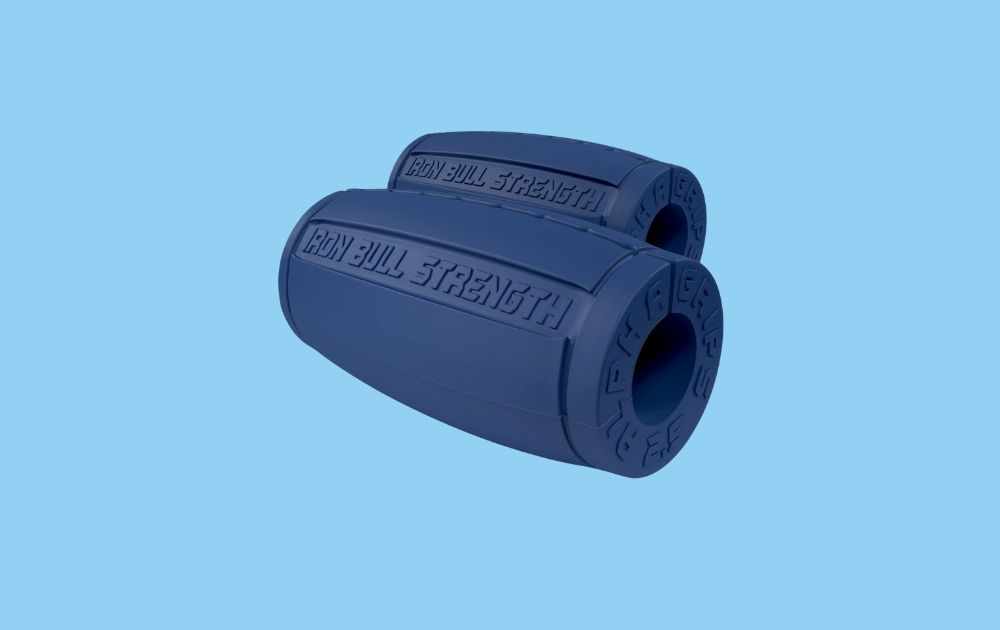 Iron Bull Strength Alpha Grips 3.0
⭐Best thick grips for super strong lifters
These grips are not for the feint of heart or weak of grip. Rated my favorite thick grip for experienced lifters looking to move past a plateau or engage their forearms on the bar.
These bad boys are the thickest of the thickiest, at three inches in diameter. For lifters with long hands, and strong forearms, who want to take their lifting to the next level, the Alpha Grips 3.0 are a must have.
Exceptionally well-reviewed on Amazon, with over 300 five-star reviews (and counting!), the Alpha Grips 3.0 are the best elite thick grips I've ever used.
One thing you will notice with these, and it's common with most thick grips, is the rubber smell that blasts your nose when you unpackage them. Not really a big deal, especially as you watch your forearms explode, but something to remember.
Price-wise, they are more expensive (retailing for around $45 on Amazon—check here for current pricing and availability), but it's a small price to pay when you consider the PR-smashing that comes from using them.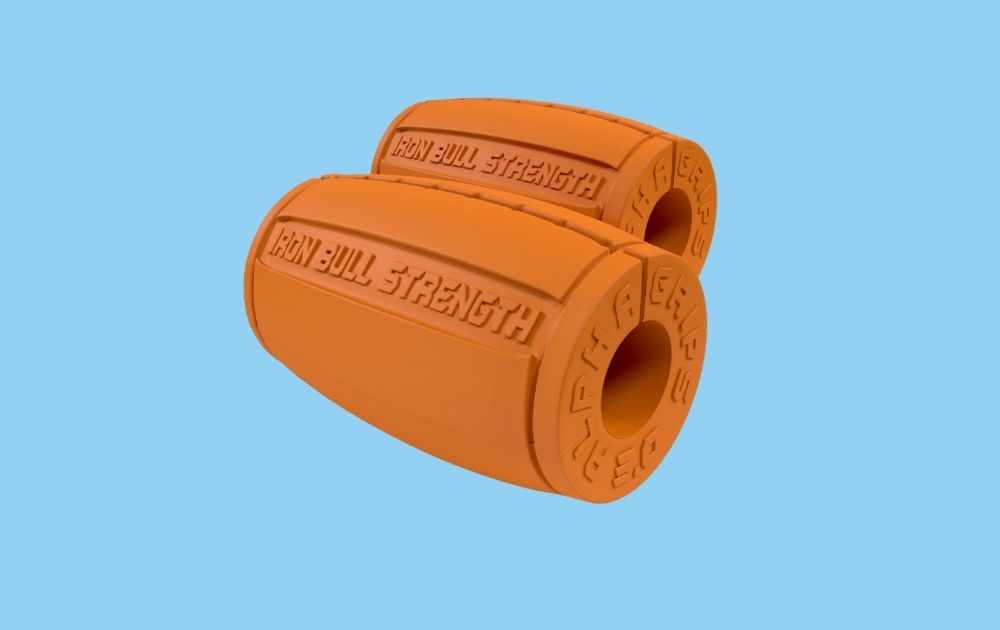 Grip Power Pads
These lifting grips are an interesting alternative to thick grips, lifting straps and weightlifting gloves.
The design of the pads are sneaky and smart—you slide your fingers through a Velcro strap that is tightened to keep the pad in place, and you wrap your fingers around the bar.
Presto—you get a little extra thickness on the bar and a more secure grip.
While they don't add a ton of extra thickness to the bar (the thickest of the three pads are 0.25" thick), these pads are an excellent alternative for lifters and gymgoers who want just a little bit more bar to grab and aren't after those big Popeye forearms.
The Grip Power Pads are priced very competitively, at just $12 (check Amazon for current pricing and availability).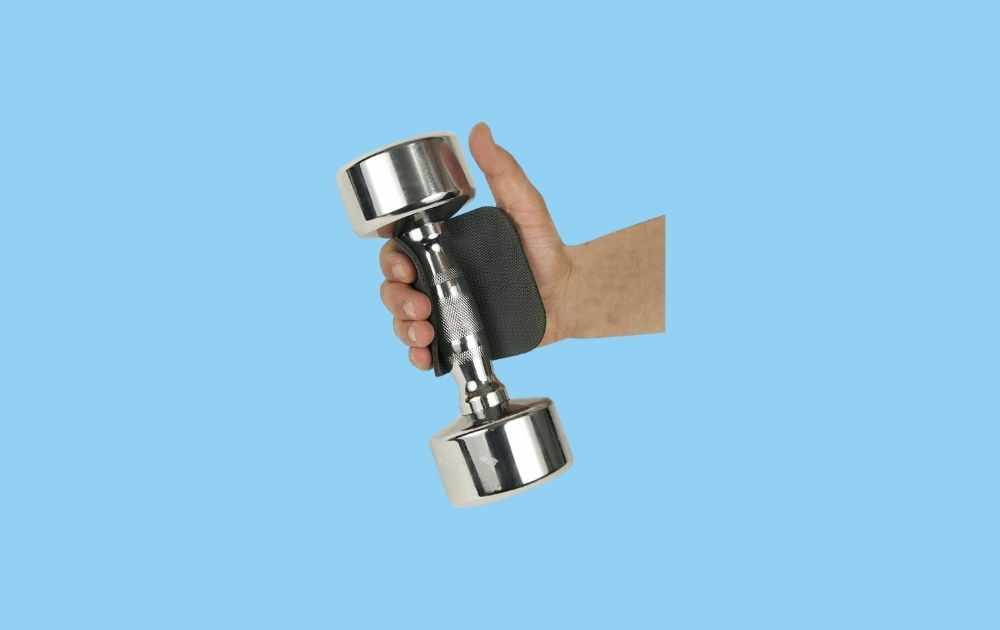 Yes4All Thick Rubber Grips
Made of high-density, no-slip rubber, the Yes4All grips are a low-cost alternative to the name-brand grips I have already reviewed.
Just under five inches long, they fit every piece of fitness equipment you can think of, from your lat pulldown bar to kettlebells. Comfortable, slip-free, and easy to slide on and off, the Yes4All Rubber Grips will help your forearms engage.
They kill it with reviews and ratings on Amazon, with over a thousand five-star reviews. Available in five different colors, the Yes4All grips are a budget-friendly pair of grips that won't break the bank and will leave those forearms all sorts of stronger.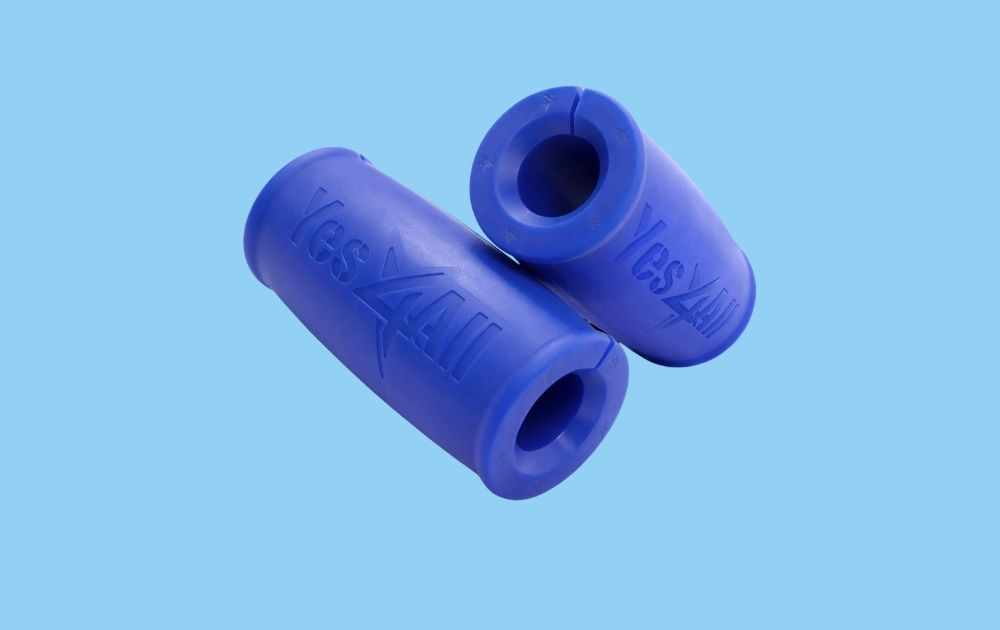 Harbinger Big Grip Thick Bar Grips
Harbinger is a player in the fitness equipment market, making stellar ankle straps for kickbacks, weightlifting belts, and you bet your butt, thick bar grips.
These grips are five inches long and add about two inches of thickness to barbells and dumbbells. Sturdy, lined rubber helps keep your hands from slipping.
I've noticed that these ones roll a little bit when hanging on them (i.e. when doing pull-ups) so I would recommend these more specifically for lifters looking to increase the girth of the bars they are lifting with.
Besides that, they are great little bar grips and are available for around $20 (check Amazon for current pricing).