Lat pulldowns are a killer exercise for a stronger and muscular back. Read on for a breakdown of the best lat pulldown bars for home and garage gyms.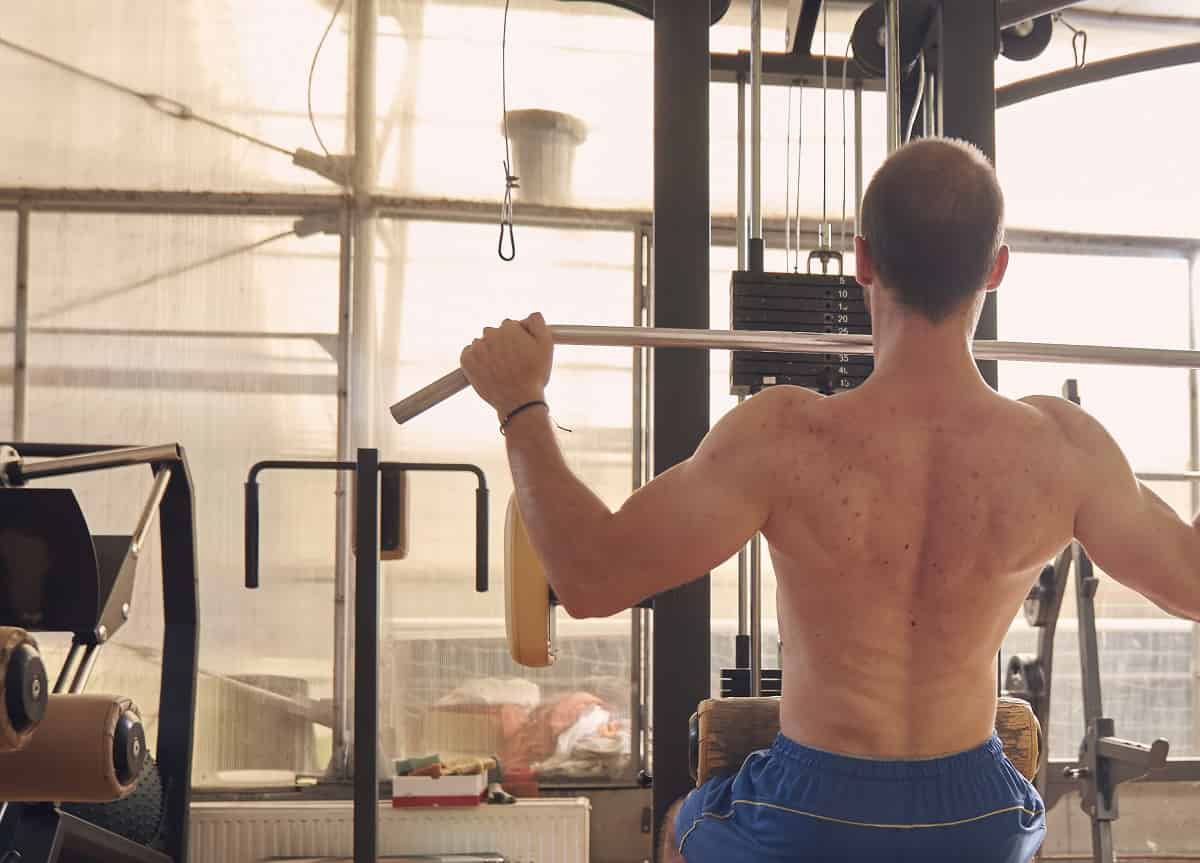 Building a home gym has never been more appealing and more affordable.
Nowadays, you can pick up power racks, flat weight benches, and wall-mounted pull up bars that would fit right in at your neighborhood gym.
Lat pulldowns are another tool in your home gym arsenal to develop a strong and muscular back.
The bar we use in this exercise is the lat pulldown bar. They come in a surprising variety of grips, materials, knurling, and so on.
No matter the design of construction, the function is the same: Attach the bar to your cable or pulldown machine and go to work on your lats, biceps, shoulders, and forearms.
Picking out an awesome lat bar
Things to look for when picking out the right lat bar for your home or garage gym:
⭐ Bar shape. Lat bars come in a variety of shapes. Most lat pulldown bars have angled ends while others are fully straight.
⭐ Knurling. The kinds of grip are generally split in two groups. Rubber-coated grips make the bar thicker, ideal for lifters with longer fingers. Knurled steel or chrome are most common.
⭐ Bar ends. The ends of lat bars taper off, have a rubber ball stopper, or are outfitted with D-handles, which are great for using a hammer grip.
⭐ Fabrication. Look for bars that are made predominantly of steel. Some cheaper lat bars are made fully of chrome, which dents and breaks down much faster.
⭐ Universal attachment. Lat pulldown bars are one of my favorite cable machine attachments. Look for bars that have a universal carabiner that can be attached to your home cable pulley machine of choice.
Here is a guide to the best lat pulldown bars, the features of each, and more.
Let's grip it and rip it. Yewww!
CAP Barbell Deluxe LAT Bar
CAP Barbell makes great gym gear. I am a big fan of their E-Z curl bar and trap bar, so it's no surprise that their lat pulldown bar is going to make it on here, too.
The big bonus for me with the CAP Barbell Deluxe LAT Bar is the dual rubber grips. As someone who has longer fingers, gripping a regular bar sometimes feels like I am trying to tie a shoelace around a Q-tip.
The added rubber padding on this bar, both in narrow grip as well as the wide grip, make a secure and comfortable grip more natural.
Additionally, two rubber stoppers at the end help keep your hands in place when doing an extra-wide grip pulldown, which I really like as well.
Attaches easily to your lat pulldown machine or pulley system with a universal hook.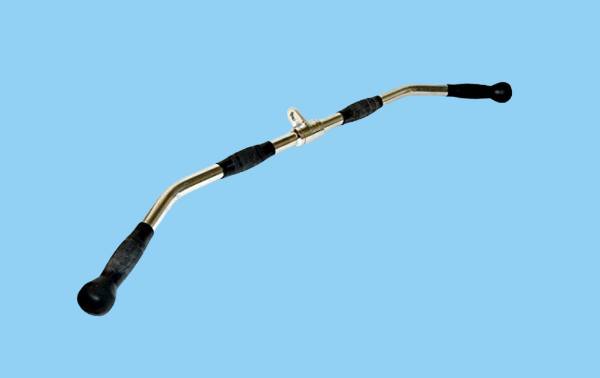 CAP Barbell LAT Bar
CAP Barbell also makes a no-frills version of the Deluxe LAT Bar. Available in a powder-coated black (looks pretty badass if I say so myself), the bar has knurled handgrips for a clean and strong grip.
The bar itself is plenty wide, four feet in width, giving you TONS of options with grips.
If having thicker rubber handles on the bar isn't a concern, the CAP Barbell LAT Bar is perfect–it's heavy-duty, can handle plenty of weight, and the clean look and knurled finish will have you blasting away at your back in the comfort of your own home gym.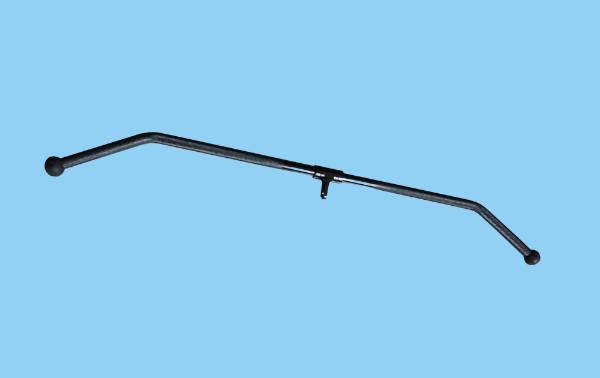 Titan Fitness Pro D-Handle LAT Bar
I'm a huge fan of neutral grip everything when it comes to lifting weights in the gym. After years of high-level athletic competition, my shoulders are always happy to use a grip that doesn't add unnecessary strain to the elbow joint.
A D-handle lat bar does a couple of great things: usually brings the arms in front of the body, and creates more range of motion in the shoulder and elbow, which I find more comfortable while also being under tension for longer. Win, win.
Titan Fitness, a veritable titan (harhar) in the gym equipment game, makes a killer D-handle LAT Bar that allows you to use a hammer grip when performing pulldowns. (You can also use them for rows, which I like doing as well.)
With rubber grips on the handle, a heavy-duty steel construction with a chrome finish, the Titan Fitness Pro D-Handle LAT Bar is an excellent alternative to regular lat pulldowns that may be easier on your shoulders while still helping you develop a stronger, more muscular back and arms.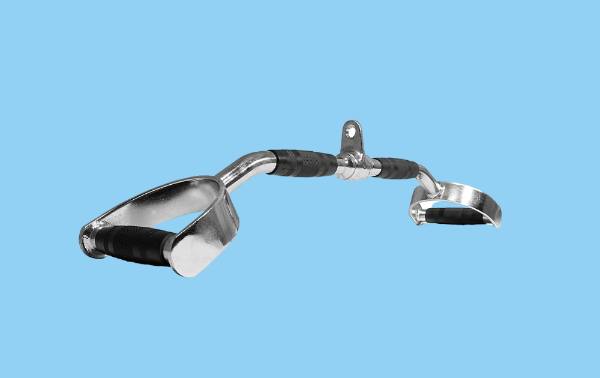 Champion Pro-Style Lat Bar
Well-balanced, made of chrome plated steel, and strong enough for commercial gyms, the Champion Pro-Style Lat Bar is a straight bar with D-handles.
For lifters and home gym owners who don't want to go for the rubber-coated handles, the Champion is a killer alternative. The straight bar and the D-handles are both fully knurled for a superior grip.
The width of the bar is just over 30", wide enough for moderately wide grip pulldowns. I really like the wide D-handles on this bar—as a wider fella this bar is perfect for doing wide grip rows.
Sturdy, well-priced, and ready for battle, the Champion Pro-Style Lat Bar is an affordable piece of commercial-grade gym gear you can use to build a Brock Lesnar-sized back. (Or at least, feel like you are ? )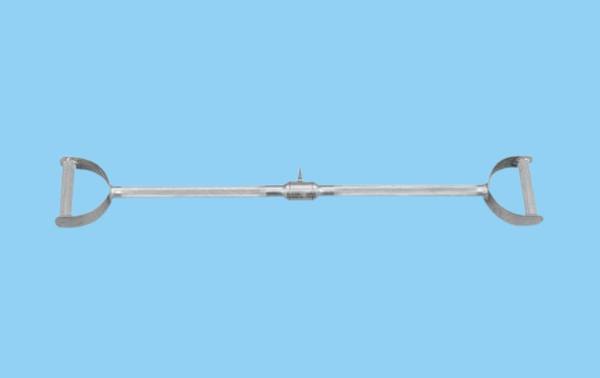 Rogue Stainless Steel Lat Bar
Rogue makes some of the best fitness gear on the planet. Manufactured in the USA, Rogue's lat pulldown bar is a total beast.
With a diameter of 1-⅛", a heavy-duty carabiner (emblazoned with the "R" logo), and knurling from tip to center, this lat pulldown can be ordered individually or as part of their lat pulldown machine.
Rogue's gear is more expensive (this bar is $165), but you get what you pay for. Most cheaper Olympic and non-Olympic barbells are produced from the same handful of factories overseas and are constructed of chrome.
The Rogue lat bar is steel inside and for the plating. The bar is plenty wide–48" at its widest.
In other words–sturdy as a tank and ready to help you crush your goals in the gym.