The low-tech, old-school hand grip strengthener is a way to lift more and prevent injury. Here is a breakdown of the best hand grip strengtheners on the market.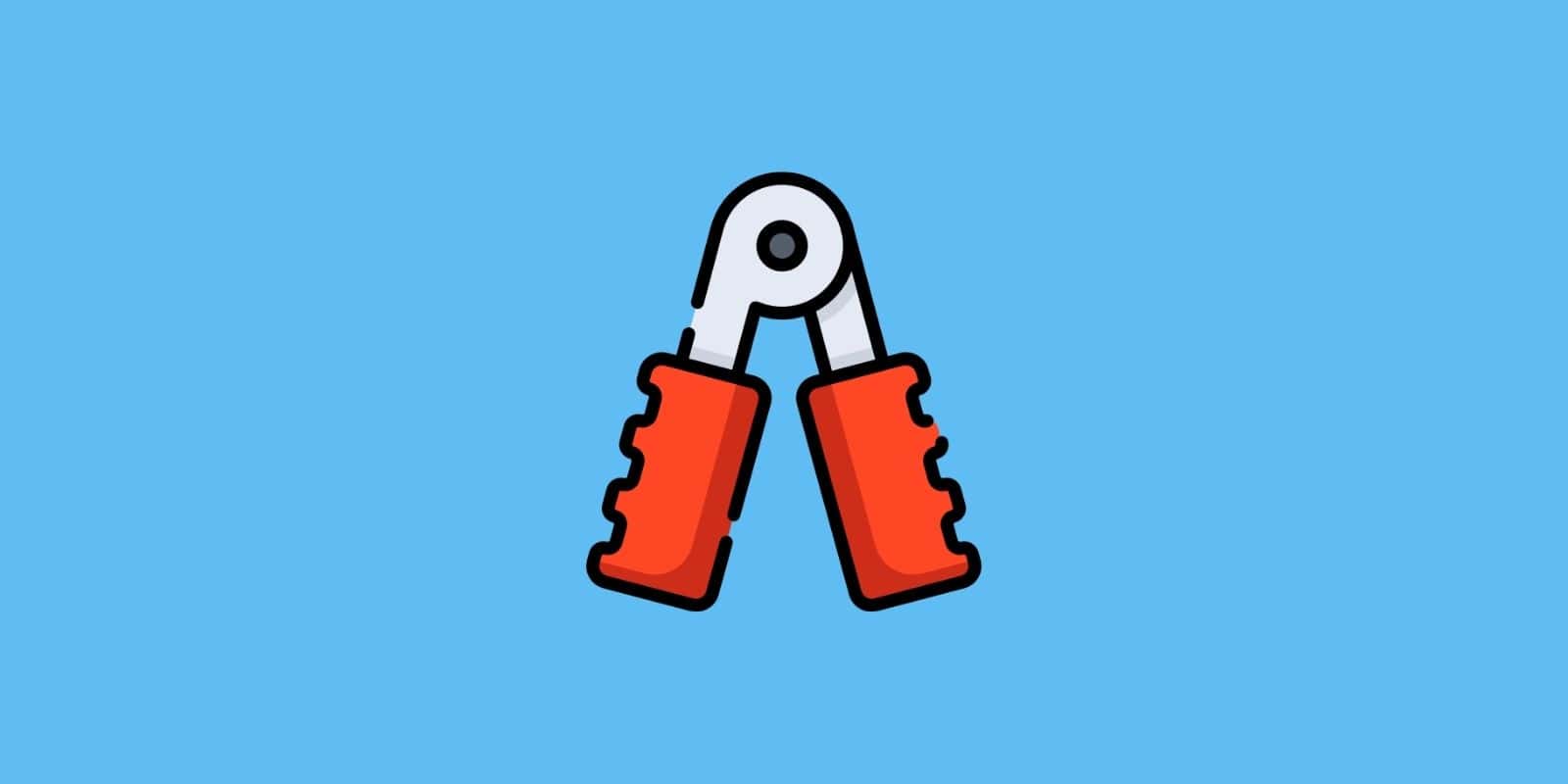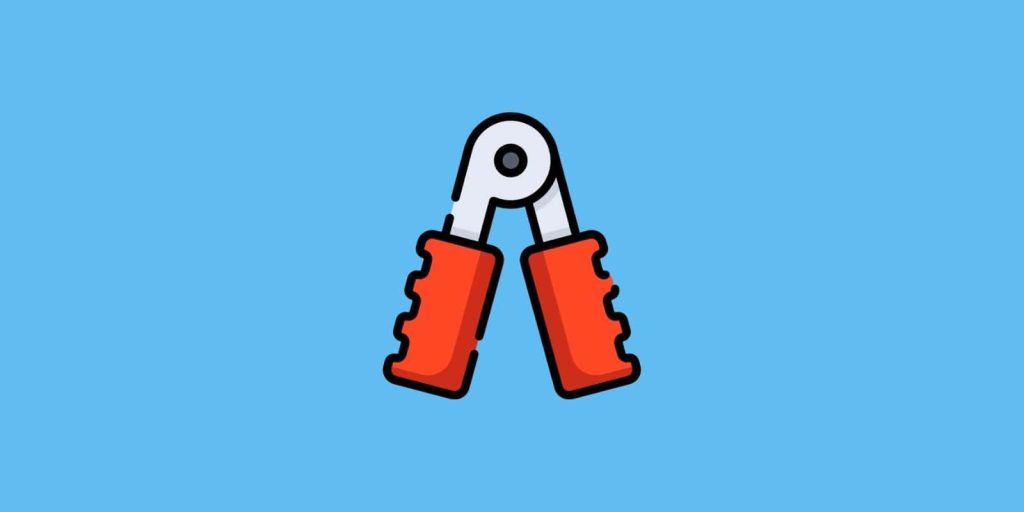 Getting stronger is kind of the best, isn't it?
There are fewer things that crank up our motivation to train and workout more than seeing more plates being added to the barbell.
But at some point during your lifting, there will be a point where a crucial part of the lifting apparatus will fail you…
Your grip.
In a hurry and want to get to strengthening your grip ASAP? The IronMind Captains of Crush series of hand grippers are the best grip strengtheners on the market. Click here to see today's price on Amazon.
It's not personal…
Upper body training, whether it's pulling or pushing exercises, requires a great deal of grip strength. The reality is that the big muscles responsible for pulling are way stronger than what our forearms and grip are designed to handle.
That's why for a lot of lifters, as they get stronger and progress, they need to work on developing grip strength in isolation of their big lifts.
Here is a breakdown of the best hand grip strengtheners.
IronMind Captains of Crush Hand Gripper
⭐Best overall hand grip strengtheners
My favorite part of hand grippers is that they are simple as they get. Squeeze, repeat, get stronger. Anywhere, anytime you can build barbell squeezing strength.
The IronMind Captains of Crush Hand Gripper are the best hand grippers on the market. They come in eleven different levels of resistance, from beginner (60-pounds) to upper-level, gorilla strength grip (365-pounds).
Made of aluminum and alloy steel, these hand grippers epitomize the old school hand grippers, and are one of the very few that comes in a variety of resistance options and are generally the "best of the best" when it comes to elite lifters and hand-grip enthusiasts.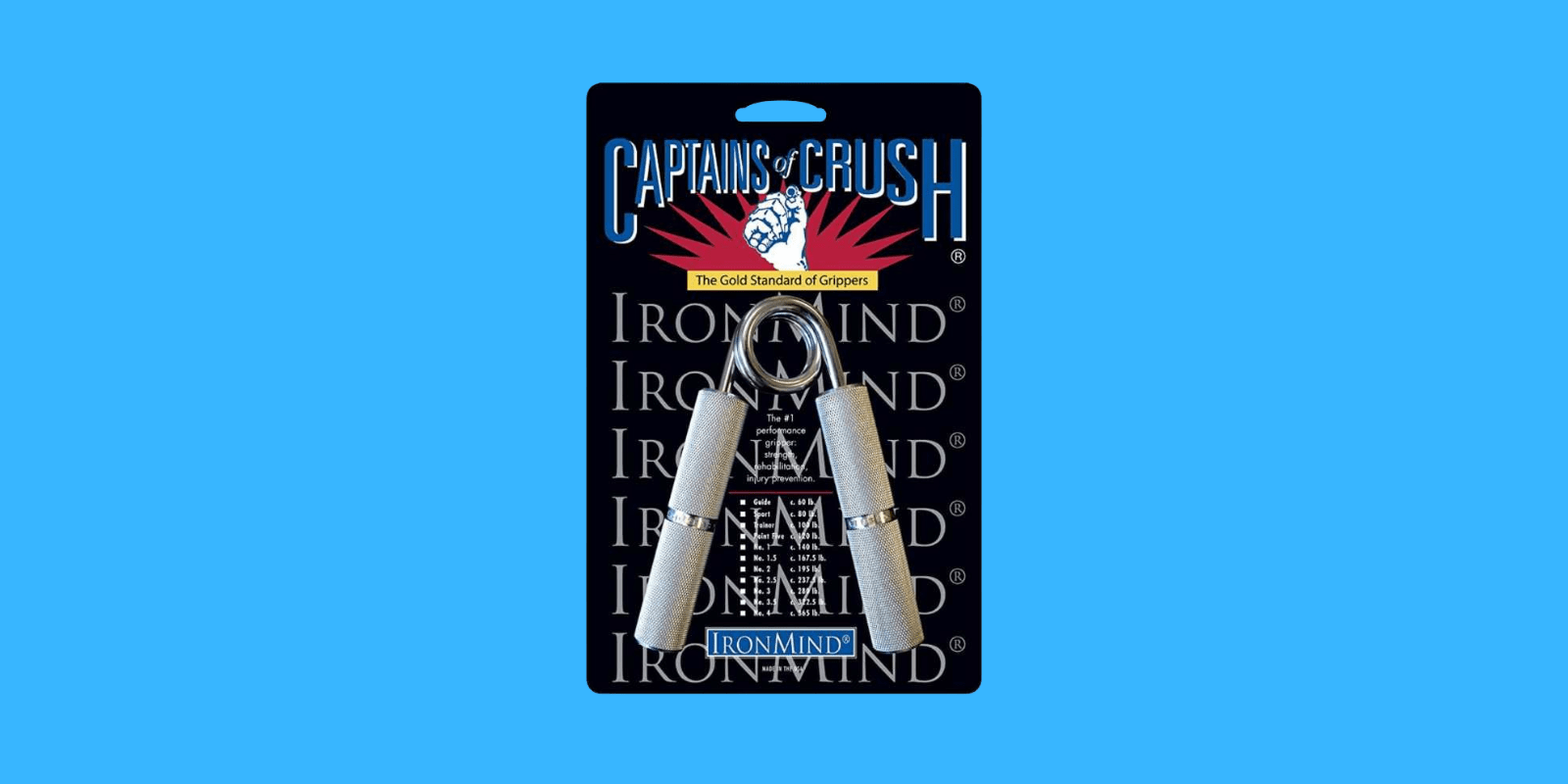 GD Iron Grip EXT 90 Hand Grip Strengthener
⭐Best adjustable hand grip strengthener
One of the pain-in-the-butt features of hand grippers are their lack of adjustability. If you want to adjust resistance, you generally need to purchase a whole new unit.
The GD Iron Grip Ext 90 Hand Grip Strengthener solves this rather elegantly with a premium-priced gripper that can be adjusted from 55-198lbs.
The knurled aluminum handles simulate a barbell or dumbbell, the steel compressed spring is adjustable via a small lever on top of the gripper. With the lever engaged, move the spring to point at the level of resistance desired, and off you go.
The visual representation of how much you are doing, and how much you were doing, provides a nice bit of visual feedback on your progress.
The versatility doesn't come cheap, with the GD Iron Grip retailing for around $60. But when you factor in that buying a half dozen individual hand grippers would far exceed that in cost, the GD Iron Grip starts to actually look like an affordable option for improved grip strength.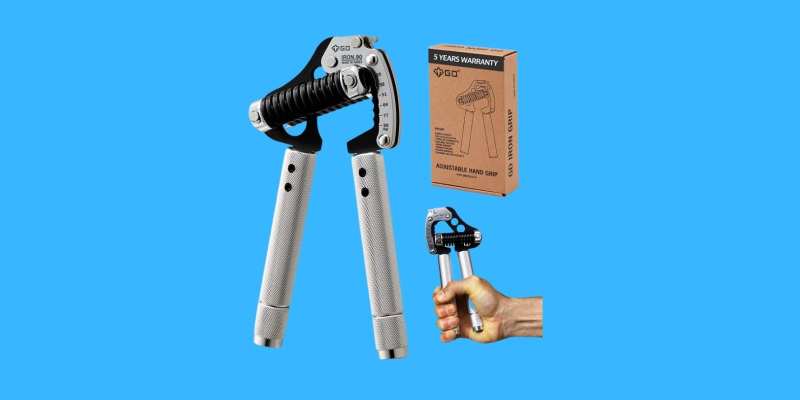 AUTUWT Pro Hand Gripper
⭐Best heavy-duty hand crush gripper
None of the hand grippers so far tickling your heavy-duty aspirations? Okay. I feel ya.
Introducing the AUTUWT. This thing looks like Frankenstein's harp, but make no mistake, it is built like a tank and is designed for the most serious of grip enthusiasts.
The gripper comes with spring-loaded, err, springs that can be removed, each one representing about 200lbs of resistance. With all six springs locked and loaded you are looking at a total of… carries the two… 1,200lbs (!!!) of hand grip thunder and resistance.
Knurled handles simulate grabbing the bar, and AUTUWT packages the gripper with a carry bag.
About six inches long, it's larger than most hand grippers. Not quite as discreet and portable, but if you are chasing down maximum resistance on crush grips, I don't think you give a baker's hoot how large it is.
Available for around $40 via Amazon, AUTUWT backs this tank of a gripper with a lifetime manufacturer's warranty.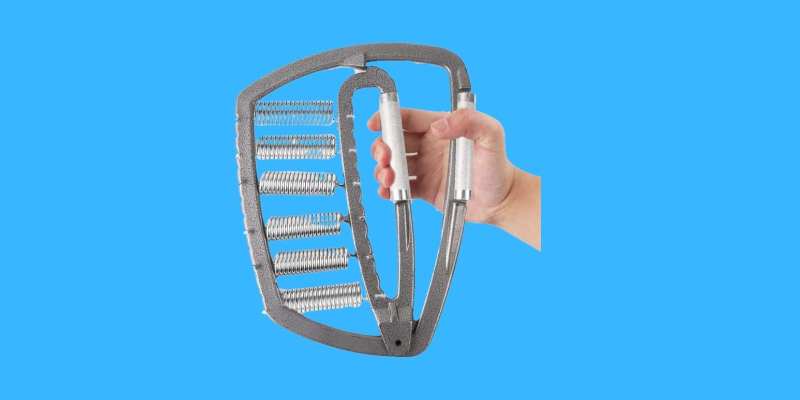 IronMind Twist Yo Wrist
Part hand grip strengthener, part forearm strength training, the Twist Yo' Wrist from IronMind (and sold through Rogue's website) is a cool twist on the traditional forearm yoke.
The Twist Yo' Wrist works by rotating the 4" roller, bringing the four foot long rope and attached weight plate/kettlebell up into the air. This device is absolutely killer on the forearms and grip (in a good way, obviously), targeting everything between your elbows and fingers.
While it doesn't have the same portability as a hand gripper, the Twist Yo' Wrist is a great addition to your home or garage gym. Weights sold separately.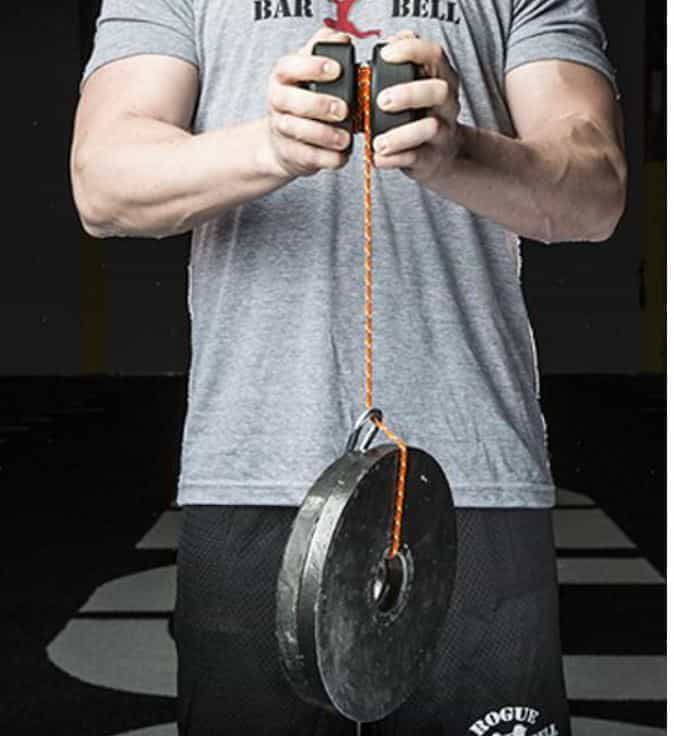 FitBeast Hand Grip Kit
Looking for a more comprehensive set of tools for grip strength? Want to tackle your wrist, hand and forearm from every angle you can think of?
The Fitbeast Hand Grip Kit comes packed with five different devices for strengthening grip. A spring-loaded hand gripper is the center-piece of the kit. The gripper can be adjusted from 22lbs to 132lbs and the handles are ribbed and ergonomically designed for a secure grip.
Additionally, FitBeast includes a finger exerciser, grip ring, a finger resistance band, and even a stress ball that you can squeeze the crap out of when you are having a bad or frustrating day.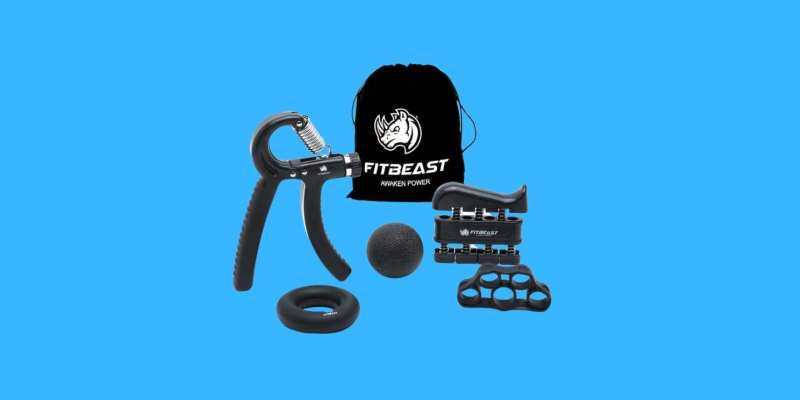 BBTO 4-Piece Hand and Finger Strengthening Tools
While lifters will want hand grip strengtheners for dominating heavier and heavier lifts in the gym (and warding off injury), there are plenty of others out there who want a stronger grip, stronger fingers, and stronger forearms.
The BBTO Hand and Grip Strengtheners are marketed towards climbers, musicians, and as a physical therapy tool, but they work just fine for athletes and gymgoers, too. Each pack comes with four different finger "squeezers" ranging in difficulty from X-light to Heavy.
Cheap, durable, and designed to fit snugly in the palm of your hands, the BBTO finger strengtheners will help you strum like a champion and dominate your pulls in the gym.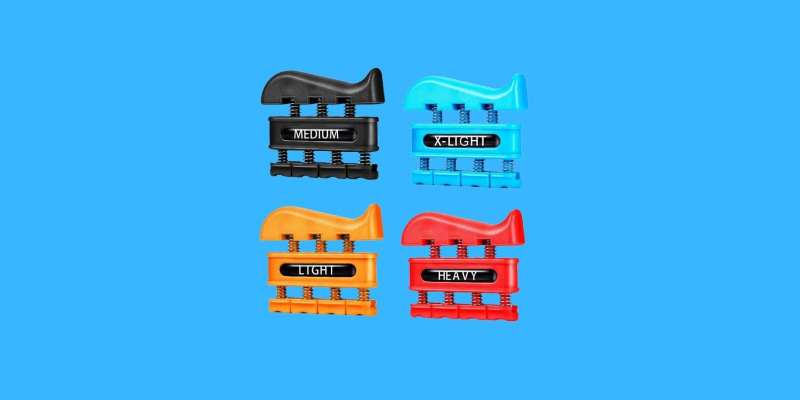 More Guides Like This
6 Best Weight Lifting Hooks for the Gym. Weight lifting hooks are an excellent way to maintain a strong grip when pulling heavy weight. Here's a detailed look at the best lifting hooks in the gym and how to use them for like a boss.