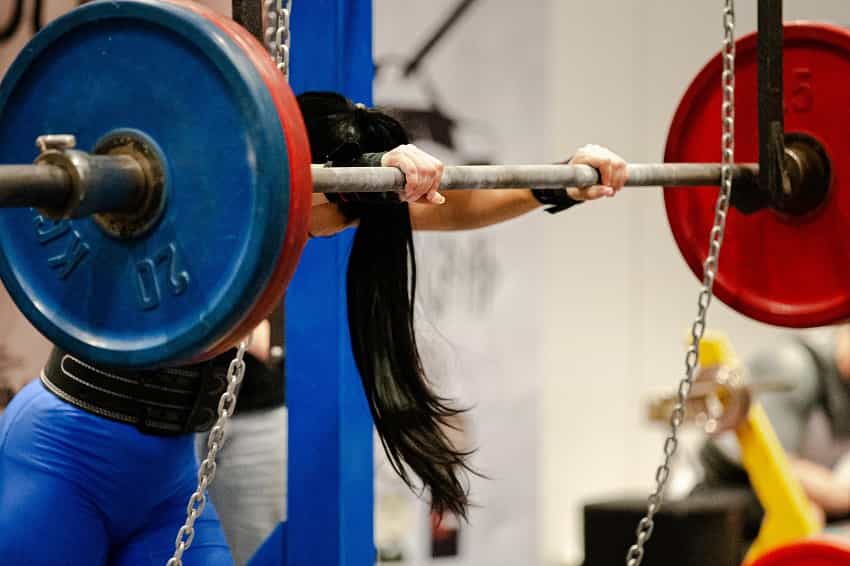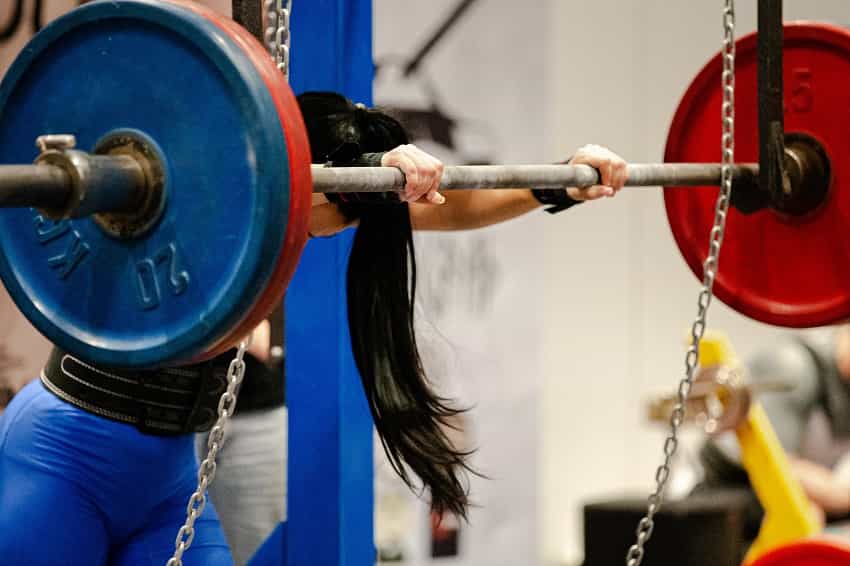 Want to back up your back at the gym? Provide lumbar support and stability for those heavy lifts? A weightlifting belt is the ticket.
Up your lifting game with our selection of the best weightlifting belts for every kind of lifter.
Quick Picks:
---
Getting started with a weightlifting belt
Weight lifting belts are great for your compound heavy lifts such as squats and deadlifts but can also be used during other weight lifting exercises as well if you have pre-existing back pain and need the support.
Do keep in mind though that if you can go without the belt for exercises that don't really require it, do so. You'll only weaken your core if you wear it all the time as then the abs won't have to contract as hard as they should to keep you stabilized.
That said, when push comes to shove and you have plates loaded up on that squat bar, these are the belts you'll want to consider turning to.
---
Dark Iron Fitness Leather Weightlifting Belt
🏆 Top Pick: Best Leather Weightlifting Belt
There are two key issues that most people will have when working with a weight lifting belt and that is that it either breaks down quickly as you start lifting the heavy weights or that it starts to dig into your sides.
Ready to side step all of that? Check out the Dark Iron Fitness Leather Weightlifting Belt. Leather is the gold standard for many things in life and weight lifting belts are no exception. If you want top of the line quality, you're going to get it here.
This belt is guaranteed to last for life, so consider it the final one you buy. While the price point is higher since it is real leather, it does have a lifetime replacement so if it breaks, you're covered. Put your mind at ease with this purchase.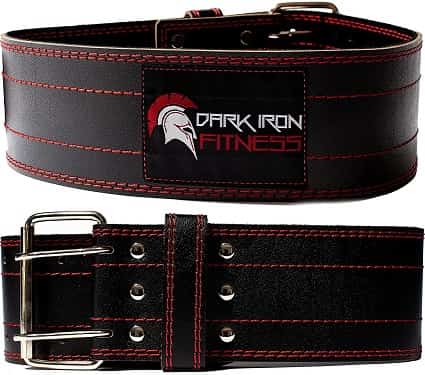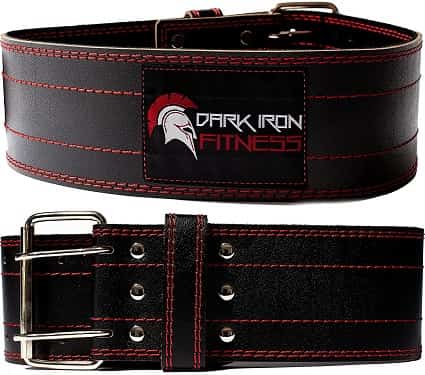 ---
Ader Leather Powerlifting Belt
🏆 Top Pick: Best lifting belt for powerlifters
Powerlifters do work in the gym, and as a result, need a belt that can take a serious degree of punishment. The Ader Lifting Belt, made especially for the powerlifting athlete, is four inches and features an easy-to-close double-prong closure system that locks you in and provides a secure and supportive fit.
Like all leather belts (or leather lifting straps, for that matter), the Ader belt requires some time to properly break in. The first couple times you wear it, the belt will feel stiff and border-line uncomfortable. But once you've had a chance to let it mold to your frame, it will feel like a second skin.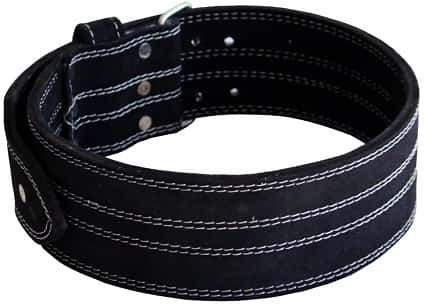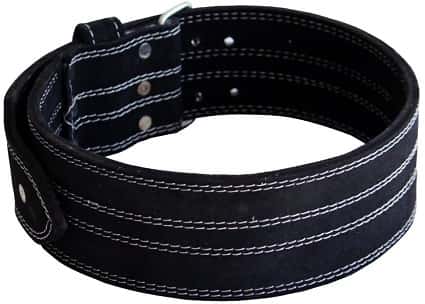 ---
Fire Team Fit Olympic Weight Lifting Belt
🏆 Top Pick: Best overall
Unlike most belts, The Fire Team Fit belt is not leather, and doesn't have the typical buckle-belt locking mechanism. Because you can adjust the belt to your precise size, you don't need to worry about jumping between holes and going too tight or too loose.
The hook and loop support gives you a perfect fit every time.
The Fire Team Fit belt features a contoured design, and has cool safety mechanism where if you begin to lift too much weight and the belt sustains too much weight, the clasp will pop open, so it's not going to dig into the body and cause potential injury.
In terms of durability, custom fit, and overall protection, the Fire Team Fit Olympic Belt is our defending champion.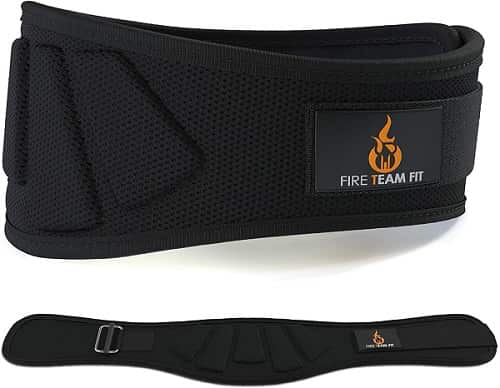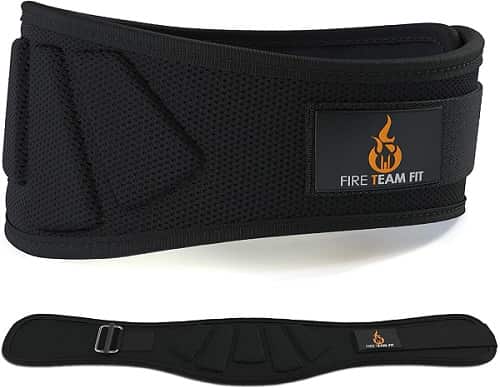 ---
Iron Bull Weight Lifting Belt
🏆 Top pick: Best velcro weightlifting belt
I am a big fan of Iron Bull gear, especially their squat pad (for hip thrusters). They make quality stuff, and this is apparent with their weightlifting belt. Like the Fire Fit, the Iron Bull belt is made with a velcro loop and buckle that gives you a custom, secure fit every time you hit the gym.
For those of you who get a little toasty while working out (guilty!), the belt is made of a combination of nylon and neoprene that is breathable and comfortable.
Best Lifting Belts for Women. Looking for a lifting belt made specifically for women? No matter what your goals are in the gym, here's a breakdown of the best women's weightlifting and powerlifting belts.
With an auto-lock design, a custom fit each time you strap it on, and a 6″ contour design that prevents the belt from digging into your sides when lifting, the Iron Bull belt will give you a safe and secure training experience.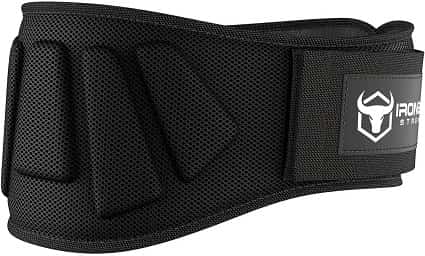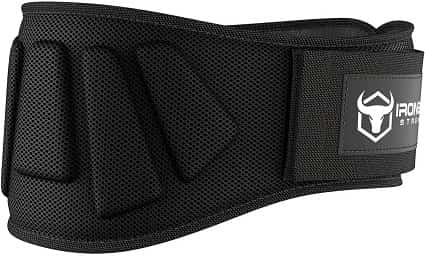 ---
Harbinger Weightlifting Belt
🏆 Best budget weightlifting belt
If you are looking to ball out on a budget, the Harbinger Weightlifting Belt is a no-frills, low-cost option that will secure your lift in comfort.
If you're someone who is an extra large or small, you'll find this belt nicely accommodates to your frame. This model is nice and flexible and has a 5" width on the lower lumbar support and just a 3" width on the adjustment strap. This helps it feel most comfortable for you no matter what your waist size happens to be.
Fitting anywhere from a 29" to a 42" waist, no one is going to be left out of using this belt. It offers a great construction and good comfort, and is extremely well rated on Amazon.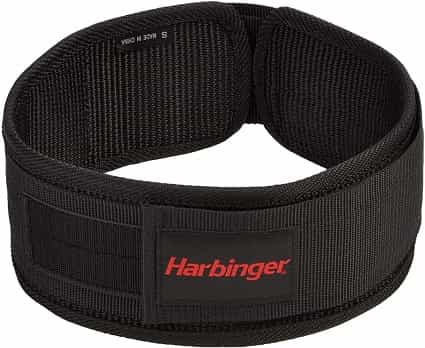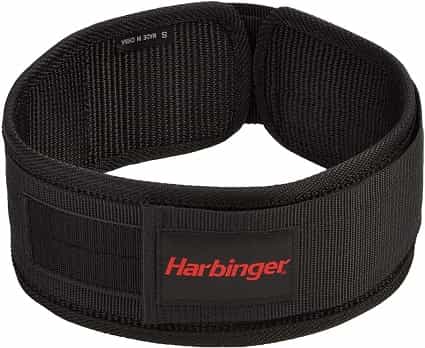 ---
More Gear Guides
6 Best Weight Lifting Straps for Dominating Your Lifts. Here's a breakdown of the best weight lifting straps and why/when you should use them in your lifting efforts.