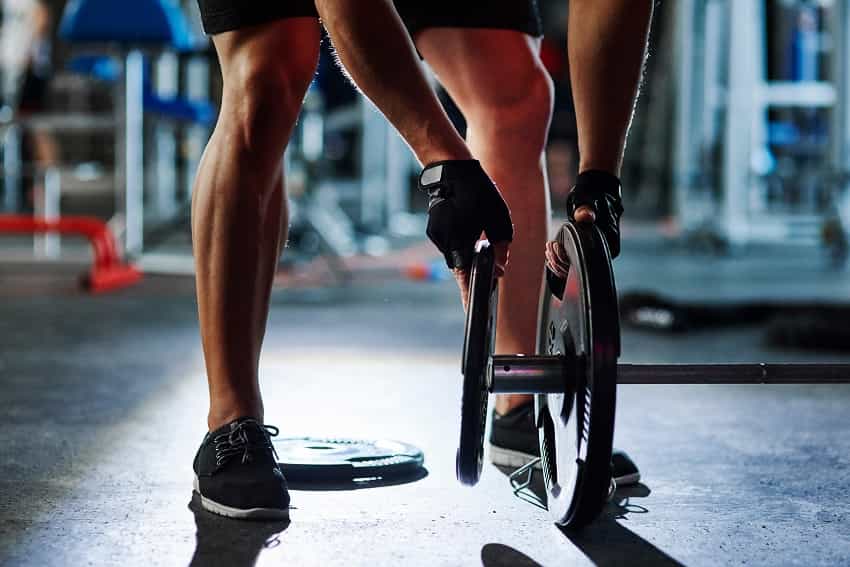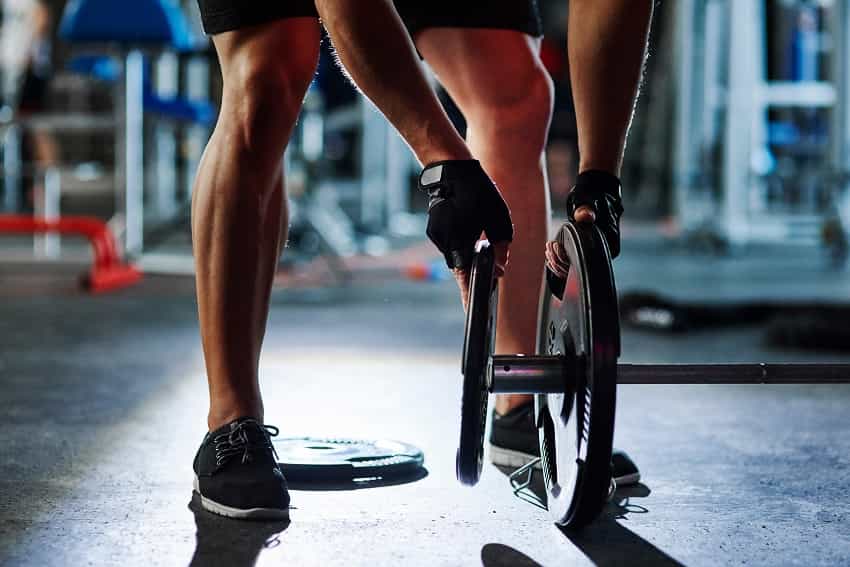 Weight lifting gloves protect your hands and help make your lifting more secure and supported at the gym.
Here's the rundown on the best kind of weight lifting glove for every kind of lifter.
Top Picks:
---
The Perks of Training with Weight Lifting Gloves
While purists may decry the use of weight lifting gloves, for those of us who are a little less hardcore, there are plenty of reasons to rock out in the gym with weight lifting gloves.
They provide more grip and stability. Lots of gyms don't allow the use of chalk on bars, making gloves (or wrist straps) the next best thing in having a slip-free experience on the bar as sweat and moisture accumulates.
Less calluses. One of my favorite time-wasters is chipping away at the calluses on my palms. I know, it's gross–and those bad boys are just from using my kettlebell. When training on the barbell, gloves are mandatory as my hands quickly get callused. And while some may wear them as badges of honor, for the rest of us, they can become painful, crack open, and delay workouts.
Safer lifting (which usually means heavier lifting). Sweating is a part of working out. It's an easy-to-recognize sign that you are putting in work. But sweating down onto your hands increases the chances you are going to slip off the bar or drop weights. Gloves, especially well ventilated ones, maintain a steadier and safer grip on the bar.
These are just some of the more obvious advantages of using gloves at the gym.
Picking out the best pair of weight lifting gloves for you and your workouts
When choosing the right pair of weight lifting gloves, there are three main features to look for:
Open or closed? The closed finger gloves tend to be a little warmer, meaning that sweat and moisture will accumulate in there.
Material. Heavy leather gloves will also get your hands warmer. Lighter materials, well, you know.
Wrist straps? Many, but not all, weight lifting gloves feature built-in wrist straps, giving you both stability on the bar in terms of slippage, but also supports your wrist when going heavy.
Alrighty, with all that behind us, let's get into deeper detail on our selections of the best weight lifting gloves.
LESSSSGO.
---
Best Weight Lifting Gloves (Overall #1): Skott Nemesis Evo 2 Gloves
If you are down for kicking ass and taking names in the gym, this is the glove for you.
The Skott Nemeisis Evo 2 gloves come in as my favorite, and not just because sliding them on makes me think of the Nintendo Power Gloves of my childhood.
The gloves are heavy duty and made for business. And with nearly 900 five-star reviews on Amazon I am far from alone in singing the praises of these gloves.
Built to last with extra durability, they feature gel printing on the palm and fingers that improve your grip on the bar. The wrist strap has a thick Velcro tab that provides extra wrist support for your heavy lifts.
The Skott Nemesis Evo 2 gloves even have a removable plastic hook so that you can hang them when you are done at the gym.
The gloves do require a slight break-in period—if the gloves feel a tad snug at the beginning, don't stress, give them a couple workouts and the gloves will quickly mold to your hands and fingers.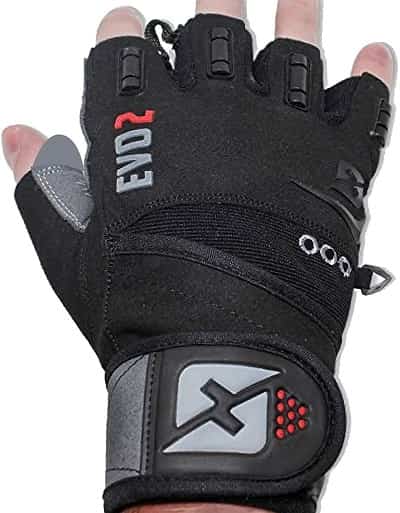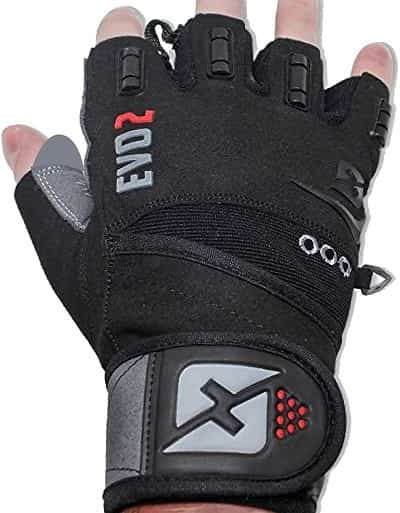 Where to Buy — Skott Nemesis Evo 2 Weight Lifting Gloves

---
Best full finger weightlifting gloves: Bionic Beast Mode Fitness Gloves
Full finger fitness gloves are a little tricky–not only does the palm and hand part of the glove have to fit correctly, but then the fingers need to slide in properly so that they aren't moving around when moist and under load.
The BIONIC Beast Mode Workout/Fitness Gloves, under NFL legend Marshawn Lynch's Beast Mode brand, are a leather-palmed full-fingered glove that is both comfortable and effective.
Terrycloth pads inside the gloves are arranged specifically to collect perspiration and moisture while you crank away during your workout.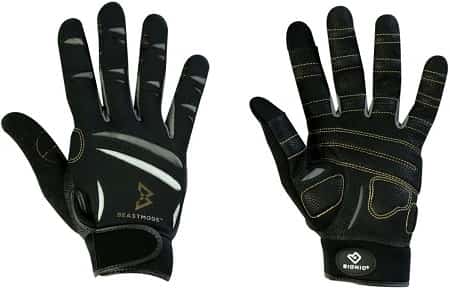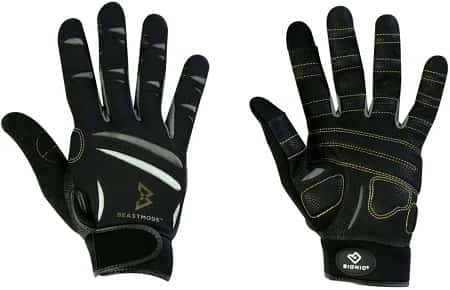 Where to Buy — BIONIC Beast Mode Full-Fingered Weightlifting Gloves

---
Best Weight Lifting Gloves for Women: Contraband Pink Label 5537 Women's Micro Weight Lifting Gloves
If you're a woman and find most of the weight lifting gloves on the market a little too big and bulky then this is the glove for you. It's a half glove so only the fingers and knuckle area will be covered, allowing the upper portion of your hand to breathe.
This makes for an ultra comfortable and cool design – you'll hardly notice they're there. In addition to that, they offer medium padding and support, so it's enough to keep your hands protected but not so much that you end up feeling bulky.
Available in four different colors, you're sure to fall in love with these when you try them. Men can also wear these gloves if they don't need an extra large size and with a black color available, they could easily be considered unisex if needed.


---
Best Weight Lifting Gloves for CrossFit: Bear KompleX 3 Hole Crossfit Grips and Gloves
CrossFit athletes require a combination of mobility and support to protect their palms and hands during a complex series of lifts. They need a grip that can power through muscle ups, pull ups, power lifting, gymnastics, and more.
The Bear KompleX 3 Hole CrossFit Grips and Gloves are extremely well-rated on Amazon, with nearly 1,800 reviews, at nearly a five-star average.
Designed with genuine leather, the Bear KompleX grips feature a wrist strap that can be adjusted for a custom fit, and also come in a series of colors.
They are triple stitched to withstand the punishment of training and competition, and the premium leather construction means you don't need to worry about slipping when banging out reps.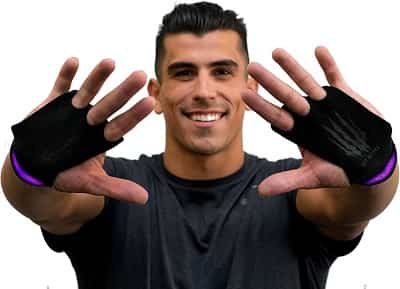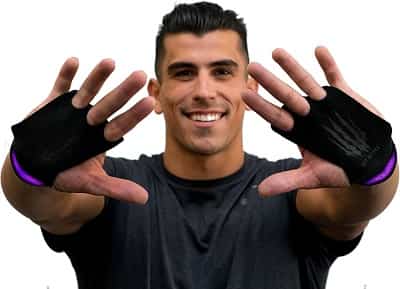 ---
Best weightlifting gloves with wrist support: Fit Active Weight Lifting Gloves
For the lifter looking to add wrist support to their weightlifting gloves, the Fit Active Weight Lifting gloves are an excellent glove that support the wrists with a breathable design.
With over 4,000 reviews on Amazon, and an average of over 4/5 stars, the Fit Active Weight Lifting Gloves are a hybrid glove that also provides wrist support, making them an all-in-one glove working out.
Other key features include an "open air" design which allows for maximum ventilation of the hands, ensuring that sweat and moisture isn't collecting inside of the gloves, leading to that rotten gym sock smell we have all come to know at some point during our days working out.
The Fit Active Weight Lifting Gloves are also exceptionally well-priced, coming in under $20. The velcro on the wrist straps help make sure that the gloves are on nice and tight, and the mesh material in the palm keeps your hands breathable and moisture from pooling in the gloves.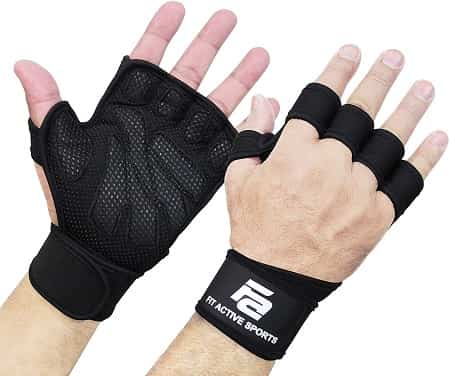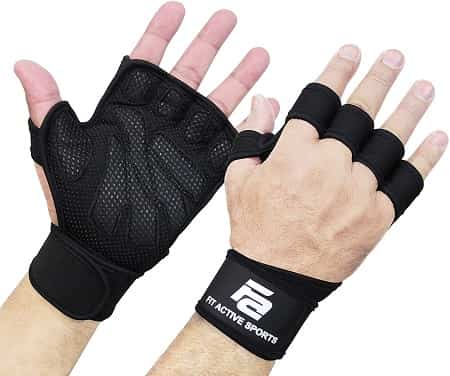 Where to Buy — Fit Active Weight Lifting Gloves

---
Is it bad to wear gloves while lifting weights?
Weightlifting gloves tend to be a polarizing topic in the gym, with some swearing by it and others swearing for a purist approach to lifting weights.
Wearing them protects your fingers, reduces calluses and skin tears, helps you better "grip" weights, and can even provide wrist support.
And more importantly, it can be a safety issue.
For people like myself, who sweat like crazy, doing exercises like pull-ups or kettlebell swings with soaked hands will land my butt in a viral "Gym Fail" video.
Seeing as most gyms don't allow chalk and strapping and re-strapping lifting straps around a pull-up bar over and over can get really tedious, lifting gloves can provide a safer path to a stronger grip on weights and bars.
Ultimately, what other people—and gym people can be hilariously snobby about these kind of trivial things—if using them helps you power through your workout and makes for a more comfortable lifting experience, go for it!
What are the cons of wearing weightlifting gloves?
Gloves are a tool for better grip and bar security when working out. But using them excessively (like, all the time) means you end up missing out on some serious grip strength.
While gloves are great for lifts where your hands are sweaty or your skin is on the verge of getting torn up from the knurling on a barbell, using them habitually will cause you to be fully dependent on them.
Additionally, don't forget to wash those bad boys once in a while. Like any other kind of gym apparel, they get sweaty and stinky and can quickly become a hotbed of bacterial growth.
How do I choose the right weightlifting gloves for me?
Weightlifting gloves have a myriad of functions, and they also come in a surprisingly large variety of shapes, materials, colors, and so on.
Here are the key things to look for when choosing the right lifting gloves for you.
Wrist support.
Lifting lots of weight can stress the wrist and hands. Lifting gloves that have wrist support can help alleviate this.
While lifting gloves with wrist support are good for specific exercises and even working out around injuries, they can become a crutch and accentuate pre-existing weaknesses in the wrist and forearm (similar to weightlifting straps).
Use them support, but don't forget to work on forearm and wrist strength elsewhere (with a hand grip strengthener, for example). If you want even more wrist and grip support, consider investing in weight lifting hooks, which almost completely remove the strain on the wrist when lifting heavy.
Adjustability.
Most weightlifting gloves have a way to adjust the fit, typically coming in the form of a Velcro strap that wraps around the wrist and/or top of the hand.
To further promote a comfortable and secure fit, gloves come in a range of sizes, allowing you to dial in on a glove that can be customized to the shape of your hand and fingers.
Coverage.
Weightlifting gloves are designed to protect your skin. How much coverage you choose should line up with how much you want to guard your skin from the barbell or dumbbell.
Full-fingered gloves give you the most coverage, but for lifters who get really warm may find that their hands get really sweaty.
Palm-cover gloves provide a good balance of excellent grip while also allowing your fingers to blow off some steam and not get drenched in moisture.
Thickness.
Finally, consider the thickness of your weightlifting gloves.
The temptation with supportive gym apparel, whether we are talking about weightlifting belts, knee wraps, or in this case, gloves, is to choose the thickest, most supportive option out there.
But thicker doesn't always mean stronger.
Studies in workplace settings have shown that thicker gloves can actually reduce strength and grip strength of the hand1. Thick, inflexible material reduces your ability to proper grip weight handles, kettlebells, barbells, and so on.
Look for a weightlifting glove that provides a reasonable amount of thickness that doesn't impede grip strength and induce hand fatigue.
---
More Gear Guides
Best Weight Lifting Shoes for Crushing Your Lifts. Weight lifting shoes can provide an immediate boost to your lifting efforts. Here is a breakdown of the best weight lifting shoes out there.
5 Best Weightlifting Belts for Stronger Lifts. Protect your back with this list of the top weightlifting belts for powerlifters, casual lifters, and everyone in-between.