Strengthen your glutes, hamstrings, and improve back stability in the comfort of your own home. Read on for a detailed breakdown of the best back extension benches and Roman chairs for home gyms.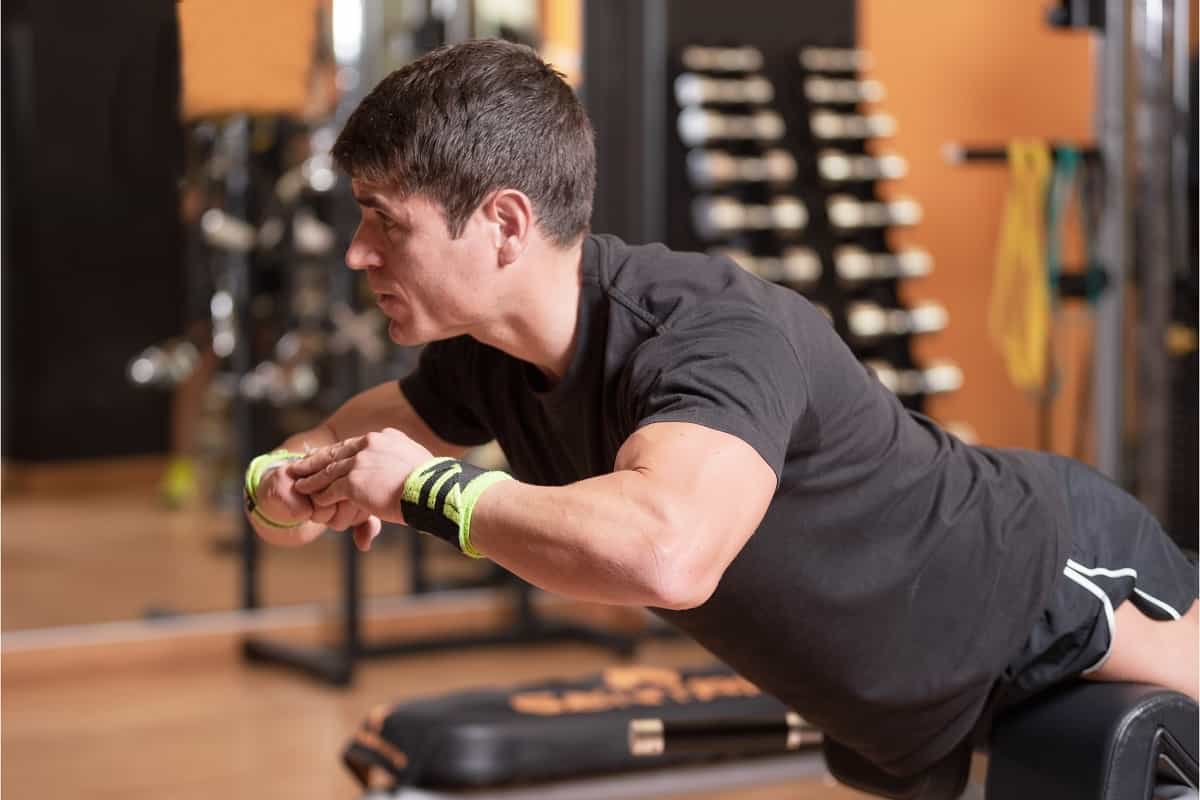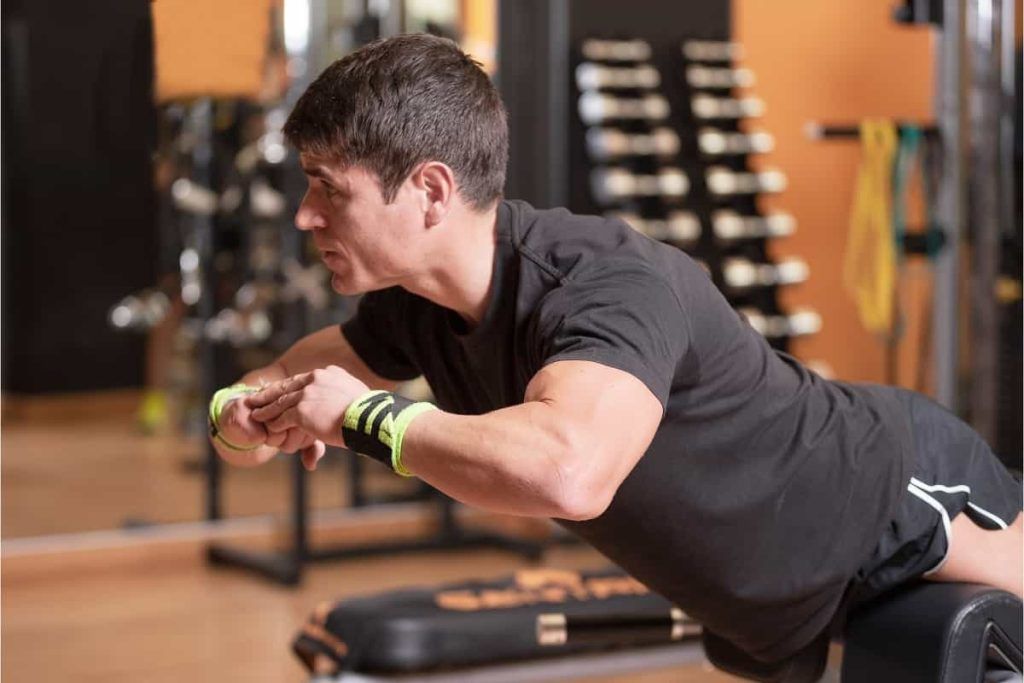 We (obsessively) research and use workout gear. When you buy stuff through our links, we may earn a commission at no cost to you.
Back extensions are moderately to severely awesome.
Why?
Because they are an underrated exercise for building glute and hamstring strength, stabilizing your spine, and powering up your core.
The learning curve is short, it's a very safe exercise to do (when done properly, obviously) and both beginners and experienced lifters can benefit from it.
And now, you can bring this most excellent of exercises home using a back extension bench.
Below is a breakdown of the best back extension benches, also known as a hyperextension bench or a Roman chair.
Back Extension vs Roman Chair
The main difference between the bench and the chair versions is the angle at which you start.
Roman chairs = starts from a 90-degree position
Back extension benches = the exercise starts at a 45-degree position
There are different perks to both.
I prefer the 45-degree bench because your muscles are engaged for a greater duration of the movement, it's more accessible for beginners, and it's easier to load up on a lot of weight for more experienced lifters.
The Roman chair presents its own challenges, and the variation can make back extensions very challenging, especially with isometric holds.
Read on and let's get to work on developing a bulletproof backside.
Rogue GH-1 Roman Chair
⭐Best heavy-duty, take-no-prisoners Roman chair
Long-time readers of the website will know that a) I love eating Nutella sandwiches in the middle of the night and b) my favorite gym equipment outfitter is Rogue Fitness.
I fan-boy real hard over Rogue's stuff, from their adjustable workout bench, which is my daily training bench, to this complete tank of a leg press machine, which is on the bucket list.
So, quelle surprise, their Roman chair, the GH-1, is a steaming bucket of heck yeah.
The Rogue GH-1 is a 200-lb beast of a roman chair that carries a ton of weight and has a wide and triangular footprint that can handle fully-loaded back extensions, hypers, and whatever other kind of nonsense you want to perform.
Even though the chair is heavy, there are a couple of wheels at the back for maneuverability. Rubber-tipped feet keep the unit from sliding around. The foam rollers can be adjusted in one-inch increments to secure feet to the steel plate.
And a couple "holy s***" handles at the front are there to help you mount and dismount.
The Rogue GH-1 isn't super cheap (retails for around $550—check Rogue's website for latest pricing and availability info), but the quality of Rogue's stuff makes this unit a no-brainer for serious lifters.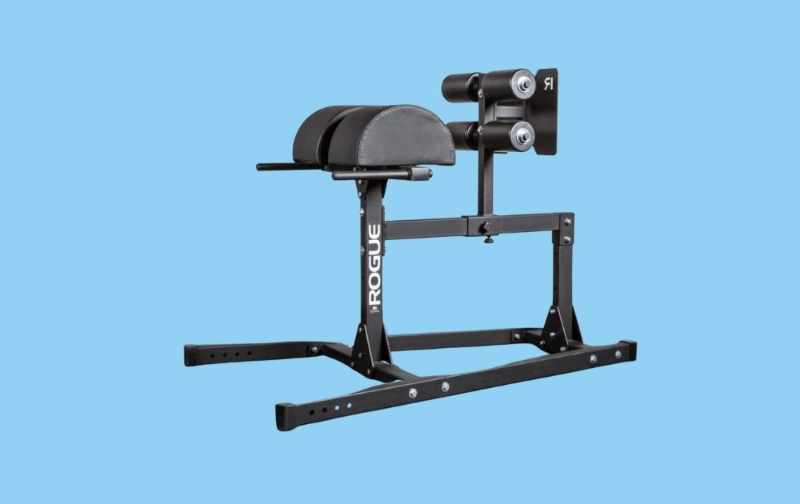 CAP Barbell Roman Chair
⭐ Best entry-level Roman chair
CAP Barbell makes quality equipment for the home and garage gym enthusiast. Whether it's Olympic barbells, barbell clamps or weight plate storage racks, they make good stuff that is also very budget-friendly.
The CAP Barbell Roman Chair is an excellent entry-level chair for home gym use. Both the length and the height of the leg rollers are fully adjustable. Padded handles are there to help you get on and off the chair.
Made of steel and powder-coated, the chair costs only around $100 (check Amazon to see if they currently have it in stock and pricing) but it is definitely designed for light use.
Rated for up to 300lbs, experienced lifters will want to look elsewhere for something sturdier. For beginner lifters, and lifters who don't plan on loading the exercises (i.e. holding a plate or heavy dumbbell while on the machine) this is a great entry-level hyper set-up.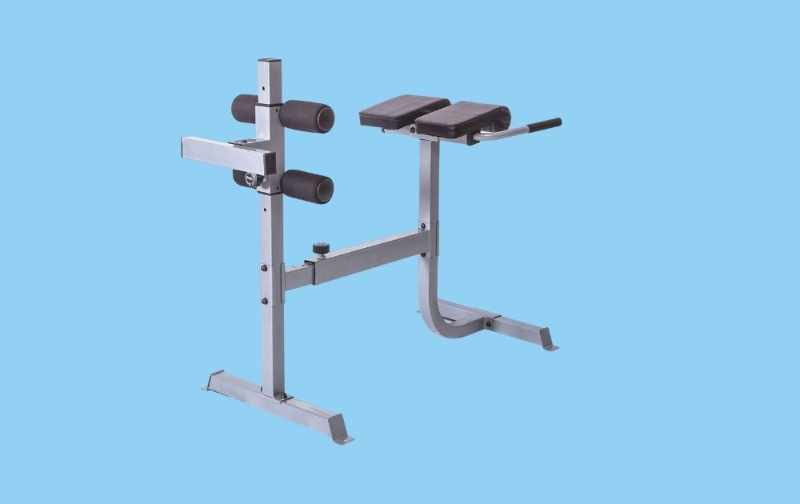 CAP Barbell Hyper Bench
⭐ Best entry-level back extension bench
Hyper benches are a staple in most gyms. While commercial versions will often run up a bill of $800 or more, CAP Barbell's Hyper Bench is an affordable alternative that we can all take home.
Made of basically bombproof ally steel, the wide base at the front gives you stability and confidence while doing back extensions. The pads and handles can be adjusted for height. Leg rollers and a steel plate keep your feet planted.
Some reviewers note that the bench isn't super sturdy. Or that it wobbles a little bit when fully assembled.
This wasn't my case, and it wasn't my expectation.
For around $100 you get what you pay for.
Wobbles can be easily avoided by putting together the bench properly and setting the rubber-tipped feet level.
And if you are a bigger fella like me and plan on using big weight for back extensions, you may want to reconsider—the bench is rated for up to 300lbs, just like the CAP Barbell Roman Chair.
In sum, I really like this back extension bench. You get the commercial-gym experience (for the most part) for what most of us pay for two months of a gym membership.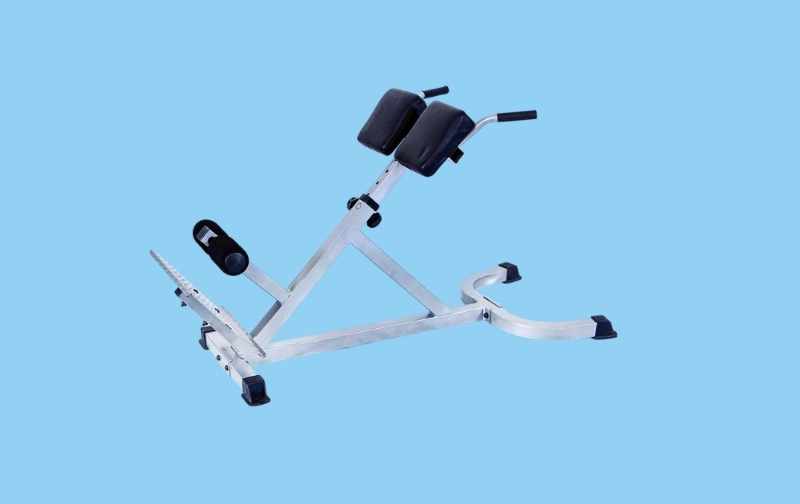 Sunny Health 45-Degree Back Extension Bench
⭐Best budget back extension bench for smaller lifters
Sunny Health is a budget-friendly fitness company that makes great equipment for people working out at home. They make solid power racks, half racks, and even tricep bars designed for home use.
If you are looking for something that is lighter and can be moved out of the way relatively easy when you are done with it, the Sunny Health bench is ideal—it weighs just over 20lbs.
The catch?
(There's always a catch, isn't there…)
The bench is rated for a maximum of just 250lbs total. Fortunately, the slightly reduced weight rating also comes with a price tag that is handily the lowest on this list, at just over $70 (check Amazon for latest pricing and availability).
Adjustable for height, with thick foam pads to cushion your pelvis, and an unbeatable price tag, Sunny Health delivers with this back extension bench.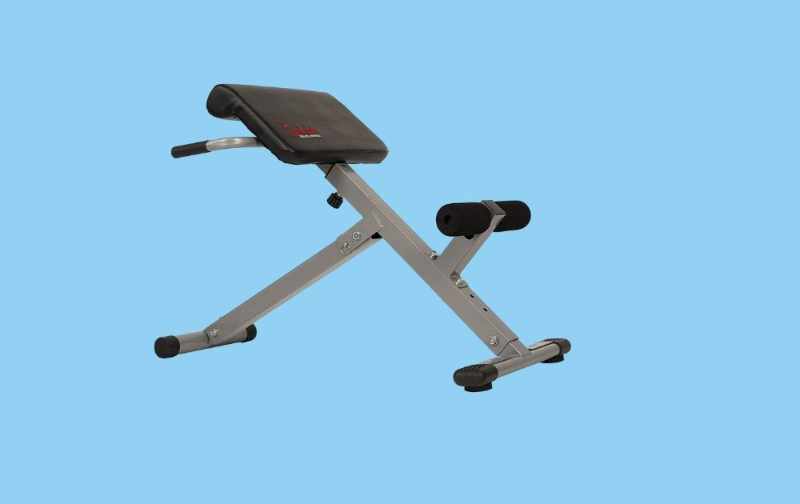 Marcy Adjustable Hyperextension Roman Chair
Marcy Health is another low-cost outfitter of home gym equipment.
The pad is stuffed with high-density foam to keep your pelvis comfy while on using the chair. Rubber coated handles help you get your balance and the foam leg rollers are adjustable to 6 different height settings.
The Marcy Adjustable Hyper Roman Chair has a wide H-base keeps the chair from excess wobble and provides stability while training. And with a weight capacity of 308lbs, it ranks as the sturdiest of the more affordable Roman chairs that I have tried out.
Like most home gym equipment, Marcy's hyper bench has frequently been sold out over the past year (check here for current availability and shipping times at Amazon).
If you are looking for a no-frills hyper bench that can handle a little extra weight, the Marcy Adjustable Hyper Bench is worth a look.