Dumbbells are an essential when building a home gym. Here is a breakdown of the best cast-iron dumbbells for at-home workouts.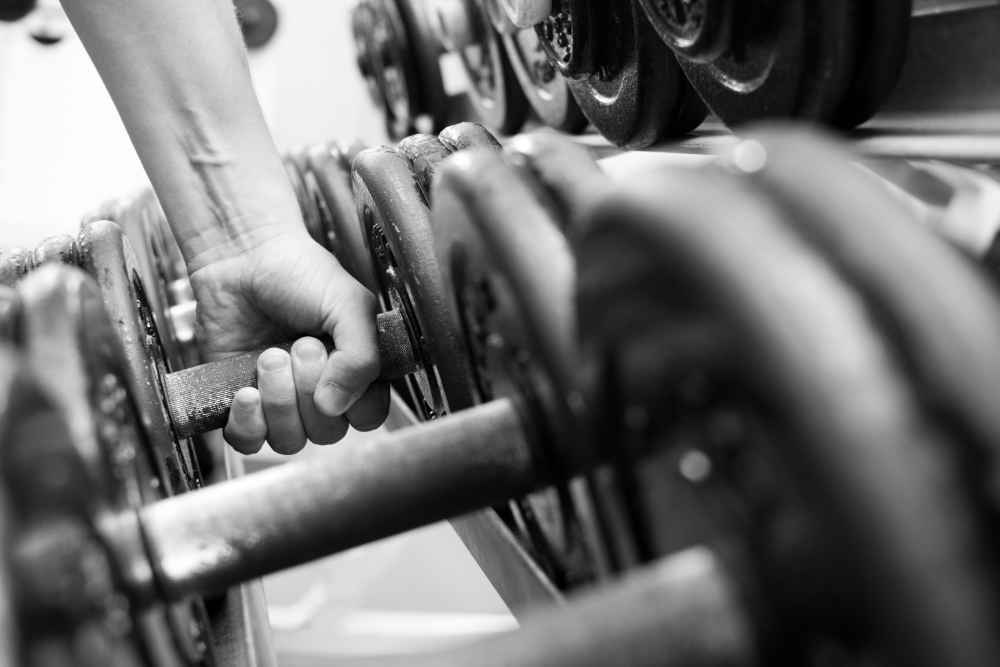 Dumbbells are versatile, don't take up a lot of room, and are relatively cheap compared to barbells and universal gyms.
You can train your whole body with cast-iron dumbbells, whether it's doing lunges, presses, squats, or curls.
Once reserved for the clanging' and bangin' confines of your local gym, cast-iron dumbbells have taken big leaps in affordability in recent years, making them an excellent choice for your home or garage gym.
Whatever your workout fancy is, there is a set of cast-iron dumbbells for you.
Below is a breakdown of the best cast-iron dumbbells for every kind of lifter and home gym.
Read on, and let's get to lifting.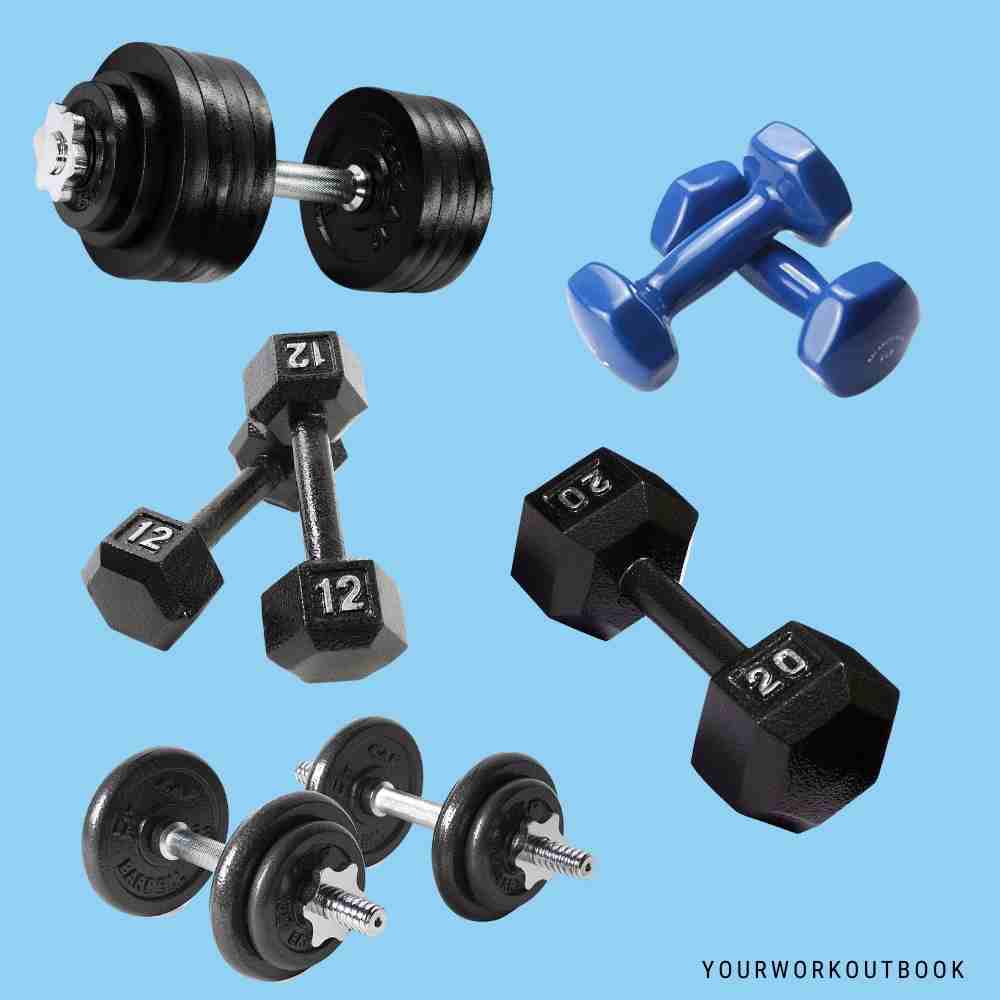 CAP Barbell Cast Iron Dumbbells
CAP Barbell makes excellent low-cost fitness equipment for home and garage gym enthusiasts. Whether it's Olympic barbells for home gyms, trap bars, or cast-iron dumbbells, CAP Barbell brings it.
Hexagonal heads make stacking them easy. The flat edges on the heads also mean the dumbbells won't roll away on you when you put them down on the floor. They are covered with an enamel that protects the dumbbells from chipping and scratching. And a solid-cast iron construction means they will basically last forever.
CAP Barbell sells these individually as well as in pairs, and in a wide range of weight options, from 5lb to 115lb, making them an excellent iron dumbbell for lifters of all stripes and abilities.
Reviewers consistently love the quality of them, the comfort of the handles, and how easy they are to stack. The CAP Barbell Cast Iron Dumbbells are priced competitively (check Amazon for current pricing and stock).

Yes4All Adjustable Cast Iron Dumbbells
Adjustable dumbbells have come a long way in recent years, and with the explosion in popularity (and necessity!) of exercising at home since Covid in 2020, there have never been more options for this form of dumbbell. (For a full breakdown of the best adjustable dumbbells on the market, check out this guide.)
Yes4All's Adjustable Cast Iron Dumbbell set checks all of the boxes. The iron plates are easy to load and secure with a star-lock collar. The chrome handle is knurled for a secure and comfortable grip. And the "old school" look of these cast-iron dumbbells comes extremely close to the dumbbells you will see in a commercial gym.
Yes4All makes excellent and affordable fitness equipment—from lifting drop pads to cable machine attachments, they do it all—and these dumbbells are simply badass.
They offer them in a variety of weight options, from a maximum of 40lb per dumbbell all the way up to 200lb per dumbbell, making them an excellent cast-iron dumbbell for lifters who are short on space but big on their lifts (check Amazon for up-to-date pricing and availability).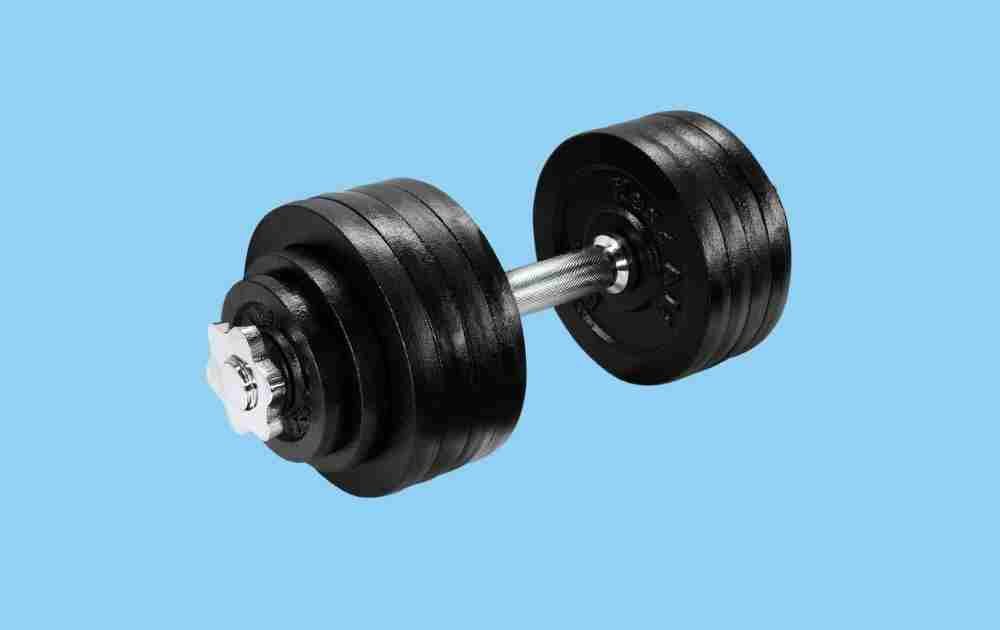 CAP Barbell Adjustable Dumbbell Cast Iron Set
Although there are a ton of perks to working out at home—no commute, no lines for equipment, free reign on the music selection—there are a couple of drawbacks, the biggie being space.
 For most of us, we don't have space for a ten-foot dumbbell rack with fifteen pairs of dumbbells (would be nice, though!). Adjustable dumbbells are perfect for solving this dilemma, giving you a range of weight resistance options with just two dumbbells instead of investing in a complete dumbbell set.
Although there are plenty of fancier types of these dumbbells, the CAP Barbell Cast Iron Set gives you the old-school clanging and banging along with full adjustability, with pairs ranging from a maximum of 40lb all the way up to 200lbs.
The chrome handles are knurled in a diamond-shaped pattern for a comfy and slip-free lifting experiences, and the cast iron plates are kept in place with a rubber trimmed barbell collar to keep the plates from rattling while lifting.
In other words: unleash the gains.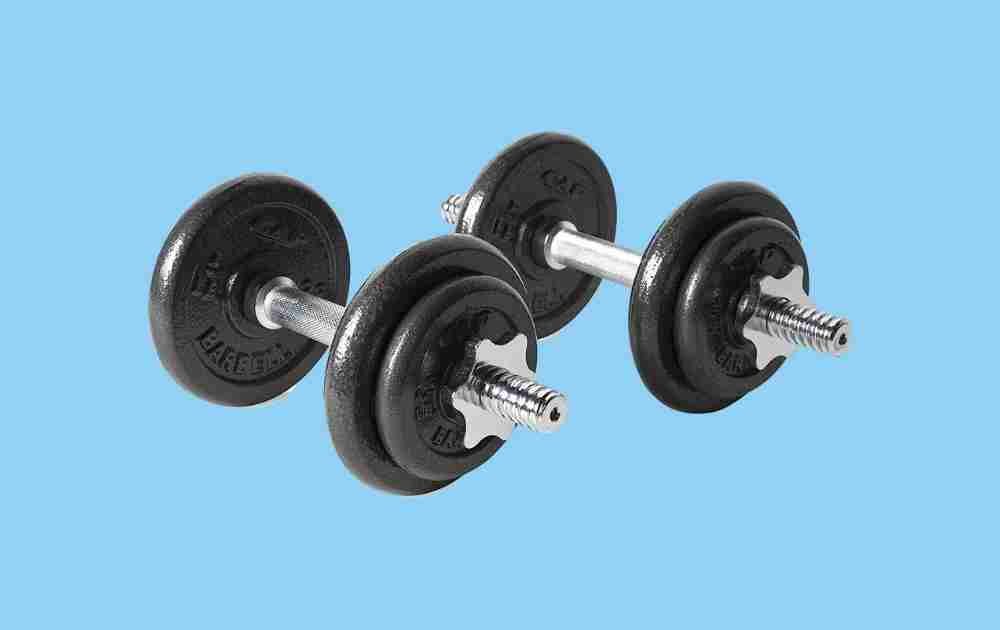 Amazon Basics Cast Iron Dumbbell
Amazon got into the fitness equipment game in recent years with their Amazon Basics line, which includes flat weight benches, kettlebells, and medicine wall balls.
These cast iron dumbbells are a no-frills and tough dumbbell that is made completely of cast iron and coated with enamel to protect the weights from chipping and scratching.
Similar to their cousins, the rubber hex dumbbell, the hex-shaped heads make it a breeze to store and stack them between workouts, and Amazon backs these dumbbells with a one-year warranty, giving you peace of mind while you are working on getting stronger.
Cost-wise, they are an excellent value option, with a single 20lb costing about $27 (check Amazon for current pricing and shipping options), which is on the lower end of the price spectrum for cast iron hex dumbbells.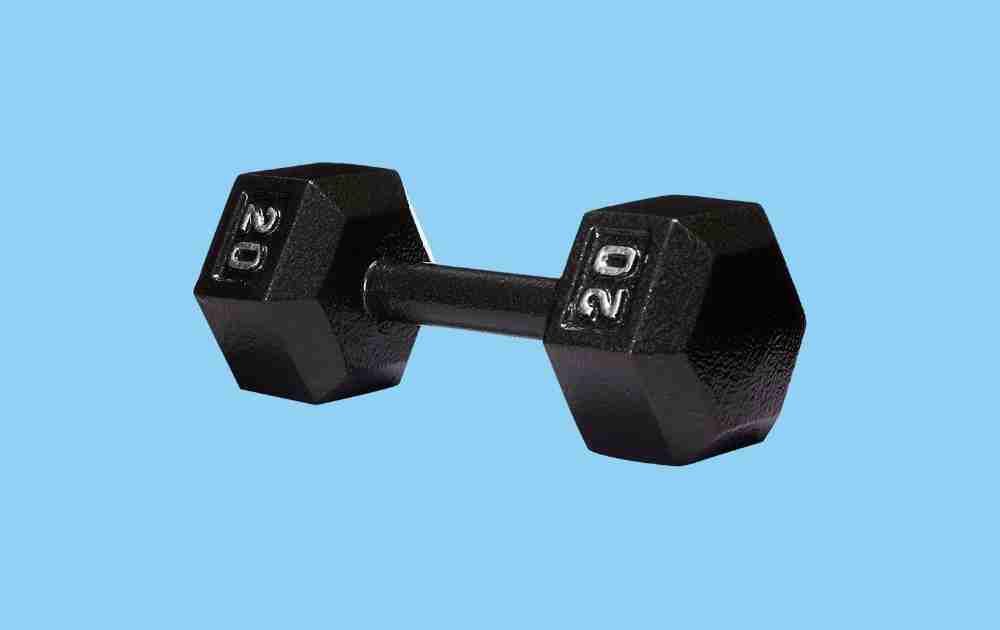 Balance Form GoFit All-Purpose Solid Iron Cast Dumbbells
For something a little brighter, the Balance Form GoFit All-Purpose Solid Iron Cast Dumbbells are perfectly suited for cardio activities, like spin classes, walking, and aerobics.
The dumbbells are made of solid iron, with a thin vinyl coating that helps keep your hands firmly planted on the handle while also reducing damage from accidental drops both to your floor and the dumbbells.
BalanceForm offers these in a range of weights, from 5-12lb (check Amazon for current pricing and availability), and users consistently love them, with well over 10,000 five-star reviews on Amazon and counting.