Looking for a detailed comparison of Sole Fitness Ellipticals? Here's a detailed breakdown of every Sole Elliptical, including key features, price, functionality, and much more.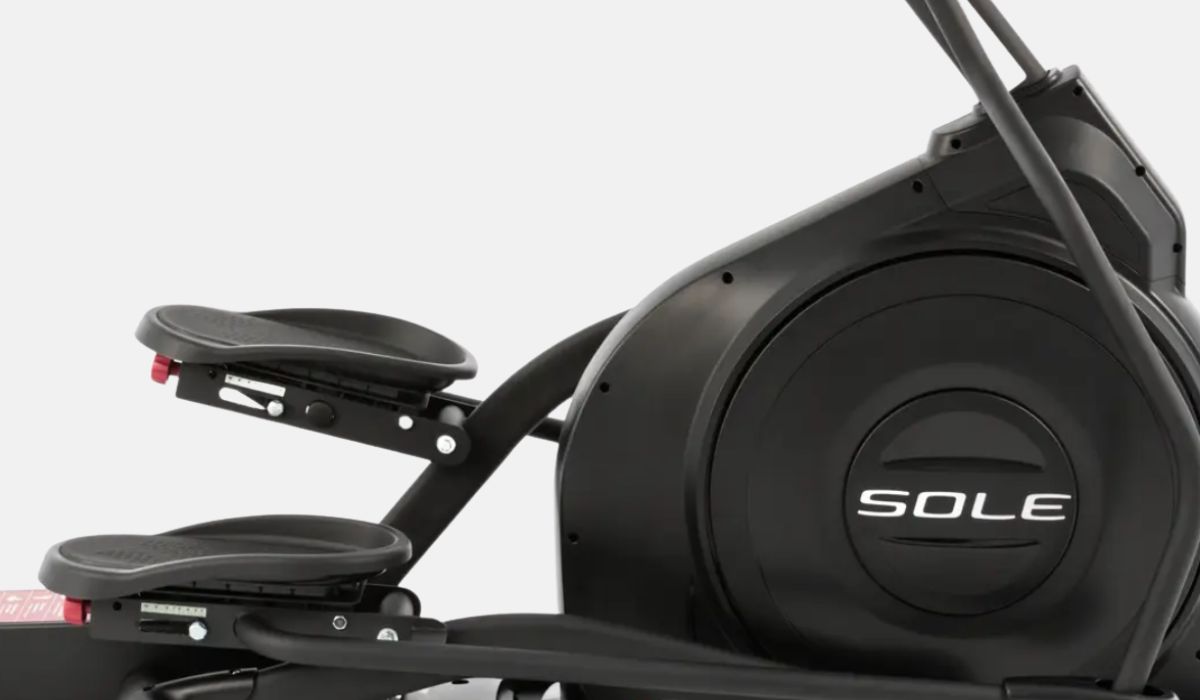 The line of Sole ellipticals absolutely crushes it when it comes to a smooth ride, training programs, and adjustable stride/foot positions.
They are also exceptionally budget-friendly when you consider the industrial quality of the ellipticals.
But which Sole elliptical is right for you?
In this guide, we are going to take a look at ALL of Sole's current line-up of elliptical trainers. We will look at each one and compare them to the rest by features.
By the end, you will have a crystal-clear idea of which Sole elliptical is right for you, your budget, and your training goals.
Let's jump right in.
Sole Fitness Elliptical – Comparison by Model
Sole Fitness E20 Elliptical
⭐ Best no-frills elliptical trainer
Price: $799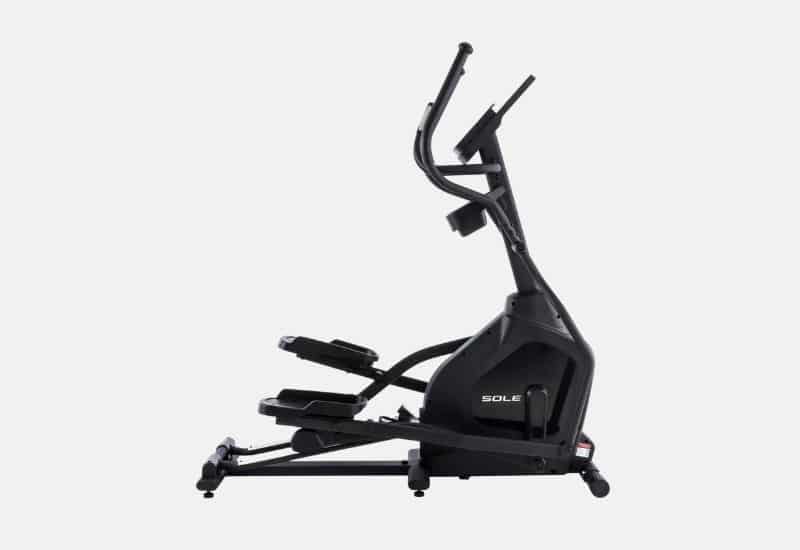 If you want a basic but feature-rich elliptical trainer for working out at home, the Sole Fitness E20 Elliptical is your best bet. It's priced to win, at just $799, and includes many of the familiar features that make Sole ellipticals so popular.
For starters, the E20 has a dual-rail whisper-quiet front drive system that purrs. Sole ellipticals are the smoothest on the market, and the 14.4lb flywheel is perfect for most elliptical users and designed for long-term, daily use.
In terms of comfort, the pedals have a slight inward slope that keeps your toes and feet from going numb when using the elliptical, the trainer has both stationary arms and swinging arms for a full-body workout, and the machine can be manually adjusted for three levels of incline for added difficulty.
Users who really like custom programming on the elliptical will be disappointed in the fact that the console cannot be configured for this, although the pre-set programs and workouts should cover a broad range of workout goals, from steady-state cardio to your favorite elliptical HIIT workouts.
Best no-frills Sole Elliptical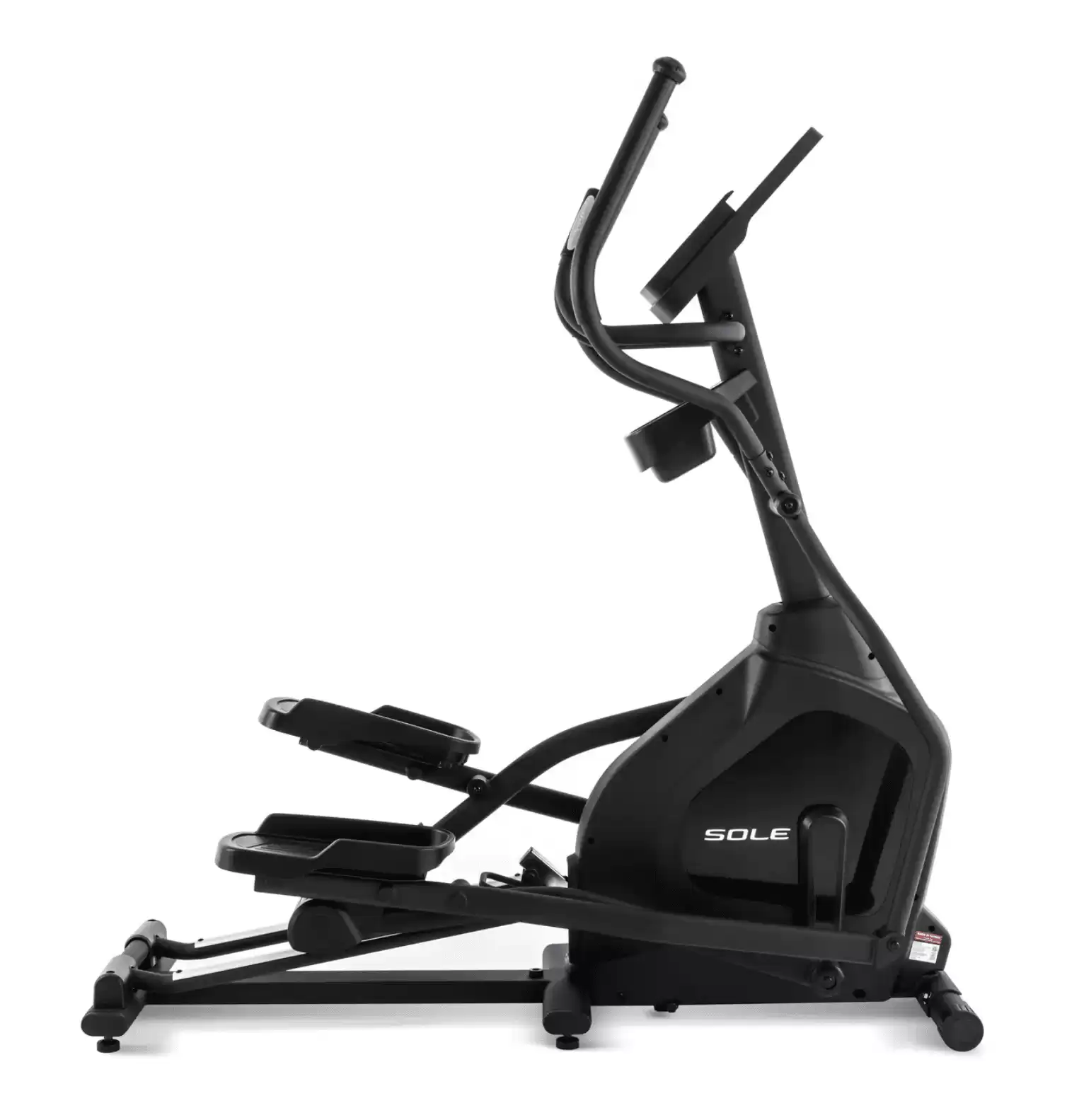 ---
Sole Fitness E25 Elliptical
⭐ Best for: budget-friendly elliptical for home use
Price: $1,099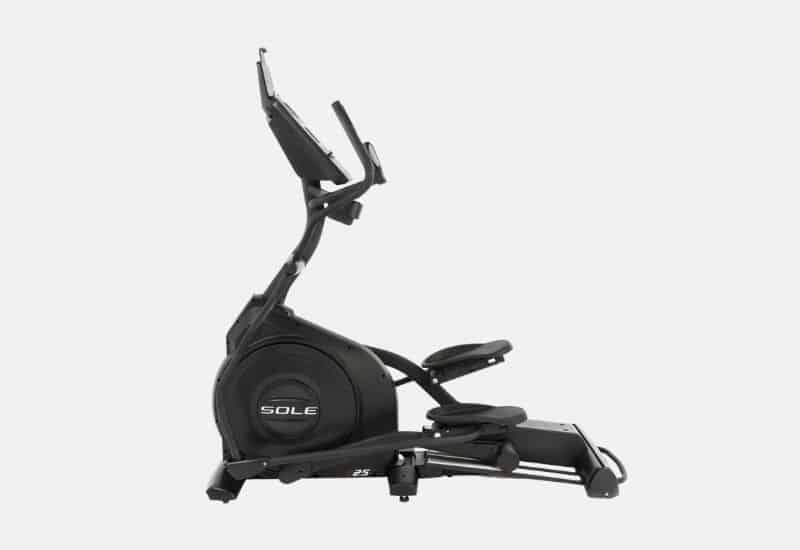 The Sole Fitness E25 Elliptical is a slightly beefier version of the E20, and was originally Sole's entry-level elliptical until the E20 came along.
Compared to the E20, the E25 has a heavier flywheel (20lb vs 14.4lb), longer stride (20" vs 18"), slightly larger LCD screen (6.5" vs 5.5") and takes things up big time with the power incline, which can be set at 20 different levels for increased workout difficulty.
The E25 is one of the best ellipticals at the $1,000 mark, with the typical Sole whisper drive and pre-programmed workout options.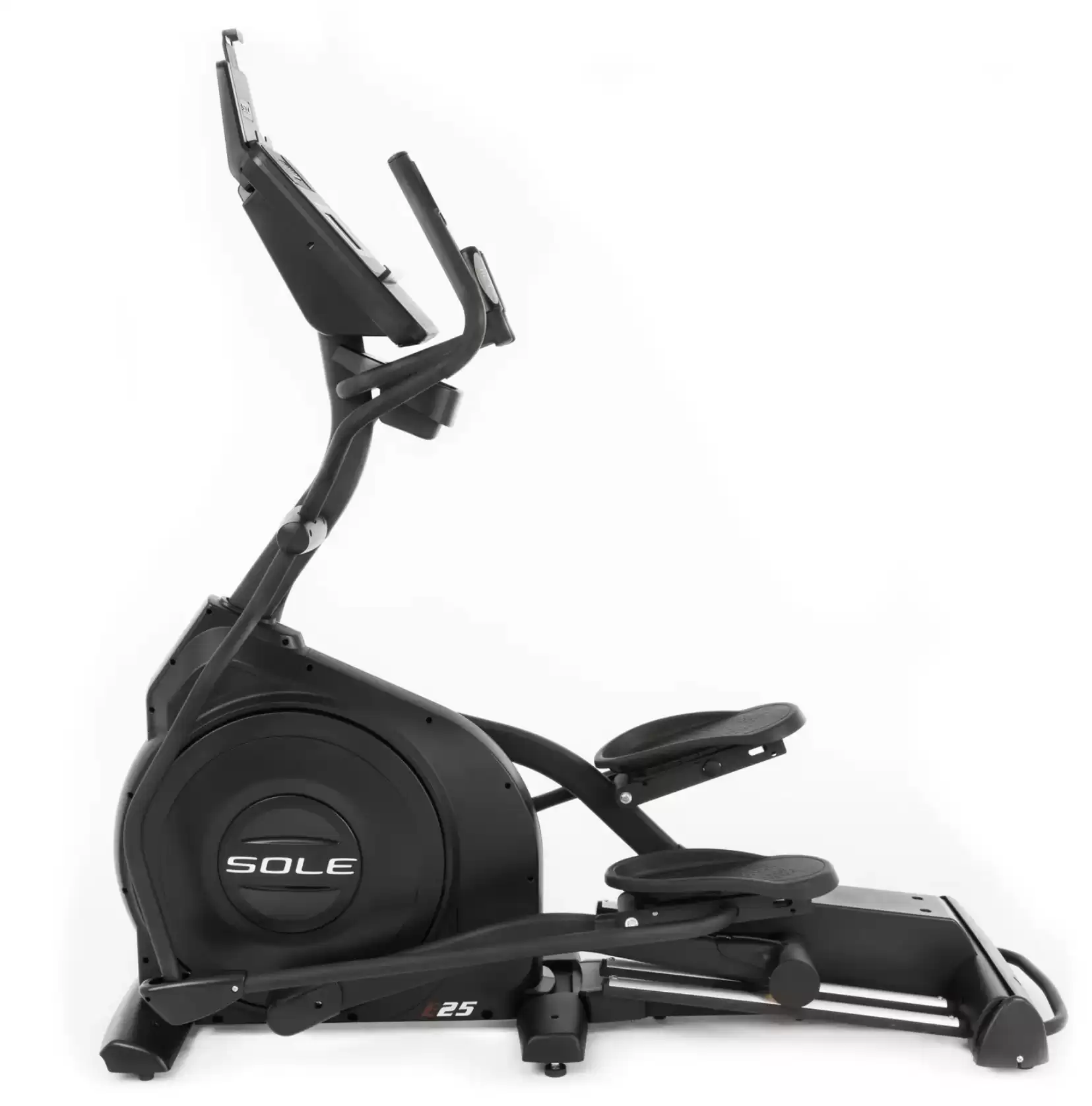 ---
Sole Fitness E35 Elliptical
⭐ Best for: heavy-duty users
Price: $1,399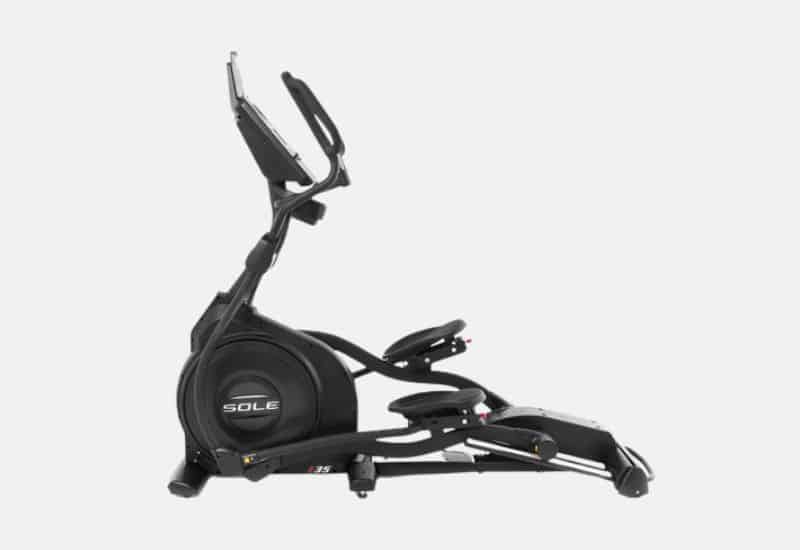 The Sole E35 Elliptical is a unique mix of heavy-duty functionality (it has a 25lb flywheel, which is 5lbs heavier than the flywheel on the E55) and incredibly stable ride experience (it weighs a beefy 231lb).
The added weight also comes with some added length; it's 12" longer than the E25 (and even 11" longer than the E55, which is best suited for compact spaces).
The added weight and footprint make the E35 an exceptionally stable ride. Experienced, heavy-duty users will appreciate the tank-like build of the elliptical.
The E35 has some of the adjustability features of more expensive Sole ellipticals, with the foot pedals having three adjustment options and a power incline.
Best Elliptical Under $1,400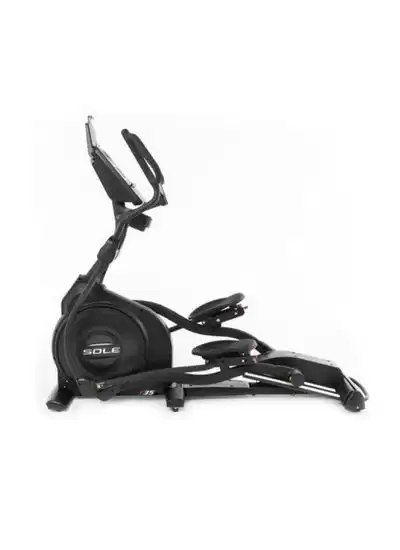 ---
Sole Fitness E55 Elliptical
⭐ Best for: small spaces and big workouts
Price: $1,499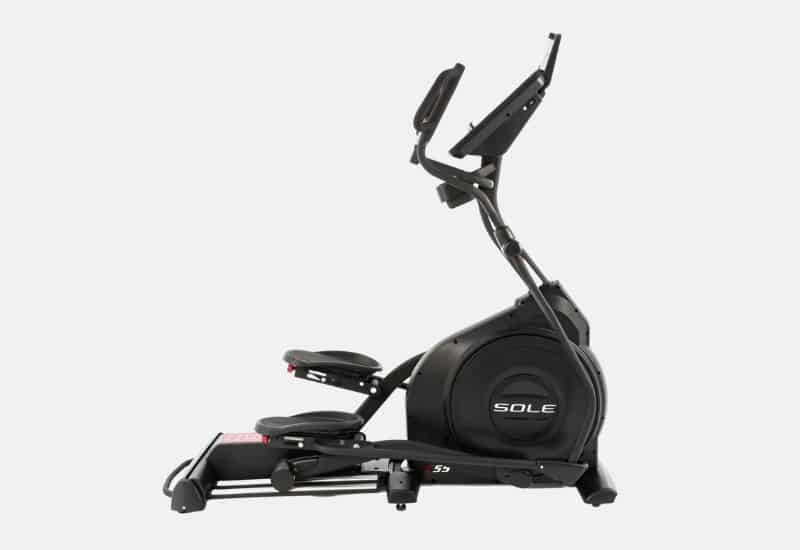 The Sole E55 Elliptical is the middle sibling of the Sole Ellipticals. It has a lot of the features of the E95 (my selection for best overall elliptical on the market right now), including maximum adjustability with foot positioning with the smaller footprint and lighter unit weight of the E25.
The Sole Fitness E55 has an exceptionally comfortable ride, with multi-grip handles, power incline, adjustable foot pedals, and tons of high tech functionality, from being Bluetooth enabled to built-in heart rate sensos and integrated tablet holder.
But the key feature of the E55 is its reduced length compared to the other heavy-duty Sole ellipticals on this list.
The E55 has a length 10-11 inches less than the E95/E95s/E98, making it the ideal choice for users who are short on space but big on elliptical training.
And compared to the E35, it has a larger LCD screen, with the E55's screen 9.0" versus the 7.5" screen on the E35.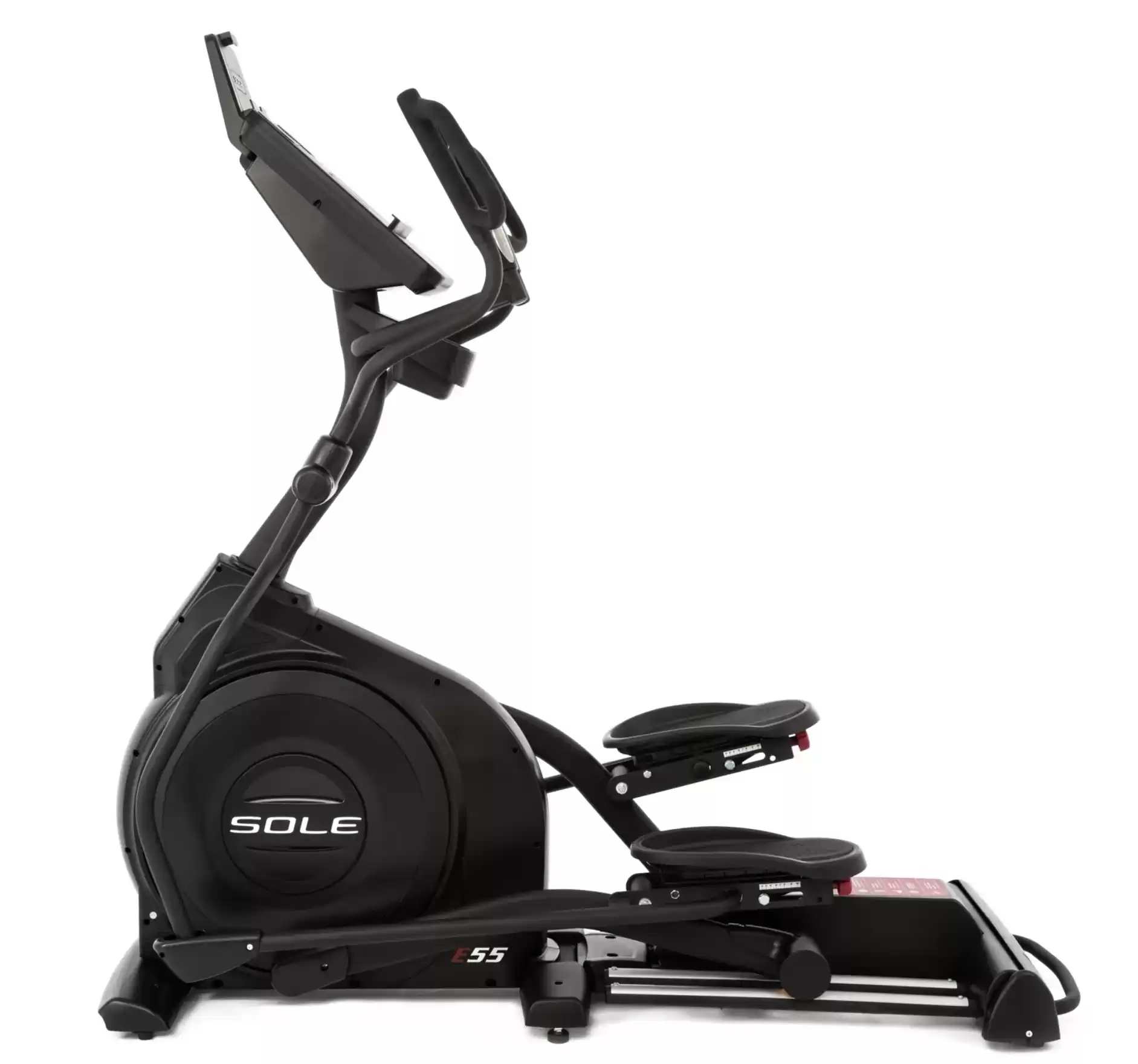 ---
Sole Fitness E95 Elliptical Trainer
⭐ Best for: users who want a commercial-grade elliptical at home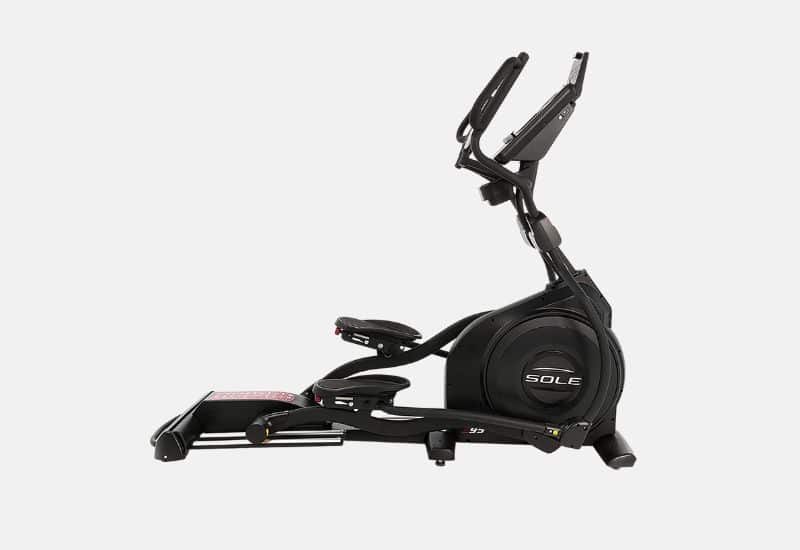 The Sole Fitness E95 Elliptical, in my opinion, is the best elliptical for home users… Period.
It's got adjustable foot pedals, a wildly stable striding experience, and like all of Sole's ellipticals, a whisper-quiet drive.
While it's pricier than some of the more budget-friendly options like the Schwinn 411 Elliptical or even other Sole ellipticals, it's build quality sets it apart.
The E95 is built like a tank and has an overall unit weight of 236lbs, which means that no matter how hard you work on it, the machine won't wobble or teeter.
The E95 has power incline (so you can crank up the difficulty of the machine), a heavy-duty 27lb flywheel, and the dual track rail means you will never experience that dreaded "clunking" that happens with cheaper drive systems.
Although it doesn't have an adjustable stride length (like its big bro, the E95s), the adjustable foot pedals ensure that whoever is using the elliptical can adjust the foot pads for an optimal striding experience.
Best Overall Elliptical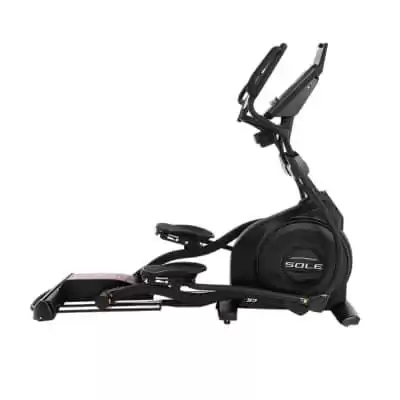 ---
Sole Fitness E95s Elliptical
⭐ Best for: users who want an adjustable stride length
Price: $2,199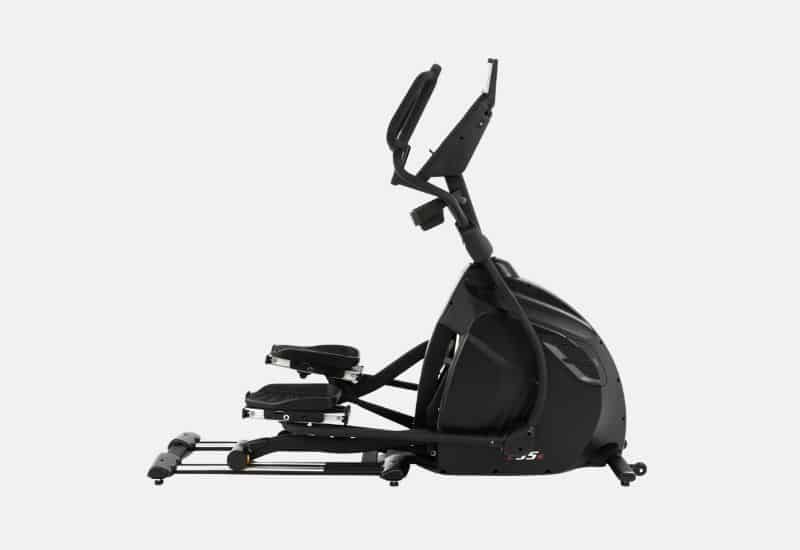 There are not many adjustable ellipticals on the market, but one of the absolute best is the Sole E95s Elliptical.
It takes most of the features of the E95 and adds a slightly heavier flywheel, heavier overall unit weight, and of course, adjustable stride length.
The length of the stride can be adjusted to be as long as 24", which is hands-down the longest stride length of any elliptical on the market, including commercial ellipticals.
One of the key things that separate the E95s from other Sole ellipticals in this price range is that it doesn't have an adjustable incline, which means users will sacrifice incline for stride adjustability.
---
Sole Fitness E98 Commercial Elliptical Trainer
⭐ Best for: commercial elliptical at home gym prices
Price: $2,299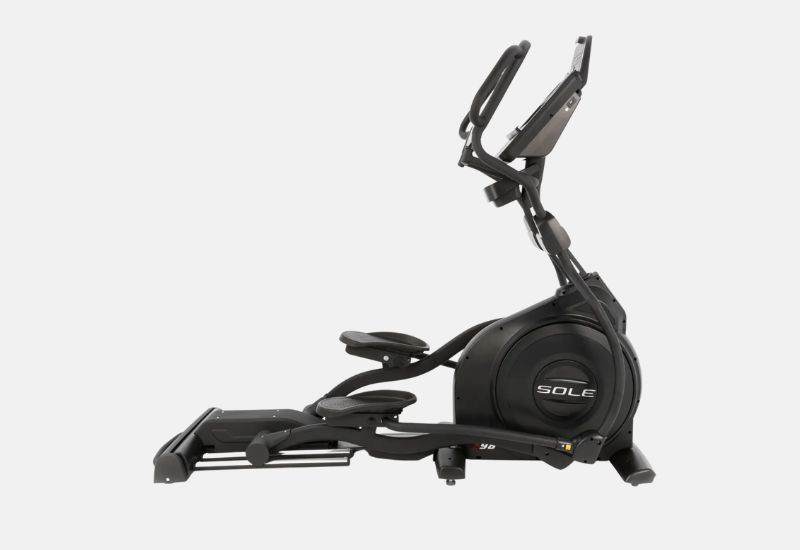 The Sole E98 Elliptical is designed for commercial settings and is Sole's entry into the competitive landscape of ellipticals made for your local gyms.
The E98 has a flywheel of 32lbs and Sole built it to compete with the more expensive ellipticals that populate local gyms that cost way more money.
To give an example, Life Fitness, who makes the ellipticals found at my local gym, sells their E3 Elliptical for nearly $4,000 (oof!).
The E3 has very similar features in terms of display, workout programs, unit weight compared to the E98, but doesn't have the power incline and heavy flywheel of the E98. And the E98 is so much less expensive, it's almost hilarious.
If you want an elliptical machine that can outperform the ellipticals at your local gym, or you are looking to replace the existing line of ellipticals at your gym, and for half the budget, the Sole E98 is a no-brainer.
Best Commercial Elliptical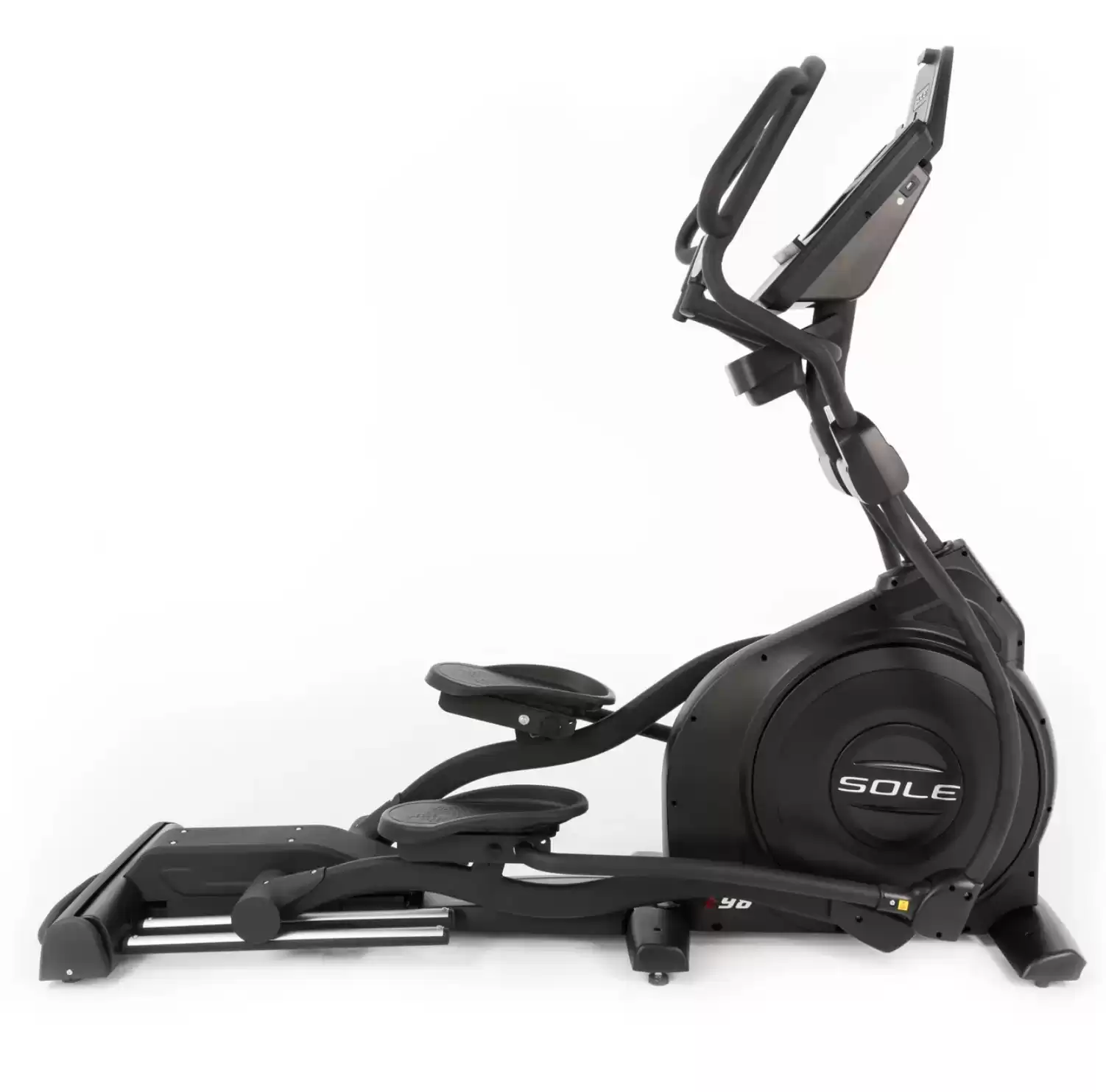 ---
Sole Fitness Ellipticals – Comparison by Features
Now that we have looked at each Sole elliptical individually, here's how they stack up against each other in terms of features, including price, flywheel, incline options, and more.
| | | | | | | | |
| --- | --- | --- | --- | --- | --- | --- | --- |
| | E20 | E25 | E35 | E55 | E95 | E95s | E98 |
| Price | $799 | $1,099 | $1,399 | $1,499 | $1,699 | $2,199 | $2,299 |
| Flywheel | 14.4lb | 20lb | 25lb | 20lb | 27lb | 30lb | 32lb |
| Display | 5.5" | 6.5" | 7.5" | 9.0" | 10.1" | 10.1" | 10.1" |
| Stride | 18" | 20" | 20" | 20" | 20" | 18-24" | 20" |
| Adjustable console | Yes | Yes | Yes | Yes | Yes | Yes | Yes |
| Incline | Manual (3 levels) | Power (20 levels) | Power (20 levels) | Power (20 levels) | Power (20 levels) | No | Power (20 levels) |
| Dimensions (H,L,W) | 61 x 69 x 24 | 71 x 70 x 24 | 71 x 82 x 31 | 71 x 71 x27 | 71 x 82 x31 | 71 x 84 x 32 | 71 x 82 x31 |
| Machine weight | 176lb | 212lb | 231lb | 214lb | 236lb | 265lb | 249lb |
| Weight capacity | 275lb | 350lb | 375lb | 375lb | 400lb | 400lb | 400lb |
| Adjustable foot pedals | No | No | Yes (3 positions) | Yes (10 positions) | Yes (10 positions) | No | No |
| Warranty (frame) | Lifetime | Lifetime | Lifetime | Lifetime | Lifetime | Lifetime | Lifetime |
| Warranty (electronics) | 3 years | 3 years | 5 years | 5 years | 5 years | 5 years | 3 years |
| Warranty (parts) | 1 year | 3 years | 5 years | 5 years | 5 years | 5 years | 3 years |
Sole Fitness Ellipticals Comparison – FAQs
Is Sole elliptical better than NordicTrack?
Sole ellipticals and NordicTrack ellipticals are both really well built, but Sole's ellipticals have a smoother drive system. Sole ellipticals are also priced very competitively when you consider the amount of features and adjustability options available.
Is Sole a good elliptical brand?
Sole Fitness is the pound-for-pound champion in making ellipticals for home use that are built for taking a licking (or in this case, striding).
Although they aren't as popular or as well-known as the big brands like Life Fitness, Star Trac, Bowflex, and NordicTrack, in my opinion, they make superior ellipticals and do so at a price that is often significantly less expensive when lined up against comparable ellipticals.
Perhaps this is just a branding issue—I've never seen an ad from them on my Instagram feed or during those late-night "But wait, there's more!" infomercials.
The Bottom Line
Sole Fitness ellipticals are an excellent choice when it comes to choosing a cardio machine for cranking up fat-burning and weight loss at home.
With long-term warranties on the frame and parts, excellent price points, adjustable strides, and highly versatile consoles and programming, there is a Sole Fitness Elliptical for you.
Choose the one that is right for you from the list above, start cranking out those elliptical workouts in the comfort of your own home, and chase down your workout goals.
---
More Elliptical Guides and Articles
How Much Do Ellipticals Cost? (44 Different Models Compared). Ellipticals can be a costly investment in your workout goals. Here is a look at how much each type of elliptical costs and how much to spend on one.
Should You Use the Elliptical Backward? (Yes, and Here is Why). Going backward on the elliptical is a great way to mix up your cardio workouts. Here's how to do it, the benefits of going backward on the elliptical, muscles worked, and more.
What's the Best Elliptical Stride Length? (How to Choose). Elliptical stride length is crucial for getting the most out of your workouts. Here's how to measure the right stride length for you, the benefits of long stride ellipticals, and more.