Beat the heat and work out in comfort with the right home gym fan. Read on for our favorite fans for working out.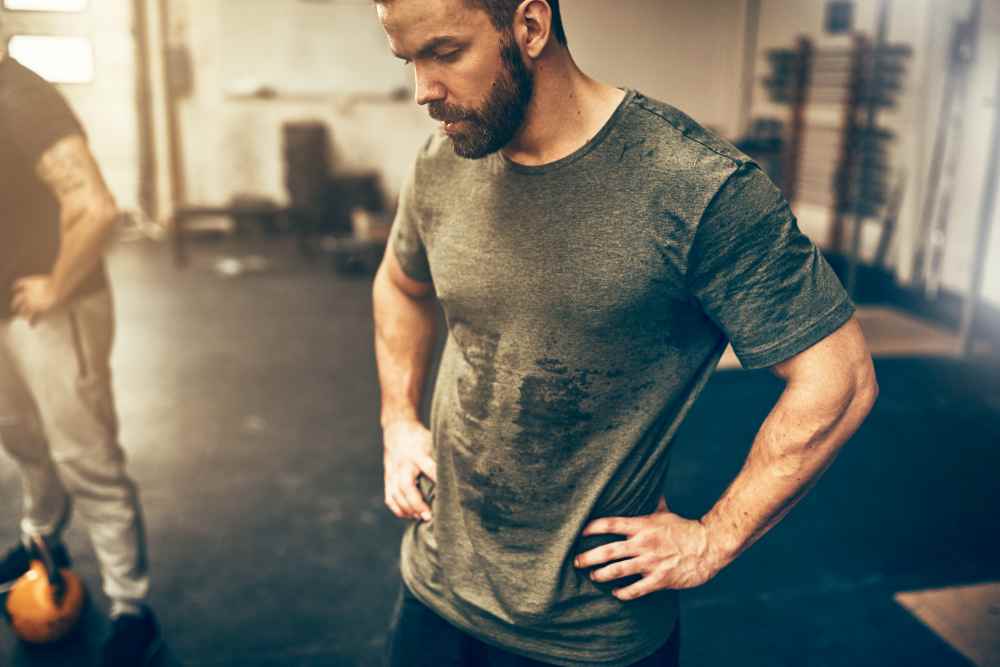 There are fewer things more rewarding than working up an epic sweat in the comfort and privacy of your home or garage gym.
After all, there are a metric ton of perks to crushing your workouts at home. No lineups for machines. Free reign of the music selection. And you can grunt, struggle and strive in privacy.
While the goals of your workouts are to push yourself to the limits and get out of your comfort zones, being a hot and uncomfortable mess doesn't need to be a part of the deal.
Using a fan in my home gym has helped me extend my workouts (I have a bigger frame, which means the room heats up fast), keeps me from fire-hosing my gym equipment with sweat, and means I don't need to crank the AC in a room of the house for an hour.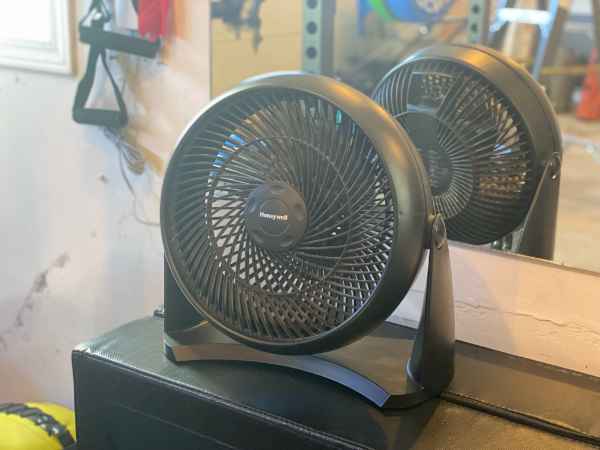 Home gym fans are fans that work for working out
Home gym fans aren't really a thing—what we are really doing is taking fans that are designed for home use and co-opting them for our home gym.
While most fans are designed to be super quiet or stylish, we can skip past those things when finding a fan that will blast away sweat and keep us focused on our workouts instead of perpetually wiping down our face and hands with gym towels.
There are plenty of options for choosing the right fan for your home workouts.
From wall-mounted, ceiling-mounted, to fans that have no blades, there is a home gym fan for you.
Let's get right into it.
Honeywell HT-908 TurboForce Fan
⭐ My favorite pick for best home gym fan
Don't let the compactness of this fan fool you—this thing absolutely hums. I've had a couple of these over the years and it's been my go-to in my garage gym since Covid hit at the beginning of 2020.
Three airspeeds give you the flexibility of how much air you want to blast, a small handle on the back makes it easy to carry, and the unit can be tilted (albeit not so much if you want to point it down).
Inexpensive, effective, and with enough gust to cool you off during your hardest workouts, the Honeywell TurboForce lives up to its name and makes an absolutely killer home gym fan.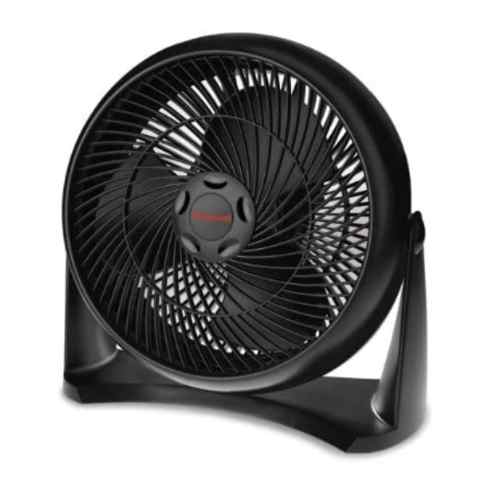 Lasko Floor and Wall Home Gym Fan
⭐ Best wall or floor fan for gym spaces
Lasko's 20-inch fan gives you a ton of versatility in speed, placement, and air flow. With a more industrial look, it's perfectly suited for your garage gym or open gym space.
A pivoting head makes it easy to change the angle of the air, a wall mount is shipped with it so that you can place it up on the wall, and the metal cage is built for long-term and heavy-duty use.
The Lasko home gym fan hums nicely at three different speeds and retails for around $80 (check Amazon for current pricing and availability).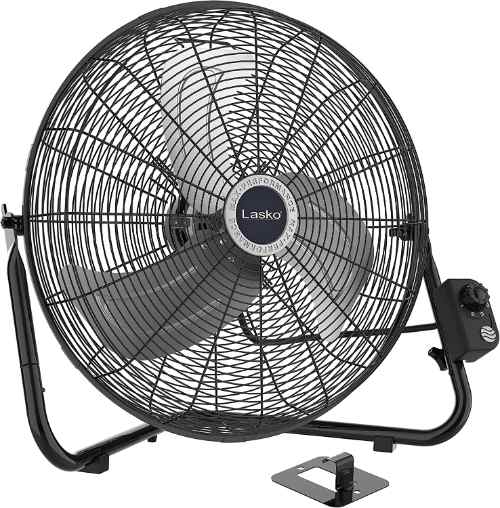 HoneyWell QuietSet Tower Home Gym Fan
⭐ Best home gym fan for tight spaces
Tower fans have a lot of perks. For starters, they barely take up any floor space, making them ideal for smaller gym spaces. Secondly, they tend to feature a lot of the bells and whistles like remote control and adjustable speeds.
Additionally, they tend to be quieter than the old-school-bladed fans. The Honeywell QuietSet Tower Fan is one of the best tower fans on the market. It's available in two different colors (white or black), has a total height of 32 inches, and features a remote control with which you can easily change between the eight different speed settings.
Price-wise, the tower is actually quite affordable, retailing for around $60 (check Amazon for current pricing).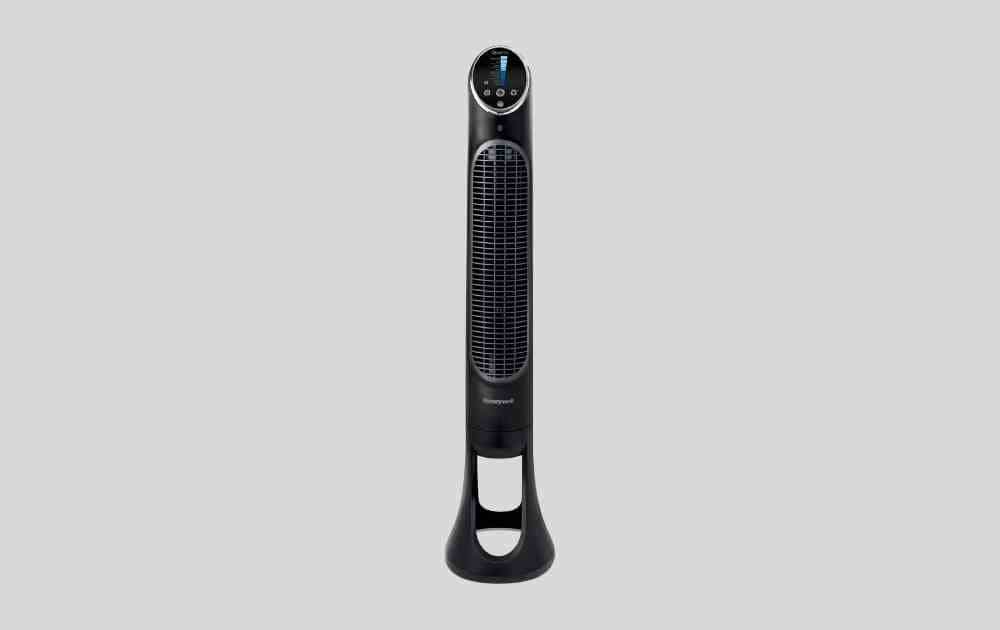 Geek Aire Portable Home Gym Fan
Looking for a gym fan that doesn't require a power outlet? For the home gym owner who wants to be able to move their fan quickly, or wants to exercise in covered outdoor spaces that don't have power outlets, the Geek Aire provides a powerful solution for generating a heaping ton of cooling airflow.
Available in three different sizes, from a mini 4-inch to a 12-inch model, the fan has a built-in rechargeable battery (takes about 2.5 hours to deliver a full charge). Total runtime varies on speed but can last as long as 20 hours on the lowest speed setting.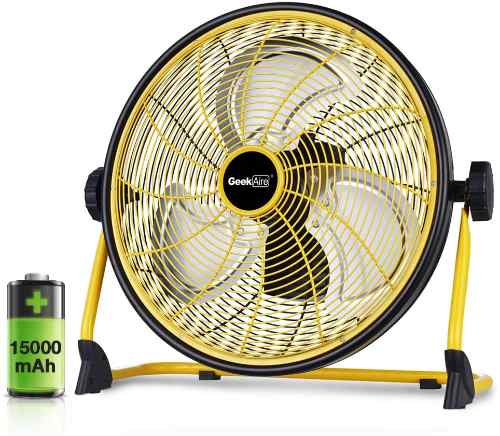 XtremePower 24 Inch Rolling Gym Fan
⭐ Best floor fan for home (and commercial) gyms
For larger home gyms and even commercial gyms, you want a fan that can deliver a ton of air and do it quickly. The XtremePower fan lives up to its name, sending hurricane-level breezes (three different speeds) that help you stay cool(ish), comfortable and dialed in on dominating your workouts.
Encased in a sturdy metal frame, and easily tiltable, the 24-inch fan can be wheeled around your gym with two rubber wheels and an extra-long 60" grounded cable.
XtremeGainz not included in the retail price of $139 for the 24-inch version (they also make a 16" model as well).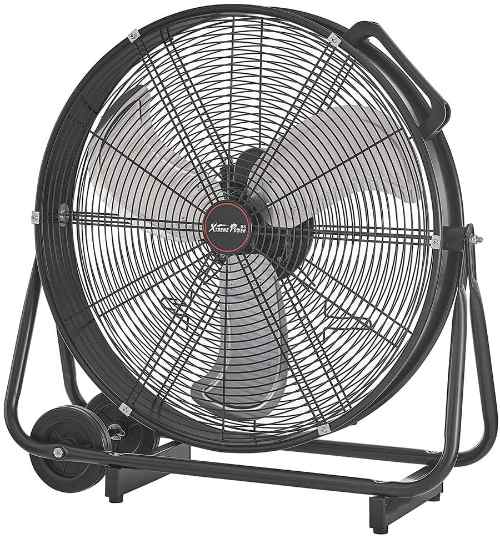 Comfort Zone High-Velocity Wall-Mounted Fan
⭐ Best high-powered wall fan for home (and commercial) gyms
While it doesn't have "Xtreme" in the product name, the Comfort Zone brings the wind with this wall-mounted 30-inch fan that is perfect floor larger rooms. Aluminum blades provide a smooth and consistent breeze, while a sturdy steel bracket makes setting it up a piece of cake.
The fan oscillates at two speeds and if you are looking for something on the quieter side, this probably isn't it (bigger blades = bigger noise), but if you want a wall-mounted fan for your larger workout space these things do work.
Comfort Zone's High-Velocity Wall-Mounted Fans are well-reviewed, with a 4+ rating on Amazon (check here for up-to-date reviews) and retail for around $170 per fan.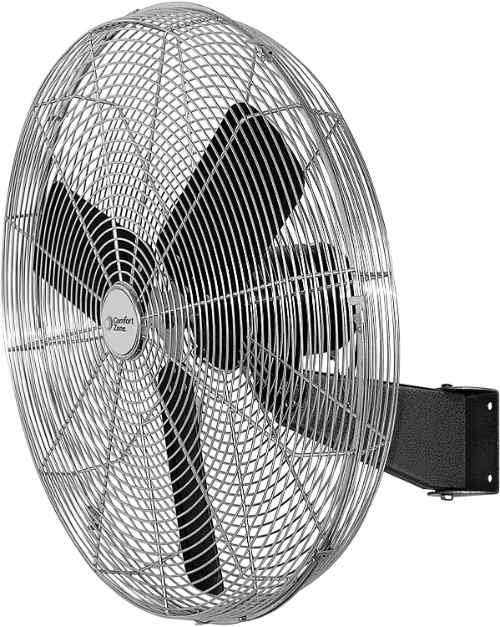 Picking the Right Fan for Your Home Gym
Even though fans are relatively simple—move a bunch of air from one side of the room to the other—there are a bunch of different characteristics, styles, and of course, price points for each.
Here are the key things to look out for when choosing the right fan for your garage or home gym.
✔️ Rate of airflow
This is the biggie, right?
The goal of the fan is to circulate a ton of air to keep things nice and cool when you are boiling up a frothy sweat in your home gym.
Some smaller fans are nice for small rooms, while others can blast a jet-engine current of air 100-feet away.
Take a look at how big your workout area is, how warm it gets, and choose a fan that will be able to launch a breeze clear across your workout space.
Bigger doesn't always mean better (as is usually the case with tower fans, that don't pump air as fast as small and more compact table fans).
✔️ Fan placement
Where you place your gym fan makes a difference in how well it cools your workout area.
For garages, especially those that aren't well ventilated, place your fan facing the garage door near the ceiling (with the door open) to blast out some of the heat and moisture that is evaporating from your hot-and-heavy workout. Wall-mounted fans are best for this, obviously.
For general cooling, simply point the fan at yourself and open a window to help generate some airflow in your workout space, which will help cut down on humidity from building up.
✔️ Portability
This one isn't a primary concern for most people who build out a home gym, but for those of us who want a fan that can be wheeled in and out of the workout area easily, portability is key.
With larger fans, look for wheels and a long power cable (or use an extension cord). Smaller fans usually have a little handle on the back that makes it easy to stow them between workouts.
✔️ Fan dimensions
For something as simple as pushing air across a room, fans for home gyms come in a variety of sizes and styles.
You've got tower fans that don't need a lot of floor space, smaller table fans that pack a surprising punch, and the wall-mounted propellors that take no floor space at all and can clear a large room faster than you celebrate after setting a new PR on deadlifts.
When it comes to picking the best fan for your home or garage gym, think about the dimensions, including the height and width, of the fan before settling on one.
The Final Rep
Staying cool and comfortable when you are working out means you are more likely to workout longer.
My favorite compact fan for home or garage gyms is the low-cost but high-powered Honeywell HT-908 TurboForce Fan which absolutely rips even though it's got a small footprint.
Larger gym spaces will appreciate the portability and 24" propellor, err, fan blade of the XtremePower 24 Inch Rolling Gym Fan, which has a pair of rubber wheels for easy maneuverability.
Lastly, the Comfort Zone High-Velocity Wall-Mounted Fan is perfect for people who want an oscillating fan with zero footprint, multiple speeds, and a massive 30-inch blade that will dry sweat faster than you can pump it out of your forehead.
Whatever fan you choose for your home gym, there are plenty of excellent options out there.
Pick the one that matches your space and budget, and keep and awesome while working out like a champ.
Recommended Reading
6 Best Gym Timers and Clocks for Intervals, CrossFit and More. Keep yourself accountable and stay on time during your workouts with my top picks for the best gym timers and clocks.