Rogue makes some of the best weight benches on the planet. Whether you are looking for a flat, adjustable, or folding weight bench, Rogue has one that fits your goals and budget. Here are full reviews of the best of Rogue's weight benches.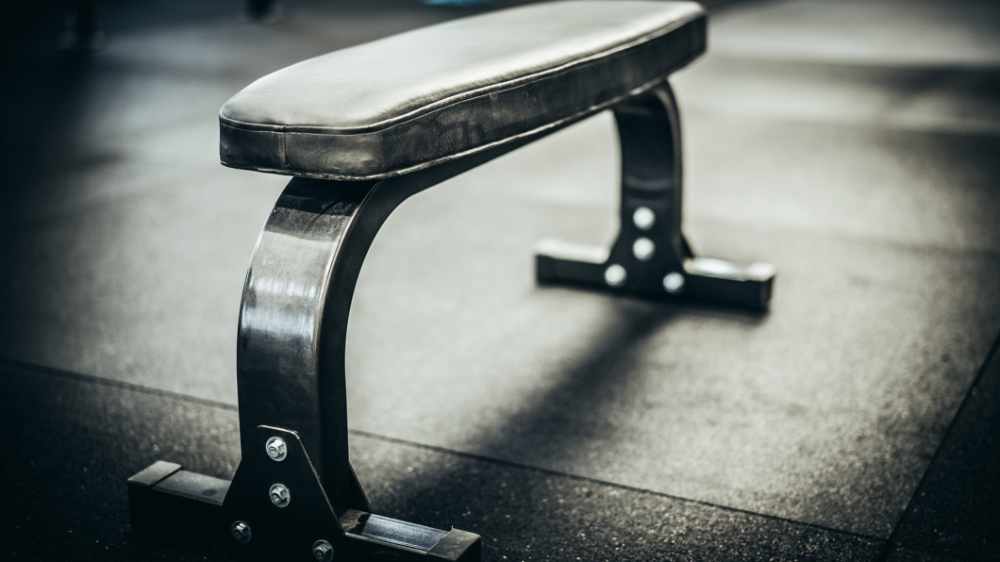 The weight bench is a simple, yet critical, piece of your home gym.
Although there are tons of exercises and movements you can do standing or from the floor (I am a long-time fan of floor presses), ultimately a weight bench gives you more range of motion, more support, and is a tool for step-ups, hip thrusts, and much more.
When it comes to picking the right bench for your workouts, there are lots of things to consider.
Price, pad size, bench height, adjustability (or not), footprint, bench weight, and so on.
Fortunately, the peeps over at Rogue have made a weight bench for just about every lifter and type of lifting there is.
If you've got big goals in the gym, Rogue has made a heavy-duty bench that will get you there.
While they do have a sizable roster of weight benches, there are a few Rogue benches that truly stick out above the rest (as well as above the rest of the competition).
Below is a detailed look at the best of Rogue's weight benches, including key features, price point, who the bench is best suited for, and much more.
Let's get after it.
Rogue Flat Utility Bench 2.0
Looking for a no-frills, flat weight bench that is tough and ready for your hardest workouts?
Look no further—Rogue nails the basics with the Rogue Flat Utility Bench 2.0. Affordable, built like a tank, and shipped fully assembled, you will be ready to rock and roll on day one when you receive yours.
Rogue builds their training gear tough, and the Flat Utility Bench 2.0 is no exception, with a thicker-than-average 2" by 3" steel tube frame that is significantly stronger than most of the cheapo benches you will find on Amazon and elsewhere.
The height of the bench is 18", with a pad thickness of 2.25", and an overall length of 47". While the bench doesn't have wheels and a handle for portability, the bench only weighs about 40lbs, so most people will be able to move it easily.
The bench costs $195 (check Rogue's website for current pricing and shipping options) and they generally get it out the door same day.
Yes, you will be spending a couple of bucks more than other similar benches, but when you factor in Rogue's commitment to manufacturing excellence and the fact that these benches are made in the USA, the comparison quickly becomes unfair.
If you are looking for a simple, tough, and highly durable bench for your workouts, the Rogue Flat Utility Bench 2.0 is the best flat weight bench for the money and quality.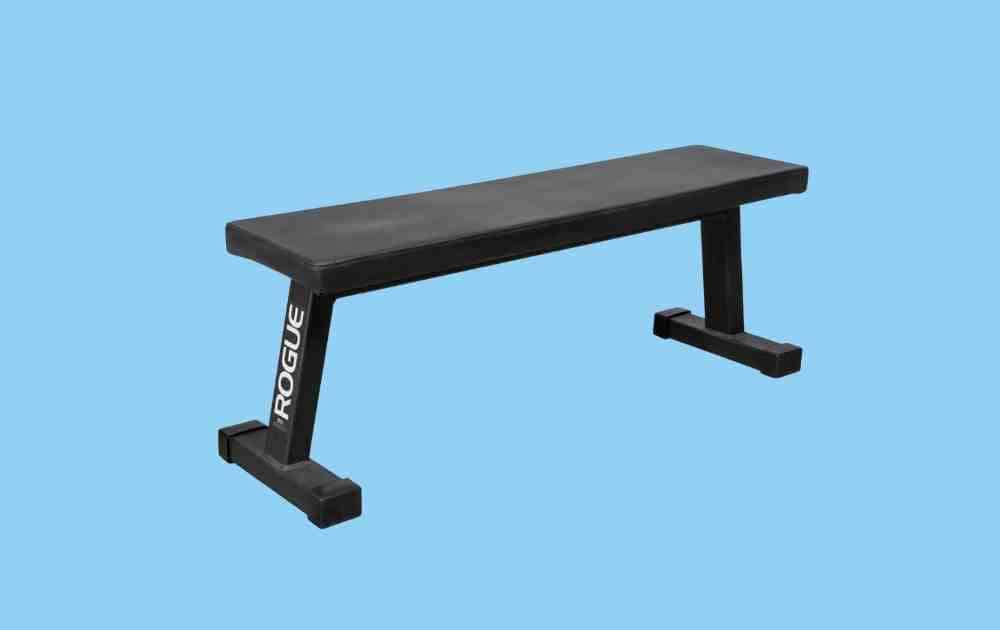 Rogue Monster Utility Bench 2.0
The Monster Utility Bench is an excellent flat bench designed for heavy-duty use. Made in the United States with American steel, this 11-gauge steel, 3" by 3" tubed flat bench is an absolute… wait for it… monster.
Compared to other flat benches, the Monster Utility Bench 2.0 has an extra wide rear base (26.5"—several inches than what is considered standard) to give the bench maximum stability. At the front is one thick column that is narrowed to allow lifters plenty of room to square their feet however they like.
The bench is easy to wheel into your Rogue squat rack, Smith machine, or cable crossover machine with wheels at the bottom and a handle under the "seat" of the bench. This makes the hefty 68lbs bench easy move around between sets and workouts.
But what really takes this bench to the next level is the customization options.
The bench comes in two different heights and with different pads. There is a Shorty version (15.2" tall) or standard version (17.5"). From there, you get your choice of three different pads, a Standard pad, Thompson Fat Pad or Competition Fat Pad. Additionally, you can choose a short or standard handle for your bench.
Ship disassembled to cut down on shipping costs, the Monster Utility Bench 2.0 is a must for serious lifters who want ultimate customizability. The bench starts at $295 and is available over at Rogue's website (check for current pricing and shipping options).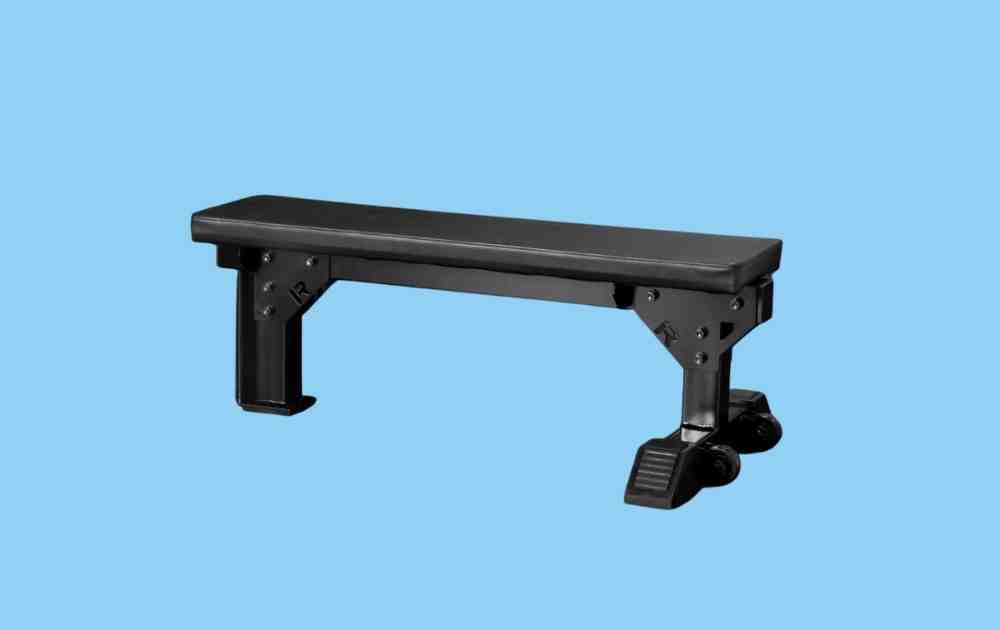 Rogue Adjustable Weight Bench 3.0
The Rogue Adjustable Weight Bench 3.0 is Rogue's best bench for people who want the sturdiness of a flat bench combined with incline back and seat pad options.
Rogue's premier adjustable bench got a recent update with the 3.0. My two favorite parts of the update are a standard vertical stand to quickly stow the bench and a thicker frame (3" by 3" steel frame vs a 2" by 3" frame on the 2.0).
See also: 8 Reasons the Rogue Adjustable Weight Bench 3.0 Kicks Butt [Full Review]
Key features with the Adjustable Weight Bench 3.0 are ten different incline back pad positions (most on the market), an overbuilt weight rating (the bench weighs 120lbs), and tons of customization and color options to make the bench uniquely yours.
Rogue makes killer stuff, and there is a reason that the 3.0 ranks as my pick for the best adjustable weight bench on the market—it kicks butt.
The 3.0 starts at $585 and goes up from there depending on the finish and wheels you choose with your bench.
Pick yours up over at Rogue's website and see what the fuss is all about.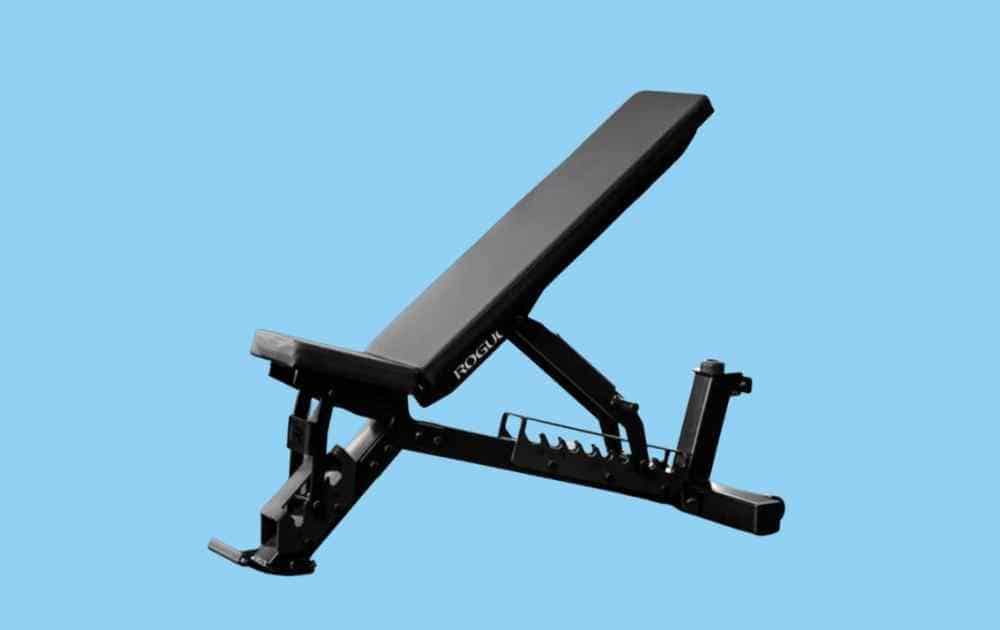 Rogue Fold Up Utility Weight Bench
There are a lot of reasons to love building out your own home or garage gym.
You get to choose the music playlist. You get to choose the channel to set on the television. No commute. No line-ups for benches. And so on.
But for most of us, the square footage in our home or garage gym isn't as expansive as our neighborhood gym, which means we need to be strategic with the equipment we purchase to maximize the space we have.
Luckily, the Rogue Fold-Up Utility Weight Bench executes a killer 1-2 punch with this highly durable and highly foldable bench that can be squared away between workouts.
Combining the toughness of the Flat Utility Bench (with the same pad thickness of 2.25" and nearly identical height of 17") with the convenience of folding legs, the bench can be hung up on the wall with included lag bolts and a bench hanger, reducing the footprint of the bench to zero. Folded, the bench is just 7.5" tall.
Foldable weight benches are an excellent option for people who want quality workout equipment without the footprint, and Rogue's Fold-Up Utility Weight Bench is the best one I've come across, especially when you consider that you can hang this bad boy on the wall between lifts.
The added functionality doesn't make the bench much more expensive than the regular Utility Bench, with Rogue retailing these for $265 (check Rogue's website for up-to-date pricing and shipping times).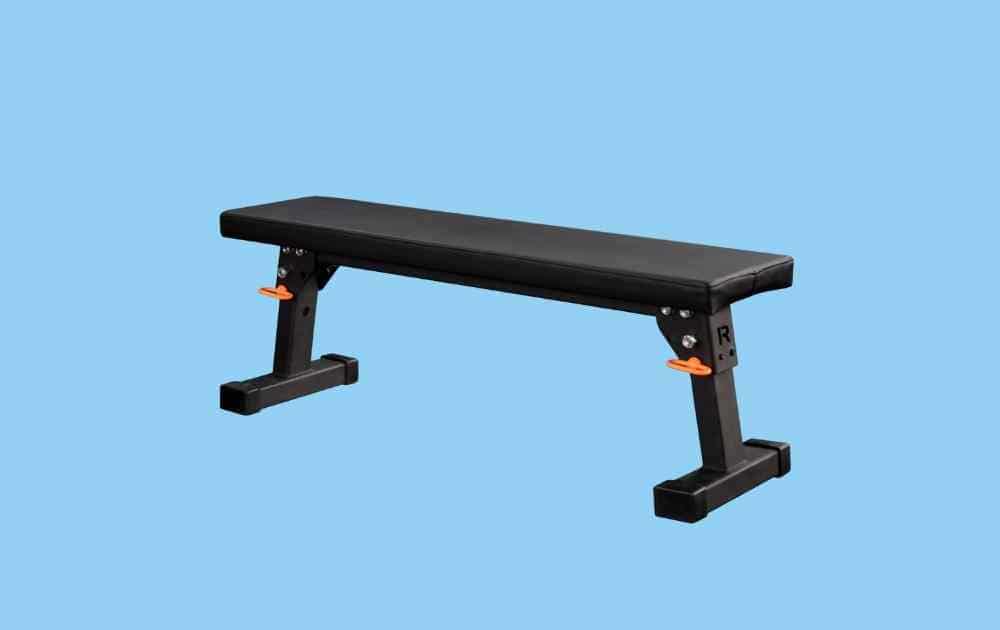 Rogue AB-3 Adjustable Weight Bench
Weight benches are almost exclusively flat or inclined.
But for lifters who like to spice up their workouts with decline bench presses, decline flys, or decline ab and core exercises, you want a bench that gets your feet up in the air.
More crucially, you want a decline bench that leaves you feeling secure when exercising upside down.
That's where the Rogue AB-3 Adjustable Bench has got your back (and your head). There are a lot of features to unpack with this thing, but there are a couple of key ones we will center on.
First, it has a telescoping adjustment system that uses pins to lock in the incline or decline grade you want to train with. I like pins for adjustment arms as they are the most secure feeling of the adjustment types.
And second, it has a sturdy leg attachment that can be "pinned" into the bottom of the bench so that you can hook your legs into the rollers and perform decline exercises.
The seat pad can be set to a decline position of up to -15 degrees, giving you a nice and steep angle for all of your favorite decline workouts.
Pricewise, the AB-3 Adjustable Bench is not cheap and is easily the priciest bench on this list, starting at $950 (check Rogue's website for current pricing and availability).
Oof.
One way to stomach the thought of this price point is to remember that it's much more than just a weight bench, it's an adjustable weight bench and an ab bench. Something to think about.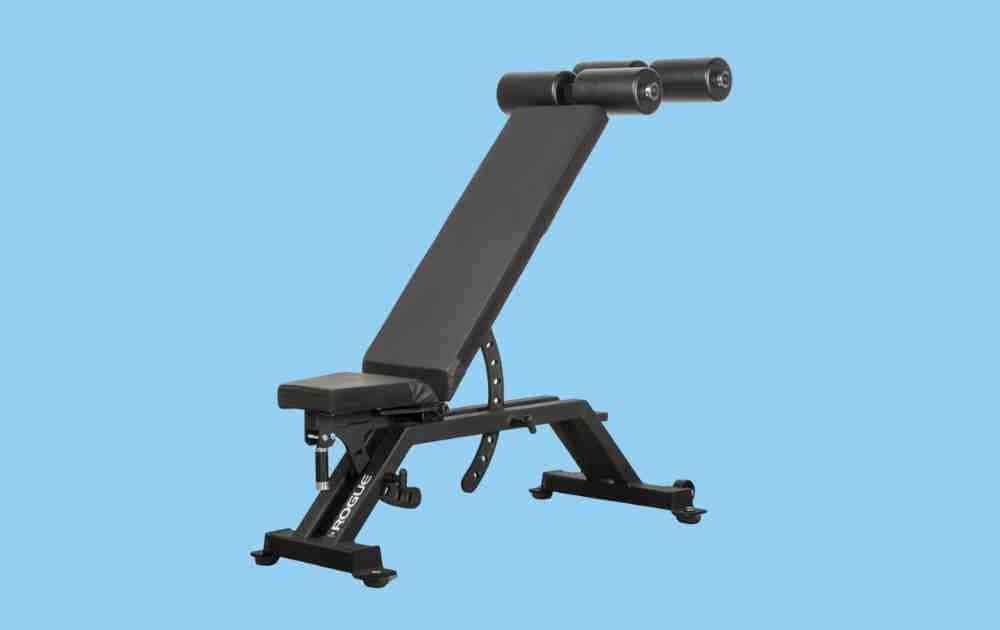 Recommended Reading
Are you a fanboy of Rogue Fitness gear like me? You've come to the right place. I've written at length about their products and equipment. You can find more reviews and in-depth guides below.
5 Best Rogue Fitness Barbells. Looking for a Rogue barbell but don't know which one to get? Here's a breakdown of the best Rogue barbells for every kind of lifter.
Rogue R-3 Rack Review: The Ultimate Everyman Rack for Home Gyms. Rogue's R-3 Power Rack is one of the best racks on the market. From affordability to Rogue's legendary durability, the R-3 is a killer choice for your home gym. Here's why.
7 Reasons the Rogue Monster Bands are the Best. Rogue Monster Bands are my favorite resistance bands. Here's why you should add them to your training and recovery work (and where to buy them).
Best Rogue Kettlebells for Cranking Up Your Workouts (Full Review). Looking to pick up a Rogue kettlebell? Here is a full rundown and reviews of the best Rogue kettlebells for demolishing your workout goals.
Rogue Dumbbells – How to Choose the Best Rogue Dumbbell for Your Home Gym. Looking for help on picking the right Rogue dumbbells for your workouts? Here's everything you need to know.