Crank up your workouts with the versatility of a cable crossover machine. Here are the best ones for every kind of home and garage gym.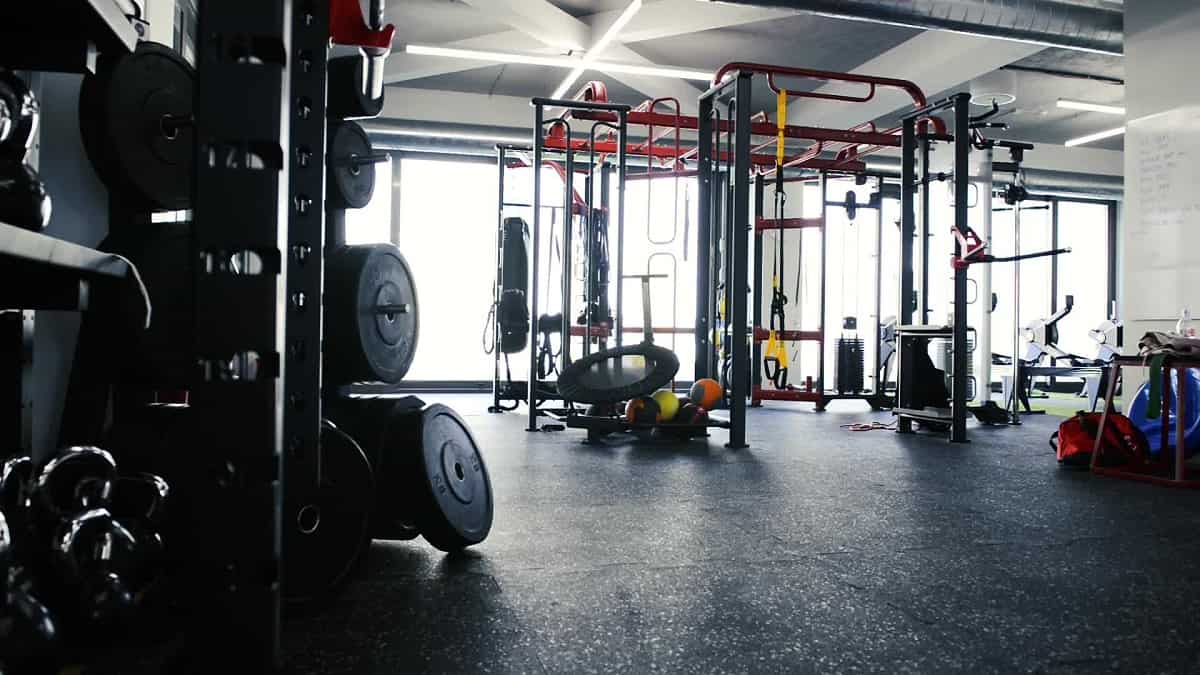 The cable machine is one of the best investments you can make in your home gym.
You can target just about every body part imaginable, from your upper body (chest with flys, biceps with curls, for example) to your lower body (kickbacks with ankle straps, cable RDLs, and so on).
While some exercises on cable machines can be recreated with resistance bands or suspension trainers (aka TRX straps), the constant time under tension and versatility make cable crossover machines a killer add-on to your home gym.
While cable machines can be an expensive addition to your home workouts, they are remarkably durable and well-built.
Below are the best reviewed cable crossover machines for your home gym, including key features, price points, and more.
Let's get into it.
REP Fitness FT-5000 Cable Machine
⭐Best heavy-duty cable machine for home gyms
REP Fitness is one of the best strength training equipment brands on the planet. They build tough, durable, and reasonably priced lifting gear for home (and commercial) gyms.
The FT-5000 is a perfect example of this.
Stuck with Your Training in the Gym?
Join 12,000 lifters and athletes and sign up for FREE access to my 5-day email course on how to conquer the most common gym mistakes.
From goal setting to lifting technique, you will learn how to overcome the mistakes in the gym that are holding you back from getting bigger and stronger.
Unsubscribe anytime. No spam.
Built to the point of being almost overbuilt, the FT-5000 features dual weight stacks of 220lbs each, fully adjustable pulley systems (16 different pin positions), a multi-grip pull-up bar, and magnetic pins that make changing weight a breeze.
The price point is reasonable compared to similarly featured cable machines—REP retails them for around $2,500—but the 11-gauge steel frame will last you a lifetime.
The FT-5000 also includes a handy little exercise placard along the back of the unit that visually outlines twelve different exercises you can do with the machine.
Despite being a large piece of training equipment, with plenty of moving parts, the FT-5000 is surprisingly easy to put together as it shows up on your doorstep half assembled.
Pros:
Easy to adjust
Multi-grip pull up bar
Up to 440lbs of capacity
16 pin positions on each column
Ships partially assembled
Cons:
Only comes with strap handles for attachments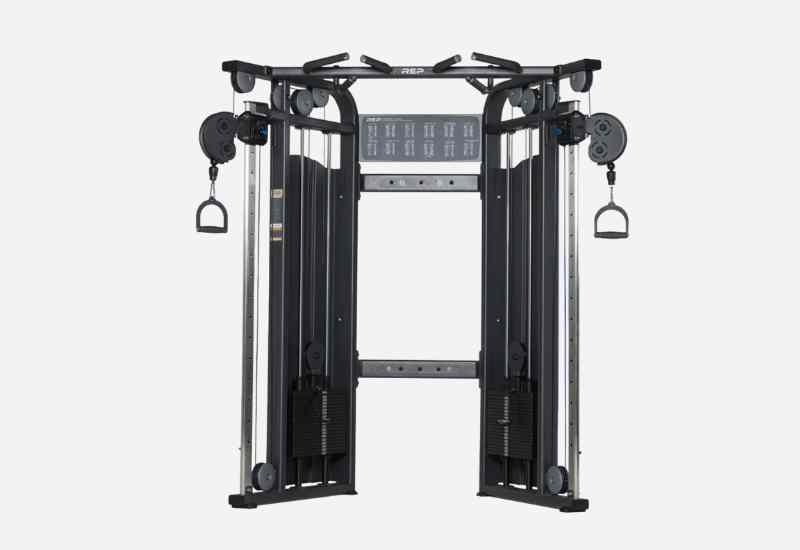 XMark Functional Trainer Cable Machine XM-7626
XMark makes commercial-grade fitness equipment at prices that is in the neighborhood of home gym gear pricing. I've had a chance to review their decline sit-up bench and dip stations, and the XMark cable machine follows in the tradition of heavy-duty, quality stuff.
Definitely not made for the casual gymgoer, the XM-7626 features a ton of bells and whistles. The weight stacks are 200lbs each. The cable pulley bar has 19 different settings. And the pulley system rolls smoothly between settings with a 180-degree handle and swivel.
A sturdy 2" by 3" steel frame houses the weight stacks and the machine has storage pegs for all of your cable machine attachments (included with the machine are long strap handles, a tricep rope, short bar, leg extension strap and an ankle strap).
This thing is a beast and users consistently rave about it, with over 90% of people reviewing it on Amazon giving it five-stars. The heavy-duty construction and smoothness of the pulleys are a frequent theme with reviews. (Some reviewers did note, however, that the installation instructions for the cables themselves weren't accurate in the set-up manual.)
The XMark cable machine is a commercial-grade set-up that is accessible in price and size for the home or garage gym enthusiast (check Amazon for current pricing and availability).
Titan Fitness Plate Loaded Cable Crossover Machine
⭐ Best budget cable crossover machine
Look—cable machines are not cheap. That's just the reality of home and commercial gym equipment, and cable machines are not an exception to this general rule.
That said, there are some brands that make affordable gear with the home gym enthusiast in mind. Titan Fitness is one of those brands.
The Titan Fitness Plate Loaded Cable Machine is an excellent option for the home gym user who wants a hybrid low row, lat pulldown machine and cable crossover machine at a reasonable price.
(Titan Fitness retails the machine for about $1,000.)
The machine also has a pair of weight pegs for plate storage (which will also help stabilize the machine by weighing it down)
The downside with it being plate-loaded—and not using weight stacks—is that you will have to invest in weight plates (or use your own inventory of weight plates) for resistance.
Pros:
Best priced cable crossover machine for home gyms
Multi-grip pull up bar for chins up and pull ups
Sleeves for Olympic-size weight plates
Adjustable columns for attacking cable exercises from all angles
Handles on the pulleys for easy adjustment
Cons:
Low price is offset by the fact you will need weight plates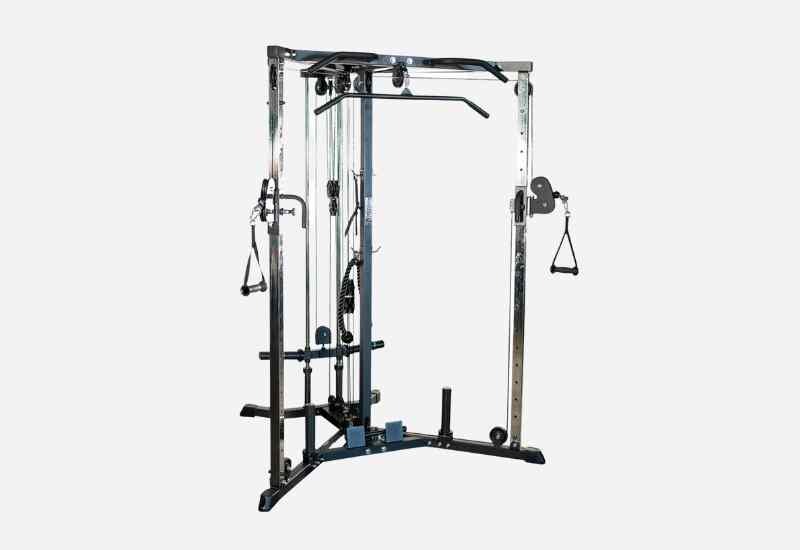 Body-Solid Powerline PFT100 Functional Cable Machine
With 160lb stacks, handles that swivel to 180 degrees, and 20 different pulley positions, the PFT100 is an excellent starting point for your home gym.
Add some ab straps (that you can hang from the straight pull-up bar combining the two stacks) and an adjustable weight bench and you've got a ton of options for building muscle and getting stronger.
If 160lbs per stack isn't enough, more experienced lifters can upgrade the PFT100 to dual 210lb stacks.
The footprint of the machine is ideal for smaller garage/home gyms, at just 42" by 63". Assemble in a corner of your gym and you are in business.
The Body-Solid Cable Crossover Machine is extremely well-reviewed on Amazon. The only downside is that the machine is frequently sold-out (like a lot of fitness gear since Covid hit the world in 2020). Check here for current stock availability and pricing at Amazon.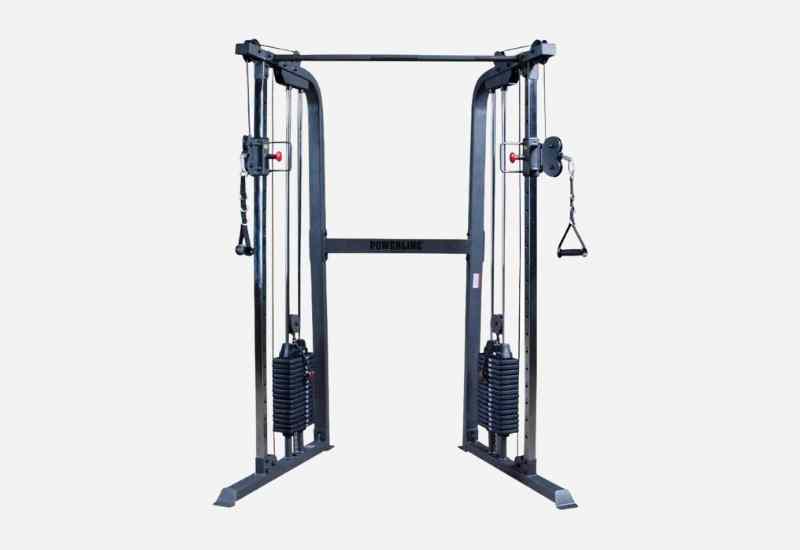 Rogue CT-1 Cable Tower
⭐ Best standalone cable machine
I won't make any qualms about it—I'm a Rogue fanboy. You don't need to be a CrossFit athlete to appreciate the durability and intelligent design of Rogue fitness gear, which is almost all made in the United States.
Whether it's Olympic barbells, bumper plates, or flat weight benches, Rogue makes awesome stuff.
The Rogue CT-1 Cable Tower is an independent tower that measures nine feet in height and is made of basically bombproof 3" by 3" steel construction at Rogue's factory in Ohio.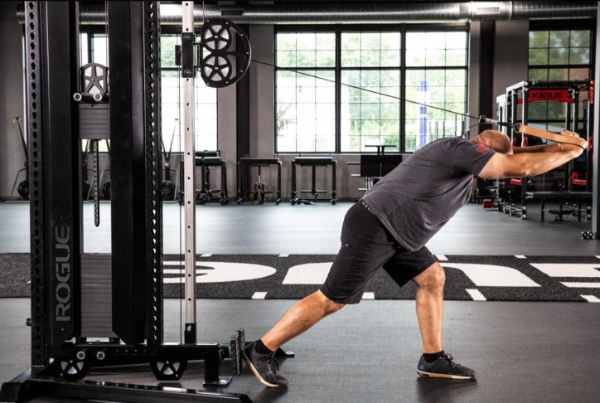 Although you won't be able to do crossovers with this bad boy (unless you pick up two of them), the cable tower is a savage piece of machinery, with a 250-pound weight stack, diamond-treaded footplate (for doing rows), and a pulley with 180-degree swivel that slides easily and smoothly on a 2" by 2" rail with 16 different height settings.
Accessories that Rogue ships the CT-1 with include a leather tricep rope and plastic band attachment pegs.
Rogue's stuff is typically not cheap, and the CT-1's price reflects its heavy-duty design, costing around $2,400 (check Rogue's website for current pricing and availability).
Also, the machine will have to be bolted to the floor, which Rogue does not include the hardware to do.
But if you are looking for a heavy-duty cable machine that can take your toughest workouts, and you don't mind an extra trip down to the hardware store, the Rogue CT-1 is a killer cable machine that will juice up your workouts.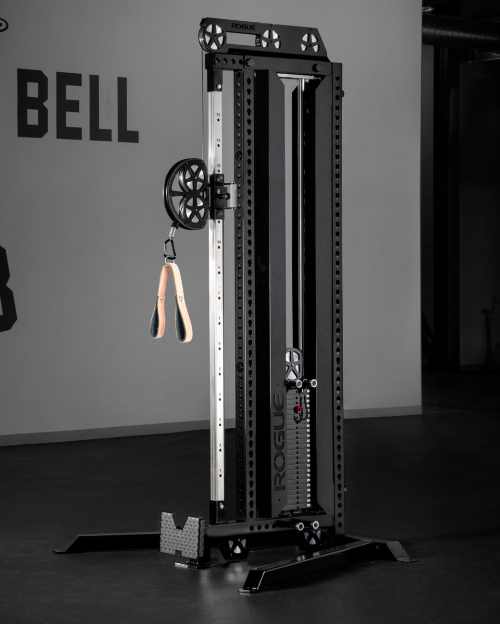 HulkFit Cable Crossover Attachment
⭐Best budget cable crossover for power cage
Over the past couple of years we have seen an incredible increase of competitively-priced power racks. Where pre-pandemic squat racks were generally over-built and over-priced, you can now purchase quality, durable squat racks for well less than $1,000 that fit well into your home or garage gym.
HulkFit is one of the leading "cheap" squat rack builders, and they sell a variety of attachments and add-ons for their racks, including a robust cable crossover set-up that can handle up to 1000-lbs (!!!).
The pulleys slide easily up and down with steel handles and the weight pegs can handle all the Olympic weight plates you can handle. The attachment does end up taking up quite a bit of room, which is a necessity because you want to still be able to step out of the rack with a 7-foot barbell on not worry about boinking into the attachments.
Built to last, and built to go with your HulkFit squat rack, upgrade your rack with the versatility and durability of their crossover cable attachment. Pricing is around $600 for the unit (again, power rack sold separately), and you can check here for current availability and pricing at Amazon.
Pretty legit when you consider that you can get a power cage and a cable crossover machine for about half the price as some of the standalone units in this round-up.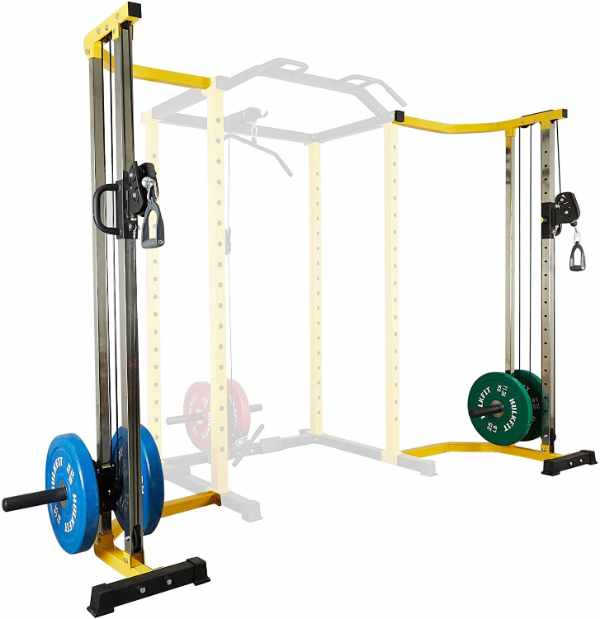 What should I look for in a cable machine?
The main factors you should look for in a cable machine include attachment options, footprint, budget, and form of resistance.
? Attachment options
Cable machines are exceptionally functional. The scope of exercises you can do with one is almost endless.
A good cable machine should have clips for changing out different attachments (triceps rope, D-handle, EZ curl bar, etc) so that you can max out on the types of exercises and workouts you can do with the machine.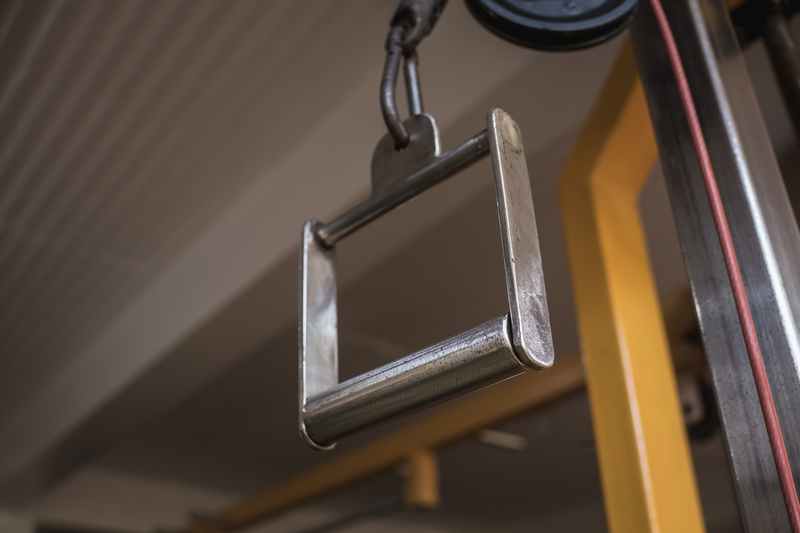 One of the best aspects of cable machines is their versatility, so make sure that the ones you are looking at can handle multiple attachments.
? Footprint
Exercise equipment is often bulky and requires a decent amount of space.
The footprint on cable machines—especially cable crossover machines—is not small.
If you are investing in a cable machine for your home or garage gym, make sure to mark enough space for the machine plus working space around it so that you can exercise, change weight, and properly access the machine.
? Budget
There's no denying that cable machines—like just about every other piece of strength training equipment—can be pricey. The dual-pulley cable machines in particular are rarely less than a couple of thousand dollars.
That said, cable machines are a one-off investment. Used consistently, it can pay for itself relatively quickly both in terms of costs saved by canceling that gym membership and better physical health.
? Form of resistance
Finally, when scoping out a cable machine for you, a determining factor is how resistance is generated.
There are generally two types to choose from:
The first is the kind you see in commercial-grade machines, with a weight stack of iron or steel plates that you can adjust with a pin for desired weight.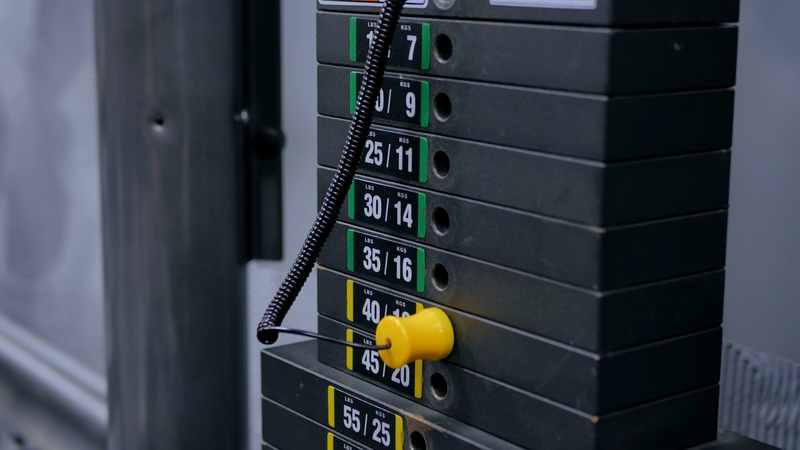 The second is plate-loaded, borrowing from your inventory of weight plates or bumper plates. This type of set-up is most common with cable machines that are attached to squat racks.
The weight stack option is more expensive upfront and is generally safer as the weight is fixed.
Are cable machines worth it?
Cable machines can make for an expensive upfront investment, but in terms of resistance training, they are difficult to beat.
The main benefit of training with a cable machine—compared to more traditional forms of resistance like dumbbells or barbells—is the constant time under tension.
Because your muscles are "on" for longer, you maximize muscle growth and strength development1.
Cable machines are also awesome because you can target your muscles from a variety of angles and heights, the grip on the handles or bar is more versatile compared to machines or barbells, and the number of exercises you can perform on a cable machine is only limited by your imagination.
Finally, cable machines are much safer than free weights. If you have to ditch in the middle of a set or rep, you aren't going to drop a bunch of weight on yourself or on your workout partner.
A study found that nearly 90% of hospital visits by gymgoers were after using free weights2.
Related Resources
5 Best Home Gym Cable Systems. Pulley systems are a killer tool for better workouts. Here's a breakdown of the top home gym pulley systems for leveling up your workouts at home.