The best ab benches are compact, versatile, and have all the features you want for your core workouts. Here are the top ab benches for your home gym.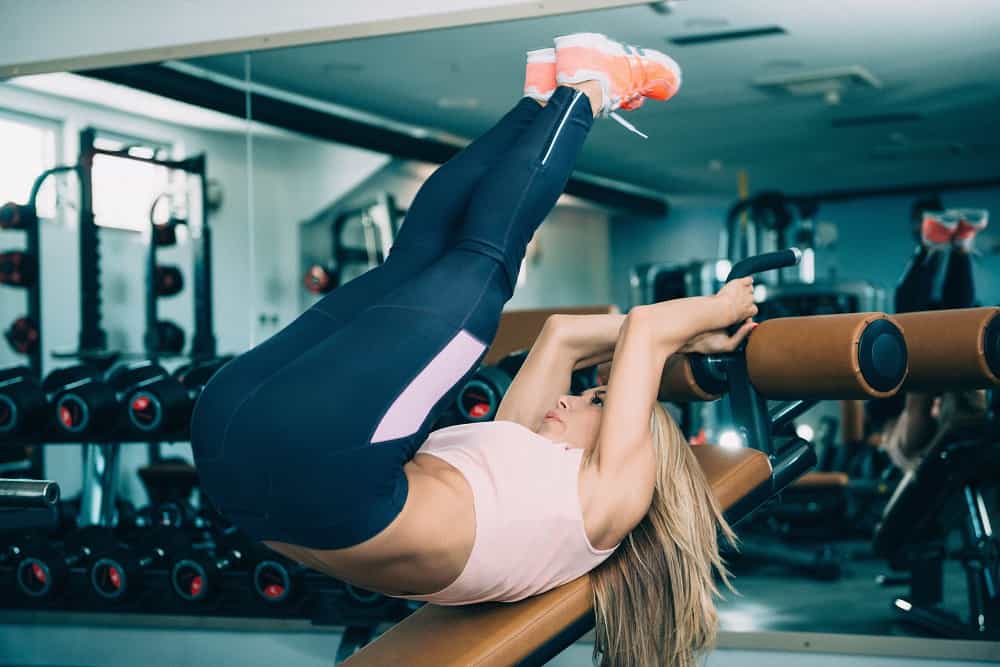 Building a home gym has never been more affordable or convenient.
No line-ups for machines. No one hogging three benches while standing around texting. No mouth-breathers working out next to you.
Fortunately, as the demand for home gym equipment has gone up, so have the number of companies producing commercial-grade equipment for home and garage gyms.
Once you've settled on the best power rack, barbell, and adjustable weight bench, it's time to tackle your mid-section with an ab bench.
Blast your core with our collection of the best benches for doing sit-ups at home.
Vanswe Adjustable Ab Bench
One of my favorite exercises to do at the gym is the almighty back extension. As someone who spends a lot of time sitting (at a desk, in the truck, on the couch), my lower back doesn't get the attention it needs over the course of the day.
Fortunately, back extensions are now something you can perform in the comfort of your home or garage with the Vanswe Adjustable Core Bench. It's an all-in-one bench that can be used as a back extension bench, regular bench, and yup–an ab bench.
Rated for a maximum of 650-pounds (more than typical flat home weight benches, by the way), this thing can be tilted up and down for all of your abdominal work, including—you guessed it—back extensions!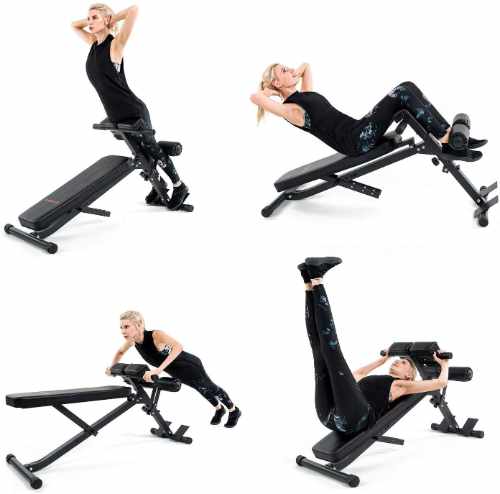 Rogue AB-3 Adjustable Ab Bench
If you are looking for something more quality (and with the corresponding higher dollar tag), you can't go wrong with Rogue.
They simply make the best fitness gear on the planet. Whether it's adjustable weight benches, trap bars, or bumper plates, Rogue makes killer stuff.
The Rogue AB-3 Adjustable Ab Bench continues this trend.
With six options for seat positions, nine for the back pad, and a removable foot roller for decline ab exercises, this bench does both incline or decline and does it at a high level. Two wheels at the back of the bench and a handle at the front makes moving the bench a piece of cake.
Rubber covered feet and a wide base keeps the bench stable and keeps you from wobbling while blasting away at that six-pack.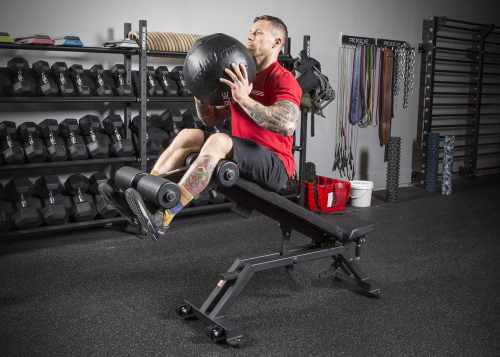 XMark Adjustable Decline Sit-Up Bench
The XMark Decline Sit-Up Bench is a no-frills tool for adding resistance to your core training.
With twelve different height options, you can crank up the gravity and the resistance. With a handlebar between the foam rollers for your feet and legs, getting on the bench is a breeze.
I really like this bench because it most closely resembles the more heavy-duty one at my local YMCA. Made of steel, the base of the bench is 20-inches wide. No wobble or sliding around. The bench can also be tilted up and rolled around with the small transport wheels at the back.
Priced competitively, the XMark Adjustable Decline Sit-Up Bench is an affordable and durable addition to your home gym and core workout.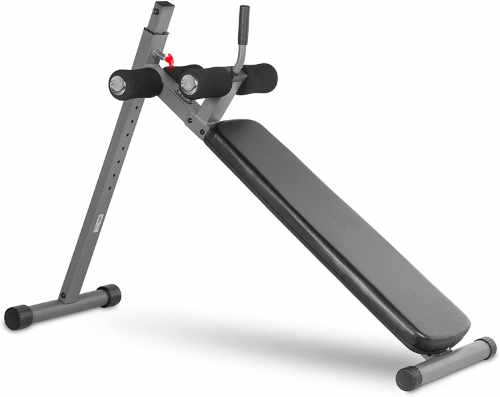 Marcy Utility Sit-up Bench with Headrest
Listed as an Amazon Editors' Choice, the Marcy Utility Sit-Up Bench is another cheap ab bench that delivers on compactness and features.
The bench can be nearly completely flattened for easy storage. Because it is so light (just under 25-pounds) I was able to hang the bench up on the wall between workouts. The price tag—I picked up mine for just over $100 from a third-party seller on Amazon—doesn't do the list of features justice.
(I really like Marcy fitness gear—they also make an excellent e-z curl bar for home gyms.)
Although there are only four height settings, there is a form head rest and thick and comfortable foam leg rollers to keep your lower body in place.
The only thing I didn't love was that there was no bullhorn at the top of the bench to help get on and off the bench. Slight complaint, but with the appealing price tag and core features, the Marcy Utility Bench is an excellent choice for those building a home gym on a budget.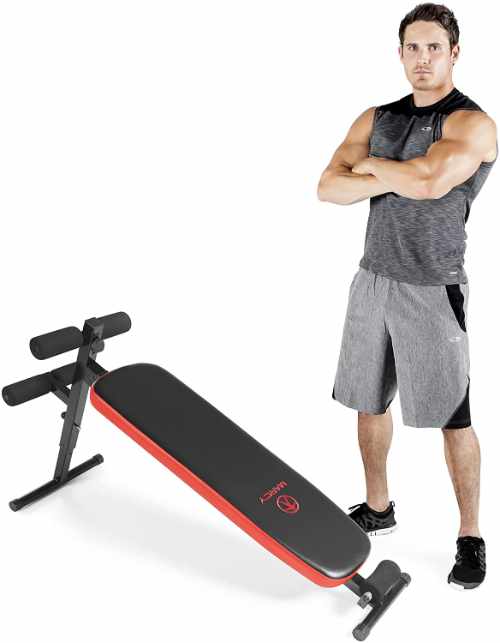 Body Solid Semi-Recumbent Ab Bench
Okay, I will admit it—there is A LOT going on with this bench. Is it an ab bench? An ab roller? An ab machine? I guess you could say that it is all three.
The unit is quite heavy—nearly 90 pounds when fully assembled. It's also large, making it a less than ideal choice for you if you are short on space in your home or garage gym.
Double-stitched upholstery and a steel frame make the bench extremely tough and durable.
The big perk of this machine (in my books, at least), is that when you perform leg raises (weight plates not included) it absolutely smashes your lower abdominals. I will admit, the lower abdominals are the ones I work the least at the gym, and doing a "weighted" version of leg raises meant I could do fewer reps and build more strength and power in that part of my core.
The Body Solid Semi-Recumbent Ab Bench doesn't come with a low price tag. It's the most expensive ab bench in this list (even more than the Rogue ab bench).
But if you have the space for it, and don't plan on moving it around, this ab bench provides an absolutely brutal (in a good way, obviously) workout for your abdominals.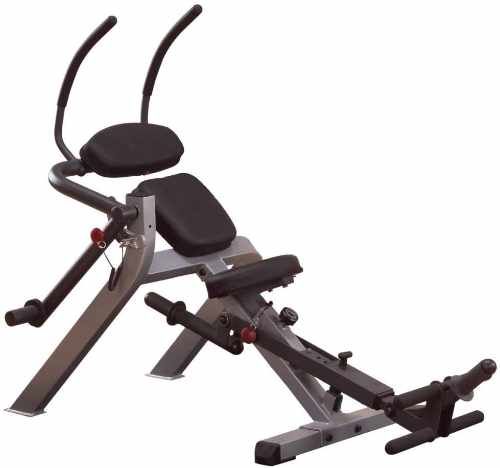 RELIFE Sit Up Bench
For heavier gymgoers (like me, who actually exceeds the maximum weight capacity), you will want to look elsewhere than the RELIFE Sit Up Bench. But for those of you normal-sized humans, this bench is awesome.
The flat bench has a light arc to it that adds a degree of difficulty to your core exercises. A newer edition of this bench features a wider bench (two inches more) and thicker steel bars to provide additional stability. Robber-tipped feet keep the bench from wiggling around.
You can fold the bench up when it is not in use, and a variety of height settings allow you to crank the incline (26-35" of adjustable height). Foam rollers lock your legs into place while training. One of my favorite features is the bar two-thirds of the way down that you can clip resistance bands onto.
The RELIFE Sit Up Bench is light (just 20-pounds), and it's a fantastic ab bench for home gym enthusiasts who are 260-pounds and under.