Looking to pick up a Rogue kettlebell? Here is a full rundown and reviews of the best Rogue kettlebells for demolishing your workout goals.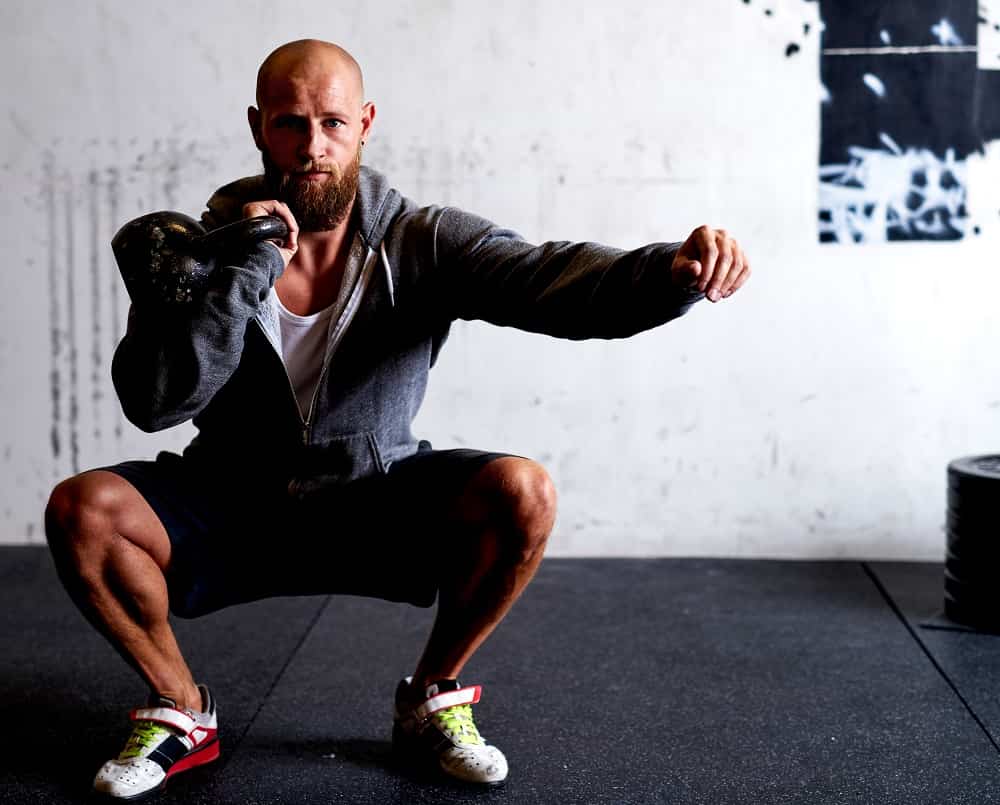 Kettlebells are one of my all-time favorite tools for developing speed and power in the gym.
Over the years—especially during the year Covid shut my neighborhood gym down—I have used them consistently in my workouts to build posterior chain strength, ballistic speed, and even relied on my kettlebells for aerobic conditioning.
Kettlebells are simple, effective tools that cut down on a lot of the fancy-pants gimmickry that has taken over the fitness and strength training industry.
And one of the best manufacturers of kettlebells is Rogue Fitness, with a line of kettlebells that are made in the United States and built for athletes, by athletes.
I've never made a secret of my fanboying of Rogue equipment, whether it's their bumper plates or flat weight benches.
They make quality s***, they are made domestically to more exacting standards than most made-in-China equipment, and they do so at a price that works for the home and garage enthusiast as well as commercial gyms.
Below is a breakdown of Rogue's lineup of kettlebells.
It includes key features of each, my favorites, and a couple of Rogue kettlebell add-ons that can take other gym equipment and turn them into kettlebells.
Let's swing right it.
Rogue Powder Coated Kettlebell
One of the very few kettlebells that are made in the United States, the Rogue Powder Coated Kettlebell is one of the best kettlebells on the market.
There are a few things that make these stand out against other cast iron bells.
For casual and even most avid kettlebellers, this won't be a huge deal, but these bells are true to weight. Especially compared to some of the other budget brands I have tried, which are often by half a pound or more (ahem, Amazon Basics).
The bottom of the bells are also machined flat, which result in a clean placement on the ground instead of the light wobble that comes when manufacturers leave the raw iron on the bottom.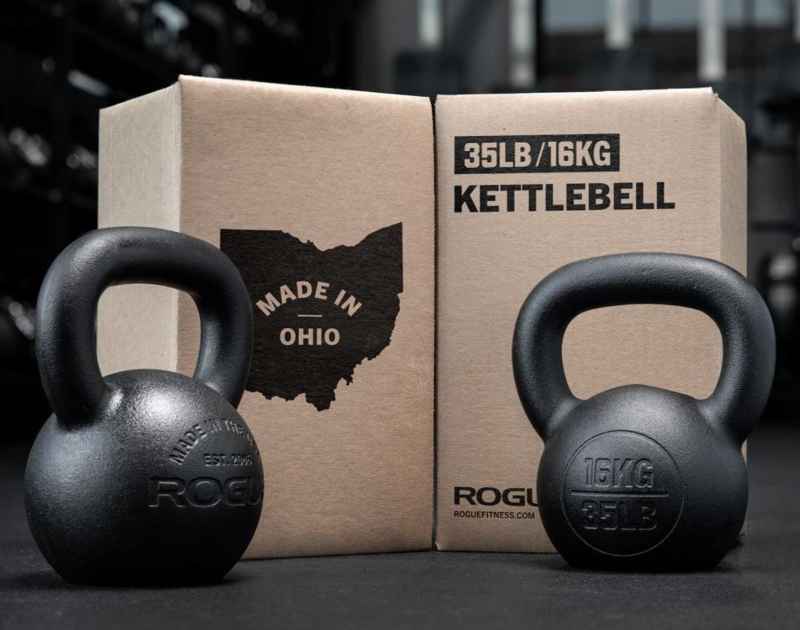 Rogue's Kettlebells have handles that get progressively larger as the weight goes up. For me, this is friggin awesome, as I have long, ET-like fingers. The 80lb kettlebell has handles that are almost perfectly made for my long-ass fingers, but I realize this is not the case for everyone.
Also, the black powder coating is awesome at resisting scratches, dents, chipping and even rusting (still, don't leave them out in the rain, unless "the rain" is you sweating like a fire hose during your workouts).
All in all, Rogue's Kettlebells are awesome. They are battle-tested by countless athletes and sport teams and are reasonably priced (the 80lb model set me back $120, for example).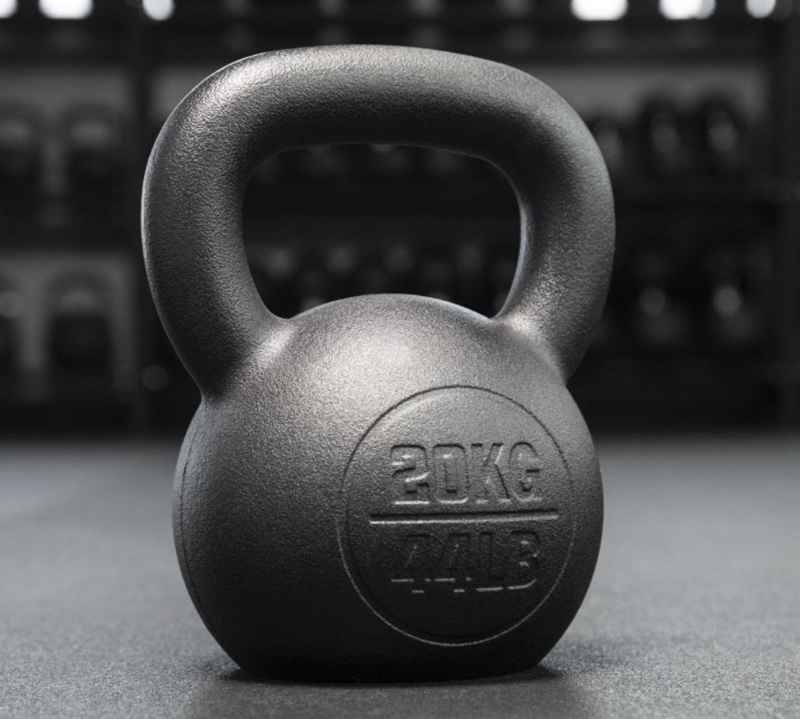 Rogue Competition Kettlebells
The Rogue Competition Kettlebell is an industry-leading competition bell with its one-piece iron construction.
Unlike the cast iron kettlebells we just talked about, competition kettlebells have a wider base and the handle and bell are the same size regardless of the weight you are using. Rogue's Competition Kettlebells are color-coded to give you a heads-up about what you are picking up and swingin'.
Competition kettlebells are more expensive than your regular plain-Jane cast-iron kettlebell. For example, the 36kg competition kettlebell costs $144 (versus the $120 for an 80lb cast iron KB).
The Rogue Competition Kettlebells are better suited for technique work, like mastering your first Turkish Get Up, but are just as killer for building power and conditioning.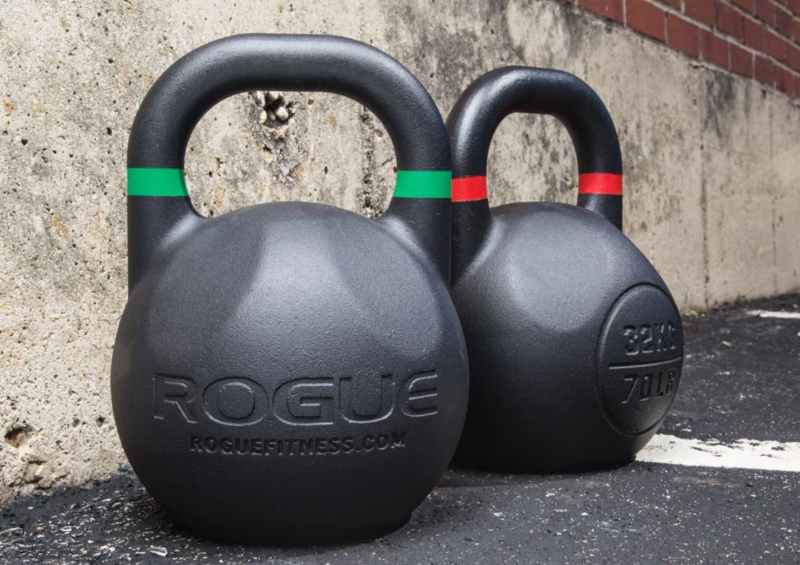 Rogue Monster Kettlebells
Ready to take your kettlebell swings to the next level? And by that, I mean the last level?
The Rogue Monster Kettlebells have "monster" in the name, so you can guess what's up—the lightest in this range of bells is 97 pounds with the King Daddy Deluxe model a staggering 203 pounds.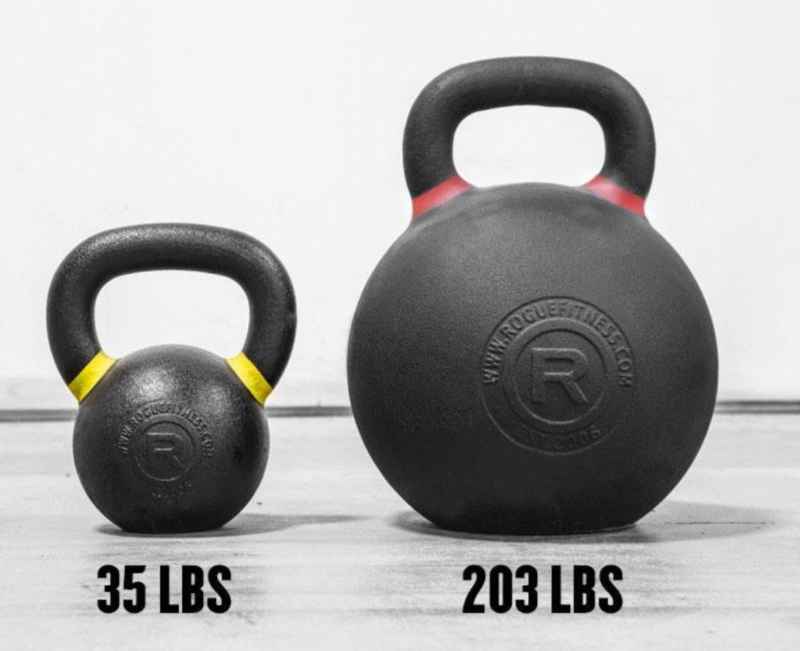 Made of first run iron ore, the shell of the Monsters is polished for a defect-free cast. The bottom of the bells are machined dead flat, which is key as we are talking about a lot of weight packed into these things, and the last thing you want is one wobbling off to the side and landing on your foot.
Handle size is the same throughout all six weights in this range, at 1.58" and each bell is color coded to denote weight.
The Rogue Monster Kettlebells are priced super competitively, at a price point that per pound is cheaper than its smaller Powder Coat and Competition cousins. For example, the 203-pound Monster kettlebell is $246 (check Rogue's website for current pricing and shipping options).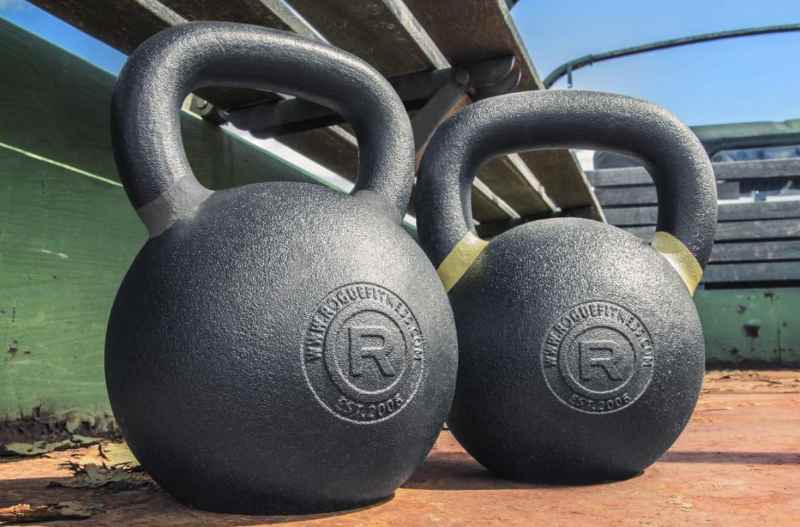 Spud Inc Kettlestrap
Although not a pure Rogue product, they do sell it through their website. This little contraption isn't a straight-up kettlebell, but rather, a tough nylon strap not much different than the handles you would see on a cable machine.
Basically, it's a way to build your own adjustable kettlebell with weight plates.
The strap is wrapped through the hole on an Olympic steel plate, turning any plate into a kettlebell. The idea is that the strap is long enough to slip through the center hole of the plate and short enough that they aren't crashing into the floor when doing swings.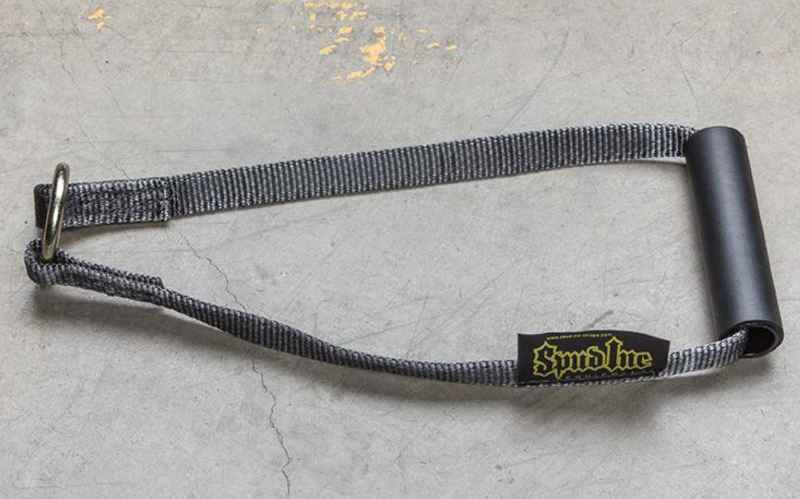 While I really like the idea, and would use it if I were really in a bind, the Spud Inc Kettlestrap falls short for a couple of reasons.
Using 45lb plates is impractical unlike you want to use a Sumo squat stance while swinging them (at which point you will likely be bouncing the plate off the floor). And using more than one plate on here means the plates are banging against one another.
But for beginners that are just gonna add a 25lb plate or smaller, this is a smart product that is perfect for those who want to inject some swings into their workout at the gym (assuming the gym doesn't have KB's).
Oh, and for a nylon strap with a handle, it's pricey, retailing for nearly $50. Check out Rogue's website for up-to-date pricing.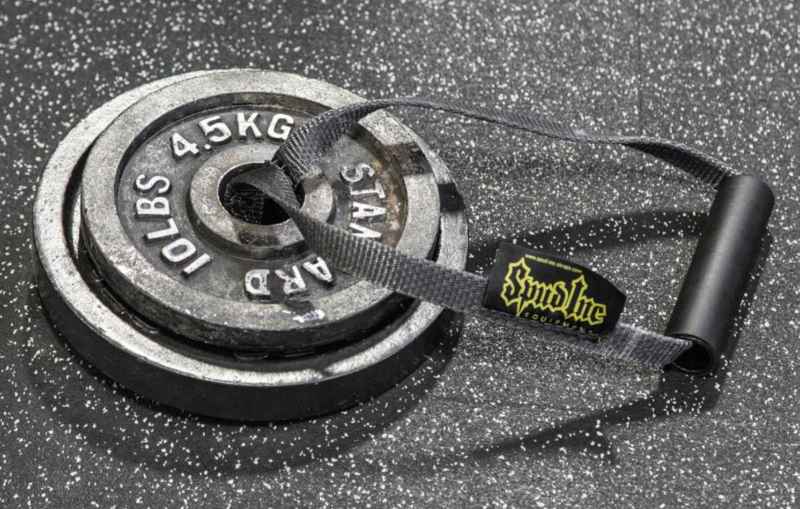 The Ballista
Another kettlebell attachment is The Ballista, a clever nylon webbing harness that you can wrap around your medicine ball of choice and convert it into a kettlebell.
Available in two sizes, the smaller size is best suited for smaller medicine balls and slam balls, while the larger harness is made for 14" medicine balls (this is the size of most wall balls).
I really like the softer handle which bends naturally to your preferred grip. Made with reinforced stitching, and emblazoned with the Rogue logo, The Ballista is a cool little tool for adding versatility and swings to your medicine balls.
Made in the USA, Rogue sells them for around $45 (check Rogue's website for most current pricing and availability).