Rogue's latest update to their adjustable weight bench has taken things to a whole new level. Here's why the Rogue Adjustable Weight Bench 3.0 is possibly the best bench of its kind on the market.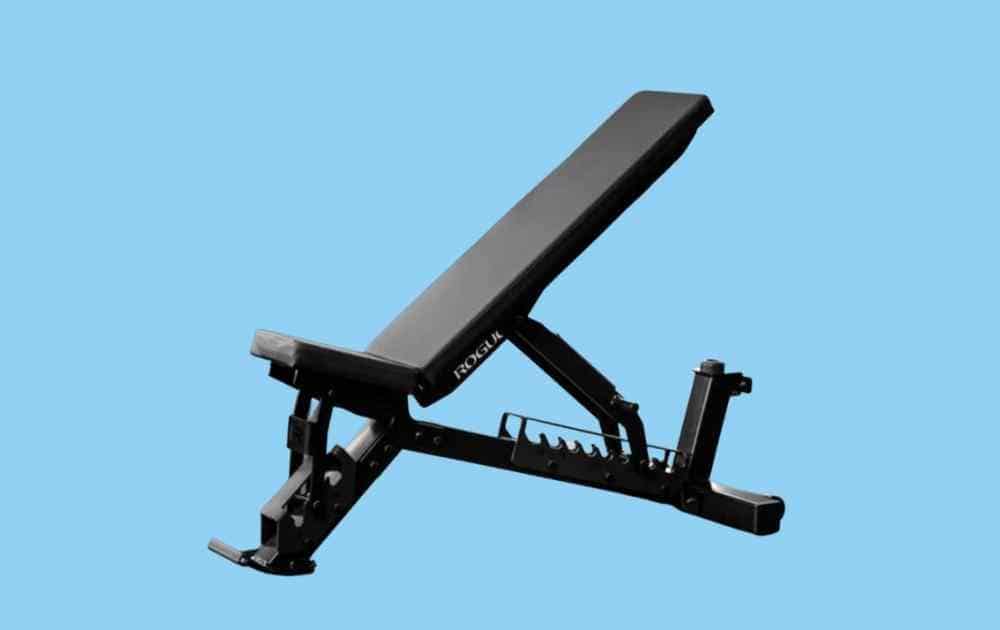 The workout bench is a fundamental part of your strength training.
Whether you prefer a basic flat weight bench or an adjustable weight bench, they are central to your upper body training.
And even though the function of a bench is super simple—hold my body up while I lift some weights, please and thank you—there is a staggering variety of quality when it comes to benches on the market.
Rogue has long been at the forefront of high-performance benches, especially now when you compare them to the rash of cheapo fitness companies that have sprung up since the beginning of the Covid pandemic.
The Rogue Adjustable Bench 3.0 follows in the footsteps of the 2.0 (which had been an easy pick for what I consider the best adjustable weight bench for most people) and takes things even further.
Here's a detailed look at the 3.0.
We'll take a deep dive into this monster of an adjustable weight bench, look at key features and new additions, and where you can pick one up for yourself.
Let's get after it.
Rogue Adjustable Bench 3.0 – What's New (and Awesome)
✔️ Thickest frame on the market.
Rogue tends to overbuild their stuff—it's one of the things I love most about their workout equipment, whether it's Rogue's line of squat racks or even their barbells—and this theme continues with the Adjustable Bench 3.0, which has 3" by 3" steel frame (same as Rogue's Monster line of squat racks).
This is far thicker than most bench frames, which usually are built on 2" by 2" steel tubing. It's also thicker than the Rogue Adjustable Bench 2.0, which was built on a 2″ by 3″ frame.
✔️ Tons of pad positions.
The main selling feature of an adjustable bench is right there in the name—adjustable. The 3.0 has an increased number of back and seat positions compared to its predecessor, and significantly more than other comparable benches. The back pad has 10 different incline positions, from 0-85 degrees.
✔️ Stable. As. Hell.
Nobody likes feeling they are teetering when doing heavy lifts (like one-handed dumbbell bench presses—a personal favorite of mine) on a bench. The Rogue Adjustable Bench 3.0 is a bloody tank, weighing over 120lbs. Like previous editions, the 3.0 is nice and wide, with two feet of width to keep the bench extra stable.
✔️ Built-in vertical stand.
The main opponent for most home and gym garage enthusiasts is a shortage of floor space. And one of the reasons that foldable weight benches are so popular.
While the 2.0 had an optional vertical stand attachment, this comes packaged in with the 3.0. Bang away at your PRs, fold it up, and tuck it away.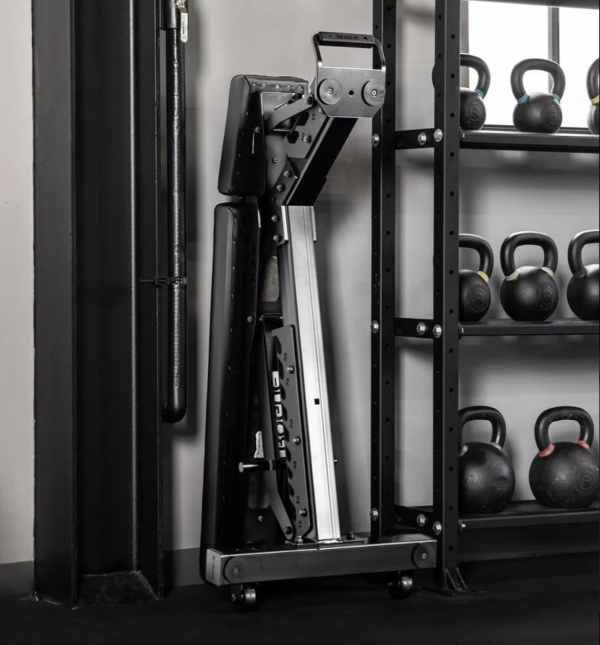 ✔️ Easy to maneuver.
One of the complaints I've had with both flat weight benches and their slightly more expensive adjustable weight bench brothers is that they are difficult to move around the garage.
Some benches will have wheels but no handle, others have neither. Not a major inconvenience, obviously, but it's nice when you can move a bench out of the way or into position without having to carry it like a sandbag.
The 3.0 has a thick handle at the front and two wheels to make it a breeze to move the bench. And the wheels and a handle are almost a necessity—the bench does weigh 125lbs, after all.
✔️ Adjustment arms that will never slip out of place.
Being able to lock in the right incline position on both the seat and back pad is crucial. The adjustment arms on both are locked into cages, so that the bar resting on the teeth won't slip out.
I've tried a couple of benches on the market that didn't have these guardrails and the peg would slip out of the teeth while lifting.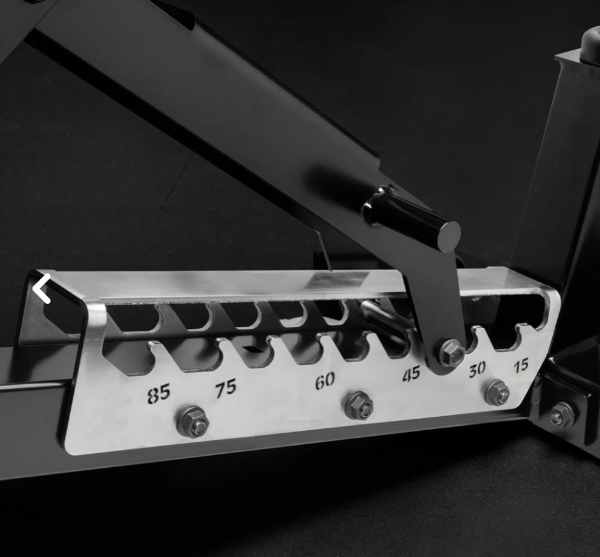 The last thing you want when pushing heavy weight is for the back pad to slide or drop suddenly, and the 3.0 takes this worry and donkey kicks it out of a second-story window.
Additionally, the degree of incline is emblazoned on the frame, so you know exactly how much of a grade you are lifting on.
✔️ One-inch gap between the seat and back pads.
This one is a matter of personal preference, obviously, but I've never been one for the large gaps between seat and back pads.
Rogue's 3.0 gap is one inch, which is enough to give sufficient space to fold the pack pad up to nearly 90 degrees while also keeping your body from sliding between the two pads.
✔️ Customization and color options!
Usually if you wanted to custom color your bench, it meant buying some Crayola crayons and some spray paint and going full arts-and-crafts time at home. (Well, maybe not so much on the Crayolas…)
Rogue has been offering color customization with a lot of their big-ticket items, including their Monster racks and barbells for some time. And now, you can trick out your adjustable weight bench, too!
The 3.0 comes in two different versions, a Standard (powder coat finish and standard wheels) and Upgraded (stainless steel plates and premium rubber wheels), and three different colors to finish the frame.
❌ It's pricey.
If you've dabbled with Rogue equipment in the past, you know that their stuff is rarely cheap.
The Adjustable Bench 3.0 keeps that trend going, with a price that starts at $585 (the version with premium wheels and stainless-steel plates is an additional $65).
Where to buy the Rogue Adjustable Bench 3.0
For more serious home and garage gym enthusiasts, the 3.0 makes total sense.
Sure, the price tag isn't what you would pay for some other adjustable weight benches on the market, but the stability, the legendary Rogue commitment to manufacturing excellence, and the sheer number of features makes it an easy win.
You can pick up your own 3.0 exclusively through Rogue's website here.