The Rogue AB-3 is a sturdy and well-built adjustable bench that is best for people who do a lot of decline lifts. Here's a detailed look at the Rogue AB-3 Adjustable Bench, and whether it's right for you.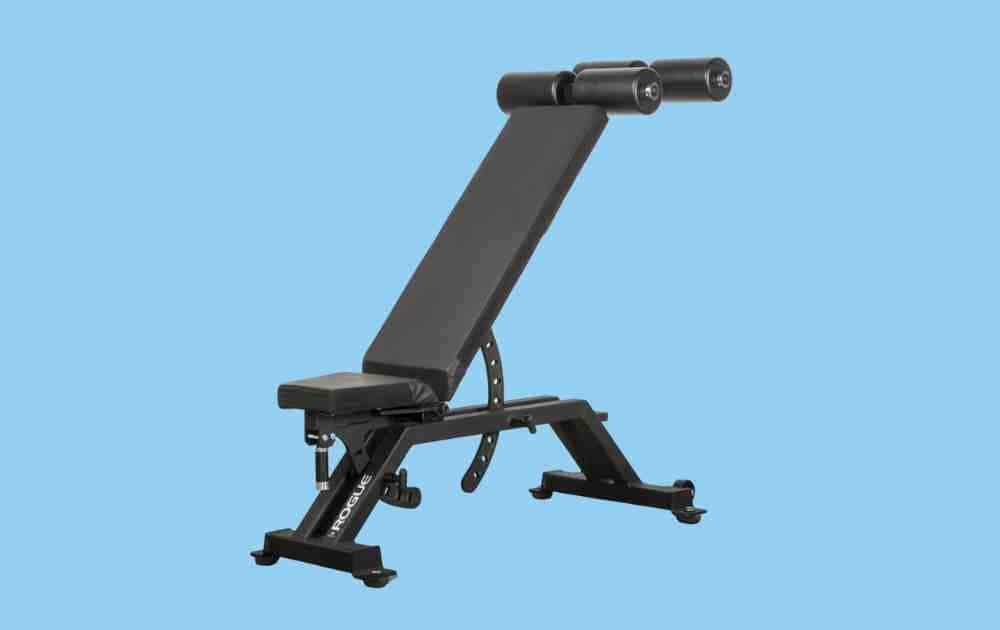 Looking for an all-in-one adjustable workout bench that is best suited for decline exercises like decline sit-ups and bench press?
Welp, allow me to introduce you to the Rogue AB-3 Adjustable Bench.
It does a lot of things really well, but the one thing it does exceptionally well is decline exercises.
If you like doing a lot of decline exercises in your workouts, you want a bench that is going to keep you firmly in place.
⭐ The Rogue AB-3 is my top-rated choice for the best adjustable bench for lifters who do a lot of decline lifts. Available exclusively at Rogue's website here.
No wobbling, no rocking, no messing around.
So what do you get when you combine Rogue's legendary commitment to over-building, tons of versatility with seat and back pad positions, and a heavy-duty foot catch that locks you in firmly during decline exercises?
The Rogue AB-3.
Here's a deeper look at this premium adjustable weight bench.
Rogue AB-3 Adjustable Weight Bench – The Breakdown
✔️ The decline foot attachment.
Let's start with what sets this bench apart from other benches in this class. And that's the foot catch.
It's not welded to the bench (it makes me a little mental when benches have the leg attachment welded onto the bench without the ability to take it off), can be attached easily with a secure pop-pin, and it takes just a couple of moments to do so.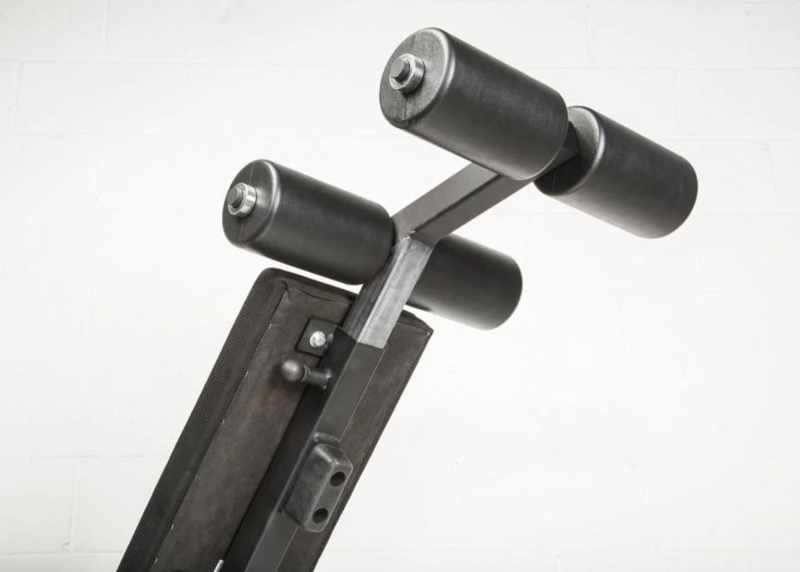 The foot attachment is strong and gives you the confidence to bang away reps at steep angles, whether you are doing heavy dumbbell presses or core work. Lock your feet in and go to work.
✔️ The bench is heavy.
There's something about a heavy bench that makes you feel more secure when you are lifting.
The AB-3 is a heavyweight, weighing nearly 120lbs (the same as the Rogue Adjustable Weight Bench 3.0) and twice the weight of even other comparably heavy-duty benches.
Unlike the flimsy and cheapo benches that litter Amazon, this bench won't wilt.
✔️ Telescoping adjustment arms.
Adjustable weight benches vary with what kind of adjustment arms they use to move the seat and back pads. Most use a ladder system, where you move a steel peg and set it into the "teeth" of the ladder to get a secure position for the bench.
The Rogue AB-3 uses a telescope and pin system that is exceptionally secure and won't slide out under heavy use like some of the cheaper ladder systems. The lock-and-pin system feels the most secure.
✔️ Easy to move.
Even though the Rogue AB-3 Adjustable Bench has some serious poundage, it's easy to move.
A vertical handle under the seat both helps you adjust the seat and also gives you something to tilt the bench and move it. Two big rubber wheels on the back help the bench roll.
Whether you are wheeling the bench into your power rack, cable crossover machine, Smith machine, or simply want to get it out of the way, the AB-3 is a cinch to move.
✔️ Tons of versatility in seat and back position.
The reason people seek out an adjustable bench is that they want a ton of options with angles for incline and decline exercises.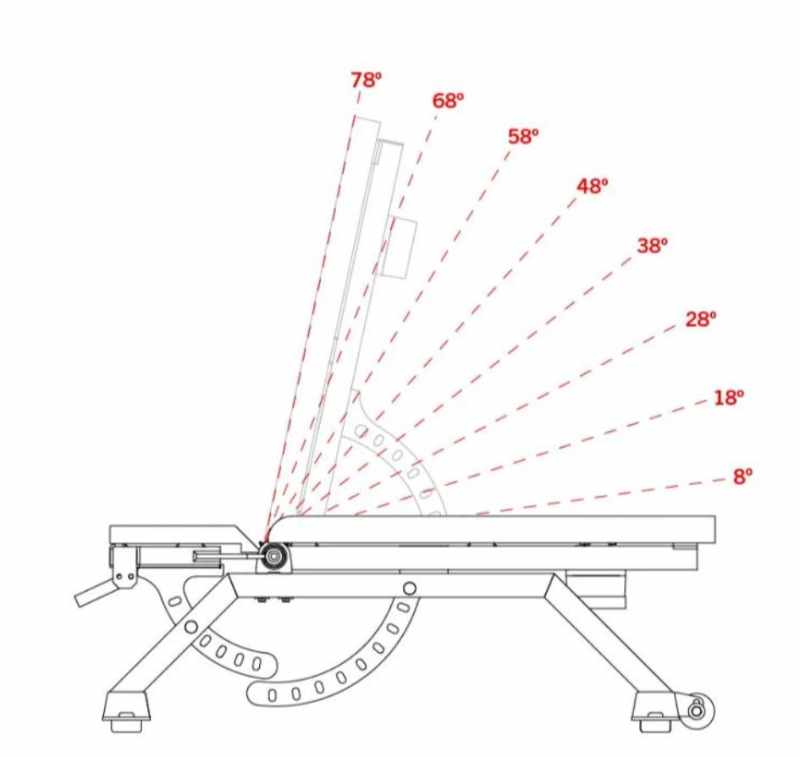 The AB-3 leads the pack when it comes to the number of grades you can set the seat (6 total, including horizontal) and the back pad (9 total, including horizontal). The back pad is adjustable up to 78 degrees, ideal for press exercises, overhead exercises, and other seated lifts.
❌ The bench is pricey.
Like a lot of Rogue's stuff, the AB-3 can feel pricey. This bench is just south of a thousand dollars, retailing for $950 (check Rogue's website for current pricing and shipping options).
But then you consider that it's more than just a workout bench—it's also an ab bench; as standalone benches they can range in cost from $200-600—perhaps the price point isn't so hard to swallow.
❌ No handle on the foot catch.
For particularly declined and steep exercises, a handle on the foot catch would make it easier to mount and dismount the bench. T
his isn't a massive issue, as most people can just grab one of the rollers to pull themselves up, but it's something Rogue should consider including in future iterations of the bench.
Rogue AB-3 Adjustable Bench – Where to Buy
Ultimately, the Rogue AB-3 Adjustable Bench is a premium, all-in-one workout bench for lifters who want maximum versatility and grade options when lifting.
It's also, by far, the best adjustable weight bench on the market for people who spend a lot of time doing decline exercises.
Yes, it's pricey, but it's also Rogue, and Rogue builds quality s*** and if you want something sturdy for decline presses, etc, you can't go wrong with investing in the AB-3.
Available exclusively through Rogue's website, the AB-3 is built like a tank and ready to help you tackle those decline lifts with full confidence.