Want the perks of a commercial-grade weight bench combined with a tiny footprint? You are in luck. Here are the best foldable weight benches for working out at home.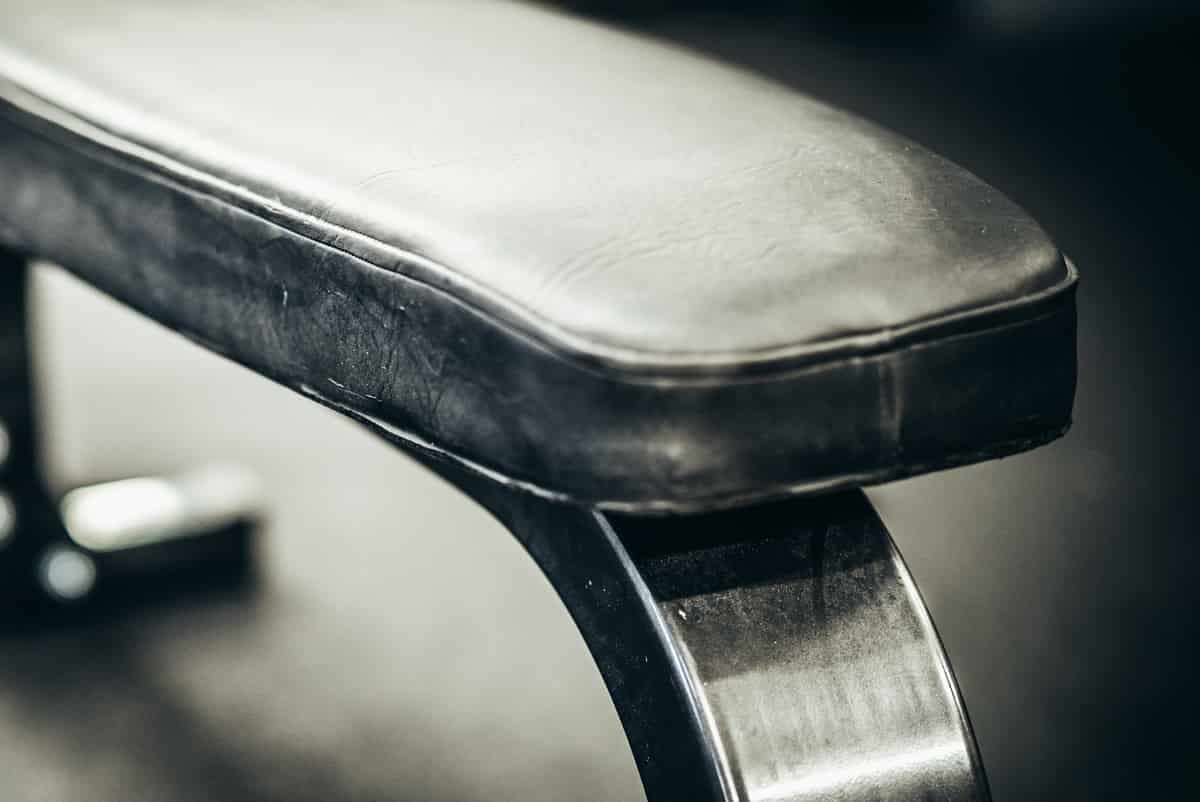 The weight bench is a fundamental part of any home gym.
From the bench you do any combination of exercises: bench press, shoulder press, flys, hip thrusts, box squats, and so on.
TOP PICK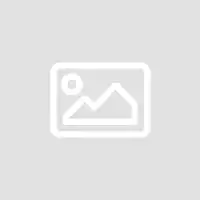 FLYBIRD Fast Folding Weight Bench
+ Weight capacity of 800lbs
+ Fully adjustable (7 back positions and 3 seat positions)
+ Just 9" high when folded
+ Two-inch thick foam pads
+ Over 15,000 5-star reviews on Amazon
Shop Now
In the not-so-distant past, the options for people who wanted to work out at home—and being able to put away their gear between workouts—was extremely limited.
Either the equipment was prohibitively expensive, or the equipment plain sucked, or the equipment took up a ton of space in our home.
That all changed in 2020.
The explosion in popularity of working out from home meant that fitness equipment companies have been forced to level up their game while keeping prices competitive.
Which is a win-win for us, the home gym enthusiast.
Below are reviews of some of the best foldable weight benches currently on the market.
As you will see, the features rival those of many commercial-grade benches, without the commercial-grade price tag.
Read on and let's get into the top foldable exercise and weight benches for home gyms.
Let's jump right in.
---
The Best Foldable Weight Benches for Home Gyms
Flybird Foldable and Adjustable Strength Training Bench
The FLYBIRD, not to be confused with their sister company, SWIMBIRD, is the best foldable weight bench for your home gym.
(Yes, that was a joke. A bad one. Let's move on.)
Here's why this foldable bench is A-1.
For starters, when it's folded up, it is just 9" wide and 30" high. Moving the bench is a breeze too because the whole thing weighs just under 25-pounds.
Now, you would think that this compact frame means it is sacrificing on its total weight rating, right? Nope. This thing has a capacity of up to 800-pounds (!!!), which is better than most regular flat weight benches.
This unique combination of features makes the bench one of Amazon's Editor's Choices, and with a price tag of around $150, you aren't paying through the nose for a quality bench that you can tuck behind the couch.
Flybird sends the bench to you fully assembled. Pull the bench out of the box and it's ready to help you unleash your favorite exercises and workout routines.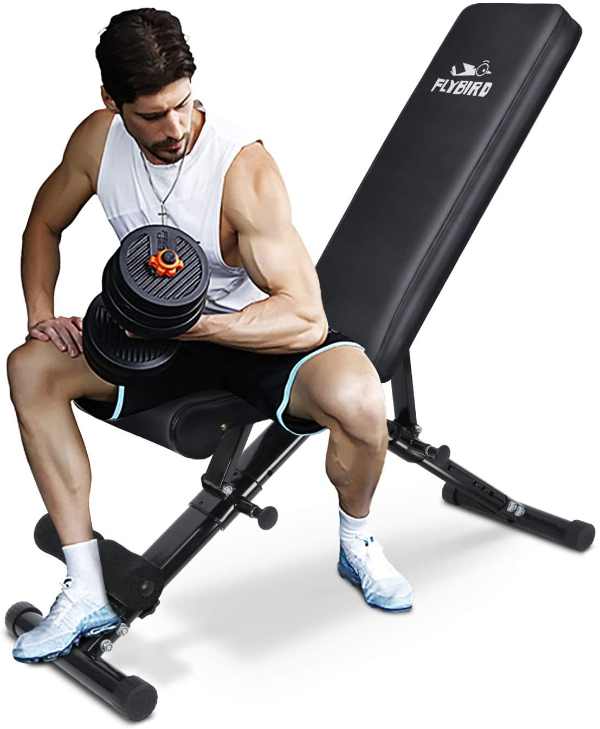 ---
CAP Barbell Foldable Utility Weight Bench
CAP Barbell is one of my favorite strength training equipment brands. They make low-cost workout gear that is also very durable and strong, including back extension benches, budget Olympic barbells, and rubber hex dumbbells.
Their collapsible weight bench has a ton of features that make it stand out above many comparable workout benches on the market.
For starters, it perfectly balances the ability to hold a lot of weight (the foldable workout bench is ASTM-rated up to 1,000lbs) with a small footprint when collapsed (about 14" high when folded).
You can mix up your workout with incline and decline exercises, with the bench able to set at six different positions. The bench is also priced extremely competitively, between $60-129 depending on the color you choose (check Amazon for current pricing and availability).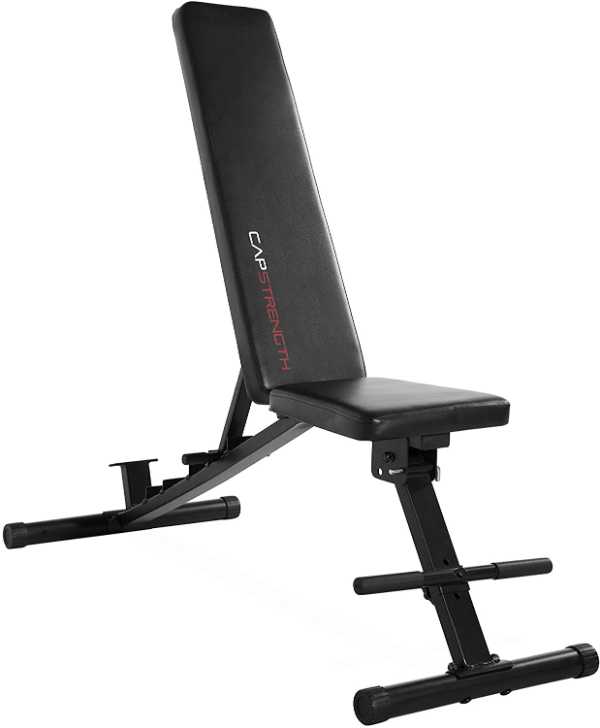 ---
YOLEO Foldable Weight Bench
YOLEO is just one letter away from being able to say, "I am going to YOLO this workout!" But alas, that extra "E" doesn't take away from the absurd number of features in this bench.
The backrest can be angled to seven different positions (the back pad is also almost completely flush with the butt pad, something I very much appreciate and wish all adjustable weight benches featured), and the bench is rated for a maximum of 330-pounds.
The Yoleo bench springs to life by pulling out a couple safety plugs. When your workout is done, fold it back up, insert the pugs, and tuck it away.
The bench comes almost completely assembled, which means you can spend less time fumbling with installation instructions and more time bellowing YOLEOOOO while crushing those gains.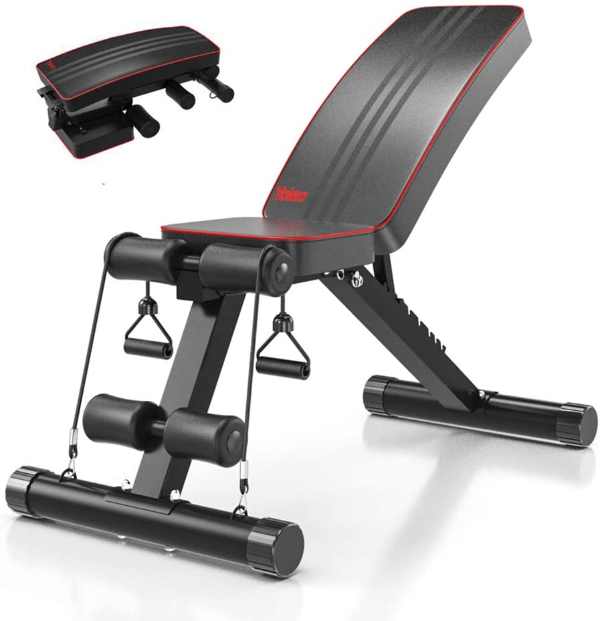 ---
Advenor Foldable Adjustable Exercise Bench
Another heavy-duty foldable bench is the ADVENOR Foldable Exercise Bench.
Rated for up to 800-pounds of weight, including the user, the Advenor brings a ton of versatility to your home gym, while retaining the small footprint that is expected of foldable strength training benches.
Th ebench can be adjusted in a wide variety of incline and decline positions. The seat has three height options, which I really appreciate. I prefer having the seat angled slightly upwards when doing heavy incline lifts, keeping my body from sliding down too much.
The bench pads are made of high-density foam cushion and the leather cover is easy to wipe down and clean after a big workout. The pads are also quite wide—as a husky fella I really appreciate a wider bench, which keeps me from wobbling.
Extremely stable, a piece of cake to fold up, with a small footprint when folded (9.8" by 30", it is only slightly larger than the Flybird), and with an extremely affordable price tag (just over $100), the Advenor is a legit contender for any home gym.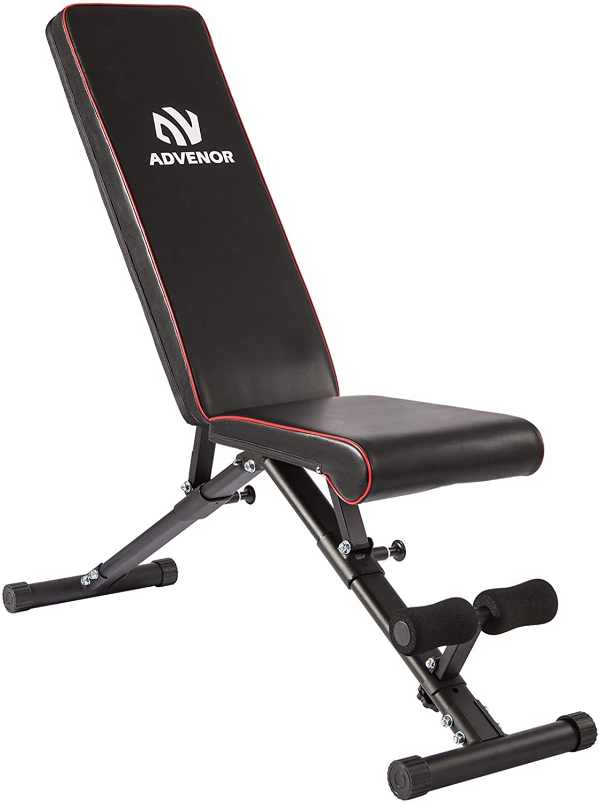 ---
BangTong&Li Foldable Flat Utility Weight Bench
The BangTong&Li Foldable Flat Bench is a great bench for those who don't need the bells and whistles of incline, decline, adjustable seat height, rollers, and so on.
Looking at the bench for the first time, you would never guess that it folds up and slides under your bed.
The bench sits on a heavy-duty steel frame that is rated for a total of 660-pounds, A thick pad keeps your back comfortable and locked in while you pound away on the bench press, shoulder press, or hip thrusts.
When you have completed your workout, the two legs fold by retracting a knob and pin. Folded up, the height of the bench is just 6.3".
The BangTong&Li Foldable Flat Bench costs around $120, a super reasonable investment for the space-starved fitness junkie who is trying to make the most of a small training space.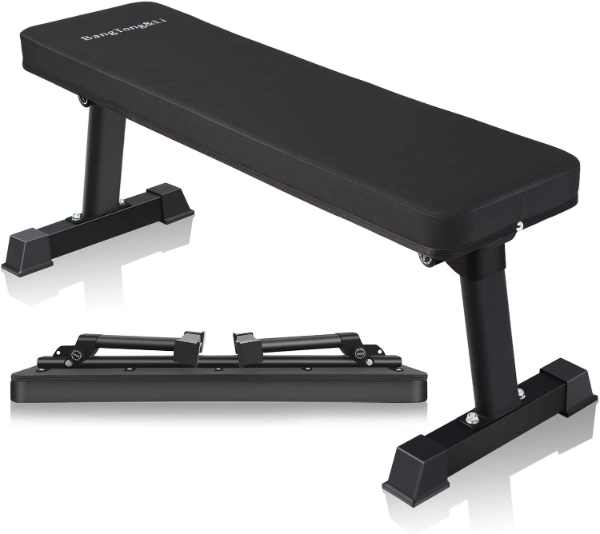 ---
Finer Form Foldable Flat Bench
Hey, so here's a question. Want a bench that can handle 1,000 pounds a weight? Sure, why not, right?
Finer Form's Foldable Flat Bench is the ultimate example of how commercial-grade fitness equipment has finally been made affordable for us home and garage gym enthusiasts.
Made of high-grade steel, the bench folds up to 8" when collapsed, which is among the thinnest profiles of any of the benches I have had a chance to review. Throw it under the bed, in the closet, on top of your bookshelf.
The pad is also extra thick, at 3 inches. Four rubber feet keep the bench from sliding around on the floor.
It's tough not to love this thing. The Finer Form Foldable Flat Bench ships fully assembled and still comes in at a price point that isn't much more expensive than flat weight benches that don't fold.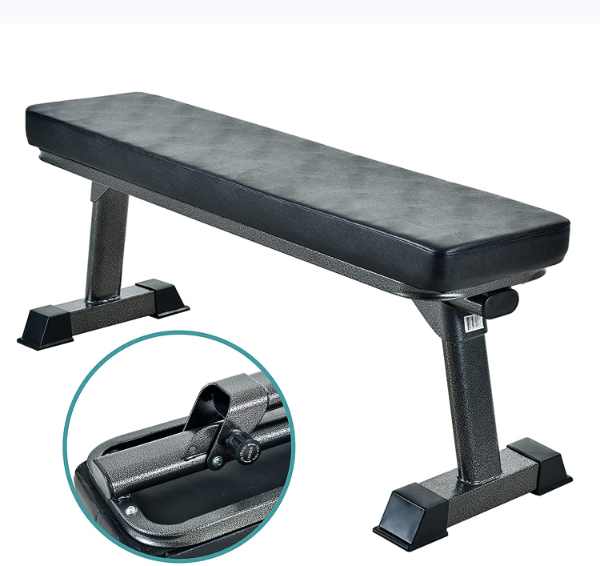 ---
Foldable Workout Benches – FAQs and Buyer's Guide
How do I choose the best folding weight bench for me?
A weight bench is one of the most versatile and essential pieces of strength training equipment you will ever own.
But before you pick out the right one for your growing home gym, it pays to be armed with everything you need to know about this type of strength training gear.
Here are the main things you want to look for when choosing a foldable weight lifting bench for your home workouts:
? Space and depth.
The main benefit of a folding weight bench is pretty obvious—by folding it up you can tuck it away between workouts, freeing up valuable space in your home or garage.
Benches, when ready for lifting, tend to be in the 18" to 22" range in height. How small they are when they are folded varies by brand, but if a small footprint is crucial to you, take note of the depth of the bench when it is fully folded up.
Additionally, it pays to measure out the area(s) where you are going to park the bench when its not in use. Whether you are planning on sliding it under your bed, leaning it against a wall, or putting it up on a shelf in the garage, have the measurement ready before purchasing.
? Max weight capacity.
The load that a bench can handle is an excellent indicator of the quality of construction of the bench.
While most of these types of benches aren't as strong as some of the top flat weight benches on the market, which can easily handle 1,000lbs or more, they are still plenty tough and sturdy.
Some of them can take up to 800-1,000lbs, which should be more than suitable for most of us.
The load capacity tends to go down as the number of moving parts go up, so if you are after a foldable bench for incline and decline exercises, pay special attention to the weight limit as it can be significantly lower than others.
? Adjustable.
Folding weight benches come as either a regular old-school flat bench or as an adjustable bench.
Which one you choose ultimately depends on the types of workouts and exercises you want to do with the bench.
If you like decline and/or incline exercises (personally I like decline bench press simply for the fact that it's less distance for my body to travel), choose a foldable bench that can be set to different angles.
? Bench padding.
Workout benches are made to prop you and your weights up while also doing it with comfort. The pads on weight benches are generally 2" of foam that is wrapped nylon or similar synthetic materials that are easy to wipe down.
The Finer Form Foldable Weight Bench has the thickest pad on the market at 3", rivaling the pad thickness of top-tier flat benches from Rogue and REP Fitness.
? Stability.
Lifting heavy is rewarding but can also be dangerous when our equipment isn't up to the task. With weight benches, you want a wide enough seat and back pad so that you aren't wobbling when lifting. A wide base also promotes less wiggling and shaking when exercising.
And finally, the bench should have rubber-tipped feet (or something similar) that keeps the bench from sliding around when in use.
Is a folding weight bench worth it?
Home gym equipment has never been cheaper and there has never been more options for people looking to build a workout area at home.
A utility weight bench is a crucial part of any home-based gym. A standard weight bench provides a ton of versatility in terms of exercises that you can do.
Sure, an Olympic weight bench can be used for standard movements and exercises like bench press or for seated curls and presses. But foldable benches can also be used for step-ups, Bulgarian splits, for plyometric exercises, and so on.
A foldable workout bench can be used to exercise your up and lower body and are an excellent addition to your squat rack or power rack.
Additionally, foldable weight benches don't take up very much room at home, making it the best option for people short on space.
Are foldable weight benches safe?
The most important things to look at when looking through the workout benches on the market are weight capacity and locking mechanisms.
The best benches in this review were specifically chosen for their higher weight capacities. Maximum load is one measure of safety, but so is the locking mechanism on the bench. Folding benches are typically locked into place using steel pins and/or a tooth-and-ladder.
After all, a huge weight load is useless without a secure locking mechanism keeping the bench in place.
It should go without saying that you should always be using the folding weight bench safely and that it should be assembled according to the recommendations of the manufacturer.
TOP PICK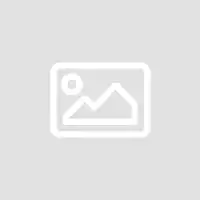 FLYBIRD Fast Folding Weight Bench
+ Weight capacity of 800lbs
+ Fully adjustable (7 back positions and 3 seat positions)
+ Just 9" high when folded
+ Two-inch thick foam pads
+ Over 15,000 5-star reviews on Amazon
Shop Now
The Final Rep
Ultimately, a foldable weight bench is an awesome piece of weight training equipment that you can use to perform an almost endless number of exercises, both with or without your favorite set of dumbbells, barbells, or weight plates.
Although choosing the right one might feel a little overwhelming, the good news is that there are plenty of options on the market for every kind of lifter and every type of budget.
To recap:
? One of the most compact benches on the market is the FLY BIRD Collapsible Weight Bench, with a totally reasonable price tag, solid weight capacity, and light frame.
? The CAP Barbell Foldable Utility Bench is a sturdy option that has a bunch of different color options at an affordable price.
More Home Gym Guides and Reviews
Best Compact Home Gyms for Small Spaces. Buying a portable home gym has never been more cost-friendly. Here's a breakdown of the best compact home gyms on the market.