Gymnastic rings are a killer bodyweight training tool that belongs in every serious athlete's workout arsenal. Read on for reviews of the best gymnastic rings for home gyms.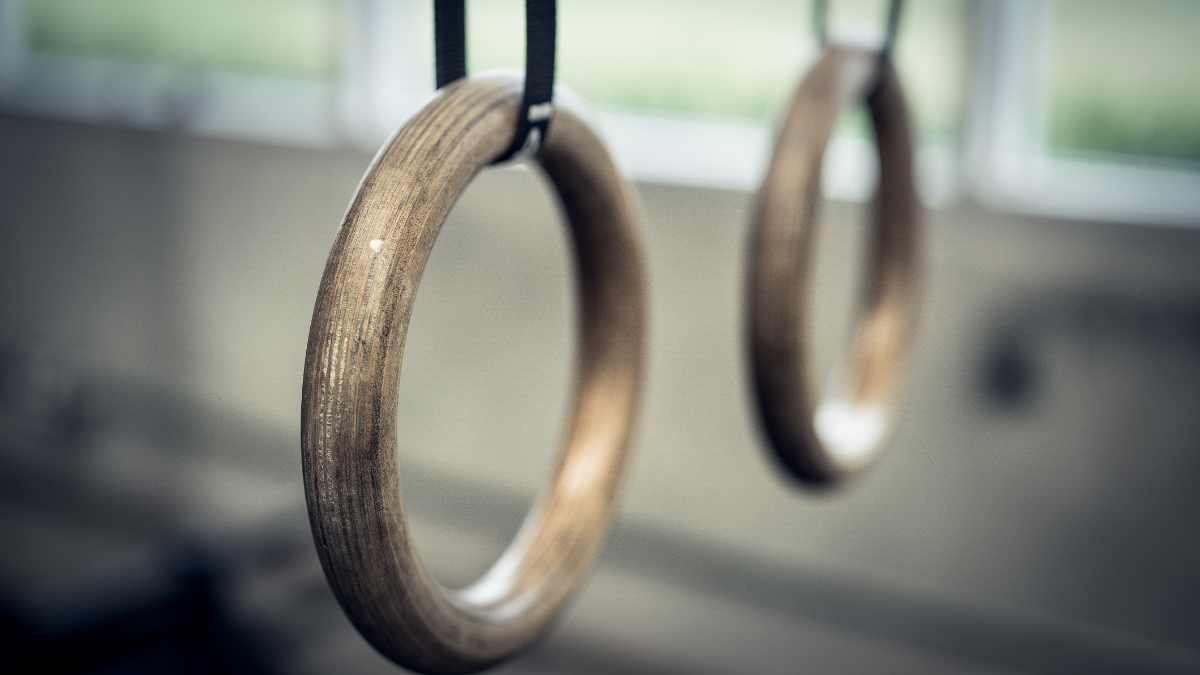 Not just for Crossfit gyms, gymnasts, and commercial gyms, you can bring home durable, tough, and inexpensive gymnastic rings to your garage or home gym.
The benefits of training with gymnastic rings are plenty.
Just some of the reasons you should rock out with them include:
✔️ Rings are awesome stability work. The dangling and inherently unstable nature of the rings force your little stabilizer muscles to work overtime. Being strong is great, but being in control of that strength is even better.
✔️ Upper body strength. Gymnasts are pound-for-pound among the strongest athletes on the planet. Rings force higher control and time under tension, accelerating strength and muscle improvement.
✔️ Portable. Rings are a portable and compact piece of exercise equipment you can take with you. Whether it's setting them up in the garage, on a tree in the backyard, or at the playground, rings are easy to add to your workout schedule.
Rings are simple, relatively cheap, and there are a few different kinds to choose from.
Read on, chalk up, and let's break down the best gymnastic rings.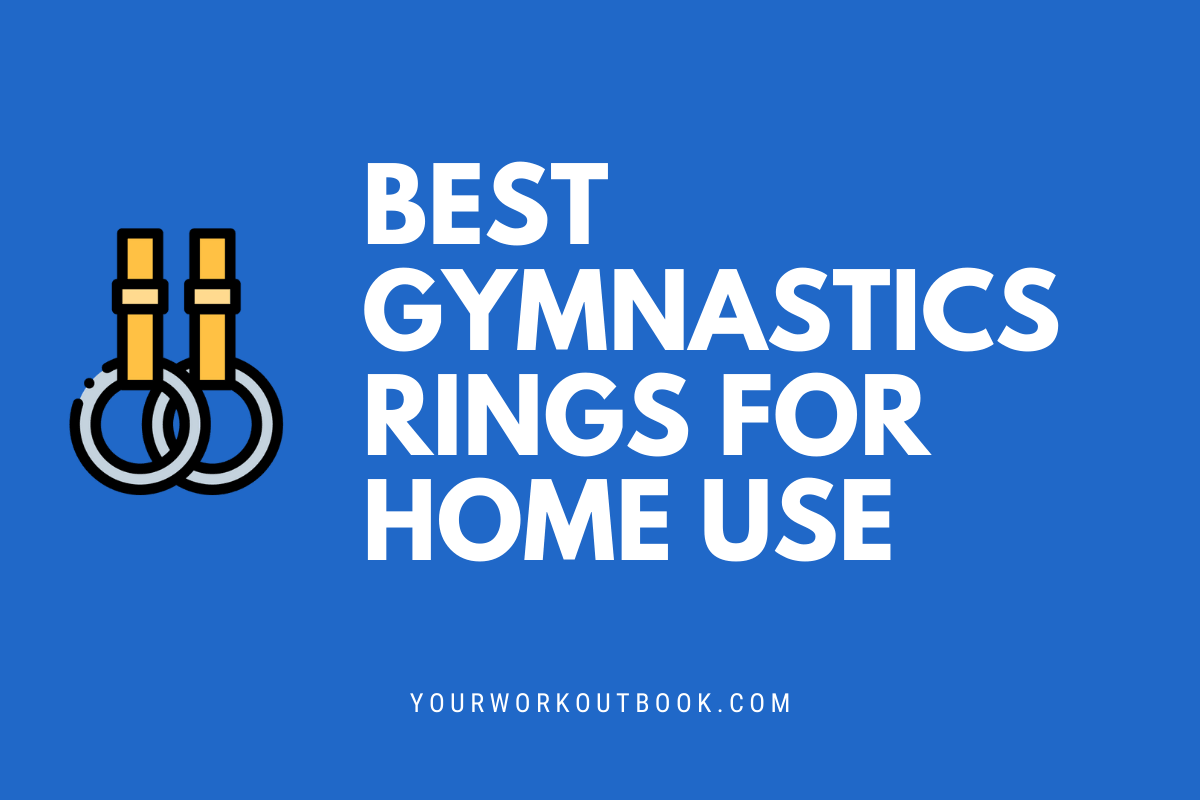 Titan Fitness Wooden Gymnastics Rings
Titan Fitness is a premier manufacturer of fitness equipment. They make high-quality stuff, including my favorite no-frills wall-mounted pull up bar.
The Titan Fitness rings are finely sanded and thick—1.25", making them among the thicker of the rings reviewed here. For athletes and gymgoers with longer fingers and bigger hands, this is particularly handy (ha—pun!).
Weight capacity is rated at 600lbs and the rings can be easily and quickly affixed to your home gym (off a pull-up bar or power rack, for example) or outside over a tree branch.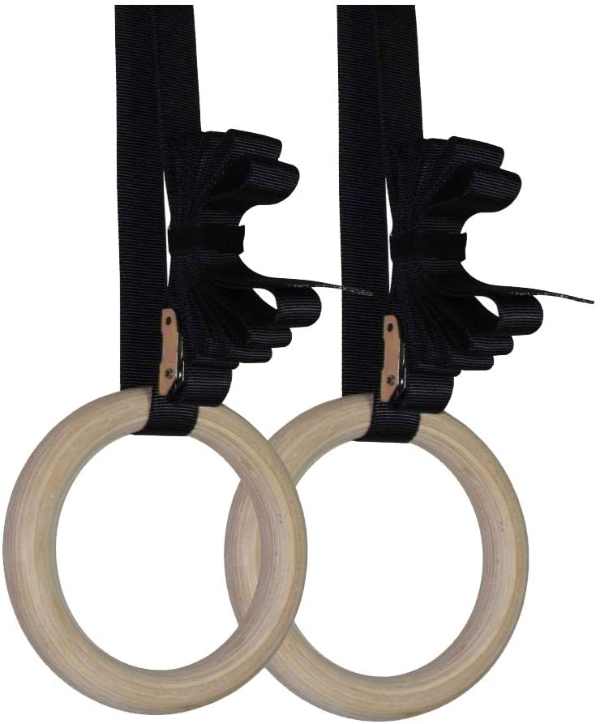 REP Fitness Wood Gymnastics Rings with Adjustable Straps
Rated with a weight-capacity of 600-pounds, with 1.5" straps, these birch-made rings sit comfortably and securely in your hands. Velcro on the straps make sure that the excess strap stays out of the way while you train.
If Olympic Federation specs matter to you, then the REP Fitness gymnastic rings are your go-to. These rings are exceptionally well-reviewed, with nearly 300 five-star reviews on Amazon (and counting!).
With a budget-friendly price, straps that are easy to adjust, and backed by a 12-month warranty, the REP Fitness Wood rings are an excellent choice for beginners and experienced gymnasts alike.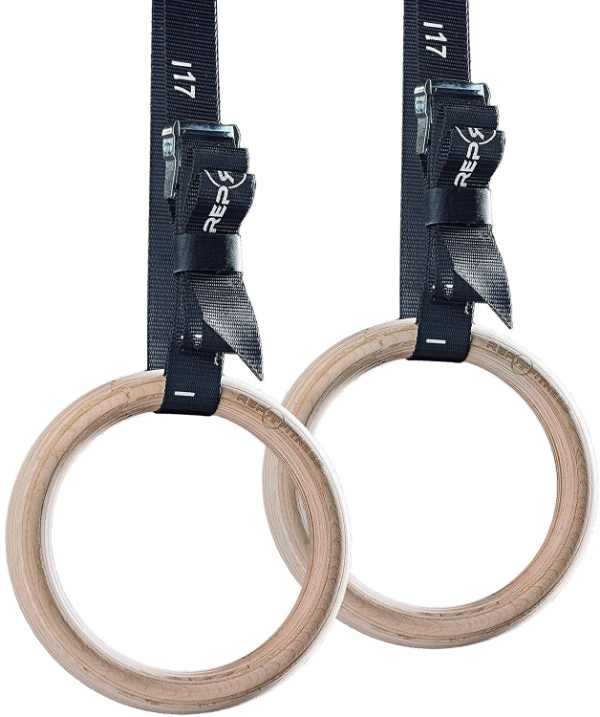 Nordic Lifting Heavy Duty Plastic Gymnastic Rings
Looking for an alternative to the typical wooden rings?
Nordic Lifting, who also makes one of my favorite pairs of knee sleeves for working out, makes a set of textured plastic rings that are awesome.
The PC plastic is exceptionally durable, the straps are bigger than 50% of *most* other rings, and the heavy-duty buckles can be rapidly adjusted.
Nordic Lifting backs their rings with a lifetime warranty and the rings are packaged with comprehensive instructions for set-up.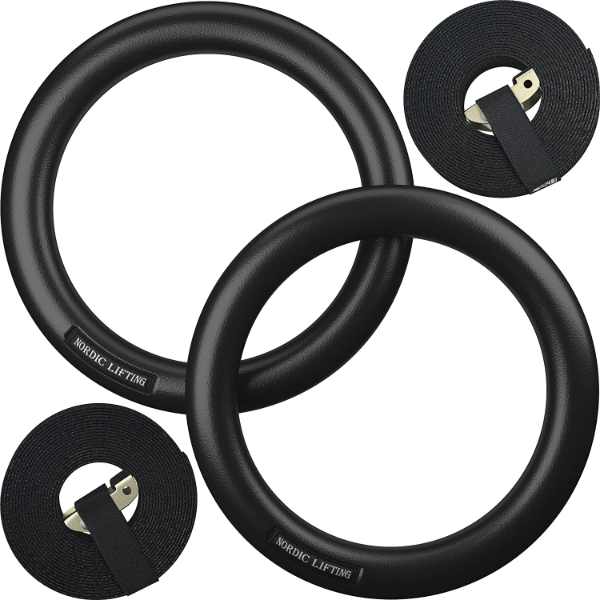 RitFit Gymnastic Rings
RitFit is another company that makes awesome home gym gear, including one of the top barbells for home gyms.
Unlike the more popular wooden rings, these rings have a thick and slip-free diamond-cut rubber handle for ultimate grip security, making these rings ideal for those of you who are new to using rings in their home gym or don't want to use chalk on their hands.
The RitFit rings include only the rings with a pair of short loops. You will need to purchase straps and buckles separately to complete the ring set.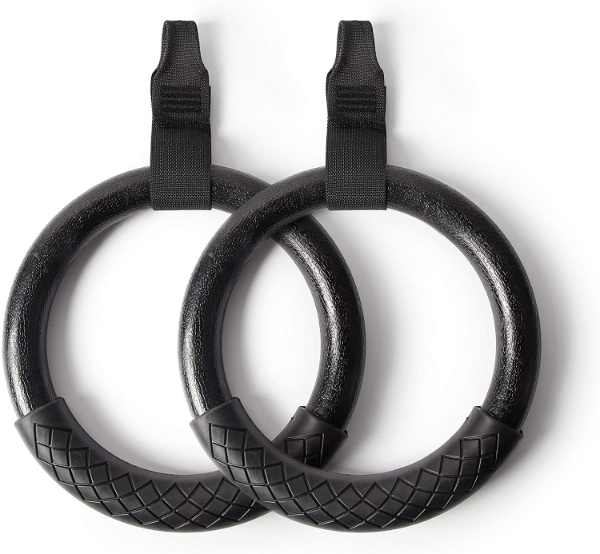 Yoga Body Wooden Gymnastic Rings
Designed specifically for studios and yoga facilities, the Yoga Body Gym Rings are made of highly durable birch that is sanded down into splinter-free.
Unlike the more heavy-duty rings, the Yoga Body rings are designed for a maximum capacity of 300-lbs. Despite the lower weight rating, the rings are extremely well reviewed by experienced gymnasts, CrossFitters, and newbies to training with rings.
I particularly like the "practice is everything" slogan on the straps and rings, a steadfast reminder to crush it today.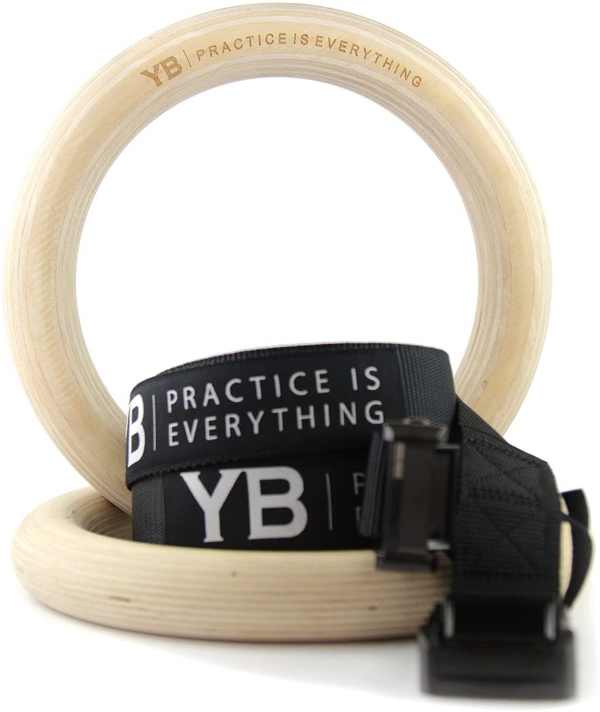 Iron Bull Gymnastics Rings for Cross Training
Made with thick and durable nylon wedding, the straps and rings on the Iron Bull kit are ready to rock and roll right out of the box.
Iron Bull is another one of my preferred brands for gym equipment (their hip thrust pad is 100% legit and my go-to pad for dominating hip thrusters).
Ideal for all of your bodyweight exercises, from push-ups to dips, Iron Bull's rings are made of birch wood and are rated for 600-pounds.
With 15-feet of straps, quick installation, and Iron Bull's full backing of their products, these rings are a cost-effective and durable option for all your swingin' and exercisin'.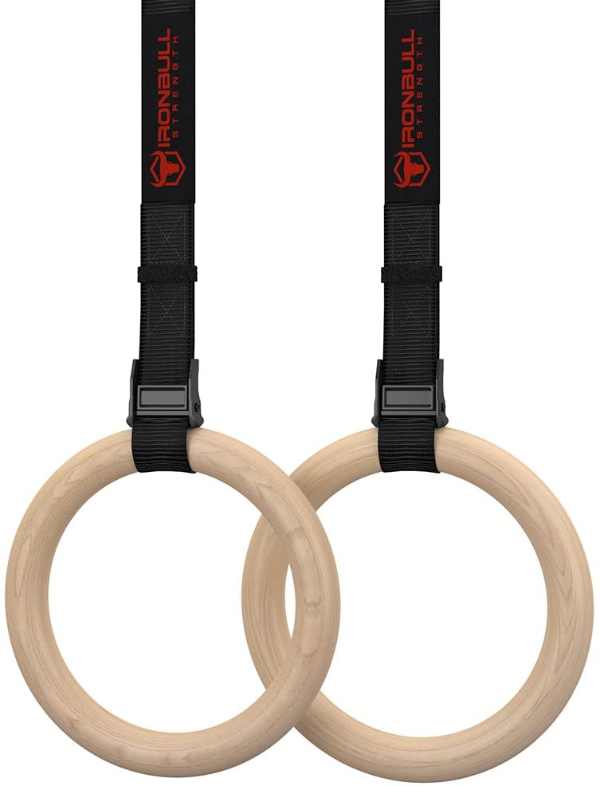 Rogue Gymnastic Wood Rings
Rogue Fitness is King Daddy of fitness gear and equipment. Much of my home gym is outfitted with their stuff, including an adjustable weight bench and a trap bar for deadlifts.
Although Rogue is popularly known for being associated with CrossFit, you don't need to be a Crossfitter to take advantage of their superior gear.
Made with textured, American-made wood, Rogue's rings have that warm and comfortable feel and grip. The rings themselves are 1.25" in diameter (they also produce a 1.11" ring for gymnastics).
The nylon straps are 1.5" and made of bulletproof heavy-duty nylon (maybe not bulletproof, but you get the gist ?) and the fasteners can be easily adjusted for height and to tuck away excess strap.