Frustrated with bumper plates being sold out everywhere? Here is a breakdown of the best bumper plates for sale in Canada that are in stock right now.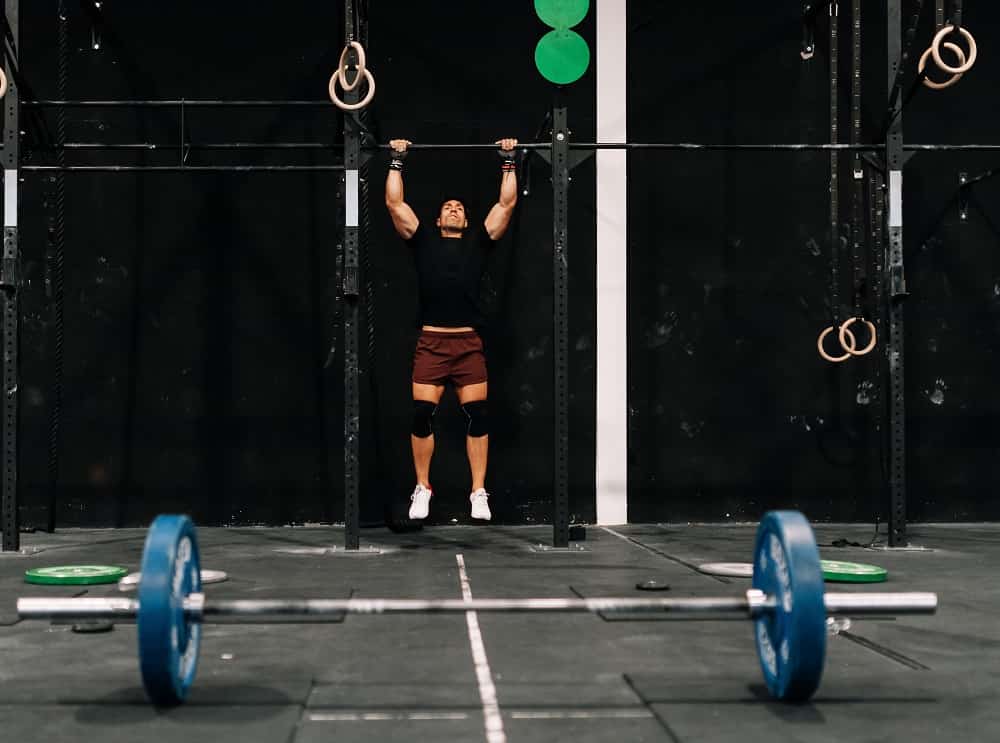 The past couple of years have been a total gong-show in the fitness equipment industry.
Most companies were happily rolling along, minding their own business, when the Covid pandemic swept the globe and shuttered countless gyms.
Overnight, home gyms and working out at home exploded, and so did the demand for home gym equipment.
? Wanna cut to the chase? My top pick for the best bumper plates for Canadians are the Iron Bull Strength Bumper Plates. Affordable, super durable, and shipping is fairly fast. Shop now @ Iron Bull's website.
Equipment was flying off the shelves faster than manufacturers and the global supply chain could keep up.
Getting bumper plates in Canada became extra hard as our friends down south started gobbling up supply.
Fortunately, gym equipment companies have had time to bounce back and bump up (ha—bumper plate pun!) their supply. (Some, not all, obviously.)
Below is a breakdown of the best bumper plates for home gyms (in Canada).
I'm continually working to keep this list as up to-date as possible, posting only bumper plates that are currently in stock and available to Canadian customers.
Read on, find the best bumper plates for you, and get to liftin' you Maple Syrup-drinking badass, you.
Iron Bull Strength Bumper Plates
⭐ Top pick for best bumper plates for Canadians
Iron Bull Strength is another one of my favorite strength equipment brands. I've been rocking with them for a while now, whether it's their hip thrust barbell pad, elbow compression sleeves, or yes, their bumper plates.
My current gym set-up includes their 45lb bumper plates and I absolutely love them. ???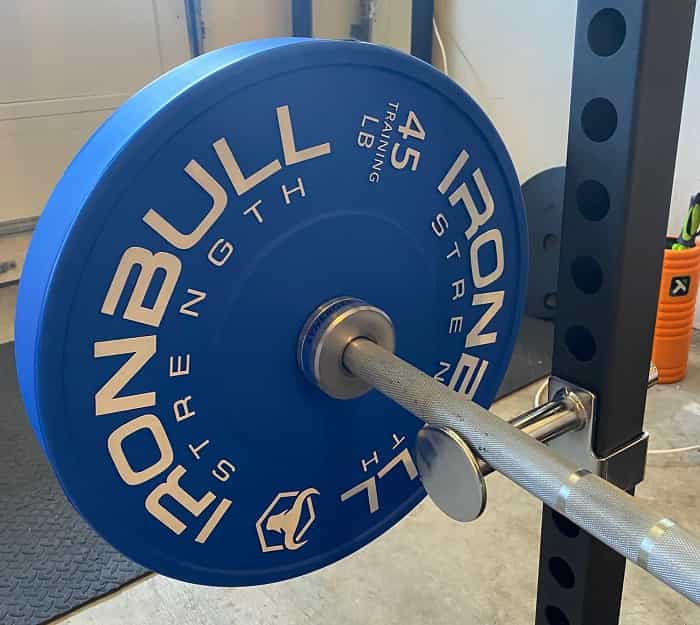 The aesthetics on these plates are great, with high-contrast white lettering on bright, bold colors. The shell is virgin rubber and does a great job of reducing vibration when putting the weights down. The bumpers are built to IWF standards (450mm) and the steel inserts means you can slide the bumpers onto your preferred barbell smoothly.
Available in a wide range of weights, from 10lb all the way up to 55lb, Iron Bull sells them in pairs at a competitive price point. For example, a pair of 45lb bumpers costs $255 (use the coupon code "OLIVIER" to get 10% off your order) plus shipping. Shipping is reasonable, with the bumpers taking just over a week to show up.
Iron Bull Strength sells these bumper plates to both Canadian and American lifters and they have been in stock quite consistently since the beginning of 2021.
Iron Bull wins for three reasons:
⭐ Price. These bumper plates are affordable. Shipping bumps up the price a little bit, but you are still saving buckets of money compared to some of the picks below.
⭐ Product durability. I've been clanging and banging these things for over a year. They still look brand new.
⭐ Shipping speed. The three times I've ordered their bumpers I got them within 8 business days.
Check Iron Bull's website here for current pricing and stock availability.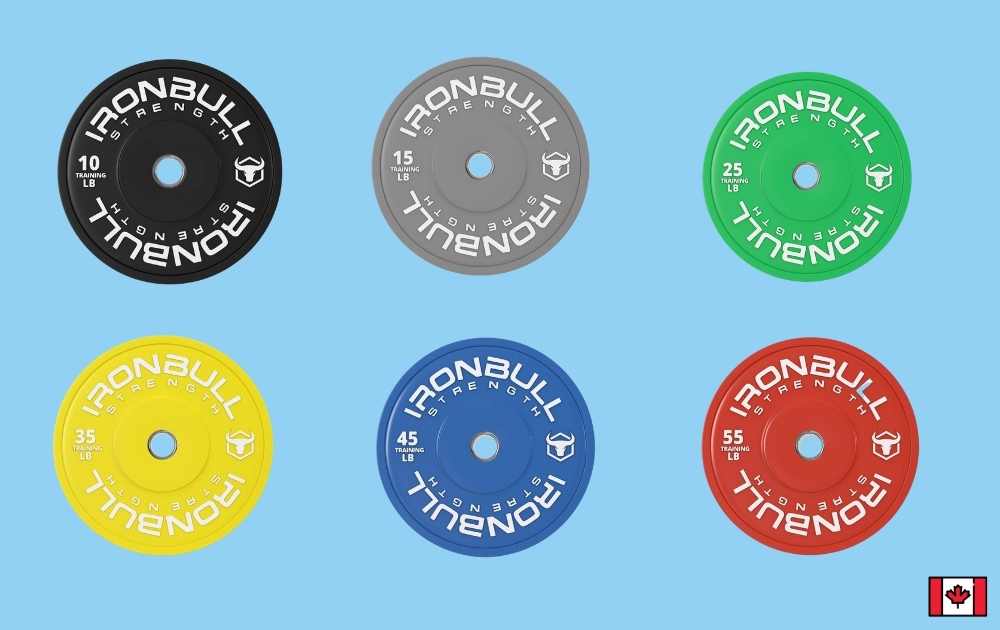 Rogue Echo Bumper Plates
Rogue is one of the best-known names in the game. They make outstanding strength training equipment that is trusted by countless athletes, commercial gyms and home and garage gym enthusiasts.
If you've been to this blog before, you know that I fanboy pretty hard over their stuff, whether it's Rogue's kettlebells, Monster flat weight bench, or the R-3 power rack, the ultimate everyman power rack for home gyms.
Rogue's bumper plates are affordable (2x 45lb costs $234, which is what you are often paying for one cheapo plate on Amazon). Rogue's Echo Bumper plates are very accurate, with a guaranteed 1% variance in weight. And while they aren't made in the USA like their cast-iron weight plates, Rogue's Echo Bumper Plates are quality.
The Echo features most of the bells and whistles you expect from a solid bumper, including a 450mm diameter, 50.4mm steel collar opening, and weight options from 10lb to 55lb.
My shipping experiences with Rogue have been painless so far (knock on wood). They provide shipping updates all the way through and shipping is on par with Amazon for speed with larger items.
The Echo ships in pairs as well as in sets. The sets, which go up to 350lb, can actually save you a ton of money in shipping costs (Rogue covers the shipping with heavier orders, including bumper sets).
Rogue sells their bumper plates exclusively through their Canadian website, although the plates are still shipped here from the USA.
You can view current inventory and shop their bumper plates here.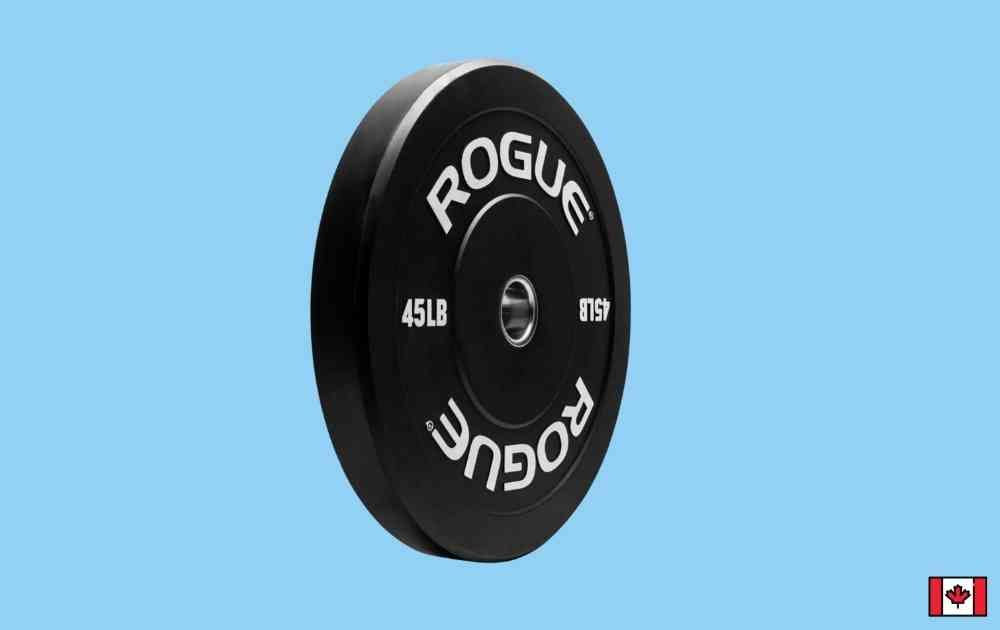 Everyday Essentials Bumper Plates
⭐ Best bumper plates available on Amazon (for Canucks)
Buying bumper plates through Amazon for Canadians has been very hard since the Covid pandemic swept the world in the spring of 2020. There have been few options for us in Canada to buy bumper plates on Amazon, with stock and inventory being cleared out quicker than it is coming in.
One of the better bumper plates on Amazon are the set of brightly colored Everyday Essentials plates. They feature stainless steel inserts that slide easily onto any Olympic barbell and are coated in high-density rubber to reduce sound and protect your floors when lifting.
While decent bumpers, it's hard to justify the cost when you can buy better plates elsewhere (just not on Amazon).
For example, a pair of 15lb plates from Iron Bull's website retails for $100 while a single 15lb Everyday Essentials plate cost $104 the last time I checked (click here for up-to-date pricing on Amazon).
If you are dead set on purchasing your plates through Amazon, Everyday Essentials is one of handful of brands that consistently have them in stock and are of good quality.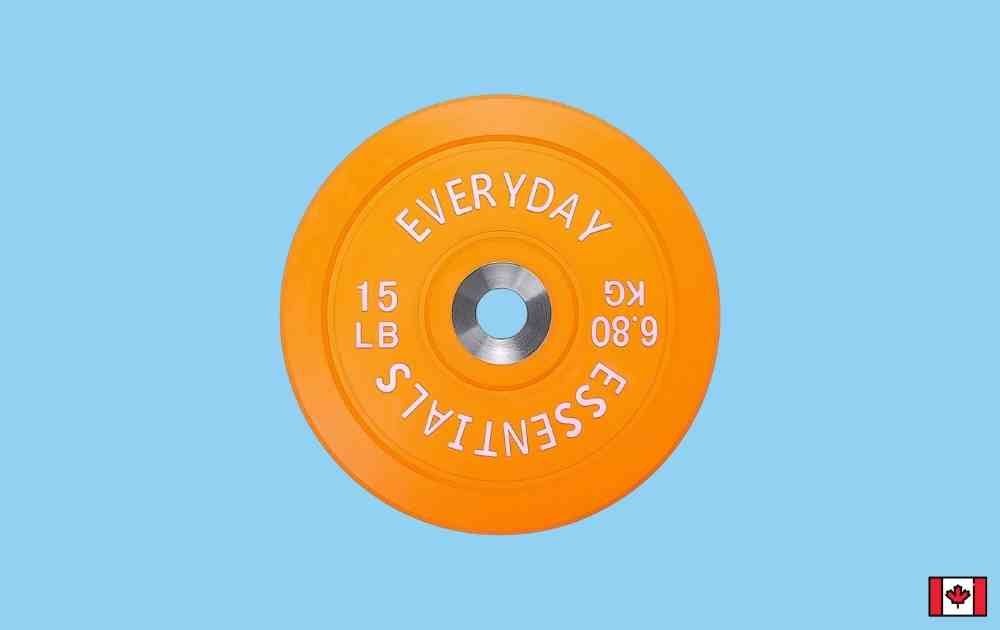 CAP Barbell Premium Bumper Plates
CAP Barbell is a premier manufacturer of gym equipment for both home-based lifters and commercial gyms. They make excellent gear at a great price point, whether it's their lat pulldown bar (one of my favorites!) or barbells for home gyms.
Their black bumpers are a great no-frills plate for home and garage gyms. Made with recycled and virgin rubber, each plate has a stainless steel insert to protect the plate and barbell, and a cast-iron core is well-balanced and fairly accurate.
While not as durable as other bumpers on the market (several users note that these bumpers aren't ideal for dynamic lifts as they warp over time), they can do the trick for most lifts and most home gyms.
CAP Barbell sells their black bumper plates through Amazon, which as you can probably guess, means limited availability and frequently being out of stock.
Available in pairs, from 10lb to 45lb, a set of two 35lb CAP Barbell Bumper plates will cost you about $245 (check Amazon for current pricing and availability) while pricing for other plate sizes is all over the place.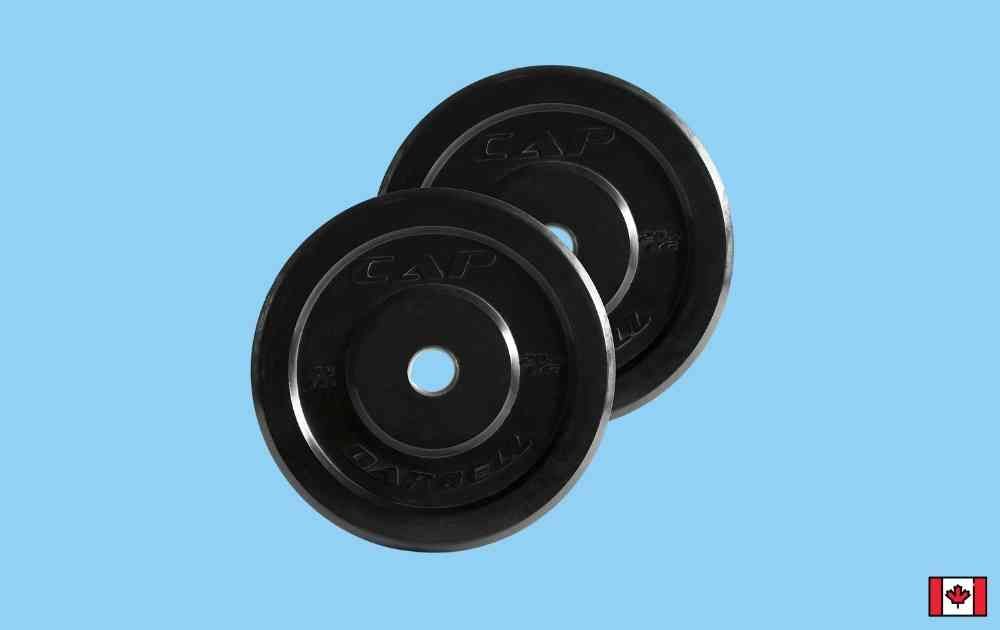 AMGYM Bumper Plates
AMGYM is another one of the popular bumpers on Amazon.
These plates are really well made, built to IWF specs with a 17.72 inch diameter and 450mm thickness. The rubber is high-density and natural, giving you a dead bounce (if you want bounce with your bumpers, pick up hi-temp bumper plates).
I really like these plates, from the smooth stainless steel insert to the clean look of the logo and weight on plate.
AMGYM offers these plates in a wide variety of sizes, including 10lb, 15lb, 25lb, 35lb, 45lb, and 55lb, and they whole-heartedly back them with a three-year warranty (click here to see current availability and up-to-date pricing on Amazon).
But again, it comes down to price.
The plate pictured below is a 35lb plate that retails for just under $200. For one plate.
In comparison, you can buy two Rogue Mil Spec bumpers for $139 or two Iron Bull training bumpers for $195.