Plyo boxes are a killer weapon to add to your home workout routine. Here's a look at the best plyo boxes so that you can crank up the explosiveness and conditioning at home.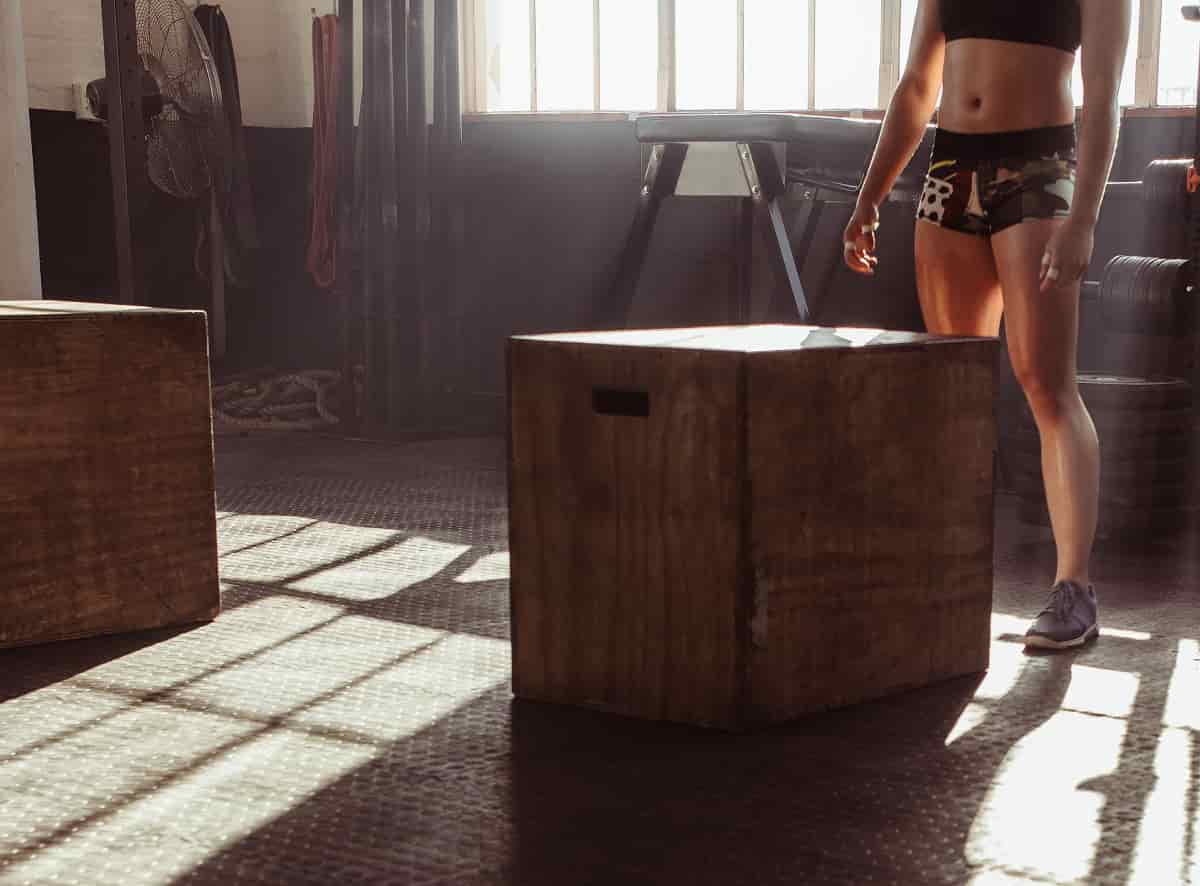 Ready to crank up the explosiveness and speed at home?
A plyometric box, whether you are an experienced athlete or giving plyometrics a try for the first time, is a killer way to get stronger and fitter at home.
The benefits of training with a plyo box are nearly endless, but here are a couple of my faves:
Intro to pistol squatting. Line up on the side of a plyo box to give you that little safety landing at the bottom as you work the pistol squat progression.
Box squats. Jump up, step down. Repeat
Conditioning work. Use the box for step-ups, mountain climbers, and so on.
Upper body training. Not just for lower body conditioning, plyo boxes can be wielded for dips and push-ups, too.
And so on.
For something as simple as a box, there are a lot of options for choosing the right plyo box.
Old-school wooden boxes made of plywood. Adjustable steel platforms. Foam boxes. PVC-covered wooden boxes.
There is also price, stackability, heights, platform sizes, material, and other factors to consider.
Here's a breakdown of my favorite plyometric boxes for the home-based athlete.
Read on, and let's get jumping.
Rogue Foam Plyo Boxes
Rogue is one of the top dogs when it comes to making killer fitness gear.
Not just for those who do CrossFit, Rogue is a leader in making highly durable and good-looking gear that looks great in your home gym. (Currently their adjustable weight bench is the center-piece of my garage gym.)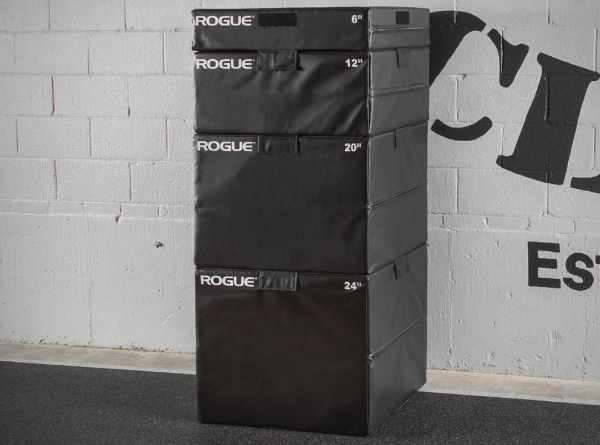 Rogue's Foam Plyo Boxes are similar to the ones you see in commercial gyms—a series of different sized "boxes" that are made of foam and wrapped in heavy-duty vinyl.
I love foam boxes for their safety—if you miss the jump and clip your feet you aren't going to get a face-full of wood or steel. And I also love that with the sets you can mix and match box height as you get stronger and can jump higher.
Available in sets (the full set comes with boxes in 6", 12", 20" and 24") or separately, the foam boxes can be easily stacked and held together with Velcro loops.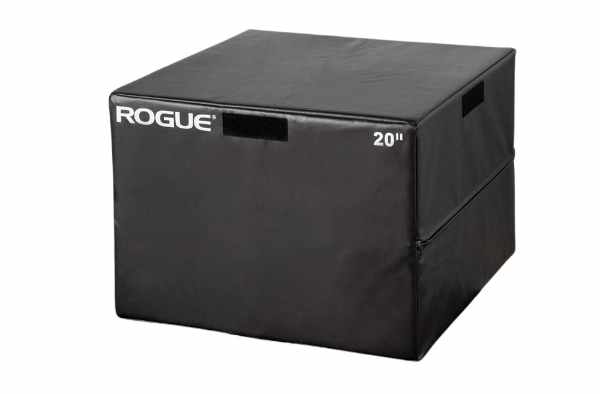 Synergee 3-in-1 Wood Plyometric Box
Synergee is another leader in exercise equipment—their Olympic barbell is my current bar of choice, sitting patiently in the power rack in my garage as I write this.
The Synergee Plyo Box isn't actually shaped like a box. It is cleverly designed in a rectangular shape that provides three different height options. For example, the tallest box has height options of 30", 24", and 20". Simply rotate the box to get the height you want to jump at.
While beginner plyo athletes may bristle at the wooden construction—thoughts of missing a jump and eating cross every gymgoer's mind when doing these from time to time—more experienced athletes will appreciate the simplicity of a wooden box.
The Synergee plyo box is rated for up to 450-pounds, made of plywood, has handles for easy transport, sanded edges, and requires assembly.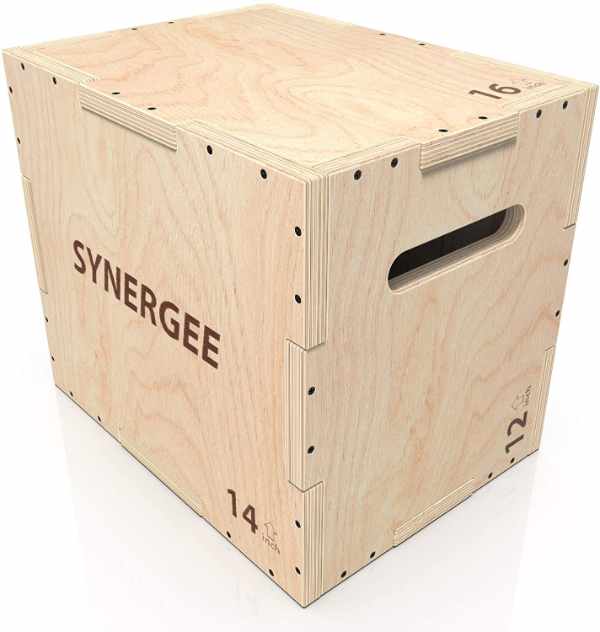 Alpha Strong Plyo Box
While I don't love these for beginners, with a smaller landing platform on the taller boxes, the 6" and 12" provide enough landing space to recommend to newbies to box training.
Made of high-quality birch plywood, the ¾" wood boxes are durable and easy to assemble (some tools required, including a power drill). If you would rather get to jumping right away, Alpha Strong has an option where you can have the boxes shipped to you pre-assembled.
The trapezoid shape of the boxes are available up to 30" high and are great for step-ups, box jumps, and all of your explosive and conditioning routines.
Alpha Strong sells these for less than Rogue's similar line of wooden trapezoid boxes, making them a value pick for the home gym enthusiast.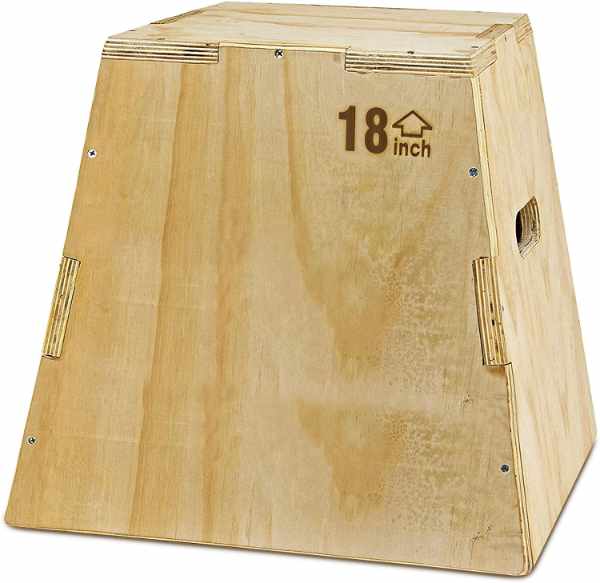 Synergee Non-Slip Wooden Plyometric Box
Synergee takes the classic wooden box and levels it up with this bad boy. They simply take their no-frills plywood box and add a non-slip PVC outer shell.
This does a couple of things right away: First, you get a little more grip when landing on the box. And secondly, it keeps the box from sliding or moving around should you not land on it squarely.
The weight rating is the same as their classic box (450-lbs), and the rectangular shape provides different height options with each box.
The Synergee Non-Slip Wooden Box looks great, performs like a champ, and is built to take all of the training you can throw at it.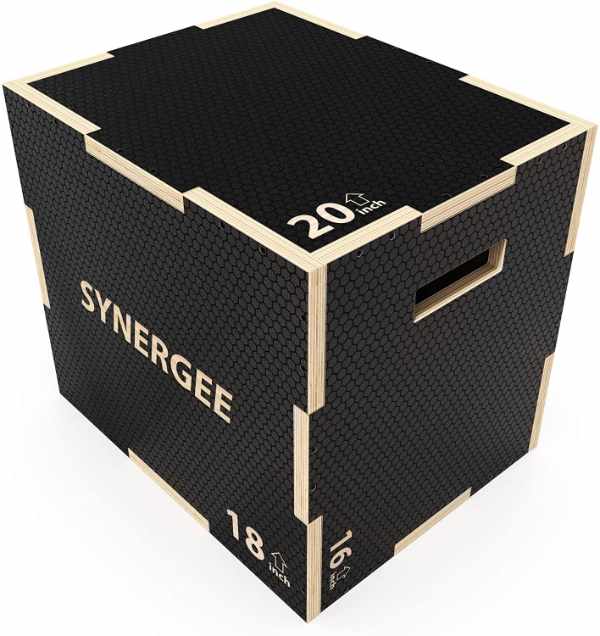 Stamina X Adjustable Height Plyo Box
Home and garage gyms don't have unlimited space to play with. (If you do, can we be pals?) Adjustable equipment is critical for the home-based lifter looking to get the most from the space they have.
The Stamina X Adjustable Plyo Box removes the need for lots of storage space to stack foam, wooden, or steel plyo boxes with this ingenious piece of equipment.
Adjustable from one to two-feet in height (in four inch increments), the non-slip surface and added weight of the steel frame makes the box surprisingly sturdy, helpful in the event you don't quite nail the landing.
Just how sturdy? One reviewer noted that it was "as solid as jumping on top of a granite block."
Easy to adjust, no assembly required, and packed with a training and workout guide, the Stamina X Adjustable Height Plyo Box is the jump box you didn't realize you needed.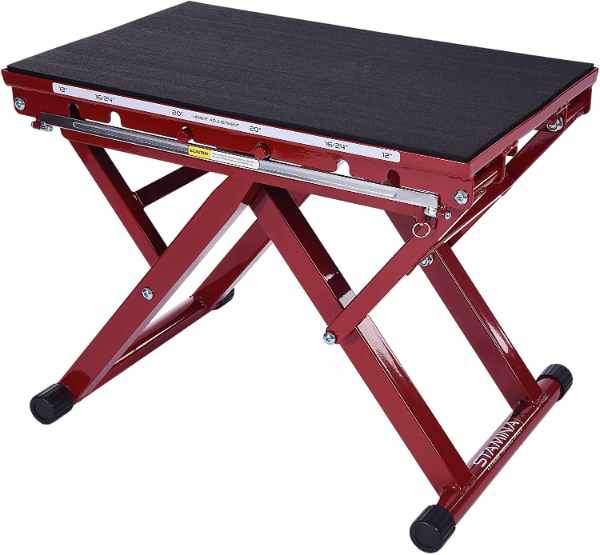 JFIT Plyometric Steel Boxes
Available as a set or individually, JFIT's steel plyo boxes are framed with heavy-duty steel. The platforms are wide, with slip-free rubber mats helping you stick the landing, and come in heights ranging from 12" to 30".
Steel-framed, tapered boxes are super durable, can be stacked to save space, and are light enough that moving them is a breeze. The tapered design gives you stability on landing when performing plyometric exercises. JFIT's steel plyo boxes are exceptionally well-reviewed on Amazon, with nearly a thousand five-star reviews.
The only real drawback? For elite athletes who want to stack boxes will want to look elsewhere.