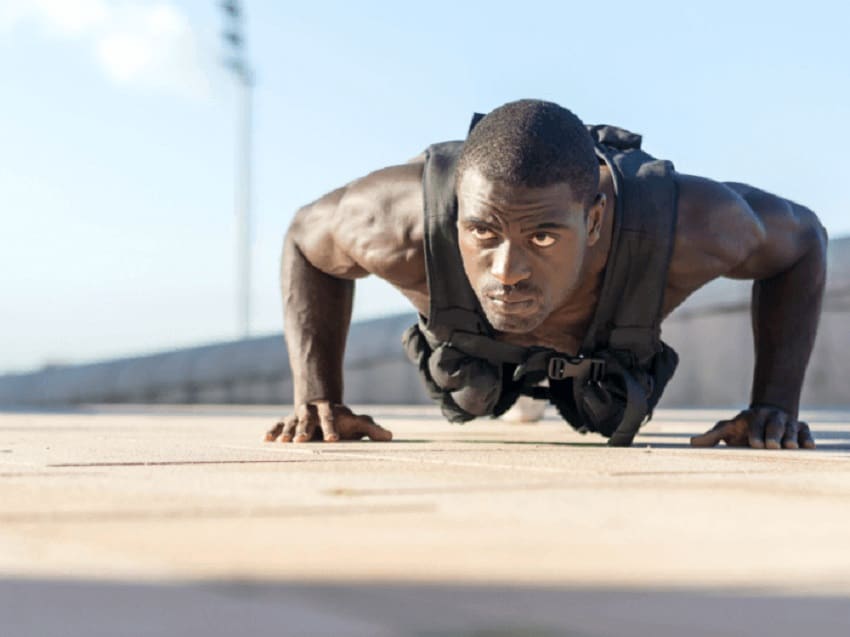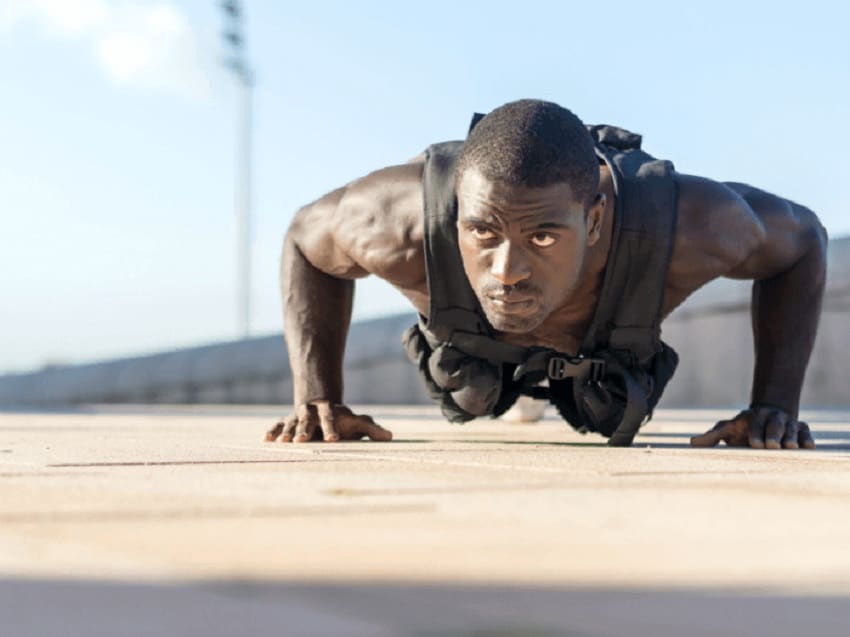 Looking to increase the resistance in your training? Here's a breakdown of the best weighted vests for working out.
If you're struggling to feel maximally challenged on some of your exercises such as push-ups, pull-ups, or dips, or perhaps you just want to add extra weight to the body as you go about your lifts, there are plenty of reasons and benefits for training with a weight vest.
While you can always strap weight to a belt as an alternative option, most people find this rather bulky and uncomfortable. A weighted vest is a much smarter alternative.
Not all weighted vests are created equally however, so it pays to do some time researching the different options available. What works for someone else may not necessarily be the best option for you. You need to stop and consider what is most important in any weighted vest you're choosing.
Whether you are using a vest for running, CrossFit, or simply to make things a little more challenging while you are doing plyometrics, cycling, or walking, there are plenty of awesome options for upping your workout.
Below you will find a detailed breakdown of the best weighted workout vests on the market right now.
We will look at key features in each, what to look for when shopping for a workout vest, and much more.
Read on, find the right weighted vest for you, and let's crank up the gains.
Rogue Plate Carrier
Made with heavy-duty Velcro and X-box (no, not the video game ?) stitching, the Rogue Plate Carrier is one of the, if not the, toughest weight vests on the market.
While this vest looks simple and kinda small, it's precisely this design that makes me like it so much.
Rogue's stuff is always built to last, whether we are talking about Rogue's line of squat racks, Monster Bands, Echo Bike, and so on, and this vest is no exception.
The vest has a very simple design that allows for a maximum range of motion. There's nothing worse than being mid-workout and having your gear chafing your skin. With a minimalist design, the Rogue Plate Carrier avoids the rubbing that comes with vests that are over-built and too bulky.
At the end of the day, you want a weighted workout vest that you can wear and "forget."
The pockets of the vest are designed to be used with Rogue's line of cast plates and are triple reinforced to keep the plates locked in place while running, doing CrossFit, etc.
Available in three different sizes, four different colors, and made in the USA (not many fitness brands can claim this…), the Rogue Plate Carrier is a comfortable weighted workout vest that will work as hard as you do.

CAP Barbell Adjustable Weight Vest
CAP Barbell makes some of my favorite workout gear, and they do it at a super reasonable price. They make excellent budget Olympic barbells, standard barbells, and more.
But even though they got barbell in the name, they make a ton of other stuff that I really like.
Including this heavy-duty weight vest—which can handle up to 80lbs. The thing I liked most about it is that it's super affordable, ranging from $50-200 depending on the amount of resistance you want.
The shoulder straps are extra wide and are padded for maximum comfort. Reflective linings bounce light when using at night-time.
Another standout feature, especially compared to other CAP Barbell vests (the Adjustable Short Vest, in particular), is that it's quite narrow, giving you excellent range of motion.
People with shorter torsos, however, will find that the narrower design means that the vest may or may not start bouncing off your legs while walking or lifting.
The vests, regardless of which weight you end up choosing, are all adjustable in increments of 2.5lbs. The weight pellets are made of iron ore and can be rapidly jettisoned from the vest. The pockets for the vest are vertical, which means there is no chance that they will slide out.
In sum, this vest is awesome, and one of the better ones when it comes to extra heavy weight vests.
With thick shoulder pads, heavy-duty Velcro closures on the weight pallets, and an adjustable strap around your torso, this thing stays in place and won't chafe the crap out of your skin.
Price: Start at $50 and up (check Amazon for current pricing)
Size: One size fits all
Weight options: 20-80lbs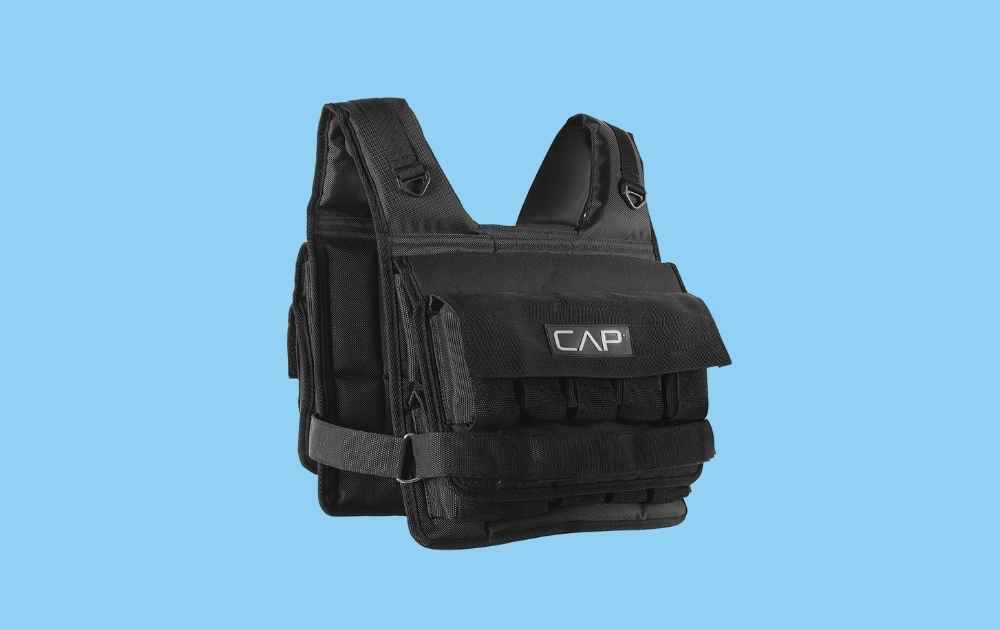 5.11 TacTec Trainer Weight Vest
There is a reason that weighted workout vests look like they are designed for warfare—that was the original use for them.
The 5.11 TacTec Trainer Weight Vest is a perfect example of a piece of apparel that was originally built for the rigors of combat and then retrofitted by CrossFit athletes for use at the Games. 511's TacTec Trainer Vests have been used by tons of CF athletes, and with good reason.
They are extremely comfortable, they sit snug on the skin of your body, and the TacTec's have a ton of little features that make them the top weight vest on the market.
For starters, the waist has an elastic cummerbund with I absolutely love as it keeps the vest flush with my body, even if I'm racing to catch a breath. The shoulder pads are wide enough that they won't dig into your shoulders when doing overhead movements and you can use either sand bags or weight plates to add weight to the vest.
Additionally, this vest is excellent for rucking as it has a small pocket (credit cards, keys, etc) and web platforms for an adjustable pouch and carry system.
The thing that most people won't like about this vest, however, is the price.
It's a bit of a kick to the old bank account at $130, especially when you factor in that weight plates are not included with the vest.
Which means, in a funny way I suppose, that it's a weighted workout vest that comes without any weight in it.
(Beyond 5.11's own line of plates, the TacTec vest's pockets are compatible with Rogue cast and Wolf Tactical plates.)
That said, if you want an adjustable weighted vest that will show up each time you do at the CrossFit box, the TacTec has your back. This is the kind of vest that will last you a lifetime.
Price: $130
Size: One size fits all
Weight options: Either sand or cast plates (sold separately)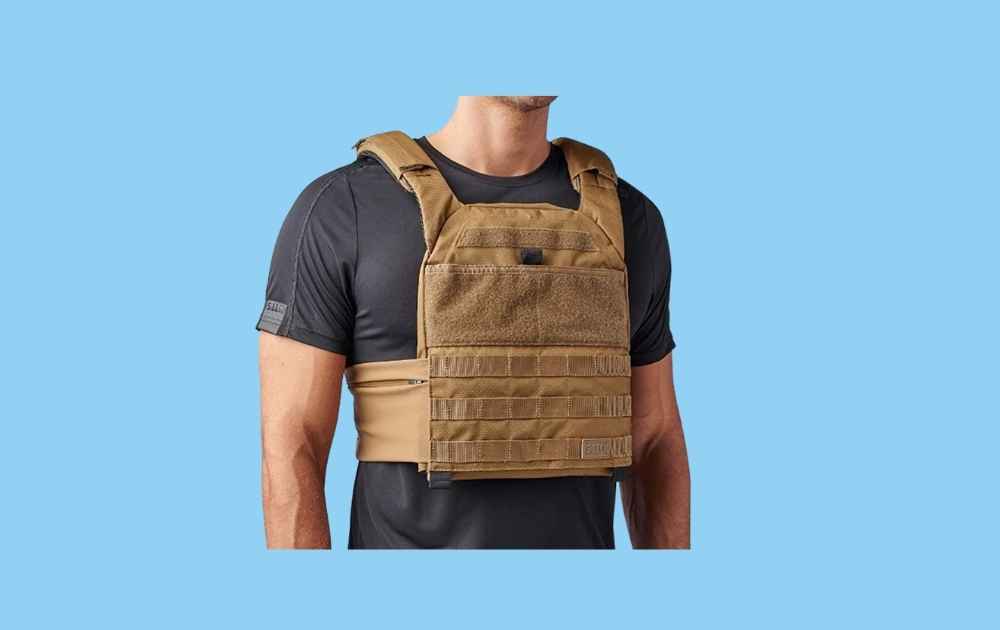 RUNFast Max Pro Weighted Vest
One of the best things about the RUNFast Max Pro Weighted Vest is that you have an adjustable weight option. You can choose between 12, 20, 40, 50, or all the way up to 140 pounds total, so this gives you the ability to control the amount of weight you're carrying.
As you may be stronger in some exercises and activities than others, or simply want a natural way to see progression, this makes this vest ideal.
While this weight vest is marketed at runners, the vest can be used for non-jogging activities as well. The vest is one-size fits all, so shopping is easy. You won't have to worry about fitting your body, especially if you are more muscular in certain regions. The adjustable straps make it a cinch to throw on and buckle in.
This vest comes with a mesh panel that you can stash your phone in for storage though so is great for those who listen to love to crush music while they are working out.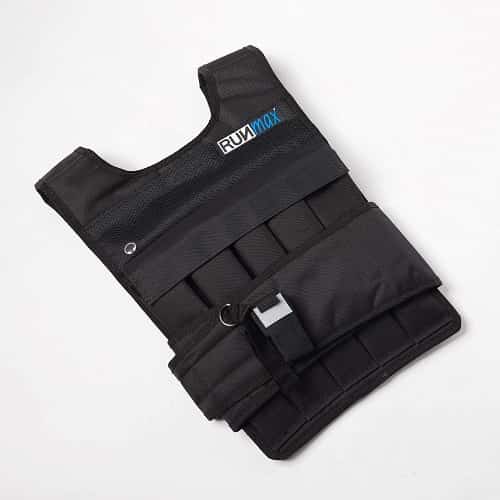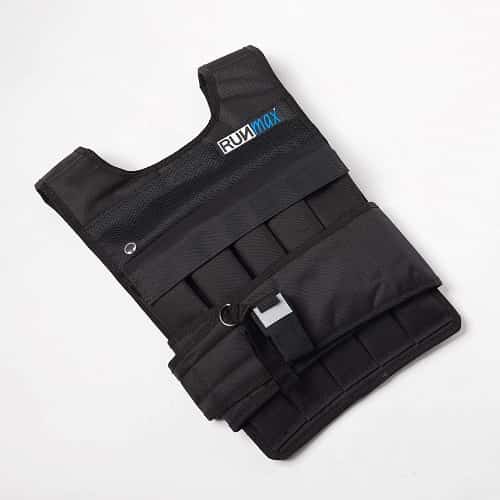 Aduro Sport Weighted Vest
Another one of our favorite weighted vests to consider if you're shopping around is the Aduro Sport Weighted Vest. This weighted vest fits very comfortably and isn't overly bulky so is great for those who hate feeling weighed down.
It's a budget-friendly vest that also is fully adjustable, which is a rare find in the weighted vest world, so great for those who aren't looking to spend a fortune. Because this vest isn't designed to cover the entire front and back of the body, it's a good option for women who have curves towards the hip region.
As this vest is a cheaper option, you aren't going to get as much weight variability with it and you'll see it ranging from 4 to 25 pounds. This is still enough to give most people a great workout in all the exercises they need and add more difficulty to their workout routine.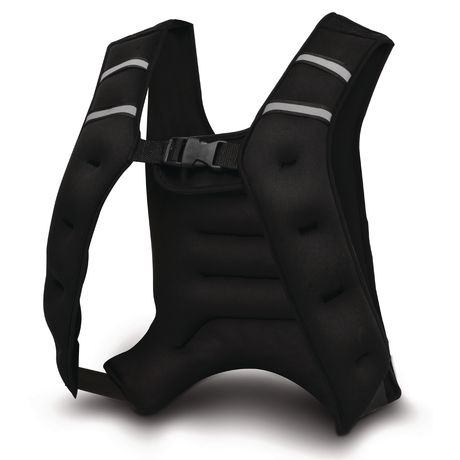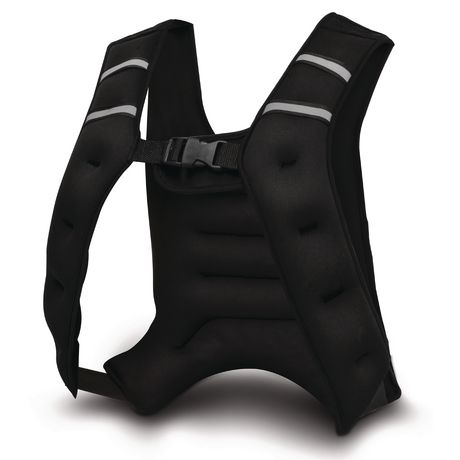 MiR Air Flow Adjustable Vest
The MiR Air Flow Adjustable Vest is one that's designed to help meet the needs of those who may be broader in their upper body when a regular vest just won't quite work for them.
This vest will supply you with a total weight load of up to 20 pounds and because it only goes down to around the mid-chest region, leaves your ab area free to twist and turn as you see fit.
While some vests leave you feeling weighed down – pun intended – and unable to really move, this vest adds the weight while still keeping you as mobile as possible. This is a feature you're sure to love.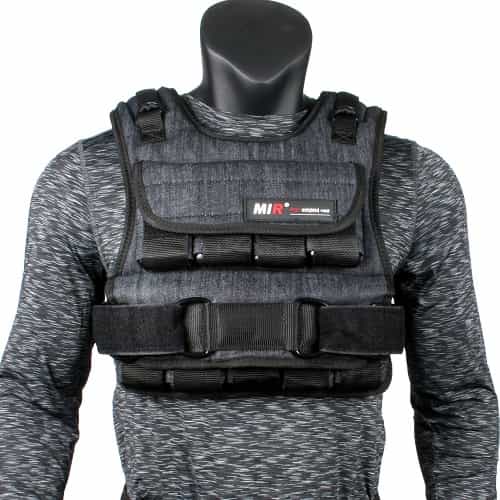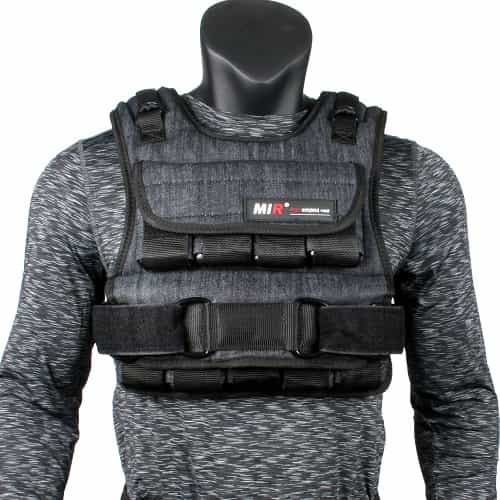 Tone Fitness Weighted Vest
If you're after a vest that hardly feels like it's even there, the Tone Fitness Weighted Vest is one that will likely catch your attention. The great thing about this vest is that it only really covers the shoulder region of the body, so its easy to wear and do just about any exercise with.
It's also very lightweight so if you are planning on wearing a vest for running activities, this would be a great choice.
Despite its extremely lightweight design and barely-there feel, it still will provide 12 lbs. of external weight, so will work for a variety of individuals.
It also provides reflective strips as well, which makes it an ideal go-to for late-night runs.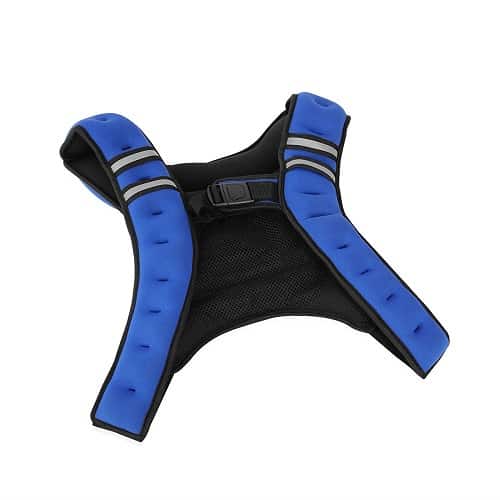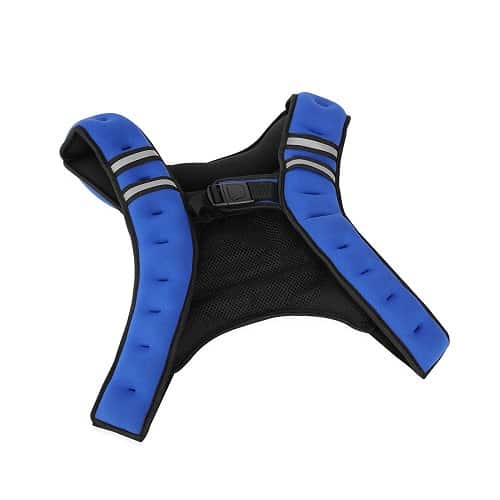 Empower Weighted Vest For Women
Finally, if that lightweight feel is what you are after and you hate feeling strapped in, the Empower Weighted Vest for Women is an excellent choice. This vest design crosses over the chest rather than coming down right over the bust region, which can be a lot more comfortable for women with larger busts.
This vest is available in 4 lbs., 8 lbs., and 16 lbs., so you can choose whichever option is going to best meet your current fitness levels. It is made of stretchy spandex material and adjustable straps so it's nearly a one-size-fits-all design.
It too provides reflective straps so you can always be seen at night if you're going out and about.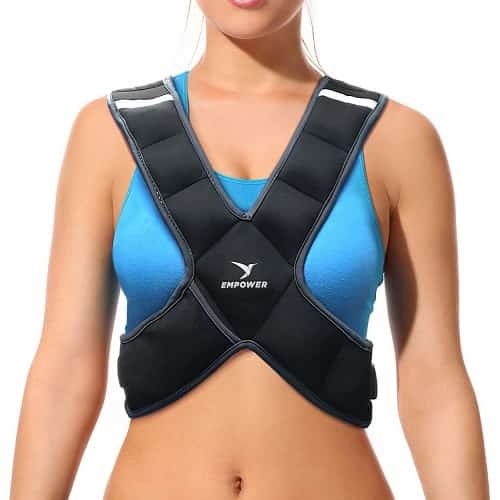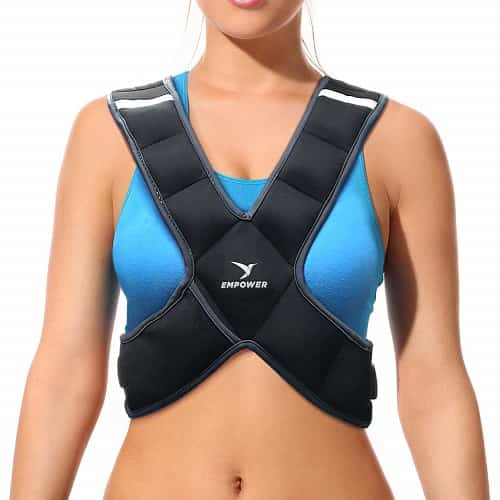 Weighted vests are a great way to add that little extra push to your workout when you need it.
Adding resistance to your workout routine is key in achieving the little bursts of improvement you are looking for, whether it is in terms of conditioning or purely in aesthetics. Add a weighted vest to your workout today and see what challenges they can bring.
---
Choosing the Right Weighted Vest for Your Workouts
Here is a quick look at the key things you should be on the lookout for when shopping weighted vests.
✔️ Choice of workout
Like any other kind of tool or piece of fitness equipment, the path to choosing the best workout weighted vest starts with figuring out what kind of exercises and movements you plan on doing with it.
Are you planning on using a vest for sprints? Plyometric exercises? Pull ups?
While there are definitely some vests that can check all the boxes, there are weight vests that are better suited for certain activities.
Bulkier, heavier vests are awesome for strength-training but often don't have the kind of stability and security that comes from more minimality weighted vests.
If you have a broad range of activities in mind, choose a vest that can add up to 20-ish or so pounds and offer maximum comfort.
✔️ Type of resistance
Each vest has their own unique way of loading weight.
Rogue's vests, for example, all use cast plates that are specifically designed for the purpose of adding weight.
Others include removable weight pellets that can be popped in and out as you see fit.
✔️Shoulder straps
Having an additional 10-25lbs bouncing around on your shoulders means that you want shoulder straps that are comfortable. Some weight vests include padded shoulder straps while others have a more au naturel feel, with simple straps.
The material of the straps also play a big role. For walking and running, consider a vest that has neoprene straps as it is soft and is great at wicking away moisture as you build up a sweat.
✔️ Price
Of course, budget is always a primary concern. You don't want to spend $200 on a vest that you barely use or that falls apart quickly.
Some brands, like Rogue, are better known for product durability (helps that their stuff is made state-side, as well, so there is better quality control in place during manufacturing).
The bigger upfront investment can be a better option that a cheapo vest you find on Amazon, especially if you plan on using the vest a lot.
Weighted Workout Vests – FAQs
What is the best weight for a workout vest?
It's always tempting to grab the heaviest vest right out of the gate.
Ultimately, how heavy you load the vest comes down the type of activity you are doing.
For explosive and ballistic exercises like squat jumps, adding too much weight will slow down the movement and change the training stimulus. Aim for a lower range of weight. 3-6% of your bodyweight is ideal for providing resistance without compromising the movement of the exercise.
For CrossFit athletes, or weightlifters, you can go a little heavier. Moving the weight from the bar to the vest is a great way to mix up your training and there's some research that shows this can even help you lift with better technique.
If this is your first time out training with a vest, start with 5-10% of your bodyweight. Once you get a grip on training with the vest, add weight accordingly.
Do I need an adjustable weight vest?
Yes. Adjustable weight vests give you the most flexibility for load and resistance. Adjustable weight vests also tend to be very easy to change weight; slide or pop weight in and out, secure a Velcro latch, and off you go.
An adjustable workout vest means you can use it for different types of activities, whether that means a lighter load for a Sunday hike or going heavy for a big lifting session in the gym.
I've found that the more options you have a piece of equipment, whether we are talking about adjustable dumbbells or even an adjustable weight bench, the more likely we are to use it.
Are weight vests good for working out?
Weighted vests are an excellent addition to your training arsenal. Vests can be used to improve explosiveness, strength, and stamina.
There's plenty of research on the use of weight vests when exercising.
Loading with a weight vest provides optimal overload while doing vertical jump training1. Added weight represented 3-6% of their body weight.
Wearing a vest while doing power cleans improves power output and even helps lifters execute the lift with better technique2. Lifters wore a vest that represented 12% of their body weight.
A group of 8 participants wore a weight vest three days a week, for three weeks, during waking hours (but not during sporting activities) and saw a significant improvement in figure-8 running time (an agility test)3.
Weight vests are an awesome way to get stronger and faster. The resistance they provide frees up your arms and shoulders and because they sit in the center of your body, keep you stable and balanced.
Related Articles:
Looking to add a dip stand to your home gym equipment? Check our breakdown of the best dip stands and stations for your home gym.
If you are looking for adding weight to your dips and pull-ups, here's a breakdown of my favorite belts for weighted dips.
---