The Olympic barbell is a staple of your home gym. Here's a detailed look at the best budget Olympic barbells from Rogue, CAP Barbell, and more.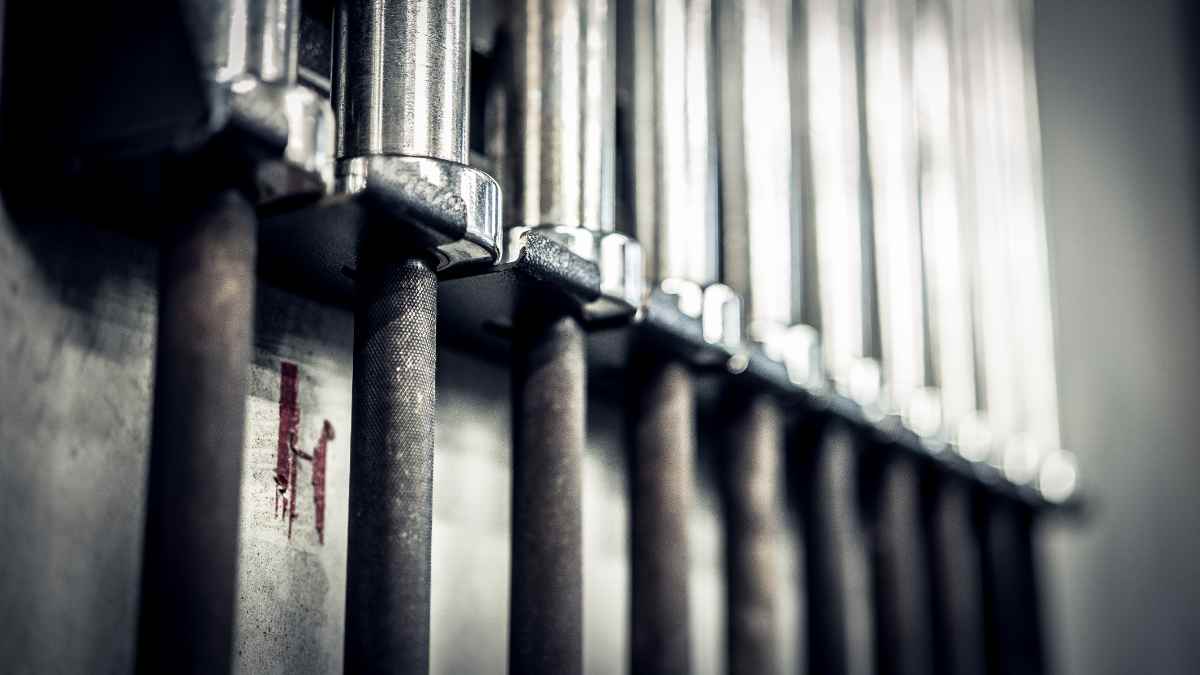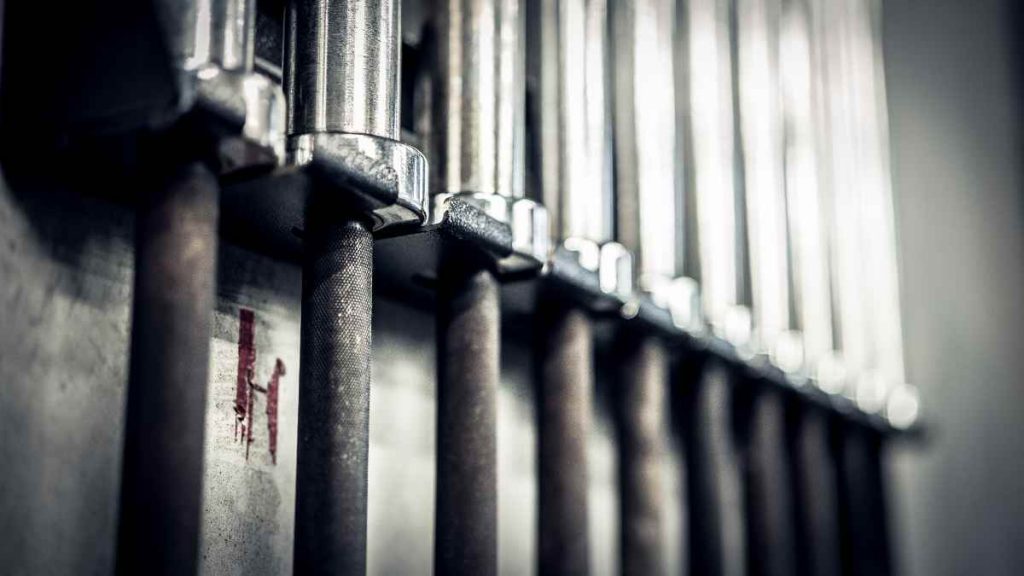 An Olympic barbell is absolutely essential for any home or garage gym.
The barbell powers almost every major lift and exercise in the gym. Squats, deadlifts, bench press, cleans, shoulder press, landmine pulls, etc.
But if you've looked around at trying to find one, you'll notice that Olympic barbells are also a fast way to spend a metric butt-ton of money.
Mid-range barbells cost around $500-700, and the price goes up quickly from there for the premium ones.
Fortunately for most lifters and home gym enthusiasts, you don't need to spend a ton of money to get a ton of value and use from your barbell. The majority of us can spend $200-300 and get a high-quality barbell that will last countless drops, PRs, and sweaty sessions in the garage.
I've been lifting weights since I was a teenager, and in the decades since I've tested and used hundreds of different kinds of barbells. From the ones at my local gyms to the line-up of barbells currently lined up in my own home gym, I've been around the proverbial block with Olympic barbells.
The good- the bad, and the sucky–I've tried just about all of them.
There is a barbell here for just about everyone, from the straight-up beginner to the experienced lifter who wants a high-performance bar without the high-performance price tag.
And of course, they are all priced at $300 (or so) and under, with some of them under $200 (even a Rogue bar).
Read on, find the one that matches your goals and your budget, and let's get to lifting like kings.
CAP Barbell Olympic Bar – "The Beast"
⭐ Best budget Olympic barbell for intermediate lifters
CAP Barbell makes excellent gear at a very competitive price. Whether it's weight storage plates, barbell collars, or dumbbells for your home gym, CAP Barbell brings it.
"The Beast" is the budget-friendly Olympic barbell in the CAP line-up of bars. With a less-than-$200 price tag ($175 on Amazon—click here for up-to-date pricing) this Olympic barbell has everything you need to get to work on your big lifts.
The weight loading sleeves are 15" long, the bar is solid rolled steel covered with a black phosphate finish, and the bar has medium depth knurling (no knurling in the center).
CAP's been at this for a long time, well over 30 years, and "The Beast" strikes an excellent balance between strength (110,000 PSI) and price, making it my top Olympic barbell that is great on price and suitable for intermediate lifters.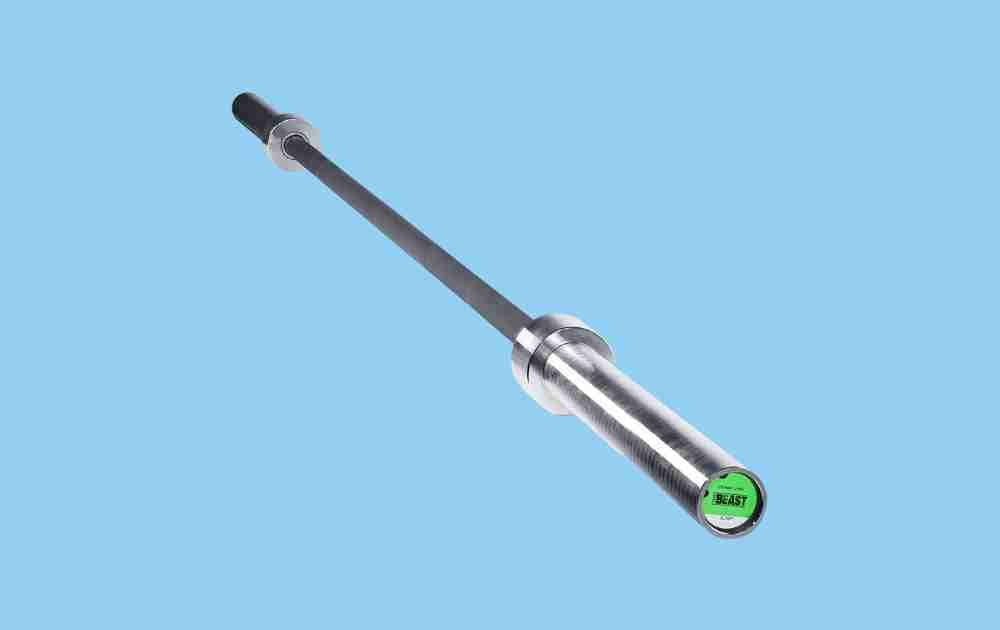 Synergee Olympic Barbells for Men and Women
⭐ Best Olympic barbell for $200
When COVID shut down my local gyms in the spring of 2020, I, like just about every other meathead on the planet, scrambled to buy gym equipment to start building a training area at home.
Synergee's Olympic barbell was the first barbell I was able to get my hands on, and it's since become my primary all-purpose Olympic lifting bar.
I love everything about it—the bushings roll smoothly, the blue caps pop in my home gym, and the 1.2mm diamond knurling provides a killer balance of grip without shredding the hands. Each sleeve has five needle bearings and the bar is rated for a hefty 1500lb.
Synergee offers these Olympic barbells at a cheap price, just $200 for the one pictured below (20kg). Although Synergee is a Canadian company (gotta rep the Maple Leaf!), they ship internationally off their website and through Amazon.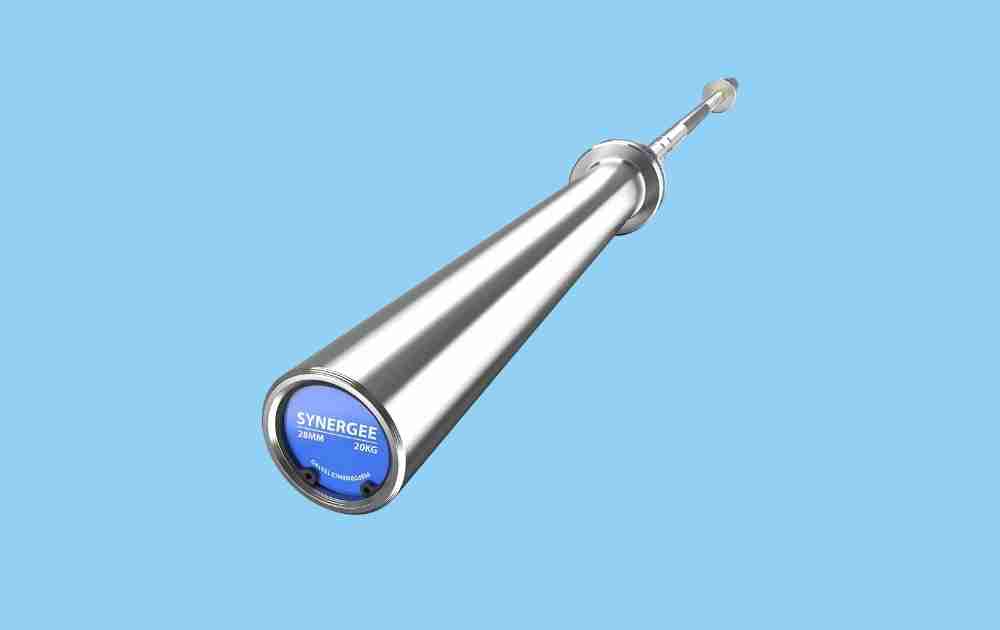 Rogue Ohio Barbell – Black Oxide
⭐ Best cheap Olympic barbell for serious lifters
The Rogue Ohio Bar is one of the best all-time barbells on the market, and it is hands down my top Rogue barbell for most people. It's been around so long and gotten so much love from athletes, gym owners, and Olympic lifters that it's become a legend in its own right.
Even though it's priced about $100 more than the Synergee and CAP Barbell bars, there are plenty of good reasons to include it in this list of the best cheap Olympic barbells.
For starters, it's much stronger. While the PSI strength of CAP Barbell's "The Beast" is 110,000, the Rogue Ohio Bar comes close to doubling that (190,000). The bars are made in Ohio, featuring a 16.4" loadable sleeve, two knurl strips for finger grip, no knurl in the center (who wants to shred their chest when doing jerks and cleans, after all), and provide a decent amount of whip.
As mentioned, the Ohio Bar is a little pricier, costing about $300 plus shipping through Rogue's website, but when you consider Rogue's legendary attention to detail, the precision of construction, and lifetime warranty, you know that you are going to be using this Olympic barbell for the rest of your life.
Plus, that black oxide simply looks gangster.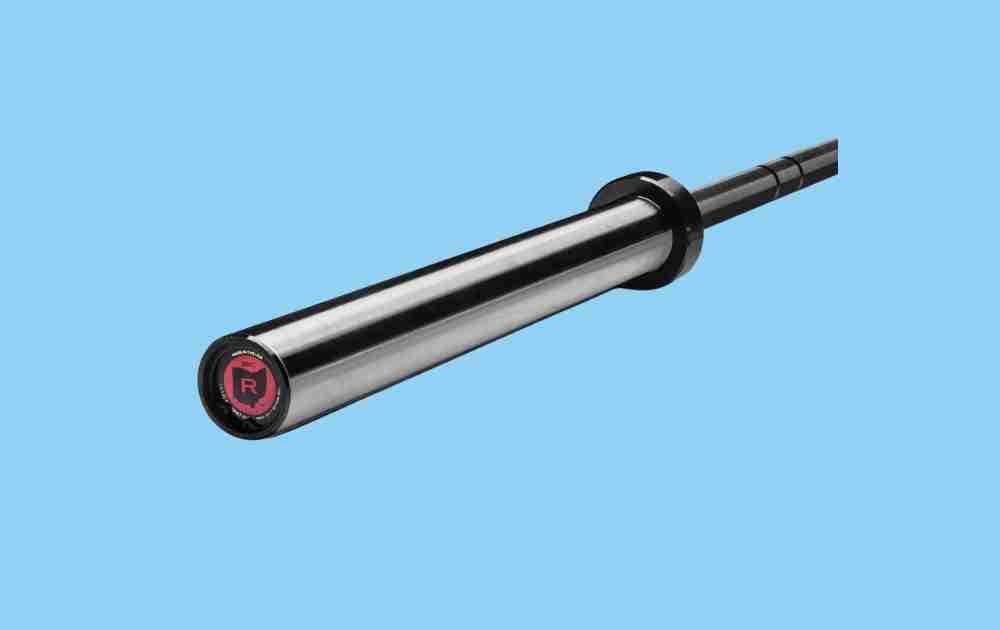 Rogue Boneyard Olympic Barbells
⭐ Best (and only) Rogue Olympic bar under $200
Want the Rogue name but want to save a couple of buckeroos?
Every so often Rogue will put up Olympic barbells for sale on their website as part of closeouts. The bars are rejects, not suitable for full-price sale because of minor defects. But this doesn't mean they are structurally deficient—the barbells have only slight, barely perceptible blemishes that happen in the course of production.
Here's an example of what I mean:
With Boneyard Bars you get the same features of a Rogue Olympic barbell, from precise weighting, bronze or composite bushings, and high tensile strength.
Price-wise, how much you save depends on the finish and bar you end up choosing ("Boneyard" isn't a model but rather an umbrella term for all the barbells that don't make the cut).
Last time I checked, you could pick up an Ohio Bar for $195 with a raw shaft and bright zinc sleeve. Pretty not bad, and likely the only time you will be able to buy a new Rogue Olympic barbell for less than $200.
Boneyard barbells are probably best for people who've used Rogue barbells before, know what to expect when ordering, and are comfortable enough with their gear to stomach the "final sale" tag.

Body-Solid Olympic Barbell
⭐ Best super cheap Olympic barbell
Body-Solid makes a lot of good equipment for the home-based workout enthusiast, including calf raise machines, lat pulldown machines, and even complete home gyms.
The Body-Solid Olympic Barbell is a decent and affordable way to get into Olympic lifting.
With a price tag of around $100-140 depending on whether you go for the chrome or black oxide finish, you aren't going to get the high tensile strength and performance as the other barbells on this list.
But if you want something basic that can handle a decent amount of weight (the bar is rated for up to 600lb), with less sleeve length (this barbell is best suited for cast-iron weight plates versus the space-hogging bumper plates), and you don't want to spend a bunch of dough, this might be just the barbell for you.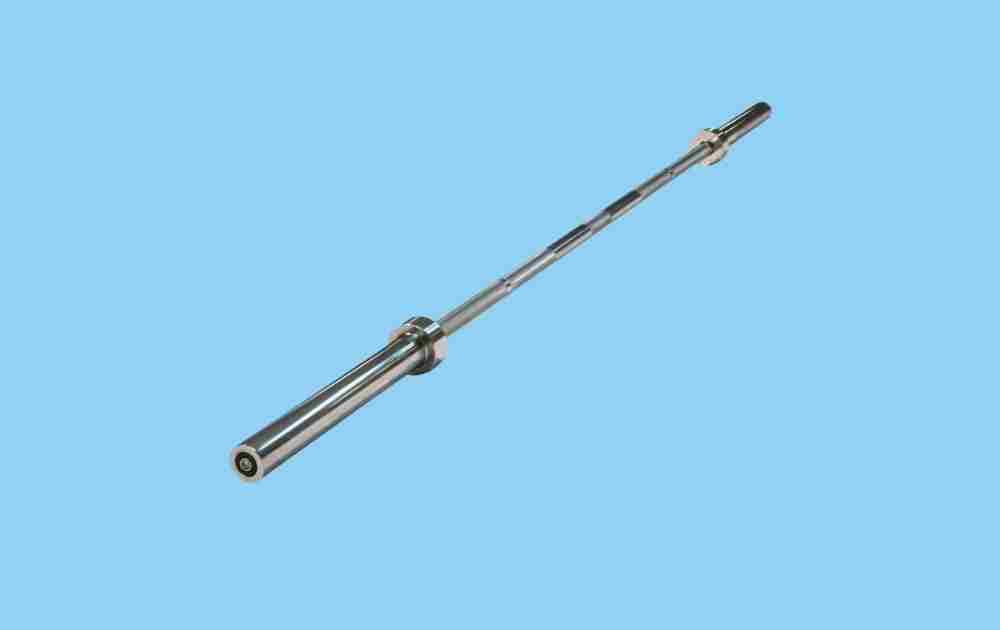 REP Fitness Gladiator Olympic Barbell
REP Fitness has become one of the big players in premium home gym equipment in recent years, with the Denver-based company making inroads at becoming one of the go-to brands for serious home gym owners.
With "The Gladiator," it's easy to see why they are succeeding.
"The Gladiator" is a great name for this barbell, as it lives up to its namesake. It has a higher tensile strength than even the Rogue Ohio Bar at 230,000 PSI (holy schnikies!) and a maximum weight rating of 1,500lb.
Price-wise, it's not the cheapest barbell on this list, at around $320 (check Amazon for up-to-date pricing and sales), but if you are looking for a heavy-duty all-purpose Olympic barbell that will take everything you can throw at it (and probably more), it's hard to overlook this fella.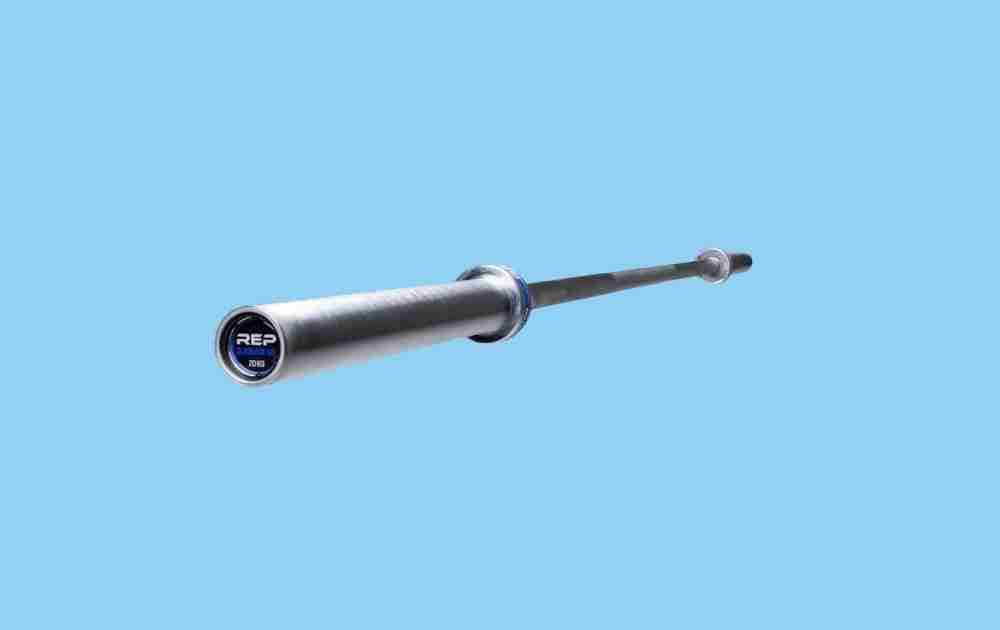 Recommended Resources
8 Best Olympic Barbells for Every Kind of Lifter. Looking for more premium Olympic barbells? We break down the best overall Olympics barbells–regardless of price–in this detailed guide.
The Best Barbell Landmine Bases. Your barbell can be used for a whole new roster of exercises when you pair it with a landmine base. Here's a breakdown of my favorite barbell landmine bases.
The Best Olympic Barbells for Women. Looking for the best barbells for women? Here's a detailed look at the best Olympic bars on the market and where to get the best deals on them.