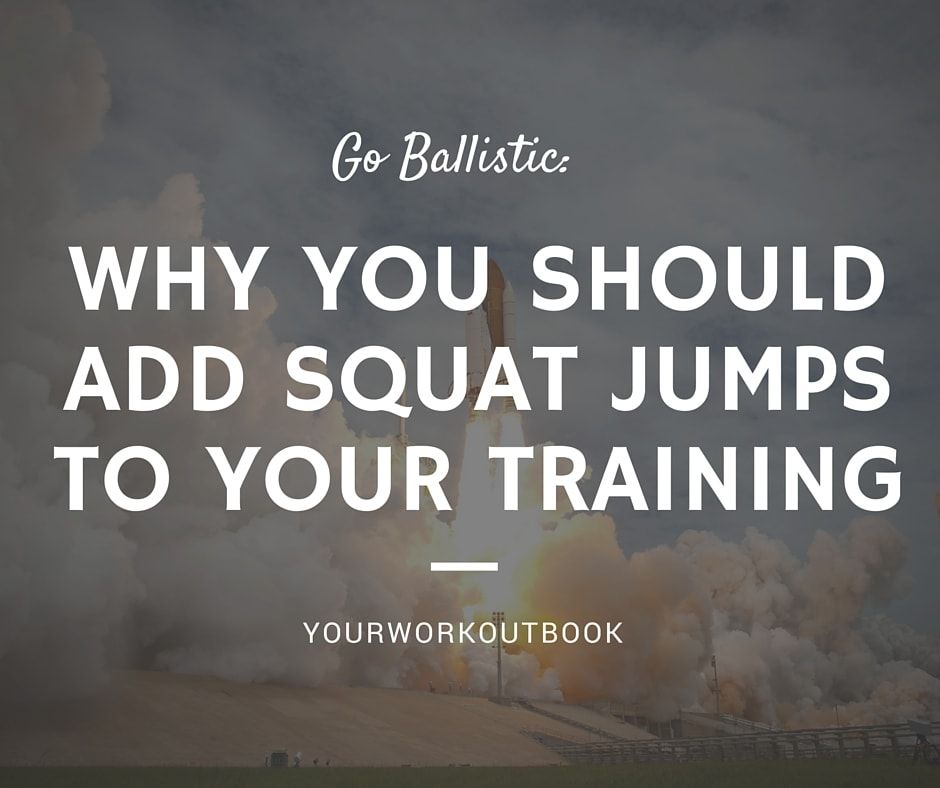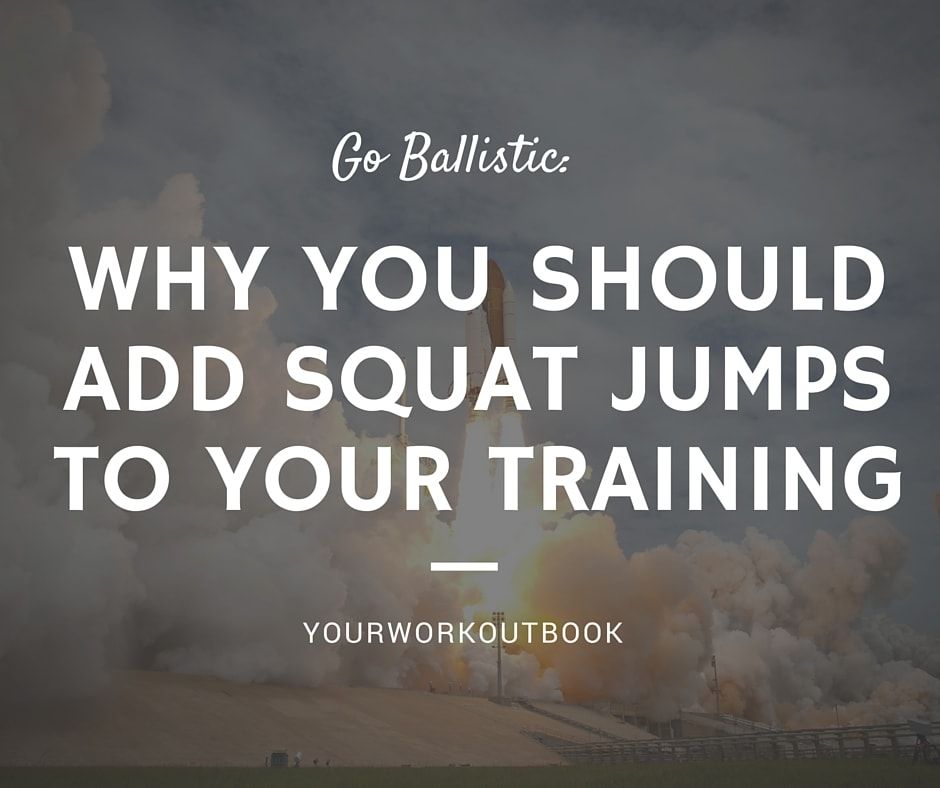 Want to improve your squat? Increase the speed and power in your legs? Become a better athlete? Then you my friend should cozy up to your new best-buddy-old-pal, the jump squat. Here is why and how to add it to your program.
In terms of straight badassery, the jump squat ranks right up there.
Sure, you aren't lifting massive amounts of weight so you won't need a gang of spotters inside the squat rack to ensure that you don't drop the small house on your back. But it looks cool, and once you get better at it, the movement is actually a whole heap of fun.
After all, the jump squat is about more than slowly moving heavy weight, it's about moving light weight very, very fast. Put more poetically, it's about exploding skyward in a violent cataclysm of speed and athleticism.
And who doesn't want themselves some of that?
The Super-Duper Benefits of Jump Squats
No matter what your goals in the gym are, injecting them into your workouts can yield performance dividends as well as make you more muscley and good-looking.
Here is why you should throw jump squats into your lifting regimen:
1. Jump squats help develop power. Lotsa power.
Yes, the regular ole squat can be a great indicator of general lower body strength.
But what makes squat jumps—and other plyometric exercises like plyo box jumps—so fantastic is that they develop white-hot levels of power in your legs. It's the kind of explosive power that allows you to generate force very, very rapidly.
Having this kind of force generation capabilities in your legs goes beyond just being able to jump a little bit higher—after doing them for a couple of weeks you'll notice the difference when you go to stand up and nearly shoot out of your chair.
2. It's a great substitute for the Olympic lifts.
A lot of athletes do Olympic lifting. Snatches and cleans being two of the most common of them. During the pulling phase the lifter undergoes triple extension—a movement that closely replicates the explosive nature of a lot of sports movements.
The downside of Olympic lifting is that it requires technical supervision (especially for younger athletes) and the weights and an Olympic platform. Luckily the squat jump simulates the same explosive movement, but without the steep learning curve.
Generally speaking, an athlete can be rocking and rolling with these in a matter of minutes, whereas the technique for Olympic lifts takes time to develop and progress into.
In this way, squat jumps remind me a lot of using a push pull weight sled, as you can develop a lot of highly functional strength and power without having to master compound movements that look simple, but are actually quite technical.
3. It'll add speed and power to your squat.
We all crave a monster squat. The mark of a serious lifter is someone who can squat and squat heavy and well.
And for those who have gotten past the first few big leaps in their squat they need ways to mix up their training in order to continue progressing.
Squat jumps with your favorite barbell mirror the movement while conditioning you to squat with power and speed, something that transfers over very well to your regular old squats.
Jump squats are also one of my preferred squat alternatives for people who don't have access to a rack (see this article —How to Do Squats Without a Rack–for more ways to get your squat on).
Tips for Adding Jump Squats to Your Training
Alrighty, so now that you are ready to drop-kick some jump squats, here are some pointers on making the most of this exercise:
Mind your muscle control and your landings.
Ryan Mallett, a USAW-certified strength coach based in South Florida, notes how important it is to pay attention to what you are doing over the course of your reps.
"The key to maximizing their use is to focus on muscle control throughout the entire movement," says Mallett.
"Height is NOT as important as mechanics and consistent/ fluid repetitions. Land as soft as you leap! Protect those joints and decelerate in your landing."
How far down should I go?
A common mistake is to go to usual squatting depth when doing these jumps, which is understandable given that they are called squat jumps.
In reality, you only knee to go to about a quarter-squat, which is the optimal knee angle to generate maximal hops.
If you need to call them quarter-squat jumps in your training journal to keep this point straight I completely understand and will not judge you.
Also, don't forget to keep your eyes and chest up.
Folding over like a rusty lawn chair before taking off gives the illusion of going higher, but in reality it's just your head and shoulders that are traveling more distance.
How heavy should I go?
Don't feel like you need to load up the bar when doing jump squats. The whole point of squat jumps is to achieve violent force production and to be fast.
If you are struggling to explode out of the hole you are going too heavy. The goal is to move the body quickly, with form, and with power. You are already competing with gravity (unless you're LeBron or Michael), so the likelihood of you developing speed and explosiveness increases with minimal resistance (duh).
So how much should you load the bar with?
Christian Thibodeau over at T-Nation recommends that you don't go any higher than 20-30% of your squat max. Doug Crashley of Crash Conditioning, when assigning squat jumps to pro hockey player Duncan Keith, had the Chicago Blackhawks defender go no heavier than 10-20% of his squat max.
You can (and should) go even lighter than that.
Research done on a group of male collegiate athletes found that doing jump squats with just bodyweight was where they produced significantly higher peak power and peak velocity compared to using loads of 40%, 60% and 80% of their 1RM squat. (20% of 1MR was comparable.)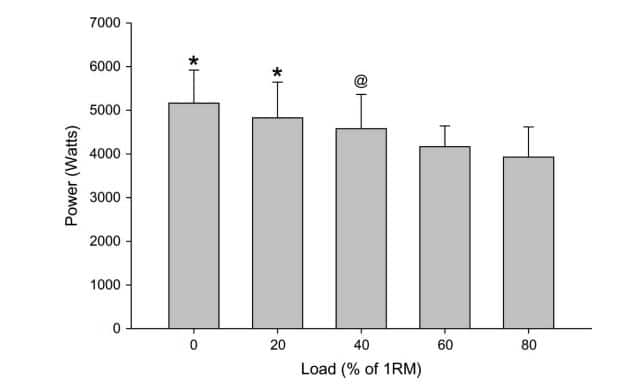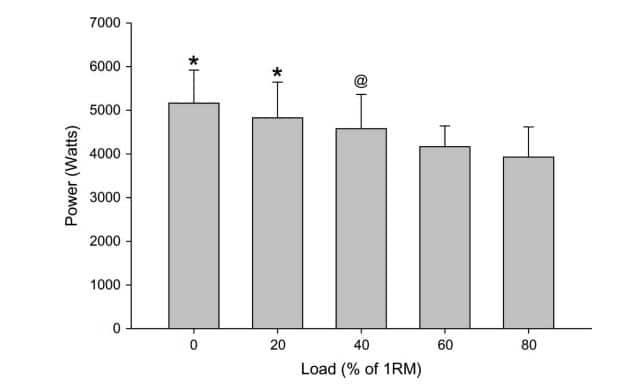 The study goes on to note that adding body-weight jump squats to your typical heavy lifting is a great way to "increase power output across the entire loading spectrum."
Sure, it'll feel like you are chickening out with the lighter weights, but remember: it's about the speed and going ballistic. Going body-weight is where you are the most powerful and can go completely ballistic.
So, for the final time…don't worry about going light on this exercise.
How many reps & sets should I do?
The ideal rep range is in 4-5 territory. And no more than 5-8 sets.
Why?
Because once you get beyond that the power (and often technique) begins to fall apart pretty quickly.
The goal is explosive and nasty power. Not exhaustion.
The focus on squat jumps isn't going to failure—it's about achieving reps with maximal power and then stopping the moment it erodes.
Each and every exercise in your arsenal has a purpose and is not designed to break you, it's to achieve the highest end of speed and power that you are capable of.
This also means taking enough rest between sets to recover maintain explosiveness from set to set. For some athletes that could mean :30ish seconds, while others will need :45-:60 seconds to square up again.
The Takeaway
Like every other movement and exercise, it's about quality and excellent mechanics before it's about load and volume.
If you've never done squat hops (trademark!) start with just your body-weight to get used to the movement and slowly progress into using resistance.
Remember to explode to the sky with full hip extension, land softly, reset, and embrace the speed and power gains that will inevitably come with it.
More Stuff Like This: