Ready to crank up your interval workouts? Read on for a breakdown of the best gym timers and workout clocks for dominating your workouts.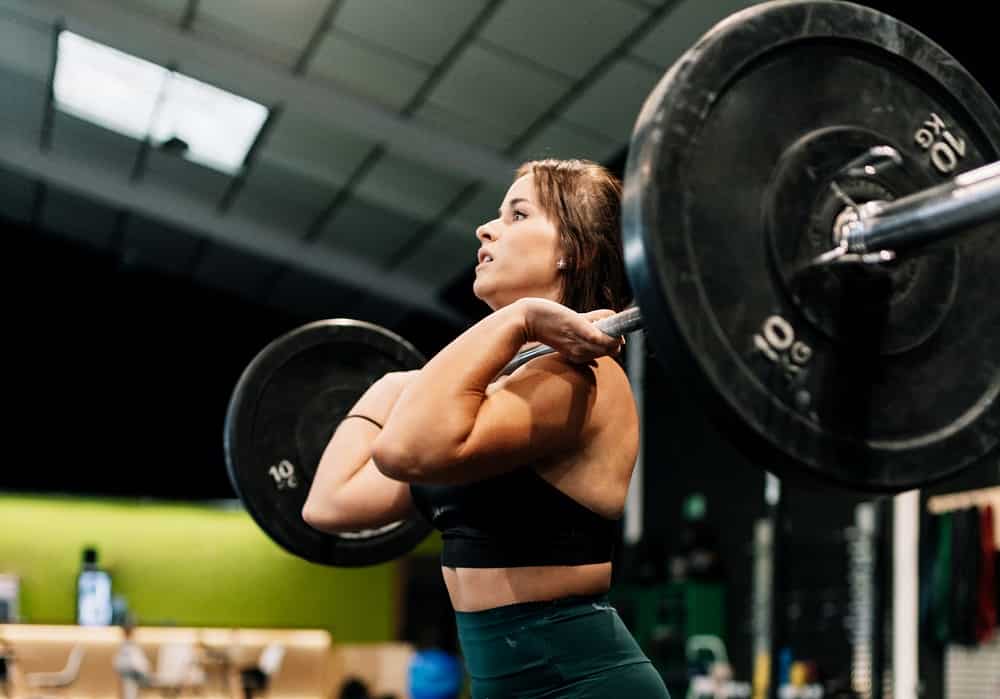 Interval training is a great way to crank up the conditioning and the fat-burning of your workouts.
But keeping track of the start-stop of your intervals can be tricky.
Instead of leaning your smartphone against the wall or using ad-loaded timer apps, level up your home or garage gym with a gym timer.
Gym timers feature bright LED screens, interval timers, customizable workouts and timers, and can be used by remote control and/or apps on your smartphone.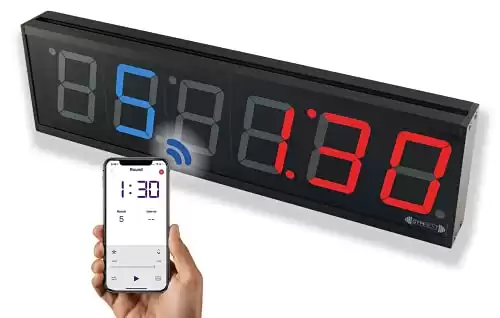 GymNext Flex Timer
+ Extra large display
+ Prebuilt workout modes (HIIT, etc)
+ Unlimited programming options
+ Connects easily to smartphone
+ Syncs with Bluetooth speakers
Shop Now @ Amazon
There are plenty of different gym timers, varying by budget, features, and size.
Below is a breakdown of the best gym timers. Whether you are looking for a two-foot clock or something small and simple, you will find the right gym clock for you so that you can get more from your workouts.
Let's get right into it.
GymNext Flex Timer Digital Gym Clock
⭐ Best gym timer for most home gyms
With a crystal-clear LED (the picture below doesn't really do it justice), the GymNext Flex Timer is an award-winning gym timer that is awesome for all forms of interval training.
Key features include a bright four-inch LED, customizable intervals and timers, a buzzer that can be adjusted up to 95db in volume, and an intuitive app that you use on your smartphone to configure the timer.
Whether you have a garage or home gym, you want something better for your commercial gym, or you are simply tired of using your smartphone and cheapo gym timers, the GymNext is a killer investment and a breeze to use.
The GymNext Timer is a little pricey, in the neighborhood of $300 (check Amazon for availability and up-to-date pricing), but once set-up, you will never go back to the timer on your smartphone again.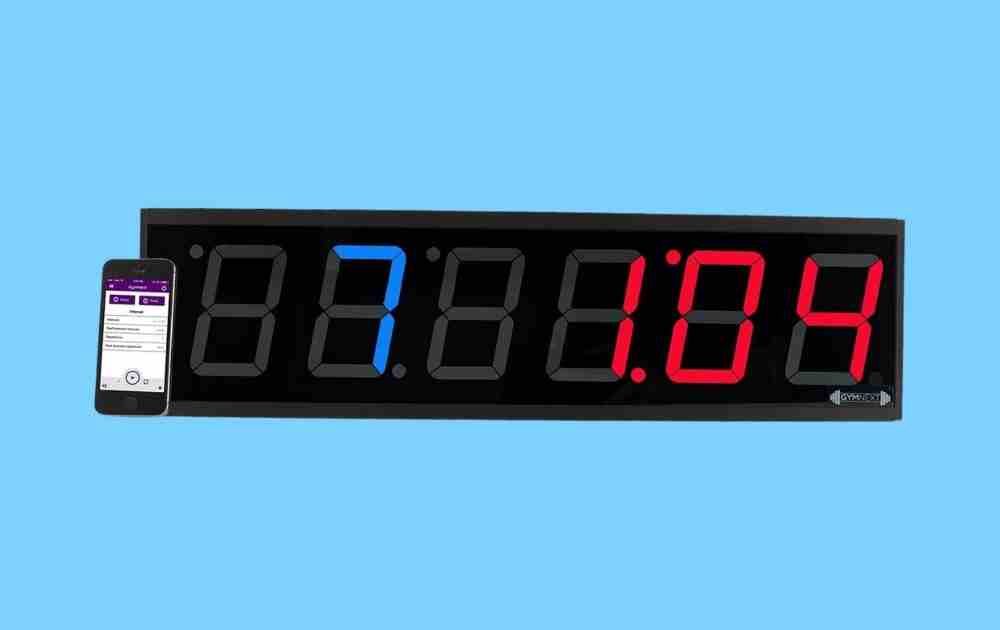 ---
GymNext Flex Timer (Home Edition)
For the athlete or gymgoer who is working out in a smaller space and wants a gym timer that is smaller, GymNext makes a home edition of their Flex Timer.
It incorporates all of the same bells and whistles as its big brother, including an app that allows you to save (and even share) your favorite interval workouts, whether you are doing Tabata-style sessions, EMOM, intervals, or custom workouts.
The LED screen is smaller than the original, at 2.3", and cost-wise is much more affordable, retailing for about $169 (check Amazon for current pricing and availability).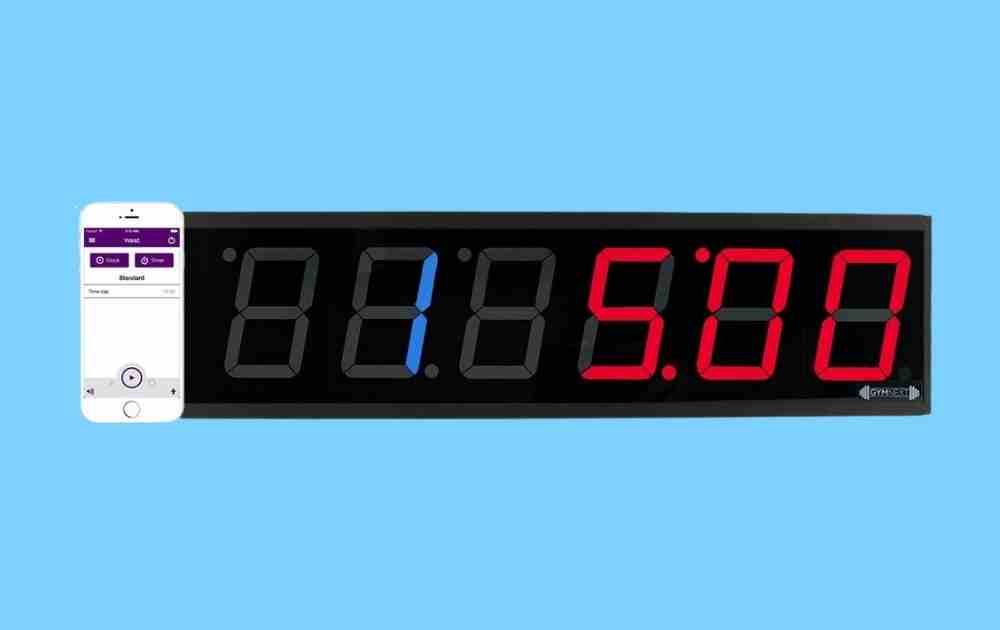 ---
Rogue Home Timer Workout Clock
⭐ Best Rogue timer for home gyms
Rogue is one of the top names in the fitness equipment industry. While most often associated with CrossFit, they make absolutely bombproof gear, whether it's Olympic barbells for home gyms, hex dumbbells, or trap bars, Rogue kills it.
While they do make a more commercial-grade timer that is more suited to boxes and large-space gyms, the Rogue Home Timer is best suited for the home and garage gym enthusiast.
The timer is just over a foot long, bright LED display, and an adjustable sound and screen brightness that can be changed to your liking. The timer is powered by two rechargeable batteries that last about 8 hours on a full charge, making the Rogue Home Timer perfect for on-the-go workouts, whether you are training in the backyard or in the garage.
Rogue sells these for around $150—check Rogue's website for up-to-date pricing and availability—and they bundle it with an app that allows you to customize your workouts and intervals.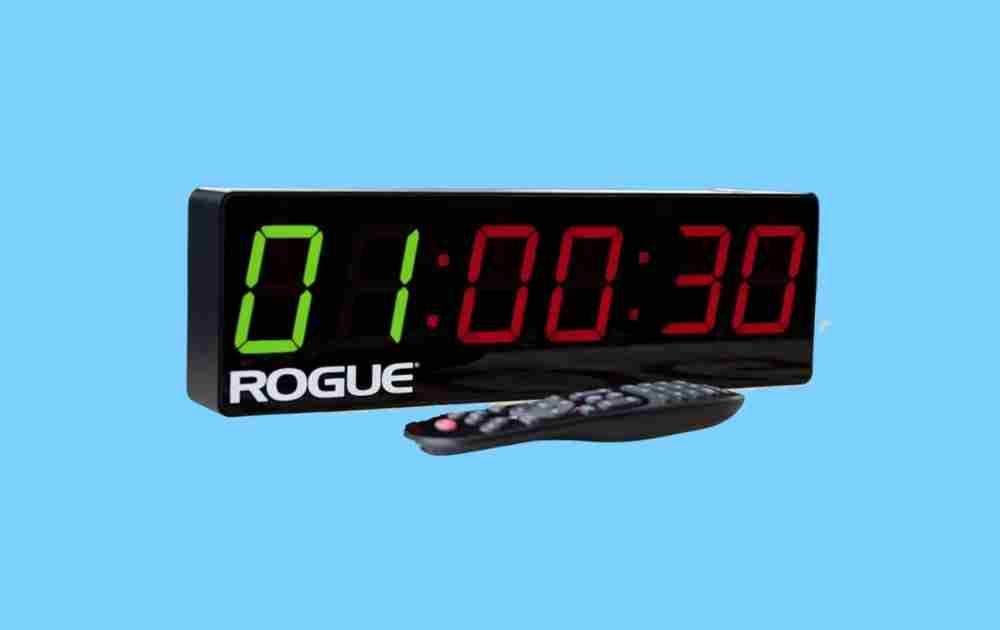 ---
Seesi LED Gym Timer
⭐ Best gym timer for the money
Gym timers vary quite widely in price depending on the features and brand. The Seesi is a low-cost, budget-friendly workout timer that uses a remote control to design your workout routines.
The timer comes with a bunch of pre-programmed modes, including a stopwatch, interval timer mode, normal time mode, and count down/up. The LED display is bright and clear, and you can change the brightness to suit the environment.
Range on the remote is rated at being around 30 feet, which isn't great, and if you lose the remote you are kind of screwed as you don't have an app to fall back on while waiting for a replacement.
Nevertheless, the Seesi timer is considerable cheaper than the Rogue and GymNext timers, with a price tag of around $70 (check Amazon for current pricing and availability).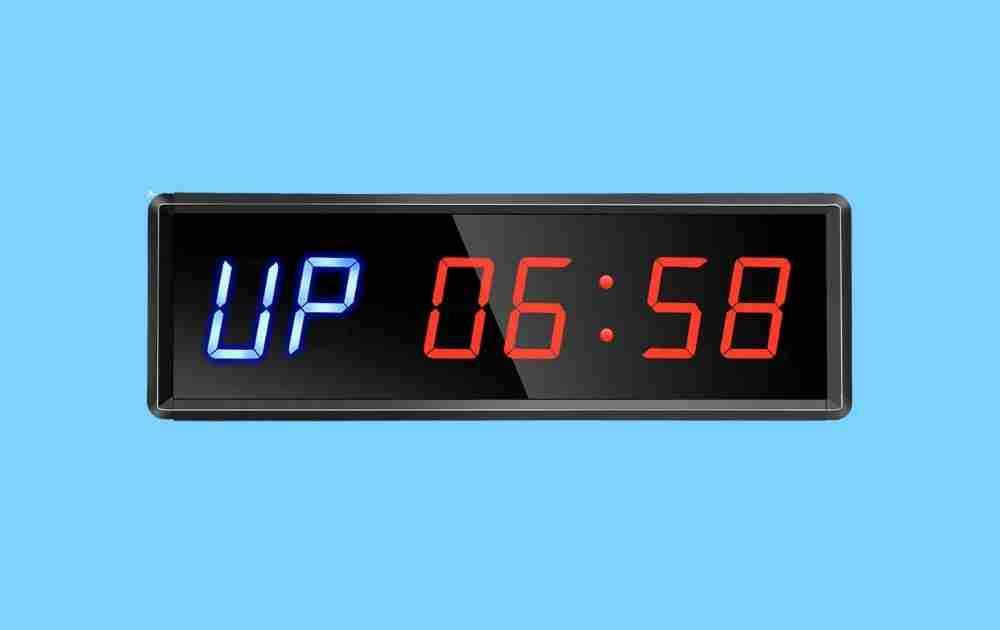 ---
Synergee Wall Gym Timer
⭐ Best large gym wall timer
Synergee is one of my preferred fitness equipment brands. They make great and durable stuff for the home and garage gym enthusiast, including plyometric boxes, barbell collars, and cast iron weight plates.
The Synergee Premium Wall Gym Timer is big, nearly 29 inches long, with a high-contrast LED display that you will be able to see from the moon. Synergee bundles it with a remote and a link to their PDF instruction manual (that is much easier to navigate compared to some of the cheapo gym timers found on Amazon).
The remote has a range of up to 60 feet and the volume of the timer can be adjusted to be as loud as 110 decibels, making it ideal for loud and busy gyms.
Modes include all of the usuals: EMOM (every minute, on the minute), countdown/up, Tabata, and more. Each are adjustable for rounds, minutes and seconds.
Even though this thing is large and in charge, it won't break the bank, with Amazon retailing it for under $200 (click here for up-to-date pricing on Amazon) and Synergee backs this thing with legit customer service.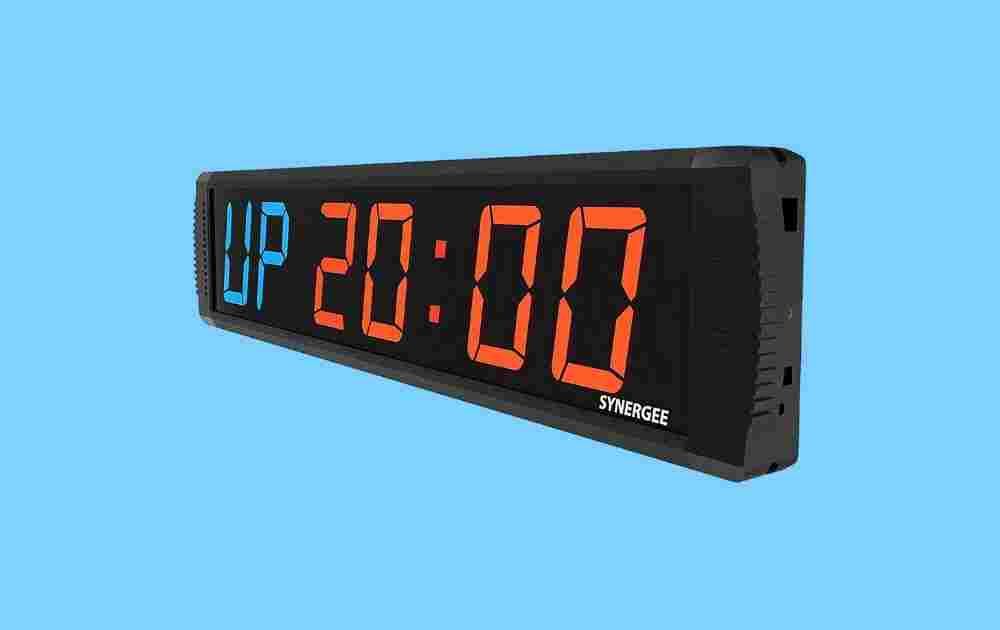 ---
Rogue Echo Gym Timer
⭐ Best gym timer for Crossfit
Rogue is synonymous with CrossFit. At the Games, all of the competitors are rocking Rogue gear and you would be hard-pressed to find a CrossFit gym that doesn't have Rogue gear from floor to ceiling.
The best timer for CrossFit has to go to the Rogue Echo Gym Timer, a two-foot LED clock that shows the time in red digits and rounds in green. High contrast means you can see the clock easily at a distance, and you can program the crap out of this thing, with up to 10 different custom routines at a time. The Echo has the pre-set modes you expect, including Tabata and countdown/up modes.
One thing I don't like about this product, and Rogue does this sometimes, is that you have to pay extra for the remote ($15) instead of Rogue just including it. Ultimately, most of us will use the app on our smartphone to program the timer, but having the remote included as a backup would be appreciated.
Being a Rogue product, it isn't cheap, with the Echo costing around $285 (check Rogue's website for current pricing).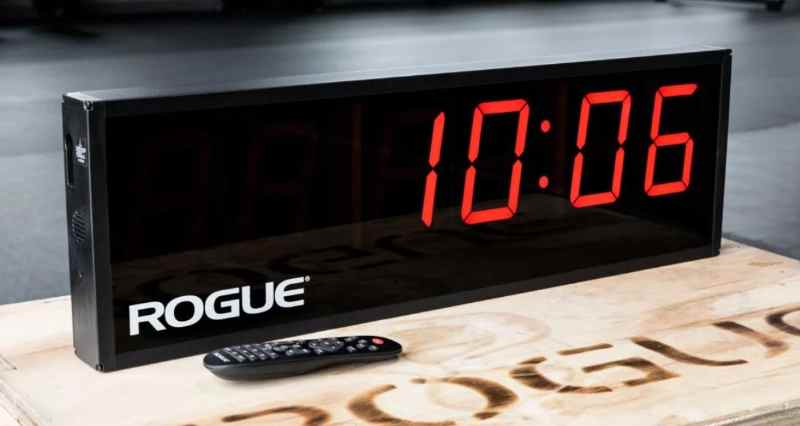 ---
Gym Timers and Clocks — FAQs
Should I workout with a gym timer?
Yes! Having a clock while working will help you stay on top of intervals, keep your energy and focus, err, focused, and ensure that you are taking the proper amount of rest between sets and reps.
For powerlifters, not taking enough rest is often an issue, while for lifters who tend to drift into endless scrolling on their smartphones between sets, a gym timer helps them stay on track with their reps and sets.
What are gym timers used for?
There is an almost endless number of ways that you can use a gym timer to improve your workouts. Some of the more obvious ones include:
Time elapsed. Got a cardio-heavy day? A gym timer helps you stay on top of the duration of your workout, whether you are jumping rope, riding an assault bike, or riding a stationary bike. Having the time front-and-center helps keep me focused when working out instead of just exercising until I "feel like" I've had a good workout.
Intervals. This is the big one for most lifters–a gym clock helps you stay on top of tracking your intervals, both when to start the next round and letting you know how many rounds you have done. Whether you are doing Tabata protocol intervals (:20 work, :10 rest, 8x) or custom intervals (:15 work, :45 rest, for example), a gym timer is crucial.
Choice of notification. Gym timers–the good ones, at least–have audible reminders that you can set for your intervals. This is handy as it means you don't need to be staring at the timer to see when your next round is starting.
Stay on track. Finally, gym timers and clocks are perfect for keeping you on task. Like many people, I can sometimes get distracted when working out at home, either from scrolling on my phone or giving my dog Beau some well-deserved belly rubs. A timer is excellent, particularly for home gyms where distractions abound, to help you stay focused while working out.
The Bottom Line
A quality gym timer, at the end of the day, should align with your training and goals in the gym.
The good news is that there are some excellent options on the market that can adapt to your workouts, whether that means you are doing Tabata-style sessions, classic HIIT workouts (:30 work, :90 rest), or you simply want a timer to help keep you accountable when working out.
Choose the best gym timer for you and your training goals, crank up the accountability, and level up your workouts!
---
More Home Gym Gear Guides Like This
6 Best Fans for Home Gym. Beat the heat and work out in comfort with the right home gym fan. Read on for our favorite fans for working out.