The Sole Fitness E25 and E35 are two budget-friendly ellipticals for home gyms packed with features. But which one is best for you? In this comparison, we examine the pros and cons of each so that you can buy with total confidence.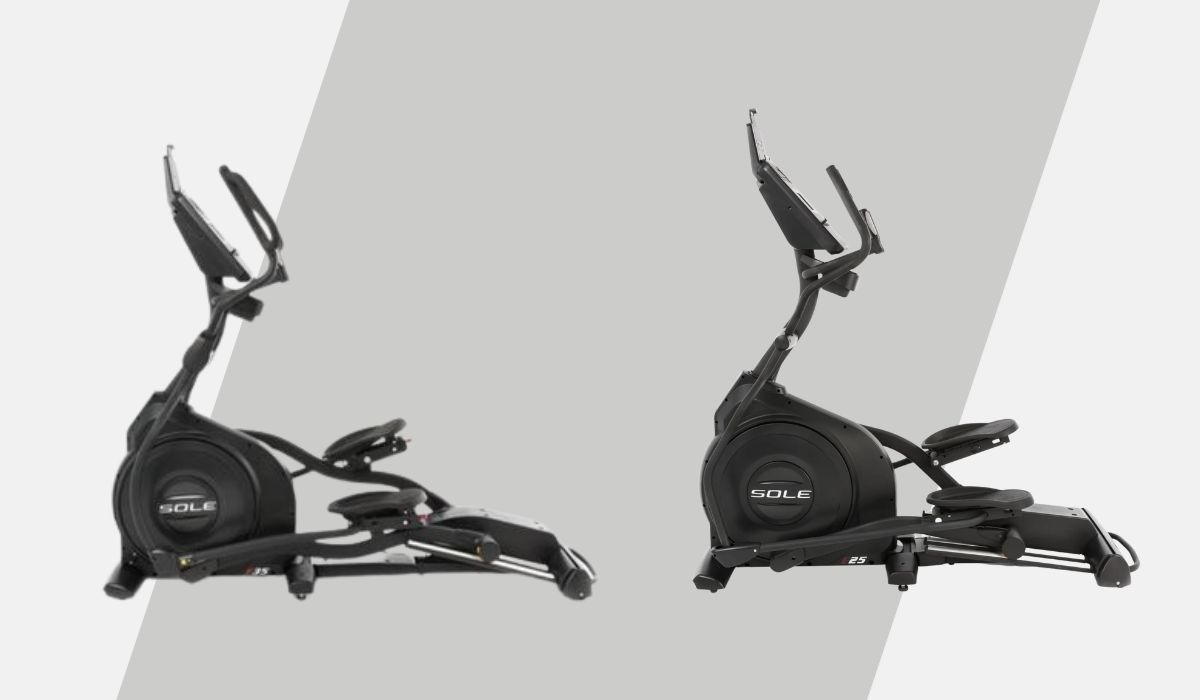 Sole Fitness has made name for itself as one of the top brands for elliptical machines, both for home use and commercial gyms.
Sole Fitness' elliptical machines feature unique user-friendly designs and top-of-the-line performance that makes them worth every penny you'll spend on the mid-tier and high-end machines.
If you're looking for budget-friendly options that deliver premium quality, both the Sole E25 and Sole E35 are some of the best to consider (though you can see the details of the full range of Sole ellipticals here) for a variety of reasons.
Both are feature-rich, offer a highly efficient workout, are built specifically for your comfort, and are backed by lifetime warranties on their frame.
But there are a few differences that set them apart—so the question is, which is the best one for you?
Below, we'll take a look at these two popular models, comparing the ellipticals to find out which serves your purposes best and offers the features you most want (or need).
By the end, you'll have a much clearer idea of which is the best investment for you.
So let's dive straight into it, shall we?
Sole E25 vs E35 – The Key Differences
Here are a few of the factors and features most people consider first when evaluating the differences between two elliptical machines.
| | | |
| --- | --- | --- |
| | Sole E25 | Sole E35 |
| Price | $1,099 | $1,399 |
| Flywheel | 20lb | 25lb |
| Footprint (L x H) | 66″ x 34″ | 82" x 31" |
| Stride Length | 20" | 20" |
| LCD Screen | 6.5" | 7.5" |
As you can see, it's not just the cost of elliptical machines that sets these two apart.
The Sole E35 offers a few upgrades and improvements that the E25 just can't quite match.
Sole E25 Elliptical – Overview
The Sole E25 elliptical is one of the most budget-friendly models in Sole's line of elliptical machines.
Only the Sole E20 retails for less, but the Sole E25 packs a few more advanced design and performance features that the E20 drops, which makes it definitely the superior choice.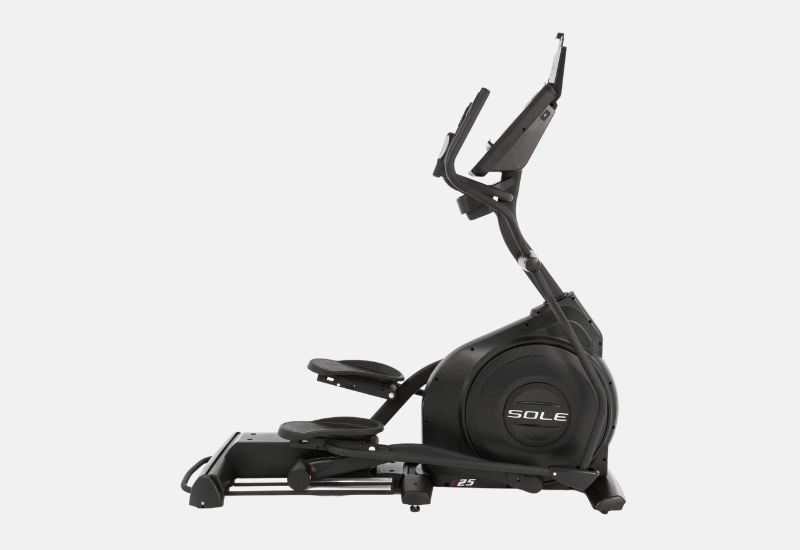 However, it's notably cheaper than Sole's mid- and upper-tier models—such as the $1,499-priced Sole Fitness E55 Elliptical or the $2,299-priced Sole E98 Light Commercial Elliptical Trainer.
The Sole E25 is perfect for:
✅ Budget-Conscious People
Sole's ellipticals are far from the cheapest on the market—you can find a handful under $1,000—but they deliver exceptional quality and performance that makes them well worth the price.
Both the E25 and E35 are great machines, but as you saw above, the E25 is about $300 cheaper. That makes it a great option for anyone looking to add an elliptical to their home gym without breaking the bank.
Though the E25 isn't quite as high-tech as the mid-tier E35, it still delivers the quality and durability you need.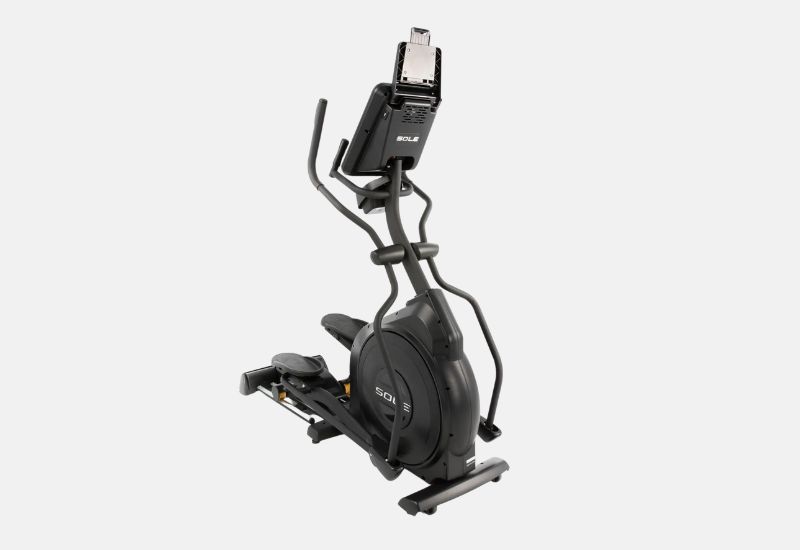 ✅ An ultra-comfortable workout
This is one area where the E25 shines bright alongside the rest of its siblings in the Sole Fitness line of ellipticals.
All of Sole Fitness' ellipticals are designed with pedals that slope inward 2 degrees, which is done intentionally to promote a better angle for your legs and thereby reduce the pressure on your knees, ankles, and hips while you walk.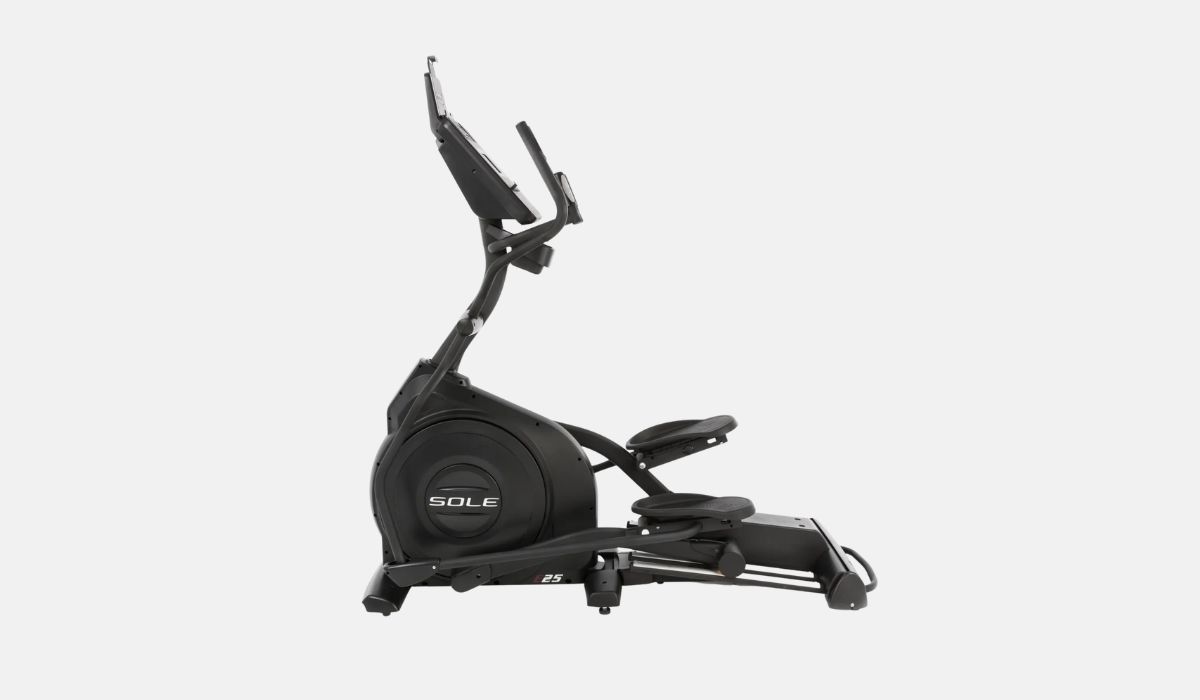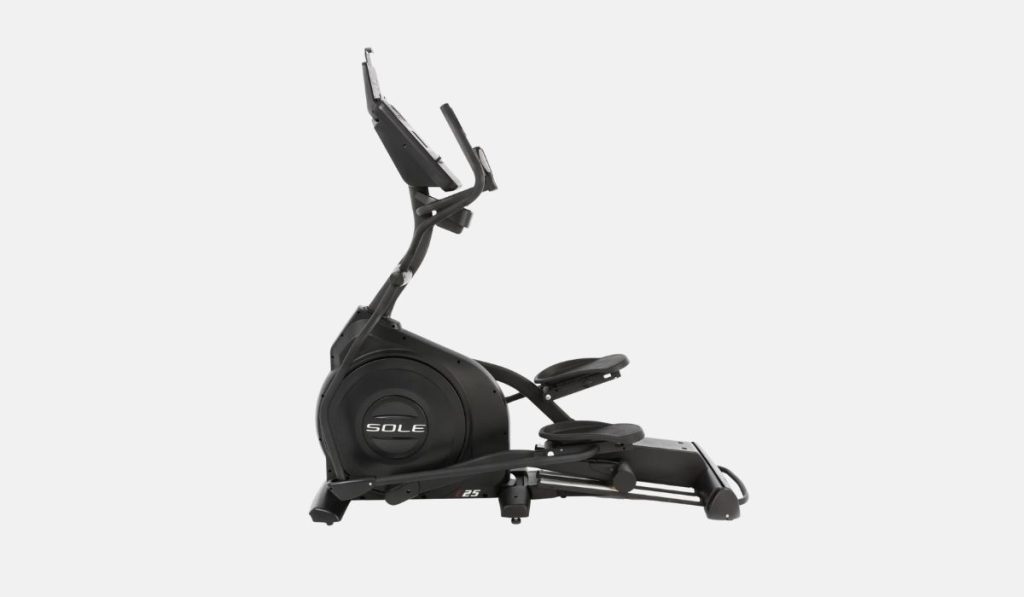 Add to that heavy-duty rails and a front elliptical design, and you have the recipe for an ultra-comfortable workout and smooth ride every time you step on and off the E25.
✅ Excellent elliptical performance
The E25 features a built-in power incline feature which will automatically increase the incline and add greater resistance to your workout.
Yes, the resistance won't be over-much, because the flywheel is a bit lighter (20 lbs. vs. the 25 lbs. of he E35 flywheel). However, it will be enough to give newbies a heck of a workout.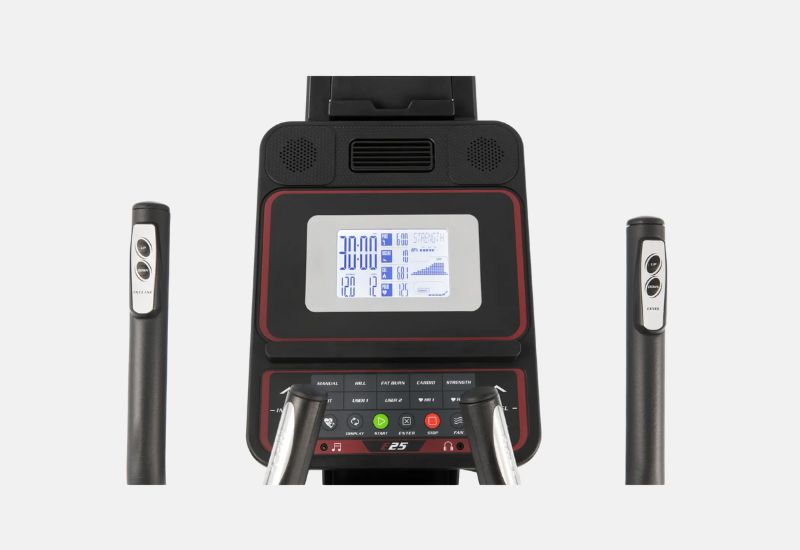 The machine also offers 20 incline levels, allowing you to focus more on your glute training than your quads.
The stationary handlebars provide solid support to keep you steady while you pedal, but the adjustable handlebars let you push your upper body muscles hard in every workout.
Thanks to the built-in sensors (in the handlebars) and the provided heart rate chest strap, you can monitor every second of your workout to maximize performance.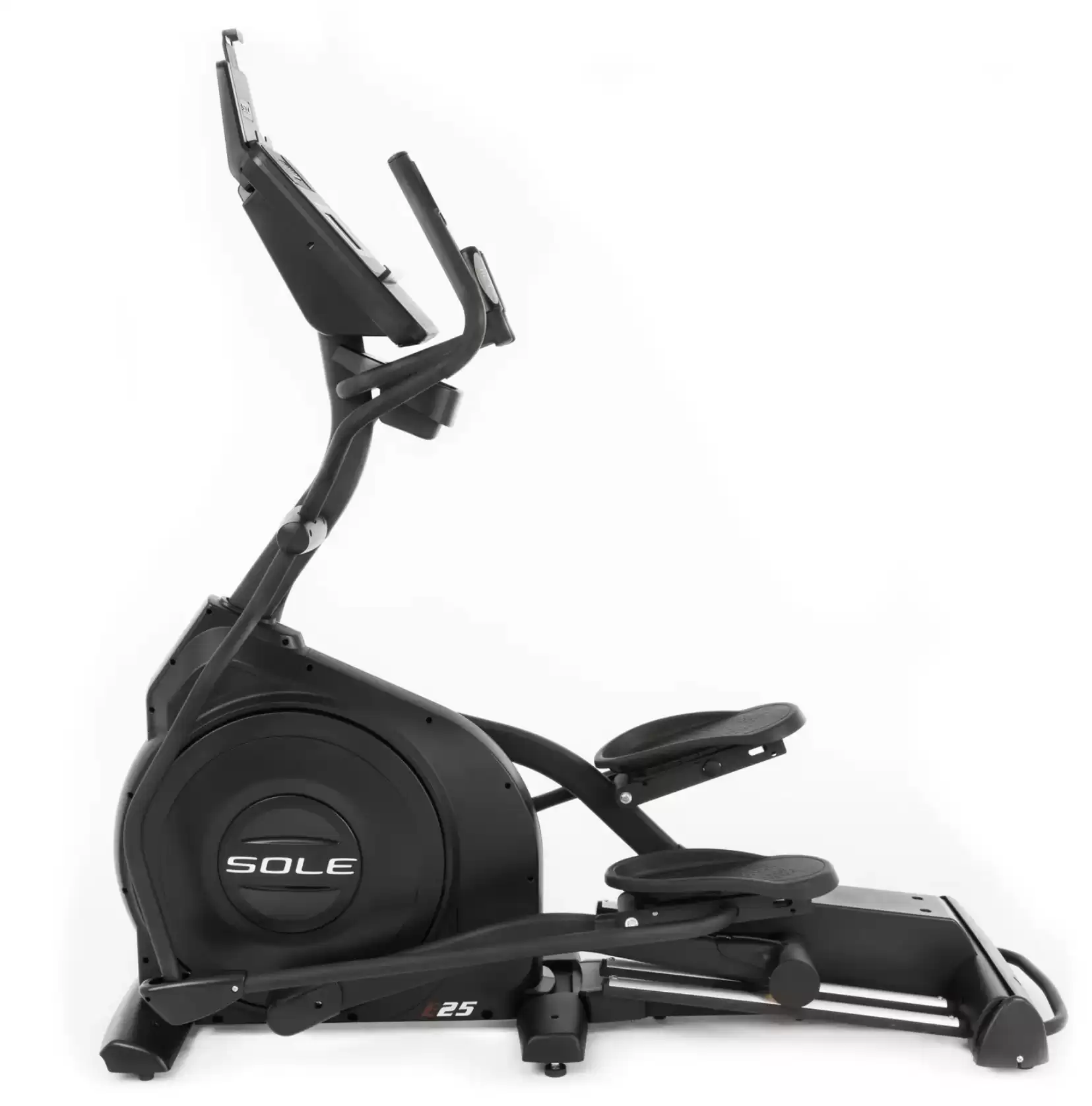 Sole E35 – Overview
The Sole E35 elliptical is the ideal mid-priced offering for anyone who wants a few more performance options, but still wants to keep things budget-friendly.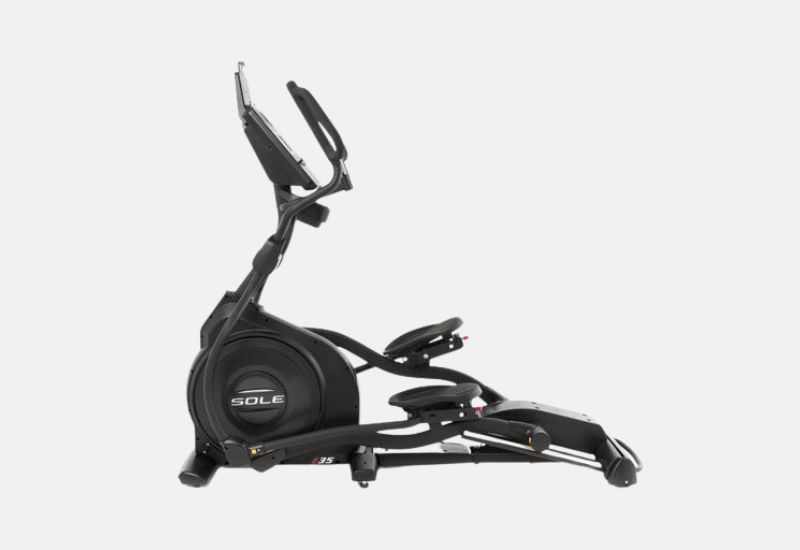 Priced at $1,399, it's definitely still within the lower end of most people's price ranges.
The Sole E35 elliptical is a great option for:
✅ Users who want a heavy-duty ride.
Though the Sole E35 is only 20 pounds heavier than the E25, it feels like a much sturdier, more solid machine. It sits solidly on the floor and remains stable even if you push your pace to a proper HIIT workout, pedaling/striding at full steam.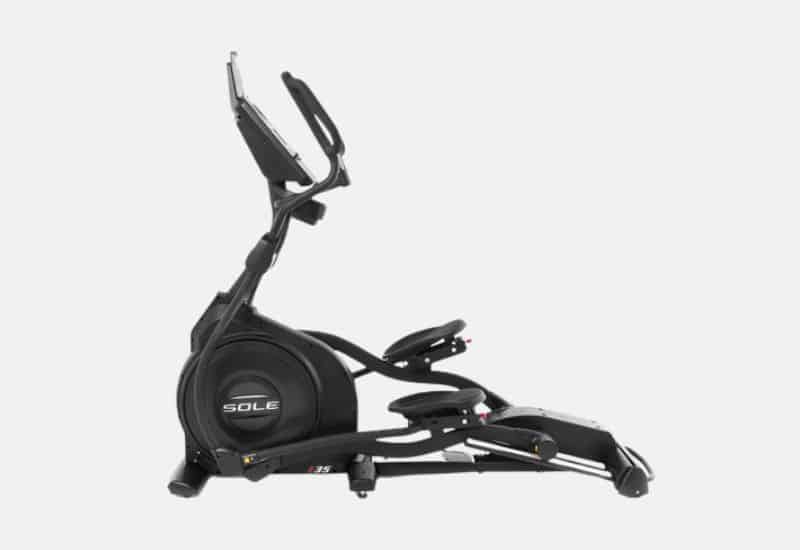 Sure, it's not quite as heavy-duty as the upper-tier models—like the E55 or Sole E95—but compared to the E25, the E35 just feels like a better-built, more reliable machine. 
✅ Heavier and larger users
The weight capacity of the E35 is 25 pounds heavier than the E25, meaning anyone up to 375 pounds will be able to work out on this elliptical machine.
Though the stride length remains the same (20 inches for both machine, which is the "average" recommended elliptical stride length), the flywheel on the E35 is also 5 pounds heavier than the E25's flywheel.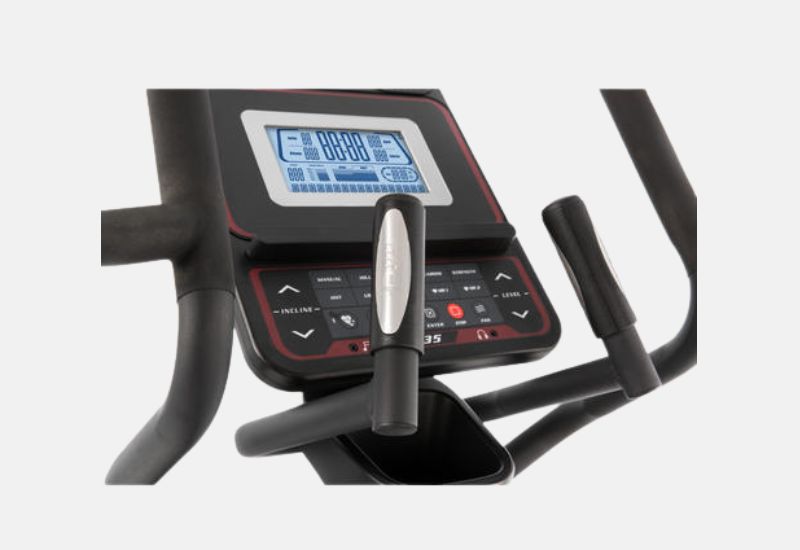 The heavier flywheel provides greater magnetic resistance and allows you to increase the difficulty of your workout very effectively, even if you're a heavier or larger user yourself.
In fact, for people over 200 pounds, a 20-pound flywheel may simply be too light, so you'll need the added weight of the E35's flywheel to really challenge you on your high-intensity, high-resistance workouts.
✅ People who want multiple foot positioning options.
The Sole E35 allows you to adjust the position of the pedals, so you can adapt it to find the perfect positioning to keep your feet and legs from feeling the strain as you walk.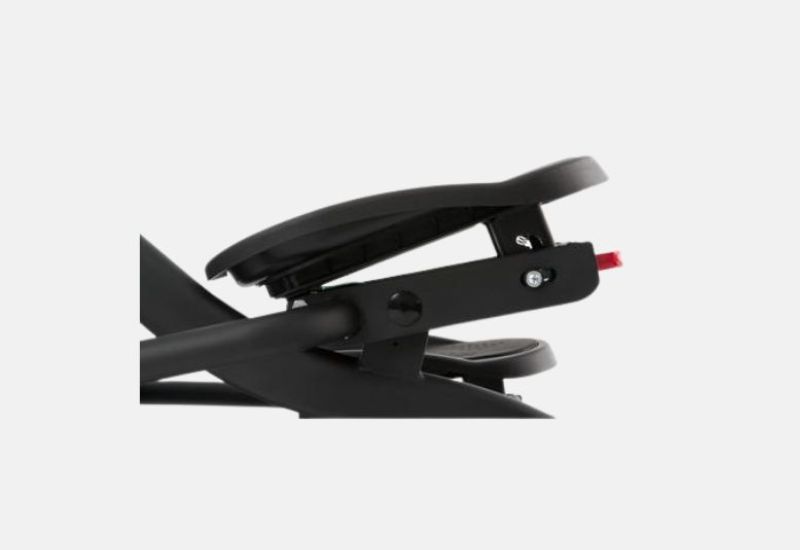 The E25 doesn't offer adjustable foot pedals, but the E35's foot pedals can be adjusted to three different positions. You may find this "minor detail" actually comes in very handy when working out for hours each week.
✅ A bigger screen.
The E35's screen is a full inch larger than the E25's screen—7.5 inches compared to 6.5 inches. It may not seem like a big deal to most, but once you see it in person, you'll understand.
With the larger screen, you can stand straighter while still enjoying your media during your workout. It'll be easier to maintain good posture and form, because the larger screen is more visible and the details are crisper.
Best Elliptical Under $1,400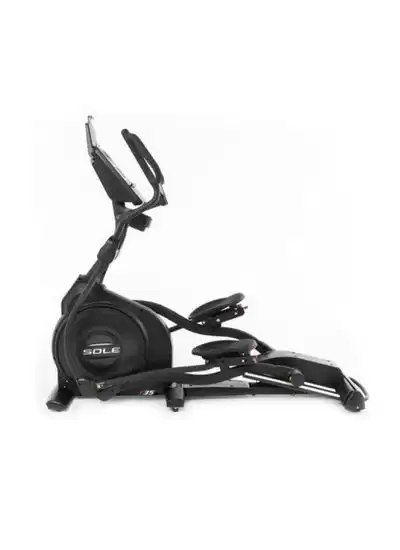 Sole Fitness E25 vs E35 – Full Specs and Differences
Here is a complete breakdown of the two machines' specs, featuring all the critical details you want to know that will highlight the differences between the models.
They include:
| | | |
| --- | --- | --- |
| Differences | E25 | E35 |
| Price | $1,099 | $1,399 |
| Flywheel | 20lb | 25lb |
| LCD Screen | 6.5" | 7.5" |
| Machine Weight | 212lb | 231lb |
| User capacity | 350lb | 375lb |
| Adjustable Foot Positions | N/A | 3 positions |
| Footprint (L x H) | 66" x 34" | 82" x 31" |
| Similarities | E25 | E35 |
| Stride Length | 20" | 20" |
| Power Incline | 20 levels | 20 levels |
| Warranty (frame) | Lifetime | Lifetime |
| Warranty (electronics) | 3 years | 5 years |
| Warranty (parts) | 3 years | 5 years |
| Resistance Levels | 20 | 20 |
| Shipping | Included | Included |
The Bottom Line
When choosing between the two elliptical models, you'll see that both the Sole E25 and Sole E35 have a lot to offer.
They offer quality performance, high-tech features, integrated screens and speakers that make it easy to enjoy your media while you work out, and a fairly reasonable price tag.
They're both great options to use at home, and will feel like the high-quality elliptical machines you'd find at a commercial gym—only for a more affordable price.
For those who are looking to keep their spending within a tight budget, the Sole E25 is a great investment to consider. It's reliable, delivers the performance you want, but won't break the bank. The price tag is one pretty much anyone can afford.
However, for anyone who doesn't mind spending a little more (just $300), the Sole E35 is the better option by a noticeable margin.
Thanks to the adjustable foot pedals, a heavier flywheel, a more solid build, and the larger screen, you'll find it just delivers a better, more consistent, and more enjoyable workout overall.
More Elliptical Guides and Reviews
Sole E95 Elliptical Trainer Review | The Best Elliptical Ever for Home Gyms? Wondering if the Sole E95 Elliptical is the right one for you? In this guide, we do a deep dive on this popular elliptical trainer, looking at the pros, cons, and how it compares to other ellipticals for home gyms.
Sole E95 vs Sole E35: Which One is Best for You and Your Workout Goals? Wondering what separates the Sole E95 and the Sole E35? Here's a detailed look at the differences and similarities between these two popular ellipticals.