Wondering what separates the Sole E95 and the Sole E35? Here's a detailed look at the differences and similarities between these two popular ellipticals.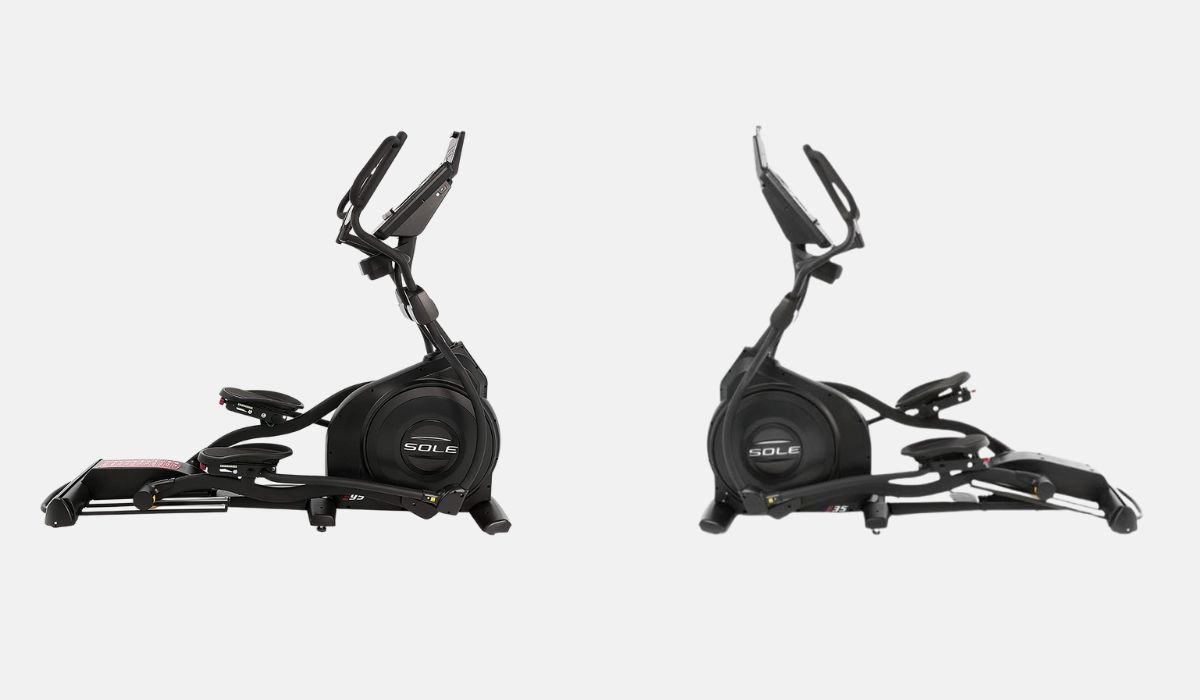 Sole Fitness is one of the top dogs in making durable and affordable ellipticals for home gyms.
Sole Fitness's ellipticals feature an exceptionally smooth and quiet dual-rail drive that is perfect for extended workouts.
And among the seven different Sole Fitness ellipticals (a full comparison of Sole's line-up of ellipticals can be found here), the Sole E35 and the Sole E95 stand out for a variety of reasons.
Both are loaded with features, including a power-adjustable incline, an adjustable console, and a lifetime warranty on the frame.
But which one is right for you?
In this guide, we will compare these two popular Sole ellipticals and drill down on what separates them so that you can choose the best elliptical for you.
Let's jump right in.
Sole E35 vs Sole E95: Quick Look at the Key Differences
Here's a snapshot of the most popular or most frequently asked features about both of these machines:
| | | |
| --- | --- | --- |
| | E35 | E95 |
| Price | $1,399 | $1,699 |
| Flywheel | 25lb | 27lb |
| Footprint (L x H) | 82" x 31" | 82" x 31" |
| Stride Length | 20" | 20" |
| LCD Screen | 7.5" | 10.1" |
Sole Fitness E35 Elliptical Trainer – Overview
The Sole E35 Elliptical is a mid-priced elliptical, the middle sibling of the Sole ellipticals, priced at $1,399.
The Sole E35 Elliptical is perfect for: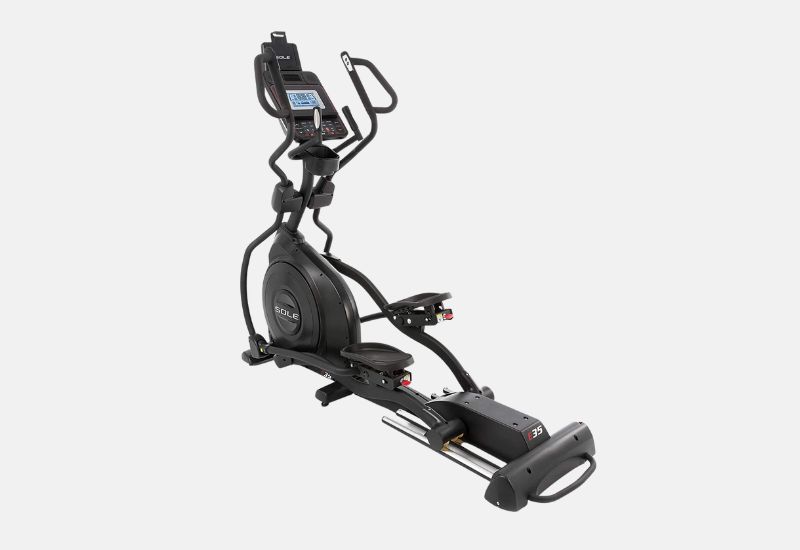 People on a budget.
While the E95 and E35 are not inexpensive (you do pay for what you get in this case), the E35 is the significantly cheaper option.
The E35 is $300 less expensive than the E95.
Although it's not as cheap as other budget-friendly ellipticals like the Schwinn 411 Elliptical, the E35 is priced more competitively when compared to the E95.
Users that want an exceptionally stable ride.
The weight of the E35 is beefy—it comes in at a whopping 235lb. This is only marginally lighter than the E95 and represents an excellent value-proposition in terms of stability when using the machine.
Compare this to another budget-friendly option like the Schwinn 411 Elliptical, which weighs in at just 100lb.
A weighty elliptical will admittedly be a pain to move around the home (the E35 doesn't have caster wheels to move the machine easily), but it's absolutely awesome for not rocking or teetering when you are working your tail off on the elliptical.
Users who don't need a ton of foot pad positioning.
The E35 has three different foot placement options (which, incidentally, is three more than all of the $4,000 ellipticals at my local gym…).
The E95 offers an additional seven foot pad placement options.
For users who have a hard time getting comfortable on the elliptical, or for those who struggle with their toes falling asleep or going numb when using the elliptical, the E95 might be a better option.
Best Elliptical Under $1,400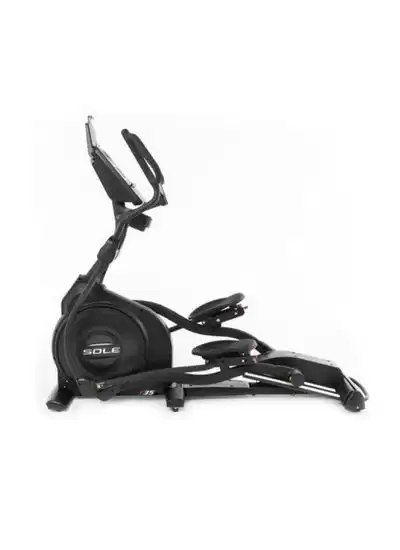 ---
Sole Fitness E95 Elliptical – Overview
The Sole Fitness E95 Elliptical is, in my opinion, the best elliptical on the market for most people and most home gyms.
It's insanely well built (almost to the point of being overbuilt), and has a much smoother ride compared to the premium elliptical machines that can run as much as $4,000 or more.
The Sole Fitness E95 Elliptical is better for: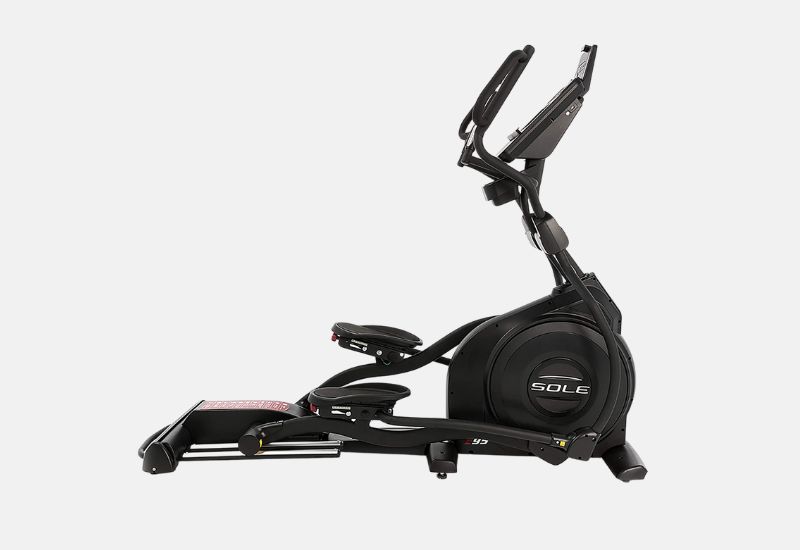 Heavy-duty users.
The heavier flywheel and user weight capacity make it a slightly sturdier elliptical. The E35 is already a very stable elliptical, and the E95 takes it up to another level.
The max user weight is more, the weight of the flywheel is more, and the overall stability of the machine is better suited for high-volume use.
Maximum foot position versatility.
The foot pads on the E95 can be adjusted to ten different angles and positions for maximum foot comfort. More foot position flexibility is ideal for those who struggle with getting a comfortable stance on the elliptical.
Bigger LCD screen.
The LCD screen on the E95 is over 2.5" bigger than the E35.
Perhaps not a huge difference for most users, but those who like to gorge on data while they are working out, they will appreciate the added screen size.
Best Overall Elliptical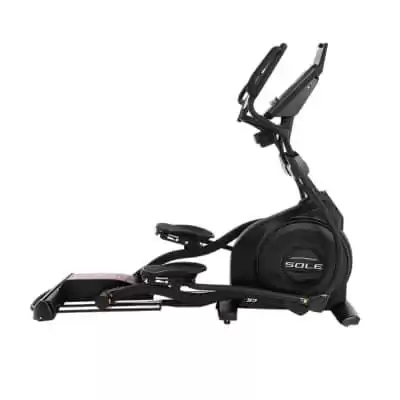 ---
Sole Fitness E35 vs E95 — Full Specs and Differences
Below is a complete breakdown of all the specs of both ellipticals, starting with the things that are different between the two models.
They include:
| | | |
| --- | --- | --- |
| Differences | E35 | E95 |
| Price | $1,399 | $1,699 |
| Flywheel | 25lb | 27lb |
| LCD Screen | 7.5" | 10.1" |
| Machine Weight | 231lb | 236lb |
| User capacity | 375lb | 400lb |
| Adjustable Foot Positions | 3 positions | 10 positions |
| | | |
| Similarities | E35 | E95 |
| Footprint (L x H) | 82" x 31" | 82" x 31" |
| Stride Length | 20" | 20" |
| Power Incline | 20 levels | 20 levels |
| Warranty (frame) | Lifetime | Lifetime |
| Warranty (electronics) | 5 years | 5 years |
| Warranty (parts) | 5 years | 5 years |
| Resistance Levels | 20 | 20 |
| Shipping | Included | Included |
The Bottom Line
When it comes to choosing between the E35 vs E95, there is really no way to go wrong. Sole Fitness ellipticals overall are excellent, high-quality machines that are strong enough for commercial gyms but priced for residential homes.
For users who want to save a few bucks, and want the benefits of a sturdy machine, the Sole E35 is your go-to choice.
For people who want to spend a little more and get a bigger screen, more foo placement options, and a heavier flywheel, the Sole E95 elliptical is your best bet.
---
More Elliptical Guides and Articles
How Much Do Ellipticals Cost? (44 Different Models Compared). Ellipticals can be a costly investment in your workout goals. Here is a look at how much each type of elliptical costs and how much to spend on one.
What's the Best Elliptical Stride Length? (How to Choose). Elliptical stride length is crucial for getting the most out of your workouts. Here's how to measure the right stride length for you, the benefits of long stride ellipticals, and more.