Schwinn makes excellent budget-friendly and feature-rich ellipticals for home gyms. Here's your guide to the best Schwinn ellipticals compared so that you can buy with confidence.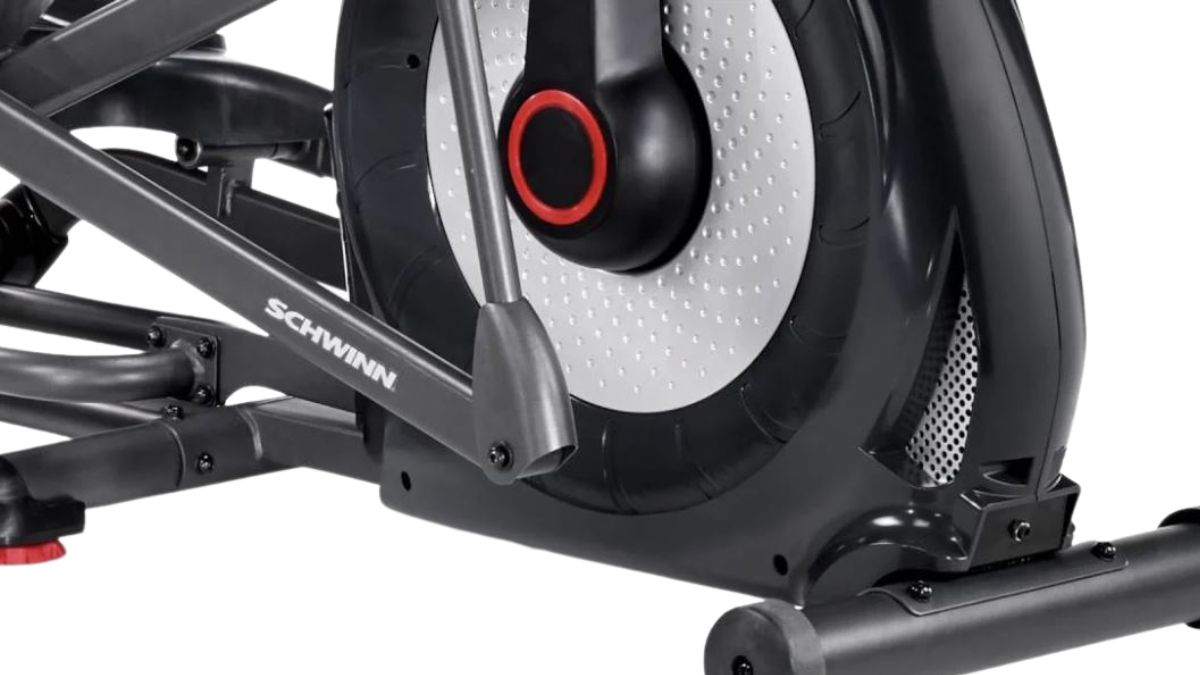 In this comparison of Schwinn Elliptical Machines:
Schwinn is one of the oldest exercise machine-making companies on the planet.
What started out as one of the country's first bicycle makers has grown over more than 100 years to become a truly recognizable names in the world of bicycles and exercise machines—not just stationary bikes, but also elliptical machines, too!
They offer a wide range of machines, each with their own unique features targeting both new and experienced trainees, but most of their products are sold at a surprisingly budget-friendly price range.
In this guide, we'll look at Schwinn's three best elliptical offerings, analyzing the pros, cons, key specs, and the sort of user who would find it a useful choice for their home gym.
By the end of this page, you'll know exactly which of Schwinn's ellipticals is the right choice for you.
Let's dive—or stride—right in!
Schwinn Ellipticals Compared by Model
Schwinn 411 Elliptical
⭐ Best for users who want: a quality, space-saving machine that can fit into small workout areas, and who don't mind a shorter stride length.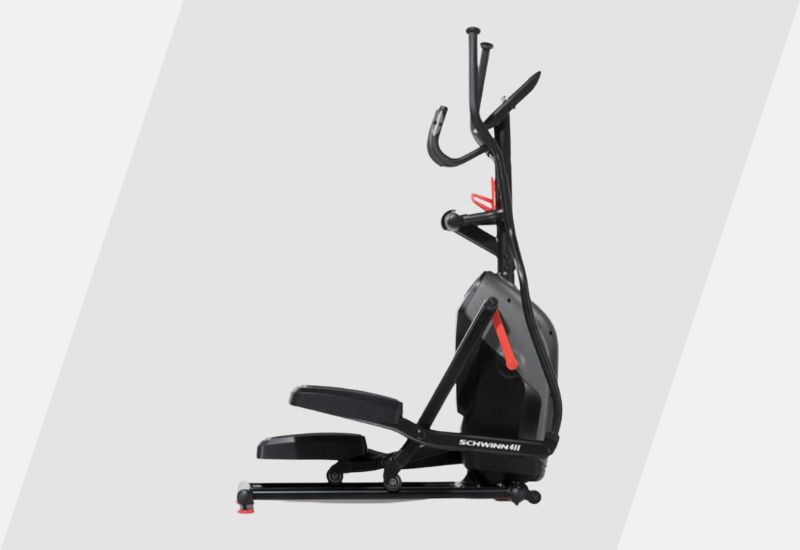 The Schwinn 411 is a front-drive elliptical, meaning the flywheel is placed directly in front of the user. This makes the machine much more compact, great for fitting into shorter rooms (i.e. your living room or basement rather than the higher-ceilinged garage).
One look at the price tag, and you'll see that it's also one of the most affordable models around. The cost of ellipticals will vary from manufacturer to manufacturer, but you'll find few that can come close to matching the $600 cost of this bad boy.
The 18" elliptical stride length will be suitable for all but the tallest users (anyone over 6' might find it just too short), and though the unit is very lightweight (just 100 pounds), it has a much higher-than-average weight capacity of 300 pounds, making it great for heavier users, too.
| | |
| --- | --- |
| ✅ Pros: | ❌ Cons: |
| Very competitive pricing | High resistance even at the lowest setting—not suitable for beginners |
| "Explore the World" app lets you work out on various courses around the globe | Display is very simple, only LCD screen |
| 16 resistance levels plus a great range of integrated pre-programmed workouts | |
| Compact and lightweight | |
Best Elliptical Under $600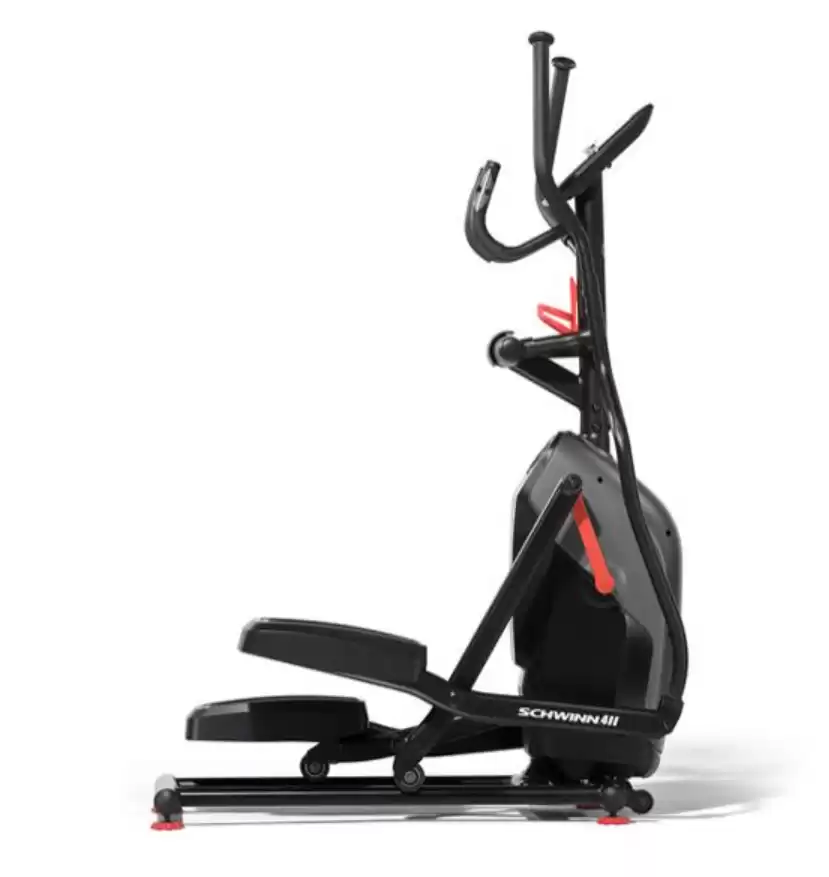 Schwinn 430 Elliptical
⭐ Best for: Taller users who need a longer stride length, anyone willing to pay a bit more for a mid-range, high-quality machine, and prefers greater control over their workout.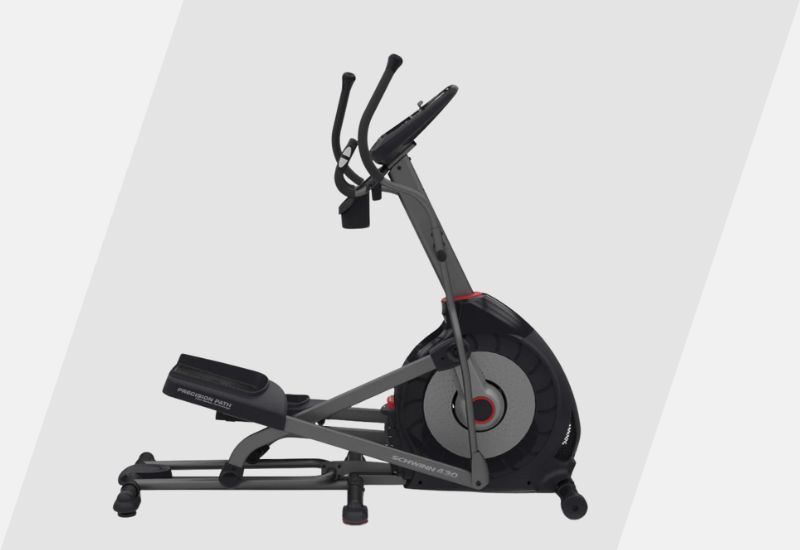 The Schwinn 430 elliptical is a step up from the budget-model 411, and you'll see the difference at a glance: 20" stride length, a 20-pound flywheel, 20 resistance levels, 6 manual incline levels, and a machine weight of 168 pounds.
The inclusion of incline is a game-changer for anyone who wants a more versatile machine. After all, being able to switch from horizontal stride to a vertical "climb" (simulating stairs) is a great way to add variety to your workout, not to mention target different muscles.
Granted, you'll have to set the incline manually before the workout, and to switch it mid-training, you'll have to stop, get off the elliptical, and change it again. But considering that the 411 didn't include any sort of incline, it's a great feature that's well worth the few hundred bucks tacked onto the 430s' price tag.
Sure, it's got a few cons (as you'll see below), but given how sturdy it is, how much more comfortable the 20" stride length is for taller users, and the resistance provided by the heavier 20-pound flywheel, it's a great option to consider.
| | |
| --- | --- |
| ✅ Pros: | ❌ Cons: |
| Longer stride length, better-suited to taller users | Fan isn't powerful enough to make a real difference on a hot day |
| 20 resistance levels and 6 manual incline levels add a new element of difficulty | Manual incline requires you dismount to change mid-workout |
| Sturdy and very solid; won't wobble or rock | |
| Built-in media tray to hold your smartphone and/or tablet | |
Schwinn 470 Elliptical
⭐ Best for: Users who need maximum training functionality, easy motorized adjustments for a more versatile workout, but still a small enough footprint to fit into a home gym.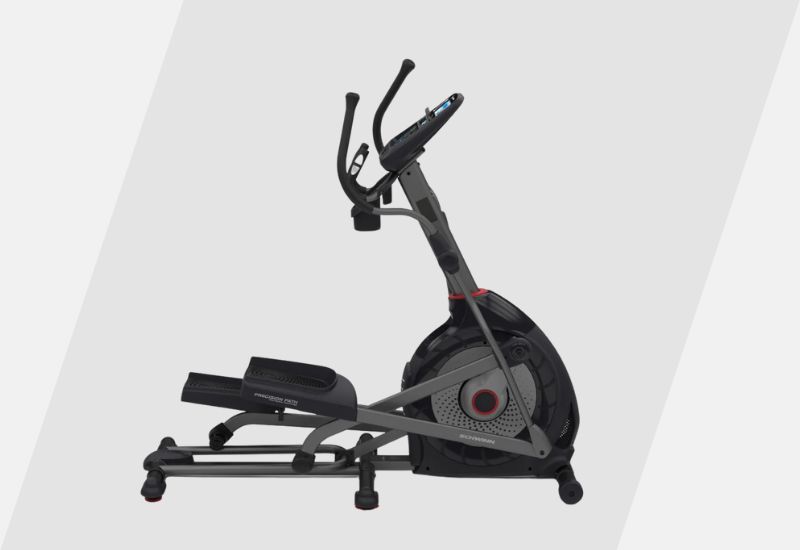 The 470 is the top of Schwinn's line of ellipticals, and the difference between it and the next model down (the 430) is evident immediately: 25 resistance levels, two LCD screens, 29 programmable workouts, and up to 10 levels of motorized incline.
It's definitely the most versatile of their ellipticals, offering you the ability to use one of the pre-programmed training options or customize your own as desired. Plus, the machine will auto-adjust the incline while you're working out, allowing you to switch from walking/jogging on "level" ground to stair-climbing.
The ride is beautifully smooth, the machine is sturdy and steady, and it will feel almost as well-constructed as the commercial ellipticals used in your average gym. Assembly is a breeze, though, and even newbies can typically put the machine together in a matter of hours. Or, there's always the option of in-home assembly (by pros) for an added $249.
Where the Schwinn 470 really shines, though, is all its comfort features: USB port to plug in your phone/tablet, media tray to hold your devices, a fan that works well to keep you cool, integrated Bluetooth speakers, Bluetooth compatibility with smartphone fitness apps, and oversized, ultra-comfortable foot pedals.
Despite all of this, the 470 still falls well into the "mid-range" price compared to its competitors' high-end models, making it a very budget-friendly option for anyone who wants only the top of the line.
| | |
| --- | --- |
| ✅ Pros: | ❌ Cons: |
| Packed with features integrated specifically for your comfort | No touchscreen (typical for models in this price range) |
| Sturdy and well-built, delivers a smooth ride | Larger footprint than the lower-end Schwinn models |
| Amazing price tag for a top-of-the-line model | |
| Easy assembly, crystal-clear instructions | |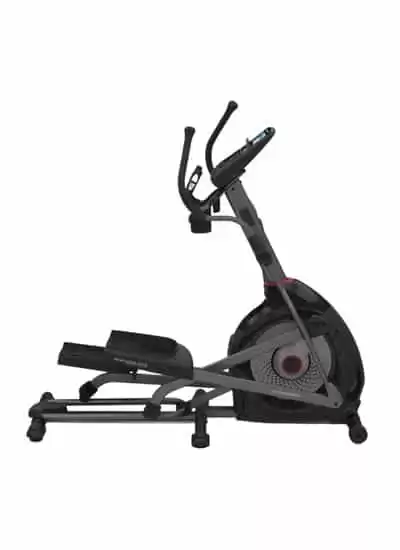 Schwinn Ellipticals Compared by Features
Now that you've taken a closer look at all the machines, here's a more detailed breakdown of the three Schwinn ellipticals and the features they offer.
| | | | |
| --- | --- | --- | --- |
| | Schwinn 411 | Schwinn 430 | Schwinn 470 |
| Elliptical Type | Standard Elliptical | Stepper + elliptical | Stepper + Elliptical |
| Price | $549 | $899 | $1,099 |
| Flywheel | 20lbs | 20lbs | 20lbs |
| Display | 6" LCD | Two LCD | Two LCD |
| Stride Length | 18" | 20" | 20" |
| Incline | — | Yes, 6 (manual) | 10 |
| Resistance Levels | 16 | 20 | 25 |
| Adjustable pedals | No | No | No |
| Dimensions | 53.8" L, 24" W, 62.5" H | 70.1" L, 28.2" W, 63.2" H | 70" L, 28.2" W, 63.2" H |
| Machine Weight | 100lb | 168lbs | 164lbs |
| User Max Weight | 300lb | 300lbs | 300lb |
| Explore the World™ App | Yes | No | Yes |
| Warranty (frame) | 10 years | 10 years | 10 years |
| Warranty (parts) | 2 years | 2 years | 2 years |
| Warranty (labor) | 90 days | 90 days | 90 days |
| In-home assembly | — | $249 | $249 |
The Bottom Line
Schwinn may only have three elliptical machines on offer, but as you've seen by the information above, there is enough variety in design and function to meet whatever your preferences for a gym machine.
Whether you want heavy-duty or lightweight, simple or multi-functional, beginner-friendly or more advanced, the Schwinn line of ellipticals will be a good option.
Consider the space in your gym, your height and desired stride length, what sort of workouts you'll be doing (standard elliptical or elliptical + stepper), and how much you're willing to pay.
All those factors together will help you decide which of these Schwinn machines will suit your needs best.
More Elliptical Guides and Resources
The Best Ellipticals Under $800: Studio-Grade Ellipticals on a Budget. Elliptical trainers don't have to cost a fortune to give an awesome workout. In this guide to the best elliptical trainers under $800, we list the top options on the market right now so you can buy with confidence.
Elliptical Buying Guide – Everything You Need to Know to Buy with Confidence. Want to buy an elliptical but don't know where to start? Arm yourself with the knowledge to choose the perfect elliptical for you and your workout goals.
What's the Best Elliptical Stride Length? (How to Choose). Elliptical stride length is crucial for getting the most out of your workouts. Here's how to measure the right stride length for you, the benefits of long stride ellipticals, and more.