Looking for a time-tested air bike with a rich history for next-level conditioning at home? Here are 7 reasons we absolutely love the Schwinn AD7 Airdyne Air Bike.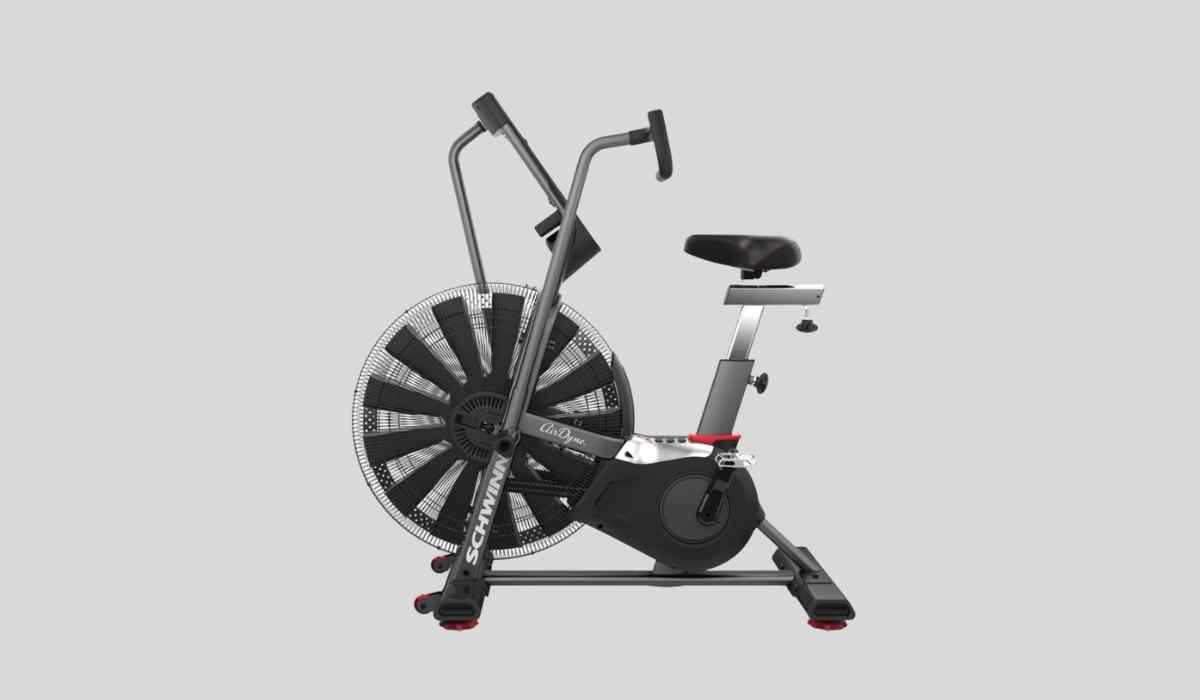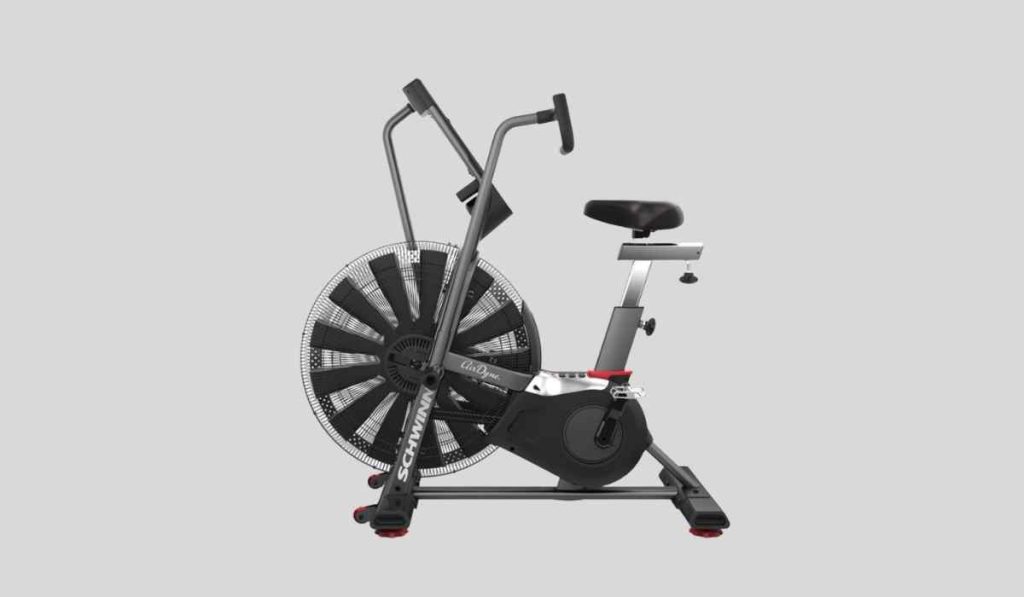 When it comes to conditioning equipment, there are a LOT of options on the market.
Treadmills. Stationary bikes. Battle ropes.
And then you got air bikes, which are an absolute MONSTER for conditioning.
The original that started it all, the Schwinn Airdyne, is one of the best air bikes on the market.
Here's what you need to know about the latest version of this air bike, the AD7.
Let's saddle up!
Schwinn Airdyne – A Quick History and Overview
Schwinn was the first company to make what we now call air bikes.
Back in the 19070's, they released the first version of the Air-Dyne, complete with odometers that tracked speed and RPM.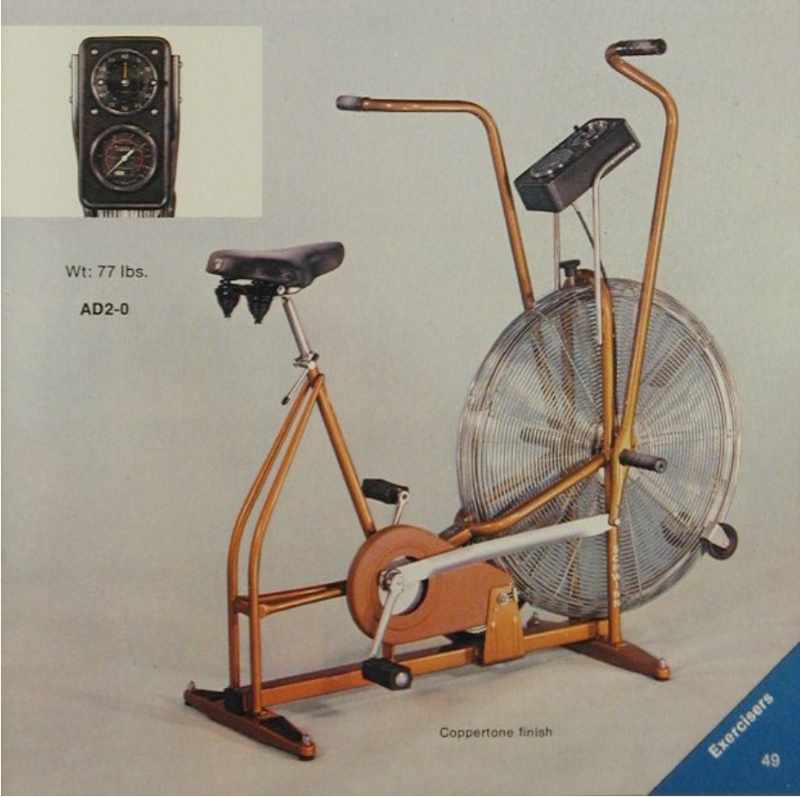 With an adjustable seat, the bike was shipped assembled and ready to ride for the low price of $395.95.
The original Air-Dynes were light and designed for exercise that wasn't quite as vigorous as today's athletes desire.
It was also quite narrow and the original models weighed half as much as today's models, weighing less than 80lbs.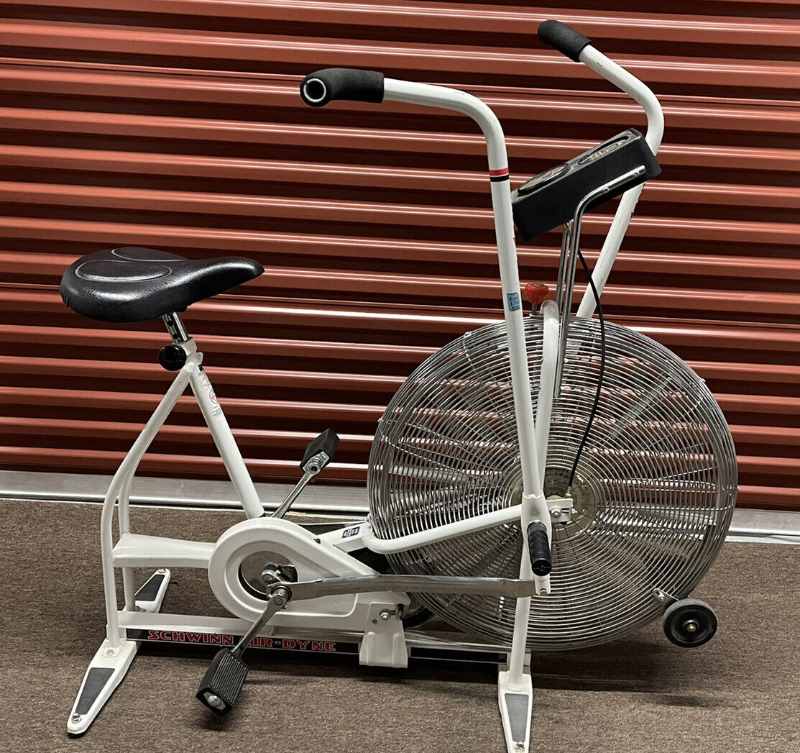 Other models followed suite (pictured above, 1990s version of the Schwinn Air-Dyne), but it wasn't until the 2000s that CrossFitters realized how much of a metabolic conditioning workout they could get from this type of exercise machine.
Athletes worked with a company called Assault Fitness out of California, and the sturdy AssaultBike was born.
Other fitness equipment companies saw the explosion in popularity, including Rogue Fitness who quickly released the Rogue Echo Bike.
Schwinn, not to be outdone, updated the Air-Dyne.
Today, it looks like this…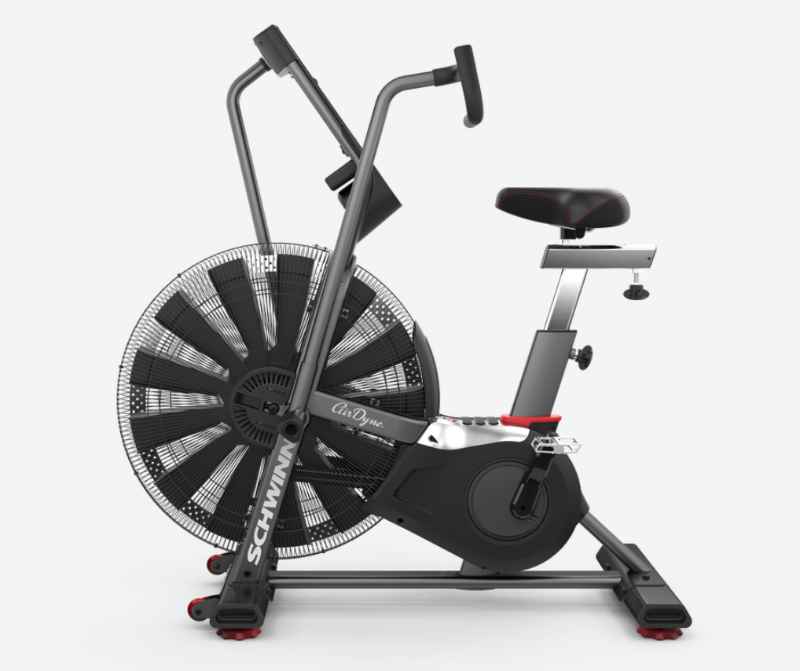 The AD7 is the most recent version of this legendary classic.
Read on for a detailed review of this air bike that is rich in history and features.
---
7 Reasons Why We Love the Airdyne AD7
1. The AD7 has the most comprehensive air bike LCD display
The AD7 has the biggest and most feature-rich LCD display of any air bike available.
The top of the display has a tachometer (which has a throwback feel to the Air-Dynes of yore) that shows calories/minute, power output (in watts), RPM, and speed.
The bottom of the monitor has a keypad with quick access buttons for different programs (10/10, 30/90 intervals, custom intervals, HR zones, and more.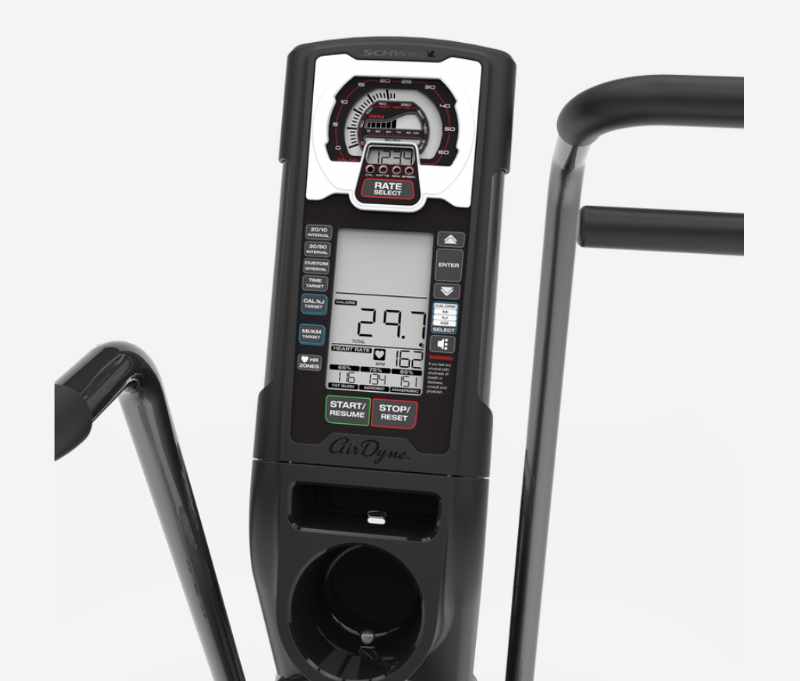 The data display has more information than you could possibly need, with everything from time display, number of rounds, time/intervals, and data for calories, KJ, distance, etc.
There's enough data for even the most hardcore athlete, but for the rest of us, who simply want to chase some new PBs and burn some belly fat, the AD7 does the job.
The AD7's display has the added benefit of being powered by either batteries or a power adaptor.
2. In-home assembly
Want an air bike but don't have the time to put it together? Or you want to make sure it's assembled correctly the first time so that you can spend more time using it and less time trying to fix squeaks and rattles?
Schwinn is the only company that sells air bikes that offers an in-home assembly service. While it's not free (costs around $100 or so), I highly recommend it if you are at all unsure about properly assembly.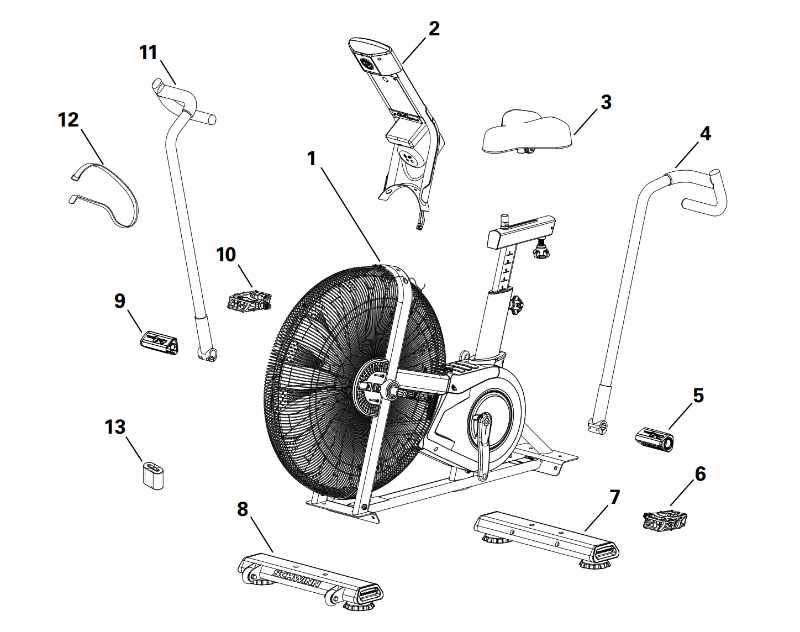 My wife and I did this for the Bowflex C6 Spin Bike and it was the best $100 we could have spent based on the assembly issues others had.
Additionally, if there is something missing from the box or something is broken, there is someone right there to help get in touch with Schwinn.
3. Heavy-duty build
The Airdyne AD7 is a long ways removed from the more fragile Air-Dynes of the 1970s.
The AD7 is built to take punishment, with a maximum weight rating of 350lbs and a generous footprint of 53" x 26.5" that helps reduce any wobbling while you go ape on the machine.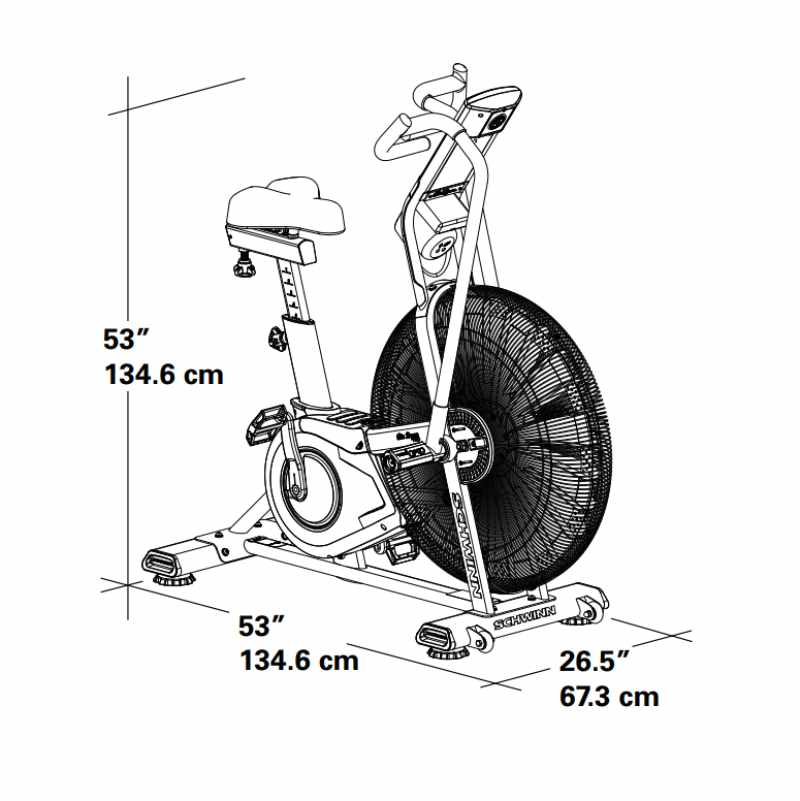 The frame and main shaft of the bike is thick, stabilizers help you keep the bike level, and a "bottom-heavy" weighting ensures that no matter how hard you are working, the bike isn't going to wobble all over the place.
When fully assembled, the bike has a total weight of 113lbs.
4. Industry-leading warranty
Gym equipment is expensive, sometimes prohibitively, and we all want to feel confident that the stuff we purchase for our home or garage gym is going to stand the test of time.
While this comes down partly to how well we care and treat our gear, Schwinn does have an absolutely killer warranty on the bike.
The frame and its welds are covered for a full 10 years. The mechanical and electrical components are also covered with a two-year warranty.
5. Fully adjustable seat for a custom fit for your bottom
One of the things I love most about air bikes is that the seats are super comfortable. Compared to most stationary bikes and especially spin bikes like the Peloton or Bowflex C6, which are narrow and hard, the seat on the AD7 is nice and wide.
This makes it more comfortable to sit on, sure, but it also gives your backend a solid base to park on while you are going HAM on the machine.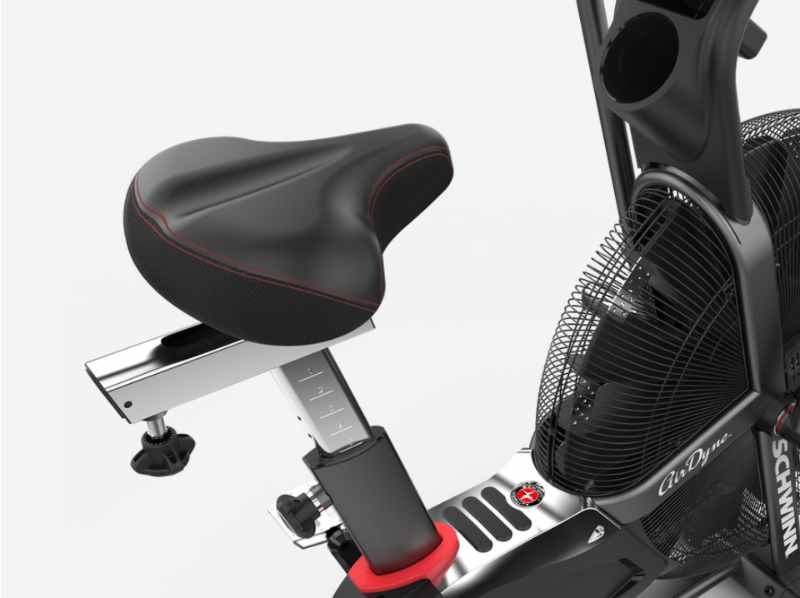 A little bit of body sway is inevitable, especially as you get tired, and a nice and wide seat helps keep you stabilized.
The seat is adjustable for both height and front-to-back.
This represents a big improvement on its predecessor, the Schwinn AD6, which only allowed you to change the height of the seat.
Now, you can move the seat fore/aft as well.
6. Integrated water bottle cage and smartphone holder
Believe it or not, few air bikes actually come with this standard. (Rogue, I'm looking particularly at you!)
The AD7 has an extra wide cup holder for your water bottle built into the main shaft of the bike. Right above it is a slot that can house your smartphone.
Having water and Instagram, err, your phone within reach is a handy bonus to stay hydrated and manage the playlist on your phone to help stay motivated.
7. Easy to move and level
For home and garage gym enthusiasts, we are always battling the constraints of space. We have to work with the space that we have and maximize every inch possible.
While the AD7 takes up a relatively reasonable amount of space, especially compared to other forms of conditioning equipment, like battle ropes (long) or elliptical machines (huge), the bike is easy to tilt and move out of the way.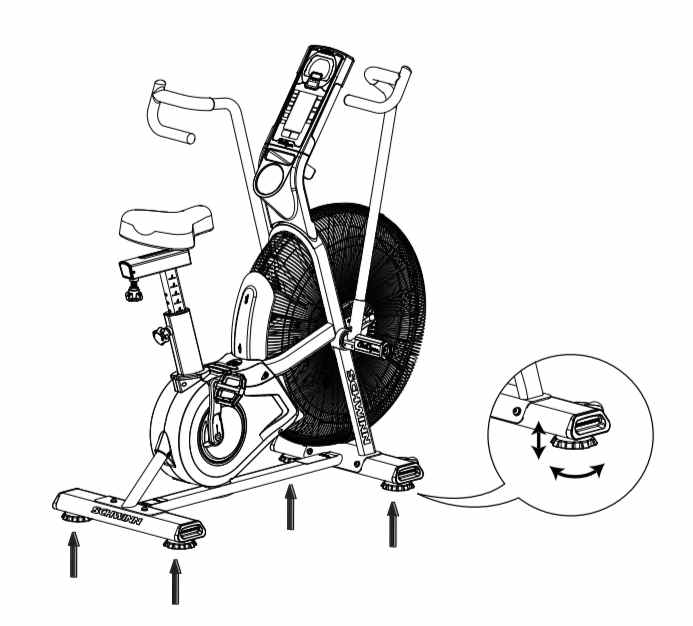 Two rubber wheels at the front of the bike make it easy to spin the bike out of the way when you are done dying, err, working out on it.
Additionally, the bottom of the AD7 has four leveling knobs to keep the bike on the flat and even so that you can spend more time exercising like a boss and less time leaning and tilting.
Schwinn Air-Dyne AD7 – Things That Could Use Improvement
Although there are a LOT of things I really, really like about the most recent iteration of the Airdyne, there is still room for improvement.
Schwinn has been refining this bike repeatedly over the past few years, and they are getting it close to making it a challenger to the Rogue Echo Bike, which still holds my heart for the top air bike.
But they still gotta come correct:
The Schwinn AD7 is expensive.
Compared to the Bells of Steel Blitz 2.0 ($700), Rogue Echo Bike ($845), and the AssaultBike Pro ($899), the AD7 is wildly over-priced at $1,099.
Yes, there is a long and awesome history behind this product, but when it comes to features and price, things just don't add up.
The Rogue is just as durable, the Blitz has all the same bells and whistles, and the AssaultBike Pro is the exact same weight and is as adjustable.
The only air bike I've seen that is more expensive is the AssaultBike Elite ($1,299), and that price is ridiculous.
The main selling feature that sets this apart from all others is that you can pay for a home assembly, but that cranks up the price even further.
So, yeah. Not crazy about the price.
The Bottom Line
Price issues aside, this air bike is exceptionally well built, will last you a lifetime (or two), and has a ton of features that will keep you motivated long after you unpack and assemble it.
If you are looking for a way to ramp up your conditioning in a serious way, you would be hard-pressed to find a more reliable and sturdy air bike than the AD7.
The Schwinn Airdyne AD7 is available exclusively through their website, which you can access here.
---
More Air Bike Guides and Reviews
The Best Air Bikes for Home Gyms (Unleash Beast Mode). Ready to perform a laser-targeted attack on your weight loss goals? Here's a detailed look at the best Air Bikes for home gyms.
Assault Bike vs Echo Bike: Pros, Cons, Differences and Which One is Best. The AssaultBike and Rogue Echo are two of the best air bikes in the gym. Here's a detailed look at the main differences between these two commercial-grade air bikes.
7 Reasons the Rogue Echo is the Best Air Bike on the Planet [Full Review]. The Rogue Echo is one of the most popular—if not the most popular—air bike on the planet. Here's why this well-built air bike is probably the best for you