Deadlifting inside a power rack is a way to lift more safely, load and unload the barbell faster, and improve your deadlift. Here's how to do it properly.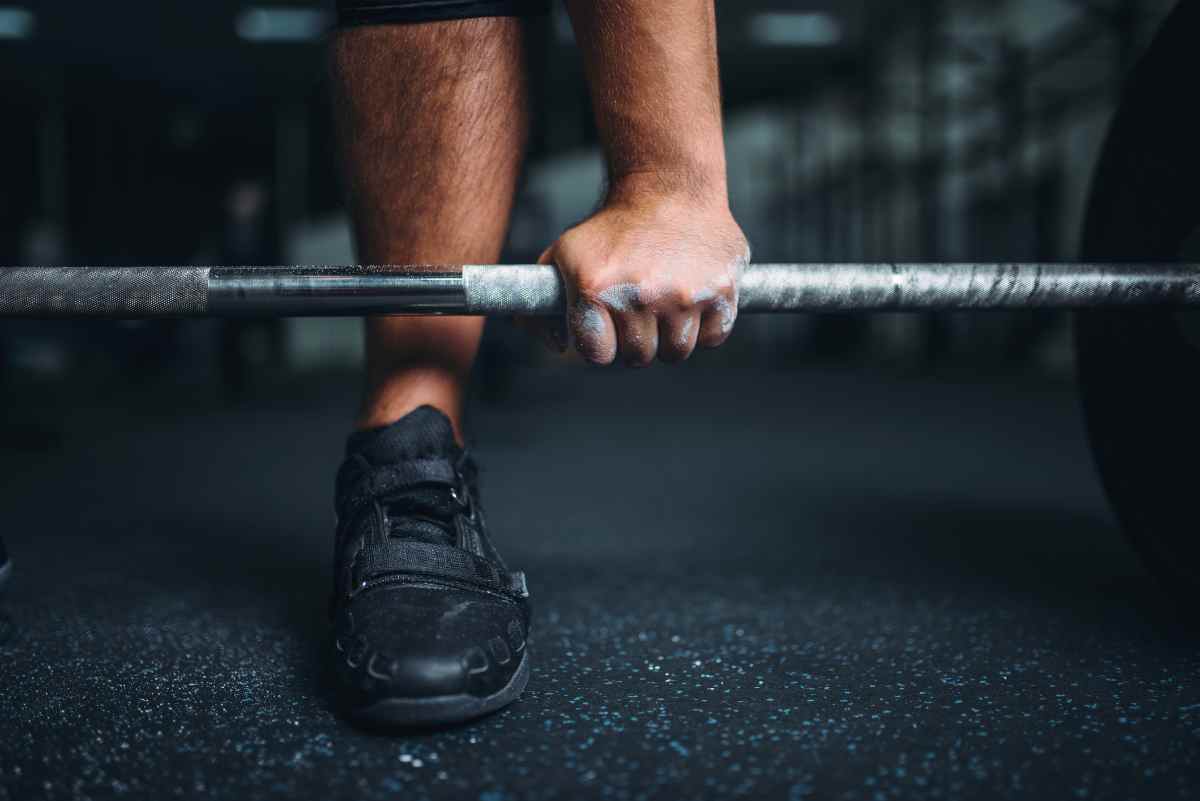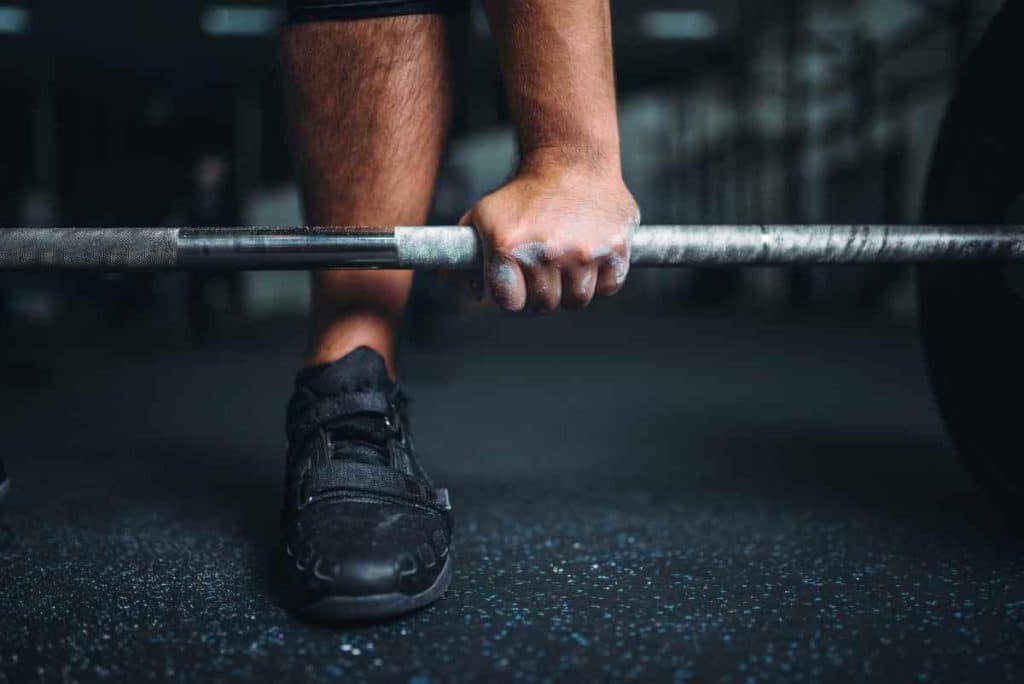 The deadlift is one of the Big 3 exercises for building hilarious amounts of strength and muscle.
Traditionally, deadlifts are done with a loaded barbell starting from the floor.
But using a power rack can help improve your deadlift max, improve technique, and even protect your lifting equipment.
In this guide, we will look at how to deadlift inside a power rack like a pro, list the critical safety attachments for doing it without hurting yourself (and damaging your rack), and discuss whether using a rack is bad gym etiquette.
Let's jump right in.
Benefits of Using the Rack for Deadlifts
Before we get into the nitty gritty about how to deadlift like a monster in a rack, why do so in the first place?
There are several benefits to deadlifting in a rack:
Easier to load and unload the barbell.
One of my time and energy saving tips for deadlifting with a rack is setting the safety pins on their lowest setting, which keeps the weight plates on the barbell about one inch off the ground when at rest.
This tiny bit of suspension in the air means I can load plates quickly and without having to drag and wrestle plates.
Stuck with Your Training in the Gym?
Join 12,000 lifters and athletes and sign up for FREE access to my 5-day email course on how to conquer the most common gym mistakes.
From goal setting to lifting technique, you will learn how to overcome the mistakes in the gym that are holding you back from getting bigger and stronger.
Unsubscribe anytime. No spam.
In a sense, this particular set-up turns your squat rack into a modified deadlift jack.
Variable height options.
To piggyback on the previous point, a power rack allows you to pick variable heights to start your deadlift.
Rack pulls are a great way to target the top end of range of motion in your deadlift.
With the shorter pull, you can add more weight and really work on your lockout.
Deadlifting inside a power rack means you can start at the height of your choice.
For beginners, a shorter range of motion is a great introduction to mastering deadlift technique (which is surprisingly more complicated than just "lift heavy thing, put heavy thing down").
Intermediate and advanced lifters will appreciate that they can overload the shortened range of motion.
Hot caution: Protect your lifting equipment by not dropping loaded barbells onto safety pins or pipes. Consider upgrading to safety straps for doing heavy deads or rack pulls and dropping the barbell at the top of each re
How to Deadlift in a Power Rack
Okay, let's get to the good stuff.
Here's how to set-up and perform a deadlift in a power rack properly.
Step 1: Get your gear in place. The essentials include barbell, bumper plates, and if you plan on doing rack pulls, safety pins or safety straps. Strap on any safety gear, such as deadlift shin guards or dedicated deadlifting shoes.
Step 2: Place the barbell on the pins/straps and load the weight plates. Aim to have the barbell at the height of your mid-shin. Too high, and you lose the training effect.
Step 3: Twist the balls of your feet into the ground to screw themselves in place. (Fun fact: Proper foot stability and "locking" your feet into the ground is one of the biggest secrets of elite lifters.)
Step 4: Wrap your hands over the barbell at shoulder-width distance.
Step 5: Brace your core engage the glutes and begin the pulling motion. Power the movement by pushing your hips forward.
Step 6: Bring your shoulder blades together at the top of the movement, "locking out."
Step 7: Lower the bar (under control) until you hit the bottom end of range of motion.
Tip: The deadlift shouldn't be performed away from you. The bar should be close to you throughout the whole range of motion.
Step 8: Pause, and repeat, lifting the bar under control throughout.
Tip: Use a bumper plate for the first plate on the barbell. Bumpers are a little wider than cast iron plates and will be the only point of contact with the floor, reducing vibration and noise when going heavy with deadlifts.
Things You Will Need to Deadlift in a Power Rack
Lifting safely and maximizing your effort on the bar means using the right attachments for your power rack.
Here are the essentials for deadlifting in a power rack:
Is deadlifting in a power rack bad gym etiquette?
The use of power racks for deadlifting is a topic that is hotly debated. And the layout of each gym is different.
Deadlifting in a rack makes sense for gyms that don't have Olympic platforms or limited space.
Often, people will deadlift in a rack simply because there is nowhere else to deadlift without blocking several machines and stations.
Additionally, people don't always have a sense of personal space at the gym, and the last thing you want when maxing out on deadlifts is someone buzzing the tower and messing up your form and risking injury.
Using a rack is a simple way to ensure that you can lift safely without getting in the way of others and vice versa.
Setting up in a power rack is also easier and faster for loading weight plates, so it makes sense to use the rack for deadlifts.
The Bottom Line
The deadlift is one of those exercises that makes you feel like a lifter.
Heavy weight goes up, heavy weight goes down.
Using a power rack can help you save time and energy on loading the barbell, help you improve your lifting technique, and for more experienced lifters, can power up your lockout and the top end of the movement.
More Stuff Like This
7 Best Exercises You Can Do with a Squat Rack (Plus Sample Workout). Squat racks are an essential tool for tackling all of your favorite lifts more safely. Here's a look at the best exercises you can do with a squat rack, plus a sample workout routine for the next time you step inside the rack.
Power Racks vs Squat Racks: Pros, Cons and Differences. Wondering what the differences are between a squat rack and power rack? Read on for a detailed look at the pros and cons of each.
The Best Deadlift Platforms for Hitting New PRs. Deadlift platforms are essential for the home gym enthusiast who loves deadlifts. Here is a look at the top deadlifting platforms for cranking out big lifts at home.