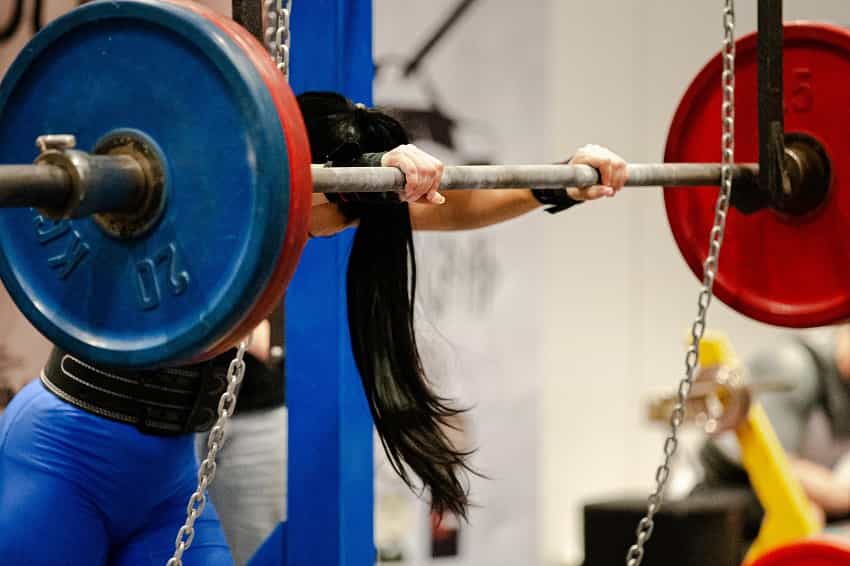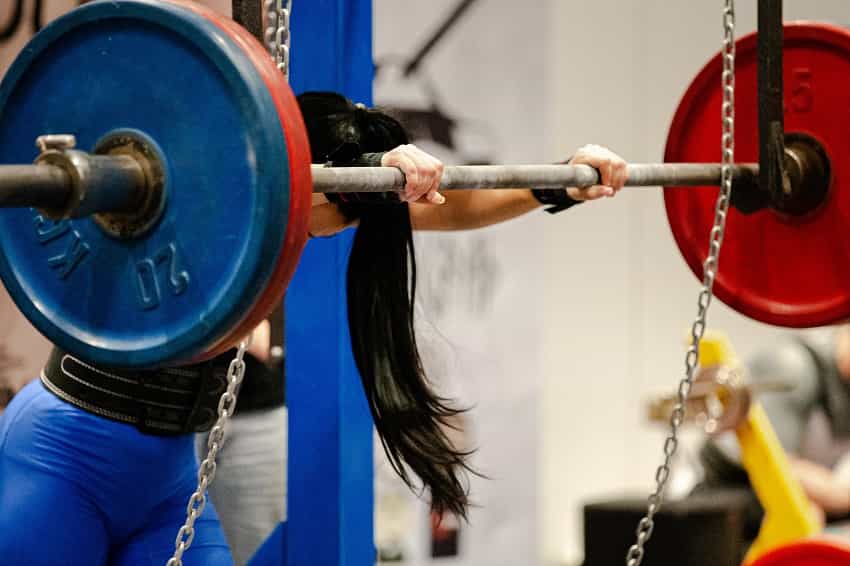 Weightlifting belts are a crucial and often misunderstood tool for strength training.
While some lifters will swear up and down on its benefits, there is also a healthy group of purists that are adamant you should lift raw or not at all.
But let's be honest, when used properly (and that is the key word), there are lots of excellent reasons to use a weightlifting belt.
The right lifting belt can help create much-needed stability to your lifts, "puff out" your abdominal cavity to create a stronger foundation for heavy lifts, and reduce load on the spine without sacrificing range of motion.
They can even help you lift more explosively without sacrificing form.
(More on that, later.)
In this guide we are going to tackle this oft-debated piece of strength training gear.
We will look at:
The right belts for every kind of lifter, from competitive powerlifters, Olympic lifting nerds, CrossFitters, and the more recreational lifter.
The benefits (and pitfalls) of using a weightlifting belt, including the research behind how lifting belts actually help you in the gym.
The materials, shapes, and closures available on belts, and which one is best for you.
In other words…
By the end of this guide you will have a detailed overview of all the best weightlifting belts on the market and have a clear idea of which one is right for you.
Let's jump right in.
Rogue Ohio Lifting Belt
⭐ Best overall leather lifting belt
Made of American leather, available in five different sizes, and with a single-prong buckle for easy-on and easy-off at the gym, the Rogue Ohio Lifting Belt is one of the peak predators for lifting belts.
Key features include a width of 4" and 10mm thick leather. Thanks to Rogue's premium tanning process, which takes weeks instead of hours like a lot of the cheapo belts on the market, this belt is a bewildering combination of stiff construction and soft leather.
While most leather weightlifting belts take a while to break in, and this belt does need some time to sit comfortably above your hips, the extended tanning process and resulting softness shortens the break-in period. The Rogue logo is also branded on the loop along the backside of the belt.
Lifters who want a leather belt that won't dig into their sides and that will provide exceptional stability that can only come from a leather belt, the Rogue Ohio belt is a no-brainer.
Even though these belts are pricey, they far exceed the mass-produced cheapos that litter gyms and the web. Buy this belt once and it will last you a lifetime.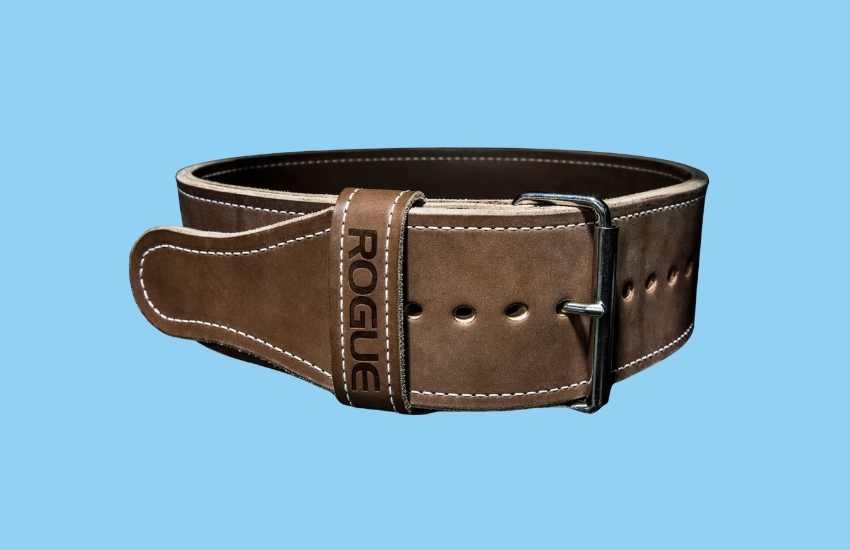 Dark Iron Fitness Leather Weightlifting Belt
⭐ Best budget leather weightlifting belt
There are two key issues that most people will have when working with a weight lifting belt and that is that it either breaks down quickly as you start lifting the heavy weights or that it starts to dig into your sides.
Ready to side step all of that? Check out the Dark Iron Fitness Leather Weightlifting Belt. Leather is the gold standard for many things in life and weight lifting belts are no exception. If you want top-of-the-line quality, you're going to get it here.
This belt is guaranteed to last for life, so consider it the final one you buy. While the price point is higher since it is real leather (though not as pricey as the Rogue Ohio Lifting Belt), it does have a lifetime replacement so if it breaks, you're covered. Put your mind at ease with this purchase.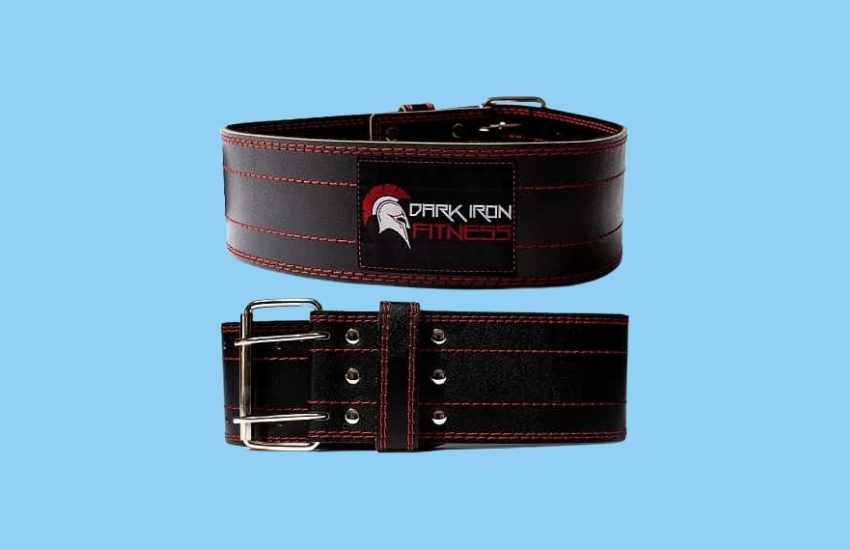 Ader Leather Powerlifting Belt
Powerlifters do work in the gym, and as a result, need a belt that can take a serious degree of punishment.
The Ader Lifting Belt, made especially for the powerlifting athlete, is four inches and features an easy-to-close double-prong closure system that locks you in and provides a secure and supportive fit.
Powerlifters want a belt that is even in wideness all around the belt, and this high-quality leather belt does exactly that.
Like all leather belts (or leather lifting straps, for that matter), the Ader belt requires some time to properly break in. The first couple times you wear it, the belt will feel stiff and border-line uncomfortable. But once you've had a chance to let it mold to your frame, it will feel like a second skin.
Ader's belt has a two-prong closure, comes in a wide range of sizes (small to X-large) and is a budget-friendly option, with Amazon retailing them for around $40 (check Amazon for current pricing and size options).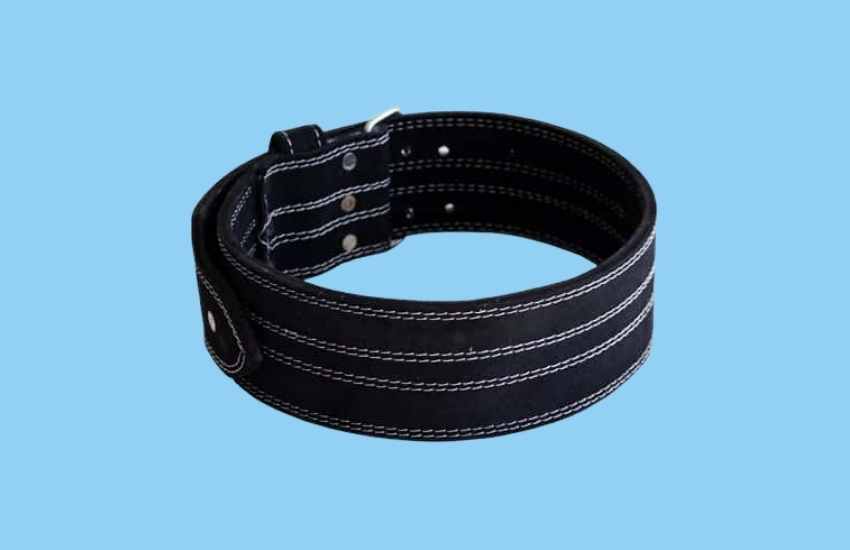 Rogue Nylon CrossFit Lifting Belt
⭐ Best lifting belt for CrossFit
Multi-purpose athletes who perform a wide variety of lifts and movements in the gym will love this lifting belt—our second in this list from the folks at Rogue.
Made of nylon (as you might have guessed), the belt has a lightly contoured shape, the back being 5" wide, tapering down to 4" around the front. The inner liner is an antimicrobial that helps prevent the belt from getting a case of the stinkies from lots of workouts and lots of sweat.
Mat Fraser, CrossFit super legend and multi Games champ helped develop the shape and feel of the belt. (He used this exact belt to win the 2017 Games.)
The belt is tightened with a buckle and Velcro system which is easy to adjust for tightness when transitioning between heavy lifts to more dynamic and explosive lifts.
Made in the United States (how many weightlifting belts can claim that?), it has a foam frame and hook and loop where you can add a custom patch to the belt. For people who are serious about their CrossFit, the Rogue Nylon Lifting Belt is as good as it gets.
Available in a range of different colors and patterns, with "big boy" sizing up to XXX-Large, and a totally reasonable price tag of around $50, this belt is the best CrossFit lifting belt on the market.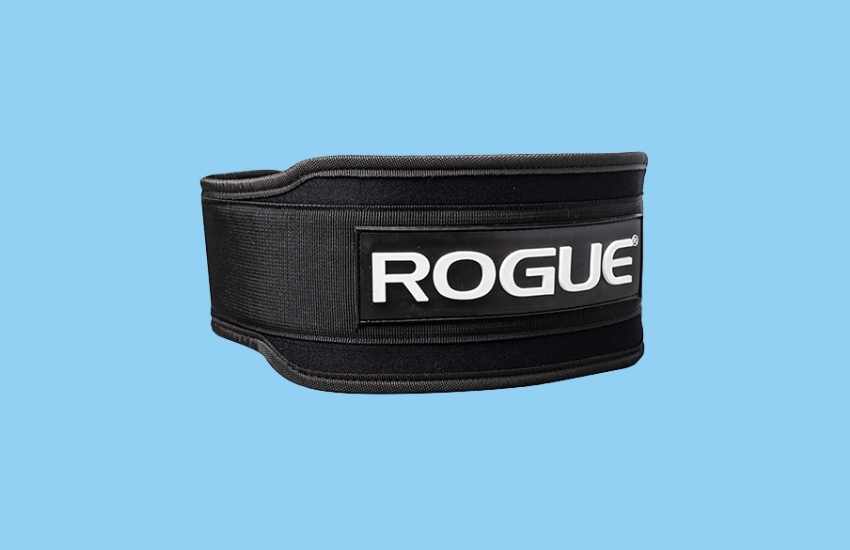 Fire Team Fit Olympic Weight Lifting Belt
Unlike most belts, The Fire Team Fit belt is not leather, and doesn't have the typical buckle-belt locking mechanism. Because you can adjust the belt to your precise size, you don't need to worry about jumping between holes and going too tight or too loose.
The hook and loop support gives you a perfect fit every time.
The Fire Team Fit belt features a contoured design, and has cool safety mechanism where if you begin to lift too much weight and the belt sustains too much weight, the clasp will pop open, so it's not going to dig into the body and cause potential injury.
In terms of durability, custom fit, and overall protection, the Fire Team Fit Olympic Belt is an excellent multi-purpose lifting belt.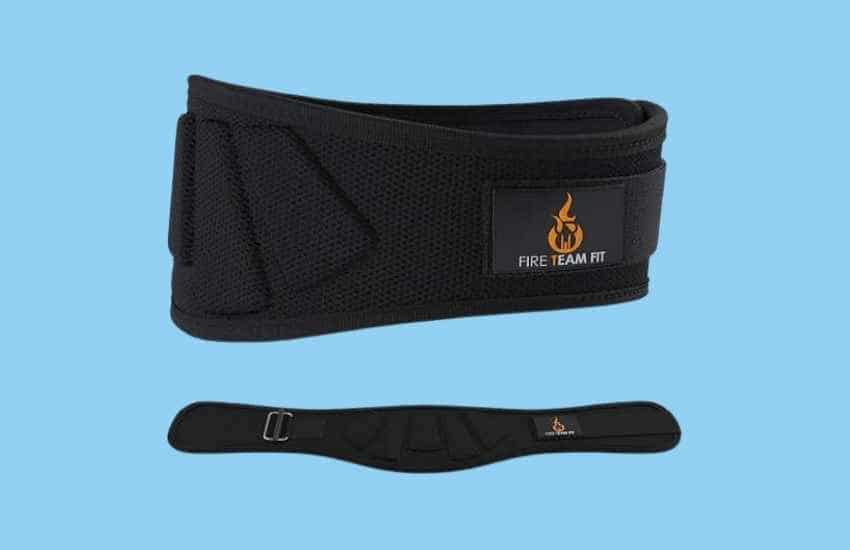 Iron Bull Weight Lifting Belt
I am a big fan of Iron Bull gear, especially their barbell pad for hip thrusters. I also ranked their lifting hooks as the best weight lifting hooks for the gym. They make quality stuff, and this is also apparent with their weightlifting belt.
Like the Fire Fit, the Iron Bull belt is made with a velcro loop and buckle that gives you a custom, secure fit every time you hit the gym.
For those of you who get a little toasty while working out (guilty!), the belt is made of a combination of nylon and neoprene that is breathable and comfortable.
Best Lifting Belts for Women. Looking for a lifting belt made specifically for women? No matter what your goals are in the gym, here's a breakdown of the best women's weightlifting and powerlifting belts.
With an auto-lock design, a custom fit each time you strap it on, and a 6″ contour design that prevents the belt from digging into your sides when lifting, the Iron Bull belt will give you a safe and secure training experience.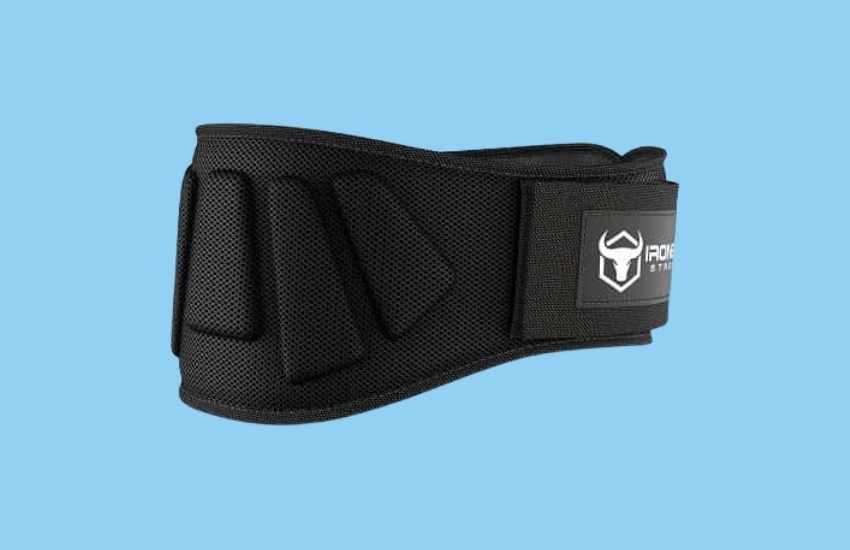 Harbinger Weightlifting Belt
If you are looking to ball out on a budget, the Harbinger Weightlifting Belt is a no-frills, low-cost option that will secure your lift in comfort.
If you're someone who is extra large or small, you'll find this belt nicely accommodates your frame. This model is nice and flexible and has a 5" width on the lower lumbar support and just a 3" width on the adjustment strap. This helps it feel most comfortable for you no matter what your waist size happens to be.
Fitting anywhere from a 29" to a 42" waist, no one is going to be left out of using this belt. It offers great construction and good comfort and is extremely well rated on Amazon.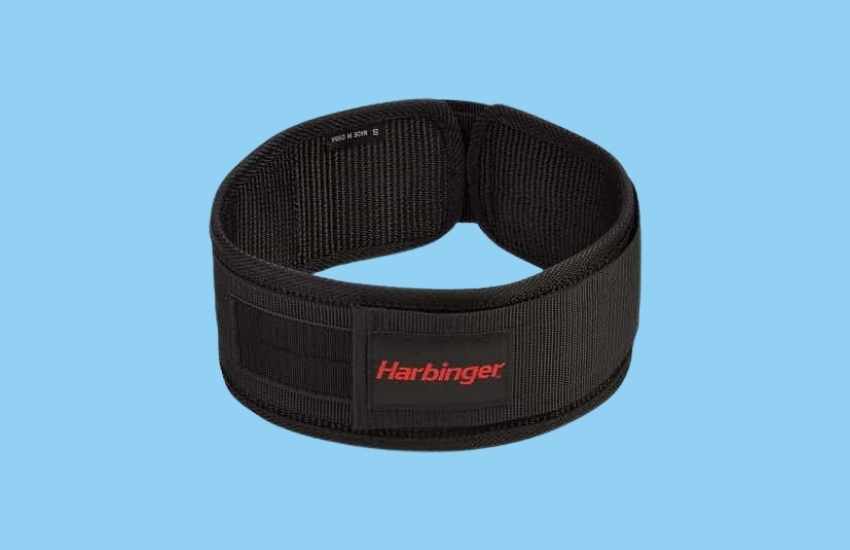 Dominion Strength Deadlifting Belt
Like squats and their specialty squat shoes and squat bars, the deadlift has its own sub-niche of gear and apparel, including deadlifting slippers, deadlift shoes, and more.
The Dominion Strength Deadlifting Belt, as you can guess, is designed primarily for lifters who do a lot of heavy deadlifts.
Made of highly durable suede leather (that is also surprisingly soft for a short break-in period) this belt is ideal for the deadlift-obsessed, as the three-inch width ensures you get into proper starting technique each time you grip the barbell.
This is definitely a premium belt (retails for $100+) and it's also a specialty lifting belt, made primarily for deadlifts. Also, because it's skinnier than most belts, it's not ideal for taller athletes as the amount of support decreases and the belt can start to angle incorrectly and dig into the ribs.
Made in the United States, and available in sizes from 20-50" waists, the belt has a single prong closure and rounded edges to help eliminate some of the inevitable digging in that happens with stiffer belts.
Dominion Strength guarantees the belt for life, and as mentioned previously, the belt is a little on the higher side, retailing for around $150 (check Amazon for current pricing and availability).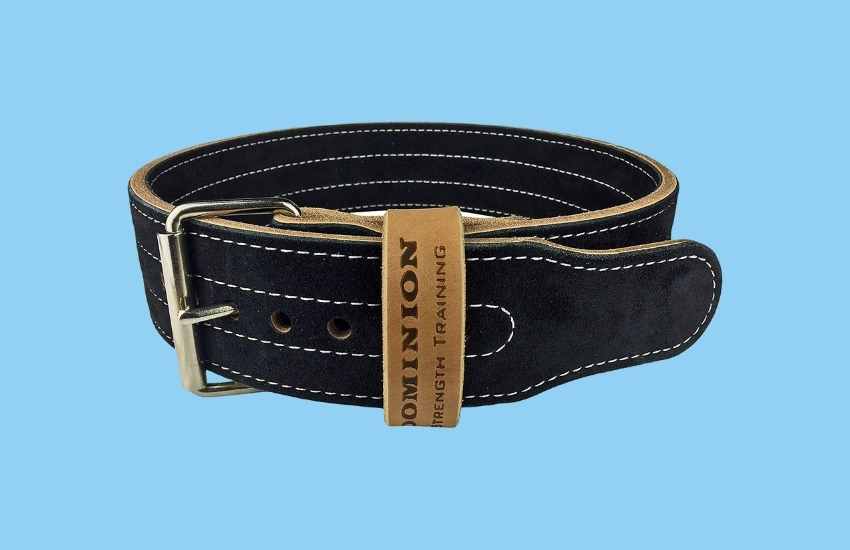 Iron Bull Strength Powerlifting Lever Belt
Okay, you are serious about your lifts and want maximum security when closing up the belt around your waist. You also want something that is certified for powerlifting competitions.
That's where lever lifting belts step in.
Belts with a lever system closure are pricey but they are heavy-duty as hell and give a stronger fit compared to prongs or Velcro hook and loop closures.
The Iron Bull Strength Powerlifting Level Belt is built for pro-levels of lifting and is legal for USPA and IPL competitions.
The lever itself is built of heavy-duty steel, giving the highest level of security and compression on the market. The belt is just under 4", at 3.93-inches, the widest width available for competition. Combine all this with a 10mm thickness and you've got an absolute beast of a belt.
The list of sizes for the belt is comprehensive, with the XXX-large belt suitable for lifters up to 55" in waist circumference.
Built for competition, and about as tough as you can find, the Iron Bull Lever Belt is my favorite belt of this type for powerlifters.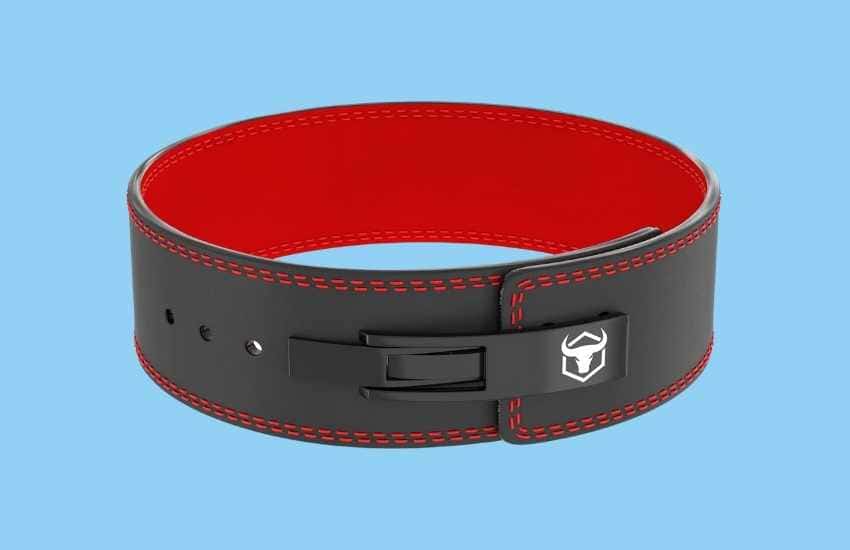 Weightlifting Belts – FAQs
What are the different kinds of weightlifting belts?
Weightlifting belts vary in size, material, wideness, and more. This isn't an accident.
Different belts have different benefits.
Here is a quick look at the most popular types of belts, and which one lines up with your individual goals in the gym:
Belts for powerlifting.
A uniformly wide belt provides the most stable brace when you are squatting. A uniformly shaped belt provides maximum stability, and because squats don't require bending over at the waist, you can afford to have more belt in front.
Powerlifters, who are moving lots of weight slowly, will lean towards the maximum support that the non-tapered belts provide. The added surface area gives the powerlifter more belt to push the abs and stomach against when lifting.
Doing this creates a heightened amount of intra abdominal pressure, creating a thick foundation from which to lift from.
For most powerlifters, a classic prong closure belt is perfect. More serious powerlifters will look towards a lever belt closure, which provides the maximum amount of closure security on the market.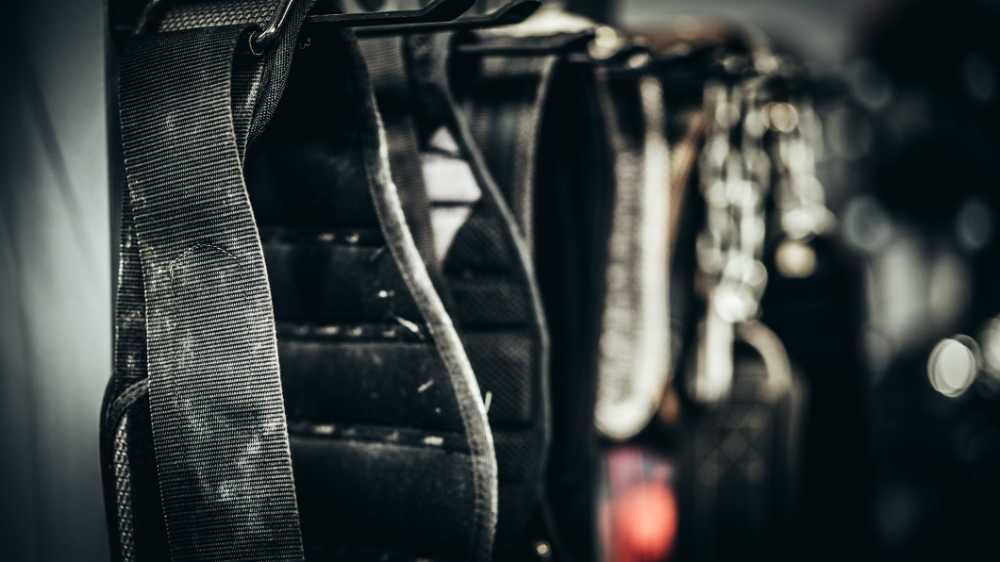 Belts for Olympic lifts and CrossFit.
Tapered belts are best suited for multi-purpose lifting, most specifically, deadlifts, cleans, and jerks. Because the belt is tapered at the front, it gives you the range of motion necessary to bend over to grip the barbell.
Olympic lifters, who perform a wide variety of lifts, including overhead movements like snatches and cleans, will want the benefit of more mobility at the front of the belt.
A weightlifting belt that is wide at the front can create an impediment to movement when trying to perform compound movements in the gym.
Belts for recreational lifters.
You don't need to get a hard-core leather belt to get many of the supportive and stability benefits of weightlifting belts.
Synthetic belts, often made with breathable neoprene, are excellent options for people who just want a little extra back support at the gym.
These types of belts usually have Velcro closures which help provide a customized and comfortable fit when wearing your belt.
Does using a weightlifting belt help me squat more weight?
Yes, weightlifting belts can help you lift more weight, or at least, lift it more explosively.
In one study [1] with well-trained men, they did a series of squats at 90% 1RM with and without a weight belt on. Use of the belt was shown to increase bar velocity without compromising lifting technique or how the joints moved.
Belts are generally designed to help protect and shore up the lower back, which for many lifters, is the weak spot in their kinetic chain. By gently squeezing the midsection, intra-abdominal pressure is created, reducing the demand on the muscles in the lower back.
Will using a weightlifting belt protect my back?
Belts reduce load on the back. How much depends on how much you are lifting and other considerations such as how strong your back extensors are, using your core properly when lifting, and so on.
But a study with some experienced weightlifters using a stiff weightlifting belt found that the load on the back was slightly reduced, and only briefly. Load was decreased by 10% only when lifters inhaled before the lift [2].
More Gear Guides
6 Best Weight Lifting Straps for Dominating Your Lifts. Here's a breakdown of the best weight lifting straps and why/when you should use them in your lifting efforts.