Protect your shins and lift with confidence with shin guards specifically for powerlifting. Here's a breakdown of the best deadlift shin guards.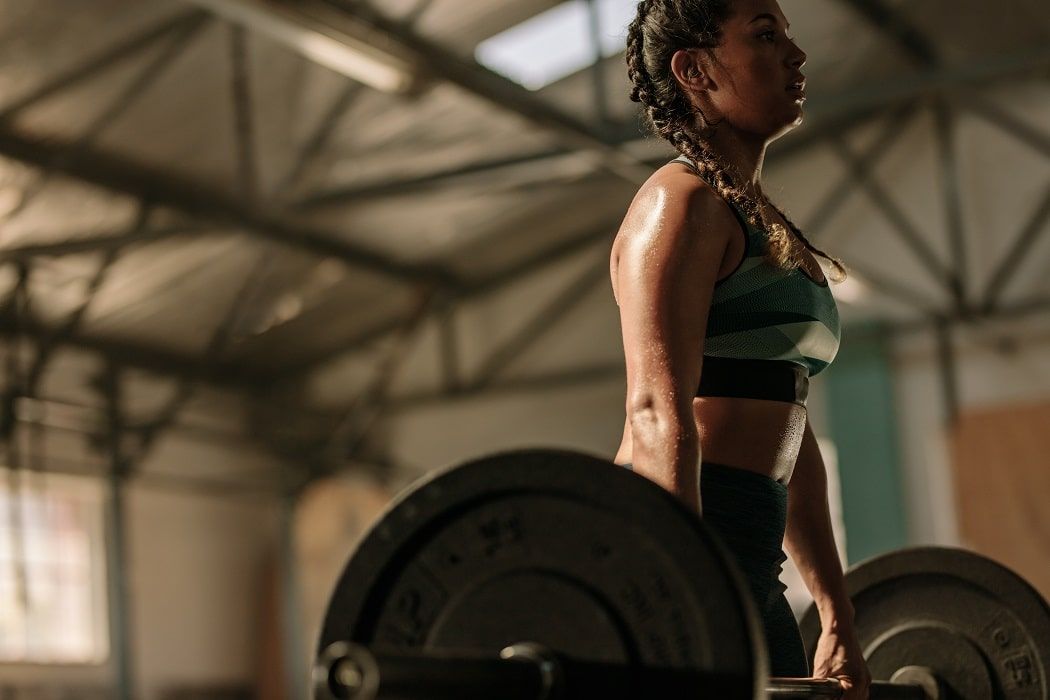 In the world of powerlifting, deadlifters, shin injuries, and protective gear go hand-in-hand, making deadlift shin guards a must-have accessory for serious lifters.
While banging out heavy reps of deadlifts or cleans is certified, free-range awesome, what is not so awesome, are gnashed-up and bruised-up shins.
A knurled barbell will chew up your skin and the bar will leave your shins battered and ouchie'd over the multiple sets and reps.
Deadlifting shin guards (also known as deadlift sleeves) are frequently used in powerlifting circles because they protect your shins, leaving you to focus on the proper technique and execution of the lift.
Shin guards also have several other benefits, including keeping your calves warm and encouraging a better starting technique.
Buuuuut deadlifting shin guards are not all made the same.
They each feature different features, price points, fabrics, and so on. Some are adjustable, some are one-size-fits-all, and some need to be properly sized.
Here's a breakdown of the best shin guards for deadlifting, key features to look for, and more.
Let's get into it.
The Fit Guy Deadlifting Shin Guards
⭐⭐⭐ Best overall pick for speed of application + custom fit
The Fit Guy's Shin Guards are warm, comfortable, and will protect your shins against gnashing.
The guards are easy to slide in and out of thanks to thick Velcro pads on the back and are designed to be one-size-fits-all.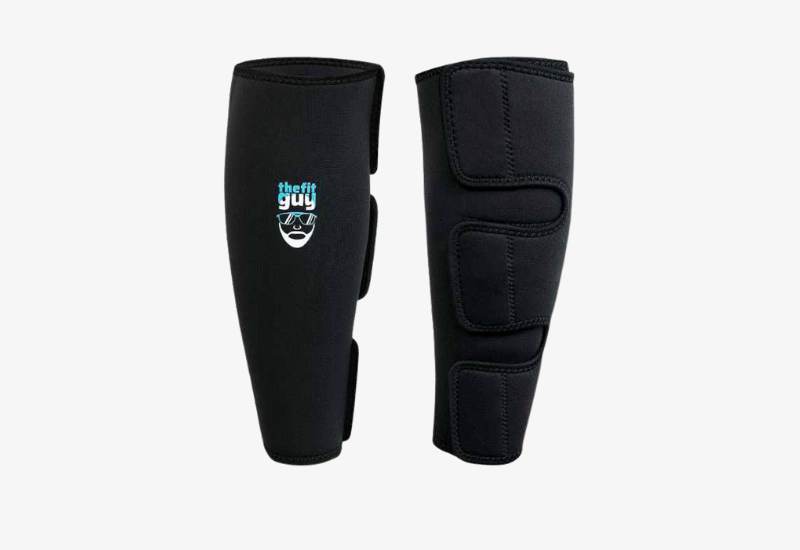 The Velcro makes the pads adjustable for lifters with calves from 13 to 18 inches in size and makes them superior compared to sleeves and socks as they provide a custom fit each time.
Made with neoprene, the same material that a wet suit is made of, the guards are very warm, keeping you calves nice and toasty while lifting.
They can be worn over your deadlifting socks or pulled out of your gym bag and worn over skin.
Smart Strength Plastic Shin Guards for Deadlifts
⭐⭐ Best plastic deadlifting shin guard
Most of the deadlifting shin guards on the market use softer fabrics like neoprene, nylon, and canvas. The drawback to this kind of guard is that while they protect against gnashing and rubbing, they provide a minimal amount of protection against impact.
Plastic shin guards provide a sturdier level of protection for your shins. Made of hard bearing plastic, Smart Strength's guards give you max buffering against hard plyo boxes, barbells, and gouging.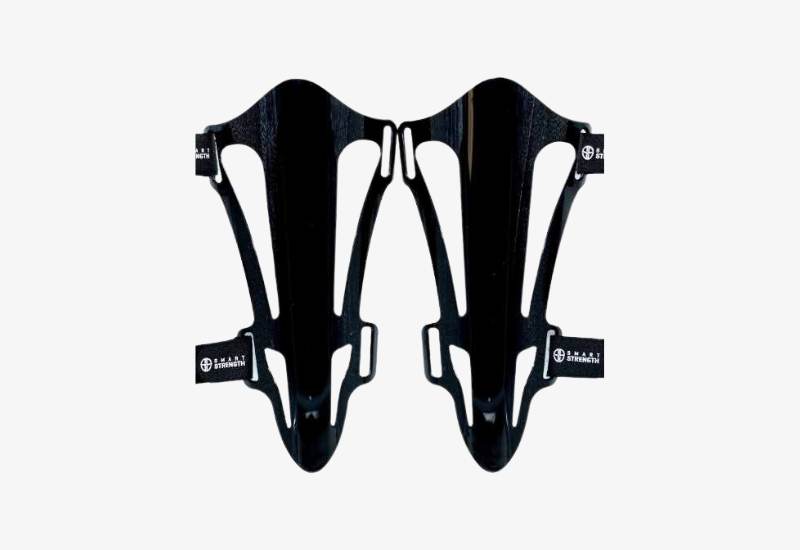 Each set comes with a bunch of different straps, accommodating small and large powerlifters, so you don't need to stress about ordering the proper size.
Smart Strength's guards are exceptionally light, easy to put on, and if you are the kind of athlete that gets real warm in the gym, they also provide protection with unnecessarily warming you up.
For the ultimate in shin protection, the Smart Strength Shin Guards are the best option for maximum peace of mind when powerlifting and doing box jumps.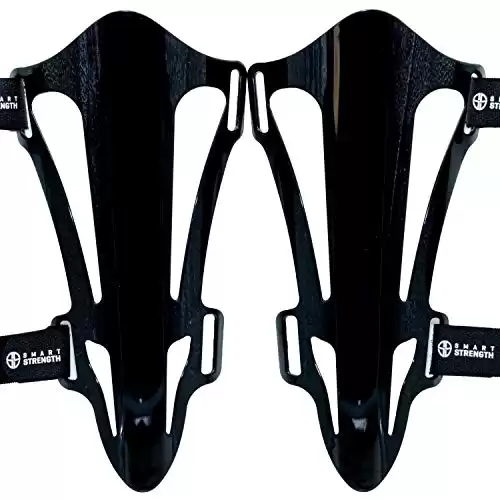 Bear Grips Shin Guards
The first thing you will notice is that Bear Grips guards are comfortable. Slide them over your shins and calves, and a silicone ring at the top keeps the guard from sliding down while you are training.
A 5mm pad runs along the front of these deadlift sleeves, protecting your shins when deadlifting or doing jumps onto wooden or steel plyo boxes.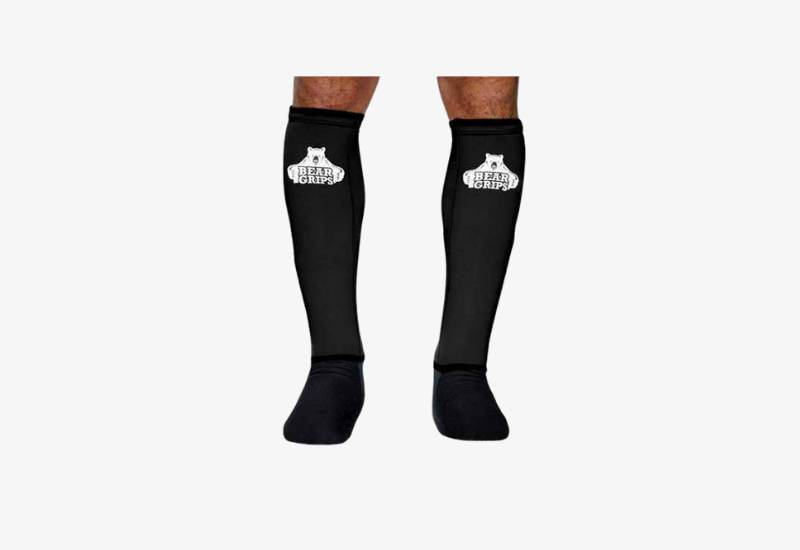 Bear Grips offers them in a variety of colors (green, black, red, pink) and in a variety of sizes.
There are some things I wasn't wild about.
For starters, the guard isn't as easy to put on and take off as our top choice from The Fit Guy. In comparison, taking your shoes off and rolling on the guard takes up much more time.
And second, you don't have the custom fit that comes with The Fit Guy's Velcro straps.
That said, these things are high-quality and comfortable when you get them on, and I appreciate the variety in color patterns and sizes.
RockTape RockGuards Shin Guards for Deadlifting
RockTape is perhaps better known for making a line of kinesiology tapes for athletes and injury-management, but their shin guards are surprisingly awesome.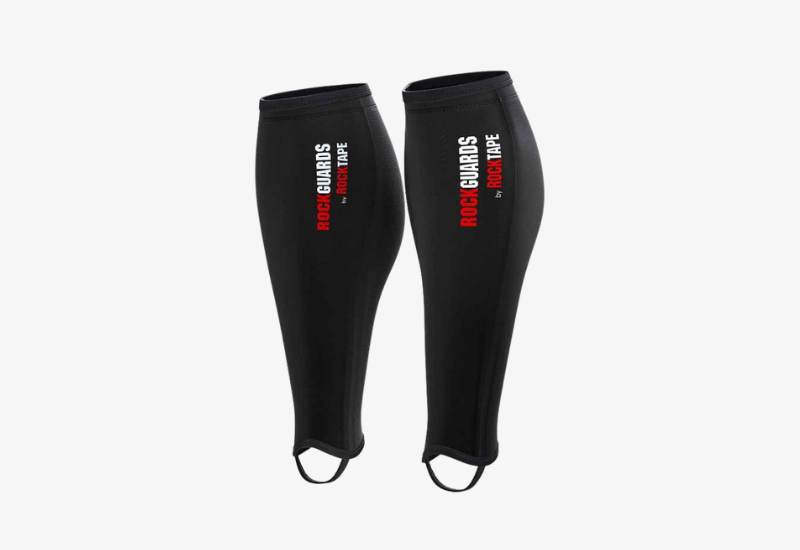 Made with a 5mm neoprene shell, the top of the guards have a silicone ring that keeps the guard in place while you are training, and a foot strap at the bottom of the guard keeps it from riding up.
Available in a variety of sizes, RockTape's RockGuards are very affordable (around $30 the last time I checked—click here for availability and pricing at Amazon) and will protect your shins when deadlifting, rope climbing, etc.
Rx Shin Guards 2.0
The Rx Shin Guards 2.0 are another shin guard that is made with neoprene interior lining. The outside is made with durable canvas, perfect for protecting your skin from the aggressive knurling on your powerlifting barbells.
The guards are very easy to put on and take off with a Velcro closure that makes it easy to tighten the guards.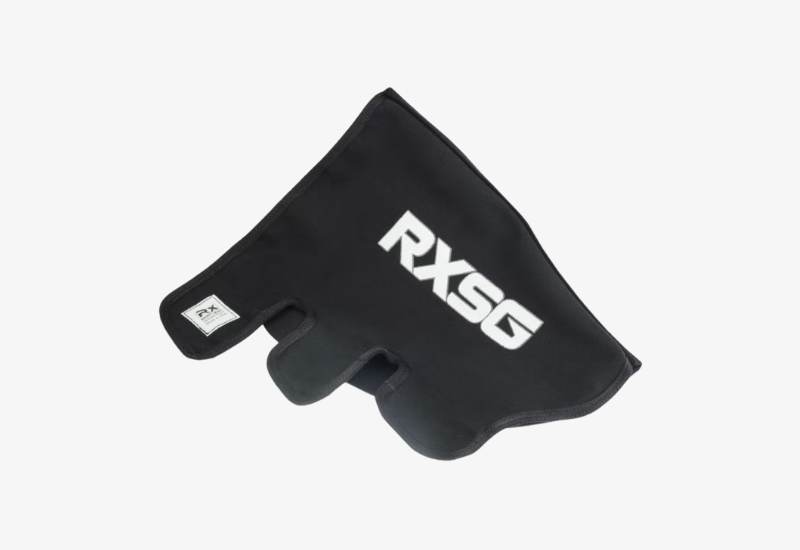 Rx sells them in a one-size-fits-most and recommends them for legs sized 11" to 21" in diameter.
Neoprene shin guards are most effective for protecting against light contact with strength training equipment—I wouldn't trust these to necessarily protect against a missed box jump, for example.
But when it comes to barbells grazing your leg and doing rope climbs, the Rx Shin Guards kick ass.
The Rx Shin Guard 2.0 is available exclusively via Rogue Fitness' official website.
How do I protect my shins when deadlifting?
There are several ways that powerlifters can protect their shins when deadlifting. Deadlifting socks are a popular option for deadlifting. Compression pants are another option (although the thin material on compression pants is more prone to tearing and ripping).
Deadlift shin guards are the ultimate choice for powerlifters who want to protect themselves from scrapes, bruises, and cuts when lifting. And as always, using proper deadlift technique and warming up like a boss can also reduce the risk of shin injuries.
Can deadlift shin guards be used for other exercises?
Absolutely. Deadlift shin guards can also be used for exercises that involve potential contact with your shins. Lifts where you can use a shin guard include cleans and snatches, and my favorite plyometric exercise, box jumps.
Should the bar touch my shin when doing deadlifts?
Proper deadlift form requires the shins to be at a slightly forward angle at the beginning of the lift. When lifters perform a "pull" motion to initiate the lift, the bar is pulled up into the shins.
If this sounds like you, consider starting the movement by pushing your feet into the floor and starting the lift with your knees. While the barbell should remain close to the body during the lift, if it's crashing into your shins consider using the knees to begin the lift.
The Final Rep
While some "old school" lifters will view weightlifting gear like deadlift shin guards unnecessary, there is no real reason to scrape the skin tissue apart when doing deadlifts.
Shin guards protect your skin, keep you focused on proper technique and pushing large amounts of weight, and eliminate the bruises and cuts from deeply knurled powerlifting bars.
To recap the best shin guards for deadlifts:
I love The Fit Guy Deadlifting Shin Guards for a softer and more flexible shin guard. Easy to put on and take off, they have padding at the front to soften the blow of the barbell and protect your skin.
The Smart Strength Plastic Shin Guards are the best heavy-duty shin guards for lifters looking for maximum protection when training.
Choose the right shin guards for your deadlifts, eliminate painful cuts and bruising, and focus on chasing new PRs on the bar!
More Tools for Conquering the Deadlift
6 Best Figure 8 Lifting Straps for Dominating Your Deadlift. Figure 8 lifting straps are a tool for pulling more weight than ever. Here's a review of the best figure 8 lifting straps for deadlifting like a champion.
6 Best Deadlift Jacks and Wedges. Spend less time and energy loading and unloading plates and barbells and more time hammering your PRs.