Wondering what the difference is between a half rack and full rack? Here's a detailed look at both, including key differences, pros, cons, and which one is best for you.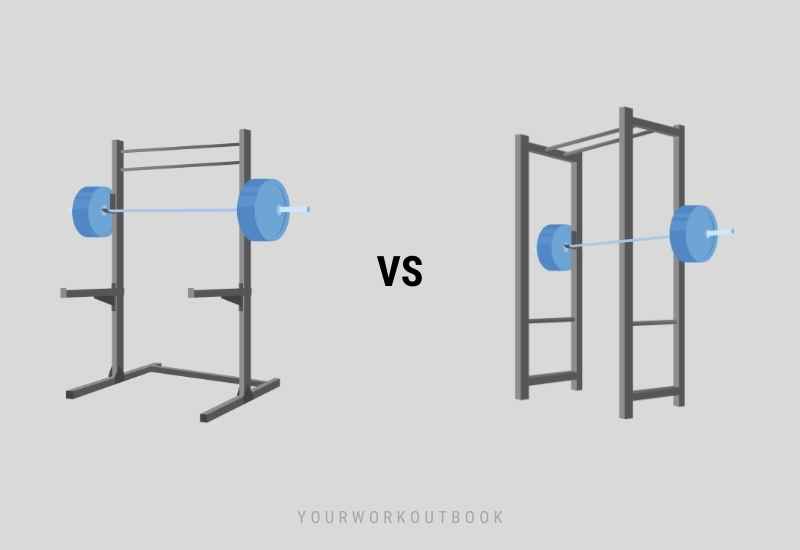 Squat racks are probably the most crucial piece of equipment in any gym or home gym!
Not only do they serve the glorious purpose of helping you master those back, front, hack, and sumo squats, but they're incredibly versatile and can be used for a wide range of exercises.
With a squat rack, you're ready for pretty much anything your workout could demand of you.
The question is: what type of squat rack should you get?
It may be hard to find the best squat rack when there are so many options to choose from—half racks, full racks, power racks, incline racks, and the list goes on.
Don't worry, we're here to make your life a whole lot easier!
Below, I'll explain to you the difference between a full power rack and a half rack, explaining the differences between these two types of squat racks so you can know which will serve you best.
By the end of this article, you'll know exactly which rack is the ideal option for your home gym setup!
Let's go.
Stuck with Your Training in the Gym?
Join 12,000 lifters and athletes and sign up for FREE access to my 5-day email course on how to conquer the most common gym mistakes.
From goal setting to lifting technique, you will learn how to overcome the mistakes in the gym that are holding you back from getting bigger and stronger.
Unsubscribe anytime. No spam.
Full Racks – Overview
Full racks, also known as "full power racks" or "squat cages", are the gold standard when it comes to gym equipment.
In any guide to power racks, you'll find plenty of reasons as to why a full rack is your best choice. Simply put, these racks have four vertical posts (though some have up to six) that are secured to a solid (metal) top and base.
The provided J-hooks ensure you have a convenient rack of variable height to rest your barbell, while the two adjustable "safety catchers" (horizontal supports) that run along the rack's sides provide you with a fail-safe in case you drop the weight or lose your balance.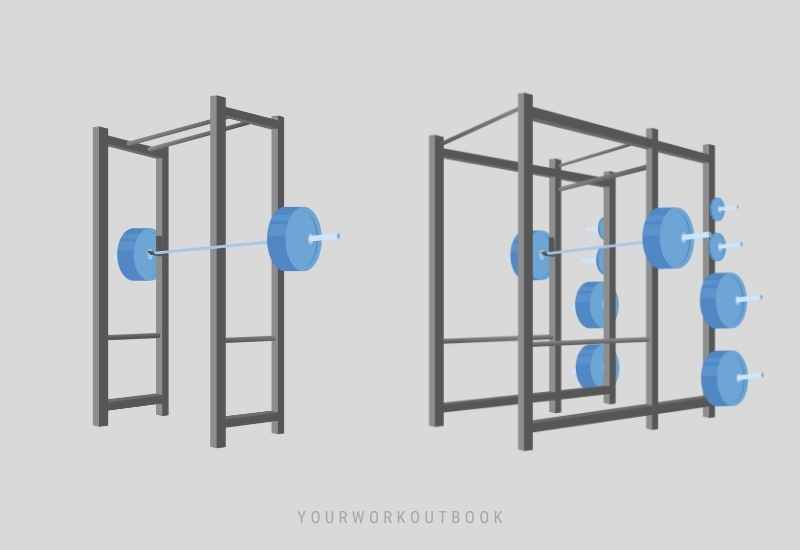 If you've got lots of space in your home gym and are looking for a very solid and versatile piece of equipment, the full power rack is an awesome choice.
It's guaranteed to last for years of regular use and gives you lots of options for training your upper and lower body—including deadlifts, squats, overhead presses, chin-ups, pull-ups, hanging leg raises, barbell lunges, and so many more.
Trainer's Note: If you're going to use a full rack at home, make sure to protect your floor properly. Heavy-duty rubber matting or a lifting platform will ensure your garage, basement, or living room floor doesn't get scuffed or scraped by the heavy metal cage.
They are also wildly customizable. Rogue Fitness' power racks, for example, offer over sixty different attachments, including lat pulldown machine, dip station, Monolift, spotter straps, and on and on and on.
Half Racks – Overview
A half-rack, as its name suggests, is essentially half of a full rack. Instead of four (or six) vertical posts, a half-rack will only have two posts.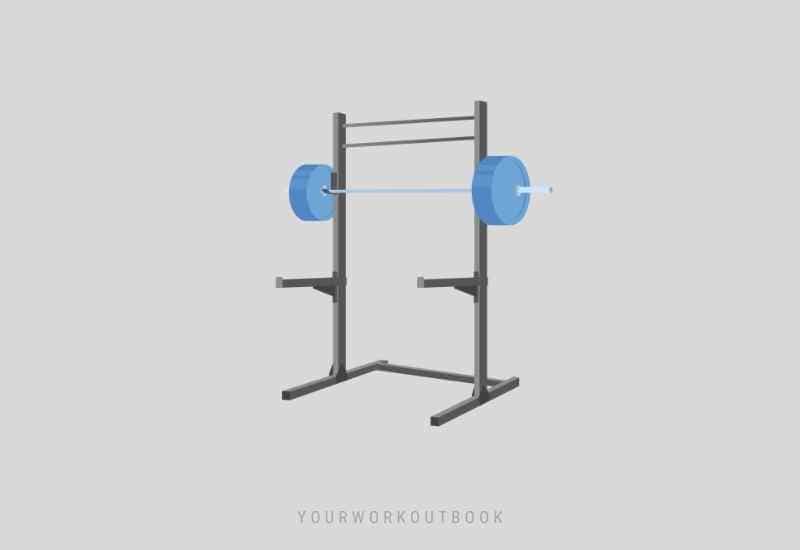 These posts will be secured to a solid base, but there will typically be no top. (Though, some half-racks do feature "top" components like pull-up bars built in, as the above picture demonstrates.)
Trainer's Note: There are some half-racks that are designed with four vertical posts. However, that's done for stability, not to create the "cage" effect of a full power rack.
Just like the full rack, the half-rack has adjustable J-cups or bars that allow you to set the height of your bar, as well as two accompanying horizontal "safety catchers" that will be the fail-safe if you fall or lose control of the barbell.
Half Racks Vs Full Racks – The Differences
Now we come to the crucial part of this article: the section where we talk about what separates the two pieces of equipment, and what makes them the better choice for you.
Difference #1: Size and Width
As you can imagine, a full rack is a significantly larger piece of equipment than a half rack. Typically, a full rack will be wider and longer, occupying more floor space. It may even be taller (though that will vary from model to model).
While this is never a problem for anyone who has a spacious garage, ample basement, or large backyard to convert into a gym, it's definitely a concern for home weight trainees who are working with limited space.
Full power racks tend to be around 4 feet wide, 4+ feet long, and 7-8 feet tall. They may not fit in a low-ceilinged basement, and they're definitely not the sort of equipment you'll want to have sitting in your living room or in a corner of the office. They need a dedicated space for training!
Trainer's Note: If you really worry about space, you can always look into a folding squat rack. This type of collapsible rack is ultra-portable, takes up minimal space, and still provides most of the benefits of a squat rack.
With half-racks, however, you've got a bit more flexibility. The base will usually be less than 4 feet wide and long, and the vertical posts will typically stop around 7-7 ½ feet in height (though some will reach 8+ feet).
Because there are only two vertical posts, the half-rack takes up less dedicated space overall. You'll fit it into a more compact home gym space, and you'll still have more room for other equipment.
It's worth looking into the best half rack for a home gym if you've only got limited space to work with.
Difference #2: Weight
Remember that the squat rack is made out of solid metal (typically stainless steel), which means it's going to be heavy!
A full-sized power rack will weigh around 200 pounds, though they can range as high as 350lbs or more. Heavier racks tend to be sturdier and longer-lasting, but there are some models that use lighter materials (like aircraft-grade aluminum instead of stainless steel) that are reasonably durable.
Fair warning, though: you can't just think about the rack itself, but you've also got to take into account your weight PLUS the weight of your barbell.
If you're a 200-pound lifter squatting an Olympic barbell loaded with 200 pounds, that's A LOT of weight in one place.
If you're not on solid concrete, you could do serious damage to the floor (which is precisely why so many people turn their garage or basement into a gym, because it can handle the weight).
With a half-rack, you're dealing with a bit less weight. There are only two vertical posts and the base, so the rack will weigh about half of what a full power rack would.
They're a smarter choice if you're looking for a piece of equipment suitable for less-solid floors (such as your deck/patio or an upstairs room).
Difference #3: Cost
Given the name—half rack vs. full rack—you'd think the half rack would cost half as much as the full rack. Sadly, it is not to be!
Typically, a half rack will cost around 60-70% of what you'd pay for a full rack. You're still getting a solidly built, sturdy metal piece of equipment, but it's just a little bit cheaper.
So, if you have the space, a power rack is almost always going to be a better option in terms of value.
Difference #4: Stability
This is the one crucial difference that causes a lot of people to opt for the heavier, pricier, larger full rack over a half rack.
The base of a half rack makes it a VERY stable piece of equipment for supporting your weight. You can rack the barbell trusting that it won't tip, wobble, or fall over—they're designed to guarantee stability for the weight.
No, the issue is only when you try to do exercises like pull-ups, chin-ups, kip-ups, or hanging leg raises using the top bar/built-in pull-up bar.
It's basic physics: your weight, being up so high, has a greater chance of destabilizing the base. You'll find that the half-rack actually shifts/wobbles a bit when you're doing these specific exercises.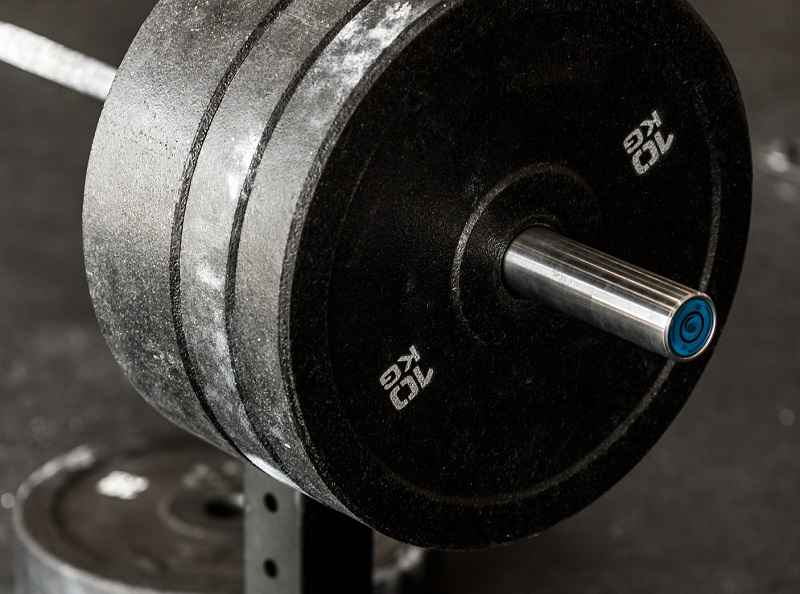 With a full rack, with four (or six) solid posts and a top and base that locks the "cage" shape firmly in place, you'll never tip or wobble an inch, no matter how hard you swing on the top bar.
These are the four differences between the two—otherwise, they're pretty much identical in every way that counts.
You'll still be able to do the exact same number of exercises on a half rack or a full rack, and they're still designed to cradle your weight and offer a fail-safe (the "safety catcher") in case you fall or drop the weight.
Both half racks and full racks are equally beneficial to use in your home gym—it's all about figuring out which suits your needs best.
Half Rack vs Full Rack – FAQs
Can you squat inside a half rack?
With a full rack, you're typically squatting inside the cage formed by the four vertical posts. But with a half rack, there is no cage, just the two supports. Typically, you squat in front of the posts, but still inside the base. That way, if your weight drops/falls, the safety catchers will stop it from hitting the ground.
Should you bolt down a half rack?
In a perfect world (where your floor can accommodate it), you absolutely should bolt down your half rack, as well as your full rack. That way, the rack won't shift or move when you lift (or when you do pull-ups and hanging leg raises). It will not only make the equipment safer for your use, but reduce the risk of damaging your floor.
The Bottom Line
I'm a firm believer in the power of squats for building serious leg muscles, which is why I've been using a squat rack—both at home and in the gym—for years now.
Both half racks and full racks offer a lot of benefits, and their differences are small enough that they're both worth considering for your home gym.
As long as you have the space, solid floor, and don't mind a slightly higher price, a full rack is definitely a great option. But if you're working with limited room and want to cut costs a bit, I'd recommend a half rack.
Choose your rack of choice and get to squattin'!
More Guides Like This
? 6 Best Power Racks for Your Home Gym. This list of the best power racks offers the best value and will take your home workouts to the next level. No matter what your budget is, there is a power rack for your home or garage gym.
? Best Half Racks for Home and Garage Gyms. A great squat rack is essential for your home gym. Here are the best half squat racks for developing strong and muscular legs.