GHD machines are one of the best ways to fire up and strengthen your posterior chain and midsection. Here's a breakdown of the best glute ham developer machines for every budget and athlete.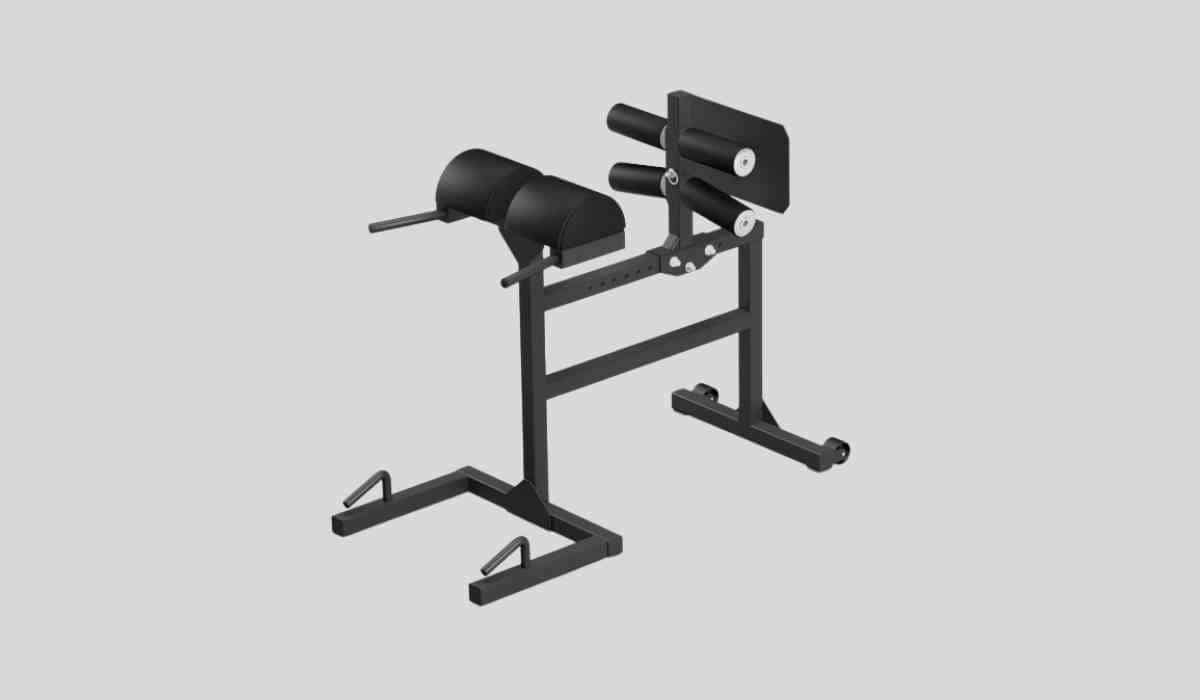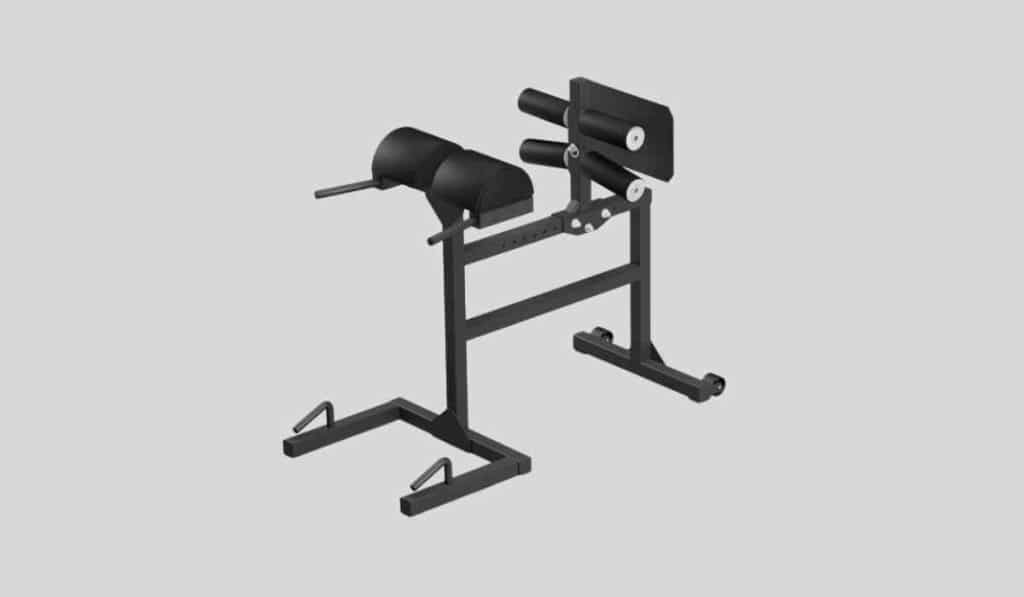 A glute ham developer is one of the essentials of a serious home or garage gym.
Also known as a GHD machine (way easier to type out), these bad boys are one of the best ways to train your posterior chain, including your glutes, hamstrings, and one of the most important group of muscles you probably don't think about, your spinal erectors.
Unlike roman chairs or back extension benches, with a GHD you can really go to town doing back extensions and sit-ups. GHD machines are built like tanks, with a long and wide footprint and weighing 200-300 pounds.
GHD machines give you the stability and security to safely fling your body up and down and get all of those sweet, sweet posterior chain gains.
While GHD machines are most often seen in gyms, over the past couple of years more and more of them are popping up in home gyms (we can largely thank Covid for that).
While they are heavy, heavy-duty and feature-rich, surprisingly, there are some affordable GHD machines, even among the premium gym equipment makers.
Read on for a full breakdown of the best glute ham developer features for every type of budget and athlete.
Rogue GH-1
⭐Best heavy-duty GHD machine for home gyms
Rogue is one of the top fitness gear manufacturers on the planet. I have not made much of a secret of my love for their stuff, with their adjustable weight bench and power racks being at the top of my wish list last year.
Stuck with Your Training in the Gym?
Join 12,000 lifters and athletes and sign up for FREE access to my 5-day email course on how to conquer the most common gym mistakes.
From goal setting to lifting technique, you will learn how to overcome the mistakes in the gym that are holding you back from getting bigger and stronger.
Unsubscribe anytime. No spam.
The Rogue GH-1 GHD is their best value-priced option (they retail for just under $600—check Rogue's website for latest pricing and stock).
Made in the United States with heavy-duty 2×2" and 2×3" steel, the GH-1 has a long and broad triangular base that keeps you firmly balanced while swinging your body up and down.
Additional features include two handles that help you get settled on the pads, a pair of foam rollers lock your legs/feet in, and a foot plate keeps your feet stabilized. The length of the machine can be adjusted, while the height of the rollers cannot.
See also: 10 Best Hamstring Exercises (Plus Two Sample Hamstring Workouts)
It doesn't have the bells and whistles of the Rogue Abram GHD 2.0 (which we will cover shortly) or even the "ultra" Rogue GHD machine, the Rogue Monster Swing Arm GHD, but when it comes to an all-purpose and durable GHD machine, the GH-1 will cover the needs of most athletes and home-based gymgoers.
Built to last, backed with Rogue's industry-leading manufacturing, and simply a badass looking machine, the GH-1 is a killer pick for a GHD machine that will fit nicely in your home gym set-up.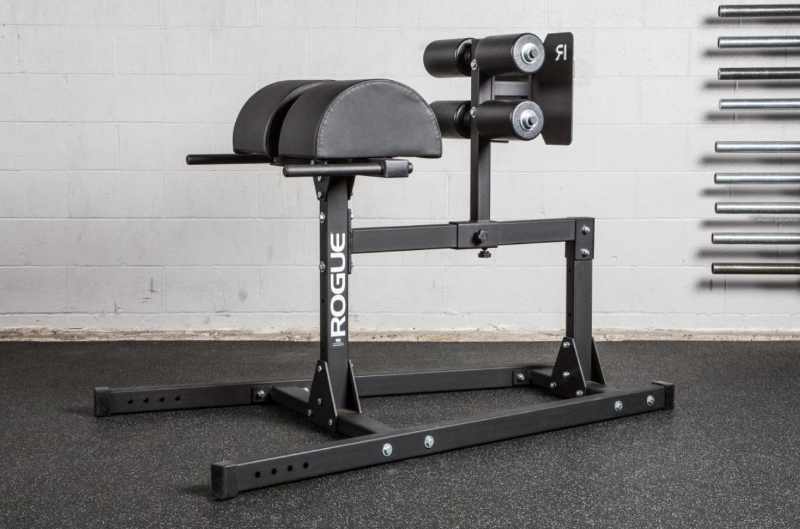 Rogue Abram GHD 2.0
The Rogue Abram GHD 2.0 is a step above the GH-1 in terms of function and design, with a couple of features that provide a more customizable and individualized training experience.
The main difference is a the 10-notch swing arm attachment that allows you to change the horizontal placement of the ankle rollers (the vertical placement is fixed, however).
The Abram GHD 2.0 has a larger footprint than the GH-1, about ten inches longer, but retains the same stable, gentle Y-shaped base that keeps you locked in on the heavy-duty pads.
Featured in countless CrossFit competitions worldwide, the Abram GHD 2.0 combines Rogue's legendary durability with enough versatility to make it ideal for home gyms or commercial gyms that have different sized users working out on the GHD.
Price-wise, the Abram GHD 2.0 isn't that much more than the GH-1, retailing for $695 (check Rogue's website for current pricing and stock availability).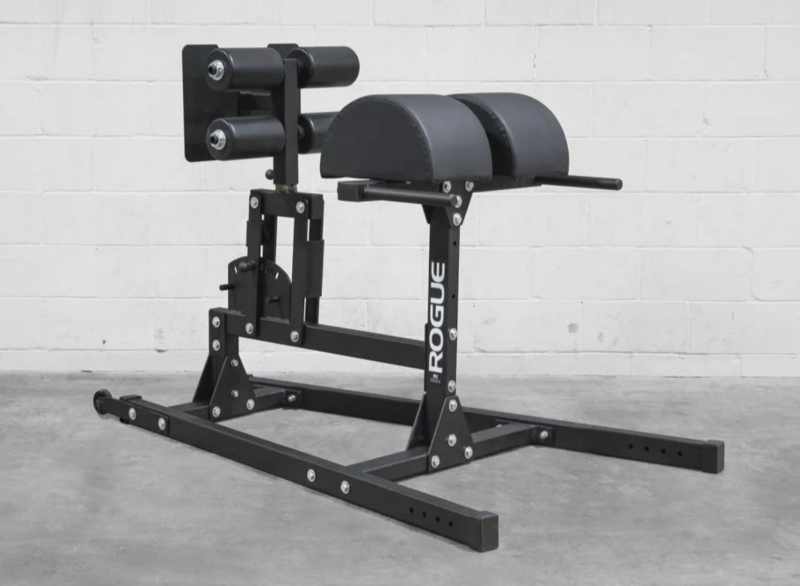 FORCE USA Glute Ham Developer
Force USA makes some of my favorite strength training gear on the planet (the Force USA MyRack Folding Squat Rack is one of the most insane things I've seen in a garage gym).
The Force USA Glute Ham Raise is built like a tank and is designed for high volume use, making it an excellent choice for both home and commercial gyms.
With a 42.5" width for extra stability, a slip-free vinyl upholstery, and rubber wheels for easy transport and maneuvering, this GHD machine is ready for battle.
Other key features include pegs for resistance bands so that you can add an extra dimension of resistance to your exercises and a pivoting arm that quickly adjusts height for multiple users.
The Force USA GHD is also priced extremely competitively at just under $800 and the assembly manual is very thorough and clear about how to put it together.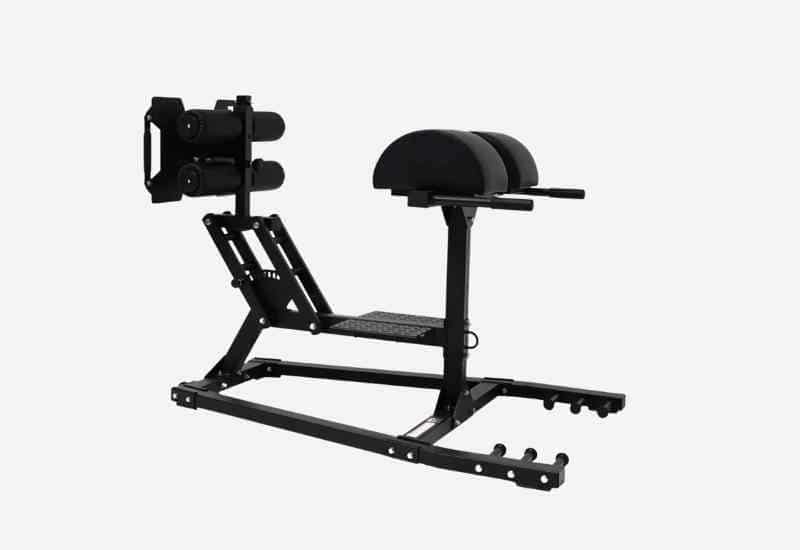 Rogue Monster Swing Arm GHD
⭐Best "price is no option" GHD machine
If you want a GHD machine that is commercial-grade and has all the bells, whistles and options, the Monster Swing Arm has got you covered.
In addition to the standard features you'd expect of a GHD machine (foam rollers for legs, footplate, handles to rest between sets, a well-rounded pad that is comfortable), the Monster Swing steps things up, quite literally, with a step-up plate, larger pads, a lever to quickly adjust foot height and position, and a 250lb unit weight that will keep your stable while you do extensions, raises, sit-ups, twists, etc.
You might be looking at this thing and be wondering how much of a pain in the ass it is to assemble. No worries—Rogue ships this thing fully assembled, which means you can get to work right away when it shows up.
The "premium" Rogue GHD comes with a premium price tag, costing just under $1,400 (check Rogue's website to see what current availability and pricing looks like), but if price is no option, and you want a GHD machine that is built like a tank with maximum versatility, this is the GHD for you.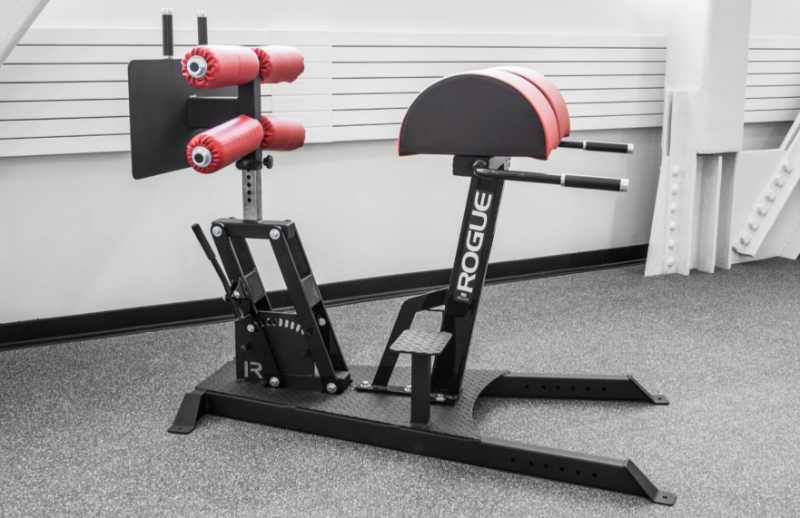 OneFit Wonder Glute Ham Developer Machine
There are a few GHD machines on Amazon, but the issue—as it has been worldwide since Covid hit the planet—is that they are almost always sold out.
The OneFit Wonder GHD is one of the better ones that is sold through Amazon.
With this machine you get five different foot pad placement options, and the rollers slide horizontally in eight different positions, providing lots of options for getting awesome body positioning on the machine.
The only thing I wasn't crazy about with the OneFit Wonder GHD machine is the narrower foot base compared to the Rogue set-ups.
While this isn't an issue when you are doing hypers and back extensions, it does begin to wobble a little bit when doing twists. If you have the option to bolt it to the floor (there are steel-cut holes in the base for this purpose), I would highly recommend you do so.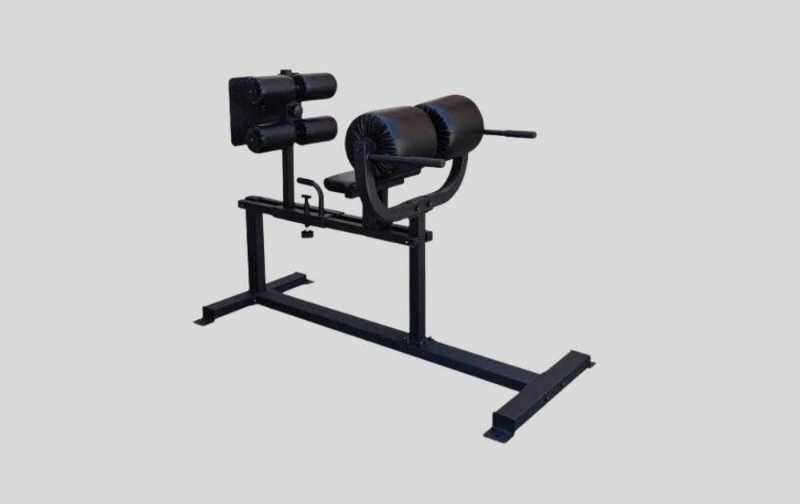 Titan Fitness Glute & Hamstring Developer
⭐ Best value-priced GHD machine
Titan Fitness is another one of my preferred manufacturers of home and retail gym equipment. I've had a chance to test and review a lot of their gear, including weight sleds for push-pull training, lat pulldown bars, and more.
I've consistently been impressed with their stuff, and Titan prides themselves on building legit equipment for serious athletes at a solid price point.
Which is exactly what I love about their GHD machine.
Priced at just over $400 (including free shipping, which is a huge cost-saver when it comes to shipping heavy machines like these), the machine has a ton of features.
Some of the biggies: Wide diamond-knurled plate for planting your feet securely. Long handles to get yourself settled on the pads. Swinging foot base that can be adjusted easily for length and foam rollers that have a variety of height options.
With an excellent price point (it's $200 cheaper than the lowest price Rogue GHD machine), Titan Fitness's GHD machine delivers in a big way.
The only catch (there's always a catch), is that the machines sell out quickly (check Titan Fitness's website for current stock availability) so pre-order if you can.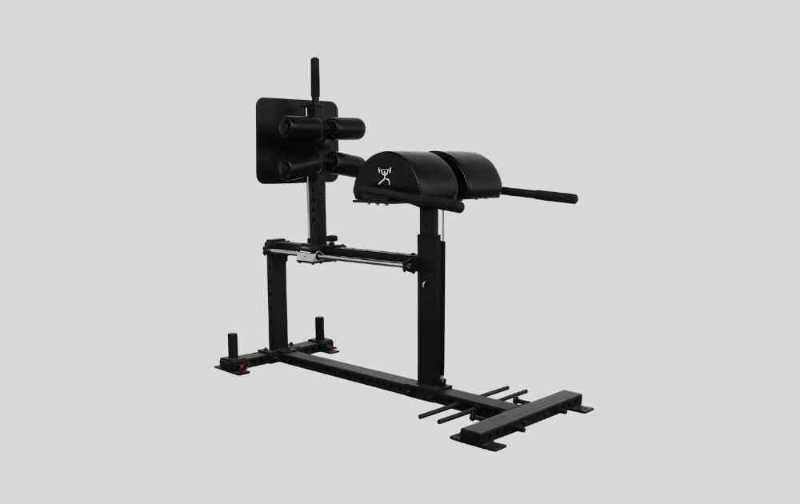 CFF Pro Series Elite Glute Ham Developer
The CFF Fit Pro Series Elite lives up to its name.
Rated for up to 650lbs of capacity, and with vertical and horizontal adjustable sliding decks, this GHD machine is a killer unit made by a brand name most people probably don't think about when it comes to high-grade gear.
Padded handles make getting onto the machine a breeze, an extra large foot plate suit every foot size, and a 3×3" steel frame tube construction is built to last.
There is one feature that I especially love about this machine that none of the other GHD's on this include.
Pegs to attach bands to on the base of the unit which allow you to use resistance bands to make your hypers and back extensions more difficult (versus holding a plate in your arms, for instance).
Frequently sold out on Amazon (check Amazon for current pricing and availability), the CFF Pro Series Eltie GHD is an excellent, feature-rich GHD machine that is ready for battle and gainz.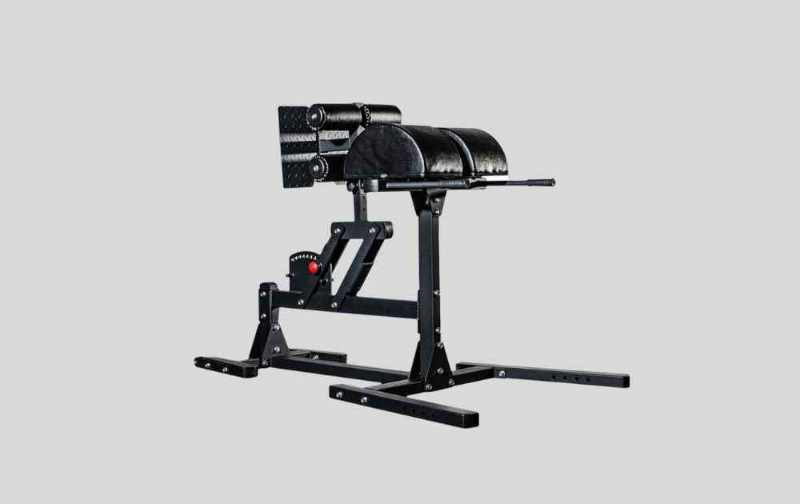 Glute Ham Developer Machines – FAQs
What are the benefits of a GHD machine?
The GHD machine is a killer tool for improving overall strength and power in the posterior chain.
? High eccentric focus.
One of my favorite ways to get started with this form of training and recruiting maximum hamstring tension is to do negatives.
Going slowly down, with perfect form, "catching" yourself at the bottom with a plyo box or bench, and then pushing/cheating your way back up.
? Bulletproof your hamstrings.
For athletes in particular, hamstring exercises like the GHR can significantly reduce hamstring injury (by up to 51% according to a meta-analysis1 published in the British Journal of Sports Medicine).
The study found the injury reduction carried over a multitude of sports, most especially those that included running and jumping.
? Best exercise for stronger hamstrings.
The main focus of this exercise is the hamstrings, and it's no wonder: a study2 comparing all of the usual hamstring-focused exercises, including leg curls, good mornings, RDL's, and glute ham raises, found that the GHR led the pack in semitendinosus (science for hamstring) in terms of activation.
? Excellent for speed and power athletes.
Because of this exercise's ability to recruit a TON of hamstring tension, it's about half as good as sprinting all-out. (Which is still better than other hamstring-focused exercises.)
A study3 looked at how much the hamstrings were activated during sprinting compared to popular hamstring exercises, and found the standard GHR created 65% of the activation compared to sprinting 100%. Other hamstring exercises like standing kicks, cranes, and laying kicks fared worse, averaging 45-55% in terms of activation.
For athletes trying to get the most from their hamstrings, both in terms of injury prevention and additional power and speed, the GHD machine is a no-brainer.
? GHD machines develop better posture.
Although designed to carpet bomb your hamstrings with delayed-onset muscle soreness, this machine is simply awesome for developing better posture.
Secondary muscles targeted in this exercise include the erector spinae (muscles that stabilize the spine) and the deep muscles in the core like the erector spinae.
The nature of the exercise demands better posture and a braced core—otherwise you flop over like an over-cooked spaghetti noodle. Add some resistance, and you are walking away with stronger hamstrings and a stronger, more upright torso and upper body.
What exercises can I do with a glute ham raise machine?
One of the main concerns people have before buying a GHD machine is functionality.
After all, these machines take up a fair amount of floor space and aren't exactly cheap.
Fortunately, there is a decent set of exercises that you can with a GHD machine, including:
? Glute-ham raise. The big one! Mostly hamstrings with a bit of glutes and calves (and all of the posture muscles). The glute-ham raise is the alpha exercise for peak hamstring training.
? Back extensions. We've all seen the classic back extension machine at the gym (usually on a 45-degree incline), but the GHD version is harder. I love doing :30 holds of this exercise at the beginning of my workout to activate my sleepy posterior chain and lower back. (See this guide for a more detailed comparison of back extension benches vs glute ham raises.)
? GHD Sit-ups. An advanced take on a regular sit-up, GHD sit-ups vastly expand range of motion and require a ton of engagement from the hip flexors
? GHD hip extension. Done by placing your legs straight on the machine, with your thighs resting on the pad and your hips just in front of the pad, this Franken-back-extension places more focus on the hips, while also recruiting the glutes and hammies on the way back up.
? Reverse hyper. Turn around on the machine, grab the foot rollers with your hands, rest your mid-section on the pad, and lift your feet off the ground and skywards. Reverse hyper machines are popular and all the rage in powerlifting circles, but you can "hack" your GHD machine into one by simply turning around.
Not a bad little list for a simple-looking piece of fitness machinery!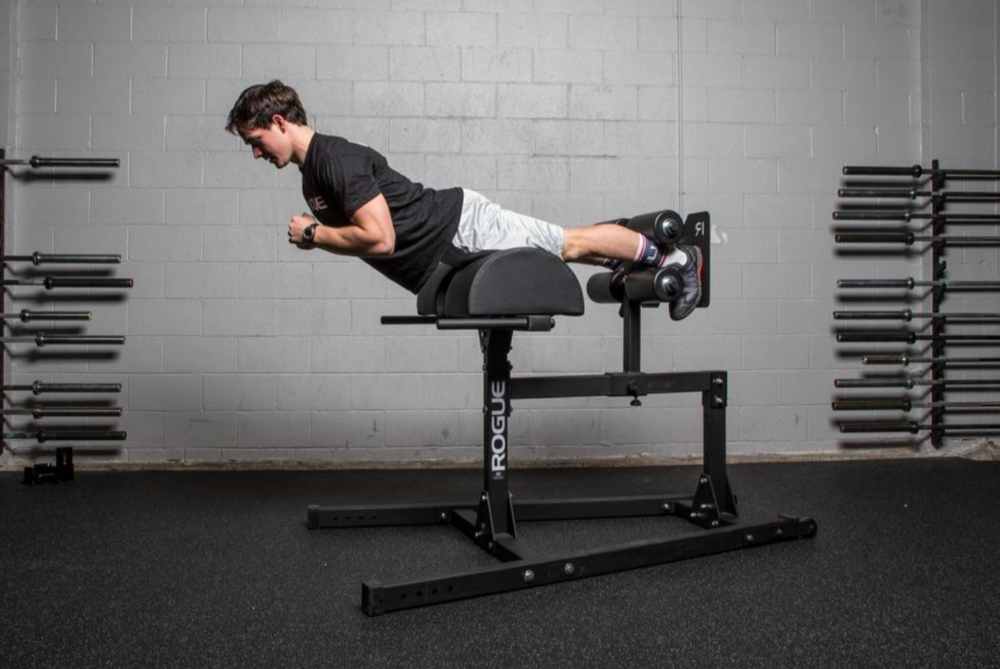 What muscles does the GHD machine target?
The glute ham developer machine primarily targets the hamstrings and glutes.
Other muscles involved include the erector spinae (muscles that stabilizes the spine), upper back, pelvic floor, calves, and just about every muscle in your core.
While the GHD machine will give you some epic delayed-onset muscle soreness in your hamstrings, the machine can also go a long way in helping you develop better, stronger posture.
And as mentioned earlier, there are a lot of different exercises you can do with this machine to target even more muscle groups.
Should I buy a glute ham raise machine?
For home gym enthusiasts, space and cost are always going to be primary concerns when it comes to choosing new equipment.
GHD machines can be a bit pricey (starting at around $400) and they can take up a lot of room.
I hesitate to recommend these machines for beginners, as there are much more versatile machines you can add to your home gym that maybe aren't so intimidating and more likely to be used.
Additionally, GHD machines, in my experience, tend to be misused.
Lifters don't place their knees properly on the pad (turning the exercise into more of a back extension than a hamstring raise) and rounding their backs (robbing themselves a TON of hamstring tension) because it's easier to do more reps.
GHR's are a very difficult and intensive exercise, even for experienced lifters.
That said, if you are technically proficient with your technique, have some good programming in place to make the most of the machine, and really want to take your hammies to the next level, a GHD machine is essential.
More Gear for Stronger Glutes
Best Glute Ham Gliders. Want to build a bigger backside without investing in a GHD? Here's a look at glute ham gliders and the best ones on the market.