GHD machines are one of the best ways to fire up and strengthen your posterior chain and midsection. Here's a breakdown of the best glute ham developer machines for every budget and athlete.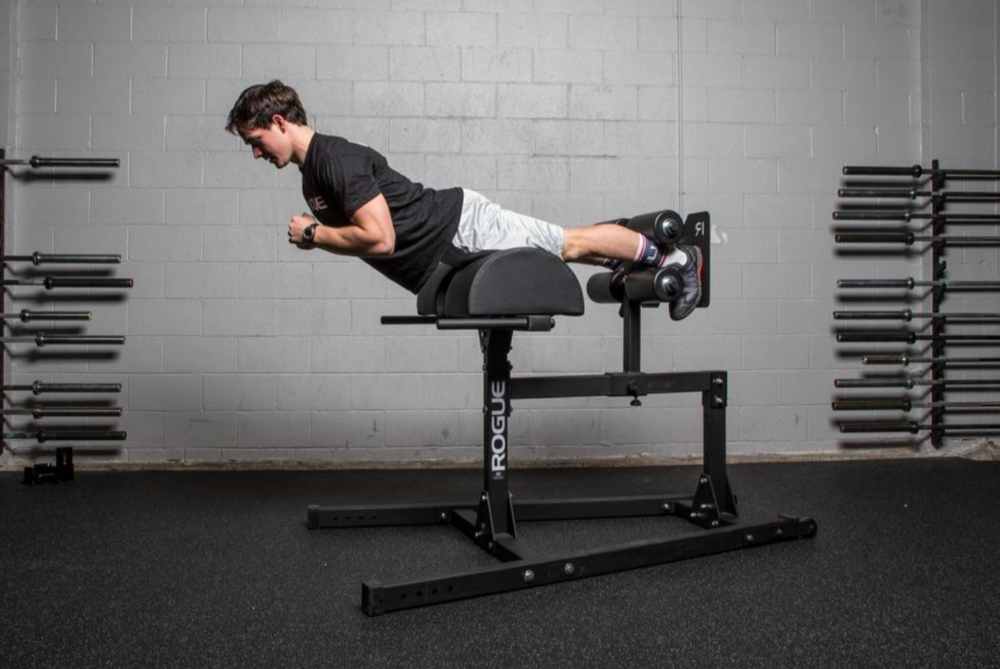 A glute ham developer is one of the essentials of a serious home or garage gym.
Also known as a GHD machine (way easier to type out), these bad boys are one of the best ways to train your posterior chain, including your glutes, hamstrings, and one of the most important group of muscles you probably don't think about, your spinal erectors.
Unlike roman chairs or back extension benches, with a GHD you can really go to town doing back extensions and sit-ups. GHD machines are built like tanks, with a long and wide footprint and weighing 200-300 pounds.
GHD machines give you the stability and security to safely fling your body up and down and get all of those sweet, sweet posterior chain gains.
While GHD machines are most often seen in gyms, over the past couple of years more and more of them are popping up in home gyms (we can largely thank Covid for that).
While they are heavy, heavy-duty and feature-rich, surprisingly, there are some affordable GHD machines, even among the premium gym equipment makers.
Read on for a full breakdown of the best glute ham developer features for every type of budget and athlete.
Rogue GH-1
⭐Best heavy-duty GHD machine for home gyms
Rogue is one of the top fitness gear manufacturers on the planet. I have not made much of a secret of my love for their stuff, with their adjustable weight bench and power racks being at the top of my wish list last year.
The Rogue GH-1 GHD is their best value-priced option (they retail for just under $600—check Rogue's website for latest pricing and stock).
Made in the United States with heavy-duty 2×2" and 2×3" steel, the GH-1 has a long and broad triangular base that keeps you firmly balanced while swinging your body up and down.
Additional features include two handles that help you get settled on the pads, a pair of foam rollers lock your legs/feet in, and a foot plate keeps your feet stabilized. The length of the machine can be adjusted, while the height of the rollers cannot.
It doesn't have the bells and whistles of the Rogue Abram GHD 2.0 (which we will cover shortly) or even the "ultra" Rogue GHD machine, the Rogue Monster Swing Arm GHD, but when it comes to an all-purpose and durable GHD machine, the GH-1 will cover the needs of most athletes and home-based gymgoers.
Built to last, backed with Rogue's industry-leading manufacturing, and simply a badass looking machine, the GH-1 is a killer pick for a GHD machine that will fit nicely in your home gym set-up.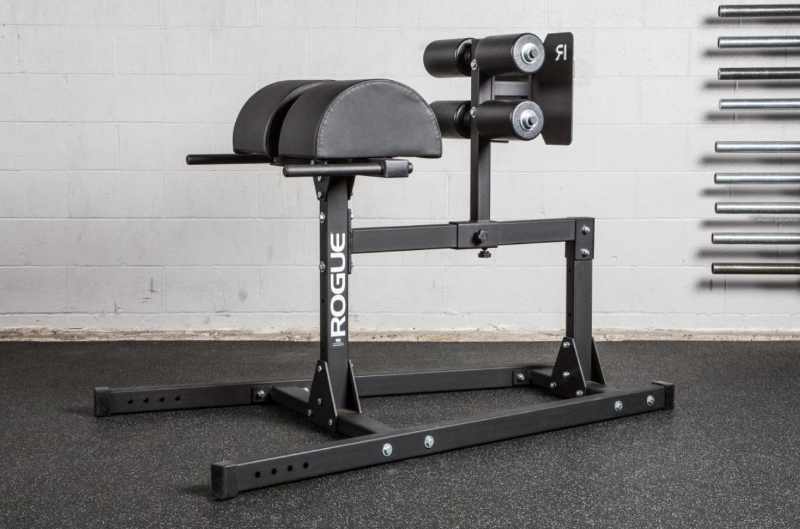 Rogue Abram GHD 2.0
The Rogue Abram GHD 2.0 is a step above the GH-1 in terms of function and design, with a couple of features that provide a more customizable and individualized training experience.
The main difference is a the 10-notch swing arm attachment that allows you to change the horizontal placement of the ankle rollers (the vertical placement is fixed, however).
The Abram GHD 2.0 has a larger footprint than the GH-1, about ten inches longer, but retains the same stable, gentle Y-shaped base that keeps you locked in on the heavy-duty pads.
Featured in countless CrossFit competitions worldwide, the Abram GHD 2.0 combines Rogue's legendary durability with enough versatility to make it ideal for home gyms or commercial gyms that have different sized users working out on the GHD.
Price-wise, the Abram GHD 2.0 isn't that much more than the GH-1, retailing for $695 (check Rogue's website for current pricing and stock availability).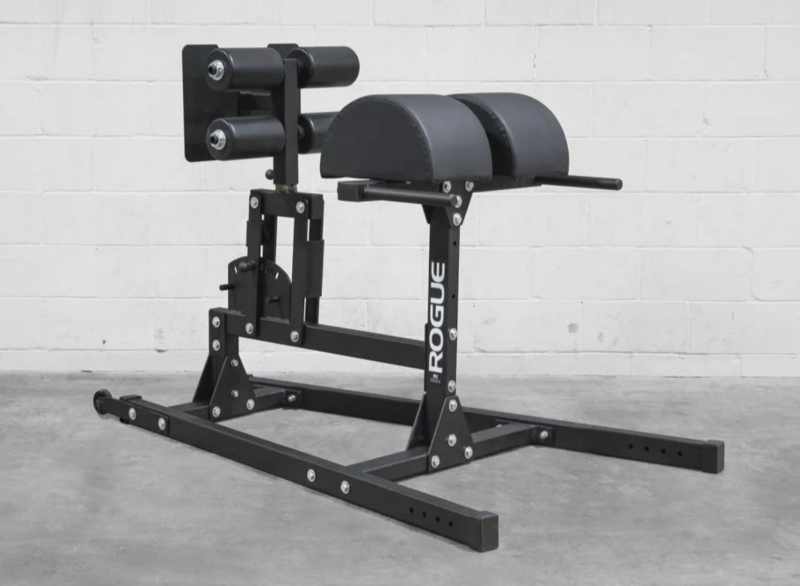 Rogue Monster Swing Arm GHD
⭐Best "price is no option" GHD machine
If you want a GHD machine that is commercial-grade and has all the bells, whistles and options, the Monster Swing Arm has got you covered.
In addition to the standard features you'd expect of a GHD machine (foam rollers for legs, footplate, handles to rest between sets, a well-rounded pad that is comfortable), the Monster Swing steps things up, quite literally, with a step-up plate, larger pads, a lever to quickly adjust foot height and position, and a 250lb unit weight that will keep your stable while you do extensions, raises, sit-ups, twists, etc.
You might be looking at this thing and be wondering how much of a pain in the ass it is to assemble. No worries—Rogue ships this thing fully assembled, which means you can get to work right away when it shows up.
The "premium" Rogue GHD comes with a premium price tag, costing just under $1,400 (check Rogue's website to see what current availability and pricing looks like), but if price is no option, and you want a GHD machine that is built like a tank with maximum versatility, this is the GHD for you.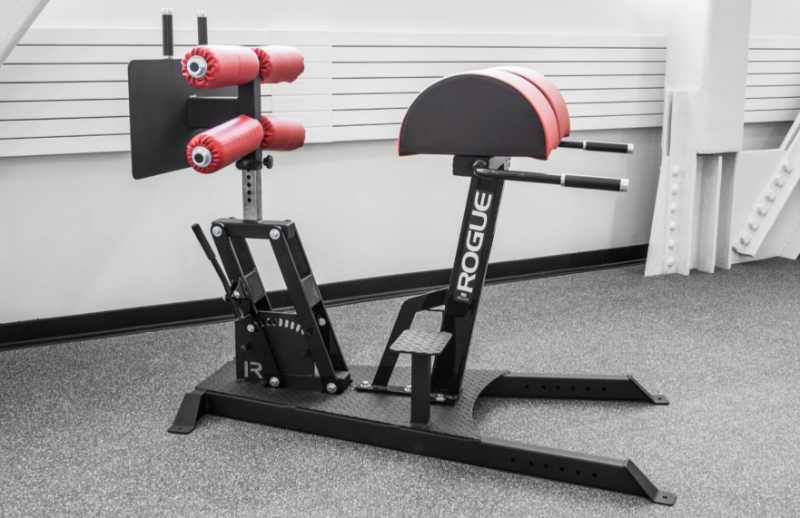 OneFit Wonder Glute Ham Developer Machine
There are a few GHD machines on Amazon, but the issue—as it has been worldwide since Covid hit the planet—is that they are almost always sold out.
The OneFit Wonder GHD is one of the better ones that is sold through Amazon.
With this machine you get five different foot pad placement options, and the rollers slide horizontally in eight different positions, providing lots of options for getting awesome body positioning on the machine.
The only thing I wasn't crazy about with the OneFit Wonder GHD machine is the narrower foot base compared to the Rogue set-ups.
While this isn't an issue when you are doing hypers and back extensions, it does begin to wobble a little bit when doing twists. If you have the option to bolt it to the floor (there are steel-cut holes in the base for this purpose), I would highly recommend you do so.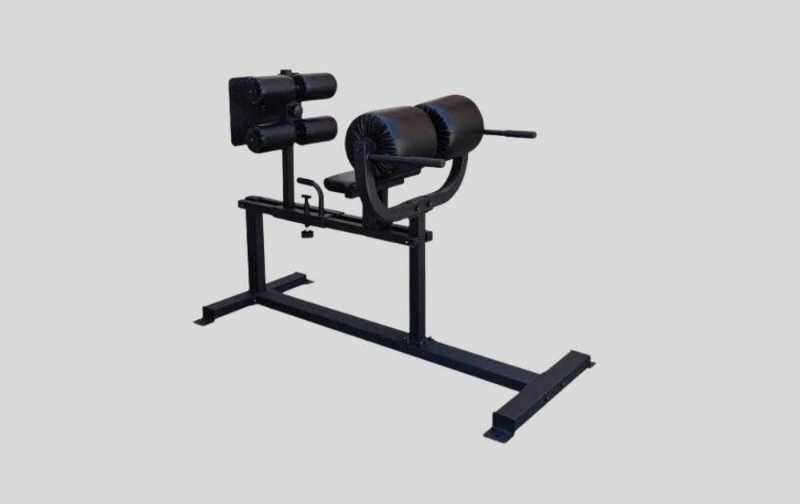 Titan Fitness Glute & Hamstring Developer
⭐ Best value-priced GHD machine
Titan Fitness is another one of my preferred manufacturers of home and retail gym equipment. I've had a chance to test and review a lot of their gear, including weight sleds for push-pull training, lat pulldown bars, and more.
I've consistently been impressed with their stuff, and Titan prides themselves on building legit equipment for serious athletes at a solid price point.
Which is exactly what I love about their GHD machine.
Priced at just over $400 (including free shipping, which is a huge cost-saver when it comes to shipping heavy machines like these), the machine has a ton of features.
Some of the biggies: Wide diamond-knurled plate for planting your feet securely. Long handles to get yourself settled on the pads. Swinging foot base that can be adjusted easily for length and foam rollers that have a variety of height options.
With an excellent price point (it's $200 cheaper than the lowest price Rogue GHD machine), Titan Fitness's GHD machine delivers in a big way.
The only catch (there's always a catch), is that the machines sell out quickly (check Titan Fitness's website for current stock availability) so pre-order if you can.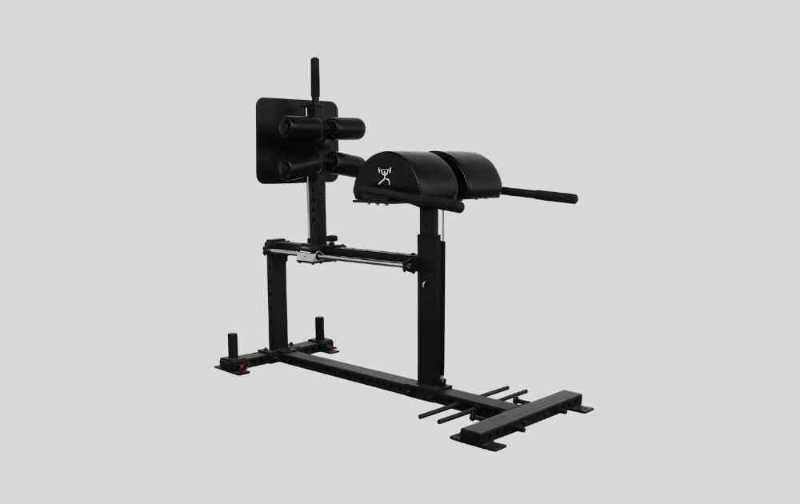 CFF Pro Series Elite Glute Ham Developer
The CFF Fit Pro Series Elite lives up to its name.
Rated for up to 650lbs of capacity, and with vertical and horizontal adjustable sliding decks, this GHD machine is a killer unit made by a brand name most people probably don't think about when it comes to high-grade gear.
Padded handles make getting onto the machine a breeze, an extra large foot plate suit every foot size, and a 3×3" steel frame tube construction is built to last.
There is one feature that I especially love about this machine that none of the other GHD's on this include.
Pegs to attach bands to on the base of the unit which allow you to use resistance bands to make your hypers and back extensions more difficult (versus holding a plate in your arms, for instance).
Frequently sold out on Amazon (check Amazon for current pricing and availability), the CFF Pro Series Eltie GHD is an excellent, feature-rich GHD machine that is ready for battle and gainz.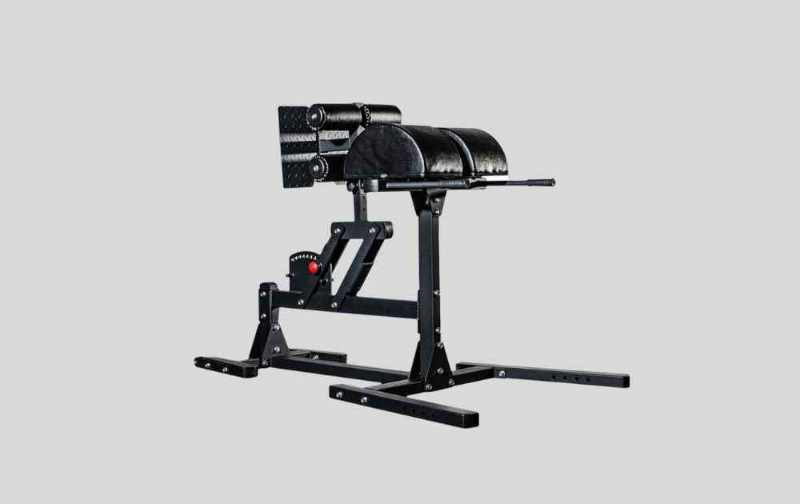 More Gear for Stronger Glutes
Best Glute Ham Gliders. Want to build a bigger backside without investing in a GHD? Here's a look at glute ham gliders and the best ones on the market.