Pull up assist bands are a type of resistance band that helps trainees and athletes master pull-up technique and build the strength to do pull-ups unassisted. Here is a look at the best pull up assists for every kind of trainee, and tips for using them like a pro.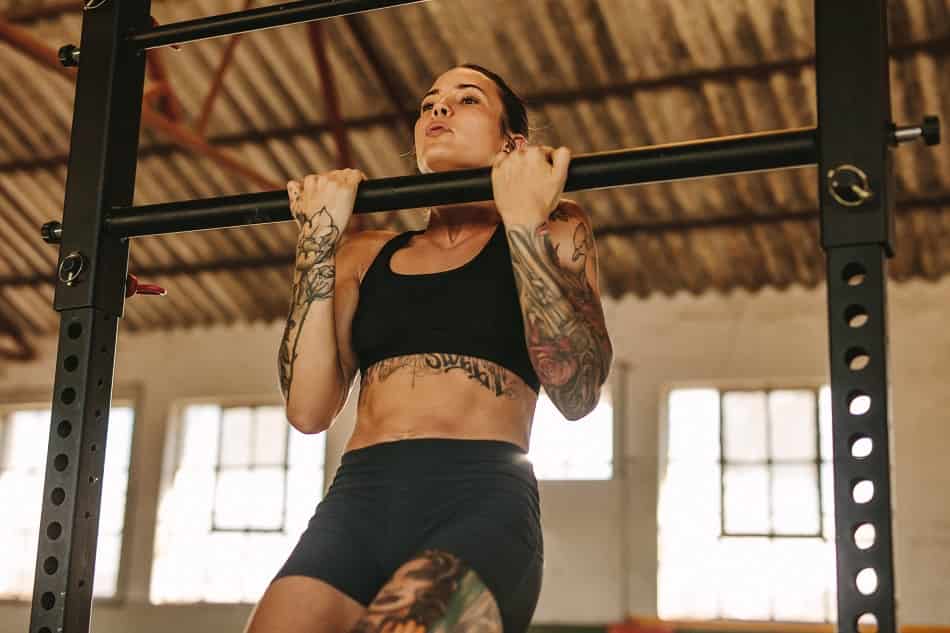 Pull-up assist bands are an essential tool for trainees looking to master one of the best all-time bodyweight exercises… the mighty pull-up!
They work by "turning down" your bodyweight so that you can perform pull-ups with the proper technique, engage the right muscles, and build the strength to eventually perform strict pull-ups.
While many lifters will lean on other pulling exercises—like using the lat pulldown machine—to build strength for pull-ups, there is nothing that beats using a resistance band for assisted pull-ups.
As an example, one study1 showed that assisted pull-ups were far superior for lat muscle development compared to lat pulldowns.
Even more interestingly, among the participants of the study, trainees who were unable to do more than 10 pull-ups saw more lat activation doing assisted pull-ups versus actual pull-ups.
In this guide to the best pull-up assist resistance bands, we will highlight the best options, including some heavy-duty bands, dedicated pull up assists, and I'll share some strategies for getting the most from this tool so that you can crush the pull-up bar.
Let's jump right in.
---
The Best Pull-Up Assist Resistance Bands
Rogue Monster Bands
⭐ Best overall pull-up assist resistance bands
Rogue Fitness is one of the leading names in the strength training game. Whether it's squat racks, dumbbells, or even deadlift platforms, Rogue brings the noise.
The Rogue Monster Bands–which we also picked as our best powerlifting bands for banded lifts–are our runaway favorite for resistance bands for kicking your pull-ups a notch.
For starters, Rogue Monster Bands are among the strongest resistance bands you will find on the planet, with the silver band offering a maximum resistance of 200lb (!) and a 4″ width to give your feet plenty of stability.
A majority of users won't need that kind of support, but it tells you a lot about the quality of the natural rubber used with the Monster Bands.
Here's an idea of what kind of resistance (or rather, assistance) you can expect from Rogue's resistance bands:
| | | |
| --- | --- | --- |
| COLOR | MAX RESISTANCE | WIDTH |
| Black | 100lb | 1.75" |
| Purple | 140lb | 2.5" |
| Red | 175lb | 3.35" |
| Silver | 200lb | 4" |
Rogue's stuff isn't always the cheapest, but it's almost always the best made. In the case of the Rogue Monster Bands, and giving you an extra assist as you conquer the pull-up game, this is definitely so.
The Monster Bands are available exclusively at ROgue's official website, with the green band (65lb) retailing for $22.50 and the strong red (175lb) and silver (200lb) bands retailing for $51 and $67, respectively.
Rogue also offers several "pull-up" packages that include three different-sized bands for around $75.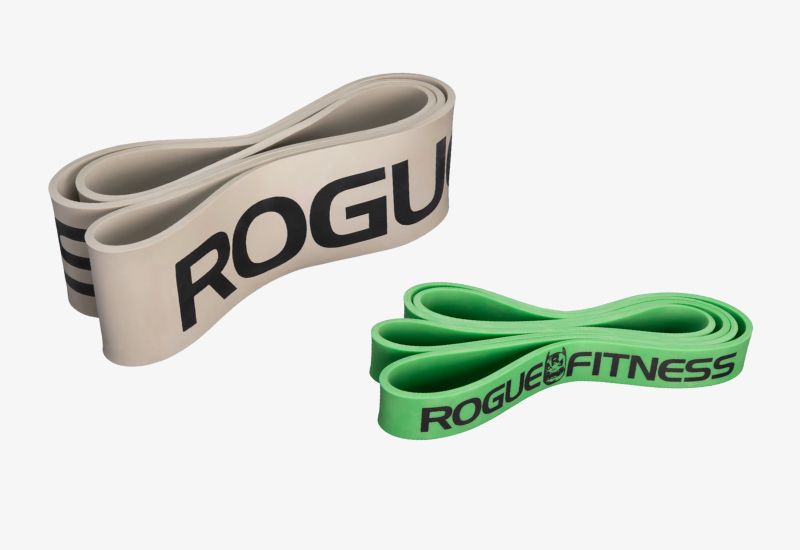 ---
FASPUP Pull-Up Assist Band with Foot Handle
⭐ Best pull-up assist band with foot handle
Easy to install (took just seconds to mount it), the FASPUP, like most of my favorite resistance bands, can be used for a variety of uses in the gym. The bands are also very light and don't take up a lot of space, making them easy to stow away in your gym duffel bag.
Unlike the traditional lopped resistance bands designed for pull-ups (don't worry, going to feature plenty of those below), the FASPUP features a foot-hold that you can quickly slide your foot in and out of. Another difference-maker between the FASPUP and pull-up assist bands is an adjustable band length that can be easily adjusted (up to 65" in length).
Which means you can set the perfect length for maximum support.
Altogether, it's hard to beat the FASPUP. The band can accommodate up to 220-pounds, is adjustable in length, and is easy to set up and use.
Unfortunately, like a lot of fitness equipment these days, the FASPUP is frequently out of stock, so get your hands on one if it's available.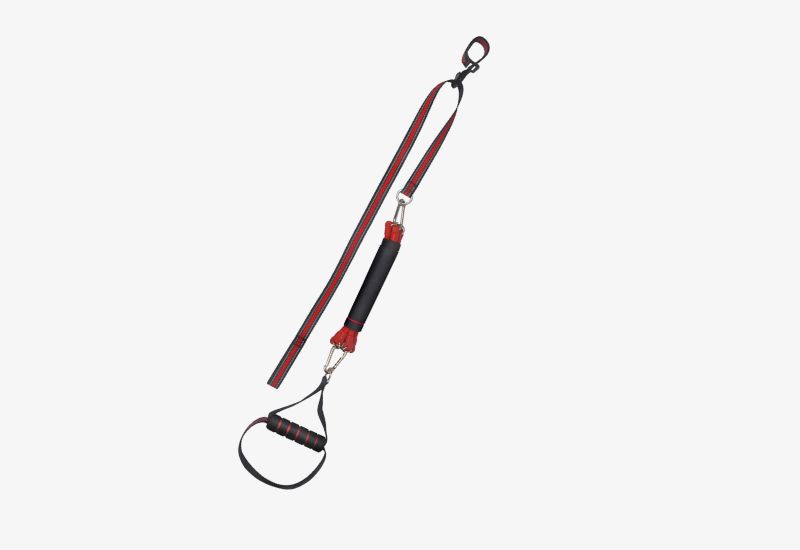 ---
INNSTAR Pull-up Assist Band System
⭐ Best pull-up assist band system for beginners
The INNSTAR Pull-up Assist Band System is a great alternative to resistance bands.
It's also a great option for home gyms as you can change the resistance levels on the system without having to loop the band more times around your bar or feet. On days when you max support, leave all three bands in; on days when you are feeling a little more ambitious, go down to one band.
The pull-up assist is hooked up using heavy-duty nylon straps clipped onto the free-standing chin-up bar of choice with a strong plastic buckle.
Like the FASPUP band, it's got a non-slip foot stirrup for you to park your foot so that you can focus on executing killer pull-up form instead of worrying that the resistance band will roll off your shoe.
INNSTAR backs up the band with a lifetime warranty and retails it for around $40, making it the best budget-friendly pull-up assist system for beginners.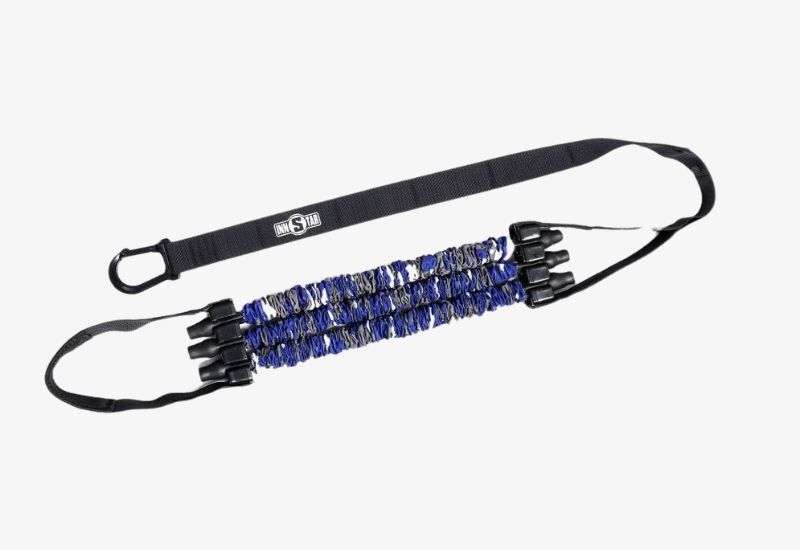 ---
WOD Nation Pull-Up Assistance Band
⭐ Best budget-friendly resistance bands for pull-ups
Resistance bands play a big role in my home workouts, and it's why they are one of my recommended home gym essentials. There is no shortage of ways that you can train with them.
The WOD Nation pull-up bar bands are one of my favorite of the more Cross-Fitty type of bands. They smell like the commercial rubber that they are made of, are super durable, and come in a variety of thicknesses (aka assistance levels).
See also: 6 Best Powerlifting Bands for Heavy Lifts
Available in a few different sizes and thicknesses, the 2.5-inch model can provide up to 175 pounds of help on the bar.
For gymgoers just getting started with using bands for assisted pull-ups, use two bands in conjunction with one another to provide extra stability and piece of mind.
They are also very reasonably priced (compared to most CrossFit stuff).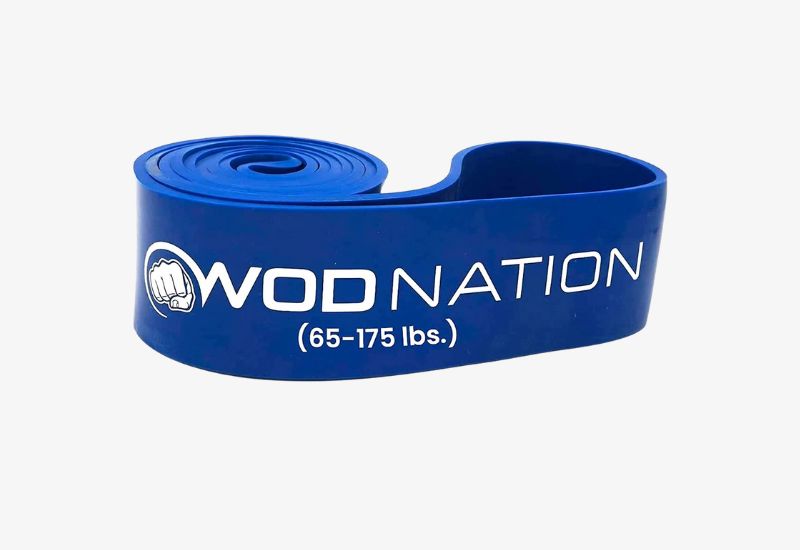 ---
DYNAPRO Power Resistance and Pull-Up Assistance Bands
Constructed of that familiar-smelling commercial-grade rubber, the Dynapro bands are well-built and won't snap. (A surprisingly common fear that exercisers have when training with resistance bands.)
The range of bands can provide up to 165-pounds of boost on the pull-up bar, and are longer than most pull-up bands, making it ideal for the taller athlete.
These kinds of bands are also great for other types of training, whether we are talking about doing core exercises, mobility work, or whatever else you can dream up, making the Dynapro pull-up bands a great choice for anyone working towards their first pull-up bar and more experienced gymgoers and athletes mastering pull-up progressions.
Side bonus: Dynapro bands also come with membership in their "VIP Club" which includes workouts and a forum for other users of the bands.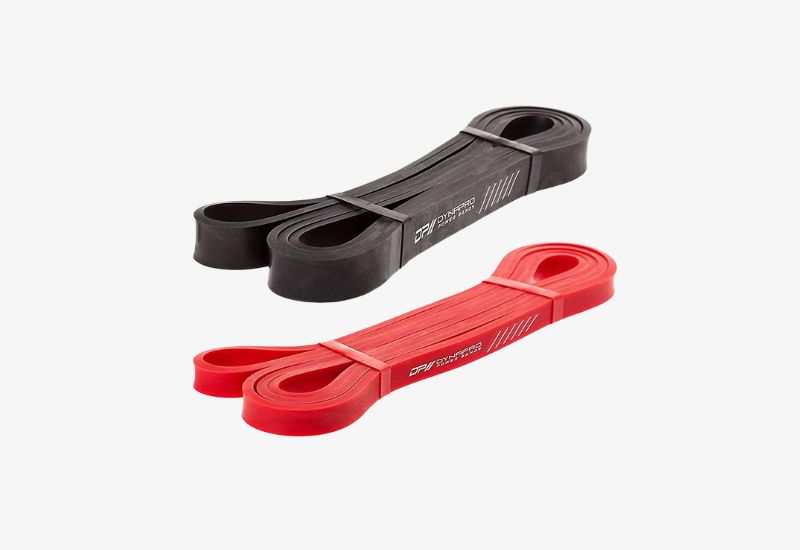 ---
Pull-Up Assist Bands – FAQs
What are the benefits of using pull up assist bands?
While some gym snobs will sneer at fitness equipment like pull up assist bands, the reality is that this type of exercise equipment is crucial for anyone looking to master what I consider to be the ultimate bodyweight exercise, the pull-up.
Here are the three main benefits to using pull-up assist bands for conquering the pull-up:
✅ Pull-up assist bands improve pull-up technique.
Although pull-ups look like a simple brute display of power and strength, there is a lot that goes into proper pull-up technique.
From bracing your core properly, gripping the bar with a tight squeeze, engaging the lats, to positioning your elbows properly, pull-ups are a multi-joint compound exercise that looks simple but is surprisingly complex when broken down into its individual phases.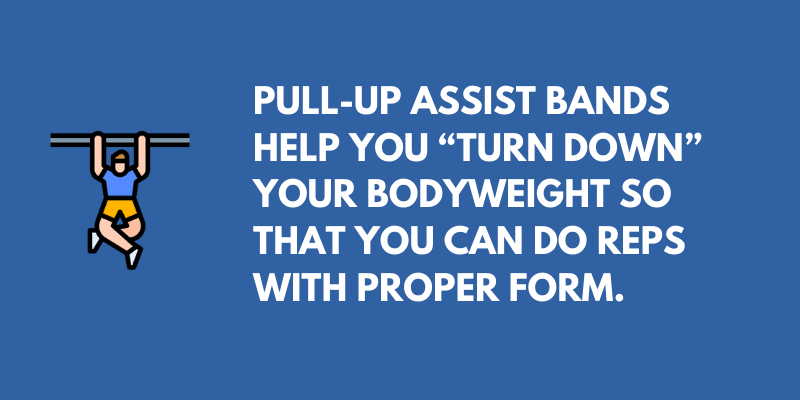 Using a pull up assist band allows you to focus on proper technique. Pull-up technique often gets thrown out the window in the quest to get the chin to the bar.
✅ Fires the right muscles.
The pull-up is a compound exercise that relies on a series of muscles contracting in sequence and in combination to pull the body up to the bar.
While you can get some of these benefits from lat pulldowns, there is no substitute for the real thing.
Even with a band, the proper muscle groups are firing in order to execute the movement.
✅ Great for volume.
Using a pull-up assist band is an excellent way to increase the volume in your training.
Those focused exclusively on muscle building, versus strength, will love the fact that pull-up assist bands help to hit those higher hypertrophy ranges of 8-12 repetitions.
I've seen many even elite athletes struggle to perform more than 4-5 pull-ups with proper technique and control, so introducing a pull-up assist band is a great way to crank up the reps and volume in training.
Fun Fact: Using a resistance band for pull-up assists are a great way to keep your body straight and the core braced when performing the movement. Wrap the band around the bottom of the foot—the tension will encourage a straighter body, as flopping around under the pull-up bar will release the band.
Can pull-up assist bands help me do my first pull-up?
Absolutely! If doing strict pull-ups (or a pull-up) is in your bucket list of workout goals, an assist band is going to be the primary gym accessory to get you there.
I would heartily recommend starting out with sets of assisted pull-ups combined with isometric holds, including dead hangs (hanging for :30 from the bar, for example) along with controlled descents (aim for a 3-4 count).
The benefits of pull-ups shouldn't just be limited to those who can bang out 3-5 reps at a time. For those looking to do their first proper pull-up, add pull-up assist bands to other pull-up regressions that include dead-hangs, negatives, and bar holds.
Fun fact: While the upper body gets all the attention with pull-ups, the pull-up is also fundamentally a core exercise. Think of it as an advanced plank. The better your ability to plank and effect power from your core, the "stronger" your arms and torso behave when on the pull-up bar.
How do I incorporate pull-up assist bands into my workout routine?
While the ways you can train with a pull-up assist band is only limited by your imagination, here are some proven ways to get the most from this strength training tool:
✅ Use it for volume
Assist bands can increase your overall training volume significantly. Most lifters struggle to do more than a handful of "naked" pull-ups.
Instead of struggling to do a handful of strict pull-ups, you can crank up the volume:
Before: 5 sets of 2-3 strict pull ups.
After: 5 sets of 10-12 assisted pull-ups.
✅ Alternate strict and assist sets
One of my favorite set variations is pairing strict pull-ups with assisted pull-ups.
For example, try doing 5 rounds of 3 strict pull-ups + 8 assisted pull-ups. You get the best of both worlds with this type of training.
Next week, do the same number of rounds, but add one strict pull up to each round.
✅ As part of a pull-up complex
Pull-up complexes are another great way to incorporate pull-up assist bands into your workout routine. The cool thing about pull-up complexes is that they can be adjusted to meet you where you are right now and help you get where you want to go.
Here is a sample pull-up complex using a pull-up assist resistance band:
2-3 rounds:
:30 dead hang
5 assisted band pull ups
3 strict pull-ups
5 isometric descent pull-ups (use a box to get to the top of the pull-up position and do a 5-second descent)
Often, trainees have the assumption they can only do one set or round of pull-ups.
Pull-up assist bands mean you can inject a ton of added work into your sessions at the gym without destroying your muscles.
✅ Use it as a finisher.
After doing your usual strength-building rounds of strict pull-ups (5×5, for example), throwing a resistance band around your ankles and doing a couple of sets of high reps can help you really finish the workout with a bang.
How to Choose the Right Pull-Up Assist Resistance Band
Here are the main things to look out for when choosing the perfect pull-up assist band for you:
Look for a band length of 40-41". The long length gives you the option to wrap the band around the pull-up bar and position the loop of the resistance band where it is most comfortable on your body, whether that's under your foot, under the shins, or even at the upper thigh with those thicker, less stretchy bands.
Mind the weight capacity of the bands. Pull up assist bands, and especially resistance bands, are not all built the same. Heavier trainees will want a thicker band to support their bodyweight when going up and down on a pull-up bar.
Choose between a pull-up band kit or resistance band. More experienced lifters will be more comfortable using a thick resistance band. Loop the bar around the bar, step into it, and you are in business. Less experienced trainees who want a more supportive band should opt for a "kit" like the FASPUP Pull-Up Assist Band, or the Odoland Pull-Up Assist Band, which have foot holds for more confident pull-ups.
The Final Rep
The pull-up is one of the best exercises you can add to your training regimen.
And thanks to pull-up assist bands, you can add them to your workout routine, no matter what stage you are in your strength training journey.
To recap our top choices:
The Rogue Monster Bands are the runaway winner for best pull-up assist resistance band thanks to the premium construction, wide bands for foot grip, and reduced pricing with band packages.
For beginners, the INNSTAR Pull-Up Assist Band System is the perfect blend of adjustability, stability (with a grippy foot stirrup), and budget-friendly pricing.
Choose the right pull-up assist for you, step up to the pull-up bar, and crank out those pull-ups like a boss!
---
More Pull-Up Gear Guides
6 Best Free-Standing Pull-Up Bars. Want to do pull-ups at home without risking damaging your doorframe? Here are my favorite free-standing pull-up bars for blasting your upper body.
6 Best Dip Belts for Weighted Dips (and Pull-Ups). Once you've conquered the bodyweight pull-up, it's time to load up the weight! You can do so with one of my top dip belts for weighted pull-ups.
5 Best Doorway Pull-Up Bars. The pull-up is an exercise you can do anywhere you can find a sturdy doorframe. Here's a breakdown of our favorite doorway pull up bars for tall people, wide doorways, and more.