Fire up your pull-ups with my breakdown of the best pull-up assist bands.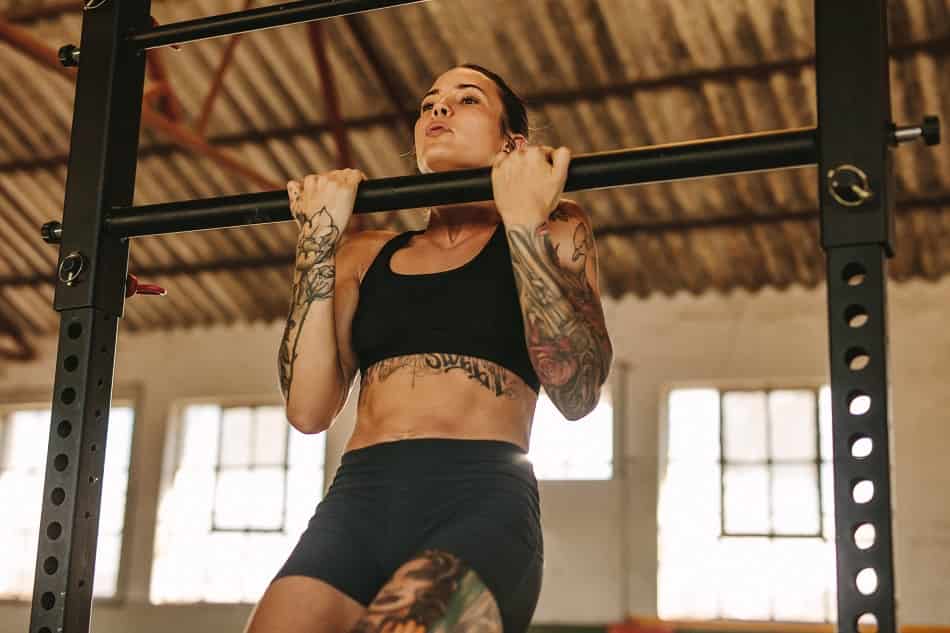 Pull-ups are one of my favorite all-time exercises at the gym (or in the garage, as has been the case recently).
But there are times in every gymgoer or athlete's career where they are unable to perform unassisted pull-ups or chin-ups.
Does that mean you should glide over to the lat pulldown machine to try and simulate the exercise?
Yes and no.
Lat pulldowns are a great exercise, but they don't mimic the motor pattern of pull-ups closely enough. Researchers found that chin-ups are a far more functional exercise in terms of muscle activation compared to lat pull downs [1].
If your goal is to perform unassisted pull-ups and chin-ups, and you want the sweet, sweet activation and gains from this exercise, kickstart the exercise with the assistance of pull-up assist bands.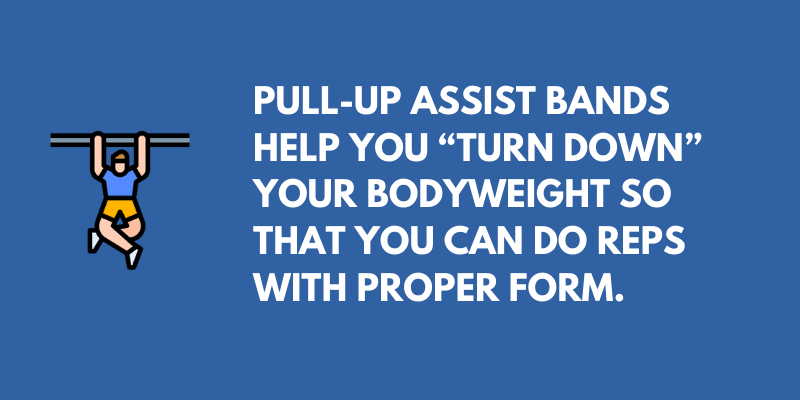 Pull-up assist bands are made of high-grade commercial rubber or vinyl. You strap your foot inside the loop, and it knocks off weight.
For example, if you weigh 200 pounds and you use a band of 40 pounds, you are pulling up 160-lbs instead of the actual 200.
The assist band is a fantastic way to help you get stronger on the bar and build better pull-up technique.
Here is a breakdown of my favorite pull-up bar assist bands.
FASPUP Pull-Up Assist Band with Foot Handle
Easy to install (took just seconds to mount it), the FASPUP, like most of my favorite resistance bands, can be used for a variety of uses in the gym. The bands are also very light and don't take up a lot of space, making them easy to stow away in your gym duffel bag.
Unlike the traditional lopped resistance bands (don't worry going to feature plenty of those below), the FASPUP features a foot-hold that you can quickly slide your foot in and out of. Another key features of the FASPUP is that the band length can be easily adjusted (up to 65" in length).
Altogether, it's hard to beat the FASPUP. The band can accommodate up to 220-pounds, is adjustable in length, and is easy to set-up and use (despite what the serious-looking fella in the picture below seems to indicate).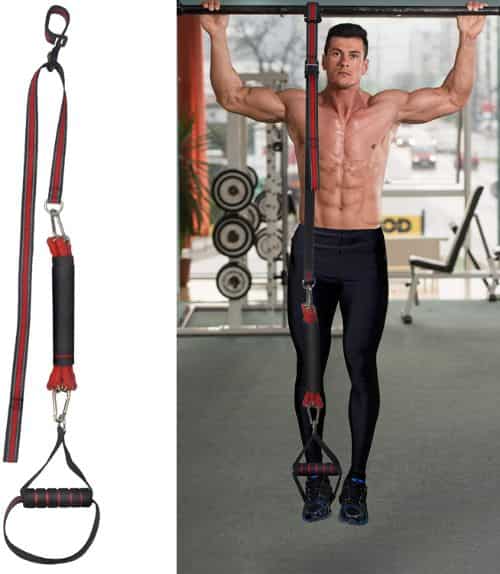 Odoland Pull-Up Assist Band
The Odoland Pull-Up Assist Band is another resistance band that is primarily designed for use in helping lifters and gymgoers bang out reps on the chin-up bar.
Available in two colors (and resistance levels), the band straps easily to your favorite free-standing chin-up bar with a strong plastic buckle. The length of the band is adjustable through a metal clasp (make sure the "teeth" on the clasp is facing the right direction, a handful of reviewers struggled with this until positioning it properly), and you can also change the level of help the bands are giving you. Whether you are working out indoors or on an outdoor pull-up bar, the Odoland band has your back.
If you are looking for a versatile band just for pull-ups, and don't need the band for other parts of your workout, this option is great and comes in about half the price as the FASPUP.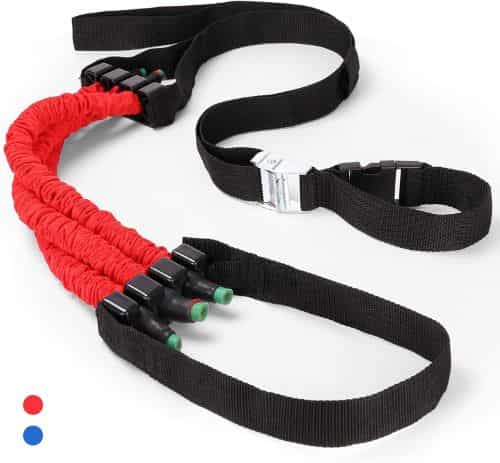 WOD Nation Pull Up Assistance Band
Resistance bands play a big role in my home workouts, and it's why they are one of my recommended home gym essentials. There is no shortage of ways that you can train with them.
The WOD Nation pull-up bar bands are one of my favorite of the more Cross-Fitty type of bands. They smell like the commercial rubber that they are made of, are super durable, and come in a variety of thicknesses (aka assistance levels).
Available in a few different sizes and thicknesses, the 2.5-inch model can provide up to 175-pounds of help on the bar. For gymgoers just getting started with using bands for assisted pull-ups, use two bands in conjunction with one another to provide extra stability and piece of mind.
They are also very reasonably priced (compared to most CrossFit stuff).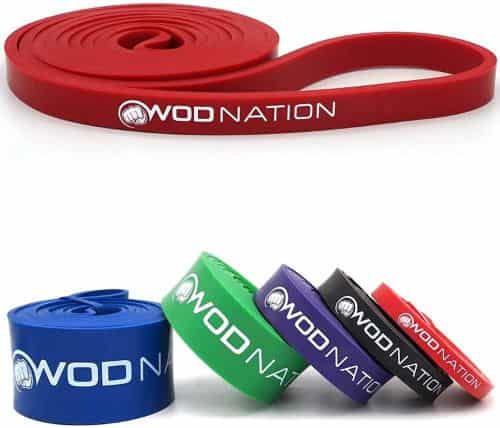 DYNAPRO Power Resistance and Pull-Up Assistance Bands
Constructed of that familiar-smelling commercial-grade rubber, the Dynapro bands are well-built and won't snap. (A surprisingly common fear that exercisers have when training with resistance bands.)
The range of bands can provide up to 165-pounds of boost on the pull-up bar, and are longer than most pull-up bands, making it ideal for the taller athlete.
These kinds of bands are also great for other types of training, whether we are talking about doing core exercises, mobility work, or whatever else you can dream up, making the Dynapro pull-up bands a great choice for anyone working towards their first pull-up bar and more experienced gymgoers and athletes mastering pull-up progressions.
Side bonus: Dynapro bands also come with membership in their "VIP Club" which includes workouts and a forum for other users of the bands.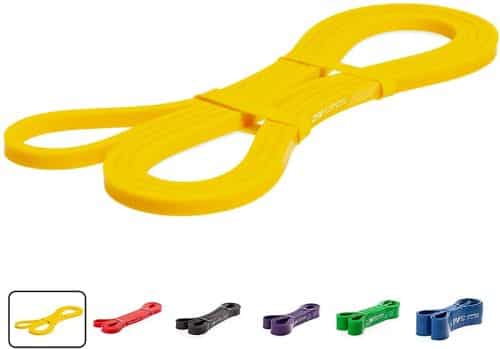 Synergee Resistance Loop Bands
Another in the line of rubber resistance bands that are great for assisted pull-ups is an entry by Synergee. I really like the gear that this company makes. (I use their barbell in my squat rack in the garage.)
Synergee's professional-grade rubber bands come in a pack of four, giving you a range of versatility for how much help you want on the pull-up bar.
With each four-pack, you get a wide range of resistance (or assistance, as the case with our pull-up band assists). The yellow bands are rated at 5-15-lbs, perfect for that final push or for doing extra reps beyond bodyweight. The thickest bands, the black ones, are rated at 120-pounds.
All of the bands are 41-inches long, and the bands are manufactured with fifteen layers of latex, making them almost indestructible.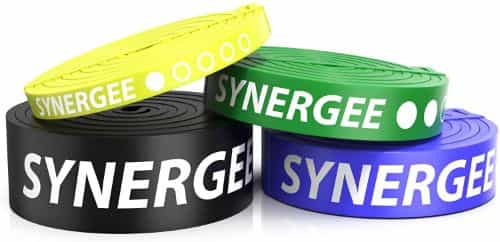 More Pull-Up Gear Guides
6 Best Free-Standing Pull-Up Bars. Want to do pull-ups at home without risking damaging your doorframe? Here are my favorite free-standing pull-up bars for blasting your upper body.
6 Best Dip Belts for Weighted Dips (and Pull-Ups). Once you've conquered the bodyweight pull-up, it's time to load up the weight! You can do so with one of my top dip belts for weighted pull-ups.
5 Best Doorway Pull-Up Bars. The pull-up is an exercise you can do anywhere you can find a sturdy doorframe. Here's a breakdown of our favorite doorway pull up bars for tall people, wide doorways, and more.