Pull-ups are one of the best exercises you can add to your workouts. With a doorway pull up bar, you can bring this versatile exercise home. Here's a breakdown of our favorite doorway pull up bars for tall people, wide doorways, and more.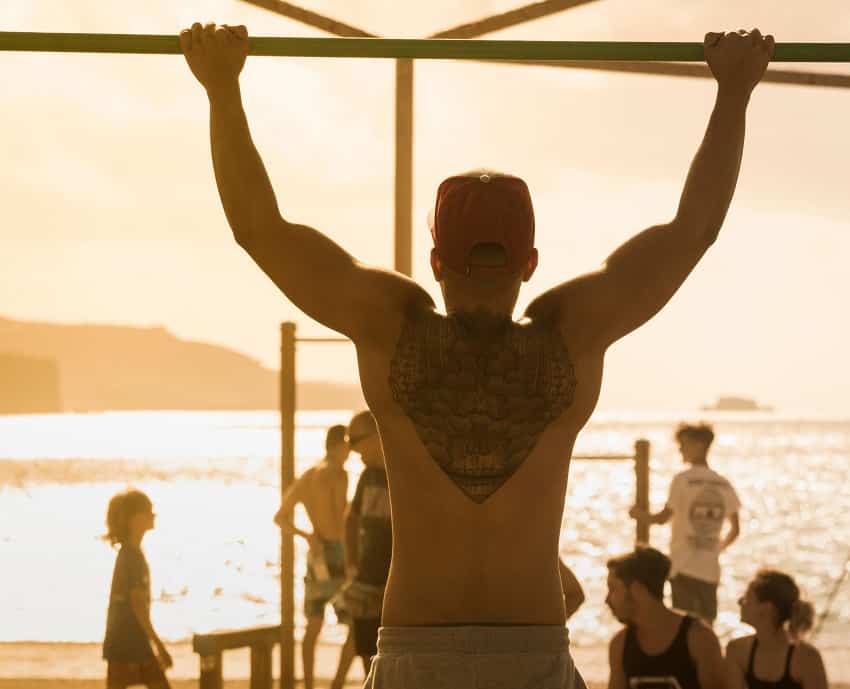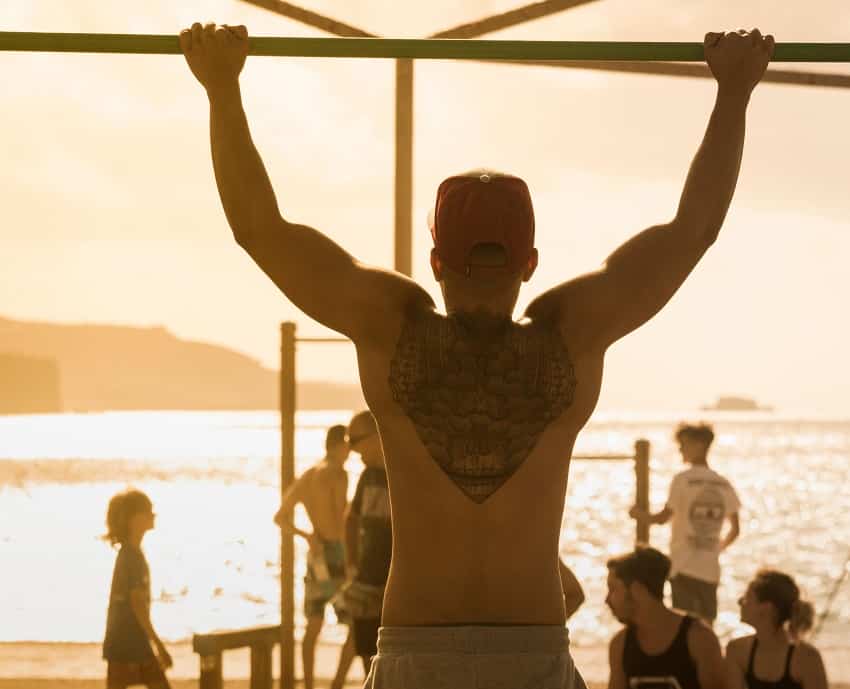 Quick Picks:
---
Pull-ups are a killer workout for your upper body.
With a variety of grips, you can target nearly every major body part in your upper body. A wider grip blasts your lower traps and lats. Hammer grip targets your biceps better and more thoroughly than most curls. Towel ups—wrapping a towel around a pull-up bar and doing pull-ups—is a monster for building grip strength.
The best part of pull ups is that it is a strength-training exercise you can do at home with the help of a doorway pull-up bar, one of the more genius contraptions when it comes to putting together your ultimate list of home gym essentials.
But what kind of pull up bar is best for you and your workout goals?
There are free-standing pull up bars, which are great for home gyms and users who want something sturdy without damaging walls.
You got wall-mounted pull-up bars, which can provide an exceptionally sturdy bar while saving floor space.
And even outdoor pull up bars for combining fresh air and the best upper body exercise known to man (in the author's humble opinion, of course).
And then, of course, you got doorway pull-up bars, which provide sturdiness with the convenience of being able to take the bar down in seconds.
Below is a breakdown of the best pull up bars for doorways for them upper body gains.
Let's go!
---
Iron Age Doorway Pull Up Bar
Top Pick: Best doorway pull up bar for tall people
Unlike many pull up bars, the Iron Age set-up allows you to go wider than the doorframe with your pull ups. This is particularly helpful for those of who have broader shoulders and really want to target our lats.
The Iron Age Pull Up Bar can accommodate up to 440 pounds of weight, and is best suited for doorways that have a width between 27.5" and 36.22". It's Smart Hook technology allows you to hook into most doorways, accommodating a doorway trim of up to 3.54 inches.
See also: Crank up the difficulty on your pull-ups with my favorite dip belts for weighted dips and pull-ups.
The unique design also makes it especially for tall people. Because the bar is located at the top of the set-up, those who are on the taller side of things don't need to fold up their knees to avoid hitting the floor at the bottom of their pull up.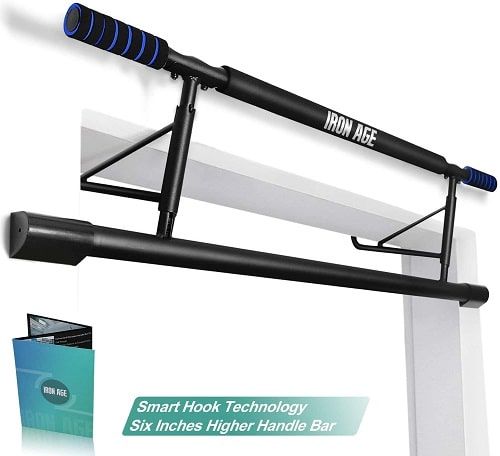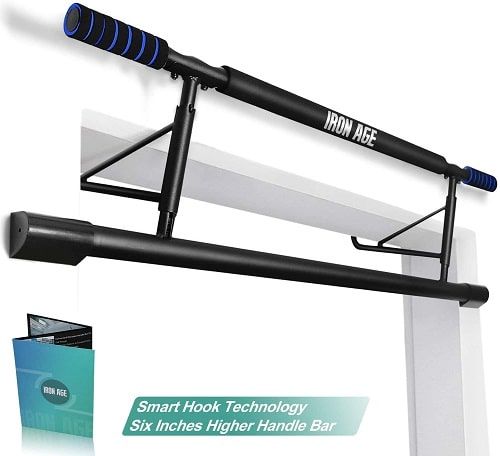 ---
Ultimate Body Press XL Doorway Pull Up Bar
Top pick: Best adjustable pull up bar
This pull up looks a little clunky, and can be a bit of a pain in the butt if you are short on space, but I absolutely love the versatility. The bar allows a multitude of grips, and with an elevated height on the bar, like the Iron Age, makes it ideal for those of you who aren't lacking for height and are tired of bouncing your knees off the floor.
The Ultimate Body Press XL can support up to 300-pounds when hooked up to a regular doorframe. The pull-up bar is most noteworthy and our top pick for versatility as the expandable bar will fit doorways up to 36″ wide.
Reviewers commented that the bar was easy to assemble, the construction felt sturdy and the materials quality, and that the foam handles were very comfortable.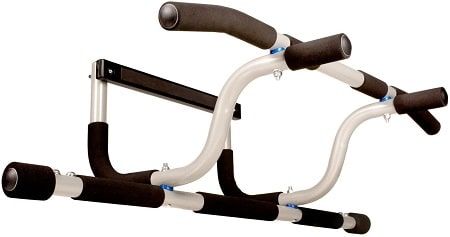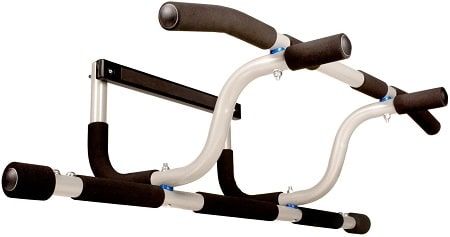 ---
Garren Fitness Locking Doorway Pull Up Bar
Best pull up bar for extra wide doorways
Unlike the leverage-based pull up bars above, the Garren Fitness Locking Doorway Pull Up Bar is mounted to the inside of the door frame at the height of your choosing. Secured with heavy-duty chrome, the bar can hold up to 300 pounds of weight.
The Garren Fitness is made for especially wide doorways, accommodating door frames between 35-50 inches. The soft foam padding is durable and will keep your hands firmly placed on the bar.
The only downside?
With no vertical handles, you can't do hammer grip pull-ups, which means you will have to stick to the classic chin-up and pull-up on this bar.
A word of caution when using these kind of set-ups: test your weight on the bar before blitzing through a bunch of reps to double-check that the bar is in place and it will safely hold your weight.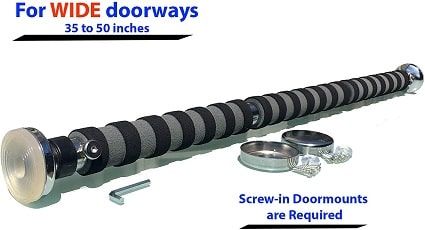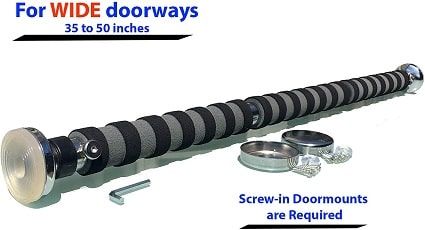 ---
Perfect Fitness Pro-Grip Pull Up Bar
Another ideal pull-up bar for those looking to go extra wide with their pull ups, the Perfect Fitness Doorway Portable Gym is easy to put up and take down. (Nobody likes cranking their head on these things when left up, after all).
With "Pro Grip" ergonomic handles, and a patented door hook system that hangs securely from the top of the doorway, the Perfect Fitness Pro Grip can also be used on the floor for push-ups, sit-ups, and dips, giving you a complete upper body workout.
The bar fits door frames up to 33 inches in width, requires just four screws to fully assemble, has foam grips for a secure hold on the bar, and can accommodate pull-up fanatics up to 300 pounds in weight.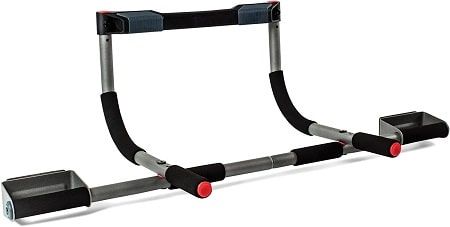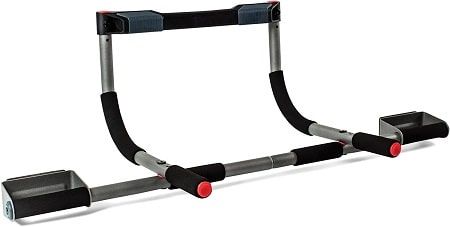 ---
Perfect Fitness Sport Compact Pull Up Bar
Top Pick: Best portable pull up bar
Perfect Fitness makes another appearance on our list, this time taking down our top selection for the best portable doorway pull-up bar. Like the other pull up bars on our list, it can handle up to 300-pounds of weight, not sacrificing strength and durability with its more compact and portable size.
The Perfect Fitness Sport can fit doorways ranging from 27-35 inches and has all the standard grips for your workout routine, including pull up, chin up, hammer, and three widths for wide grip pull-ups.
Quick to assemble and easy to tuck away when not in use, this doorway pull up bar is a killer choice for those looking for versatility, sturdiness, and portability.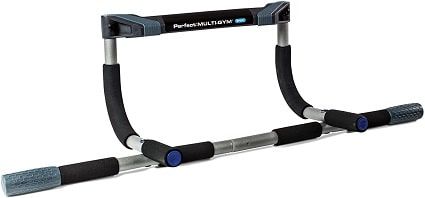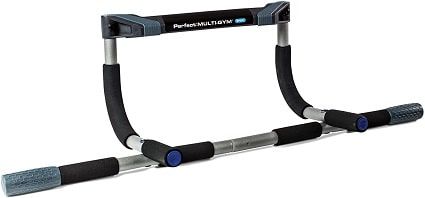 ---
More Gear Guides
7 Best Home Gym Essentials for Beginners. Looking to get started with working out at home? Here are the best home gym essentials to get you started.
6 Best Free-Standing Bars for Pull-Ups. Don't want to risk damaging the doorframe or putting big holes in your wall? Here are the best of the best when it comes to free-standing pull-up bars.
6 Best Dip Stands and Stations for Your Home Gym. Want to mix up your pull-ups with dips? Check out our favorite dip bar stands and stations, including our favorite portable dip bars.