Stuck with your squat? Squat wedges can help you smash through. Here's a breakdown of the best squat wedges and blocks for powering up your squats.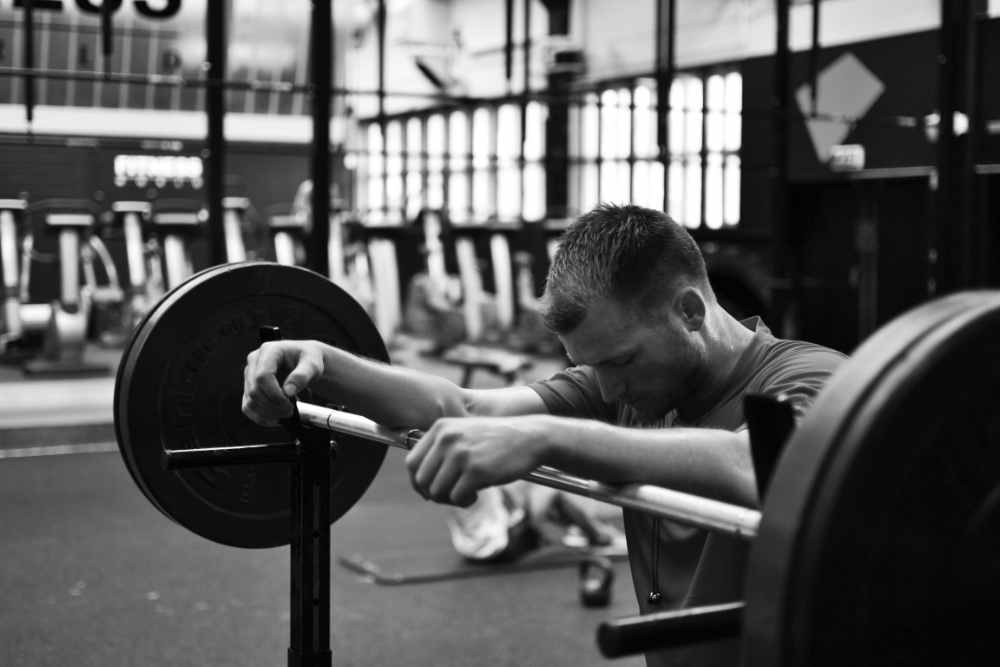 Squat wedges are an excellent tool to help you improve your squat.
Raising your heels, whether through a squat wedge or through hard-heeled weightlifting shoes, does a few key things.
Compensates for poor ankle mobility. A lot of lifters and athletes struggle to get into full squat depth because of lousy ankle flexibility. A squat wedge helps to increase your range of motion during your squat.
Engages the quads more. Squats tend to be quad dominant to begin with, but a raised heel ends up pushing the knees forward, placing more emphasis on the quads to complete the lift.
Not just for squats. Squat wedges can be used for a variety of other exercises to add variety and versatility. The change in heel position changes the biomechanics of the exercise, including calf raises, hip thrusts, and all of your squat variations. I also love using my squat wedges to work on ankle dorsiflexion.
While squat wedges are simple in function, there is a huge variety in format.
Here's a breakdown of the best squat wedges, including key features, materials used, price points, and much more.
Read on, pick the right squat wedges for you, and take your squats to the next level.
The Best Squat Wedges (for Improved Squat Technique and Heavier Lifts)
Here is an overview of our top picks for the best wedges for cranking up your squats and improving mobility:
Tib Bar Guy Adjustable Squat Wedges
⭐ Best overall squat wedges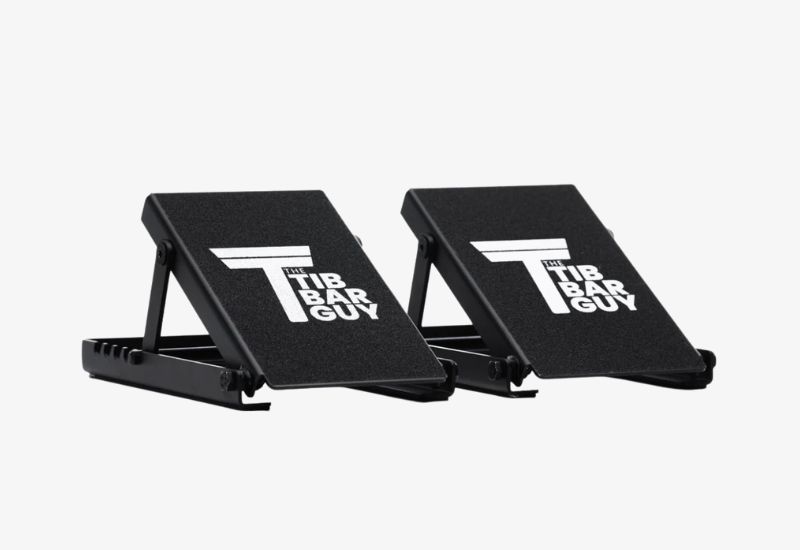 Key specs:
Adjustable grade (22, 27, 33, and 35-degrees)
Non-slip grip tape on surface
Platform size: 7" wide x 11.5" long
Price: $59
The Tib Bar Guy Adjustable Squat Ramps are an absolute game-changer for people looking to take their squats to the next level.
While most squat wedges have a single fixed angle or position, with the Tib Bar Guy Adjustable Slant Ramps you can switch up your angle of attack with grade options of 22, 27, 33, or a ski-slope-like 35-degrees.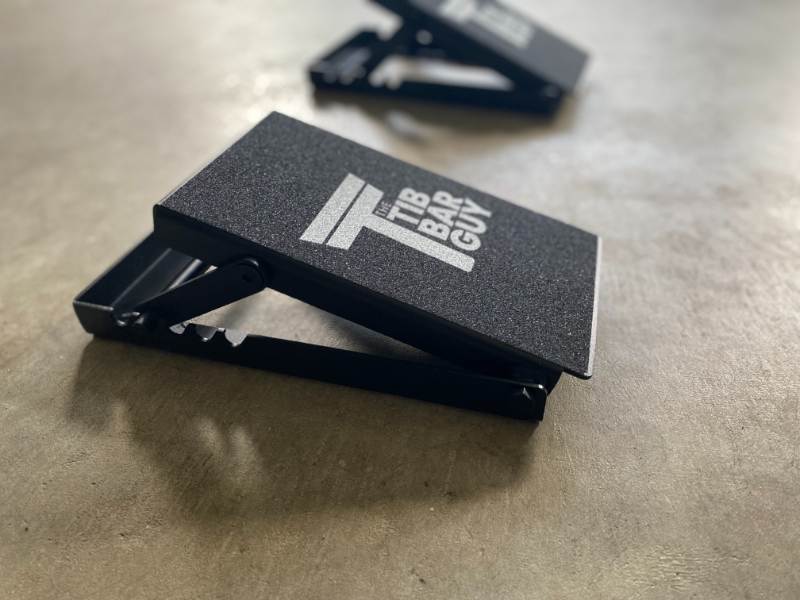 Adjusting the angle on the ramps is a piece of cake, with a quick pop-and-lock motion. The wedges are made of industrial-grade steel and have non-slip grip tape on the top of the platform to keep your feet firmly in place.
The first time I tested them out, my quads were on fire for two days after—you can get into an ATG position so much easier with these bad boys.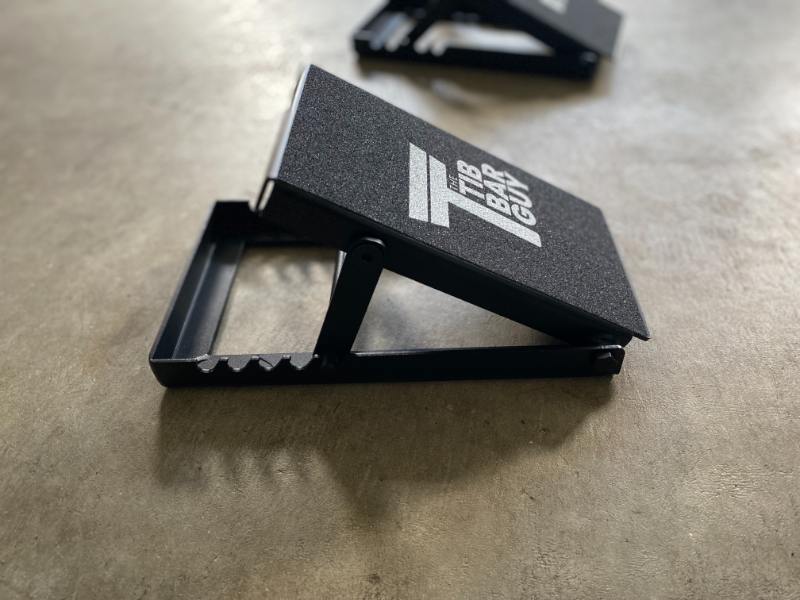 Now, I know what you might be thinking: does the fact that they are adjustable make them less durable? In my experience, not at all. I maxed out on a few 350lb+ squats while using them on the 22-degree setting (plus my body weight of ~290lbs), and they didn't budge whatsoever. The Tib Bar Guy also rates them for up to 800 lbs for that added peace of mind.
I also like that these are foldable; they can easily be stored between workouts.
The Tib Bar Guy Squat Wedges have been used daily in my workouts, not just on squat day. Whether it's turning them around to stretch my calves and ankles, or using them to expand my ankle and knee mobility, these ramps are an essential tool in every lifter's toolbox.
They are available exclusively at The Tib Bar Guy's official website for $59 for a pair.
Best Overall Squat Wedge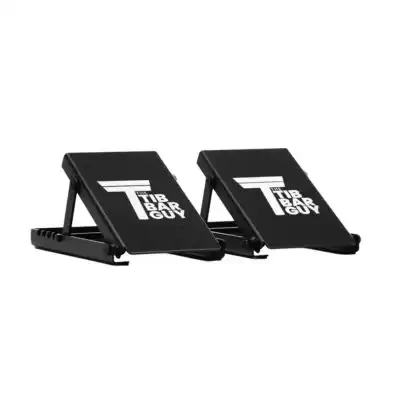 Harderwill Squat Wedge Blocks
⭐ Best silicone squat wedge blocks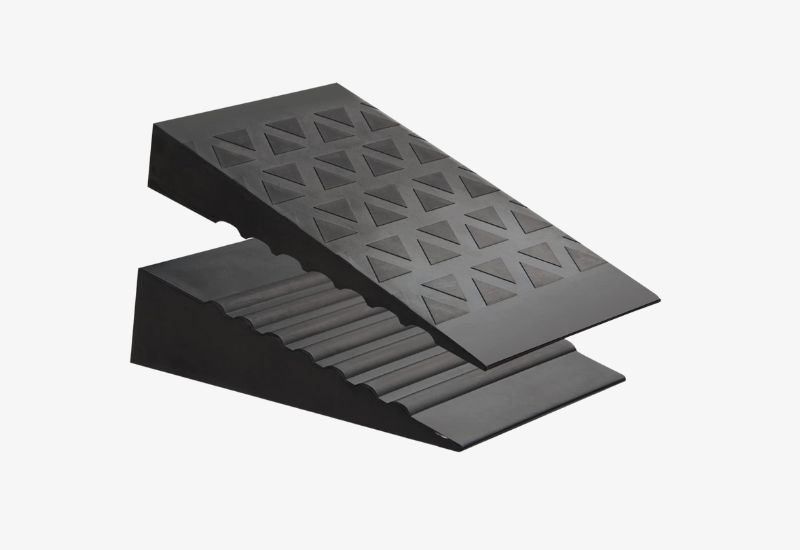 Designed for more serious lifters, the Harderwill Squat Wedge Blocks are made of high-density silicone.
One of the benefits of squatting shoes is that they don't have any bounce or "give" when you descend with heavy weight on the barbell. You want the same thing from your squat wedges—something that is sturdy and not going to create more distance for you to travel when completing your lift.
Harderwill ships these as a four pack of wedges that can be rigged for three different height options (1.3", 2.2" and 3.3"). The silicone is odourless (unlike some of the smelly rubber gym equipment that you see on the market, including bumper plates) and completely non-slip.
While they retail for around $60 (check Amazon for current pricing and availability), the Harderwill Squat Wedge Blocks check all the boxes: Dense, options for different degrees of lifting, and non-slip.
Rogue Squat Wedges
⭐ Best heavy-duty squat wedge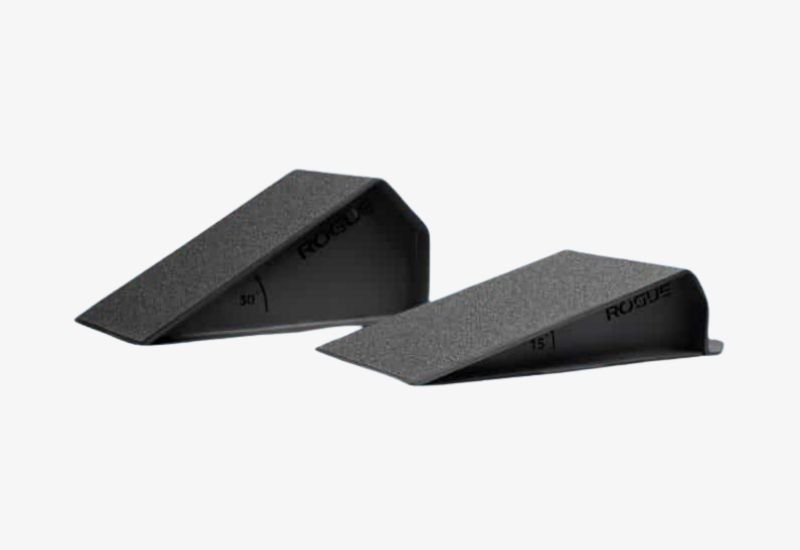 Squat wedges are typically made with rubber, silicone, or high-density foam that does not wilt or compress. The Rogue line of squat wedges—they make a set of two 8.5" wedges and two singles in 20" or 30" width—switch things up with a 7-gauge steel construction that is heavy-duty.
Built-like-a-tank, heavy-duty. (As we will see in a hot minute.)
The top of the wedges has a textured finish (Rogue also ships each wedge with grit tape) to help your feet stay firmly in place when squatting, and unlike the other squat wedges on this list, you can choose between different angles when ordering (options include 5, 10, 15, 20, 25, or 30-degrees).
This makes the Rogue Squat Wedge the perfect option for people who want a slightly lower (or higher) angle of attack on the wedge along with a heavy-duty steel construction.
On top of all that, Rogue manufactures the wedges in the USA with American steel.
Using this wedge is fantastic. There was never a moment where I worried that the wedge—I invested in the 30" single wedge as my wife and I both like a slightly wider stance when squatting—would slide out from under me.
The only real downside is that they can be quite heavy and not suited for easy storage or portability.
For example, the 30" single wedge, with a 30-degree angle, weighs a whopping 44.7lbs.
People looking for something they can take with them to the gym will want to choose a wedge that is lighter and easier to carry in their gym bag.
Iron Bull Strength Squat Wedges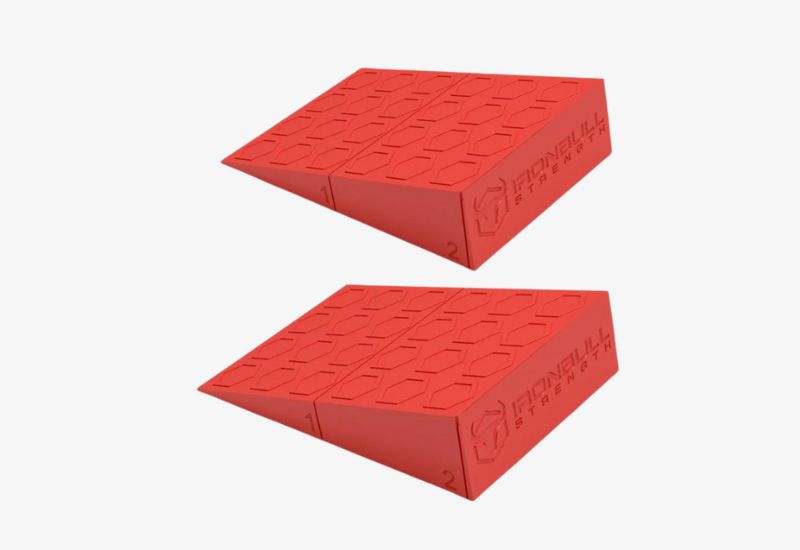 I am a huge fan of Iron Bull Strength and their gear. They are one of the few brands that I consistently rely on for making awesome stuff, whether it's their barbell pad for hip thrusts, weightlifting hooks, or their bumper plates (which I bought eight of this year, I liked them so much.)
Iron Bull's squat wedges are another top-tier wedge for serious lifters who want to crank up their squat game. 5 inches wide, with up to two inches of heel elevation, they feature a textured anti-slip surface for safer foot placement. Sold in a pair, these high-density rubber wedges won't compress or slide when lifting.
The only issue?
These things are very frequently sold out. They are sold (when in stock, obviously) through their website and on Amazon, but the last two times I checked they were out of stock. Still, if you have a chance to pick up a pair of these wedges, don't hesitate. Your quads and squats will thank you.
TSTS Barbell Squat Block and Heel Lift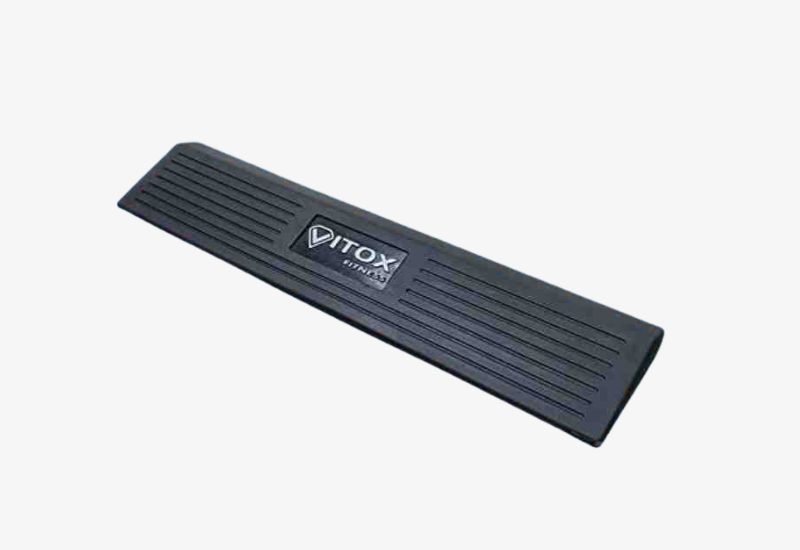 Squat wedges often come in two pieces, which is handy as you can customize foot angle and placement. But these can also feel a little less secure compared to a one-piece squat wedge.
The TSTS Barbell Squat Block is a perfect example of a one-piece wedge that nails the basics.
Made of high-density rubber, the wedge is angled at 20 degrees, with just under two inches of lift at its highest point. The wedge is surprisingly sturdy, weighing 14 pounds, which is ideal for heavy lifts and the sense that your feet aren't going to slide around when you are working out.
In terms of cost, the TSTS wedge is a bit pricey, costing over $100 (check Amazon for current pricing and shipping options), which may be out of most people's budget for something as small and as simple as a wedge.
StrongTek Foam Squat Wedge
⭐ Best large foam squat wedge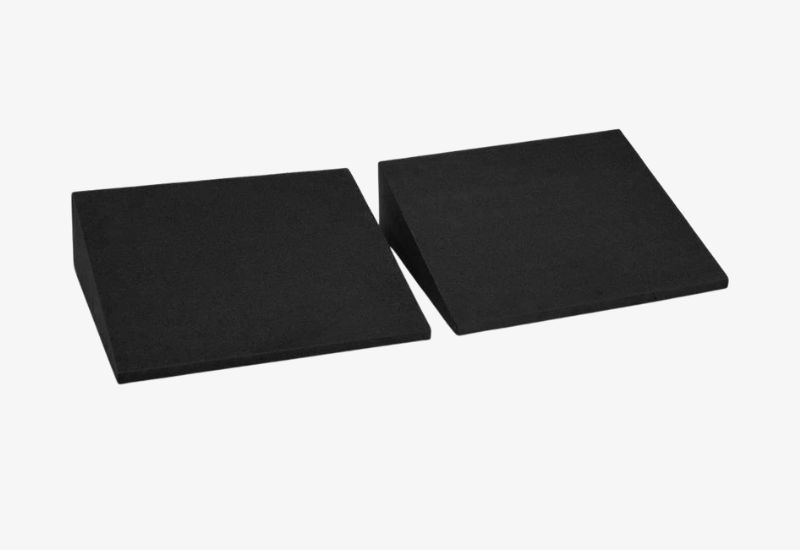 Looking for a foam squat wedge that is a little wider? The StrongTek is a lot wider than most wedges, with a 13" width.
For lifters who are a little nervous about using wedges for the first time, or want lots of flexibility on foot placement, this high-density foam wedge has your back.
Stiff enough to be used for squats while also soft enough to use as knee pads, the StrongTek squat wedges are durable, stackable, and come in a pair in either black or blue.
Available for about $26 (check Amazon for current pricing and availability), the StrongTek Squat wedges are an excellent tool for better squats.
The Benefits of Using a Squat Wedge
Squats are one of the best exercises you can do in the gym.
When it comes to functionality, muscle building, and straight-up badassery, squats are tough to beat.
But squatting with improper form is a big no-no. And a lot of lifters are guilty of not squatting with proper form, often because of insufficient mobility in the ankles, hips, and lower back. Which very frequently ends up leading to knee pain.
We've all encountered someone at some point who fed us the line that squatting is bad for the knees. This statement is only true if you are squatting incorrectly. And just like any form of exercise, when you use improper technique and form you open yourself up to a world of injury and pain.
That's where squat wedges can help.
Squat wedges are a great way to side-step potential knee issues as the angle of the wedge reduces undue strain on the knees and better targets the major leg muscles that are supposed to be recruited during the squatting motion.
While squat wedges won't completely fix and correct your squatting technique, for lifters who lean forward too much when squatting or who fold up like a lawn chair when squatting (in other words, excessive forward trunk flexion) will benefit the most from using squat wedges [1].
Squat wedges work in the same way as thick-soled squat shoes. The elevated heel or wedge helps you to squat lower and deeper by increasing the range of motion in your ankle.
Although I only have anecdotal and personal experience to use to support this, I find that squat wedges also help your spine remain a more neutral position when squatting.
In sum: squat wedges help you squat lower, squat with a straighter back, and squat with less strain on your knees.
Choosing the Right Squat Wedges
If you took a look at the wedges above, you noticed that there is a surprising variety in types of wedges on the market.
Here are the key things to look for.
✅️ Density of the wedge.
One of the main reasons I love my squat shoes so much is that they are hard as hell.
There's no bounce or cushioning, which is crucial when lifting heavy.
The last thing you want to do is have to lift further because of soft shoes or flooring.
Quality squat wedges have little to no give.
✅️ Width.
A poor man's wedge is often a pair of small weight plates. While these can do in a pinch, I don't recommend them for heavier lifts.
They are simply too narrow and uneven for the purpose of stabilizing your feet while chasing PRs.
A good squat wedge is wide so that you can shuffle your feet if necessary while not worrying about slipping or toppling off the wedge.
✅️ Non-slip.
Another key safety feature to look for is a non-slip, textured material along the wedge to both keep your feet securely planted on the top of the wedge and to keep the wedge(s) from sliding on the floor.
A good wedge leaves your feet feeling secure and planted so that you can focus on executing a killer lift instead of slip and sliding across the gym floor.
The Final Rep
When it comes to squatting properly, there are tons of tools and accessories at your disposal.
Squat wedges are right at the top of the list for the lifter who wants to lift more weight and with better technique.
⭐ The Tib Bar Guy Adjustable Squat Wedges are my number one pick for the best overall squat wedges. They are tough as hell, easy to adjust, and have no-grip slip tape for squatting (and improving mobility) with confidence.
⭐ Most lifters will love the Harderwill Squat Wedge Blocks for their versatility of angle and height, decent price point, and density.
I also love that they are made of non-stick silicone and have a textured exterior for securing your feet when squatting.
⭐ If you're looking for a truly heavy-duty squat wedge, and don't mind sacrificing some portability, the line of Rogue Squat Wedges are made of industrial steel and come in a variety of sizes and angles.
Even though it's a little pricier, for lifters who want a single wedge for their heavy squats, this one is your go-to.
Choose the right squat wedge that matches your budget, training goals, and squatting stance, and lift your way to bigger numbers in the squat rack!
Recommended Resources
5 Best Squat Shoes for Women (and Why You Should Be Wearing Them). The right squat shoes protect your ankles, help you squat with better form, and help you lift more weight. Here's a breakdown of the best squat shoes for women.
Best Calf Raise Machines for Home Gyms. Build calves as thick as boulders with this breakdown of the best calf raise machines for working out at home.