Barbell holders protect your bar, open up more space in your home gym, and extend the life of your lifting gear. Here's a breakdown of the best Olympic bar holders.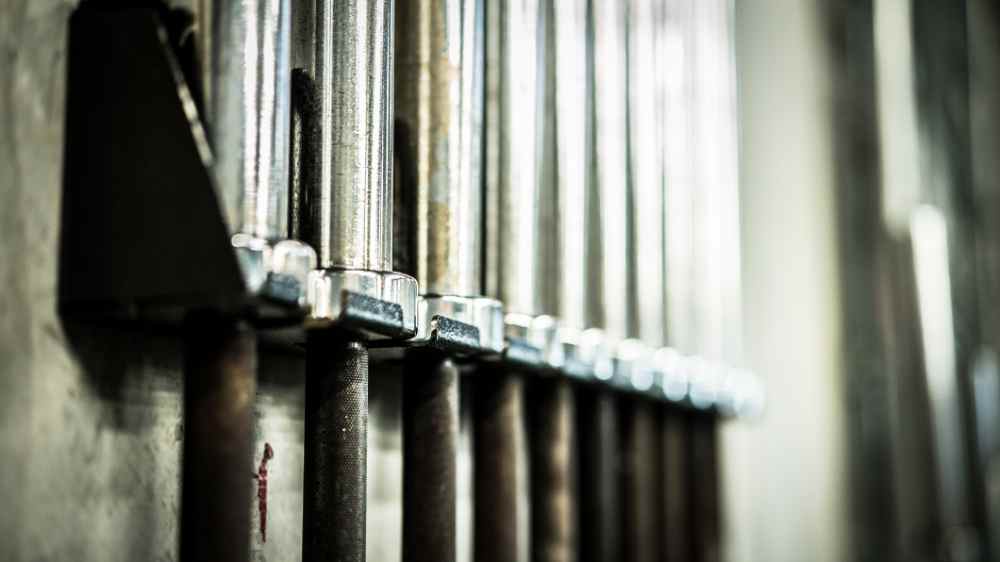 Barbells are a huge part of your workout, whether you are banging out WODs in your garage, powerlifting, or simply curling in your power rack. (No judgment here, do your thing!)
Barbells are also pricey and although they look bombproof, they do require a degree of care to ensure a long life.
And one of the ways to get the most from your bars is to store them in a barbell holder between sessions.
Below we will get into the different types of barbell holders, and the key features of each, and hopefully by the end of our time together today, you will have a clear idea of the best barbell holder for you.
Let's get right into it.
Perks of storing your barbells like a champ
We've all been to a gym (or a friend's garage gym) where equipment was strewn about.
Unracked dumbbells, barbells leaning in the corner, weight plates stacked vertically, and so on.
Sure, it might be unsightly and messy-looking, but there are some practical reasons to invest in barbell storage.
Saves on space. Barbells aren't small, with most of them being over seven feet in length. Specialty bars like a trap bar and E-Z curl bars take up even more space. For home and garage gyms, where space is at a premium, having a way to store your barbells between workouts is key and frees up room for you to buy more lifting gear.
Protects your barbells. Barbells also are not cheap. Top Olympic barbells can cost north of $1,000, which means you want to look after your investment. The best barbell holders have sleeves that protect them from scratches and chips. Look for racks and storage options with plastic linings or finely machined steel to safeguard the bushings, needle-bearing systems, and finish of your bars.
Extends the life of your bars. Although barbells are built to last, they aren't immune to the natural source of corrosion and degradation caused by humidity and dust. Excess humidity can rust and cause damage to your barbells over time, and the air lowest to the ground is where the most humidity is found. Which is also where a lot of dirt and dust tend to collect.
Different types of barbell storage options
There are a lot of options when it comes to storing your prized barbells.
The main one is, do you want to go vertical or horizontal?
Vertical barbell storage is nice because it reduces contact with the knurling on the barbell. It's also handy for people who don't want to screw heavy racks and holders into their walls.
Horizontal bar storage looks pretty badass, you can store a ton of bar on the wall and getting them off of the ground frees up more floor space.
Ultimately, the kind you get comes down to the space requirements, the number of bars you have, and how you want to store them.
Here are some of the different types of barbell holders out there.
✔️ Wall-mounted barbell holders. Bolted into the wall, these racks can handle 1-5 barbells at a time. Require proper installation into studs to support the weight of the bars.
✔️ Vertical barbell storage units. There's a lot of variety in this category, with boxed-shape holders, bolt-to-the-floor holders, and more. These are great as they take those long barbells and instantly reduce their footprint by putting them vertically. These types of holders take up very little space, with some of them requiring as little as a square foot to store five barbells.
✔️ Combo weight plate and barbell holders. Another option—and one that I am currently using with my home gym—is a storage rack that can take both your weight plates and barbells. For lifters who don't have a ton of plates and barbells, but still want something to keep their gym tidy and organized, a combo holder is an excellent option.
Synergee 5-Barbell Vertical Bar Holder
Small on space, but big on storage, the Synergee 5-Barbell Vertical Holder takes up just one square foot. Made with high-grade 7-gauge steel, this holder doesn't require any bolting or wall mounting and can be placed anywhere in your home or garage gym.
The pegs are lined with plastic so that your barbell sleeves don't get scratched and damaged. It comes assembled and ready to go, simply unpack it, stack your barbells, and off you go.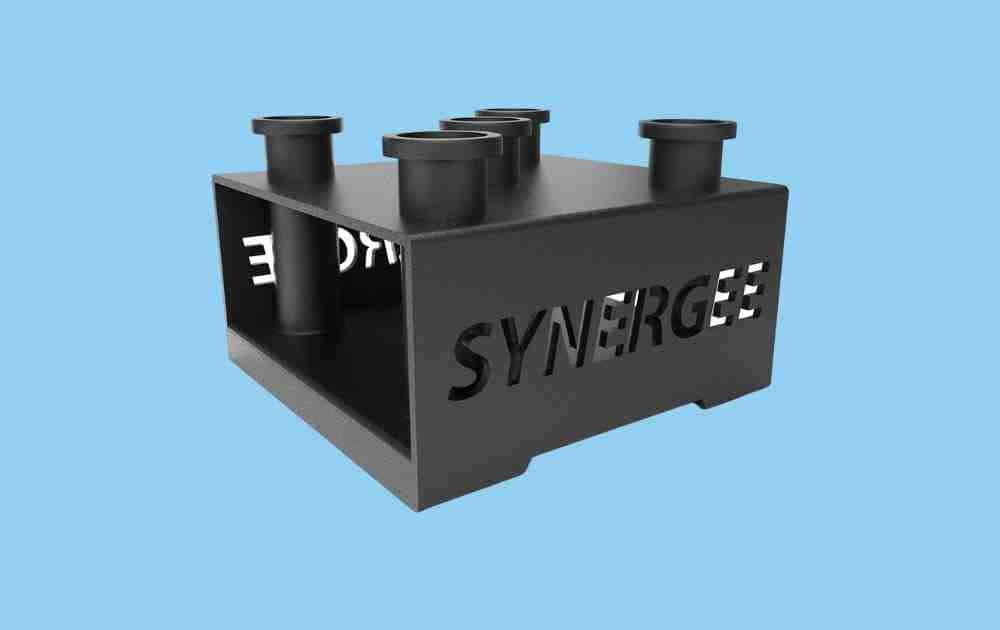 Yes4All 9-Bar Vertical Storage Holder for Olympic Bars
Yes4All is one of my preferred low-cost fitness gear companies, making some of my favorite adjustable dumbbells, deadlift pads, and landmine attachments for the home gym enthusiast. They strike an excellent balance between heavy-duty construction and affordability that makes them a favorite of mine.
The Yes4All 9-Bar Vertical Storage Holder continues this trend of top-rated durability, a simple, low-profile rack that takes up very little space (20" square) and can handle up to nine of your Olympic barbells. The inside of the sleeves has a plastic insert to protect your bars from damage.
Because of its low profile, you may want to bolt this thing into the floor to keep the bars from wobbling and possibly tipping the whole thing over (bolts are included with the holder), but users note that the unit is heavy enough that this isn't an issue.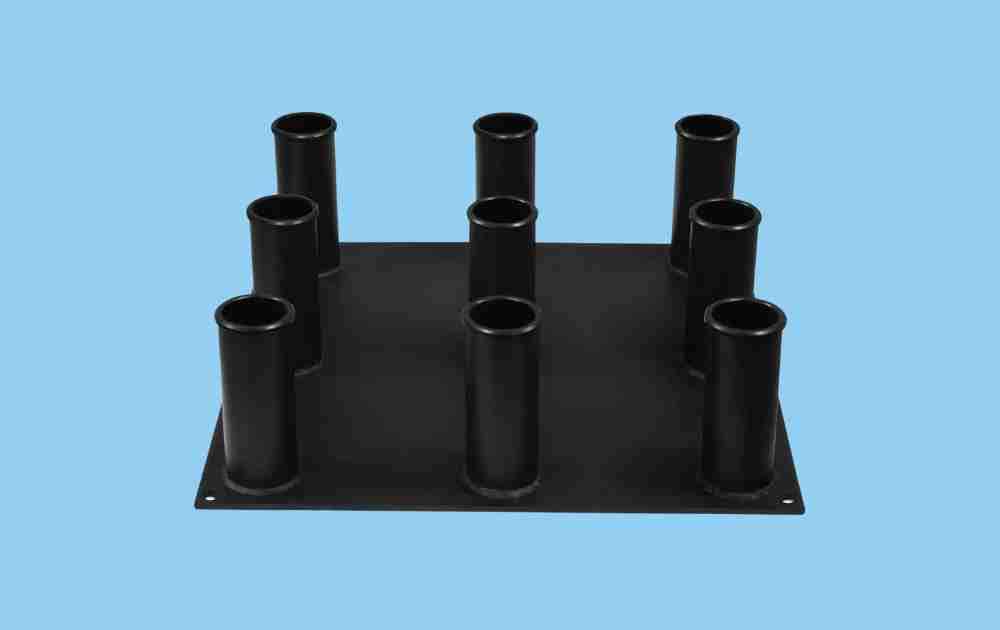 Rogue 9-Bar Vertical Olympic Barbell Holder
Looking for a boxed vertical holder that has a larger bar capacity?
This overbuilt bar holder has got you covered.
Up to nine bars can be vertically stacked in this. The inserts are actually DOM steel tubes that have been fabricated in a way that eliminates spurs and splatter that would scratch your weight sleeves. This little box can hold a lot of bars, and you don't have to worry about it toppling over with nearly 60lb of weight holding it down.
The front of the holder has Rogue's logo laser-cut and is available exclusively through Rogue's website for $145 (check Rogue for current deals and shipping options).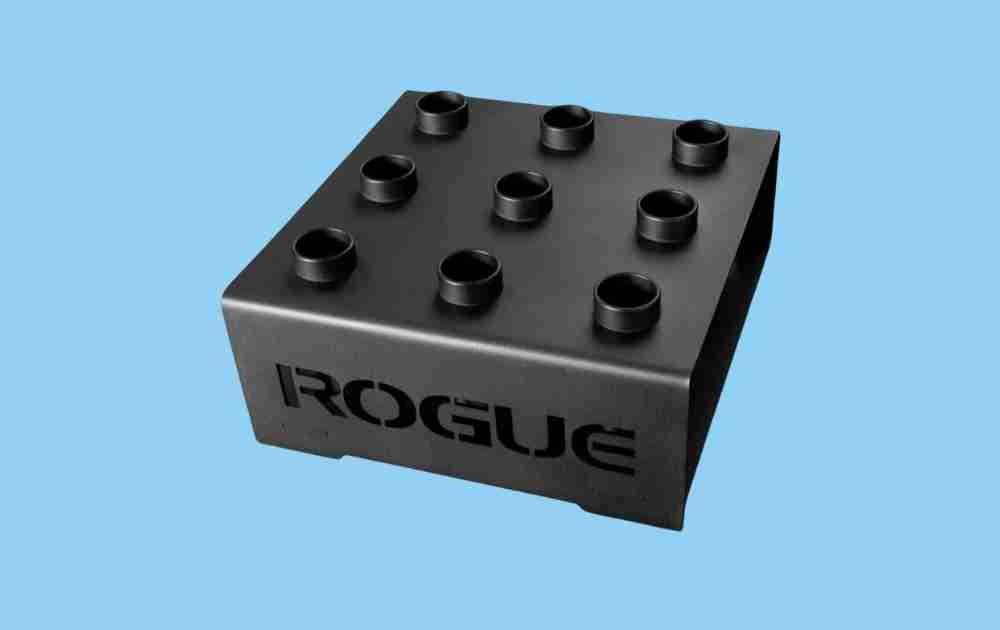 Rogue V2 Gun Rack
⭐ Best horizontal barbell rack
Rogue makes first-rate gear for weightlifters and athletes of all stripes. From Rogue's line of squat racks to the Monster resistance bands, they are always dependable for producing quality tools for crushing it in the gym.
The Rogue VS Gun Rack is a simple and heavy-duty horizontal bar rack for barbell storage. Made of 7-guage steel, the Rogue V2 Gun Rack has an optional plastic lining (which I highly recommend) to fully protect the shaft and sleeves of your barbells.
The rack weighs a total of 15lb, has enough room to store up to 6 bars, and features Rogue's logo laser-cut into the brackets. While the rack is $60, the plastic inserts cost an additional $105 and are both available exclusively through Rogue's website.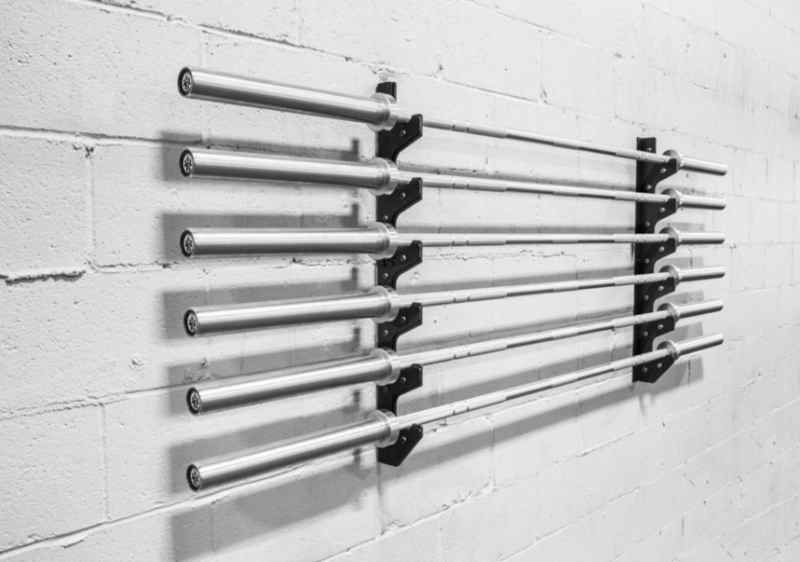 Yes4All Wall-Mounted Barbell Holder
Wall-mounted barbell storage options need to be strong in order to support the weight of barbells, which can be as heavy as 55lb each.
The Yes4All Wall-Mounted Olympic Barbell Holder is rated to withstand up to 200 pounds of bars. This holder isn't just strong, but it will also protect the knurling and sleeves of your bars with a plastic lining to help extend the life of your gear.
Included are four heavy-duty screws for installation, and reviewers on Amazon love the ease of installation and durability of this product, with hundreds of five-star reviews and counting.
The Yes4All Wall-Mounted Barbell Holder is also the best low-cost option for this kind of holder, with a price tag of just over $40 (check here for current pricing at Amazon).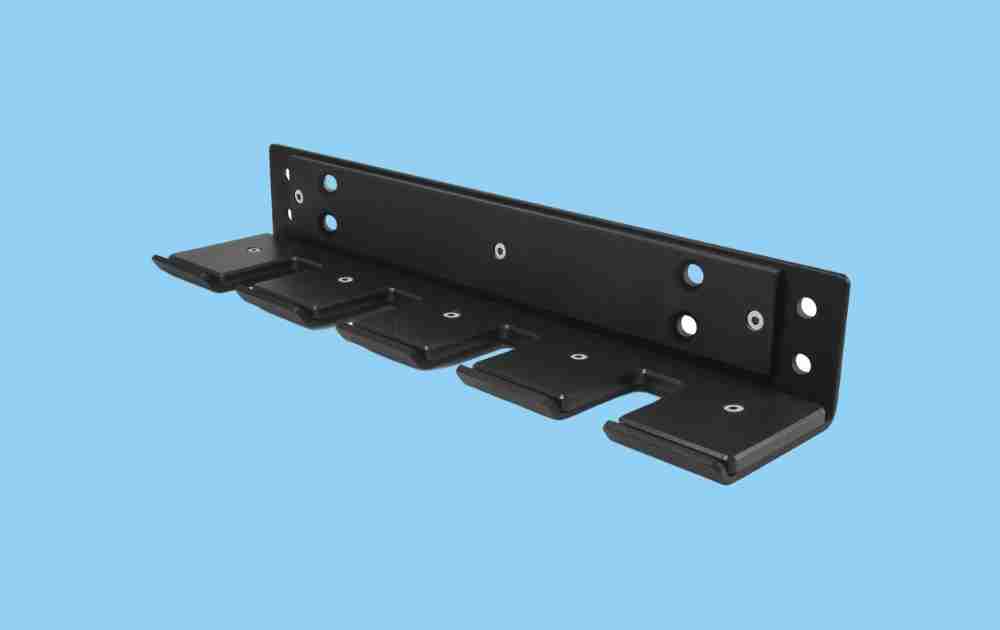 SteelBody Olympic Bar and Weight Plate Holder
⭐ Best combo plate and barbell storage
This little rack and holder is one of the best investments I've made in my garage gym. With multiple bars and about 800 pounds of cast-iron weight plates and bumper plates laying around, my garage was starting to get pretty messy. Ordered it off Amazon and had it within a week.
The only drawback with the SteelBody Olympic Bar and Plate Holder is the color of the rack (brown), which I wasn't overly fond of. I fixed this by purchasing some black spray paint and giving it a couple of fresh coats of black matte paint.
You can store two different barbells and up to 300lbs of plates in this holder, which has a couple of rubber-coated wheels and a handle to help you move the rack around as needed.
Available for just under $100 over at Amazon (check here for up-to-date pricing and shipping options).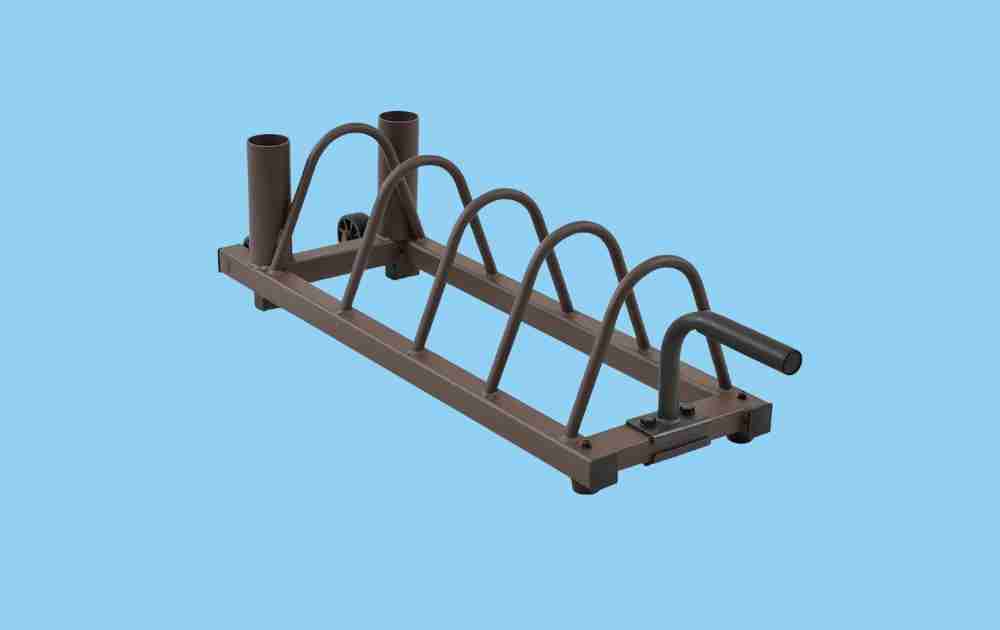 Recommended Reading
The Best Landmine Bases and Attachments. Add the versatility of landmine exercises with a detailed look at the best landmine bases and attachments on the market.
5 Best Women's Olympic Barbells. The right Olympic bar can make or break your workout. Here's a full look at the best women's Olympic barbells on the market today.