Ready to take your glute training to the next level? Here's a detailed look at the best machines to use on Glute Day, including the benefits of each exercise. Next stop–Glutetown!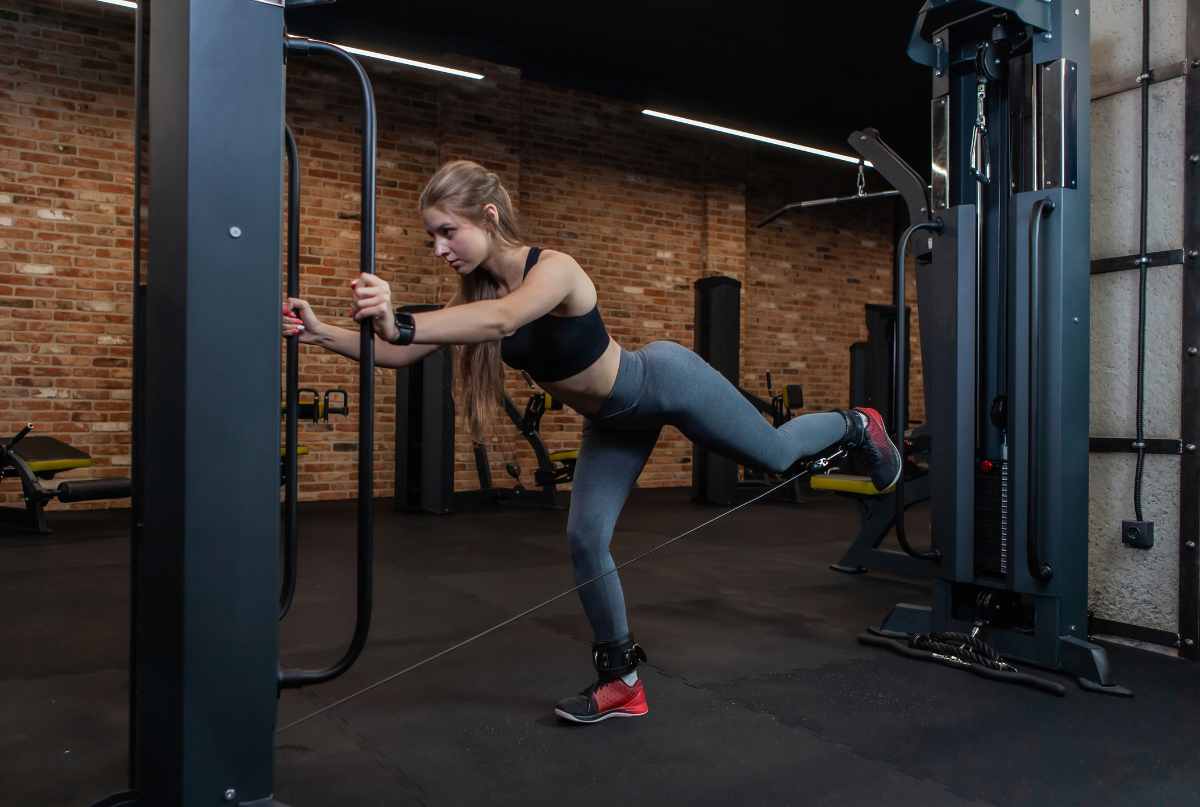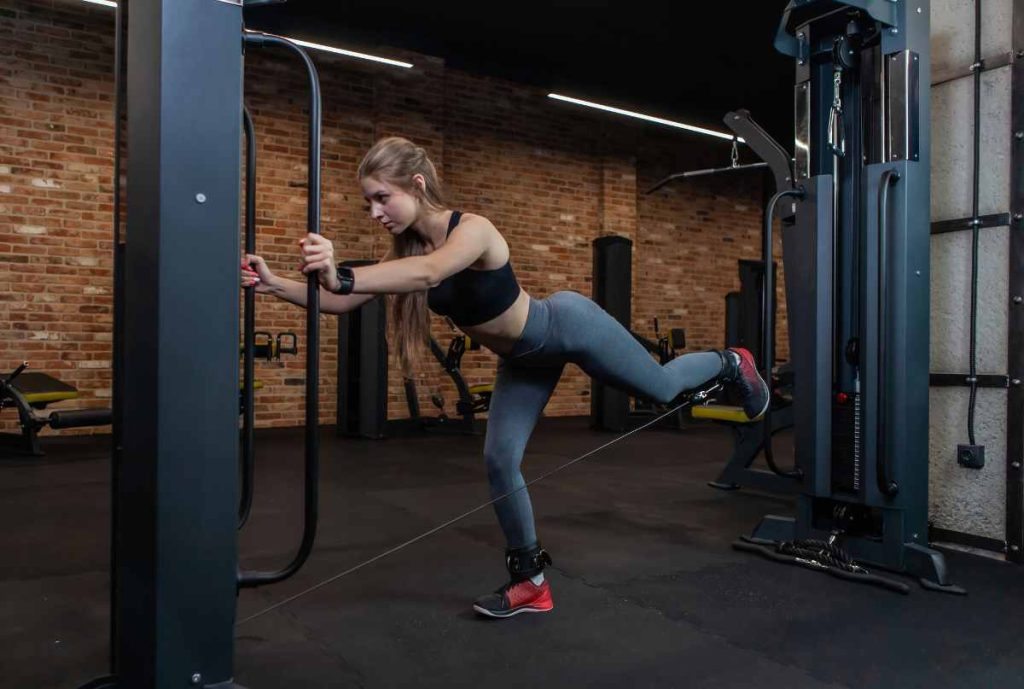 Training your glutes is incredibly important for increasing your overall fitness.
Your glutes contribute to stability in your lower body, support your lower back, enable your legs to move, and play a role in your posture and form in a wide range of exercises.
A lack of glute strength is a contributing factor in so many lower back, hip, and knee injuries, which is why it's essential that you spend ample time working on strengthening your glutes.
Thankfully, there are a lot of machines in the gym that will help you to target your glutes specifically, enabling you to maximize the effectiveness of every training session.
Below, I'll walk you through why it's a good idea to use gym machines for glute training, which machines are the best, and which cardio machines can be utilized to focus on your glutes.
Get ready for an in-depth look at all the many ways you can target your glutes to build that "thicc" booty you need!
The Benefits of Using a Machine to Train Glutes
When it comes to training your glutes, there are really two approaches to take:
Use free weights
Use machines
For most of your body, Option #1 is often the best. Free weights recruit a lot more muscles than machines, so they typically lead to better overall fitness.
But for your glutes specifically, Option #2 is actually the better choice, for a couple of reasons.
Stuck with Your Training in the Gym?
Join 12,000 lifters and athletes and sign up for FREE access to my 5-day email course on how to conquer the most common gym mistakes.
From goal setting to lifting technique, you will learn how to overcome the mistakes in the gym that are holding you back from getting bigger and stronger.
Unsubscribe anytime. No spam.
Machines are great for isolation
First off, with the glute machines you'll read about below, you've got a solution for training your glutes specifically, targeting these critical muscles without engaging your lower back or calves like you would with free weights.
Take stiff-legged deadlifts, for example. They're a form of deadlifts that target your hamstrings and glutes, but they still call on your lower back muscles to aid in the lifting. You'll get about 60 to 70% glute-focused workouts, with the remaining 30 to 40% more lower back-oriented.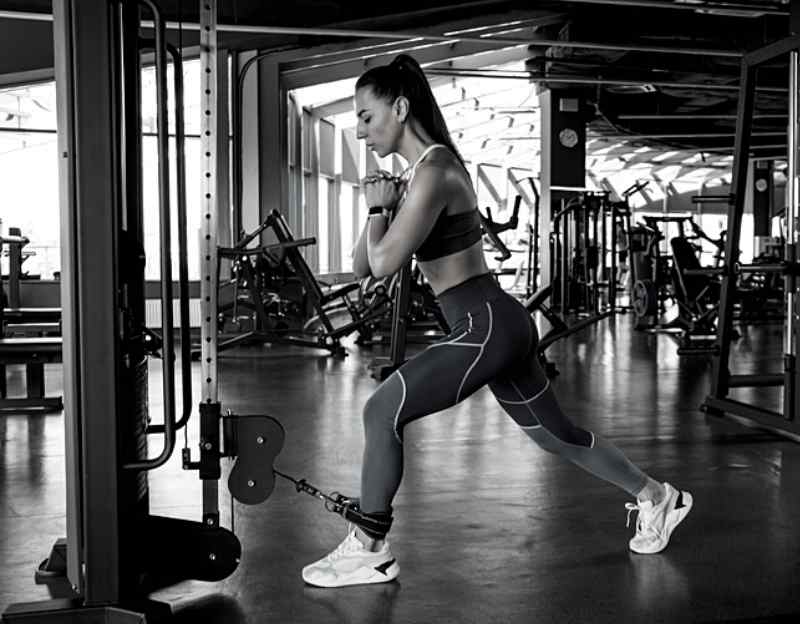 On the other hand, machines like the hip thrust machine are all glutes! You can place the belt/strap exactly in the right place on your hips/waist so that it engages only your glutes when thrusting, and you've got a bench beneath you to support your upper body so your lower back doesn't need to engage to keep you stable.
Machines designed specifically to target your glutes will maximize muscle engagement and build greater strength! You'll use the glute muscles in isolation (as much as possible) from your lower back, and work with the hamstrings to build better lower body posterior muscle strength.
Machines give you more control during the lift
Machines also offer more control and precision in your glute-training.
With free weights, you're often working in a broader/greater range of motion, meaning more time and space in which to lose your control over your muscles and compromise your form in the name of completing a heavy lift.
That means you're more likely to jerk, swing, bend your knees, engage you're hips, or do any of the other things your body tries to do to compensate for insufficient glute strength.
When that happens, your glute training loses (some) effectiveness, which means less growth—and possibly higher injury risk if your form/posture is very bad.
On the other hand, machines are limited to a single range of motion, often a much shorter range of motion than free weights. This enables you to pay more attention to your form and control every aspect of your posture as precisely as possible.
Ultimately, that'll help you build greater strength and reduce your injury risk.
The Top Machines at the Gym for Stronger Glutes
There are quite a few machines that can be used to train your glutes, but a few stand head and shoulders above the rest as the most effective gym machines for glutes.
Here are the machines you should spend the most amount of time using to sculpt those killer glutes you want:
1. Cable Machine
You might not think the cable machine is the best glute-focused machine in the gym, but that's because you just haven't been using it for the right exercises!
Yes, cable machines are amazing for targeting your upper back, triceps, biceps, and core, but if you think about all of the exercises you do for these muscles, they all involve a pulling motion of some sort. That exact same pulling motion can be utilized to train your glutes like a beast.
For example, you've got the cable pull-through, one of my all-time favorite exercises to target your glutes specifically.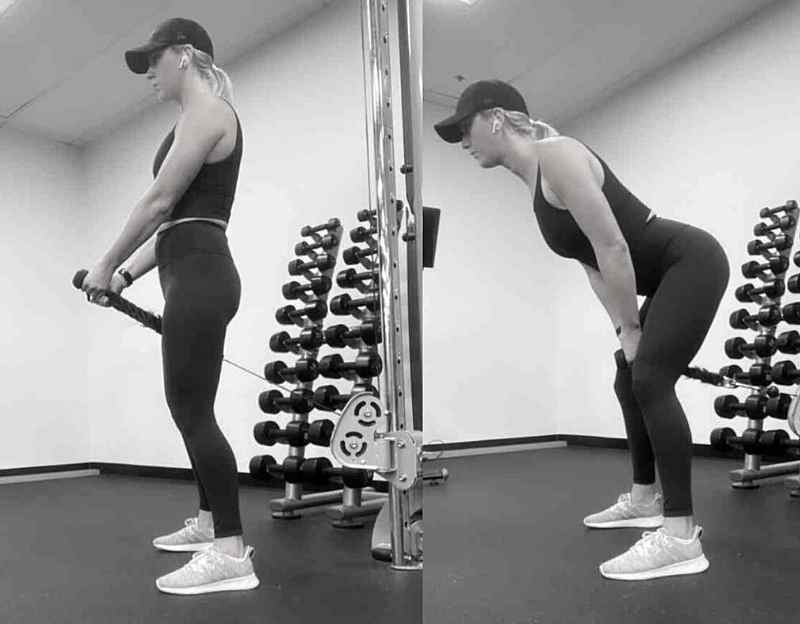 You can do good mornings and stiff-legged deadlifts using the cable machine (simulating the effects of free weights), or you can secure the ankle strap to the cable machine for donkey kickbacks and leg extensions.
Because of the versatility of the cable machine, and all the many angles it can be utilized for building muscle, it's easily one of the best gym machines for glutes.
2. Hip Thrust Machine
The hip thrust machine is another truly amazing gym machine for your glutes!
The machine is designed with a bench to support your upper body (to reduce lower back engagement), a platform that lets you place your feet at the right angle and position to maximize glute engagement, and a strap that loads the weight directly on your hips/waist the way you want it.
You have total control over how you move through the range of motion—and thus can be exponentially more precise in the way you train.
Compare that to barbell hip thrusters, which utilize a barbell draped across your lap (preferably with a hip thrust pad between your hips and the bar), and you can see why the hip thrust machine is a machine that is virtually always in use. It's just so much more practical than barbell hip thrusters.
3. GHD Machine
The glute ham developer machine, better known as the GHD Machine, is another amazing option for training both your glutes and hamstrings (two muscles that work together and thus need to be strengthened in tandem).
Like all the best glute exercises, glute ham raises force your glutes and hamstrings to contract in order to "curl", but instead of curling weights toward your body (like you would with the hamstring curl machine), you're actually raising/lowering your body while your legs remain stationary on the machine.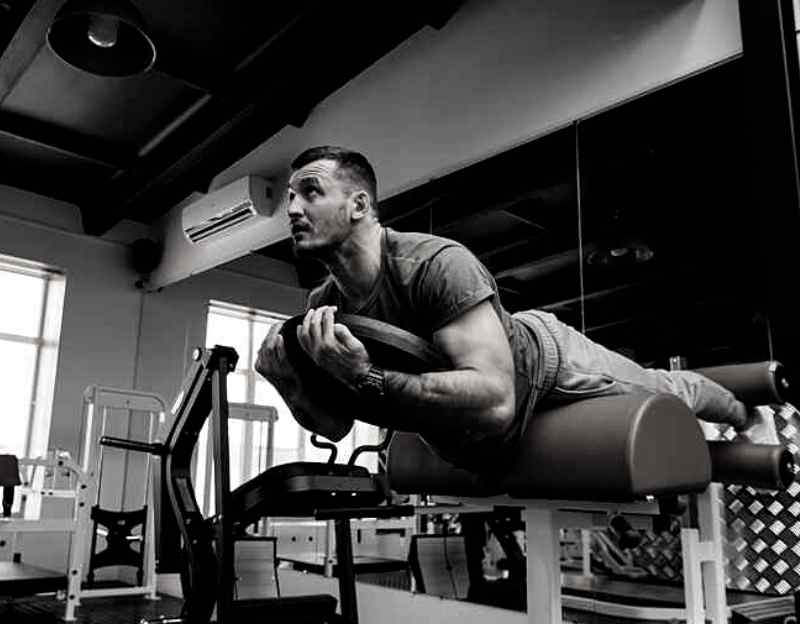 What this does is (slightly) change the way your muscles are recruited. Instead of lifting a heavy weight with your body remaining stationary, you lift your body—and in so doing, develop the functional strength required to lift/move your own weight.
See also: Glute Ham Raise: Benefits, Muscles Worked, and How to Do It Like a Pro
This will translate into greater fitness and agility across the board, making you a better athlete rather than just building strength.
Plus, the glute ham machine strengthens the hamstring muscles that enable you to run faster and jump higher, and help to develop powerful glutes. It's truly one of the best gym machines for glutes and hamstring training.
4. Leg Press Machine
Like all leg machines at the gym, the leg press machine naturally encourages at least some glute engagement no matter how you use it.
The leg press is largely focused on your quads, but your glutes and hamstrings have to work with your quads to lower and press the weight back up. Even with standard leg press form, it's a great glute workout.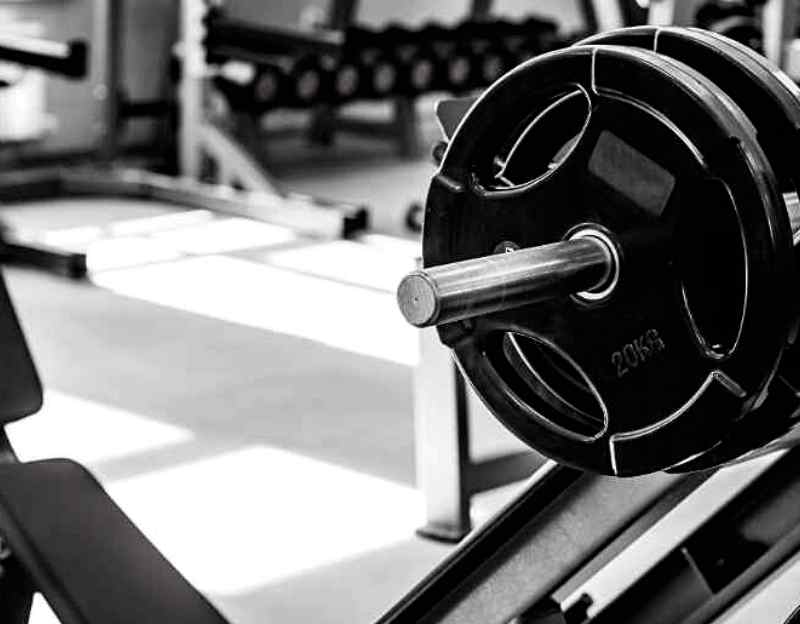 But it's incredibly easy to use the leg press machine to hammer your glutes specifically.
Just slide your feet higher on the platform, and you'll reduce quad engagement and force your glutes and hamstrings to work extra-hard to complete each press.
5. Smith Machine
The Smith machine is similar in nature to free weights (using a barbell), but the fact that the bar is affixed to a sliding rail means you have more control and precision over your form as you raise/lower.
You can use the Smith machine for glute training by doing exercises like stiff-legged deadlifts or Romanian deadlifts, or adapt to a more hack squat/wall squat-style of squat that maximizes glute engagement.
Even though Smith machines have a fixed bar path, there is a lot of versatility and options for hitting the muscles on your rear end.
6. Hamstring Curl Machine
The hamstring curl machine does focus chiefly on the hamstrings, but there's enough glute engagement that it merits a place on this list of the best gym machines for glutes.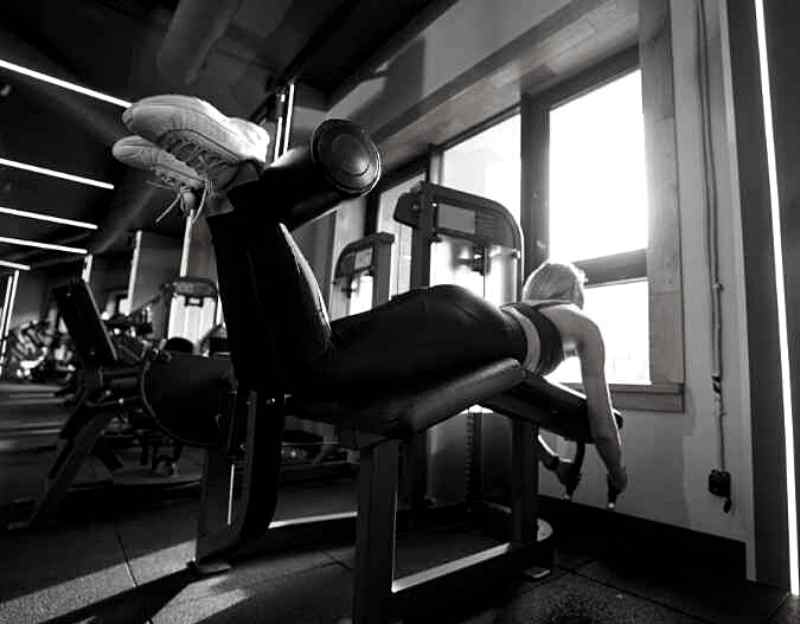 You'll develop the posterior chain muscles that work together to facilitate leg flexion, and in so doing, train for greater strength, speed, and agility.
What are the Best Cardio Machines for Glutes?
The gym is also full of cardio machines that can take your glute training sessions to the next level!
(I'll follow up with a separate post specifically looking at how to use your cardio machines for glute training, but I wanted to at least give you the basics here.)
The best gym cardio machines for glutes are:
Stair-Stepper Machine
This machine, also known as the "Stairmaster", is amazing for training your glutes.
After all, your glutes have to work with your hamstrings and quads to push your body upward as you climb stairs.
The fact that it gives you an amazing cardio workout (I dare you to train at high speed for more than 30 minutes!) makes it a game-changing addition to your workout routines.
Elliptical Trainer
The elliptical trainer is more quad-focused, but it's easy to switch things up to increase your glute engagement.
Really, the only change you need to make is to "walk backwards". That's right, instead of the usual forward step, try stepping backward. You'll feel a greater burn in your glutes because they're working to push you in this new, unfamiliar backward motion.
You can also increase the difficulty and incline to target your glutes even more effectively.
Treadmill
Most people see the treadmill as just a cardio machine and for general weight loss, but you'll love how easily it can be used to target your glutes.
All you have to do is raise the incline so it's set to the steepest "hill" possible, and you'll give yourself a truly amazing glute-focused workout.
You can also try walking backward, similar to how you would with the elliptical trainer, to hit those glutes hard.
Spin Bike
If you've ever participated in a spin class, you know exactly how intense and glute-focused these workouts can be.
Every time you stand up to pedal or pedal harder to tackle a hill, your glutes are working along with your quads and hamstrings to drive those pedals downward.
See also: Air Bike vs. Spin Bike: Pros, Cons and Differences
Your glutes are critical for keeping your legs pumping and moving in a steady circular motion, which is why spin bikes are such great cardio machines for training your glutes.
The Bottom Line
As you can see, there are a lot of options for training your glutes at the gym.
Sure, you can train using free weights, and you've got many amazing exercises—everything from stiff-legged deadlifts to barbell hip thrusters—to target your glutes.
But for this particular muscle, machine-based training just so happens to be the slightly better (read: more effective) option for growing your glute muscles.
It's worth spending time getting to know these machines in order to make the most out of your glute training sessions.
Choose your glute-focused machine of choice, put in the reps, and you will be well on your way to a stronger, thicker booty!
More Guides Like This
5 Best Squat Rack Exercises for Glutes (and Benefits of Glute Training with a Rack). Ready to take your glute workouts to the next level? Here are the best glute exercises you can do using your squat rack.
5 Best Stretches for Tight Glutes (Plus Benefits and How to Do Them). Stretching your tight glutes reduces muscle stiffness, increases range of motion, and can even help you build more muscle. Here are my five favorite glute stretches for unlocking the muscles around your rear end.