Thinking about using the Smith machine for deadlifts? Here is a complete guide on how to do them properly, including pros and cons of using the Smith machine for this exercise.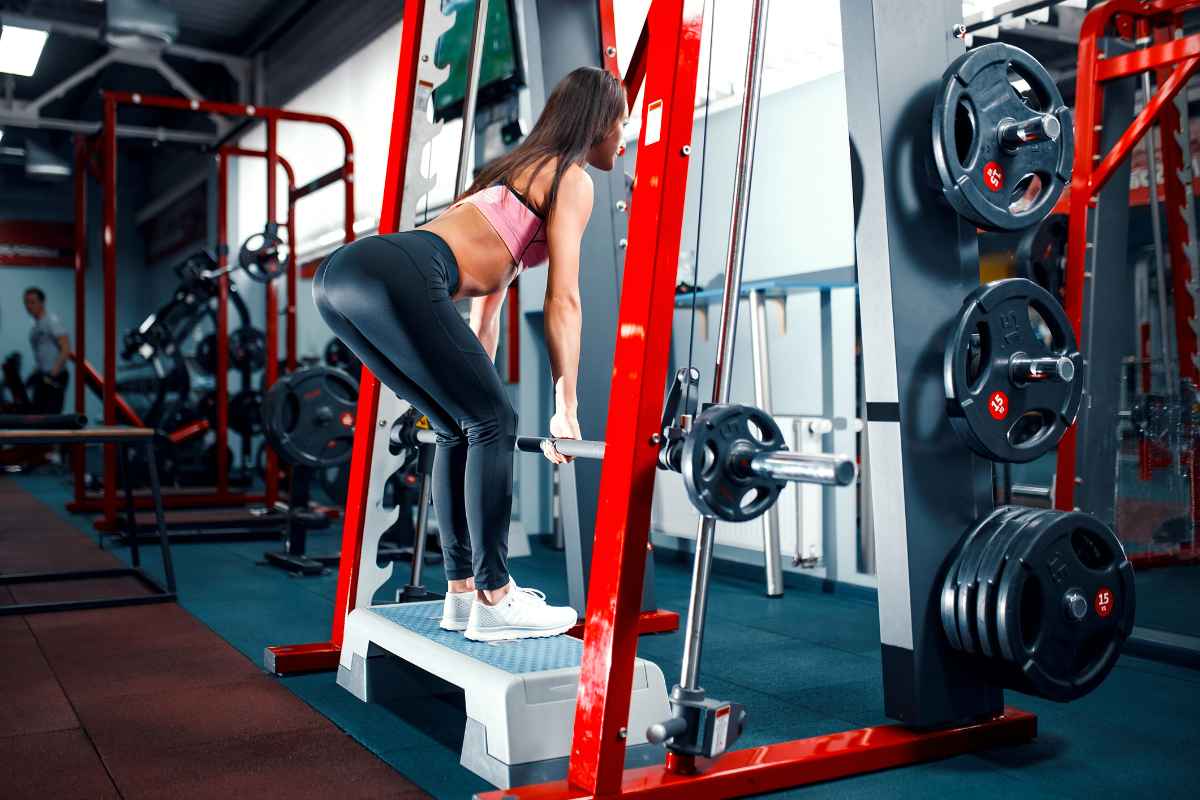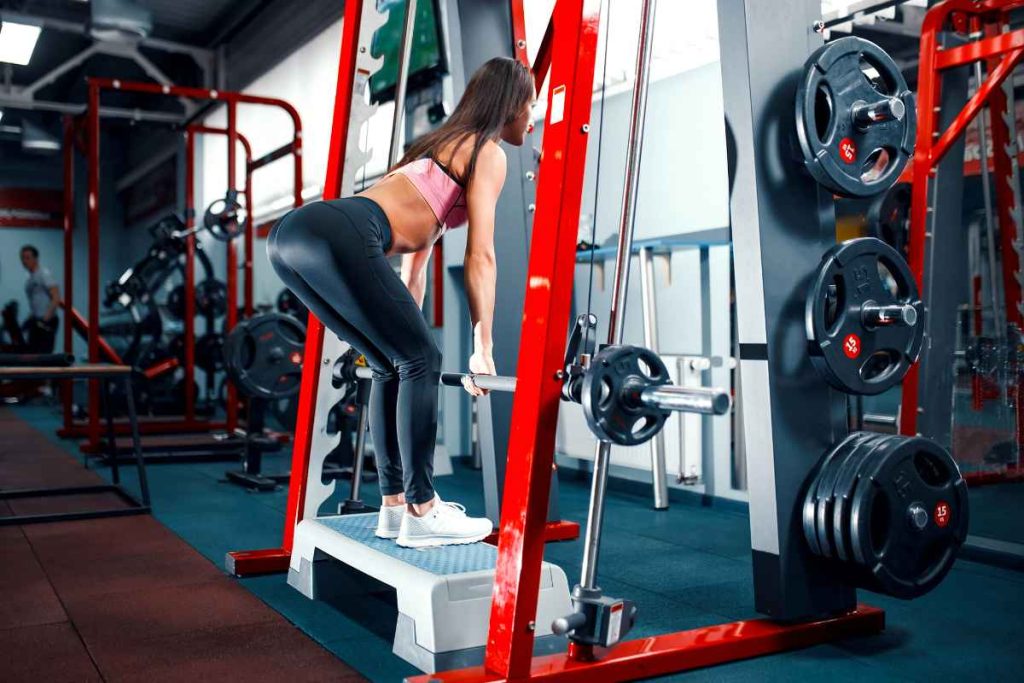 Deadlifting is the absolute BEST workout for a strong back!
Not only does it work the upper back, but it targets the lower back, glutes, and hamstrings, strengthening all of the posterior-chain muscles.
Truly, it's a test of your strength and resistance—if you can smash out a few sets of deadlifts, you're a gym beast for sure.
Typically, deadlifts are done using a free weight (barbell + weight plates). However, there is a version that utilizes the Smith machine, and you'll find that having the sliding rail can actually make for a more effective exercise (in some ways).
Below, we'll explore the perks and drawbacks of the best Smith machine deadlifts, the basics of how to do them, and some handy tips to help you master this amazing exercise.
Get ready to take your Back Day training session up a notch!
Deadlifts + Smith Machines – The Basics
The basics are always the best place to start, because you've got to start off simple in order to work your way up to mastering the more complex aspects of any exercise.
Let's start off by talking about the Smith machine…
A Smith machine is essentially a barbell anchored to a sliding rail. You simply set the rail to the right height by hooking it onto the posts/cradles/rests built into the machine, load it up with weight discs (the same used on regular free weight barbells), and get lifting.
(For more information on the Smith Machine, check out this article: What is a Smith Machine? And Should You Train with One?)
Because the Smith machine bar weight is anchored to the sliding rail, it travels along a single plane of motion: directly vertical (up and down). There is no forward/backward or lateral movement, but the sliding rail keeps it moving in a controlled, precise path.
This is why Smith machine squats and overhead presses and, of course, deadlifts are such a popular choice—particularly among newbies who are just learning to master the form.
As I explained in my Smith machine vs squat rack article, the Smith machine removes the balance/stability element from any exercise, because the sliding rail and anchored bar are keeping you stable. Thus, you can focus on deadlifting like a BOSS without having to worry about tipping/falling over.
For those who aren't familiar with the deadlift, it's a simple exercise that essentially involves bending at the waist (hips) and lifting a heavy weight.
You start with a loaded barbell (typically resting on the ground, though with a Smith machine, it's resting on the cradle/rack), bend to grab it, and use your back to pull it upward as you straighten.
There is no arm engagement, so the focus is entirely on your posterior-chain muscles.
The muscles used for Smith machine deadlifts include:
Lats
Traps
Spinal erectors
Glutes
Hamstrings
However, your core, quads, forearms, and calves also contribute to maintaining your stability and going through the motion of lowering/lifting the weight.
Deadlifts are one of the three most effective powerlifting exercises (along with bench presses and squats). Minor changes to the exercise can affect the way it targets your muscles.
For example, doing a deadlift with stiff legs will target your hamstrings and glutes more than your lower back. Or spreading your feet to a sumo stance for sumo deadlifts will hit your quads and glutes.
Why You Should (and Shouldn't) Deadlift on a Smith Machine
Now, when you think deadlifts, you (and most resistance trainees) probably think of using free weights. That's how you've always seen it done, and how most trainers recommend doing it.
So why use a Smith machine for deadlifts?
Well, here are some of the pros of deadlifting on a Smith machine.
Controlled movement.
Because the sliding rail keeps the barbell smoothly moving in one direction (straight up and down), you will never tip too far forward, backward, or to the side.
As long as you use proper form (which I'll explain below), all of the focus will be on the prime movers you're trying to target, with minimal risk of twisting, jerking, or bending incorrectly.
This leads to a reduced risk of injury—particularly in your lower back.
Higher starting position.
The first "pull" to get the barbell from the floor up to your hips can place a lot of strain on your lower body joints, and the fact that you have to engage your knees for that first rep does take the focus away from your lower back and legs.
With the Smith machine, you can start in a high position (barbell at your waist) or mid position (barbell at your knees), which makes for less strain on your initial pull.
More glute focus.
Because the bar is moving along a fixed plane of motion, your glutes have to engage more in order to lift the barbell (particularly at the lowest part of the deadlift).
This makes Smith machine deadlifts a far more glute-focused exercise than standard barbell deadlifts.
Deficit deadlifts–performing deadlifts on an elevated surface–are a great way to recruit more muscle as there is a greater range of motion. Using a Smith machine for deficit deads is a great way to perform this exercise–and really hit those glutes hard–safely.
No risk of tipping over.
If you're new to deadlifts, you may find your balance isn't quite locked in on those first few sets/reps. With a barbell, you're the only thing keeping it controlled and balanced, so there's a real risk you can fall/tip over.
People new to deadlifts will appreciate the stability that comes with a Smith machine, giving you an opportunity to master the movement before moving to free weight deadlifts.
Or, the instability increases engagement of secondary/stabilizer muscles, which takes the focus away from the prime movers.
But with the barbell locked in place and only sliding up and down, there is virtually no risk that you'll tip/fall over.
Newbies will find it much easier to focus on their form/posture because the Smith machine helps them out.
More lifting power.
Because your stabilizer muscles aren't working, all of the power generation is focused entirely on the prime movers.
You'll find you can deadlift noticeably more (2-15%) weight with a Smith machine deadlift because the primary muscles are doing all the work!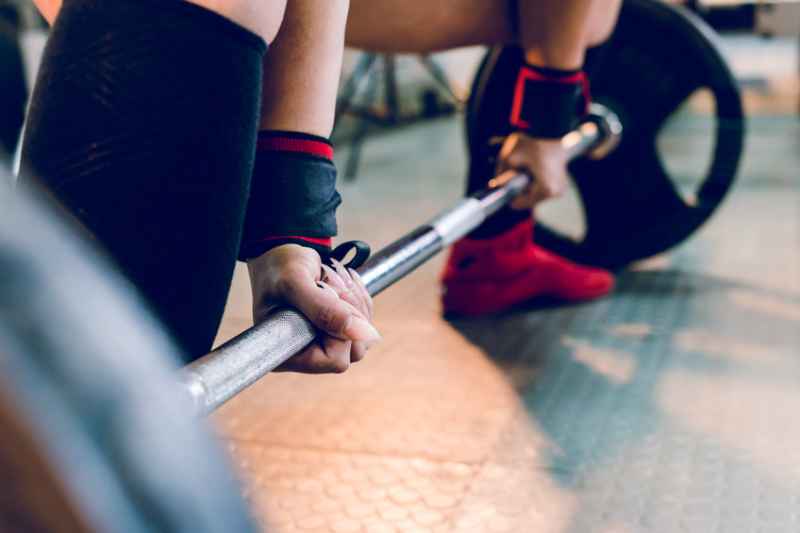 Disadvantages of Smith Machine Deadlifts
Of course, there are a few reasons that the Smith machine isn't the "go-to" for deadlifters. There are a few drawbacks to Smith machine deadlifts:
Limited range of movement.
Yes, when it comes to deadlifts, limitations to your range of movement can be a very BAD thing.
You need to be able to move more, hinging at the hips, bending at the knees, and engaging your lower back correctly.
When the weight travels along a single plane of movement, your body is locked on that same path.
Your musculoskeletal system has to compensate, and if done incorrectly, your risk of injury is higher.
Scraped shins.
Because the bar is traveling directly downward with no flex or movement, you may find that it bumps against or scrapes your shins on the way down.
Many people have to plant their feet very close to the bar in order to maintain proper posture, so they risk shin injuries/pain.
Requires a Smith machine.
This is great if your gym or home gym has a Smith machine already, but if not, you'll have no choice but to do standard barbell (or dumbbell) deadlifts.
Smith machines are big, heavy, cumbersome machines that may be too large for your home gym, and smaller commercial gyms may opt for other leaner, sleeker machines rather than a Smith machine.
How to do Deadlift Like a Pro Using a Smith Machine
Ready to give Smith machine deadlifts a try? Good for you!
Deadlifts are a game-changing, power-maximizing exercise that will take your back strength to the next level.
Let's dive right in!
Here is a step-by-step guide to help you deadlift like a BOSS on the Smith machine:
Step 1: Set it up.
Set the barbell to your desired height (either knee, hip, or shin, depending on your preferred starting position), and load it with as much weight as you can reasonably handle.
The Smith machine bar weight varies by machine, and can be as little as 6lbs on a counter-balanced machine up to 45lbs.
Trainer's Tip: New to deadlifts? Start out with VERY light weight, and perform a full set at the very light weight to get a feel for it. You can always add more weight once you get accustomed to the form/posture, but starting light will help to reduce your risk of injury as a result of excess weight.
Step 2: Get into position.
Stand with your feet spread hip width apart, your toes pointed straight ahead.
Ideally, your feet should be planted behind the barbell (facing the weight), with your shins within 1 inch of the bar (this is why I mentioned scraped/banged shins above!).
The close foot placement is necessary for the most natural movement in your hips, knees, ankles, and lower back.
Step 3: Bend and reach for the weight.
Thrust your hips back and out as far as they can go, let your knees shift slightly forward, and make sure your chest is up and out.
Keep your spine in a neutral position and your eyes fixed straight ahead as you grab the weight (placing your hands just outside your shins) and prepare to lift.
Trainer's Note: NEVER round your back, drop your shoulders, or let your chest droop. This is terrible posture and will drastically increase your injury risk. Make sure your shoulders are firm, your back is straight, and your chest stays up throughout the exercise.
Step 4: Pull.
Pull lightly on the barbell until your arms/upper body hits the "tension point", with your muscles ready to fire and lift.
See also: 6 Best Figure 8 Lifting Straps for Dominating Your Deadlift
Only once you hit the tension point should you really start pulling. Drive your heels into the ground and explode upward, lifting your chest up and back, driving your hips forward.
Make sure to maintain a flat spine throughout!
Step 5: Lock out at the top.
This does not mean locking out your knees. NEVER lock your knees—that is dangerous and increases the strain on your bones and joints because the muscles disengage.
The "lockout" refers to the momentary pause at the top when your hips are thrust forward, your glutes squeeze, your shoulders tighten, and your hips and knees are aligned.
Make a conscious effort to register all these sensations before moving on.
Step 6: Lower under control.
Keep your chest up, your back straight, and let your hips hinge naturally as you lower the weight. Control the descent—never let the weight drop back down, as that's how you injure your back.
Stop once the weight reaches shin level, and get ready to explode back up.
Step 7: Repeat for maximum results.
Sets of 4-6 reps will help you build power and muscle mass, sets of 8-12 reps will help you build strength, and sets of 15-25 reps will increase endurance.
Smith Machine Deadlifts — FAQs
Which way do you deadlift on a Smith Machine?
ALWAYS facing the machine! Never use an angled Smith machine (the angle is terrible for your posture), but only ever a vertical machine.
Face toward the machine so the barbell is in the most natural position/as close to the front of your body as possible.
Is it easier to deadlift using a Smith machine?
Because the sliding rail keeps the weight from moving forward, backward, or laterally, there is no need for your secondary stabilizer muscles to engage to maintain your balance.
So it becomes noticeably "easier" for your prime movers because they are the only ones generating force. This is why you can typically lift heavier with a Smith machine—it's all about muscle isolation!
The Bottom Line
Smith machine deadlifts are a great option for anyone who wants to try a new way of lifting.
It may not be the most effective variation on deadlifts—that honor is always going to be with a free weight barbell—but because it controls your movement and helps to focus on the prime movers, you can see a lot more growth in strength and size in record time.
The next time you hit the gym, and want to switch things up with your deadlift training, hit the Smith machine and get those gains.
More Stuff Like This:
7 Benefits of Trap Bar Deadlifts. Can doing trap bar deadlifts make you better looking? Maybe, maybe not. But it will definitely get you stronger. Here are 7 benefits to unleashing the trap bar on your workouts.
How to Do Hack Squats on a Smith Machine Like a Pro. Hack squats are a monster for building quads in the gym. Here's a step-by-step guide for how to do this exercise on a Smith machine like a champion. Next stop, Quadtown!